(We may earn a commission via affiliate links in this post. Read our full disclosure policy.)
Magic Kingdom is the most popular of all the Disney World parks with nearly 21 million people visiting each year. If you have never been, it is easy to be overwhelmed by the crowds and all there is to do. That is why we are sharing our most popular Magic Kingdom Tips.
These are things that frequent visitors to Magic Kingdom know about and now, you will be a step ahead of all the other people going to Disney World for the first time!
15 Magic Kingdom Tips You Will Want to Know
3. You cannot bring selfie-sticks into the park.
Your bags will be searched when you arrive and the selfie stick will be taken from you. Do yourself a favor and leave it in the car or at home!
4. There is a separate entrance line for Hard Tickets & MagicBands.
There is even a separate line for guests who are Disney annual pass holders!
Be sure you know which lines are which.
Typically paper tickets are on the far left and annual pass holders will have a sign directing them where to go.
If you can't tell, you can ask a Disney cast member.
5. You don't have to stay at a Disney Resort to use MagicBands at Magic Kingdom.
Disney MagicBands are a great way to keep track of your entire Disney vacation in one place.
It serves as your park ticket, fastpass reservation ticket and your Disney photopass.
While you will have to purchase one, it will last for years. Just link your tickets to the MagicBand using the My Disney Experience App.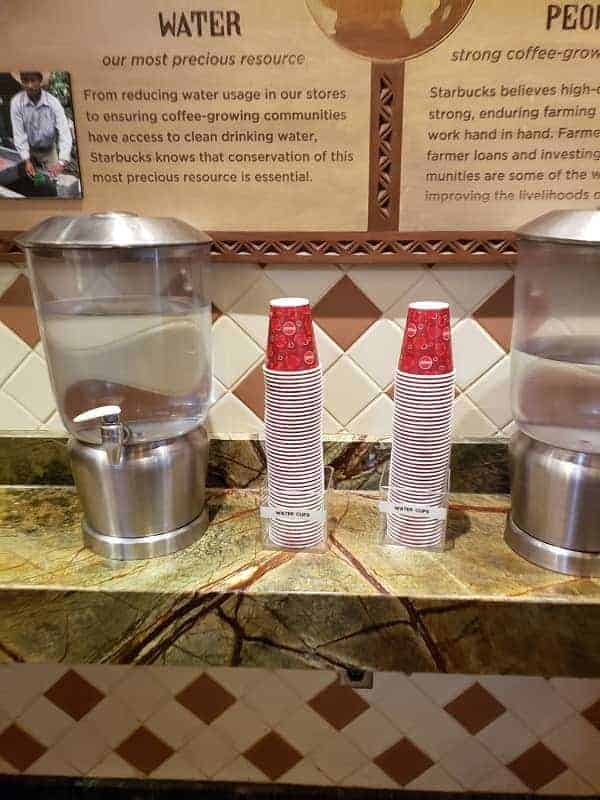 6. Water is FREE at all of the Disney parks!
Just go to a quick service restaurant or food kiosk and request an ice water and you will be presented one for no charge!
7. You CAN walk THROUGH Cinderella's Castle.
In fact, I think you should! Most people just walk around it, but there are some really cool things to see inside!
8. If you are purchasing souvenirs at Magic Kingdom, you don't have to carry them around all day.
I am sure you are going to buy atleast one Disney souvenir. And if you don't want to carry that huge Mickey Mouse plush with you all day, you can request pick up at park entrance before you leave OR if you are staying at a Disney resort, they will deliver it there.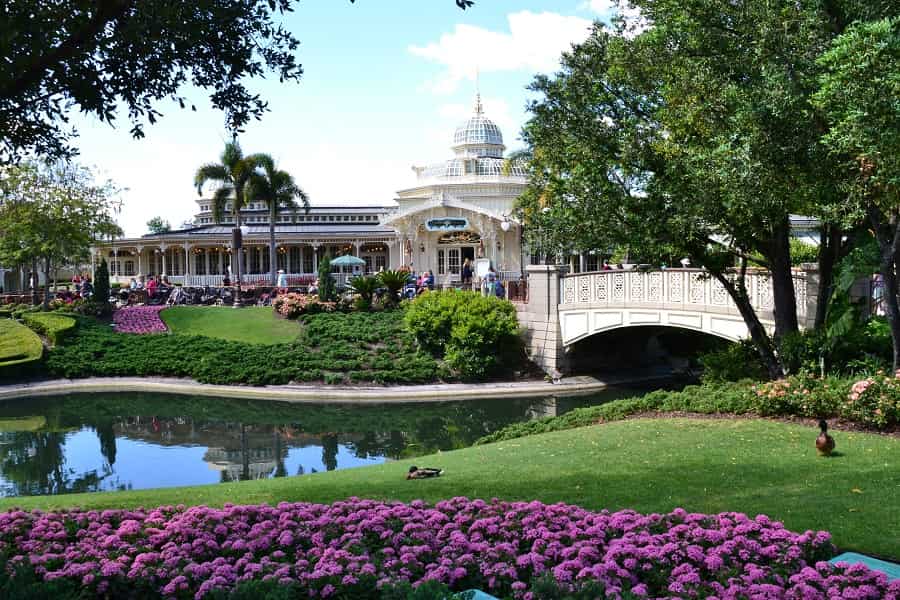 9. You can actually get into Magic Kingdom before it opens.
One way to get into a park before general public and avoid lines is to book an early morning breakfast at a table service restaurant.
Our favorites at Magic Kingdom are Cinderella's Royal Table and Crystal Palace.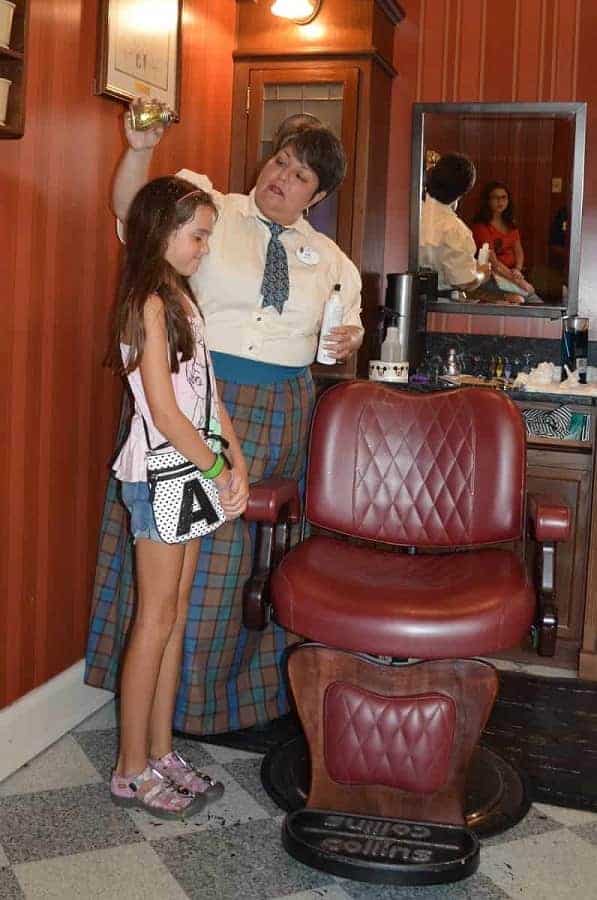 10. You can get free Pixie Dust at the Barber Shop on Main Street USA.
The Harmony Barber Shop is located to the left of the train station when you first enter the park.
Stop in & if they aren't busy, you might be able to score a free Pixie dusting!
11. There are normally two night parades.
The Disney parades are amazing and are also very crowded. If you read our Disney Parade tips, you will know that many people stake out a place to watch the parade nearly an hour before it even happens!
If you want to have a great view of the parade and don't want to sit around waiting for it, wait til the end of the evening.
The last parade of the night is typically the least crowded.
12. If you get to Magic Kingdom early, you will get to see the "Let the Magic Begin" Show.
The Magic Kingdom Welcome show is a great way to start your day in the Magic Kingdom and will allow you to be the first group of people into Fantasyland (which is the most popular part of the park).
Beginning October 1st, 2021, the "Let the Magic Begin" show will be at 7:55am daily.
13. You can take the monorail from Magic Kingdom to visit Polynesian, Grand Floridian & Contemporary Resort for free.
You don't have to stay at a Disney Resort to check them out. Each resort has something unique and is fun to explore.
One of the easiest ways to see different resorts is taking the monorail straight from Magic Kingdom.
We love grabbing a lunch or dinner at one of the resort restaurants to break up our day at the park.
14. The stores on Main Street USA are connected so there is no need to walk outside.
This can really help you when it rains or when you are trying to get around when the parade is going down Main Street USA.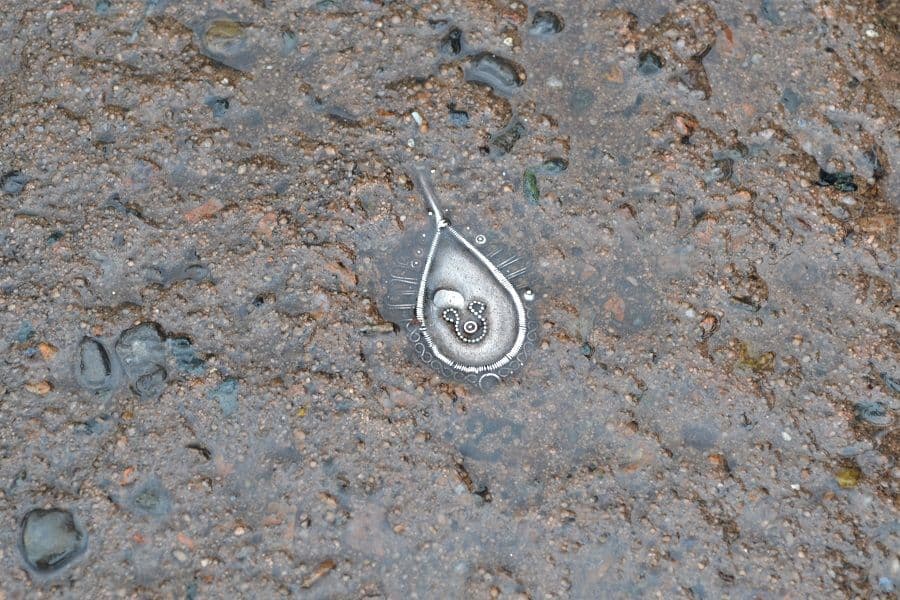 15. One of my favorite Magic Kingdom tips to share is to look for the hidden gems found in Magic Kingdom.
Disney is all about the park details.
Not only will you find Hidden Mickeys, there are Magic Kingdom secrets that only certain people know about.
We hope you enjoy these Magic Kingdom tips and that you have a wonderful time at the park!