(Note: The links in this post are affiliate links, and we will be compensated when you make a purchase by clicking through our links. Read our disclosure policy here.)
When you are planning your trip to Magic Kingdom, you will want to make sure that you see the Festival of Fantasy Parade. At this afternoon parade, you will see a mix of floats featuring characters from your favorite Disney movies.  In order to thoroughly enjoy your time, you will want to make sure that you follow theses Festival of Fantasy Parade tips!
Festival of Fantasy Parade Tips
Get your spot early~usually 30 minute prior to the time the parade will start. The parade will begin in Frontierland and makes its way toward Main Street USA.
You can get a preferred viewing spot for the parade when you do a special dining package (costs $54 for adults and $19 for children ages 9 and under)
There are shady spots to sit in Frontierland (that's my favorite spot to see the parade).
Bring somethings to sit on (like a small beach towel or blanket)
If you know you will be waiting a while, bring a deck of cards or something to pass the time.
Pack snacks for parade waiting time or go get a large popcorn at the popcorn cart to share!
You will not be able to cross over the parade route until the parade passes you by, so keep that in mind when you find your place to sit! If you aren't planning on staying til the end you will want to pick the side closest to where ever you go next!
People always let kids stand (sit) in front so that they can get a good view. Don't be afraid to ask if your child can squeeze in.
You will spend more time waiting for the parade to start then actually seeing the parade as it only lasts about 12 minutes!
What You'll See at the Festival of Fantasy Parade
I am always amazed at how well the Disney Imagineers capture the stories behind the characters when constructing the floats for the Disney parades.  The Disney Festival of Fantasy Parade at Magic Kingdom is probably the most magnificent in terms of parade floats.  Each float not only highlights the character, but also ties in the story line and supporting characters as well.
You will see that the details on the Tangled float are amazing. There is the Snuggly Duckling plaque on the front of the Viking ship, Cupid on the very top, and even Maximus is hanging on the side!  If you look carefully, you will even notice how Rapunzel's hair winds in and out of the mast of the Viking Ship.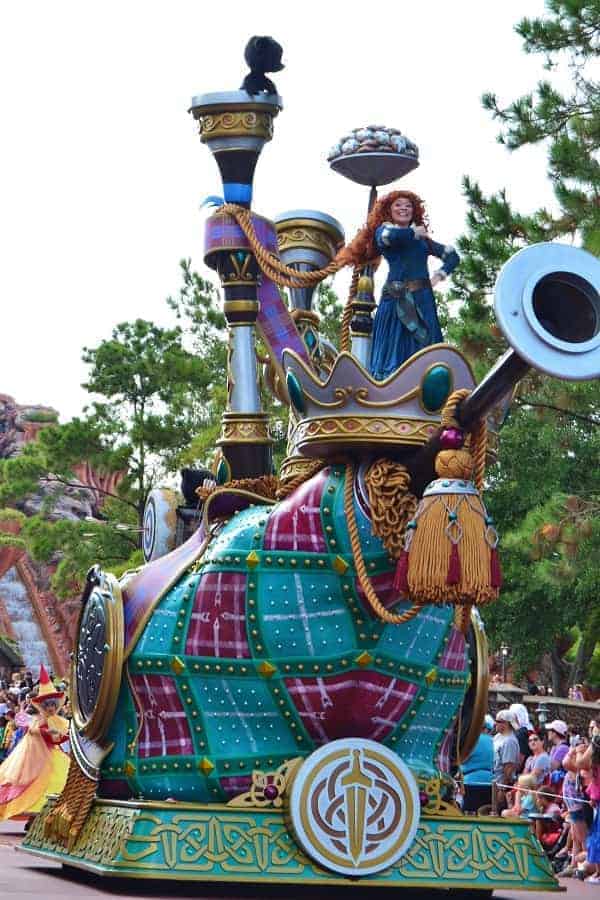 Another favorite of mine from the Festival of Fantasy parade is the Brave float. Here you will find Merida perched at the top of a bagpipe.  You will notice that she is standing on a crown with one of her little brothers (in bear form) trying to reach the pastries just behind her. If you look closer, you will also notice the Celtic Knot shield on the front, and the arrow motif weaved onto the Bag Pipe.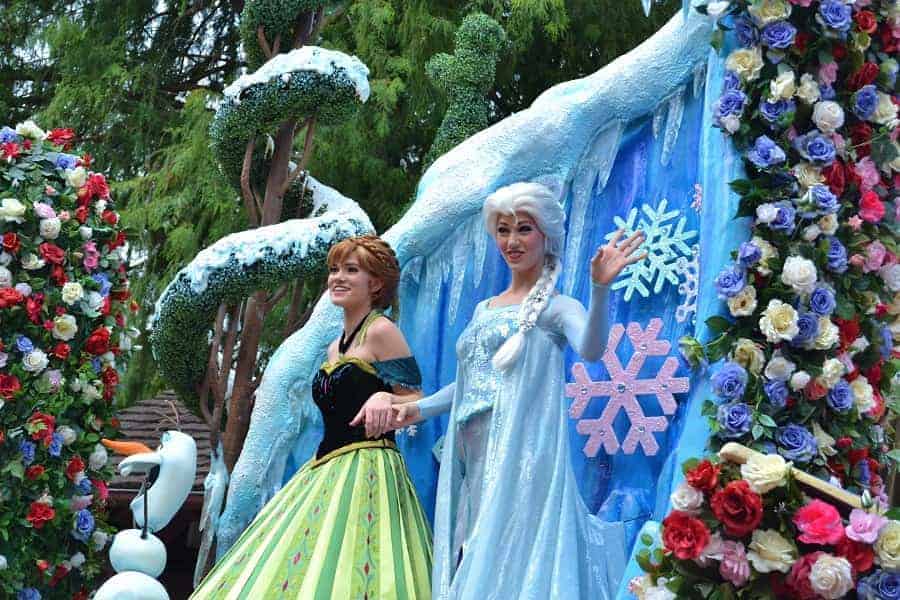 I don't want to give too much away because I want you to see the rest of the Festival Fantasy parade yourself. Just know that there are plenty of other characters to see including Anna, Elsa and Olaf!
This is one of the best parades at Magic Kingdom and one you don't want to miss! You will be guaranteed to have a great time, especially if you follow our Festival of Fantasy Parade tips!
Have you seen the Festival of Fantasy parade at Magic Kingdom? What was your favorite float?