Those heading to Florida may be wondering what to wear to Disney World. A trip to the Disney Parks can be ruined if you don't pack the right things!
You are going to want to make sure you follow the following tips so that you are comfortable during your vacation.
What to Wear to Disney World in Florida
1. T-Shirt
When it comes to clothes for Disney World, the best choice you can make is choosing a top that is not only comfortable, but is breathable. For this reason, we think that cotton t-shirts are the best things to wear to Disney World.
Choose 100% cotton of a cotton blend because the fabric is light weight and it dries easily.
It is sunny in Florida all year long, so it doesn't really matter what time of year you go to Disney World, you are going to be walking around for hours in warm (if not hot) sunshine.
You are going to want a top that allows sweat to dry easily while also allowing skin to breathe so you don't get a heat rash.
If you are willing to go sleeveless, a tank top t-shirt is even better to wear to Disney World.
The point of wearing a t-shirt is to make you feel comfortable throughout the day.
You will find plenty of Disney themed t-shirts on the market. One of our favorite places to finding unique Disney shirts is on Etsy.
2. Shorts
Do yourself a favor and make sure that you are wearing shorts to Disney World. I can't tell you how many times I have gone to Disney World and see people in jeans and by the end of the day, they just look miserable.
No matter what you think of your legs, if you want to be comfortable at Disney World, you NEED to wear shorts.
Shorts allow you maximum comfort because they are not restrictive allowing your legs to breath as needed.
Choose light weight cotton shorts or athletic shorts. The color of the shorts isn't as important as the color of the shirt since you will be on your feet and the shorts will not soak in the sunshine like a t-shirt will.
If you are planning to go to Disney World in the November through February, you might find that the temperatures at Disney World cool off in the evenings.
I would recommend you pack a pair of light weight capri pants or Disney leggings in your Disney day bag to change into.
Any other time of the year, the evenings don't cool off enough to warrant a change.
Worried that your thighs will rub together causing you to suffer from chaffing? I have a solution. Buy a BODYGLIDE stick. These things are amazing and prevent chaffing and aggravated skin by creating a waterproof barrier.
They even have GLIDE sticks for your feet so your shoes don't give you blisters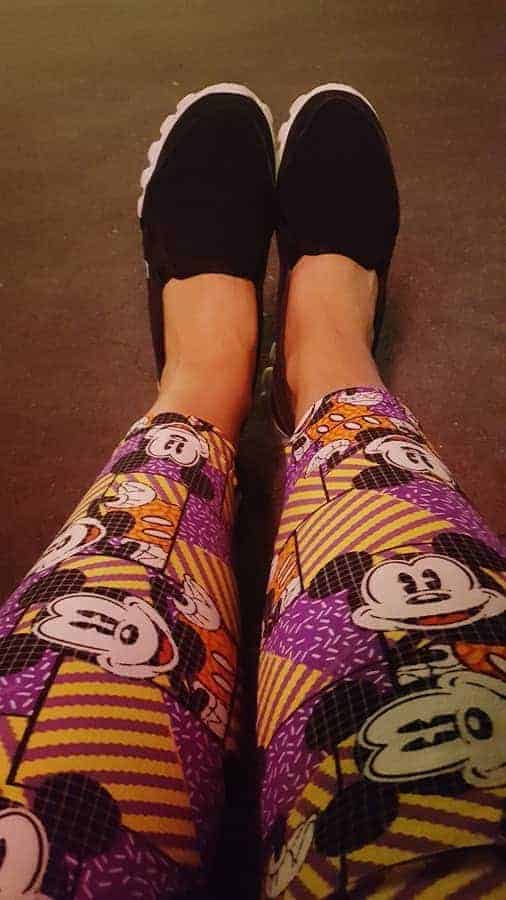 3. Comfortable Walking Shoes
If you don't follow any other advice that I give you, follow this one: Wear comfortable walking shoes. Chances are that you will be on your feet for at least 12 hours.
The last thing you are going to want to have happen is that your feet and legs give out before you are ready to be done for the day. Shoes are important because if your feet aren't happy, the rest of your body won't be.
So what shoes do I wear to Disney World?
Light weight sneakers like Sketchers GOWALKs.
I have tried flip flops, sandals, Crocs and sneakers. Sneakers are the only shoes that can withstand walking on HOT pavement from early in the morning to late at night.
Not only do the shoes you wear to Disney need to be comfortable, they need to be able to allow your feet to breathe.
Choose a shoe with fabric that not only expands as your feet do, but have light weight fabric or venting so that you get some relief.
4. Hands Free Bag
Our top pick of what to bring to Disney is a backpack. A backpack allows you to carry all of your theme park essentials along with having your hands free.
Choose a backpack that is lightweight and has plenty of pockets to fit your must have items for a day at the Disney parks.
If you absolutely must have a purse while you are in Disney World, I do suggest you bring a small cross body bag.
You do not want to hassle with a shoulder bag at Disney. Not only will your shoulder and neck be killing you by the end of the day, you will find that it is cumbersome when trying to get through crowds because it will constantly be falling off as you rub against others.
CUTE DISNEY BACKPACKS FOR ADULTS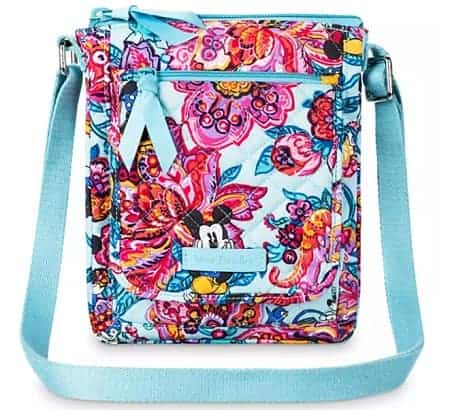 Our top pick for a cross body bag to wear to Disney is the Vera Bradley hipster bag.
This bag is super light and has just the right amount of space for those things you need as a woman.
Another option that is coming back into style is the fanny pack.
I can't believe that I am saying this, but fanny packs are back and they are a great alternative to bringing a purse to the Disney parks.
This cute Stitch Fannypack is made by Loungefly.
While you can wait to purchase them in the park, there are plenty to be found online.
One of my favorite places to look for cute one-of-a-kind Minnie Ears is on Etsy.
There are so many cute sets of Minnie Ears that can really showcase your personality.
While you have many options on what to wear to Disney World, we feel like these 5 items truly are essential.
Do you have a favorite outfit to wear to Disney World in Florida?