Getting ready for your Disney vacation, but don't know the first thing about Disney MagicBands? Don't worry, we have everything you need to know about Disney MagicBands in one place!
First thing you need to know is that your MagicBand will serve as everything from your room keys to payment method in the park.
There is no longer a need for park tickets or paper Fastpass because your MagicBands will hold all the information you will need for your Disney vacation in one place!
If you are staying at a Disney World resort, each guest in your party will receive one MagicBand. A few weeks before your vacation, you can go to My Disney Experience online and choose your Disney MagicBand colors.
Disney MagicBand Colors
Red
Orange
Yellow
Blue
Gray
Pink
Green
Purple
Once the colors are set, the MagicBands are typically are sent quickly (ours were sent overnight via Fed Ex).
Be sure you like the color that you choose, because once the colors are set, the MagicBands are mailed out, you are set with what you get.
If you forget to choose your Disney MagicBand colors prior to your visit, your party will all get the same color bands and they will be given to you when you check in at your Disney Resort.
Even before receiving your MagicBands, you will be able to start your online planning. While online choosing your MagicBands, you will also be able to start planning out your Disney vacation in terms of dining reservations and choosing your Disney Fastpasses.
Simply go online or download the My Disney Experience App for Walt Disney World and you can book dining reservations and fast passes using the FastPass+ System.
Everything You Need to Know about Disney MagicBands
Disney MagicBands replace Room Keys
When you check in to your Disney Resort, each of you will swipe your MagicBands. The MagicBands will serve as your room key! Simply place your wrist near the door pad and va-voom, you are in your room! No more key cards to keep up with!
Disney MagicBands replace Park Tickets
Not only will your MagicBands serve as your park entrance ticket when you link it through the My Experience app, you will also be able to use it to keep track of your photos through PhotoPass.
Each time you have a picture taken by a photographer on Disney property, you will swipe your band. This will send that picture to your My Disney Experience account for you to view later.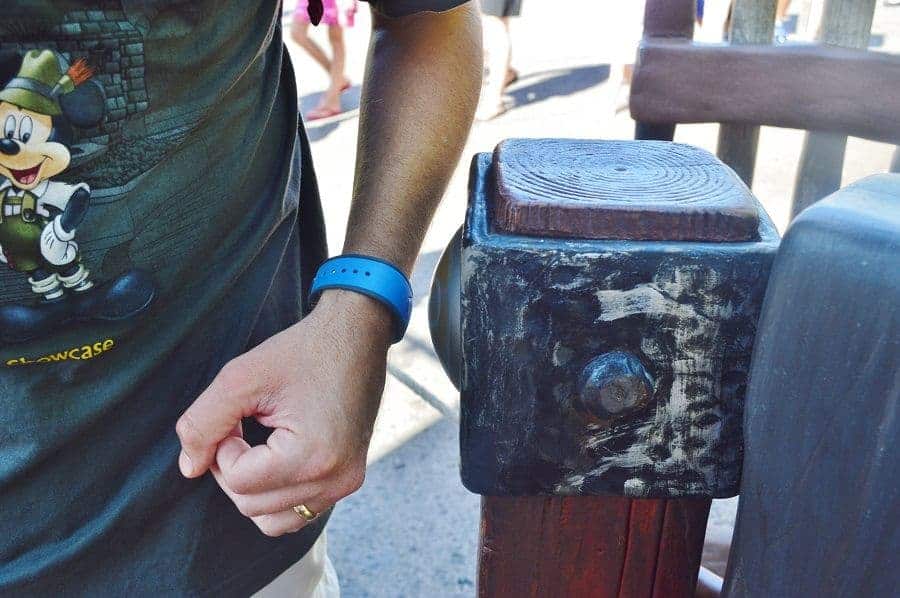 Disney MagicBands hold your Fastpass Reservations
Through My Disney Experience, you can book your FastPasses ahead of your trip. You will be allowed three per day (after you use all three, you can get additional FastPasses one at a time at a FastPass + kiosk or through the My Disney Experience App).
When you arrive at the FastPass location, you just scan your MagicBand and are let in.
Disney MagicBands are your Way to Pay for Food & Gear
Need to pay for something on resort or at the parks? Simply swipe your band! No need to carry cash or credit cards anymore. You will however, need to remember a four digit code.
You will decide this code when you check into your resort. Make sure you pick something you will easily remember!
Disney MagicBands are Sizable
Smaller children may have trouble keeping their Disney MagicBands on their wrists unless you size them. If you flip the MagicBand over, you will find a guide to trim the band to fit properly.
Disney MagicBands are Waterproof
Disney MagicBands are waterproof and can be worn on rides where you get wet and in the pool without any worries about having your MagicBand break!
You can use Disney MagicBands on Future Trips
If you travel to Disney multiple times, you will be able to reuse your Disney MagicBands. The battery inside the band has a life cycle of around 3 years.
You Can Purchase Disney MagicBands
Even if you are not staying at a Walt Disney World Resort, you can take advantage of MagicBands. You can purchase Disney MagicBands and Accessories online and in stores on Disney property.
You can even purchase specialty Disney MagicBands featuring your favorite Disney characters.
Once you've purchased your bands, simply link your tickets online and you can begin using them just like you would if you were staying on Disney property.
Disney MagicBands You Can Buy Online
Want to buy a personalized Disney MagicBand that features your favorite Disney character or attraction? There are plenty to choose from at ShopDisney! These are our favorites.

You can find MagicBand 2.0 accessories at places like Pin Traders & World of Disney Store in Disney Springs and at Disney World parks & resort gift stores.
Have you used Disney MagicBands? What did you think?