Nearly all guests have taken a picture in front of Cinderella Castle at Magic Kingdom, but most have never stepped foot under the archway. If you've never walked through it, you are missing out on some awesome features inside Cinderella Castle.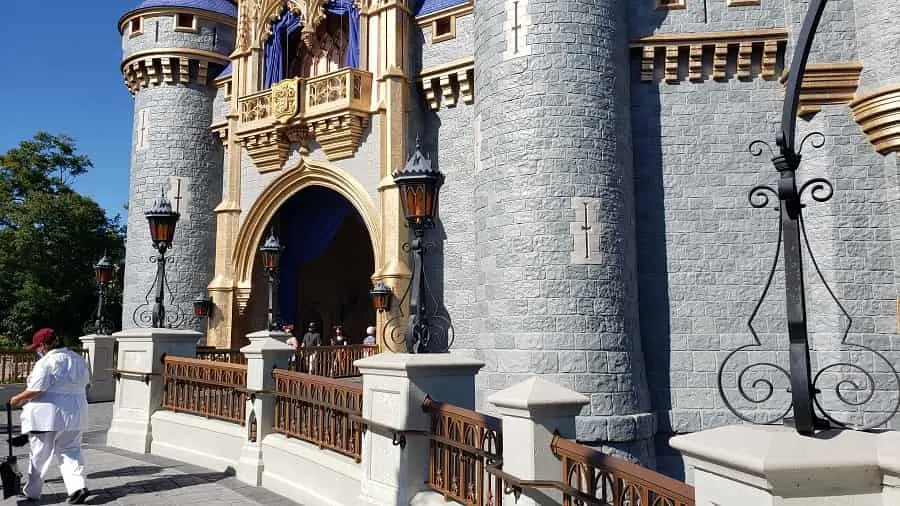 How to Walk Inside Cinderella Castle at Magic Kingdom
To access the tunnel that runs through Cinderella Castle you need to walk to the right of the castle stage.
The pathway will allow you to walk right through the castle.
As guests enter the castle through its grand archway, they are transported into a world of enchantment and fairytales.
The interior of Cinderella Castle is just as magical as its exterior, with intricate details and hidden surprises waiting to be discovered.
The Mosaics inside Cinderella Castle
There is a series of five mosaic murals inside Cinderella Castle that tell the story of Cinderella.
These beautiful murals took 22 months to complete and contain over 300,000 pieces of Italian glass. Each piece of glass is fused with sterling silver and 14-karat gold.
To fully understand the craftsmanship, the entire set of mosaic pictures took 6 craftsmen over 2 years to complete!
When you see the complete masterpieces in person, you will understand why it took so long to complete this project.
The largest of the Cinderella glass mosaic murals is 15×10 feet and the glass pieces that make up each illustration can be as small as the top of a nail-head.
In addition, they used over 500 different colored pieces of glass!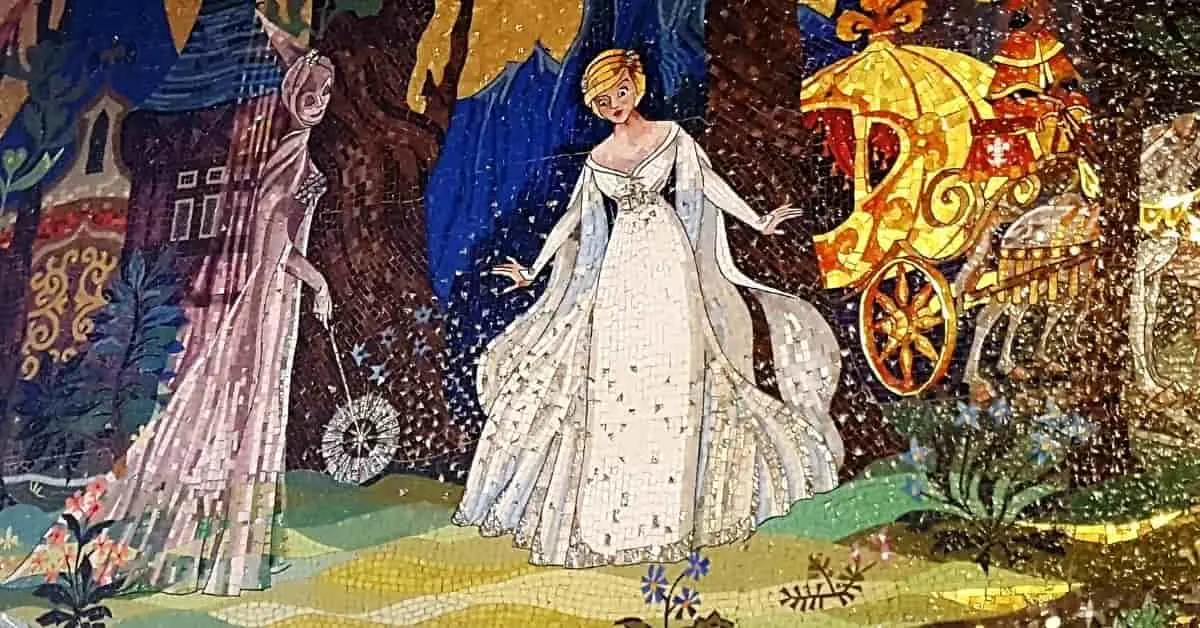 There are also many details that you may miss at first glance. Be sure to take your time and look at them carefully.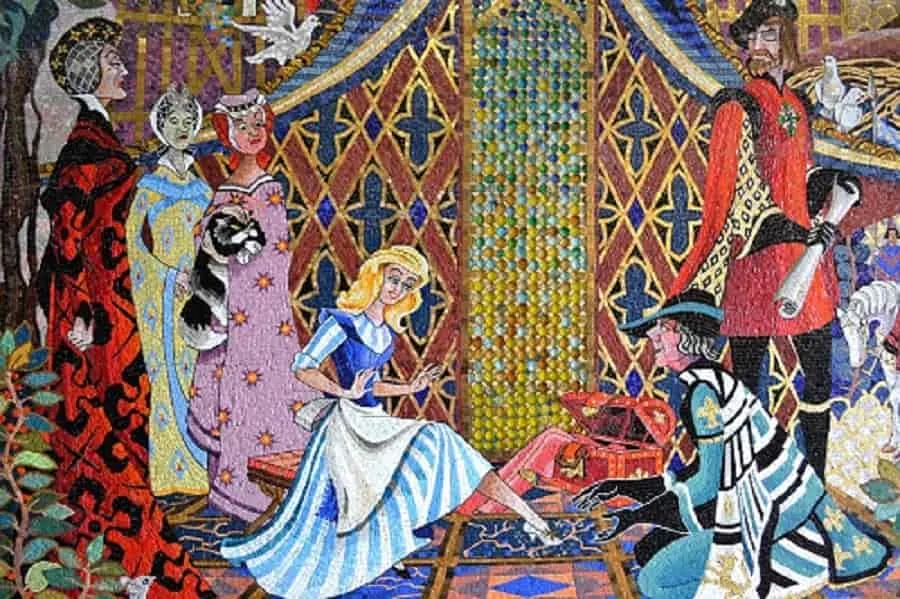 For example, notice in the mosaic featuring Cinderella trying on the glass slipper that the faces of Cinderella's wicked stepsisters appear differently.
Anastasia is visibly "red with anger", while Drizella is a little "green with envy" when they watch Cinderella try on the glass slipper.
If you love the story of Cinderella, you won't want to miss seeing the story unfold in these hand-crafted mosaic masterpieces that line the walls of the tunnel that goes through this beautiful castle.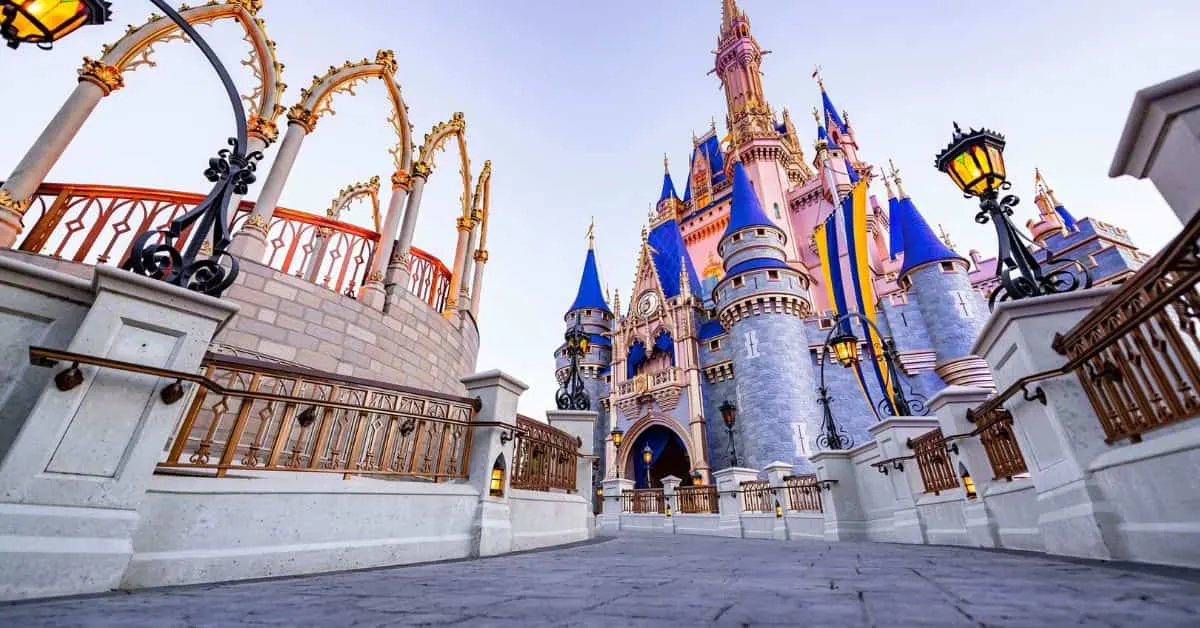 What Else is Inside Cinderella Castle?
While you are free to roam through Cinderella Castle to see the mosaics and architectural details, there are two other places guests can visit if they have a reservation, Cinderella's Royal Table restaurant and Bibbidi Bobbidi Boutique.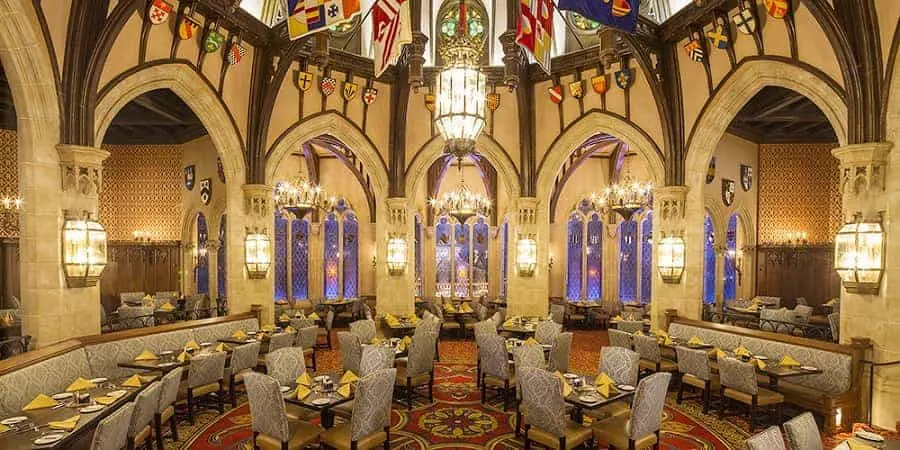 Cinderella's Royal Table
Guests can dine in this majestic castle and meet some of their favorite Disney princesses while enjoying a delicious meal.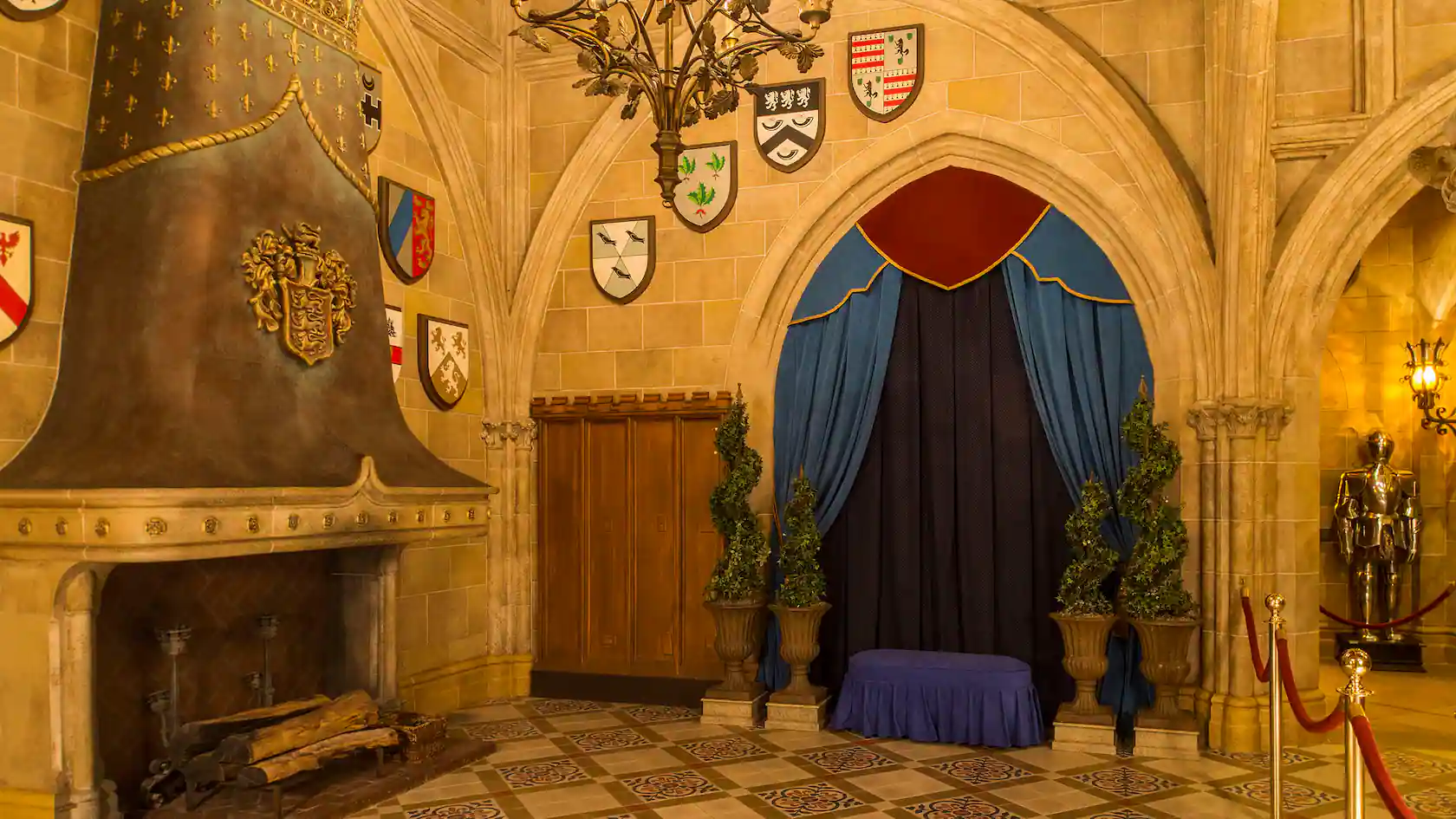 The interior of the restaurant is designed to resemble a medieval castle, complete with stone walls, knights in shining armor, and a large fireplace surrounded by shields.
This creates an immersive experience for guests, truly making them feel like they are dining in a fairy tale setting.
At Cinderella's Royal Table, guests can enjoy breakfast, lunch, and dinner on a prix fixe menu, with a variety of options to choose from.
But the real highlight of dining at Cinderella's Royal Table is the character interactions. During each meal, guests will have the opportunity to meet and take photos with some of their favorite Cinderella characters!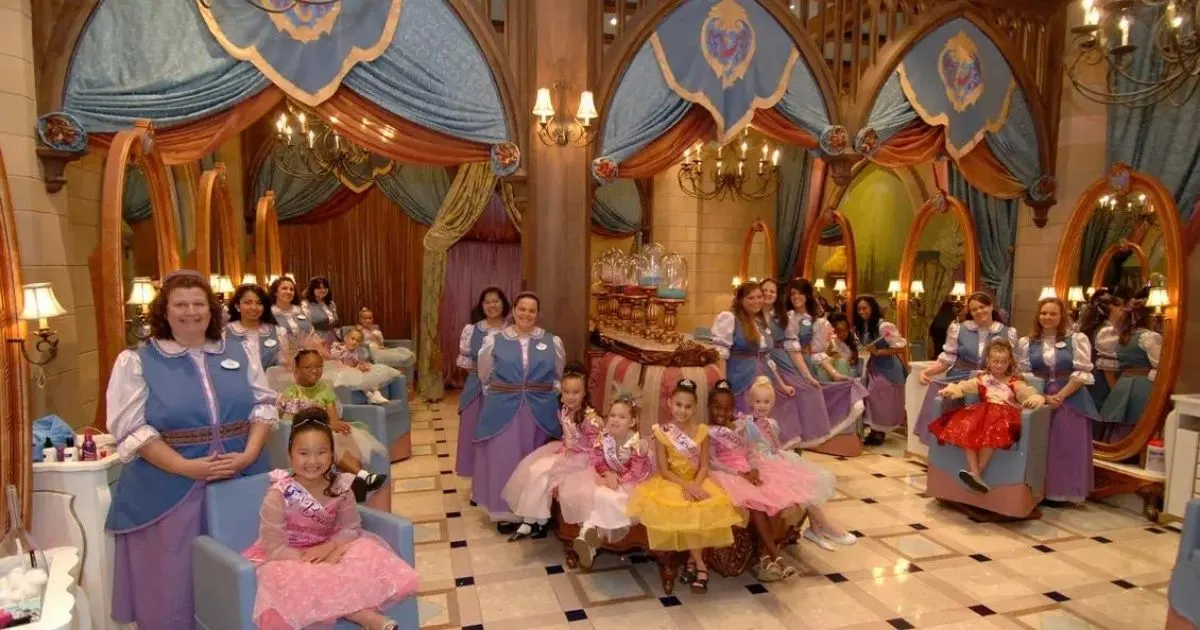 Bibbidi Bobbidi Boutique
Bibbidi Bobbidi Boutique is an enchanting beauty salon located inside Cinderella Castle that offers magical makeovers for young guests, transforming them into their favorite Disney princesses or knights.
The interior of Bibbidi Bobbidi Boutique is fit for a princess, with elegant chandeliers, ornate mirrors and whimsical decor.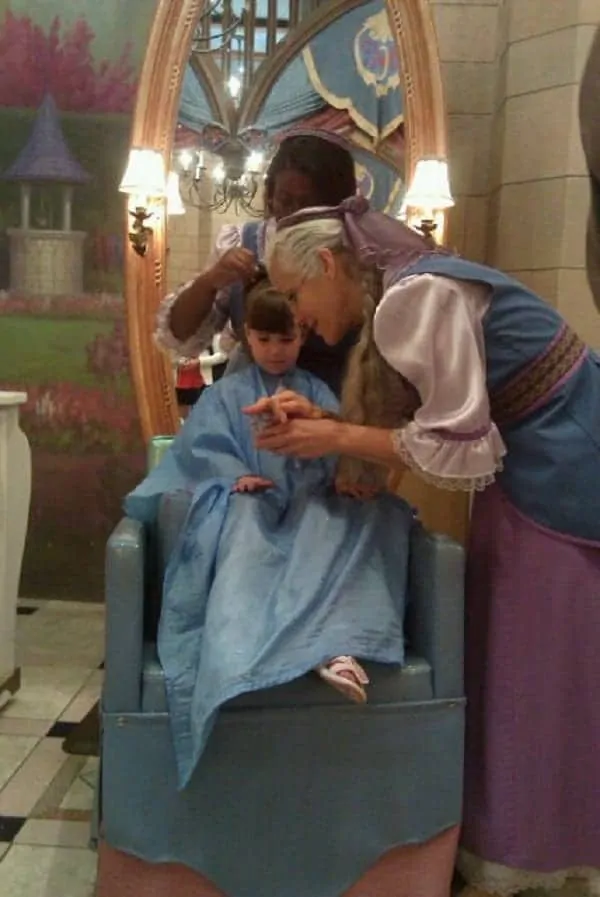 The salon offers a variety of packages to choose from for young girls who wish to turn into their favorite Disney Princess.
The boutique also offers special experiences such as the Knight Package for young boys, where they can transform into a knight with hairstyling, face painting, and a sword and shield.
Reservations for Bibbidi Bobbidi Boutique are highly recommended as it is a popular experience among young Disney fans.