If you are looking for a great cruise for your family, look no further than a Disney Dream Cruise! There is a reason why Disney Cruise Line is known as the top cruise line for family vacations. As soon as you step foot on the ship, you feel like you're in a floating Disney resort.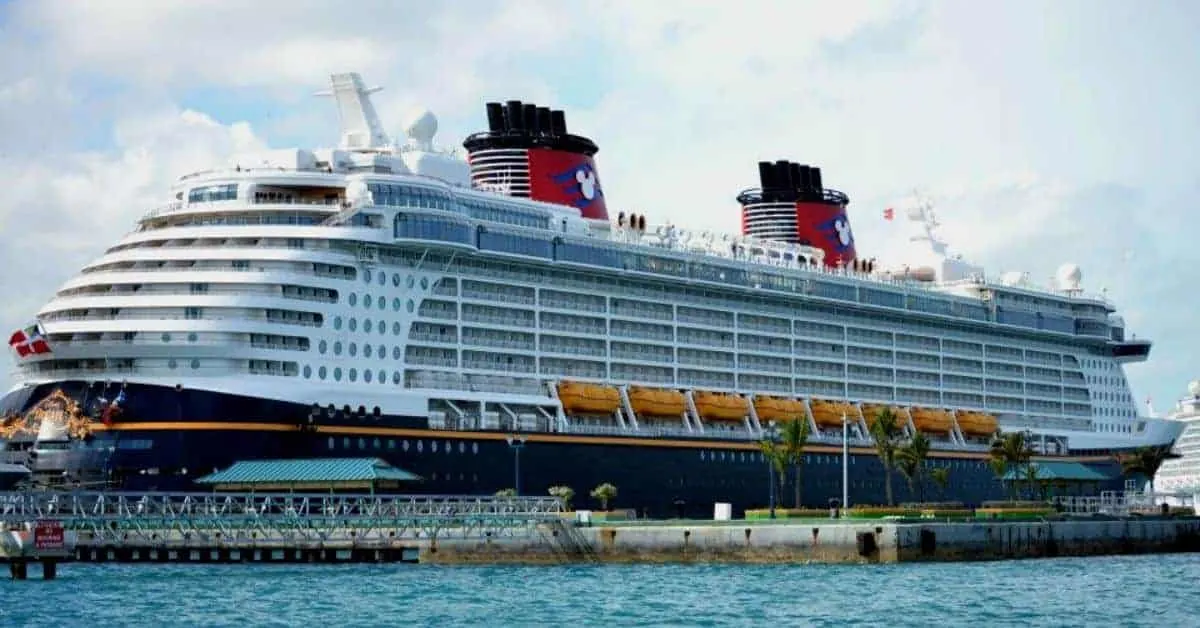 The Disney Dream ship is packed full of activities that the whole family will enjoy and although a bit more pricey than other cruise lines, I think you will find that it is worth every penny.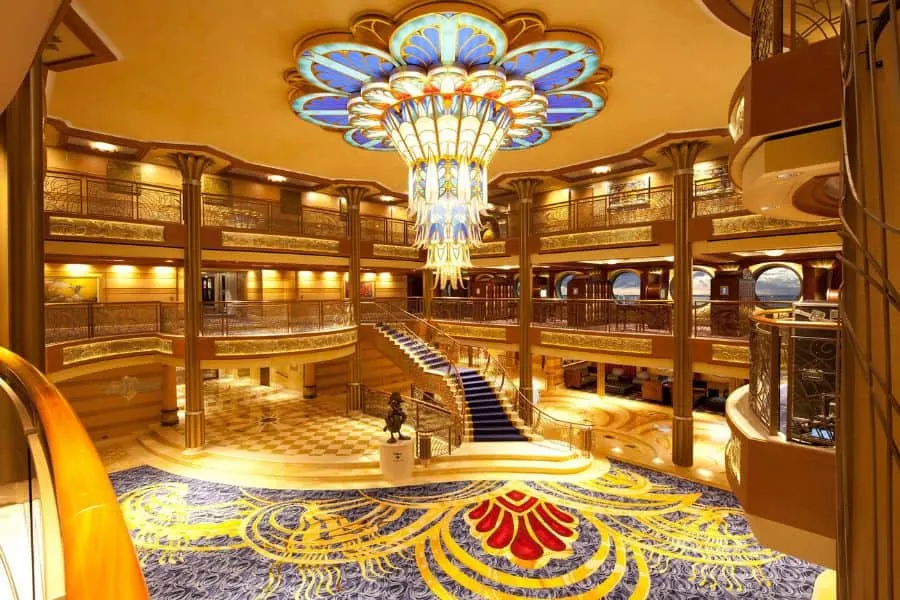 Disney Dream Atrium
The Disney Dream is the third ship in the Disney Cruise Line fleet, joining the Disney Magic, the Disney Wonder that came before. It's sister ship is the Disney Fantasy.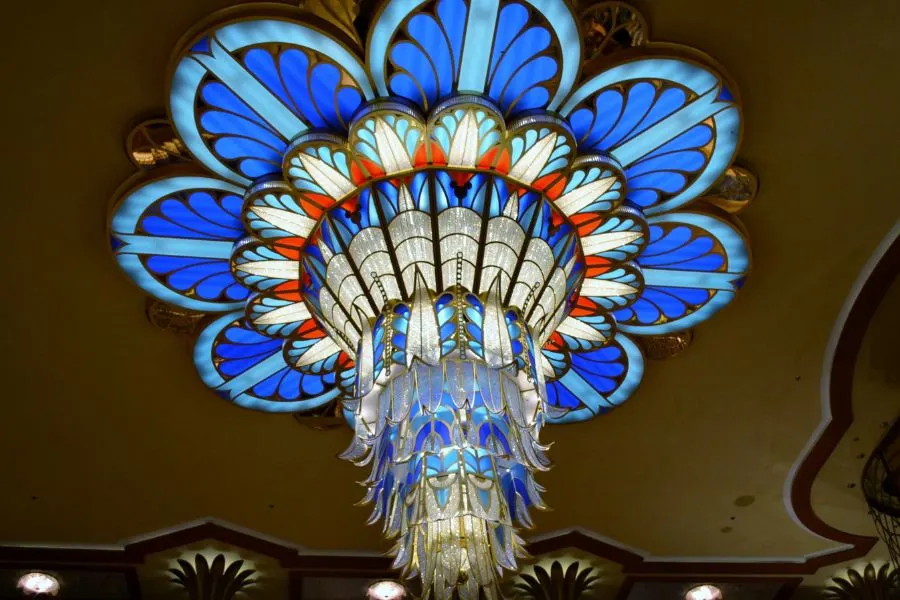 When you step onboard the ship into the atrium, you will find it is designed in an Art Deco style with a colorful stained glass chandelier gilded in 24k gold plating & adorned with thousands of hand-crafted Swarovski crystal beads.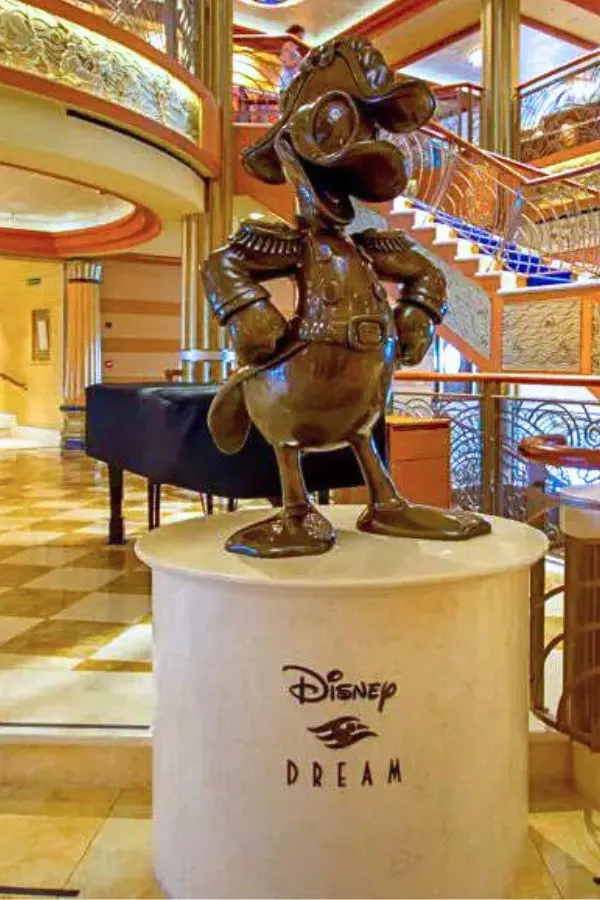 Every Disney Cruise Line ship has an atrium lobby statue celebrating a classic Disney character and for the Disney Dream it is Admiral Donald striking a pose.
Disney Dream Restaurants
Disney does what is called a dining rotation. There are three main seating restaurants and you will rotate to different restaurants each night keeping the same dining service team.
The three restaurants in rotation are Enchanted Garden, Animator's Palate and Royal Palace.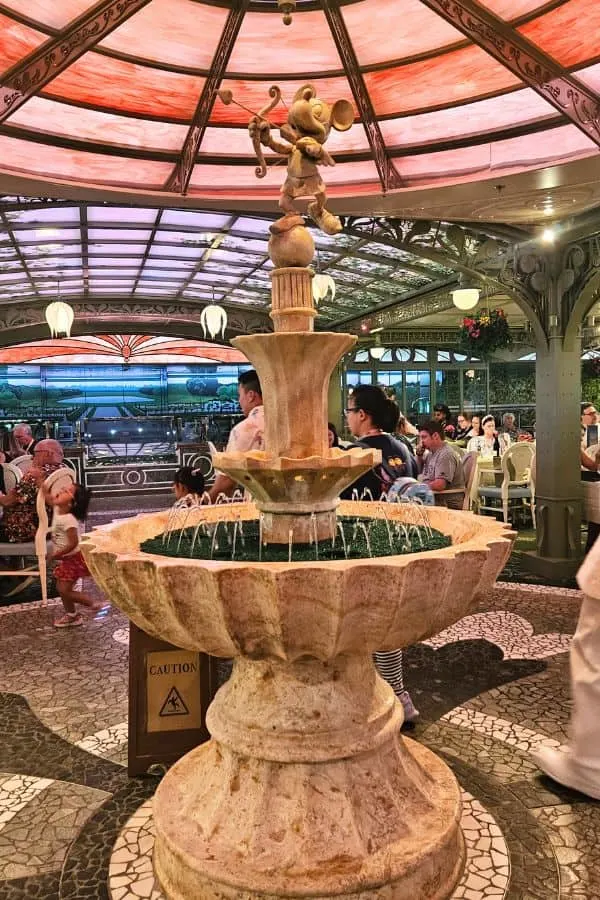 Enchanted Garden
Dine in a French-inspired restaurant that makes you feel as though you are in an outdoor space indulging on seasonal cuisine.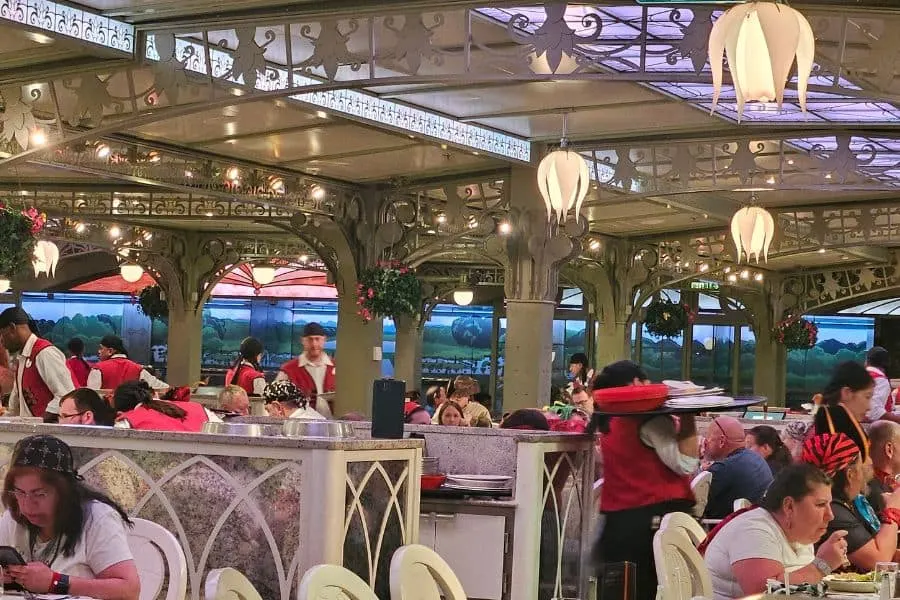 As the dinner progresses, the flowers that adorn the ceiling begin to open and the sky above turns dark.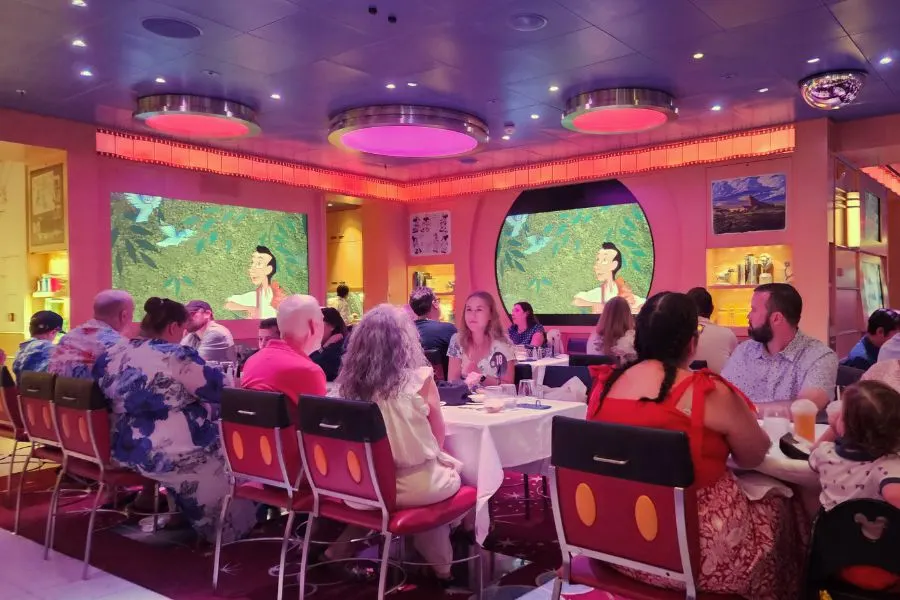 Animator's Palate
In this restaurant, guests will dine undersea with Nemo & Friends. All major characters from the animated movie will appear to be swimming or floating by the restaurant windows.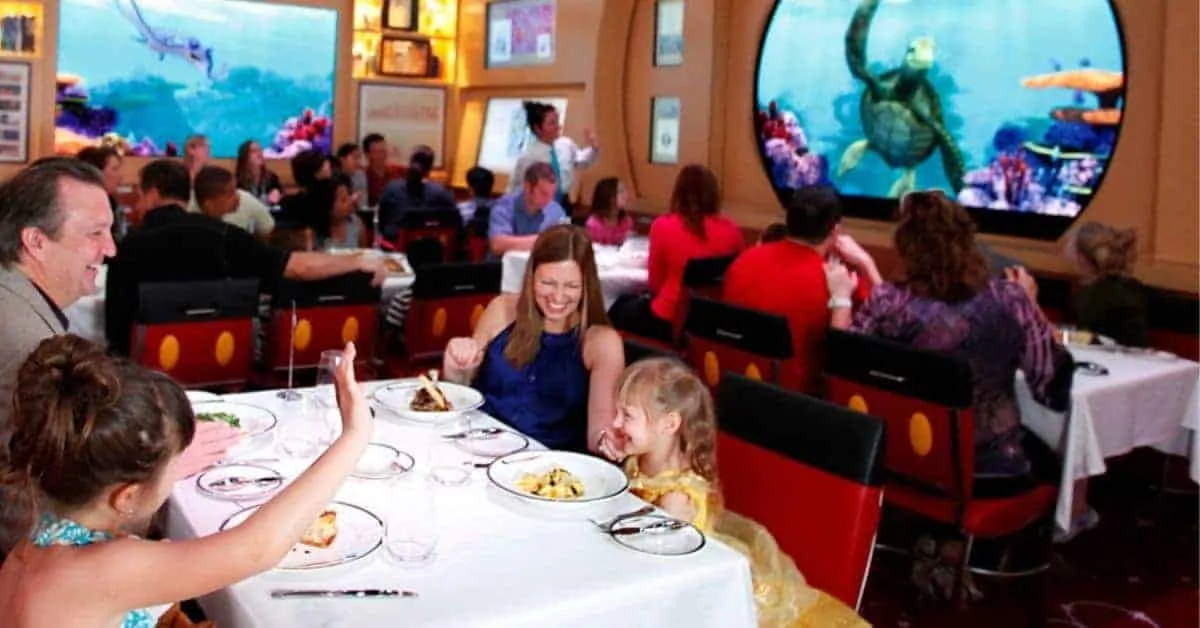 During the Animator's Palate dinner, Crush makes a special appearance and interacts with guests while they dine on Caribbean-inspired dishes.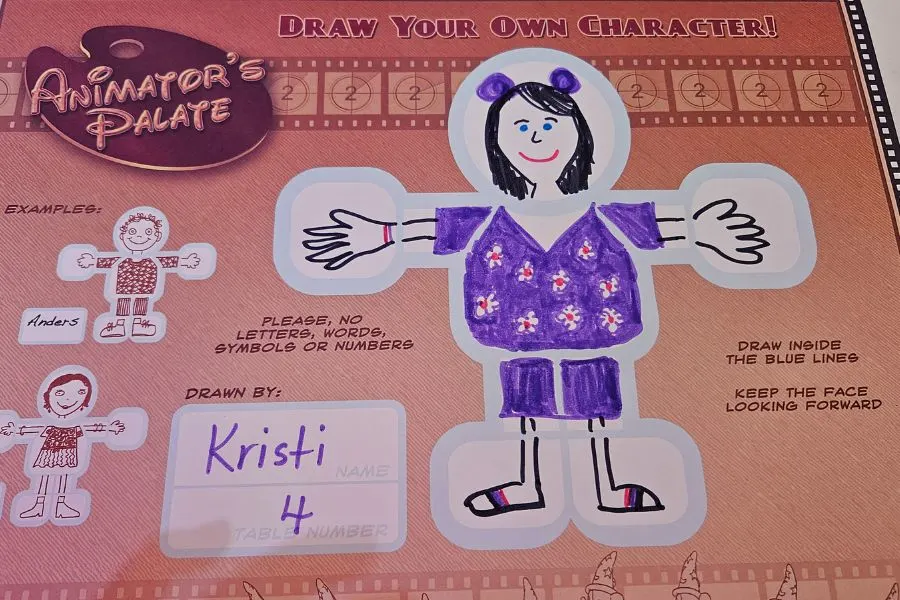 If your cruise allows for you to visit Animators Palate more than one night, the second night you will get to experience art coming to life.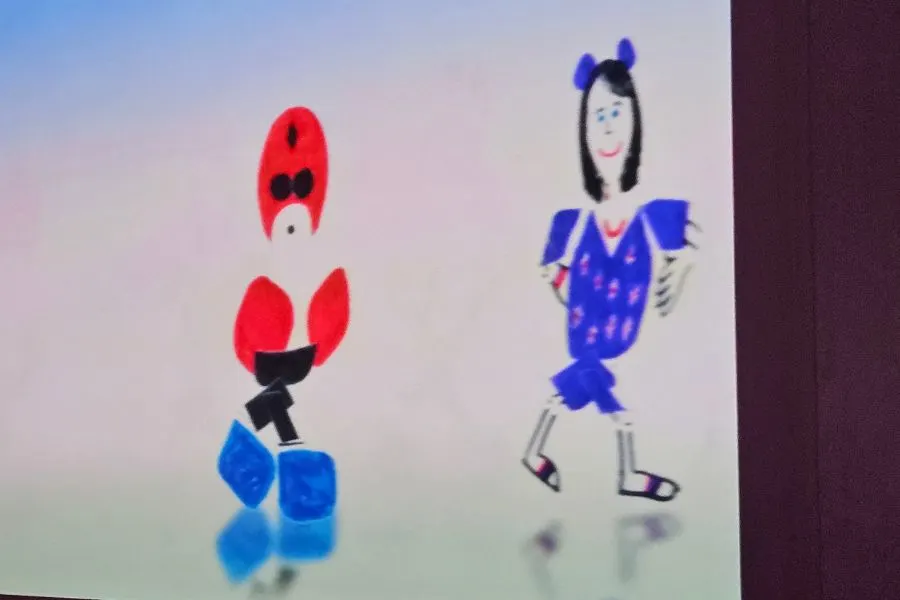 Each guest is given a chance to create a piece of art that will magically dance across the screen by the end of the night.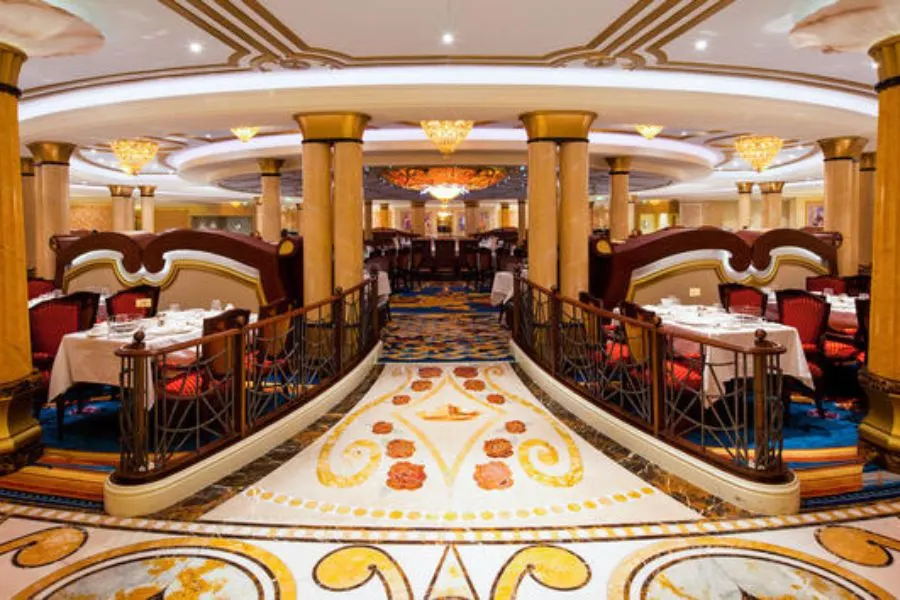 Royal Palace
This French restaurant is inspired by the classic Disney films "Cinderella," "Snow White," "Beauty and the Beast" and "Sleeping Beauty."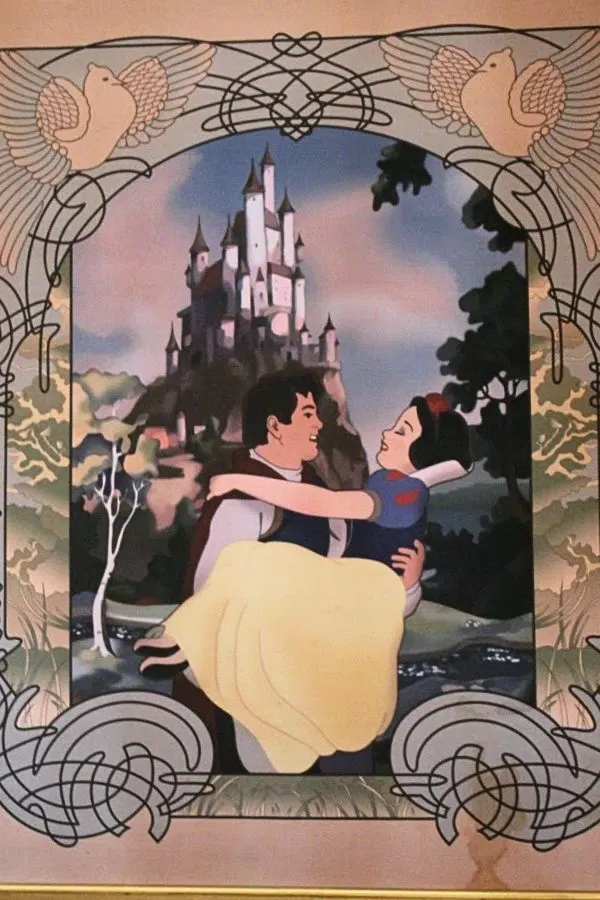 Hand-painted portraits of the princesses—Cinderella, Snow White, Belle and Sleeping Beauty (Aurora) —and their princes grace the walls.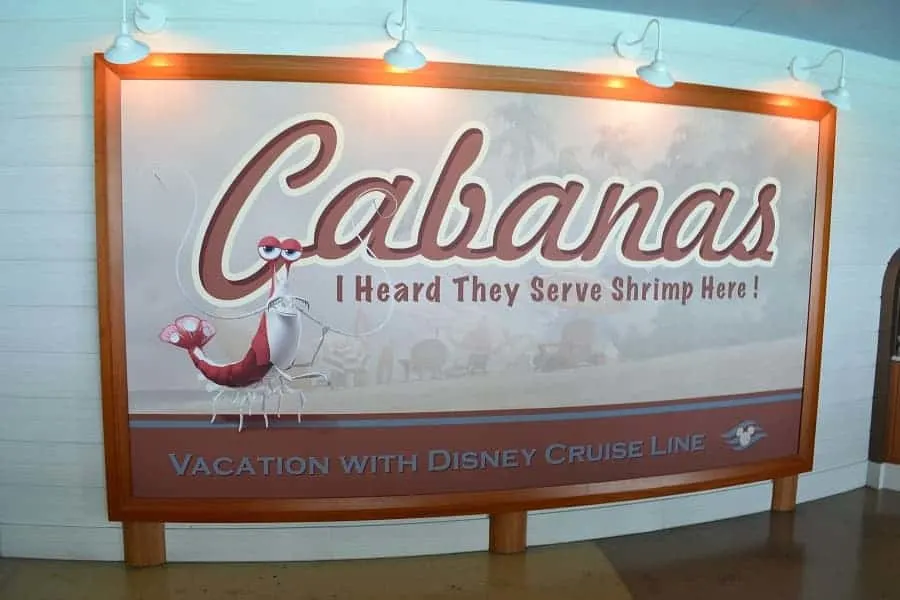 Cabanas
Cabanas is a casual buffet restaurant that is open for breakfast and lunch.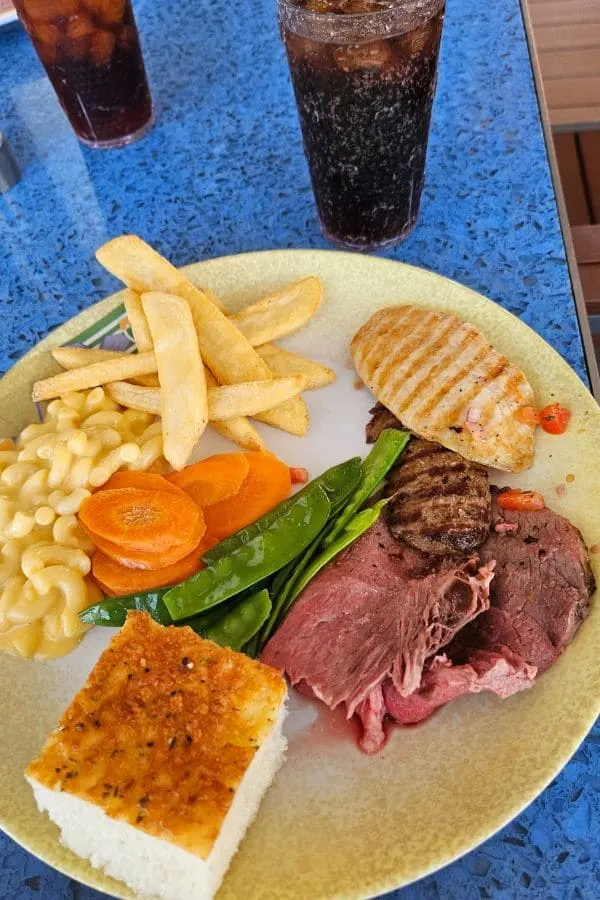 It is self-serve and offers a vast selection of food choices that even the pickiest eaters will enjoy.
There are carving stations, and always a steak, fish and chicken option during lunch.
They also have a ton of vegetarian selections.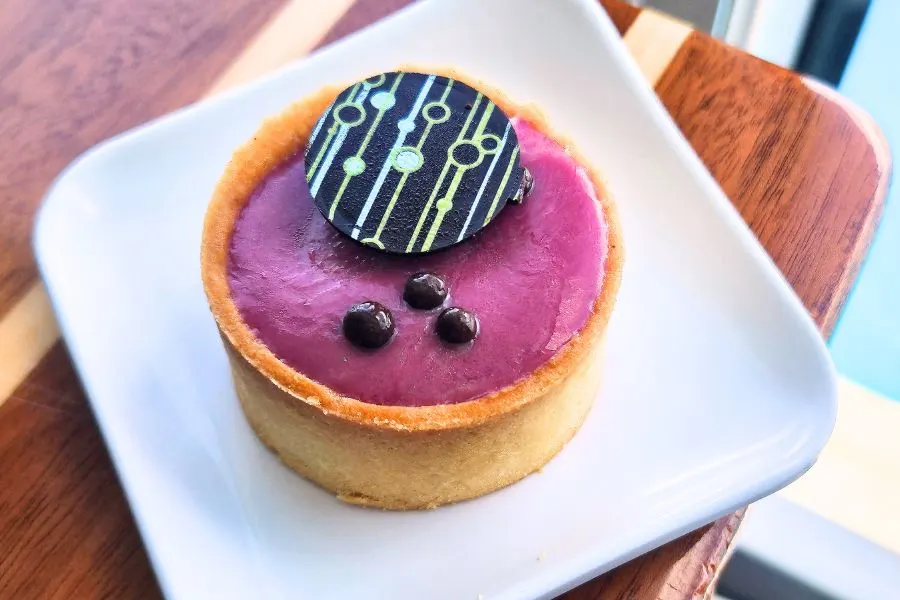 There is a full salad bar, array of cheeses and bread, and of course, desserts!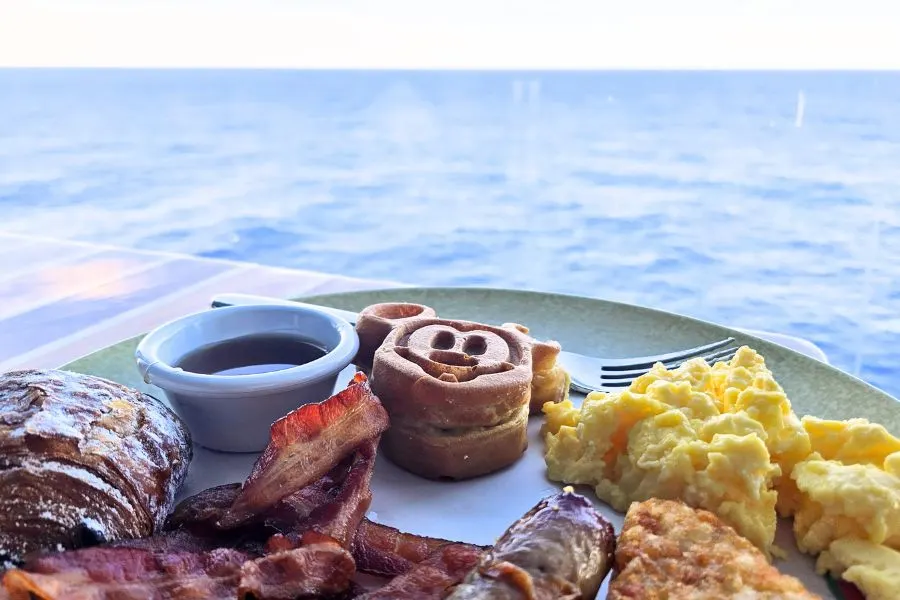 This is always our go-to for breakfast. While you can eat at the table-service restaurants for breakfast, I enjoy being able to sit with an ocean view for breakfast.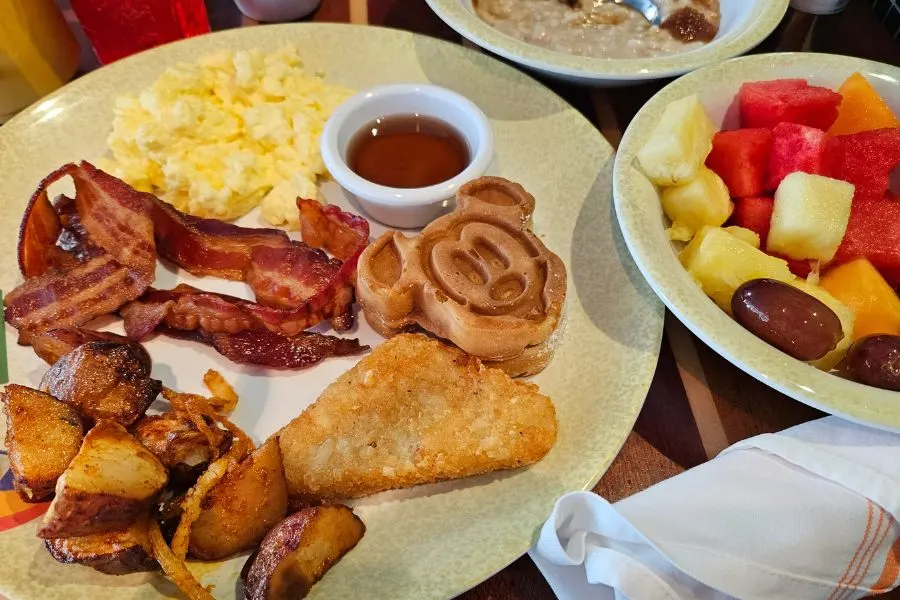 The breakfast has all the traditional American favorites, eggs, bacon, and breakfast potatoes along with fresh fruit, oatmeal and cereal stations.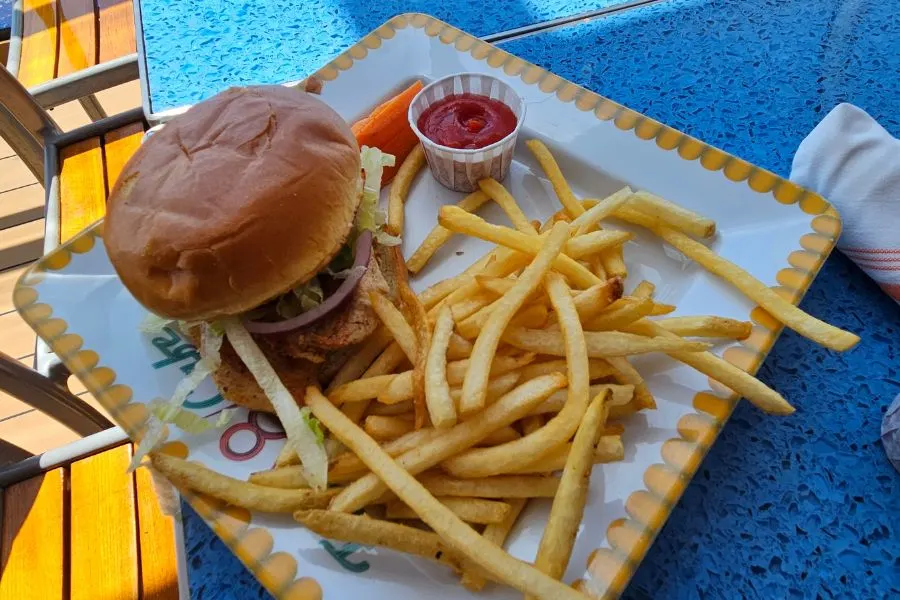 Flo's Cafe
When you want to eat poolside, you will have several options: Luigi's Pizza, Tow Mater's Grill and Fillmore's Favorites.
Each offers everything from burger and fries to chicken tenders and wraps. Each day there will also be a special like BBQ or Chicken Sandwich.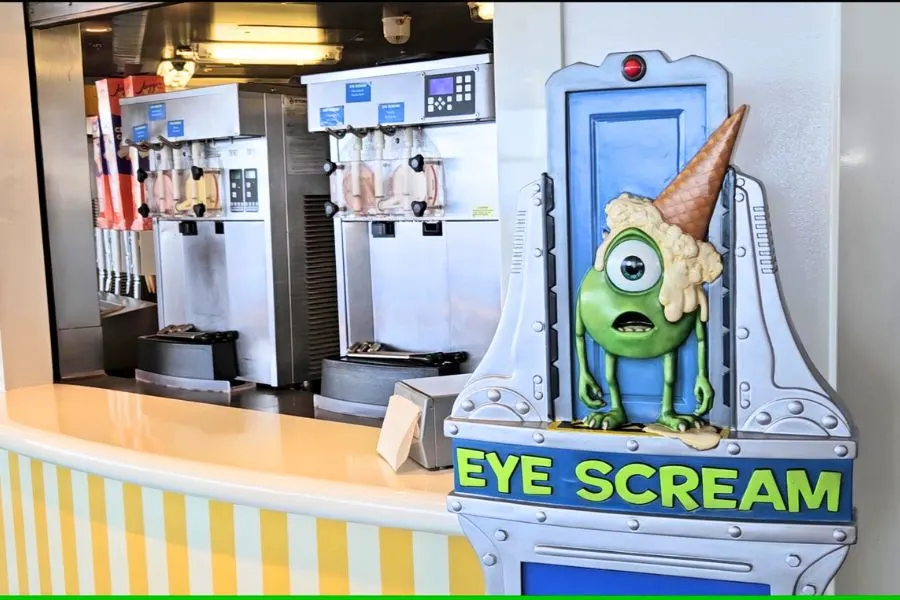 Eye Scream
One of my favorite things about a Disney Dream Cruise is that the ice cream is FREE!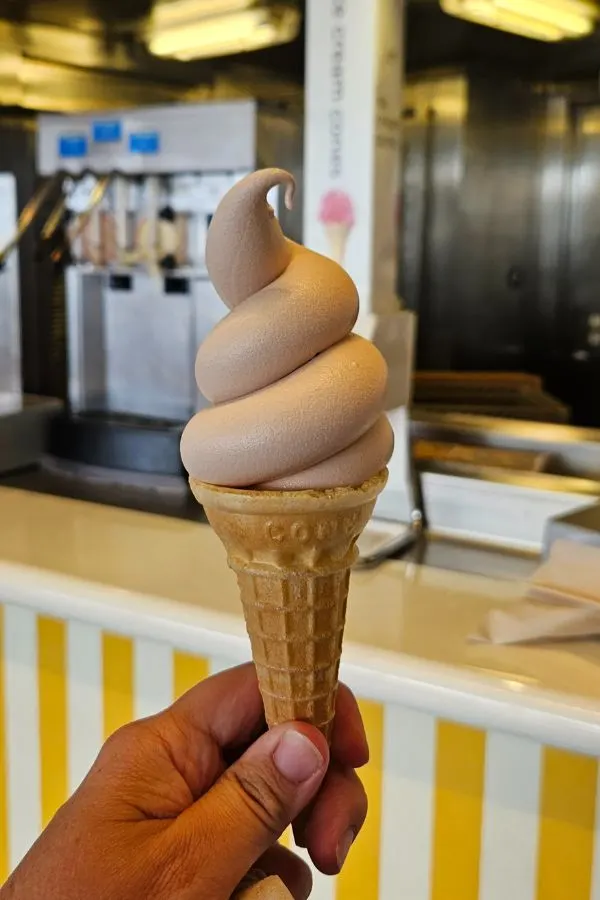 Chocolate, vanilla, and swirl are available every day and they will rotate different fruit flavors depending on the day. We saw flavors like strawberry, mango & blueberry.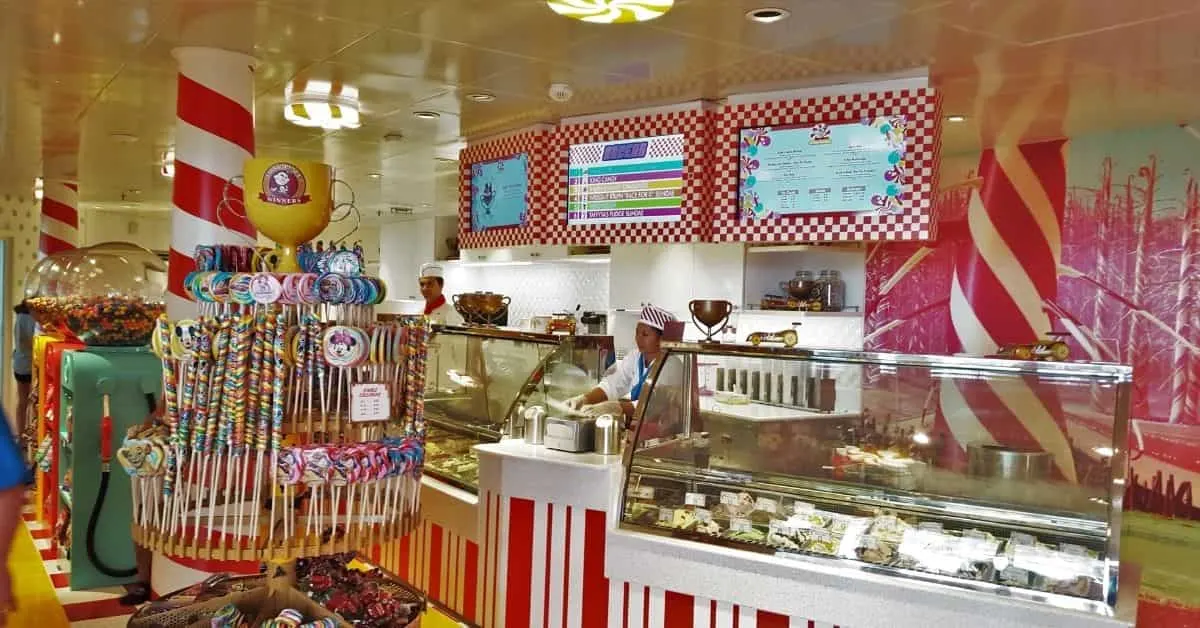 Vanellope's Sweets & Treats
If you are looking for something sweet and you've had your fill of all-you-can-eat ice cream, check out Vanellope's Sweets & Treats.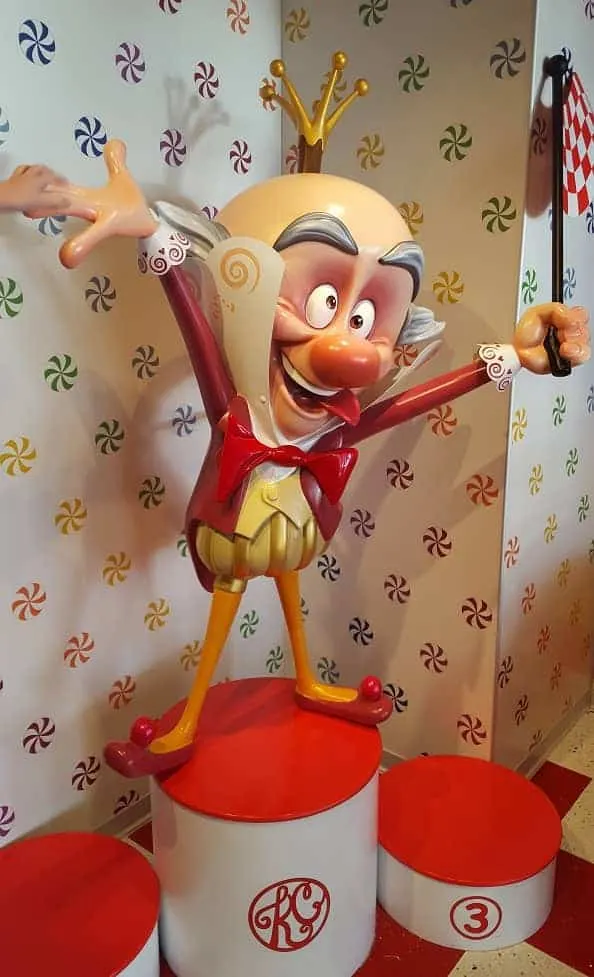 This sweet shop takes you straight into the whimsical candy land of the Sugar Rush race car game in "Wreck-It Ralph."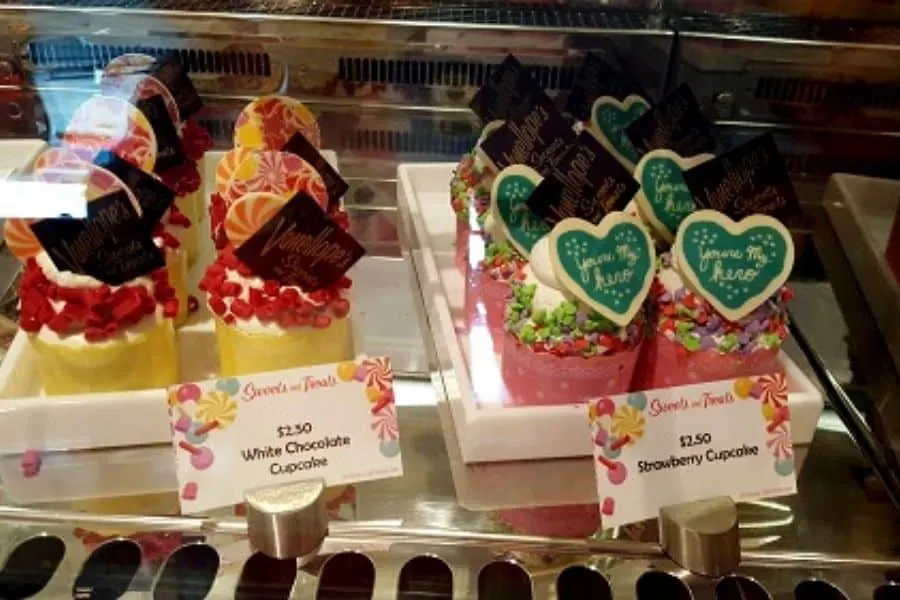 Inside, you will find all the goodies you might see in the Disney Parks like specialty cupcakes, rice krispy treats and candies.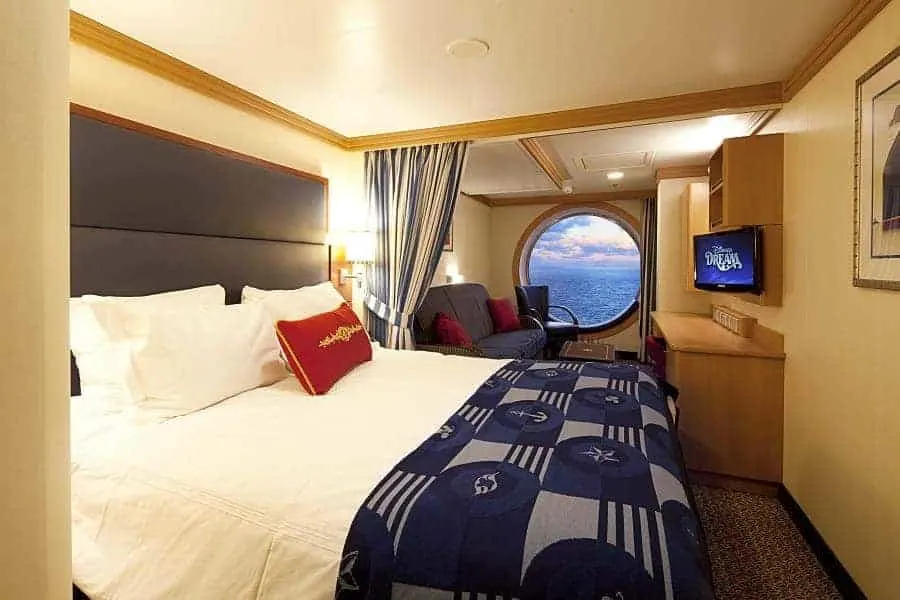 Disney Dream Staterooms
Staterooms on a Disney Dream Cruise are more spacious than most other cruise line cabins and they come with plenty of storage.
There are four designations: Concierge, Verandah, Oceanview and interior rooms.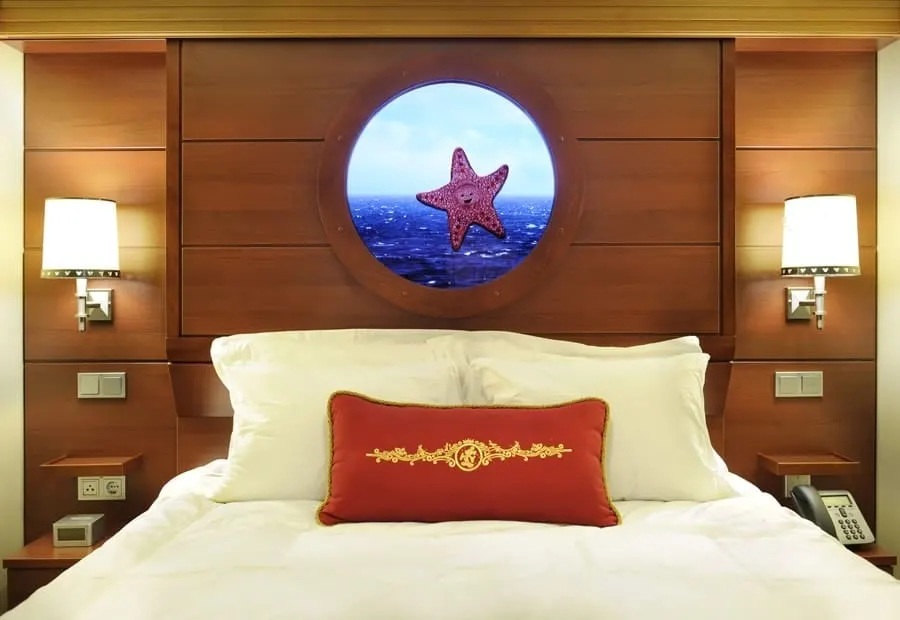 Interior rooms feature a magical porthole that comes to life throughout the cruise. You never know who might pop by to say hi!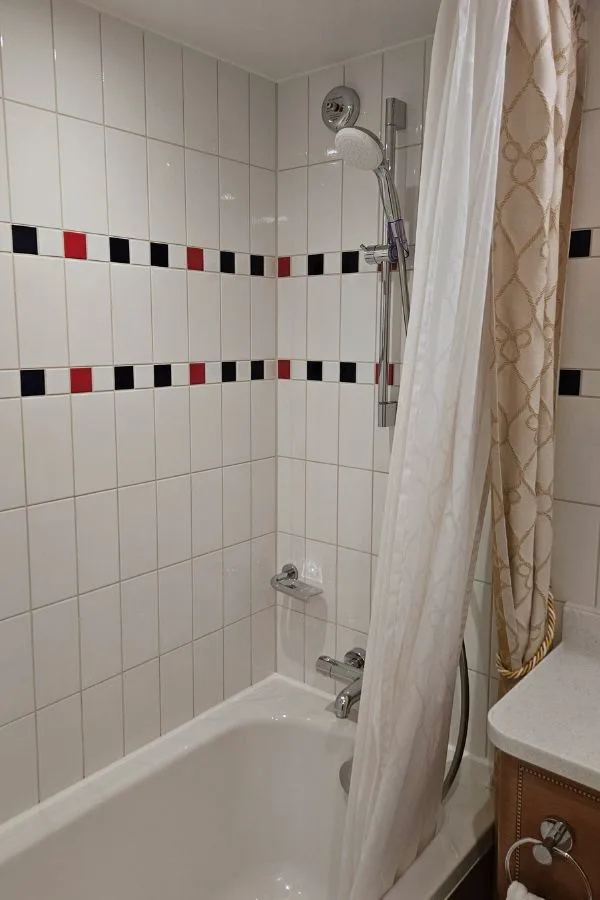 All staterooms on the Disney Dream have a split bathroom.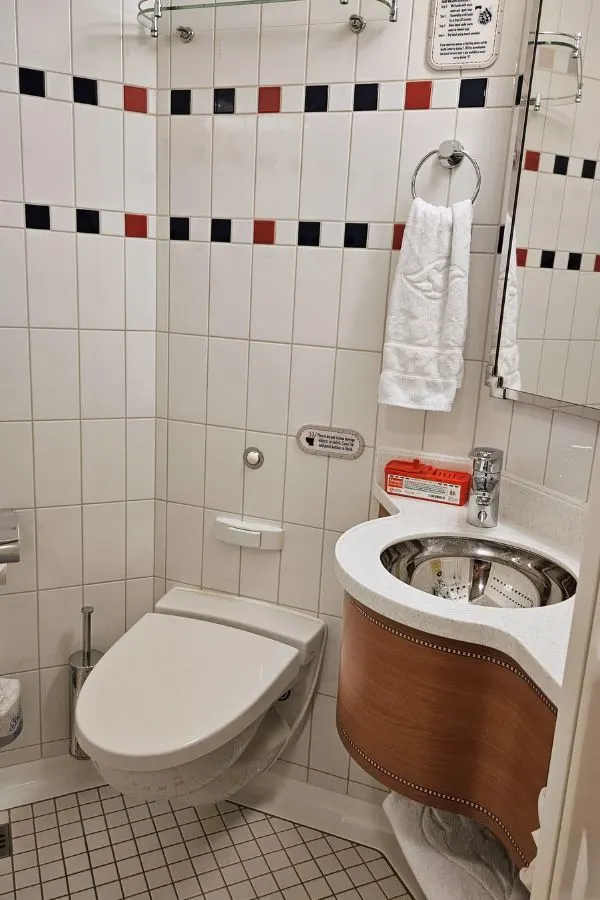 One bathroom has a tub & sink, while the other has a toilet & sink.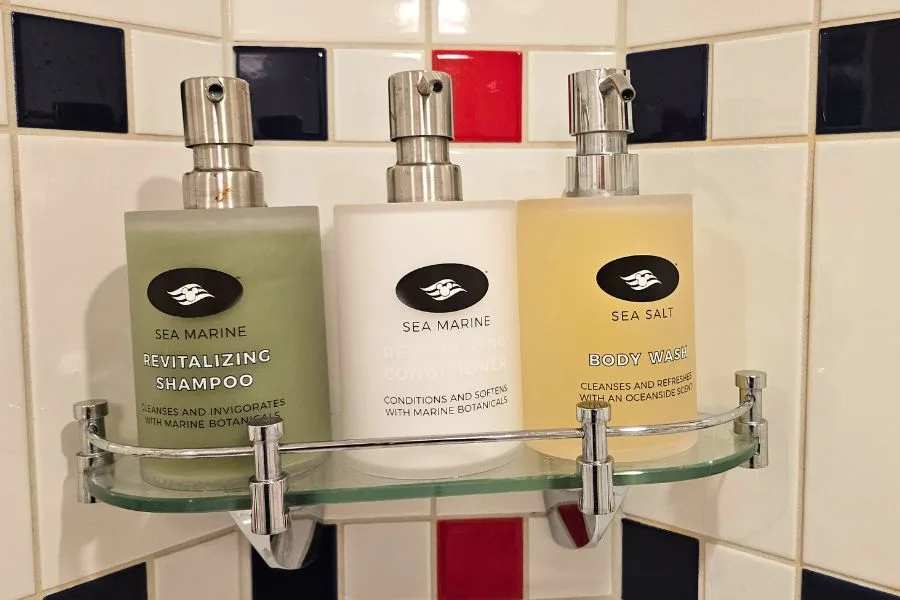 Fun on the Disney Dream
The Disney Dream is like a floating Disney park, filled with great experiences your entire family will enjoy.
If you are planning a Disney Cruise on the Dream here are the things you can look forward to: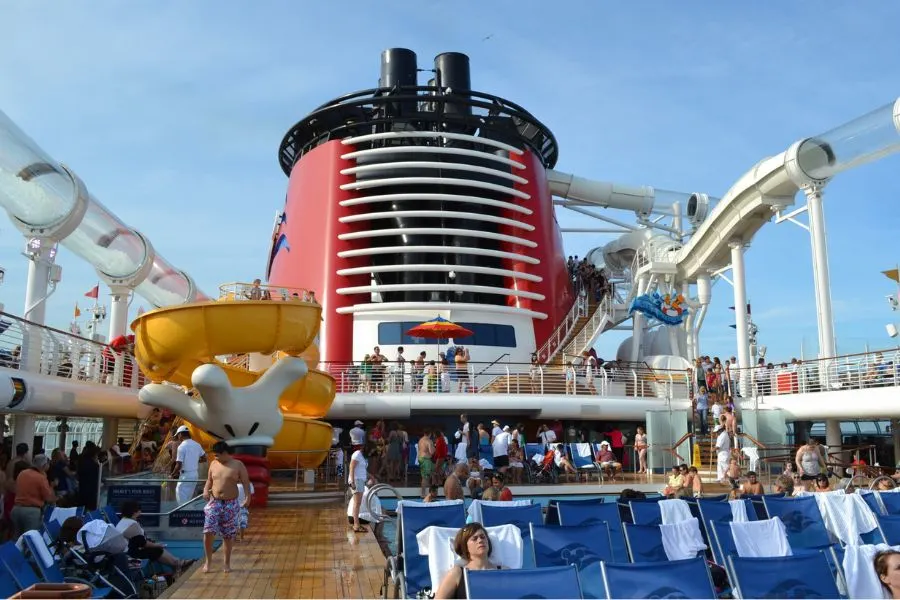 Disney Dream Pool Deck
If pool time is what you need, Disney Dream offers many different options. There are two pools on the main deck to choose from.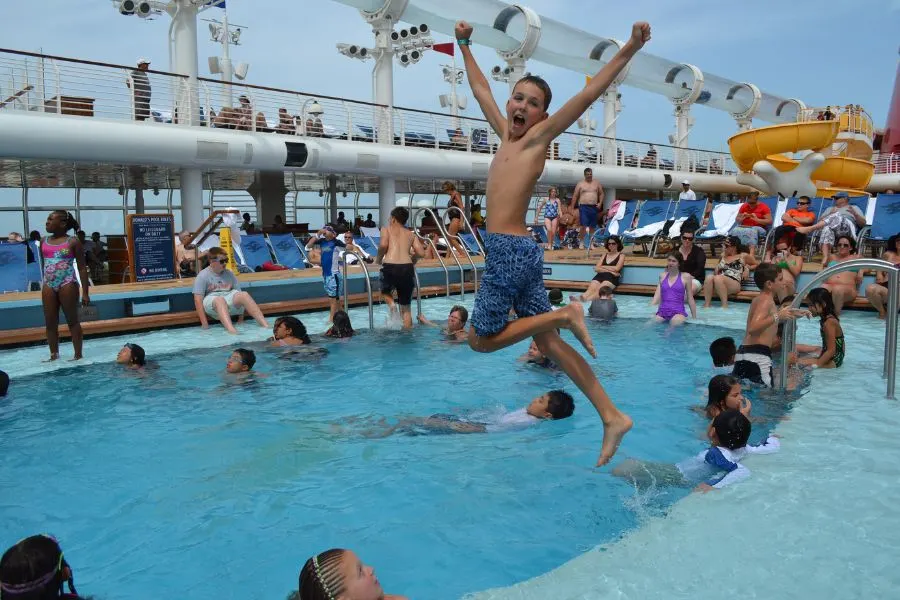 You will find Mickey's Pool which gives the kids an area to get wet while parents sit nearby, and Donald's Pool which is the main pool featuring a big movie screen.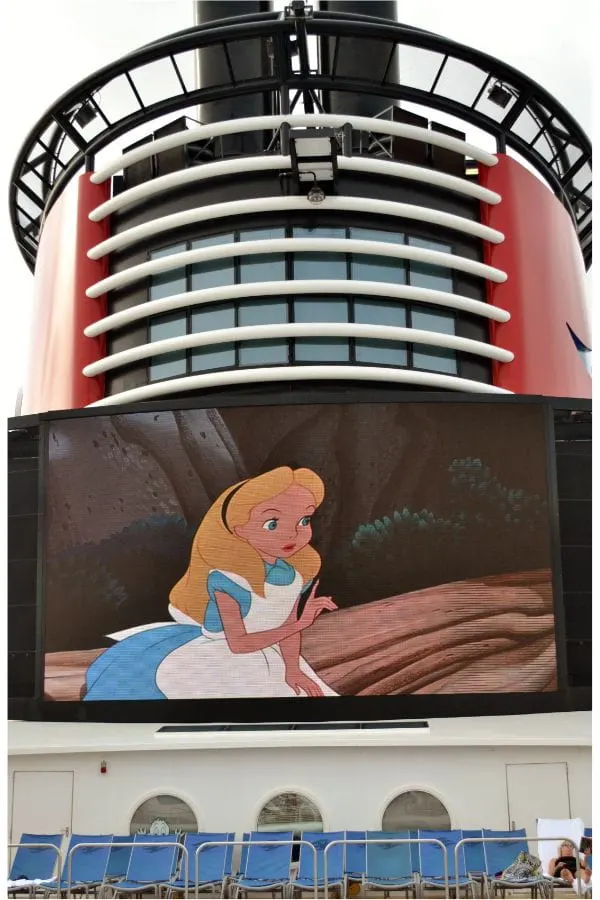 One of the best things about the pool deck on the dream is watching Disney movies while you swim & lay in the sun.
Aquaduck
One of the highlights of the Disney Dream is the Aquaduck! This 765-foot-long water coaster will even take you over the side of the ship!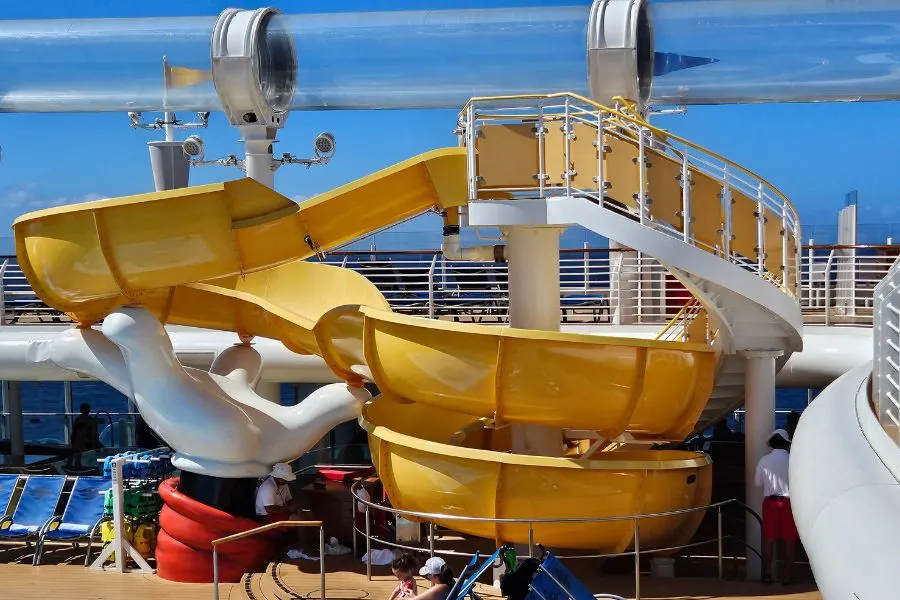 Mickey Slide
There is also a Mickey's Slide for kids under 5'4. This three-story corkscrew slide is supported by a giant Mickey hand.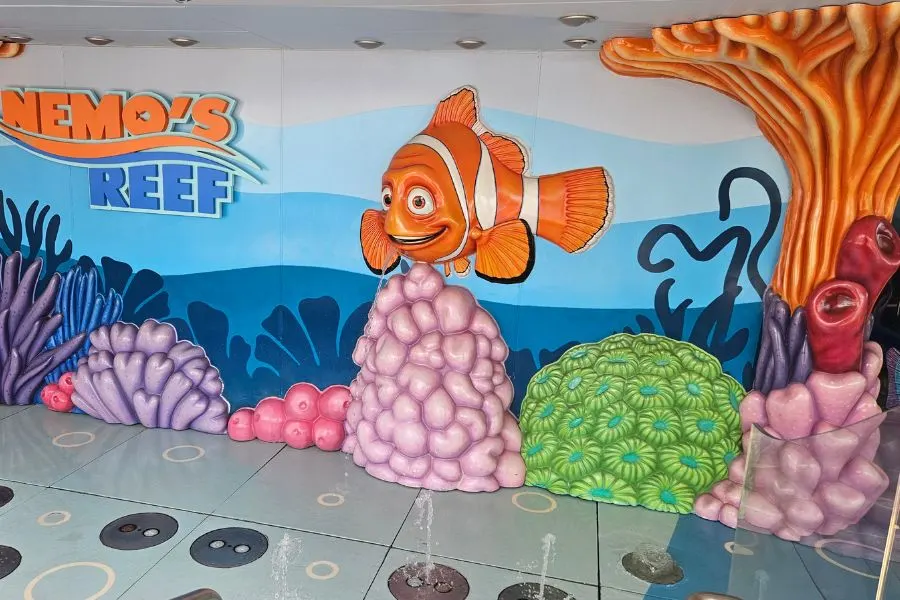 Nemo's Reef
Little ones (up to age 3) will enjoy Nemo's Reef, a special shaded splash-and-play area built just for them.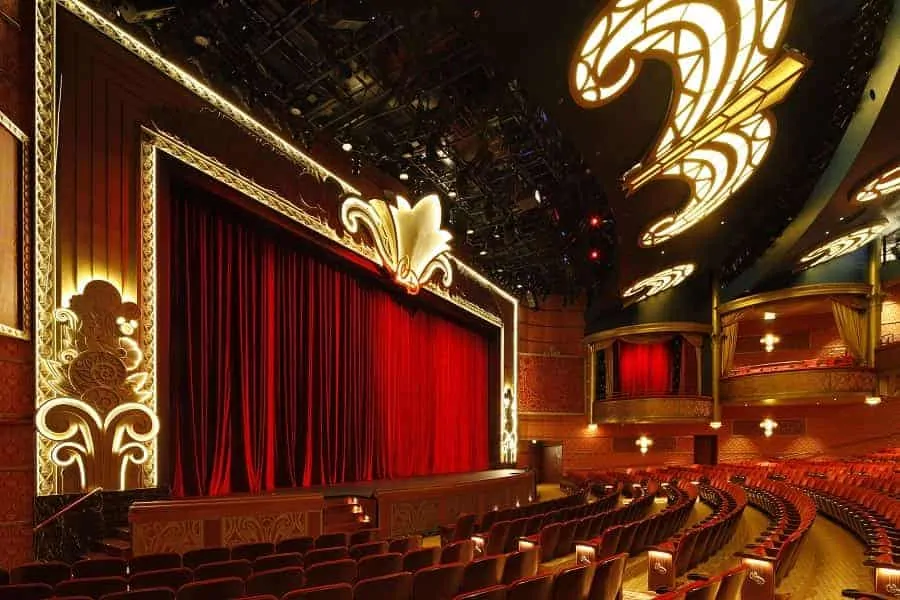 Broadway Style Entertainment
One of the reasons to take a Disney Dream Cruise is the shows you get to see on board the ship.
Each evening, you will get to see a live show that is exclusive to the Disney Cruise Line.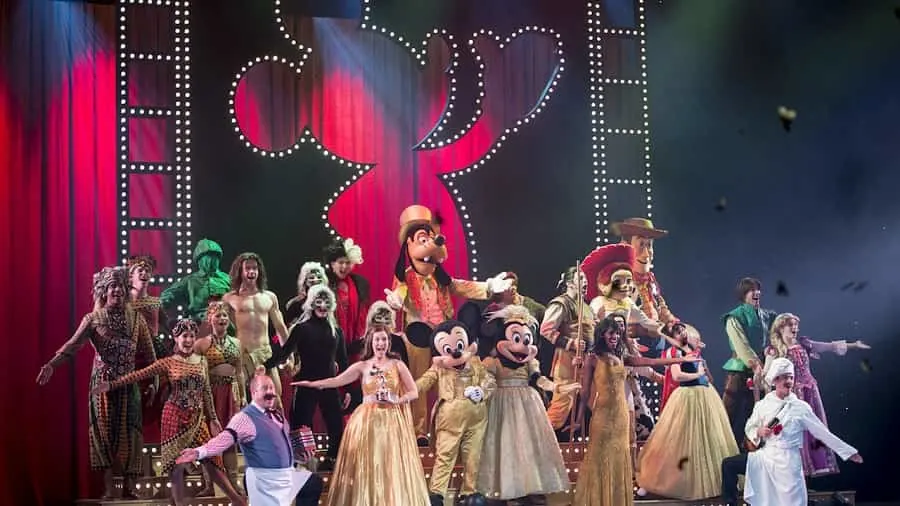 There are three main shows on the Disney Fantasy: Beauty and the Beast, The Golden Mickey's and Disney' Believe and will be in the Walt Disney theater.
Disney "Beauty and the Beast" is a brand-new musical theater performance inspired by the live-action adaptation of the animated classic. This musical is only shown aboard the Disney Dream!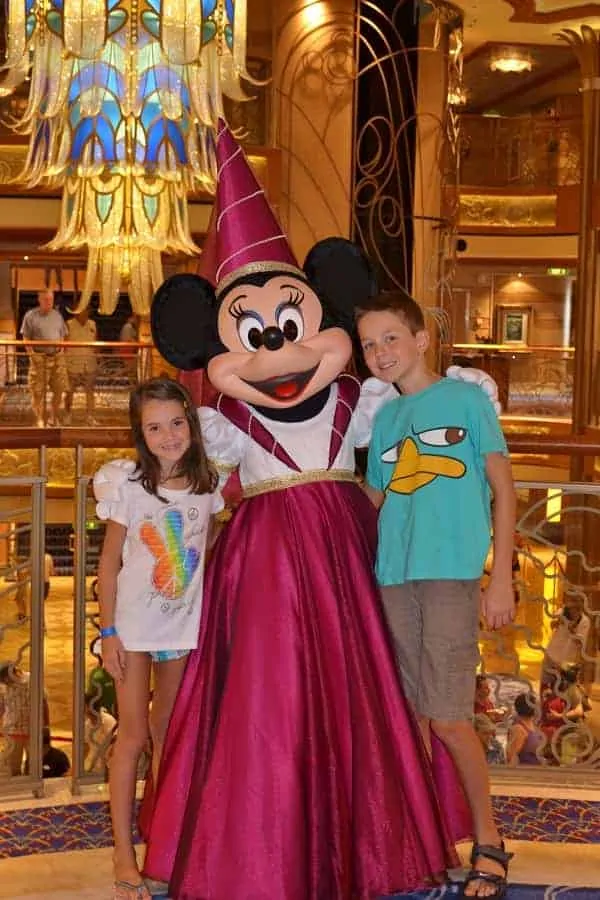 Character Meet & Greets on a Disney Dream Cruise
Just like at Walt Disney World, you will get to see your favorite Disney characters in person with daily and nightly meet & greets!
You will even find them on Castaway Cay!
Wondering which characters we've spotted on the Disney Dream Cruise?
Mickey Mouse
Minnie Mouse
Donald Duck
Pluto
Goofy
Daisy Duck
Chip & Dale
Captain Hook
Mr. Smee
Peter Pan
Tinker Bell
Jack Sparrow
Ariel
Princess Tiana
Aurora
Belle
Snow White
Stitch
Anna
Elsa
Olaf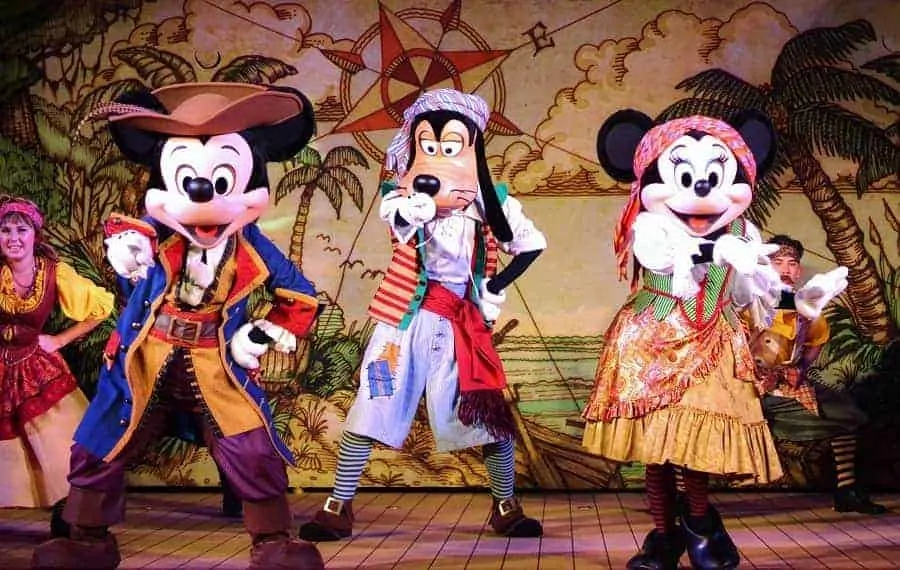 Disney Cruise Pirate Night
During your cruise, you will get to experience Pirate Night.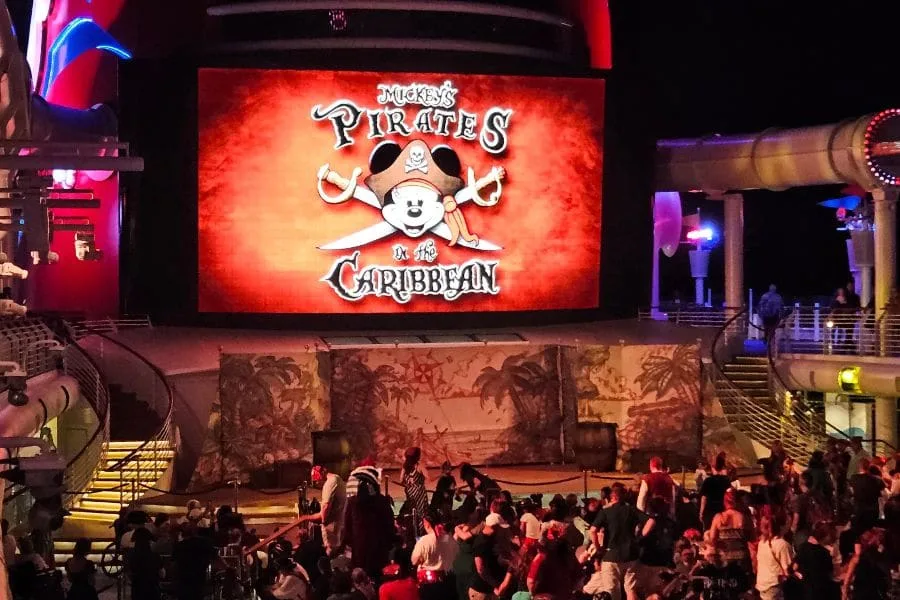 This night is filled with pirate-themed fun… pirate meet & greets, pirate food, and a Pirate show.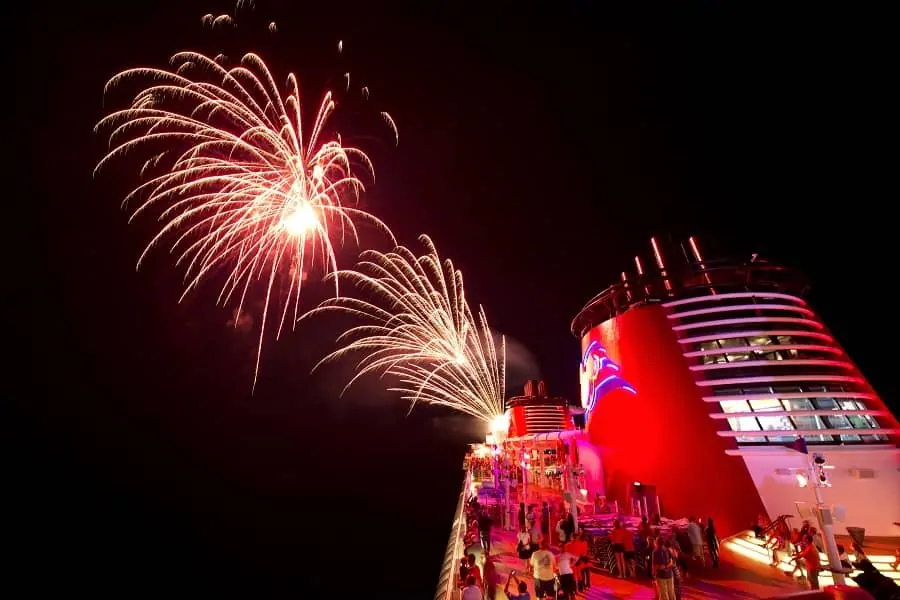 The night concludes with a fireworks show over the ocean. It is nothing less than spectacular.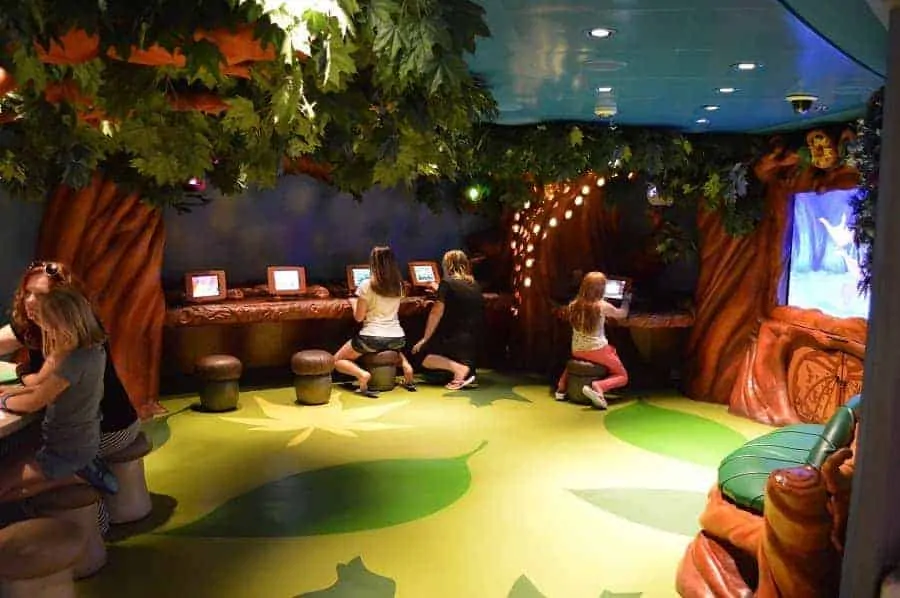 Kids Clubs
Kids have so much to do on a Disney Dream Cruise that they will NEVER get bored, especially with the new updates of the Oceaneer Club.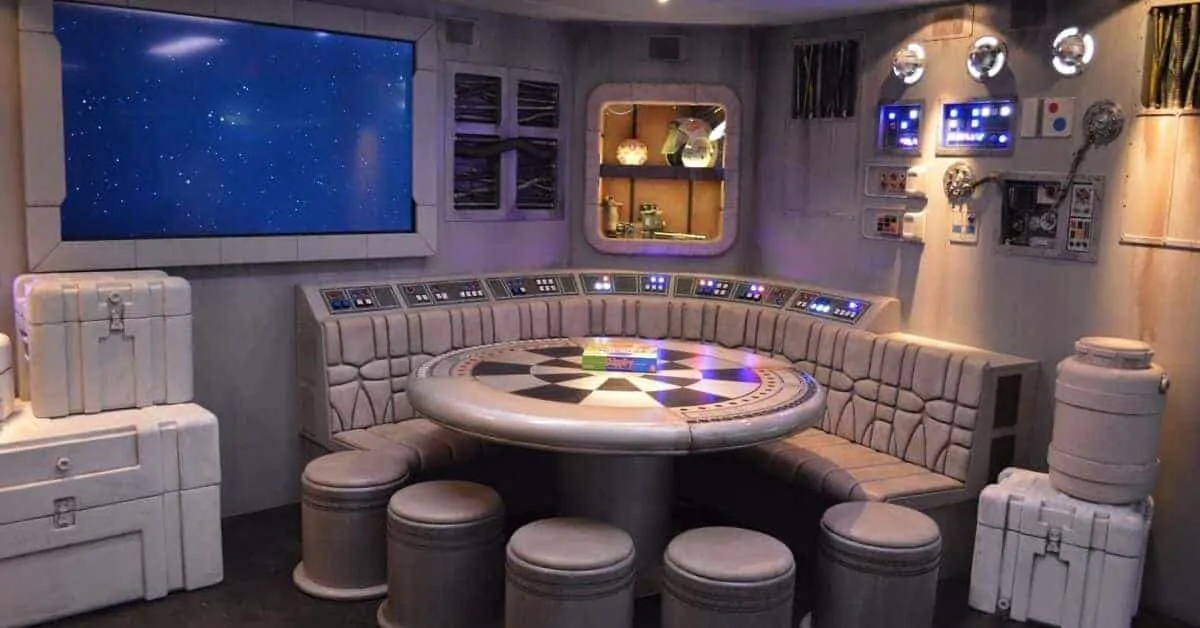 Younger kids (under 12) can spend time playing video games, dressing up, doing art or just watching a movie on the big screen.
Disney Characters even come to join in on the fun!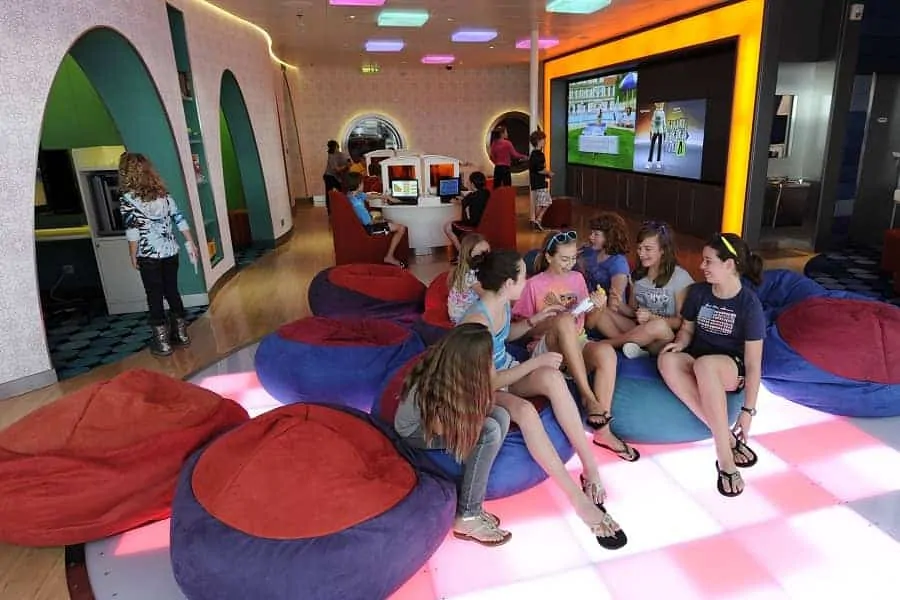 Older kids (11-14) will enjoy all the fun activities they have at Club Edge! They can watch sports on the large screen TVs, group activities, craft or just enjoy playing video games.
There is also a Teen club (Vibe) for older kids that has a smoothie bar, video games and planned activities geared toward their age group.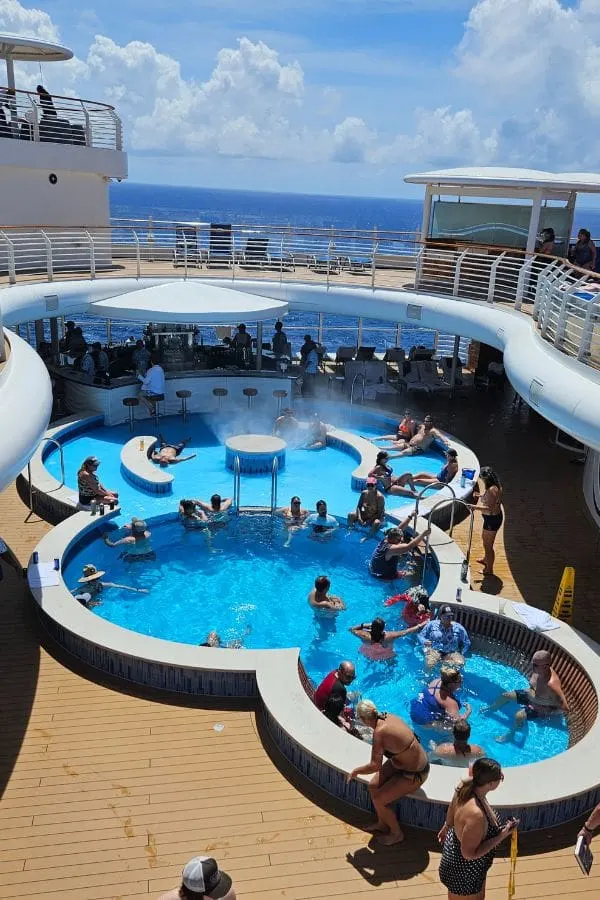 Adult Only Spaces on the Dream
While the kids have plenty of places and spaces to enjoy, including pools and slides, adults have their own retreat at Quiet Cove Pool and the Satellite Sun Deck.
The pool with swim up bar is a perfect place to get away from it all. Take a dip in the plunge pool or sit in the hot tub without worrying about kids splashing around.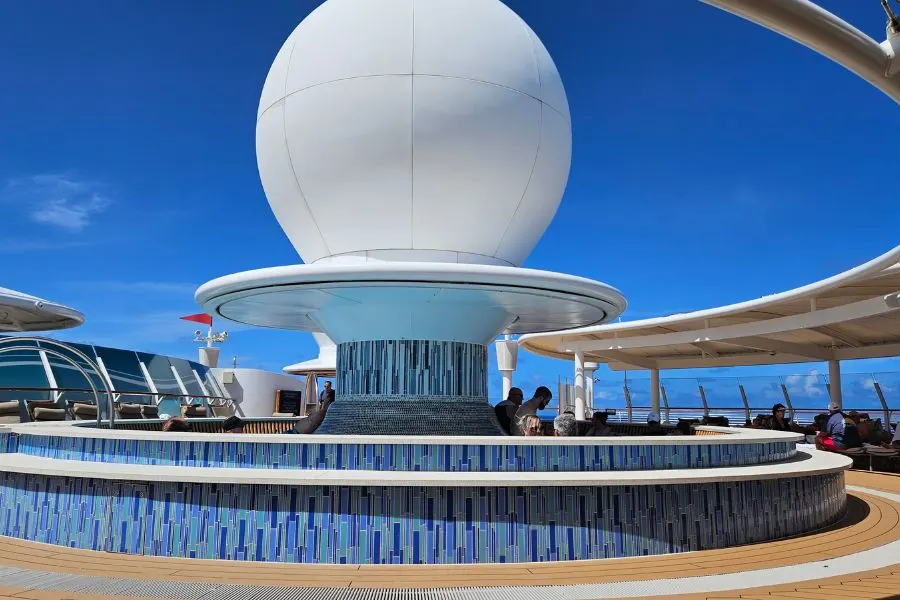 Adults can also visit Satellite Sun Deck where they will find comfy reclining chairs and a shallow wading pool that is perfect for cooling off.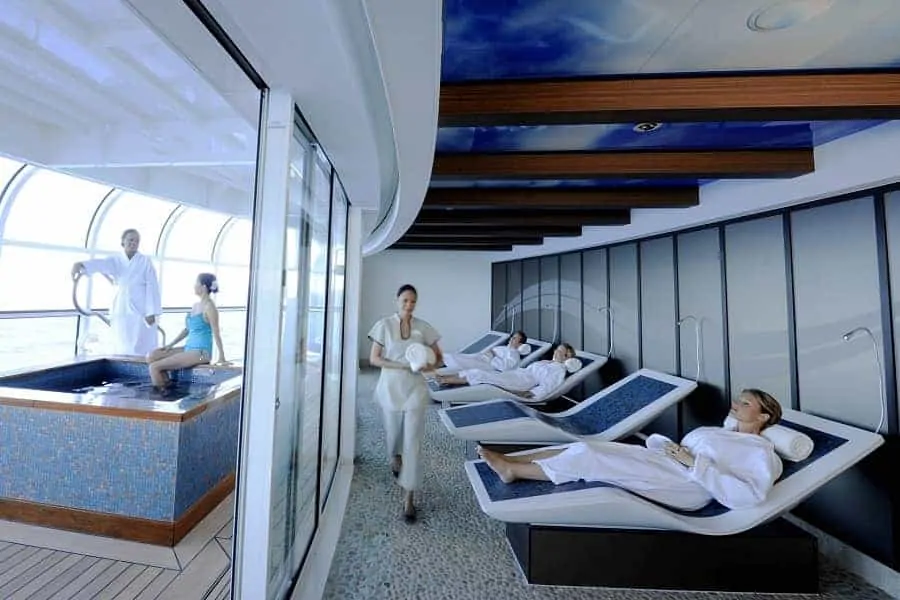 Senses Spa & Salon on the Disney Dream is an adult space that is built for relaxation. Choose your treatment and also take time to treat yourself to the Rainforest Room.
This space will engulf you in aromatic scents as you enjoy some pampering. Take time to indulge in the heated, mosaic tile loungers while enjoying the ocean view.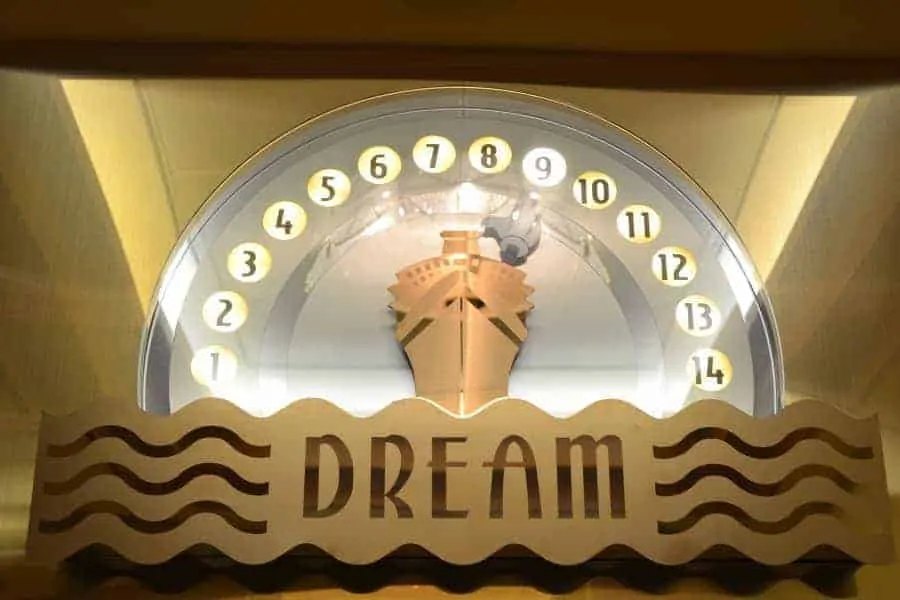 A journey on the Disney Dream is such an enchanting experience! It's filled with great family activities, delicious meals, and unlimited entertainment. What more could you ask for?
Currently, the Disney Dream is going out of Ft. Lauderdale and traveling to the Bahamas (including Castaway Cay) and the Caribbean.
It also sails from Southampton, England in the late summer months.
Have you had a chance to take a trip on the Disney Dream? What was your favorite part of the cruise ship?
More on Disney Dream