One question most people have when heading to Magic Kingdom is, "Is Space Mountain scary?"
Because it is an indoor rollercoaster, no one knows exactly what to expect.
Although I can't take you inside the actual ride to get perspective, I would like to share some information so that you can make the best-educated decision on whether to ride Space Mountain or not.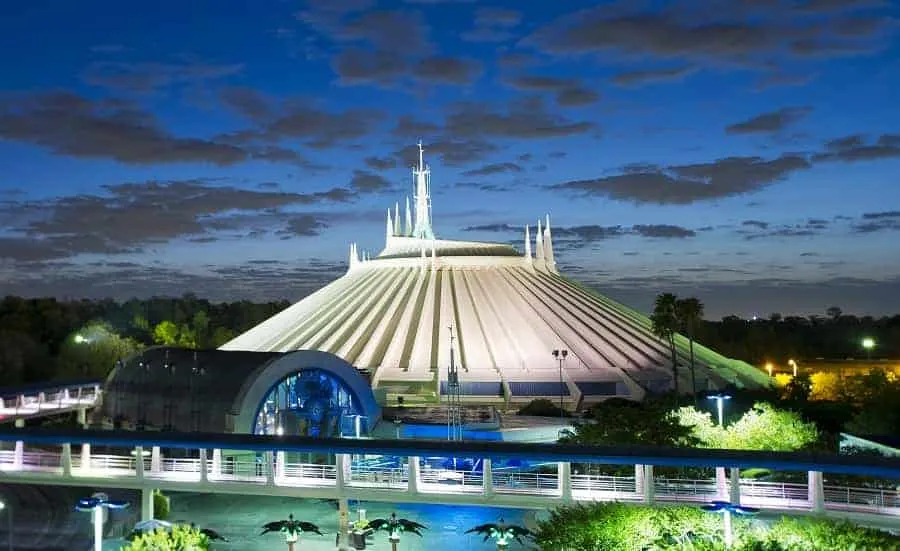 History of Space Mountain in Disney World
Space Mountain is an indoor rollercoaster located in Tomorrowland and is actually the oldest rollercoaster in Florida!
The premise of Space Mountain is that you are taking a dark ride through space.
The idea of the ride was conceived by Walt Disney himself in the early 1960s during a time of heavy space exploration.
What to Expect on Space Mountain, the Ride
While some say that Space Mountain is the scariest ride at Magic Kingdom, that doesn't say much because there really are no scary rides in the park.
When you enter Space Mountain, the queues will lead you through several different areas.
You will pass through a star tunnel and an area with windows that make it appear as though you are in the middle of space with planets and spacecraft appearing in the distance.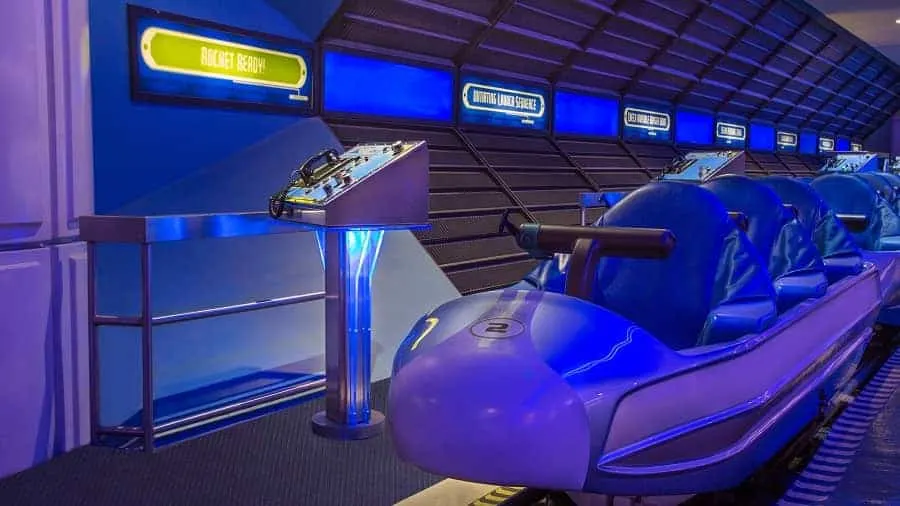 You will then board a three-passenger rocket that will blast you off through tunnels of flickering neon lights before entering the darkness of space.
The vehicles are single-seat. This means that the three people in the rocket sit in their own pod one in front of the other.
The ride is completely in the dark. You will not be able to see what is coming, be it a curve or drop.
The only light you will see are glimpses of outer space; stars, meteors and glowing space vehicles.
There are no inversions on Space Mountain in Magic Kingdom, so the scariest moments are the unexpected drops and turns.
The ride ends with the trains passing through a swirling wormhole.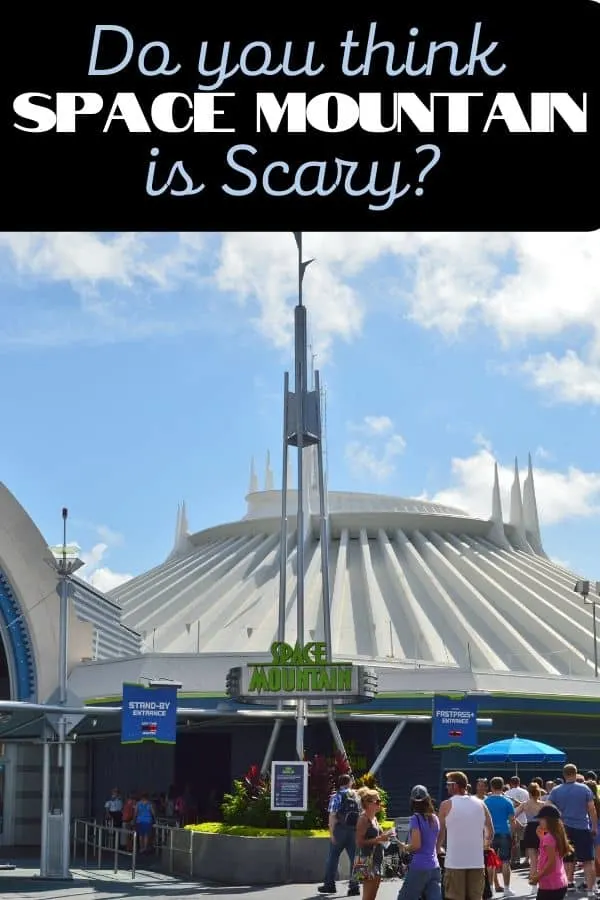 Is Space Mountain Scary?
My answer is no. I think that many people believe the ride is scary because of the unknown element. When you can't see a ride, you tend to think the worst.
Why People May Thing Space Mountain is Scary
It is single seater
It is pitch dark
The ride is jerky
You cannot see whats coming
Sudden drops & turns
Space Mountain is a favorite ride for both of my kids and the only time they were scared was before they rode it for the first time.
Frequently Asked Questions about Space Mountain in Magic Kingdom
Does Space Mountain go backwards?
No, it only goes forward, never backwards.
Does Space Mountain have big drops
The largest drop is 26 feet and while Space Mountain does have a few drops, you will have a hard time judging the depth of the drop due to the fact that you are riding in the dark.
Is Space Mountain worth the wait?
Yes, if you are a roller coaster fan, waiting in line for Space Mountain is worth it.
Does Space Mountain have 2 tracks?
Yes, Space Mountain in Magic Kingdom has two tracks, Alpha & Omega. They are exactly the same, with the exception that one of the tracks is 10 feet longer.
Have you ridden Space Mountain in Magic Kingdom? What did you think?