When you think about things to do at Magic Kingdom, rides almost always come to the top of the list. But did you know that there are just as MANY things to do at Magic Kingdom that aren't rides?
In fact, you could spend an entire day at Magic Kingdom and not ride anything and still have a great time.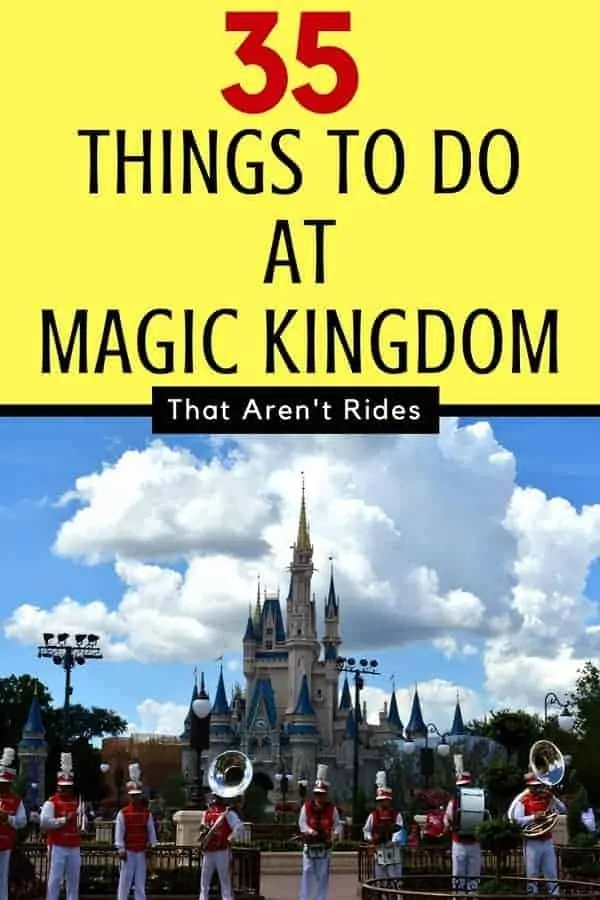 35 Things to do at Magic Kingdom that aren't rides:
Get a Hair cut or sprinkling of Pixie Dust at The Barbershop on Main Street USA
Watch candy apples being made at Main Street Bakery
See Mickey's Royal Friendship Faire Stage Show
Attend various Disney Character Meet & Greets throughout the park
Watch the Enchanted Tiki Room Show
Walk through Tom Sawyer Island
Climb Swiss Family Tree House
See the Hall of Presidents
Enjoy the Frontierland Shooting Arcade
Watch a show at Country Bear Jamboree
Attend the Festival of Fantasy Parade
Watch Mickey's Philharmagic
Enjoy the Move it Shake it Dance Party
See the Disney princesses at Princess Fairytale Hall
Walt Disney Carousel of Progress
Catch a show at Monster Ink Laugh Floor
Try to pull the Sword out of the Stone
Eat a Dole Whip
Get a Silhouette Portrait
Take in the Main Street Philharmonic Band performance(s)
Search for Hidden Mickeys
Watch the Main Street Trolley Show
See the Piano Player at Casey's Corner
Enjoy the Dapper Dans on Main Street USA
Watch the Royal Majesty Makers Show
Take part in the Pirate's Adventure, Treasure of the Seven Seas interactive experience
Attend the Flag Retreat at 5pm in Town Square
Go to the Cosmic Dance party in Tomorrowland
Do some shopping!
Watch the castle come to life at the end of the evening with the Once Upon a Time Projection show.
End the night with the Firework Show
The truth is that there are rides the entire family (even grandma) will enjoy.
But if you can't get that one person in your group on a ride to save your life, we hope that this list shows you that there is plenty at the park that they can enjoy and not feel like they wasted their money just because they don't like rides.
Do you have any favorite things to do at Magic Kingdom that aren't rides?