When all you have is one day in the Magic Kingdom, you might be wondering how to see it all! It is a big park and there are plenty of great rides and other things to keep you busy while there. The key to doing Magic Kingdom in one day is to plan your trip before you go!
How to do Magic Kingdom in One Day
To make the most of your day in the park, you are going to do some planning in advance. Once you have you Disney Tickets, you can start thinking about your Disney World Fastpasses. Depending on where you stay, you can book your Fastpasses anywhere from 60-30 days in advance.
Magic Kingdom has some of the most popular rides at Disney World and if you want to ride them, you are going to need to make sure you make the most of your Magic Kingdom Fastpasses.
I suggest that you book your Fastpasses for late morning to early afternoon. This way, once you use your first three Fastpasses, you can book more.
Make sure that if you are staying at a Disney Resort that you take advantage of Early Magic hours. This is when Disney Resort guests can go to the park before the general public.
If you are not staying at a Disney Resort, plan to get to Magic Kingdom about a half hour before the park opens. This will give you time to get over to Magic Kingdom and see the Welcome Show at Cinderella Castle.
After the show, I suggest you head straight to one of the
popular rides at Magic Kingdom
that you really want to ride, but don't have a Fastpass for. Our choice is usually
Seven Dwarfs Mine Train
. There will be a line, but it will move fast.
If you are hungry and need a quick bite to eat before heading to your next ride, consider grabbing a waffle at Sleepy Hollow Inn. These are so good and while they aren't exactly nutritious, they will at least provide you with enough carbs to help perk you up.
By the way, if you are on a KETO diet, don't worry, we have a great guide to eating KETO at Magic Kingdom.
If you are planning on spending one day in Magic Kingdom and have people with you who don't care for rides, there are a ton of
non-ride activities at Magic Kingdom
to keep them busy.
When it comes to looking for a quick service lunch at Magic Kingdom, you are going to have some great choices. No matter which land you are in, you are going to find a quality choice that offers a tasty, affordable meal and air conditioning. Be sure to save room for dessert. Magic Kingdom has some great desserts, but our choice is always the Disney Dole Whip.
One thing everyone can agree upon is seeing the Festival of Fantasy Parade at Magic Kingdom. This parade is the best parade at Walt Disney World and allows you to see many different Disney characters. It is usually once per day and you want to make sure that you read these Disney parade tips so you know how to get the best view.
If you can't be bothered to sit through a parade, I will tell you that it is one of the best ways to avoid crowds at Magic Kingdom. With most people watching the parade, the lines for rides seem to be much less crowded.
This is a great time to visit parts of the park not on the parade route, like Adventureland & Tomorrowland. Just be mindful that during the parade, many walkways will be roped off and you will be unable to get to certain areas easily (or at all).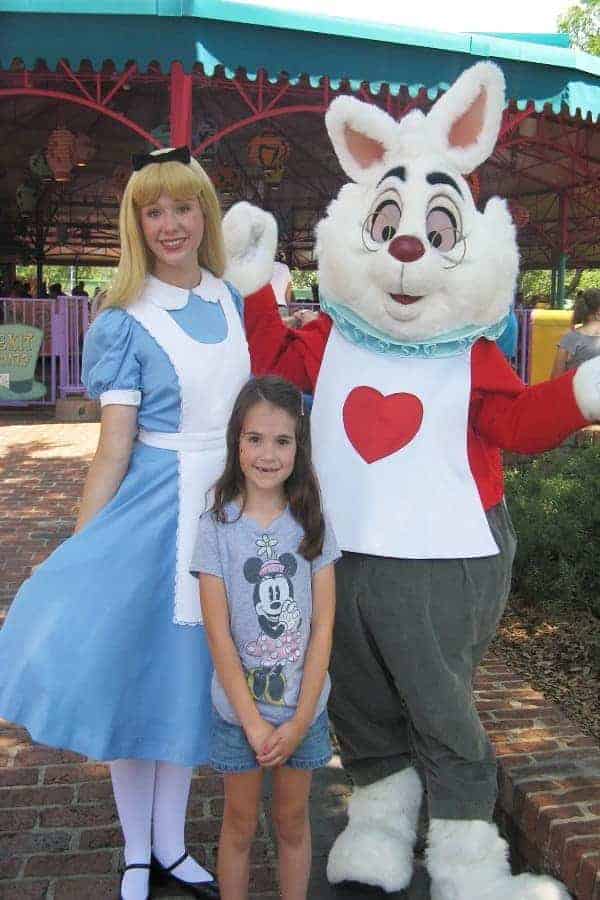 One thing you will want to make time for during your day in Magic Kingdom is Disney Character Meet & Greets. There are several and they will all be on the Times Guide that you will pick up in the front of the park. There is no easy way to see all the characters (but our favorite way is to book a Disney Character meal).
At the end of your day in Magic Kingdom, be sure to watch the show in front of Cinderella Castle. Disney does a wonderful job of ending the night with a fireworks show that is out of this world. Plan your day carefully so that you don't burn out and miss seeing it.
Things to Do During Your Day at Magic Kingdom
These are some of the things you should add to your Magic Kingdom itinerary!