There are 14 Disney Princesses (Snow White, Cinderella, Aurora, Ariel, Belle, Jasmine, Pocahontas, Mulan, Tiana, Rapunzel, Merida, Moana, Anna & Elsa) and all but one are available for meet & greets in the Disney World parks. If you are wondering where you can find the Disney princesses at Disney World, we have the scoop.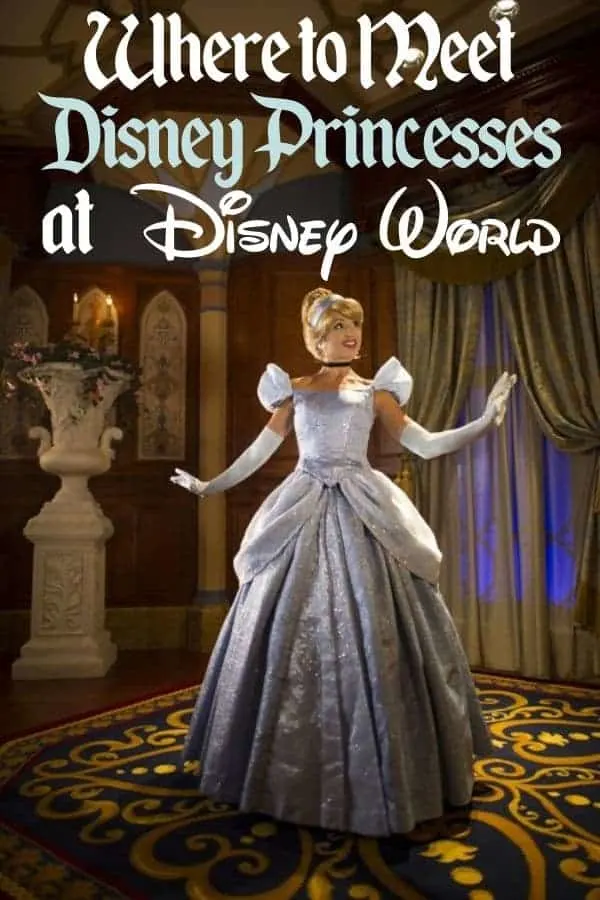 Places to meet Disney Princesses at Disney World
Before you head out to meet Disney Princesses at Disney World, make sure that you purchase a Disney autograph book. All of the Disney princesses will sign your autograph book, with the exception of Belle at Enchanted Tales with Belle.
Disney Princess Meet & Greets at Magic Kingdom
Adventureland
Meet Jasmine near Magic Carpets of Aladdin at the Agrabah Bazaar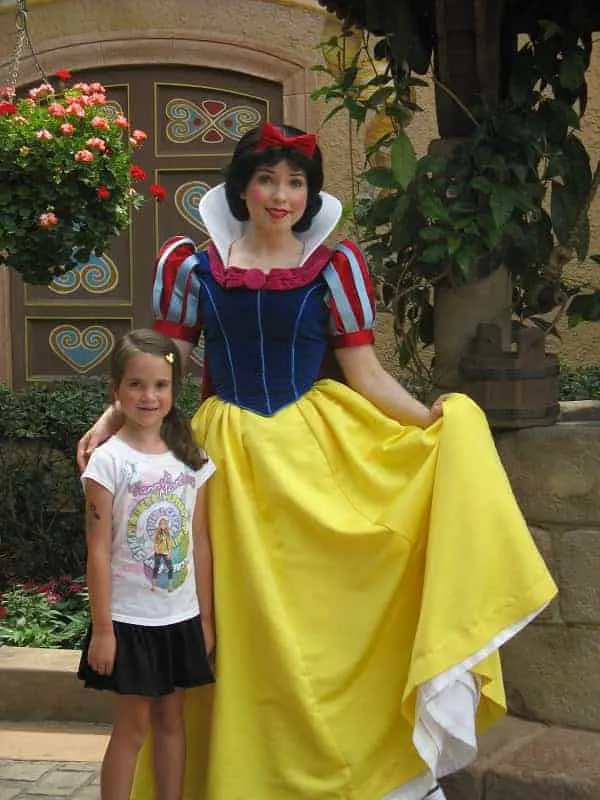 Princess Meet & Greets at Epcot
Norway Pavilion: Meet Anna and Elsa at their Royal Sommerhus.
Germany Pavilion: Snow White makes an appearance near the Werther's store.
Morocco Pavilion: Jasmine can be found in the back of the Moroccan shops.
China Pavilion: Mulan makes appearances near the water gardens
France Pavilion: Aurora & Belle can be found near the Rose Garden
Princess Meet & Greet at Hollywood Studios
While not a true Disney Princess, Sophia the First is available to meet in the Animation Courtyard
Dining with Disney Princesses at Disney World
Other than the Disney parks, you can also meet & greet with Disney Princesses at Disney World restaurants. These restaurants offer a meal with a few of the Disney princesses: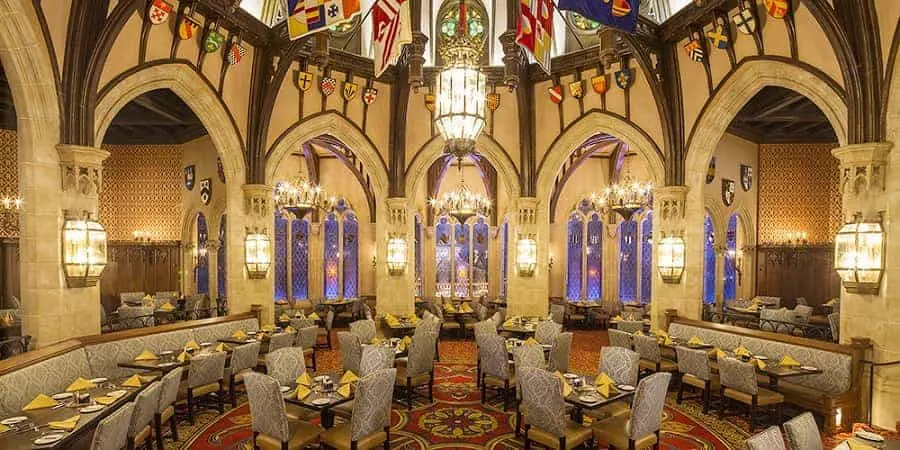 Cinderella's Royal Table
Located in Cinderella castle at Magic Kingdom, you will not only get to meet Cinderella, but some other princesses as well depending on which meal you choose.
Aurora, Snow White, Ariel and Jasmine will occasionally make appearances.
This is one of the more difficult reservations to get, so be sure to do so early.
If you are on the Disney Dining Plan, this is a Signature Dining location and uses two Table-Service meal credits.
Akershus Princess Storybook Dining
Join some of your favorite Disney princesses for breakfast, lunch and dinner in the Norway Pavilion of EPCOT's World Showcase.
You will usually be able to dine alongside Belle, Aurora, Snow White, and Jasmine who will come to your table for a picture and to sign autographs.
This is one of the more popular dining options at EPCOT, so make sure you make a reservation.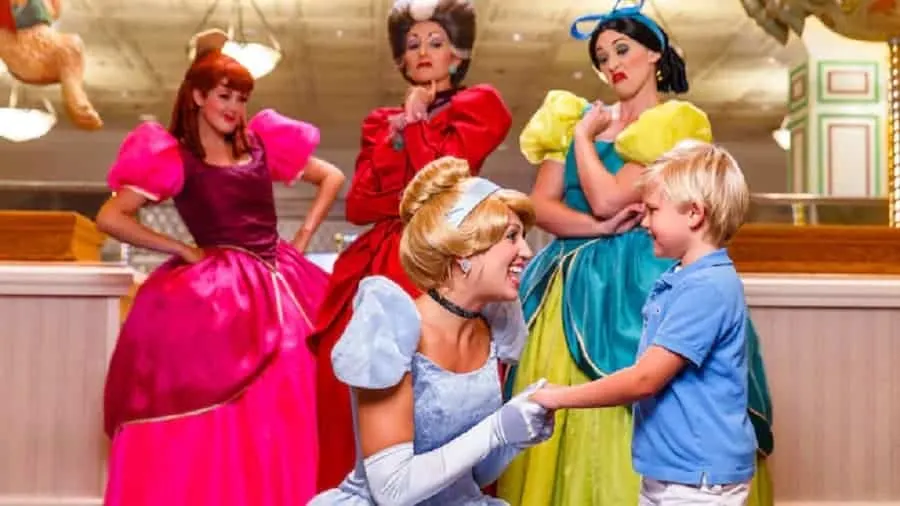 Cinderella's Happily Ever After Dinner at 1900 Park Fare
Located in Disney's Grand Floridian Resort, 1900 Park Fare has character meals for breakfast, lunch & dinner. For dinner you can enjoy a buffet of seafood, beef and chicken while you meet Cinderella, Prince Charming, Lady Tremaine, Drizella, and Anastasia.
Each character rotates through the restaurant while you enjoy your meal.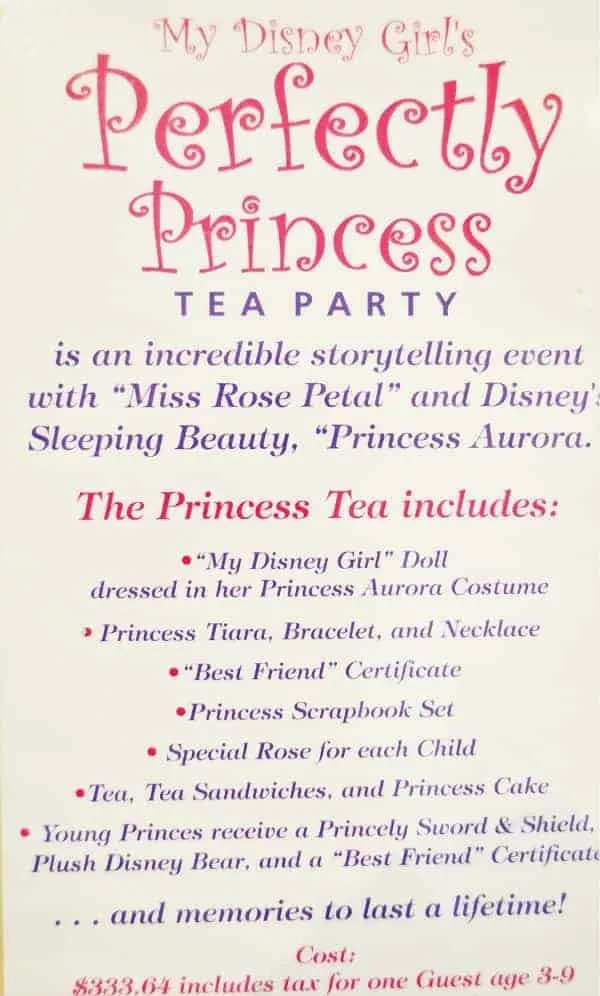 My Disney Girl's Perfectly Princess Tea Party
If you have a young girl who loves Disney princesses, you might want to head to Disney's Grand Floridian Resort for My Disney Girl's Perfectly Princess Tea Party at the Garden View Tea Room.
For $250 (admits one child & one adult), guests can enjoy a Tea Party with Aurora and her magical rose "Rose Petal."
There is a princess parade, storytelling and sing-alongs and of course food. Dine on fresh fruit, sandwiches, and cake.
Guests age 3-11 also receive a My Disney Girl doll dressed in a matching Princess Aurora gown, plus accessories.
They will get their very own ribbon tiara, silver princess link bracelet, fresh rose, special scrapbook set and a Best Friend certificate.
Princess Aurora will meet with guests for autographs and pictures and they encourage your child to dress as their favorite princess!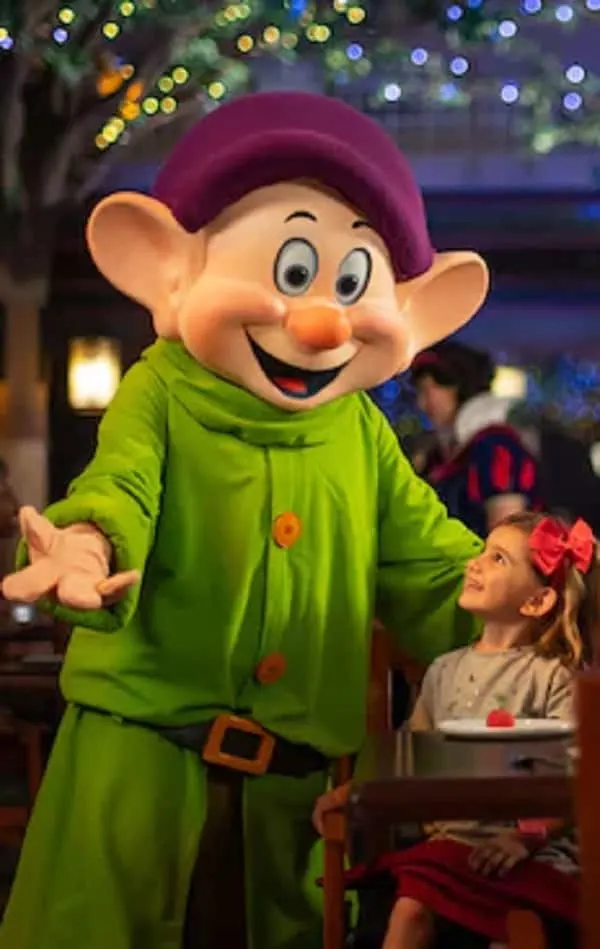 Storybook Dining at Artist Point at Disney's Wilderness Lodge
Dine on a fixed menu of enchanted forest themed entrees while meeting with Snow White, Dopey, Grumpy and the Evil Queen.
If using the Disney dining plan, this is only one table service meal credit!
You don't have to stay at Wilderness Lodge to dine at their restaurants, so take advantage of visiting the resort while you are there for a meal.
Wilderness Lodge resort is located nearest to Magic Kingdom and just a boat ride away. You can also drive there and park for free as long as you have a dining reservation.
Ways to Feel like one of the Disney Princesses at Disney World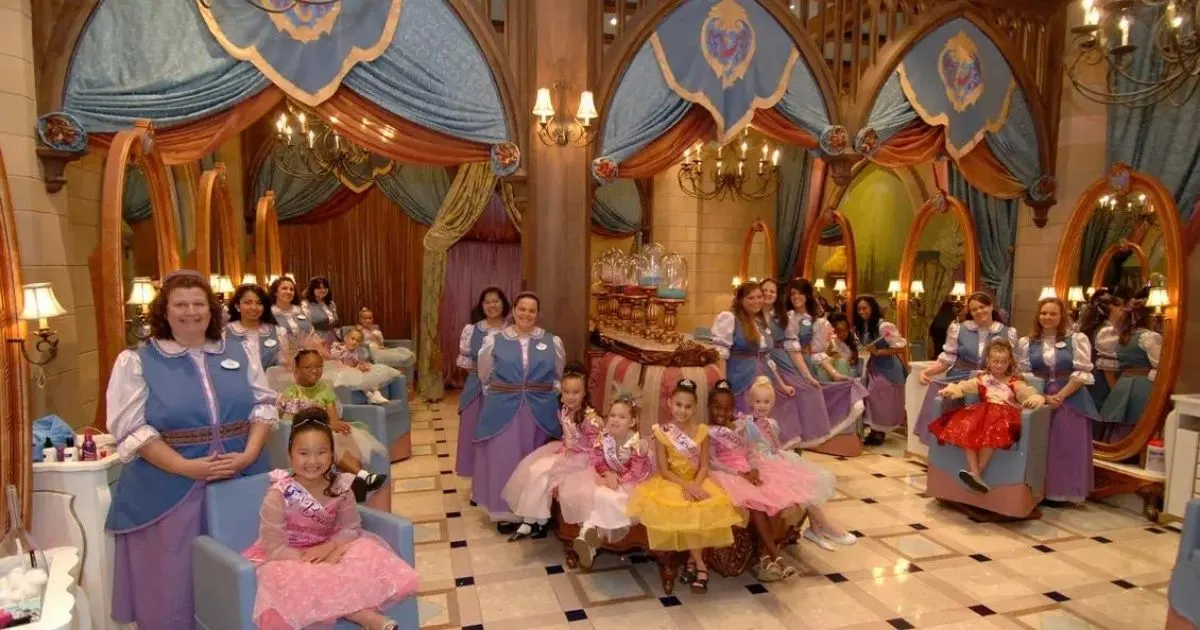 Bibbidi Bobbidi Boutique
Get your hair & nails done by Fairy Godmothers in training! There are a few different locations of Bibbidi Bobbidi Boutique in Disney World and each will turn any child into a Disney princess!
Make sure you make a reservation in advance!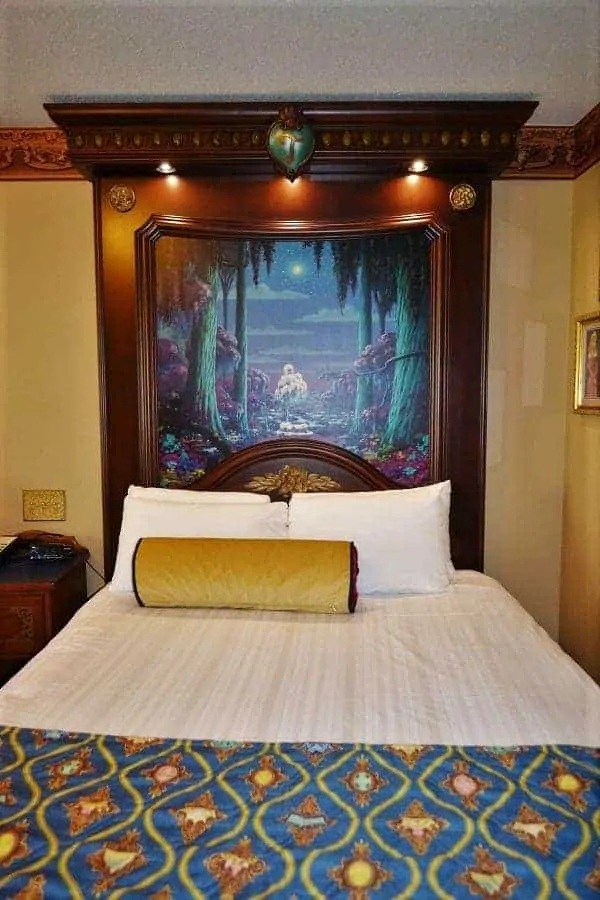 Stay at a Royal Guest Room
Want to take your Princess experience up a notch? Consider staying at Disney's Royal Guest Rooms. These rooms located at Port Orleans Mansions are fit for a princess.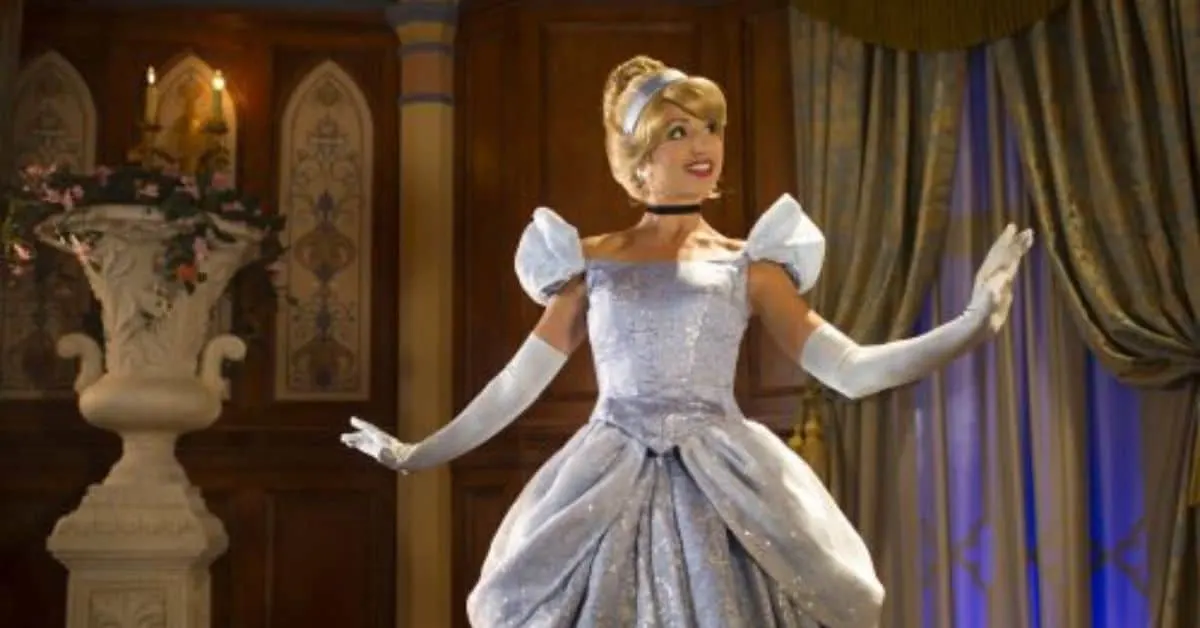 Visiting Disney Princesses at Disney World is one of the joys of going to the parks. We hope that you are able to meet with your favorite Disney Princess and that this list helps you with planning your trip!