Are you planning a Disney Cruise and wondering if you can you bring alcohol on a Disney Cruise? While you aren't able to bring liquor, the Disney Cruise Line does permit you to bring wine, champagne and beer on board. Just make sure you are familiar with the Disney Cruise Alcohol policy.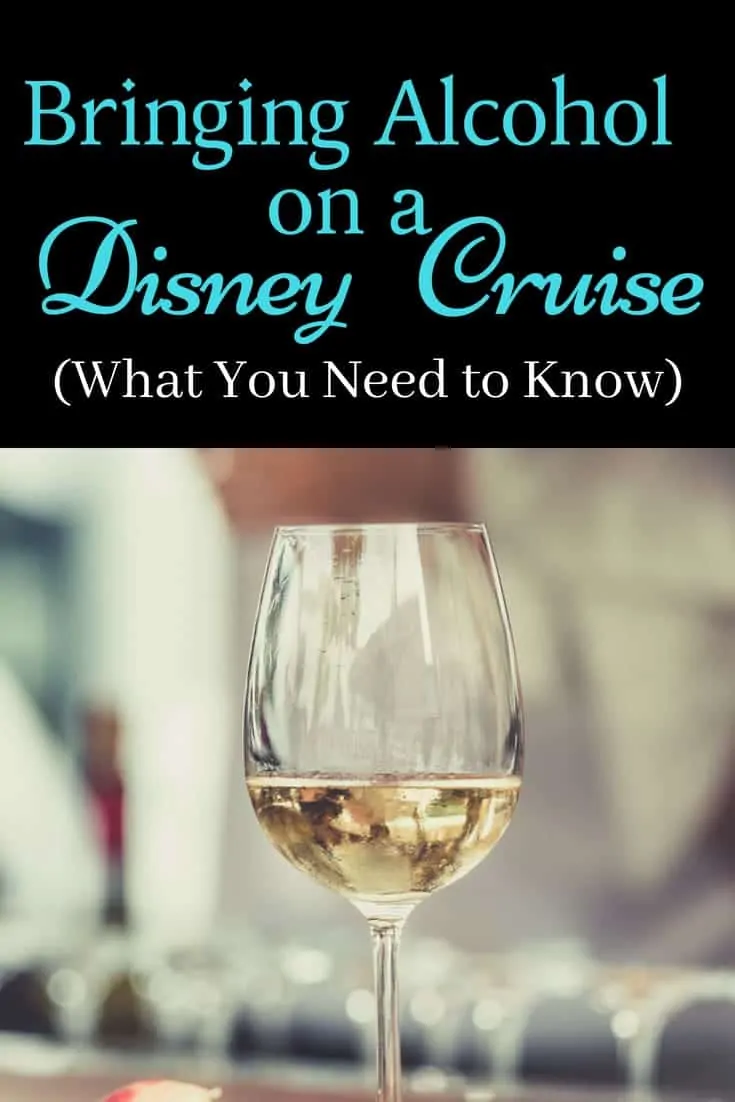 Disney Cruise Alcohol Policy: Everything to Know
Disney Cruise Line Guests 21 & older may bring 2 bottles of unopened wine/champagne or 6 12oz beers.
All of your alcohol must be packed in carry on luggage.

This means that you will have to carry it with you on the ship. Think about this before you go because alcohol can be heavy, not to mention fragile.
You do have the option to bring your unopened wine bottle to the restaurant with you to dinner.
You will be charged an uncorking fee the first night ($25), but the cruise line will keep up with your bottle, making sure it arrives at the restaurant you will be dining at each evening.
You can request for the bottle to be chilled or room temperature.
Beer and wine can be enjoyed in your stateroom any time, but if you choose to take with you outside of the room, it is best to place in a cup.
You might want to pack a few plastic cups in your luggage or invest in a cute Disney Cruise line wine tumbler.
If you do choose to bring alcohol with you on your Disney Cruise, know that each stateroom is equipped with a mini fridge. While the fridge isn't as cold as a normal fridge, it is enough to keep your beverage cold.
If you need ice for your drinks while in your room, let your stateroom attendant know and they will make sure your ice is fresh each day (or you can get ice yourself from the drink stations).
Do you have any questions about the Disney Cruise Alcohol policy?