Are you planning a Disney Cruise? One of the perks of cruising with Disney Cruise Line is being able to order food and have it sent to your room for free! That's right, Disney Cruise Room Service is FREE!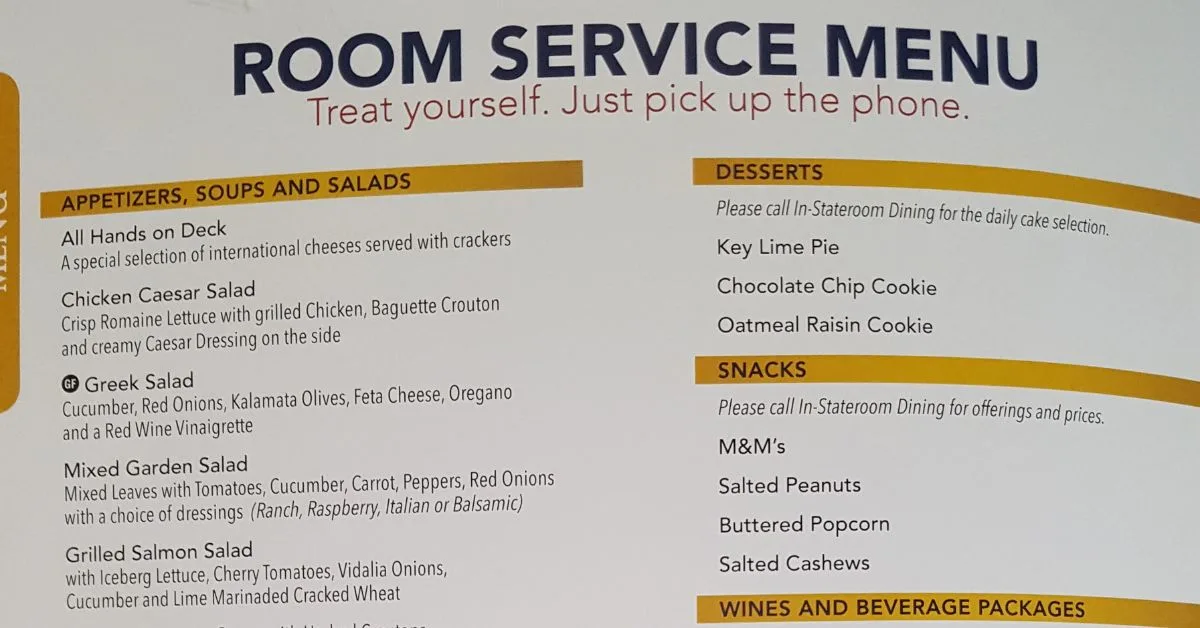 You can order an entire meal or a small snack from the Disney Cruise room service menu and have them delivered straight to your stateroom for no extra charge.
This is just one of the many things included in a Disney Cruise.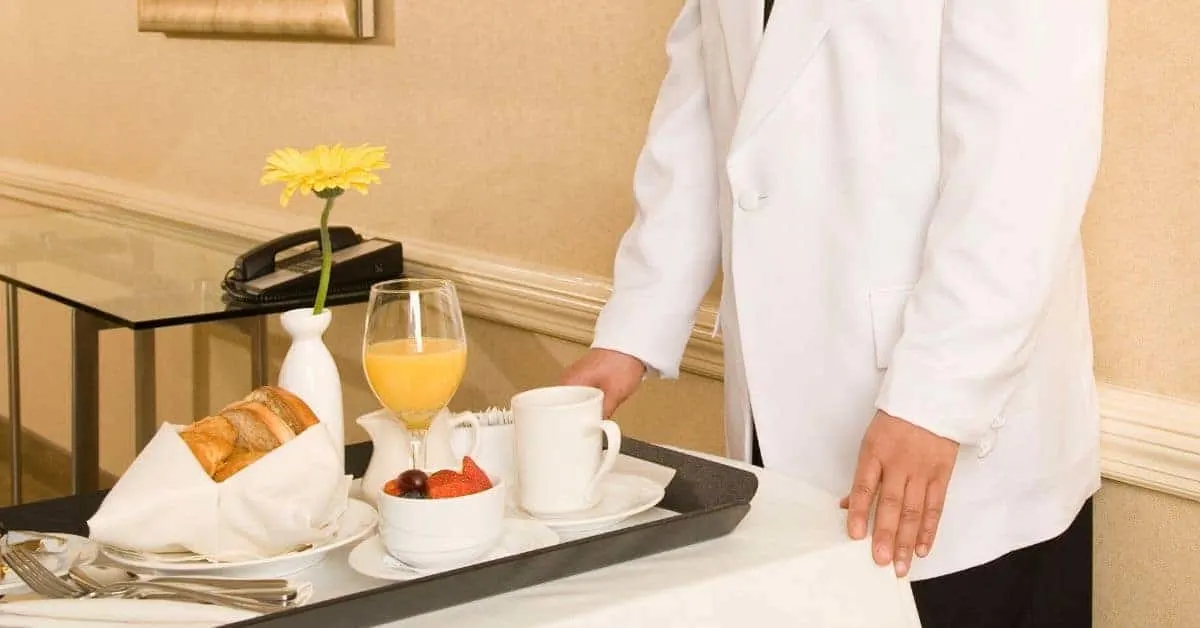 Why would you want to take advantage of FREE Disney Cruise Room Service?
Well, sometimes it is hard to get moving early in the morning.
Having breakfast or even just coffee brought to your room is a great way to start the day.
During the day, you might find that you just want to take a nap and avoid the lunch rush altogether. A fresh fruit bowl is something nice to keep in your stateroom daily.
I can't imagine missing table service dinner, but if you don't want a big meal, you can order dinner in your room as well.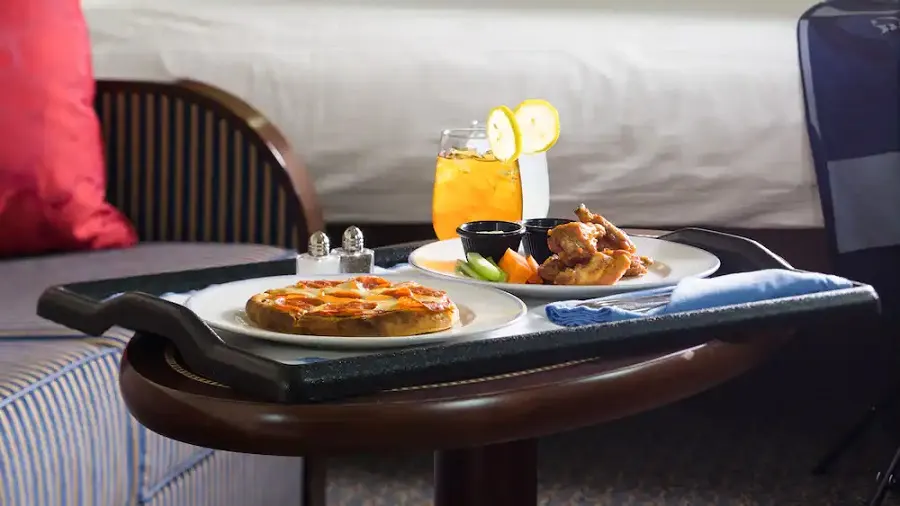 For those of you that have late dining, you might want to get a snack to tide you over. In that case, I would suggest the cheese platter!
Want a snack brought to your room before bed (each night!), consider a cookie (or ask for a Mickey Bar which isn't listed but available)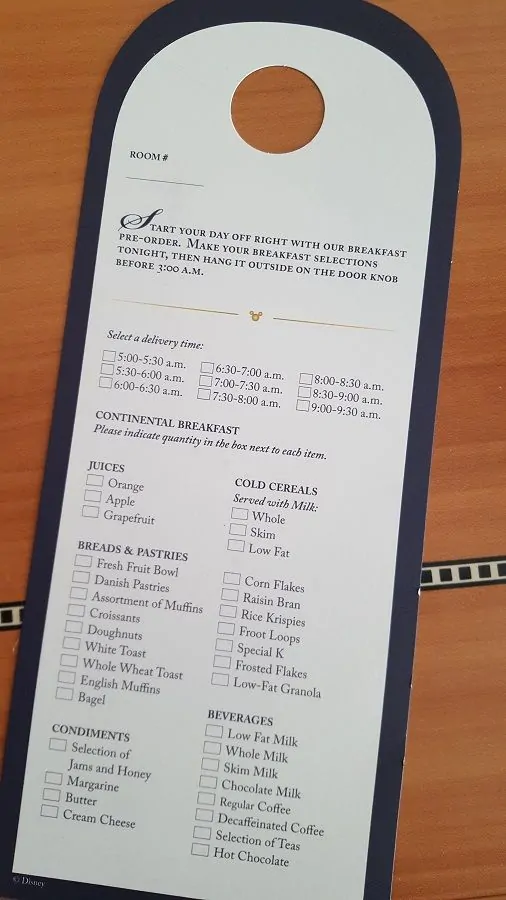 Disney Cruise Room Service Menu
Disney Cruise Room Service Menu for Breakfast
To order your Disney Cruise Room Service for breakfast, you just fill out the Room Service Request Card in your stateroom and leave it outside your stateroom door the night before you wish your breakfast to arrive.
You can also order a Continental Breakfast by calling room service directly in the morning. It just may take a bit longer.
Here is what you can order:
Juices: Orange, Apple, Grapefruit
Breads & Pastries: Danish pastries, Fruit & Bran Muffins, Croissants, doughnuts, White/Whole Wheat Toast, English Muffin, Bagel
Cold Cereals (small boxed)
Beverages: Whole/Skim Milk, Chocolate Milk, 100% Colombian Coffee, Decaf, Assortment of Teas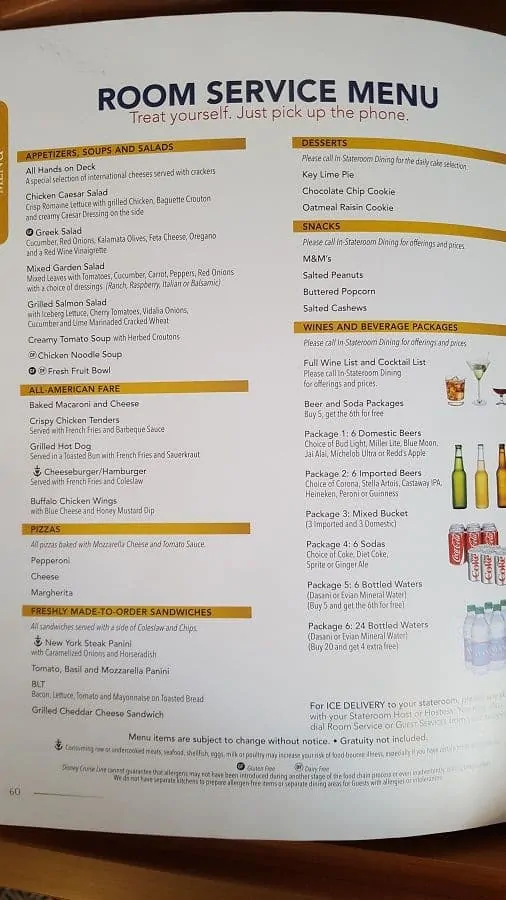 Menu for Lunch & Dinner
For lunch and dinner, you simply hit the "In Stateroom Dining" on your stateroom phone and you can have the following brought straight to your room:
Salads and Appetizers
Southwestern Caesar Salad
Blackened Chicken Quesadilla Salad
Mexican Tortilla Soup with Fried Tortillas
Chicken Noodle Soup
All Hands on Deck Cheese Platter
Fresh Fruit Bowl
Sandwiches
BLT
Ham/Turkey and Cheese Sandwich
Focaccia Sandwich
With Grilled Zucchini Portobello Mushroom and Aioli
Tuna Salad (in jumbo brioche)
Chicken Fajita Wrap
Steak Sandwich
Cheeseburger
Hot Dog
Macaroni and Cheese
Italian
Mexican Fiesta Pizza
Vegetarian Delight Pizza
Pepperoni Pizza
Meat or Vegetable Lasagna
Desserts
Cake at Sea (daily cake selections)
Big Island Cookie
Oatmeal Raisin Cookie
There are also beverage and snack packages available for a fee, but I wouldn't recommend anything you have to pay for when you can get so much for free!
What Disney Cruise Room Service item are you looking forward to ordering?