Something you might want to add to your Disney Cruise packing list are Disney Cruise Fish Extenders. These pocketed treasure holders are a great way to add extra magic to your Disney Cruise. Never heard of Fish Extenders? We have everything you need to know to participate in an exchange.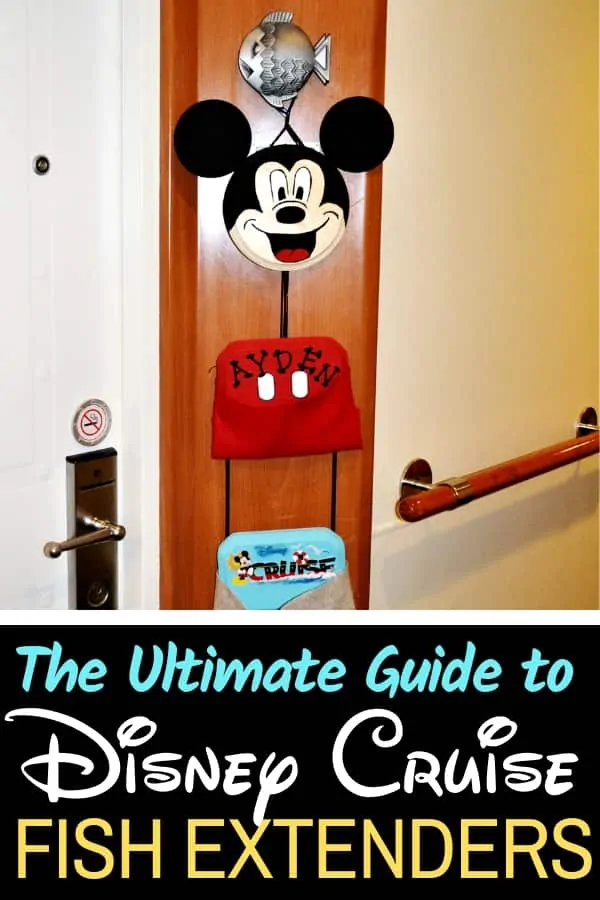 Guide to Disney Cruise Fish Extenders
When you arrive at your Disney Cruise stateroom door, you will find that there is a fish marker tell you the state room number.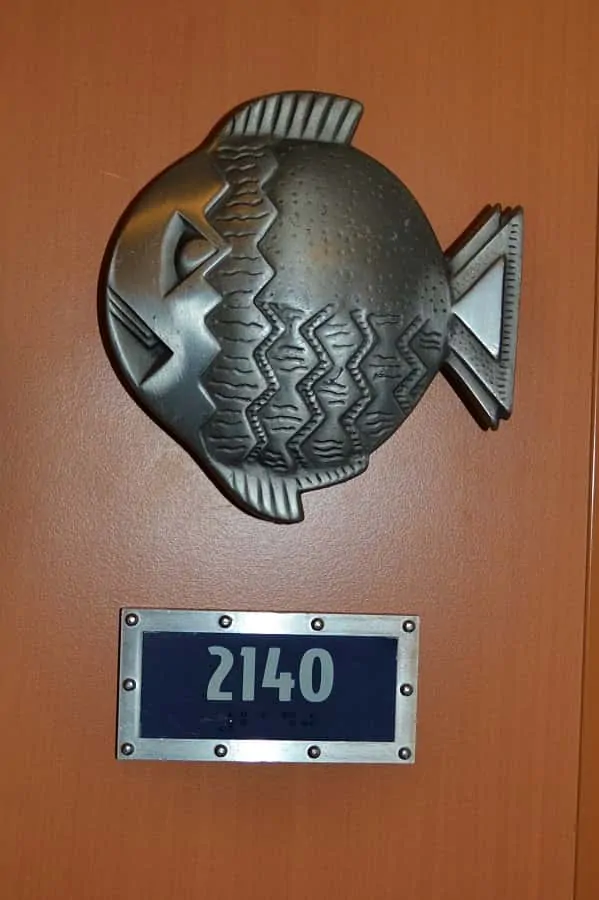 This "fish" is not just decorative, often room stewards attach tickets, bills and other written information to the top of it.
Over time, guests began using it as a way to communicate with other guests and as time went on, it developed into an actually set of pockets that attached to the "fish," or as we call it now, a Disney Cruise Fish Extender.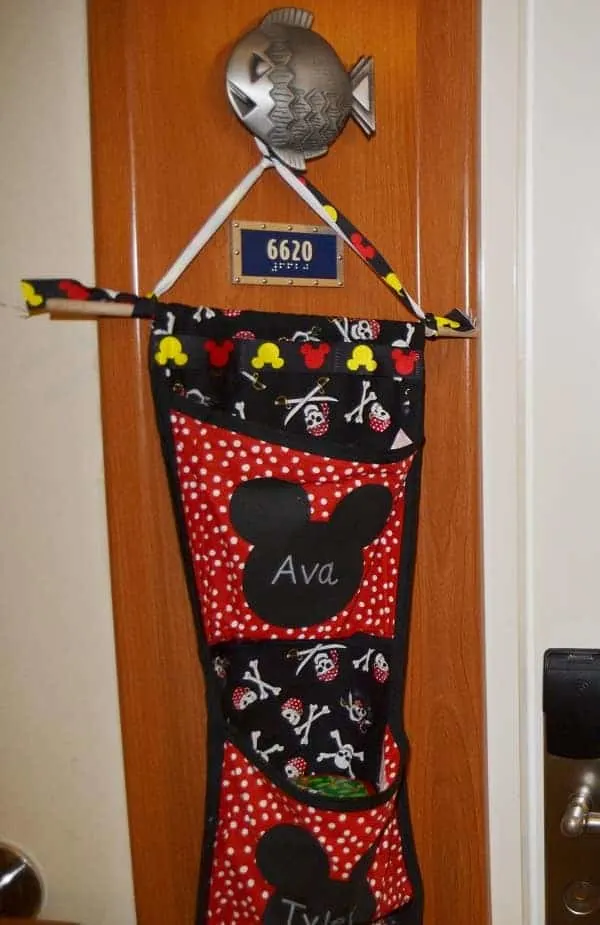 This pocketed Fish Extender is a device that has pockets for the purpose of allowing other guests to leave goodies, gifts and treats for other cruisers.
What is a Disney Cruise Fish Extender Exchange?
The Disney Cruise Fish Exchange is a when a group of fellow cruisers sign up to send gifts to each other while on the cruise.
These fish exchange groups are usually set up on a message board and involve between 10-15 families.
Each family is responsible for buying or making gifts to give each person in the other groups.
During the cruise, you deliver the gifts to their stateroom by placing them in the Disney Cruise Fish Extender that hangs beside their stateroom door.
How do I Participate in a Disney Cruise Fish Extender Exchange?
There are a few different places to sign up for a Disney Cruise Fish Exchange, but the most popular is through Facebook groups.
Just do a search by the cruise ship name & date of cruise. For example: Disney Dream November 29, 2019 will give you this result.
Another great resource for finding a Disney Cruise Fish Exchange Group is to look on DisBoards.com.
You can search to find the ship and date of cruise and usually someone in the message boards start a Disney Cruise Fish Exchange.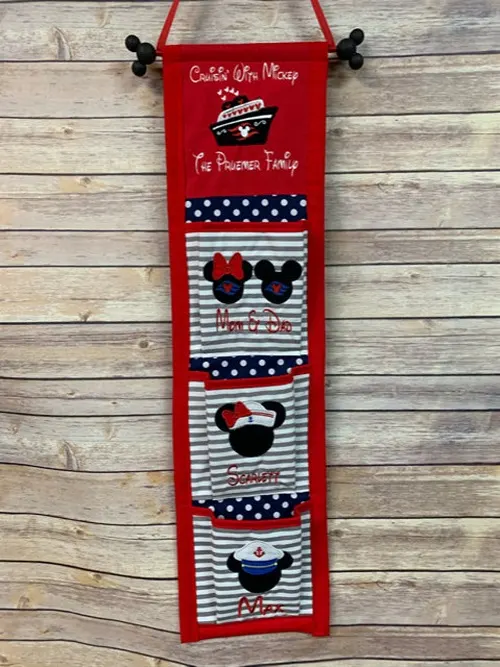 Where do I buy Disney Cruise Fish Extenders?
The BEST place to purchase Disney Cruise fish extenders is on Etsy. They have the best selection and can be custom made based on your likes and needs. One of my favorite shops selling Disney Cruise Fish Extenders is Thread in Stitches.
You can also make your own.
You don't have to be a seamstress to make one. All you really need to know is how to make a straight stitch. Use this Disney Cruise Fish Extender sewing tutorial.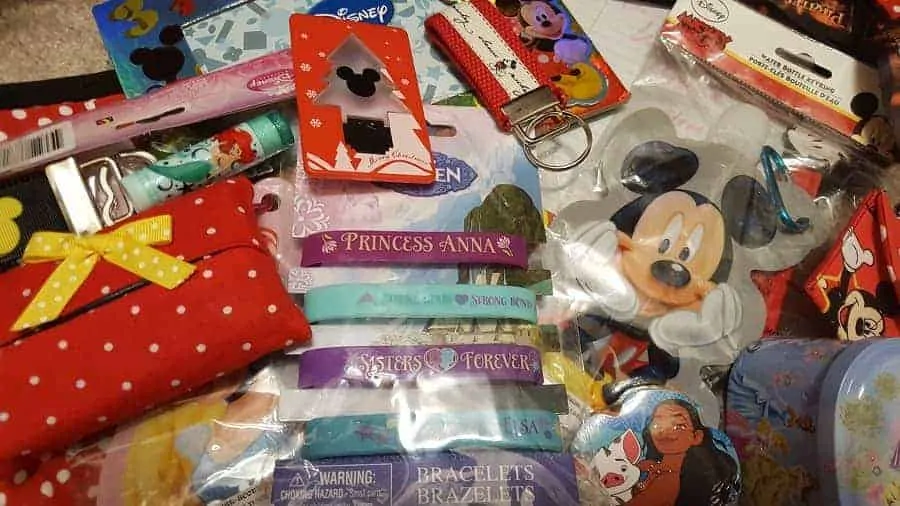 What type of Gifts do People Give for a Disney Cruise Fish Exchange?
Handmade Disney Fish Extender Gifts
Some people give handmade Disney themed items like the Mickey Mouse anchor magnet shown above. A gift like this could be personalized with the ship name, cruise date, or person's name for an added touch.
People love handmade Disney fish extender gifts because they are very unique and gifts they appreciate.
Some of our favorite Disney fish exchange gifts have been handmade Disney ornaments.
If you are crafty and have the time, these gifts are always well-received.
Purchased Disney Fish Extender Gifts
Not everyone is crafty or has the time and energy to devote to creating Disney gifts and that is okay!
Sometimes you have to do what is easy (and affordable) and no one is going to judge you about that.
Over the years, we have done both types of gifts. We even have created a list of 10 things you can buy straight off of Amazon for a Disney fish exchange!
What else you need to know about Disney Cruise Fish Extender & Exchange Groups
Remember that every gift will have to be packed. I'm always amazed at the effort some people will go to in these Disney Cruise fish exchange groups. For example, if you plan on giving 25 plastic tumblers, just remember that you will have to pack 25 plastic tumblers in your luggage.
Make sure that you label each gift with name & room cabin number. This will make things much easier for you when you make your deliveries.
Bring a bag to deliver your gifts. It is much easier than trying to carry them all over the ship by hand.
Disney Cruise ships are enormous. Make a delivery plan before heading out to give out gifts so that you can save yourself time and energy.
Be sure to plan out when you are going to deliver Fish exchange gifts based on down time on the cruise. Many people choose the day at sea or at the end of the evening.
Don't have expectations as far as gifts go. Some people will go crazy and spend a ton of money, while others will go on the cheap. People simply do what they can afford. Don't spend time in judgement, just be thankful for the effort!
Have you taken part of a Disney Cruise Fish Exchange? What was your favorite gift?