Taking a Disney Cruise is a magical experience. One way to make your Disney Cruise even more special is to take part in a Disney Fish Extender Gift Exchange group. A Disney Cruise Fish Extender Exchange is where you get to interact with other cruisers by exchanging small gifts.
Disney Cruise Fish Extender Gift Exchange
Being part of a Disney Cruise Fish Exchange is a great way to add a little extra fun to your Disney Cruise! Find out what it is and how you can be part of one.
The Ultimate Guide to the Disney Cruise Fish Extender
Taking part in a Fish Extender Exchange group takes a little bit of planning and preparing, but it can be a great way to add a little extra excitement to your trip! Wondering what types of things people give as Disney Fish Extender gifts?
Well, some people give handmade Disney themed items and others give store bought fish extender gifts. The key is to do what is comfortable for you.
There is no set dollar amount. The key is to find fish extender gifts that fit each particular person. What I mean by that is that you want to make sure you give a gift that is appropriate based on age & gender.
When you join your Fish Extender group, you will receive a list of names, ages, and room numbers. Some groups even list your favorite Disney character.
Try your best to keep all of that in mind when preparing your gifts. Need some ideas?
We've compiled a list of things we've either received or have given as Disney Cruise Fish Extender gifts. These are items that can be ordered online in bulk!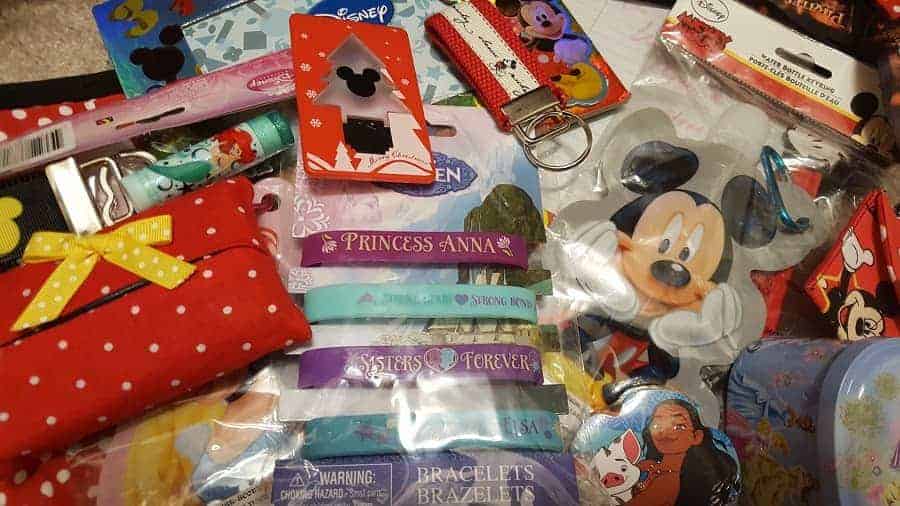 50 Disney Fish Extender Gifts:
Disney themed wash clothes
Pens & pencils with Disney Characters
Toothbrushes featuring Disney friends
Sand shovel
Kleenex packets featuing Disney characters
Disney magnets for your Stateroom door
Disney Cruise dry erase board (& marker)
Jewelry
Disney Key chain
Movie theater candy
Glow sticks/bracelets/necklaces
Disney Coloring packs w/ crayons
Cruise ornament
Disney luggage tags
Powder drink mixes
Pirate eye patch (for pirate night)
Pirate Clip on hoop earring (for pirate night)
Sunscreen sticks
Nail polish
Bath salts
Disney themed lanyard
Reusable tote bag
Disney picture frame
Sprinkles or other ice cream topping
Bandaids
Drink coasters
Nail polish
Wet wipes
Plain pillow case (& sharpie) to get autographs
Window decal / clings
Pump hand soap
Photo mat & pens (for autographs)
Don't feel like your items have to be Disney related. Some of the best gifts we've received were either things that were personalized with our name or things specific to that person's home state or country (okay, the Vegemite might have not been my favorite).
The point is, no matter what you choose to give, I am sure it will be appreciated. At the end of the day, it's the thought that counts!
What other ideas do you have for Disney Cruise Fish Extender Gifts?