If you are going on a Disney Cruise, one of the things you will enjoy is getting to see movies in a real theater. Disney Cruise Line's Buena Vista Theater is located on board each of the Disney cruise ships and seats a little over 250. You will find current movies on the Disney Cruise Line, including first run feature films and 3D movies!
Going to the Movies on a Disney Cruise
While you might find different Disney movies playing depending on how long the cruise lasts, pretty much all of the Disney Cruise Ships (Dream, Fantasy, Magic and Wonder) will have the same movie line ups.
This is even more true when it comes to new releases.
Heading to the movies on board your Disney Cruise? You will find a refreshment stand that serves popcorn, candy and canned soda (and beer), but you are free to bring your own with you.
I try to pack snack sized movie theater candy for our cruise and we'll stop by the beverage station for drinks before we go to the theater.
What Movies are Playing on our Disney Cruise?
If you are trying to find out the specifics of what movies are playing and at what time, you will want to look at your Disney Cruise Navigator. All of the movies on the Disney Cruise are listed on your Disney Cruise navigator (your daily newsletter) giving you the ability to plan ahead.
List of Current Movies on the Disney Cruise Line
November 2019 Movies for Disney Dream, Fantasy, Wonder & Magic Cruise Ships
Aladdin (Live Action)
Disneynature: Penguins
Maleficent: Mistress of Evil
The Lion King (Live Action)
Toy Story 4
Frozen 2 (11/22)
Taking a Disney Halloween Cruise? You will find that they will be playing The Nightmare Before Christmas usually once during the Halloween on the High Seas cruise.
Most of the family movies are run during the day into the early evening.
Later at night, you may find films tailoring more toward adults (rated R).
No tickets are needed to see movies at the Buena Vista theater. You simply show up at the movie time listed in your Personal Navigator, find a seat, and there you have it!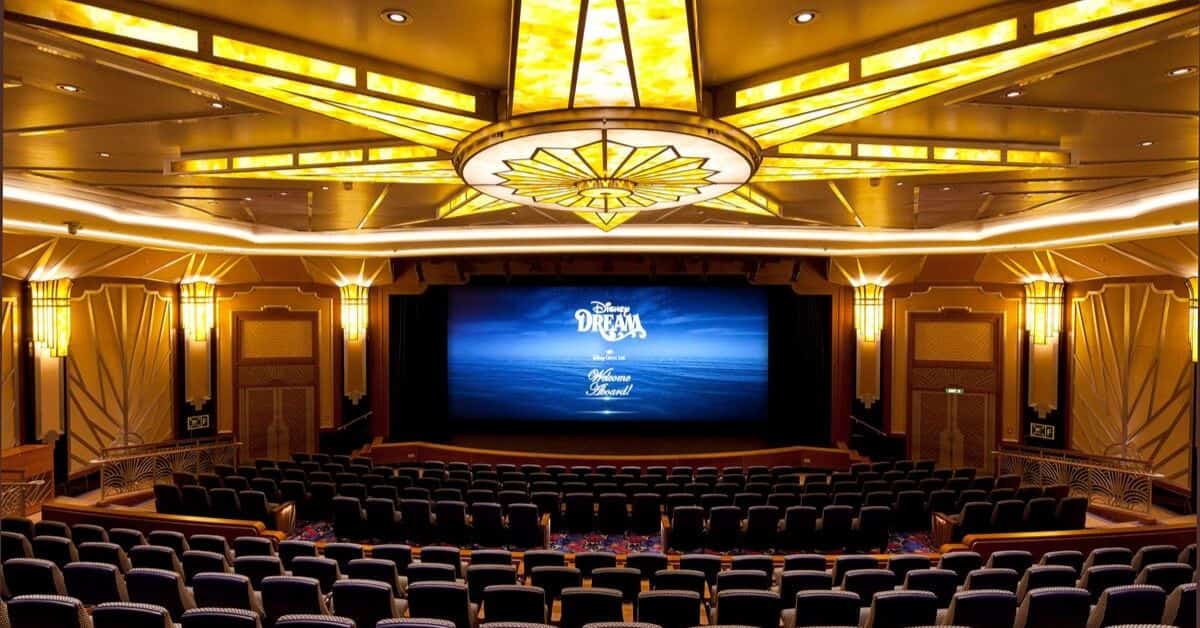 We have never had a problem getting a seat as there are nearly 400 seats in the theater and movies typically run more than once per cruise.
You might want to give yourself a little extra time if you want to purchase concessions because usually there is only one person working the counter.
Have you watched a movie at Buena Vista Theater on a Disney Cruise?