One thing you will be able to enjoy on most Disney Cruises is Pirate Night. Disney Cruise Pirate Night is a themed evening when you will be able to let your inner pirate out by dressing up in pirate attire, feasting on Caribbean food, and taking part in a Pirate dance party!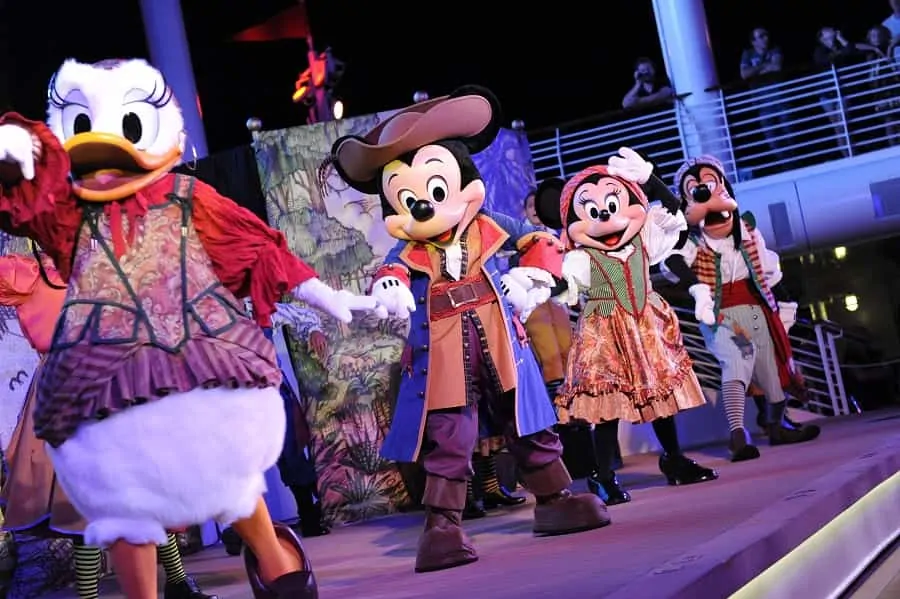 What You Need to Know about Disney Cruise Pirate Night
While it might be called Pirate Night, the pirate fun is an all-day event! You will find Pirate Crafts, Pirate Trivia and other Pirate-inspired events during the day.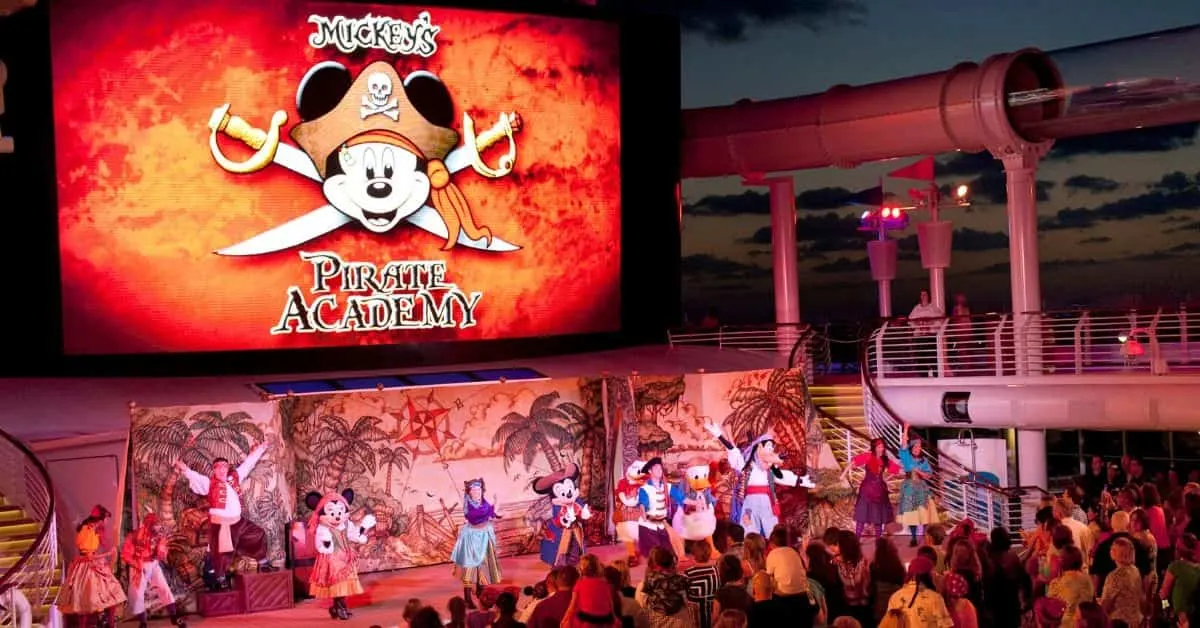 Depending on when you have dinner, you might see the Pirates of the Caribbean stage show (on the pool deck) before dinner or after.
You won't want to miss the chance to see all your favorite Disney characters dressed as pirates performing pirate dances and doing a short performance.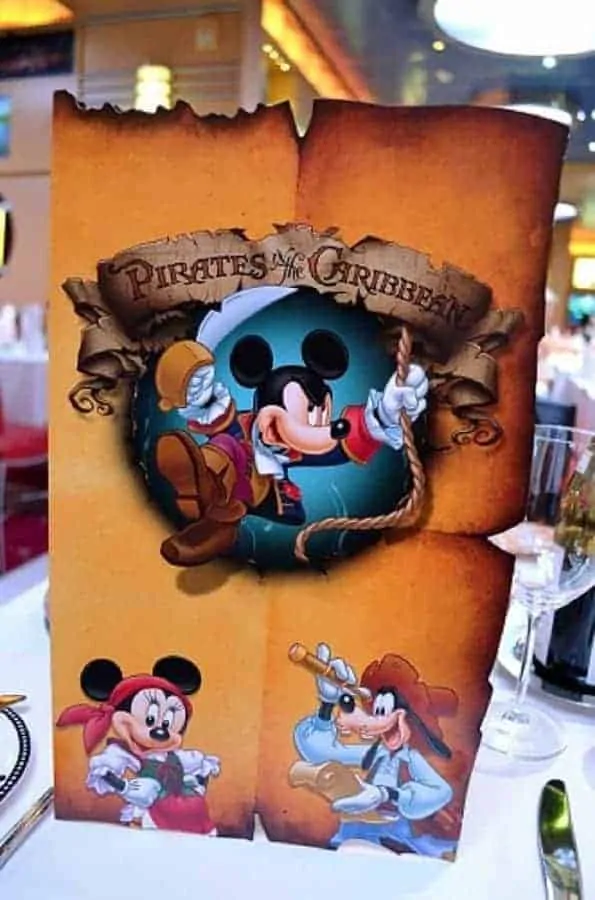 Dinner will feature Caribbean-inspired Pirate fares like Treasures of the Seas Grilled Shrimp and Seared Scallops, Jack Sparrow's Barbecue Marinated Beef Short Ribs, or Pirates Gold-en Pot Stickers.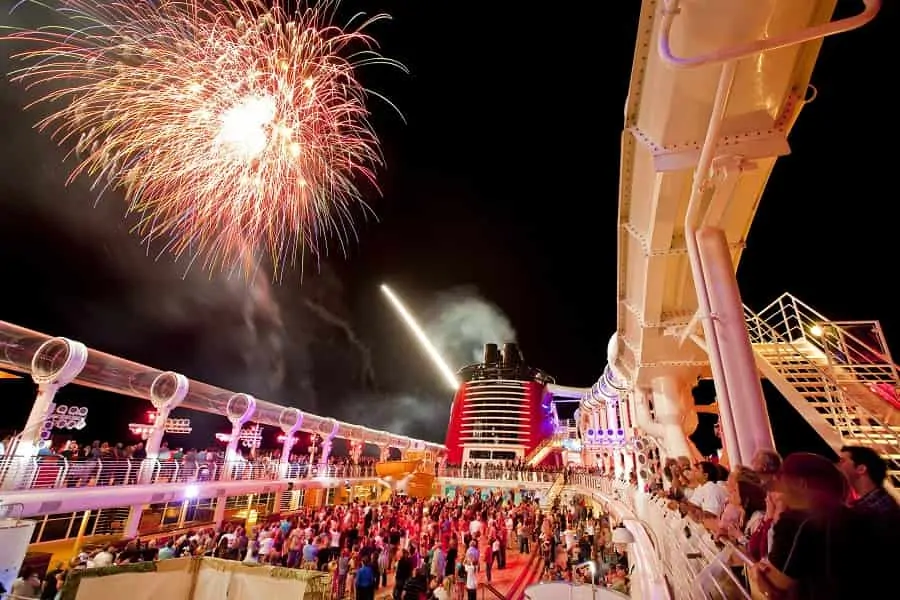 The night ends with fireworks over the ocean, a pirate buffet dinner and dance party!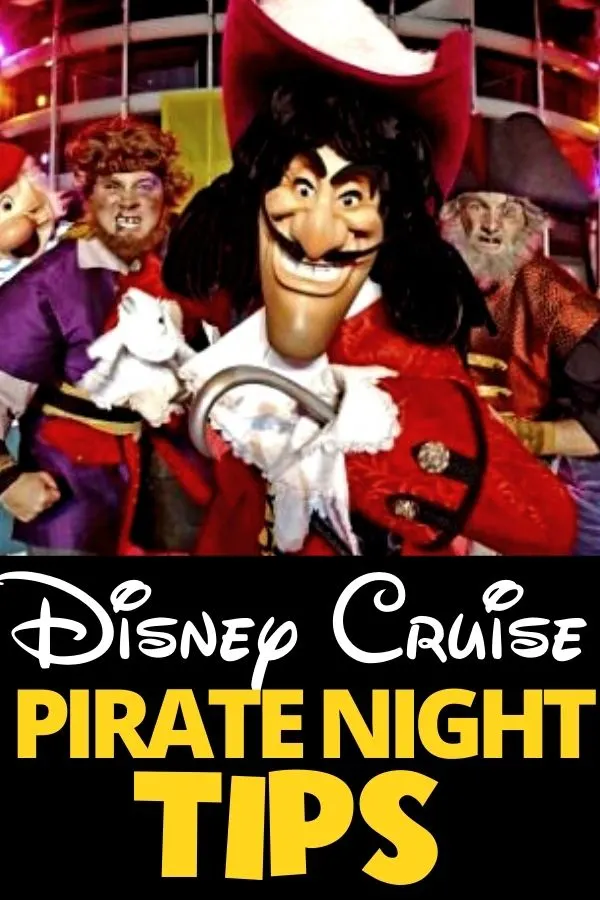 5 Disney Cruise Pirate Night Tips
1. Bring your own Pirate Night Costume & Gear.
You will first want to make sure that your Disney Cruise will have a pirate night before going out and buying your pirate gear.
You will find that almost everyone dresses up in one form or another.
Some wear full-on Disney Cruise pirate costumes, while others just wear a Disney pirate t-shirt or a pirate dress.
You will not look out of place at all if you choose to dress up.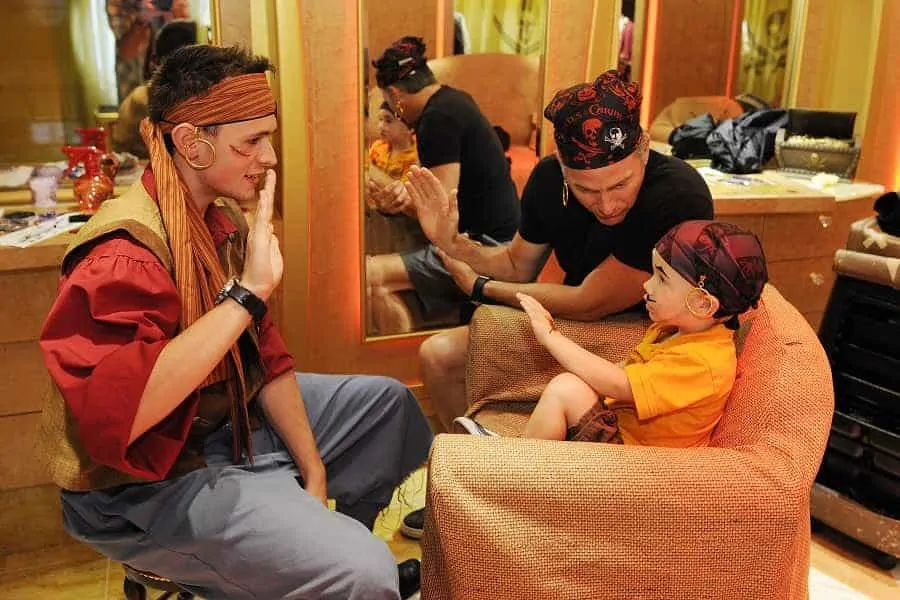 If you happen to have a Bibbidi Bobbidi Boutique on board, you will find that it will help you and your child become a pirate!
Just be sure to make your reservation for Pirate Night in advance as it does get booked fast!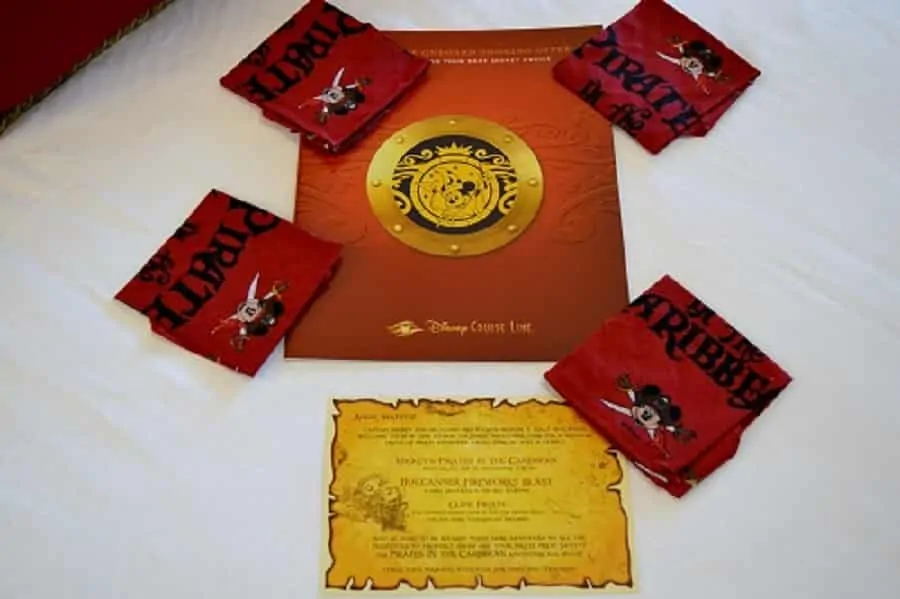 Forgot your pirate attire? No worried! When the Disney Cruise room steward makes up your stateroom, he/she will leave you a Disney Pirate Bandanna for each member in your party.
Of course, you can also purchase some pirate gear on board, but realize that you will pay a premium and the selection will be somewhat limited.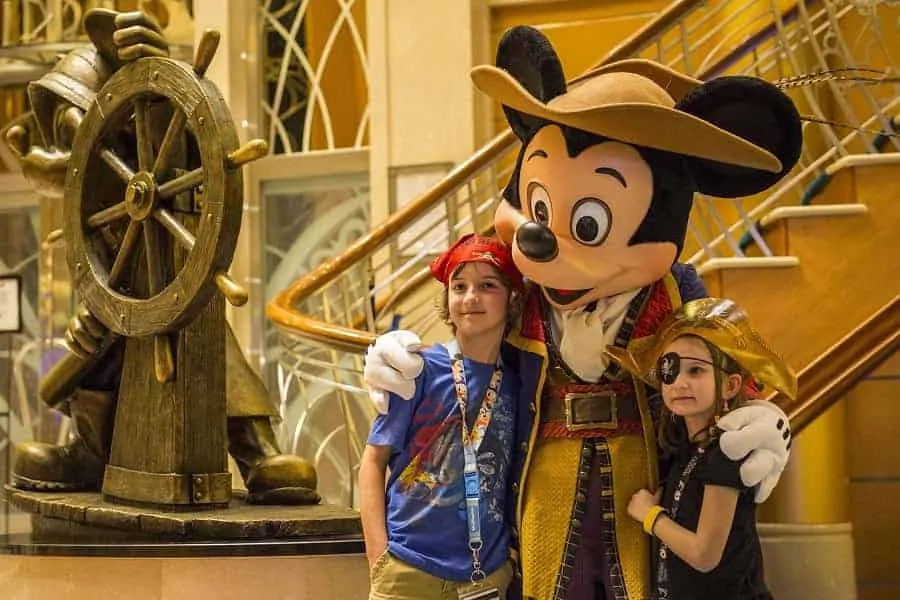 2. Take advantage of Pirate Meet & Greets.
You will find that just about everyone is dressed up for Pirate night on a Disney Cruise. What makes it even more fun is that you will also find all your favorite Disney pirates on board for meet and greets.
You will find Mickey & Minnie dressed as pirates, Jack Sparrow and even Captain Hook and Mr. Snee!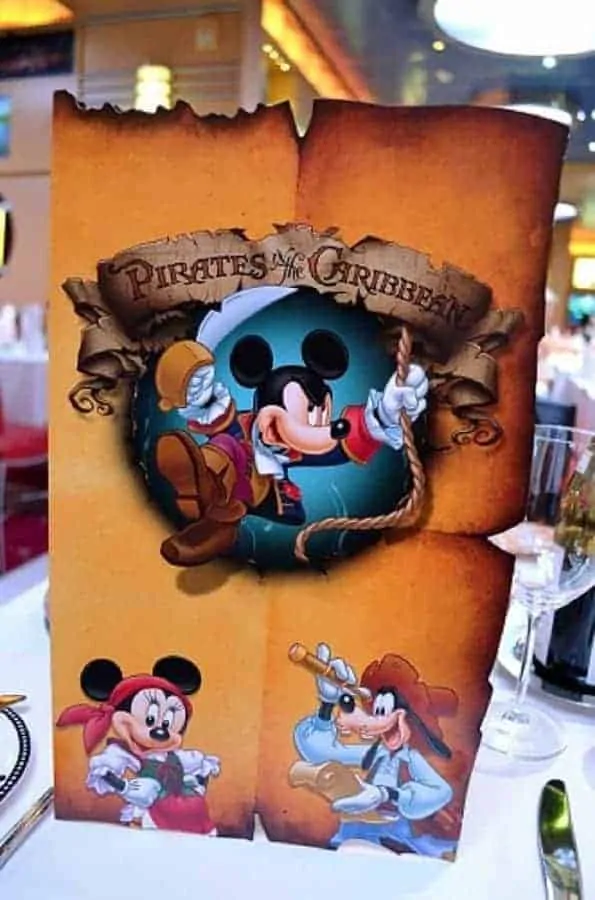 3. Be sure to show up for the Pirate Night dinner.
You will find that all the restaurants in rotation have transformed into a pirate themed restaurant. Each has the exact same Pirate Night menu.
Even your Servers will all be dressed in their finest Pirate Garb.
One thing that you can only get during this meal is the souvenir kids pirate drink cup that lights up. Usually, the price of the souvenir cup is around $6.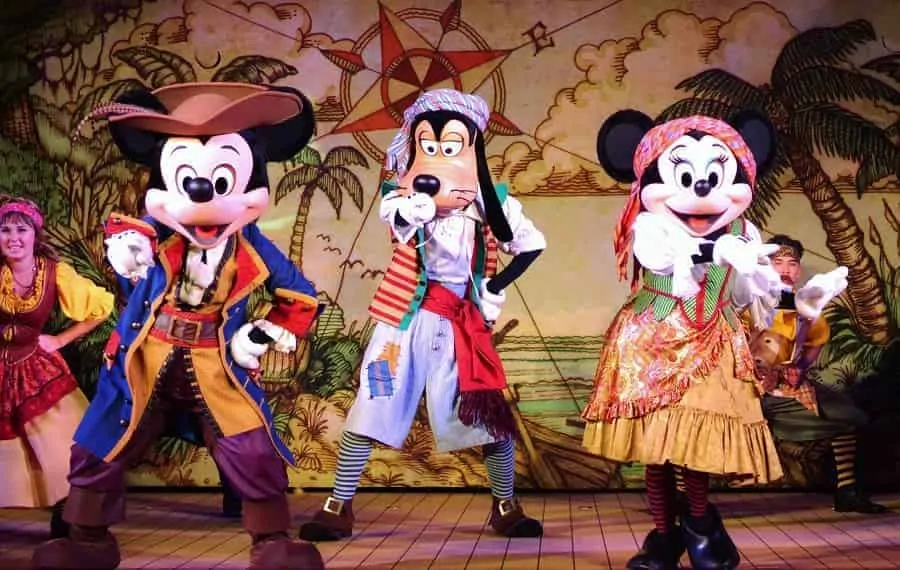 4. Get to the "Pirates in the Caribbean" Deck Party early.
Outside on the main deck, you will find that the pool has been covered up and the stage has been set for the "Pirates in the Caribbean" Deck Party.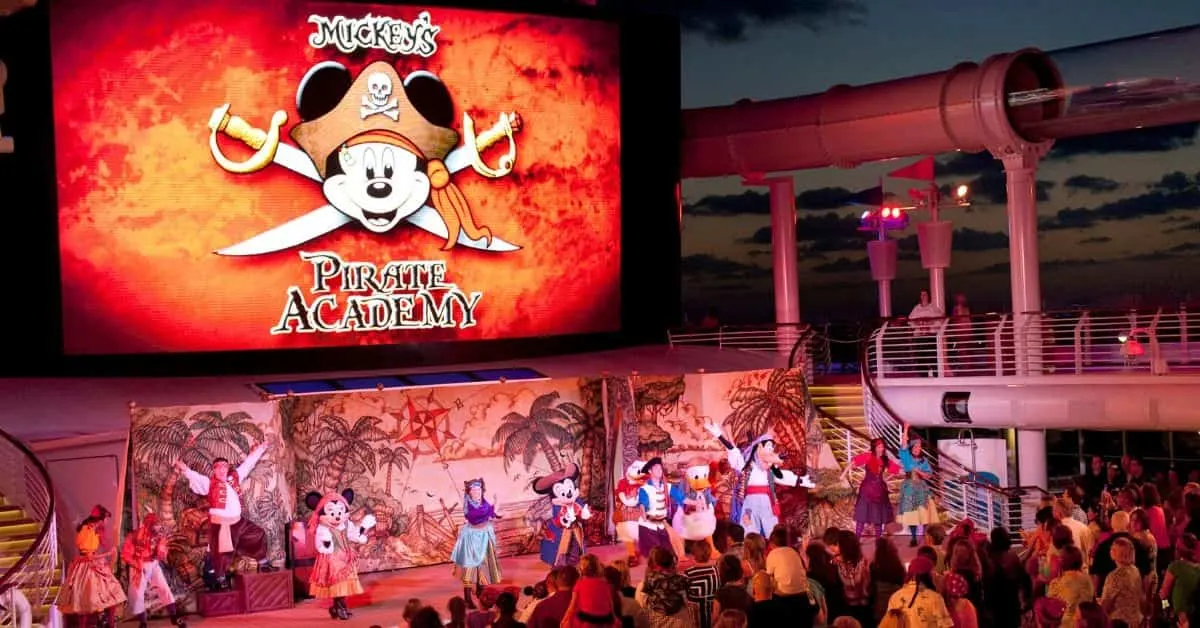 During the interactive stage show, you will spend some time dancing, singing and will get a chance to see your favorite Disney characters dressed up in their Pirate Outfits.
Get there early to grab a seat up front or find a great viewing spot from the balcony.
While this show is upbeat for the most part, smaller children might get a little frightened by the fight scenes or by the firing of cannons.
Just prepare them ahead of time by letting them know that it is all pretend.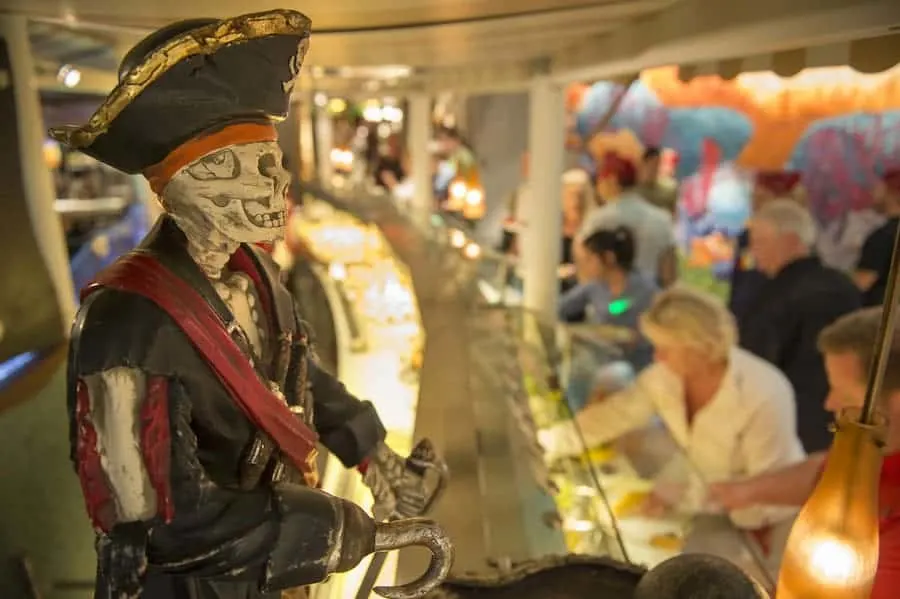 5. Go to the Disney Cruise Pirate Night Buffet.
Right after the fireworks show, you will find a full buffet filled with yummy treats.There are nachos and tacos, and plenty of desserts!
The buffet starts right at the end of the fireworks and only lasts about 45 minutes. The line can be ridiculously long, but if you want a special snack, you will find this a nice change from the regular food choices.
Have you had a chance to experience Disney Cruise Pirate Night? What did you think?