Those looking to book a family cruise to Europe have a few different cruise lines to consider. While you may find cheaper Northern Europe Cruises, nothing beats taking a Disney Norwegian Fjord Cruise. It allows you to go to some of the most popular destinations in Northern Europe like Denmark & Norway.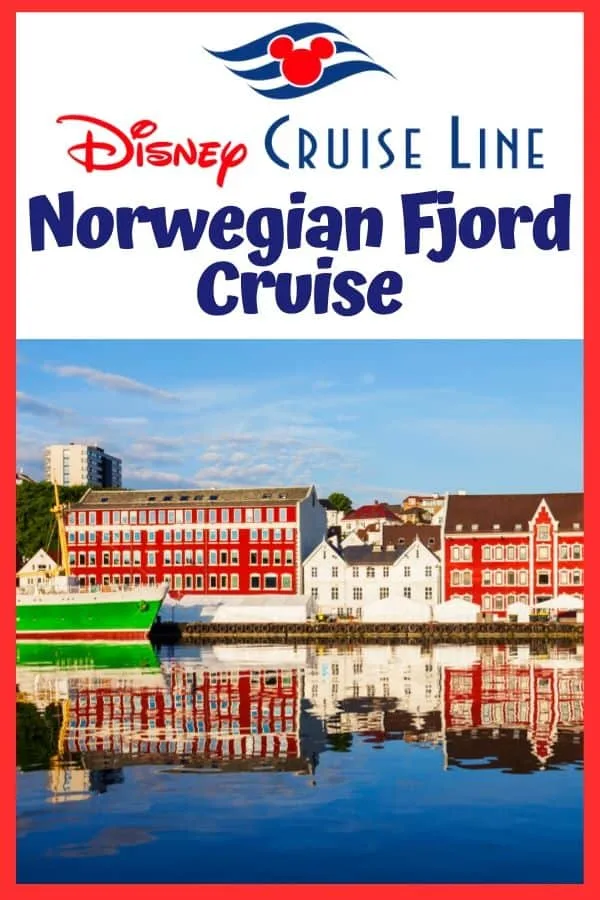 Disney Cruise Norwegian Fjord Itinerary
Wondering where you will be able to go during a 7 night Disney Cruise to Norway? You are going to be able to see some amazing places.
Dover, England
Copenhagen, Denmark
Oslo, Norway
Stavanger, Norway
Bergen, Norway
Not only does the Disney Norway Cruise itinerary allow you to tour some of the most popular cities in Scandinavia, you will also get to enjoy everything that Disney has to offer on their Disney Magic cruise ship!
Why you should consider a Northern Europe Disney Cruise: Norwegian Fjord from Dover
Dinners inspired by local cuisine
Broadway Style Shows every night
Kids planned activities
Family Game nights
Frozen Themed Events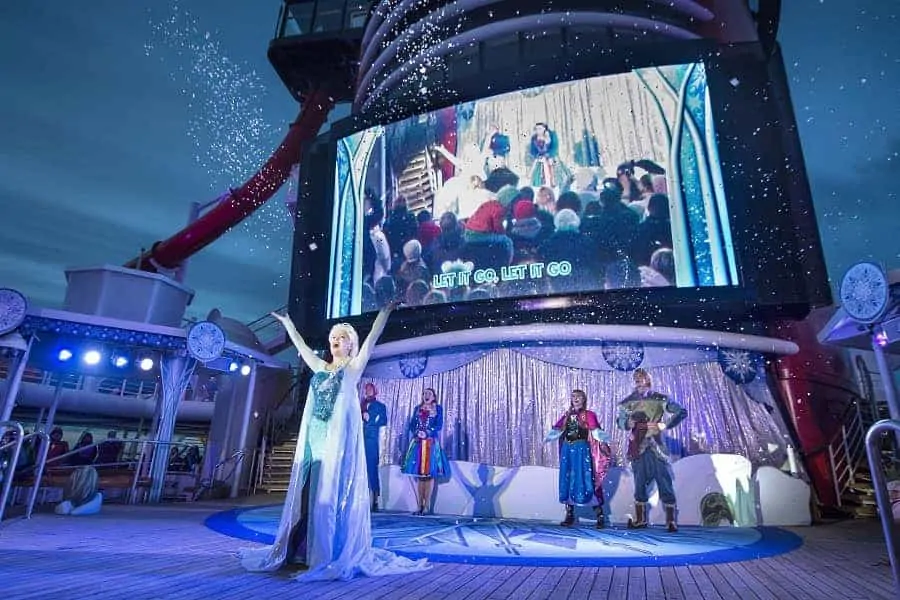 How Disney Incorporates Frozen into a Norwegian Fjord Cruise
Since you are travelling on a Disney ship, you should expect them to find a way to the 7 night Western Europe cruise to Frozen. Here is how Disney brings Frozen to Norway:
Elsa turns the atrium lobby into Queen Elsa's ice palace
There are FROZEN numbers in the Live Show "Disney Dreams… An Enchanted Classic"
Frozen character meet & greets
Frozen inspired Nordic dinner
"Freezing the Night Away with Anna, Elsa and Friends," deck party.
Disney Northern Europe Cruise Ports of Call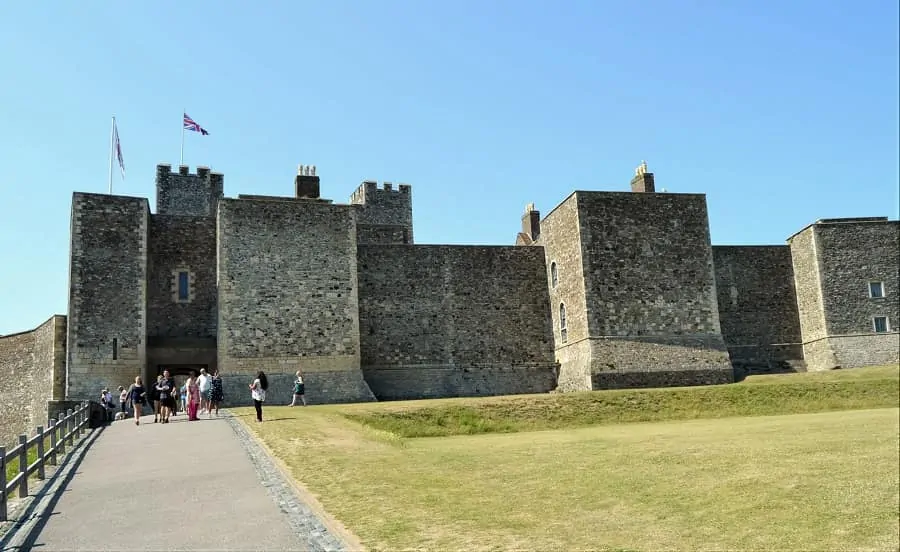 Dover, England
Disney Northern Europe Cruises begin in Dover, England and you will find that this port city is the perfect place for you to start your adventure!
Popular sites in Dover include a trip to Dover Castle. Dover Castle is one of the largest castles in England, sitting along the edge of the English Channel.
First built in 1066 CE by William the Conqueror as a fortification against being invaded by France, the castle was added onto by Henry II in the latter half of the 12th century.
While at Dover Castle, you will have plenty to explore from living quarters to enjoying the views of the English channel from the top of the castle walls.
Those travelling with kids to Dover will love the fact that the castle is fully immersive. Kids can dress in period costume and role play throughout the castle.
Here are other things you can experience in Dover in a day.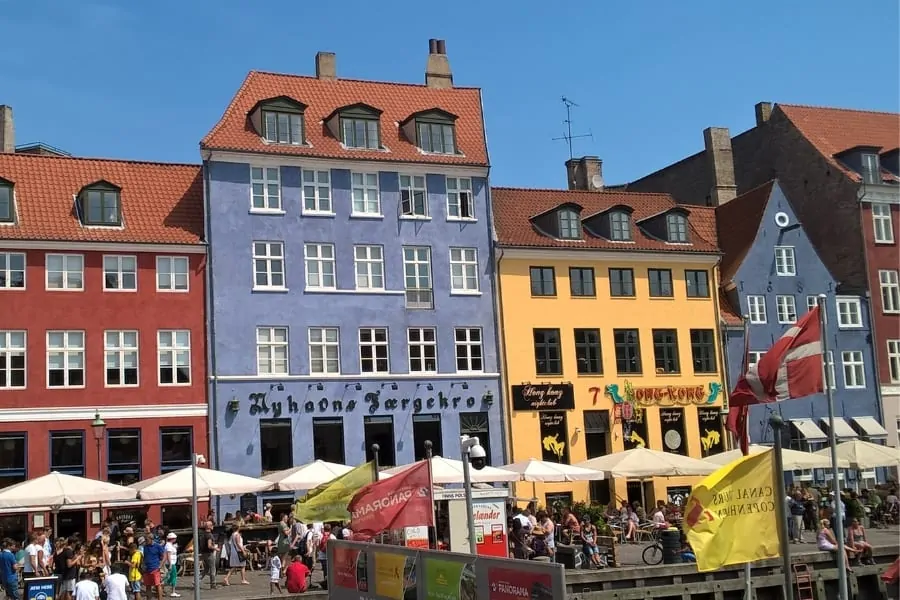 Copenhagen, Denmark
The first port city of this Northern European Cruise is one of my favorites. Copenhagen is one of those Danish cities where you can pretty much get anywhere on your own, so don't feel like you necessarily have to go through Disney Cruise Line for an excursion.
Nearly everyone speaks English and the city itself is very safe and absolutely easy to navigate with some careful planning.
One thing that we could not do without was the Copenhagen Card. It covered museums, transportation and many other attractions!
Things to see in Copenhagen:
Christianborg Palace. This former palace was the home of many Danish monarchs and now is where Queen Margrethe II hosts dignitaries. It is beautiful inside & out!
Rosenborg Castle.This palace was built in the 1600's as a summer-house for King Christian IV. You will find it packed with family treasures.
National Museum of Denmark. A beautiful example of Denmark's history. You will find everything from Rune Stones to prehistoric animals!
Canal Boat Tour. Hop on one of these boats and you can take a leisurely cruise through the canals of Copenhagen, seeing some examples of their beautiful architecture.
Hans Christian Andersen Museum. This museum (only a block from Hard Rock Cafe) features a hands-on approach to learning about the life of this famous writer. Fans of Disney movies will appreciate the significance of his works that led to Disney's The Little Mermaid. While most of this is in Danish, there are English components.
The Little Mermaid statue.One of the most photographed statues in Copenhagen, this is one you won't want to miss seeing in person!
Tivoli Gardens.Want to see what inspired Walt Disney to create his Disneyland Theme Park? This is the place! You can get entry through the Copenhagen Card, but each ride requires you to buy tickets.
If you have the time, you can also take a train about 20 minutes outside of Copenhagen, venture to Roskilde.
This town itself it so quaint with cobble stone streets and all.This is where you will find the Viking Ship Museum.
The museum showcases REAL viking ships and artifacts from that time period. Kids can even dress in costume and play in a viking ship play area!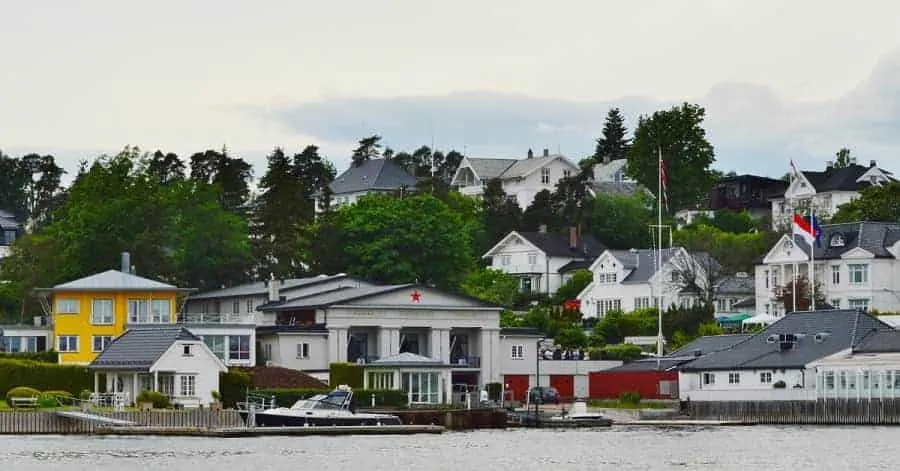 Oslo, Norway
During your Disney Northern Europe Cruise, you will get to see three different cities in Oslo. Each is different. Oslo is full of rich history and you will have the opportunity to really get emerged in the culture if you plan your time wisely.
What to do in Oslo:
The Viking Ship Museum. See real Viking ships that have been excavated from below the depths of nearby waterways. You will be amazed at their detail and how intact they are. You will also find many other Viking artifacts like barrels and sleds. Tickets can be purchased online and are about $13 USD.
The Norwegian Folk Museum.This open air cultural museum gives you a real-life glimpse into the life of Norwegians through history. You will see people in Nordic dress doing things like playing traditional music, making tools and knitting. You will be able to walk into REAL buildings from different eras along with a real Stave church. The Norwegian Museum of Cultural History is on the Oslo City Pass
Akershus Castle and Fortress.This historical landmark and museum will give you a glimpse into Norway's rich military history. Disney fans will appreciate that this is where the inspiration for the Akershus restaurant in Epcot came from.
City Hall. One of the city's great landmarks, this building is a true work of great architecture. Not only is the outside beautiful, but inside you will find a fresco created by Henrik Sørensen, Edvard Munch and other famous Norwegian artists. Admission to Oslo City Hall is on the Oslo City Pass.
Nobel Peace Center. You have heard of the Nobel Peace Prize, well, this is the place where the award is given annually. Inside is a permanent exhibit about Alfred Nobel, the Nobel Peace Prize and those the award has been given.
If you don't want the expense (or the hassle of being on someone else's schedule) of a cruise excursion, this city is really easy to navigate on your own.
One thing I would recommend is getting The Oslo Pass. This pass allows free public transport and is good for entrance to many museums.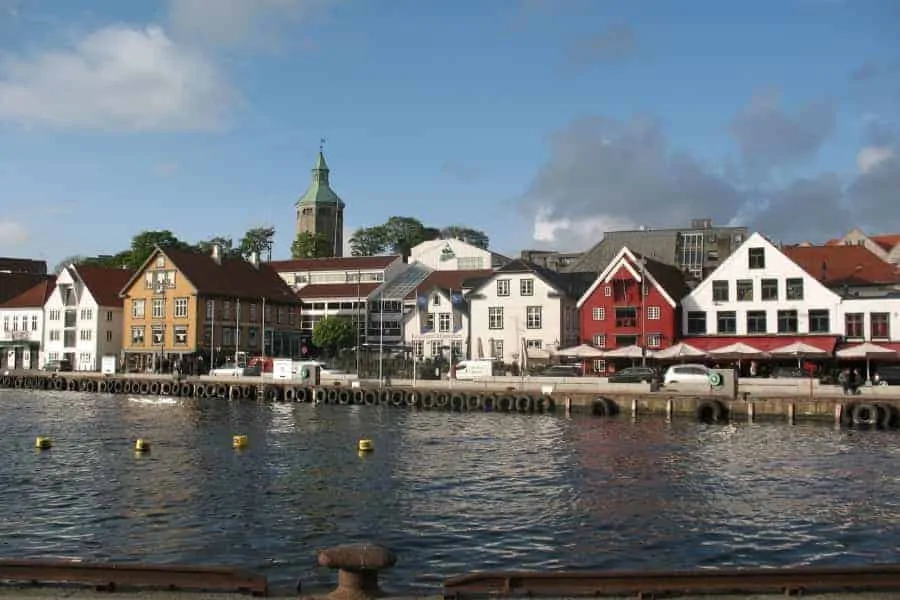 Stavanger, Norway
This small fjord town in Norway gives you a glimpse of its rich history. Walk its cobbled streets with its colorful timber homes and oil lamps and you will feel like you've been transported back in time.
What to do in Stavanger
Gamle Stavanger: an easy walk from port. Just enjoy the architecture and the quaintness of this old canning village.
Norwegian Canning Museum: Stavanger was once an important part of the canning industry. While you might not think canning as all that interesting, this museum will make you think differently. It is fully interactive so the kids will enjoy it too!
Stavanger Cathedral: This beautiful church dates back to the 1125 and has been recently restored.
Lysefjord Cruise: There is really no better way to see the Fjords that by water. This cruise will take you to many of it's most popular natural wonders: Pulpit Rock, the Kjerag mountain, and other beautiful land forms.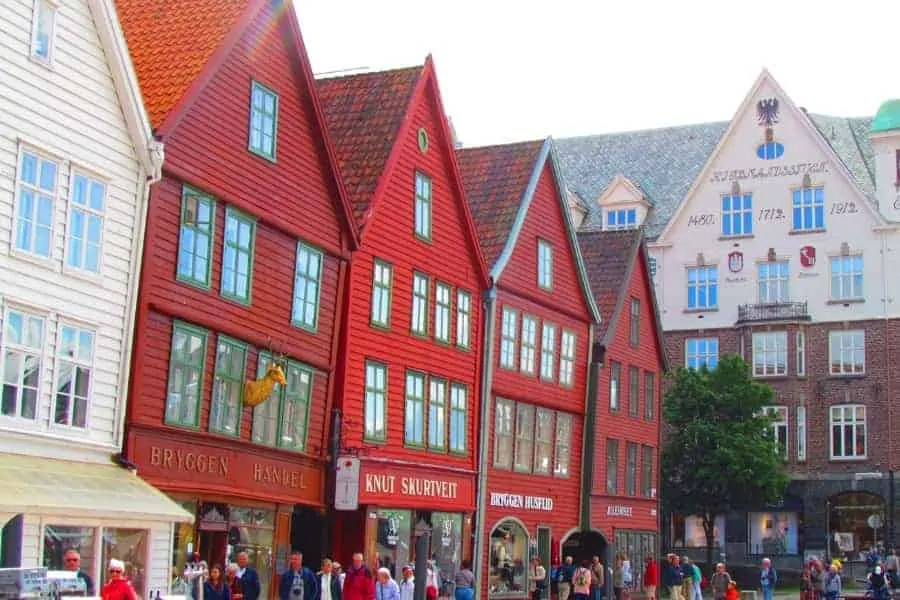 Bergen, Norway
One of the most beautiful Fjords in the world is in Bryggen which is an UNESCO World Heritage site. You'll find more colorful wooden houses on the old wharf along with cascading mountains.
What to do in Bergen
Mount Floyen. While this is a Fjord town, you will find the area outside of the wharf mountainous. One of the best ways to see the Fjords is from above. While you can walk, it is much easier to take the Floibanen Funicular to the glass viewing platform at the top.
Bergenhus Fortress. This is one of the oldest and best preserved fortresses in Norway.
KODE art museums. If you are an art lover, you won't want to miss the chance at seeing a collection of works by Edvard Munch. In this museum, you will find an ink version of The Scream, the most famous of all of Munch's works. You will also find masterpieces from Picasso and Klee.
Fjord Tour. Bergen is between the two of Western Norways largest fjords: the Sognefjord and the Hardangerfjord & a Fjord tour gives you the chance to see different small picturesque villages.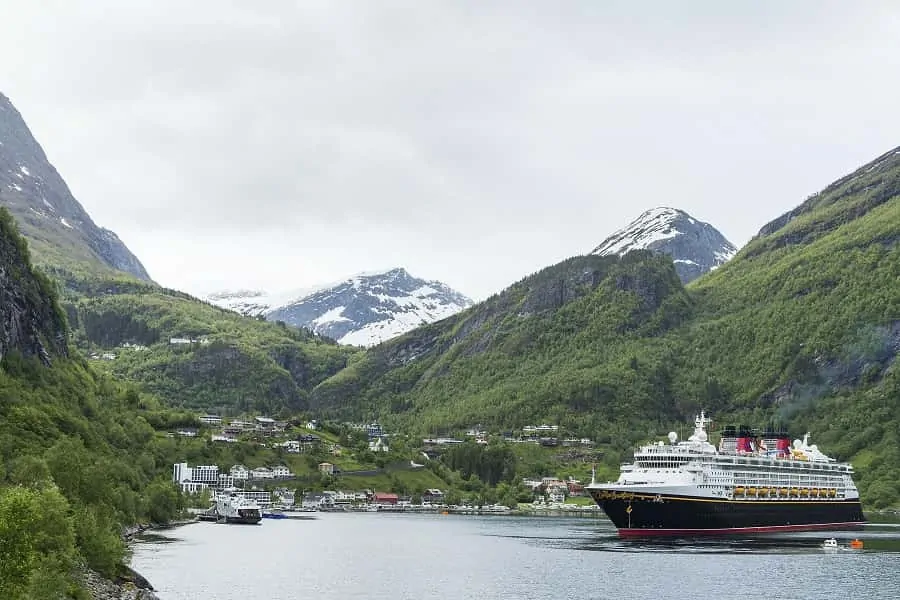 If you are planning to travel with your children to Europe and want to know that you can safely get from place to place without the worry of where to stay or meals, a Disney Cruise is perfect.
The Disney Norwegian Fjord Cruise Itinerary allows you to be able to see England, Denmark & Norway all in one trip!
Have you taken a Disney Cruise to Northern Europe? What did you think?