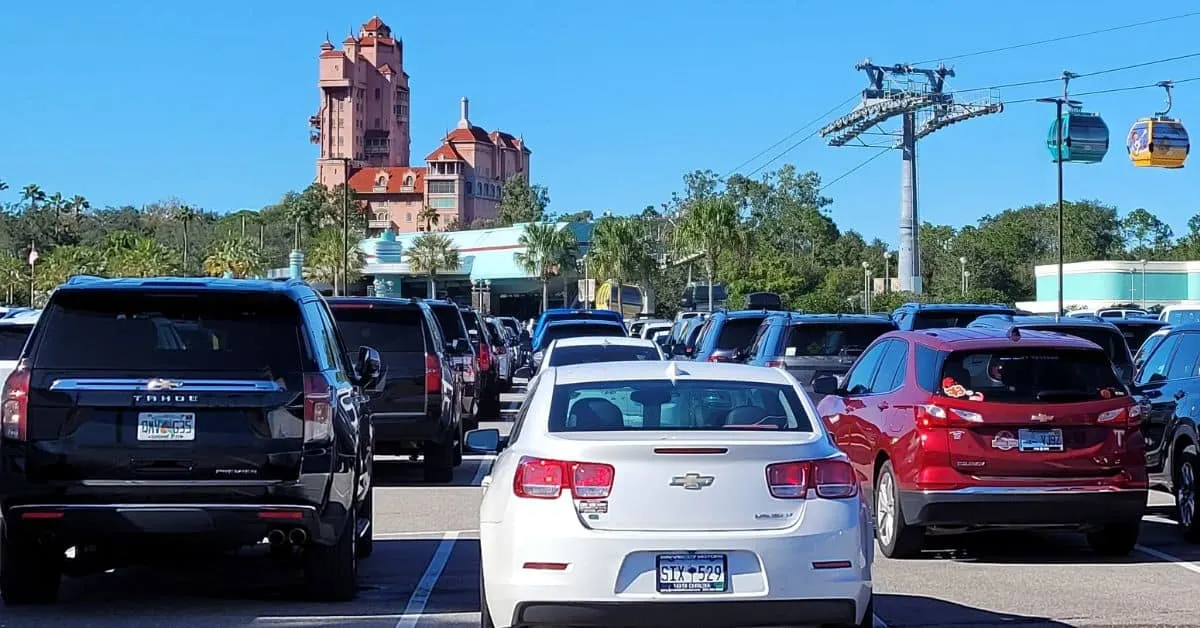 Many people think they are saving a ton of money if they drive to Orlando to visit the Disney parks.
While this can be true, one of the things they fail to consider is the Disney World parking fee that is charged each day when they choose to drive their own vehicle.
When you consider how many days you visit the Disney theme parks, you are probably looking at ticket prices.
What you might not be adding to the equation is the Disney World parking fee.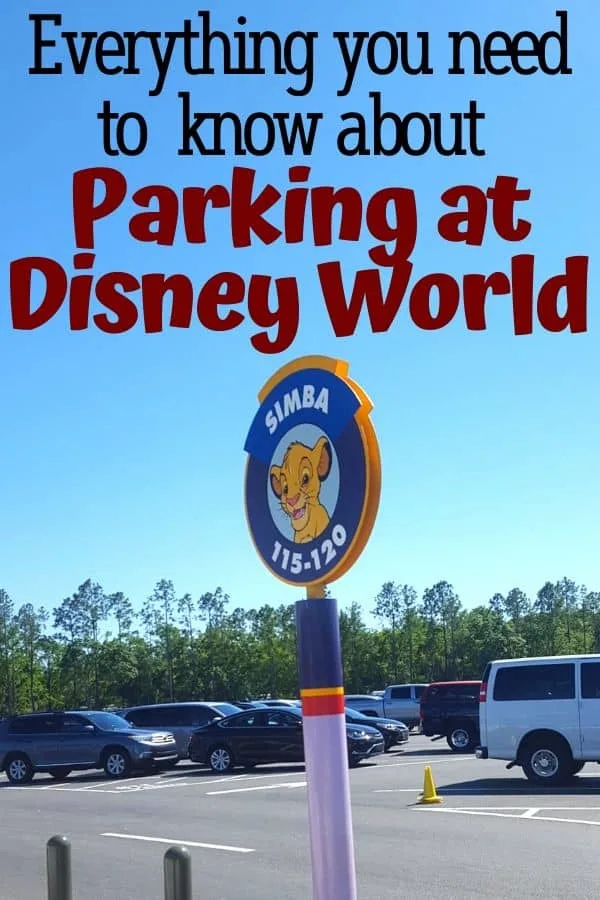 How Much is Parking at Disney World?
Parking is FREE for Disney Resort Guests and Annual Passholders.
Parking at Waterparks & Disney Springs is FREE
Preferred parking: car or motorcycle – $50 per day
Standard parking: car or motorcycle – $25 per day
Oversized Vehicle Parking: Shuttle, Limo, Camper Trailer, RV, Bus or Tractor Trailer – $30 per day
The parking pass is good all day at all 4 theme parks—Magic Kingdom park, Epcot, Disney's Hollywood Studios and Disney's Animal Kingdom.
This means if you choose to park hop, you will only have to pay to park one time.
You should check to see if the hotel you are staying at offers a shuttle to the Disney parks.
Shuttles are a free service for many hotels in the area and certainly a perk that can save you money.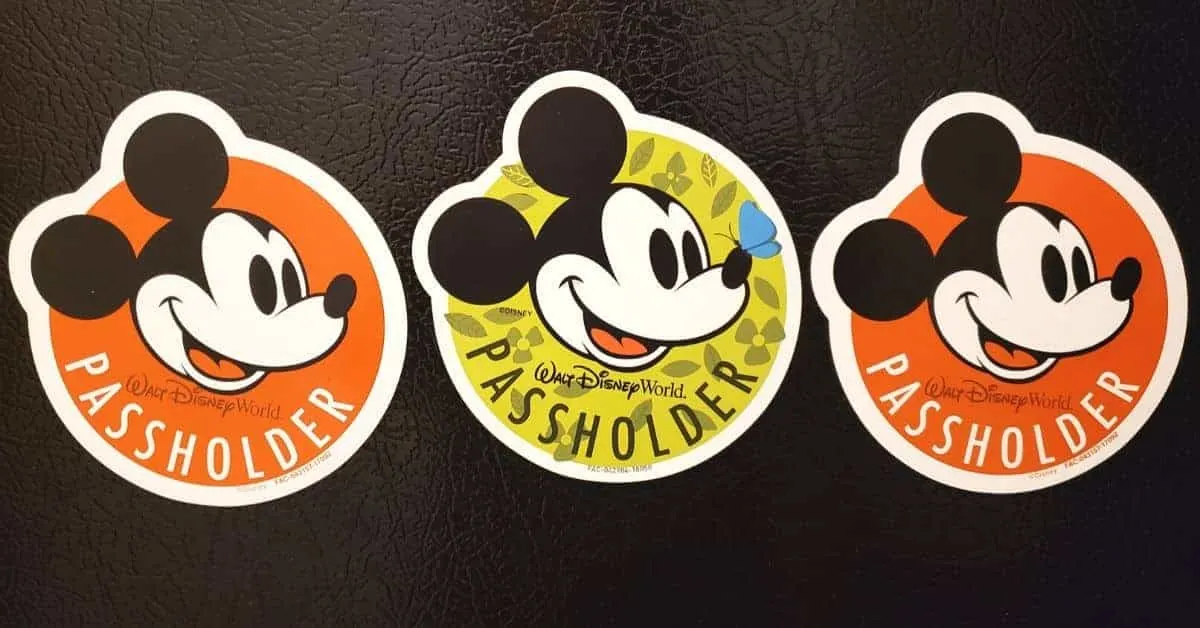 How to Avoid Disney World Parking Fees
Disney Annual Passholders do not have to pay to park at the Disney theme parks.
The only surefire way to avoid paying the Disney World parking fee is to stay at a Disney Resort.
Free transportation & no parking fee, if you drive yourself into the Disney parks, is one of the many perks to staying on Disney property.
All you will need to do is have the parking attendant scan your Disney MagicBand.
Disney World Parking for Electric Vehicles
If you are driving to Disney World and have an electric vehicle, there are places for you to charge your battery.
There are ChargePoint charging stations located in the parking lots at Magic Kingdom Park, Epcot, Disney's Animal Kingdom as well as in Disney Springs.
Arriving Guests should ask Cast Members for directions to these charge ports when they are queued up in the parking lot.
These spots are few and are available on a first-come, first-served basis.
Electric Vehicle Charging Stations
If you are driving an electric vehicle, you will find a few charging stations at the Disney World parking lots. They are as follows:
Magic Kingdom Park: There are 5 spaces—1 space at the front of the Jafar and 4 spaces at the front of the Zurg
Epcot: There are 4 spaces at the front of the Journey Parking Lot
Disney's Animal Kingdom Theme Park: There are 4 spaces in the Medical Parking Lot
Disney Springs: You will find a total of 6 spaces—3 on the 5th floor of the Orange Garage and 3 on the 5th floor of the Lime Garage
To use the charging stations, you will need a credit card or a pre-ordered ChargePoint card.
The cost to charge at these stations is $0.35 per kilowatt hour, with a minimum service amount of $1.50.
Charging will stop once the vehicle's battery is fully charged.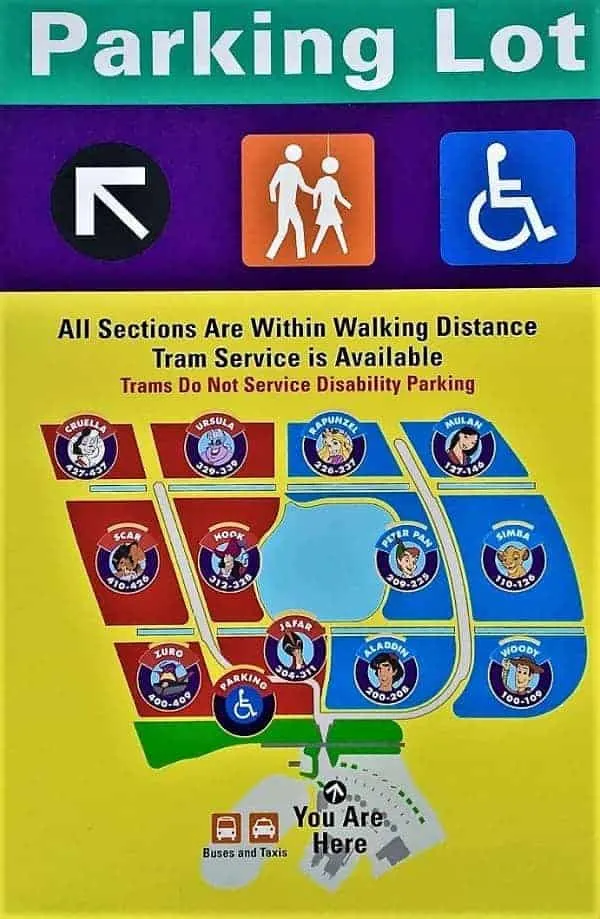 Locating Your Car in a Disney World Parking Lot
How many times have you parked the car in a parking lot only to forget in what section you left it? It has happened to me way too often.
Usually, we know what section it is in, but forget the exact row.
That can be a huge problem when there are 50+ rows in a section.
You can wind up roaming aimlessly through sections of cars before spotting yours.
This can be super frustrating when you are hot & tired from a long day at the park!
Magic Kingdom Parking
Did you know that there are over 12,000 parking spaces in Magic Kingdom alone?
That means that if you forget where you parked your car, you could be in BIG trouble.
Magic Kingdom Parking Secrets
The Magic Kingdom parking lot is divided into 2 sections, Heroes & Villains.
Be sure you know which one you are in because if you end up on the wrong tram you will NEVER find your car.
Instead, you will be taken on a very long and boring ride through the parking lot only to end up where you started.
The Hero Lot features sections: Woody, Aladdin, Peter Pan, Simba, Mulan and Rapunzel
The Villain Lot features sections: Zurg, Jafar, Hook, Scar, Cruella and Ursula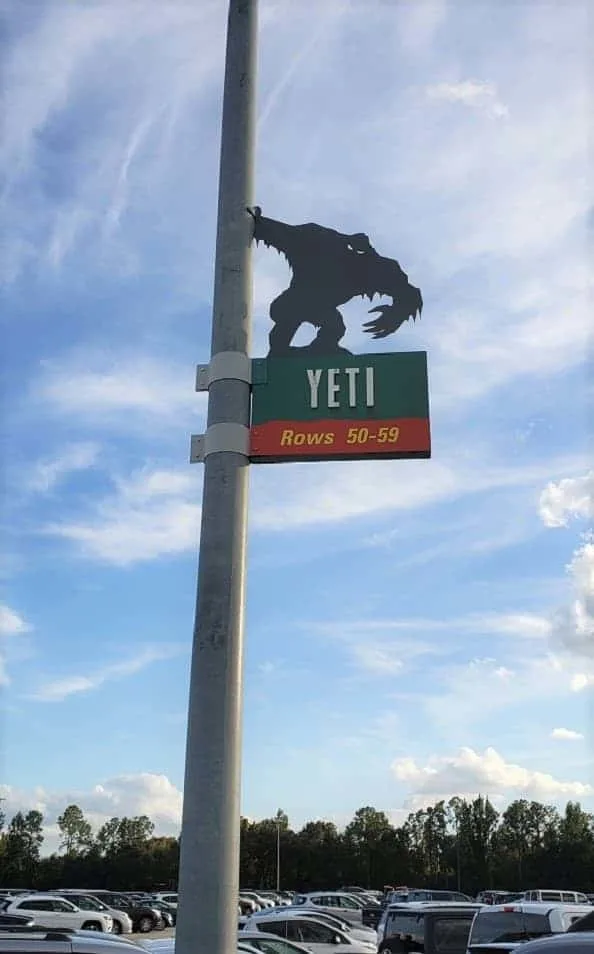 Parking at Epcot, Animal Kingdom & Hollywood Studios
The lots for the other parks are not nearly as large or tricky to navigate.
Epcot is divided into: Discover, Amaze, Journey, Imagine, Create, and Wonder.
Hollywood Studios parking lots are based on characters you can meet at the park: Minnie, Jessie, Mickey, Buzz, Olaf & BB8
Animal Kingdom sections the parking lot into exotic & fantasy animals: Peacock, Unicorn, Yeti, Dinosaur, Butterfly & Giraffe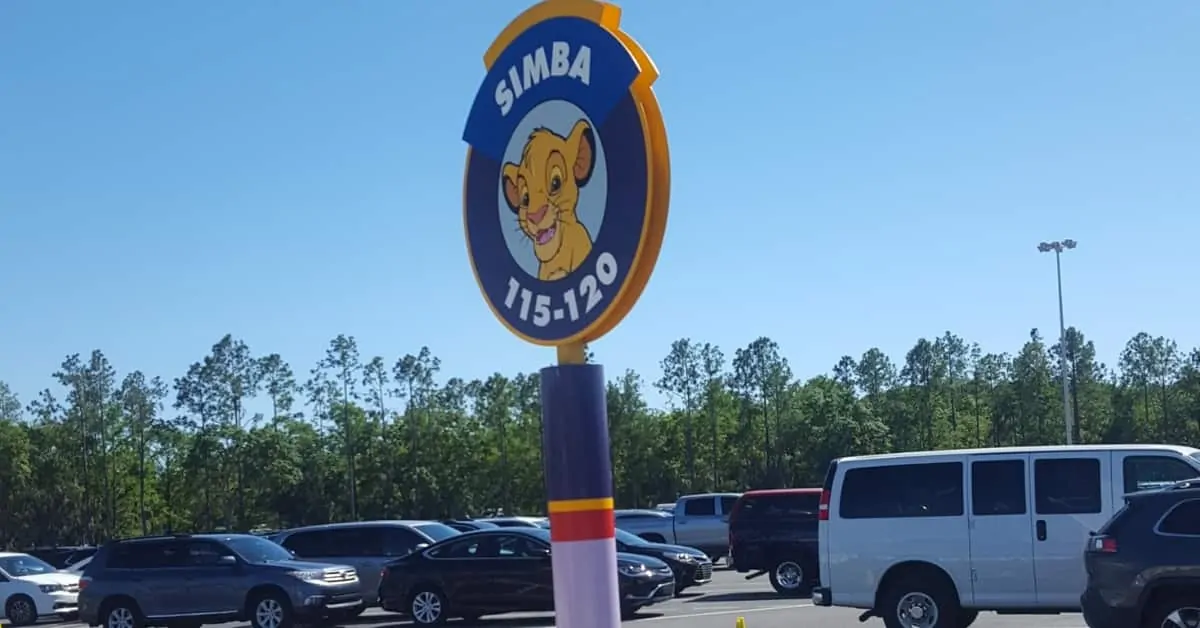 #1 Disney World Parking Tip for Finding your Car in a Disney World Parking Lot
Use your cell phone to take a picture of your section and row marker. You will find signs like the one above in each parking section.
To know the precise row number, look at the pavement closest to the tram station.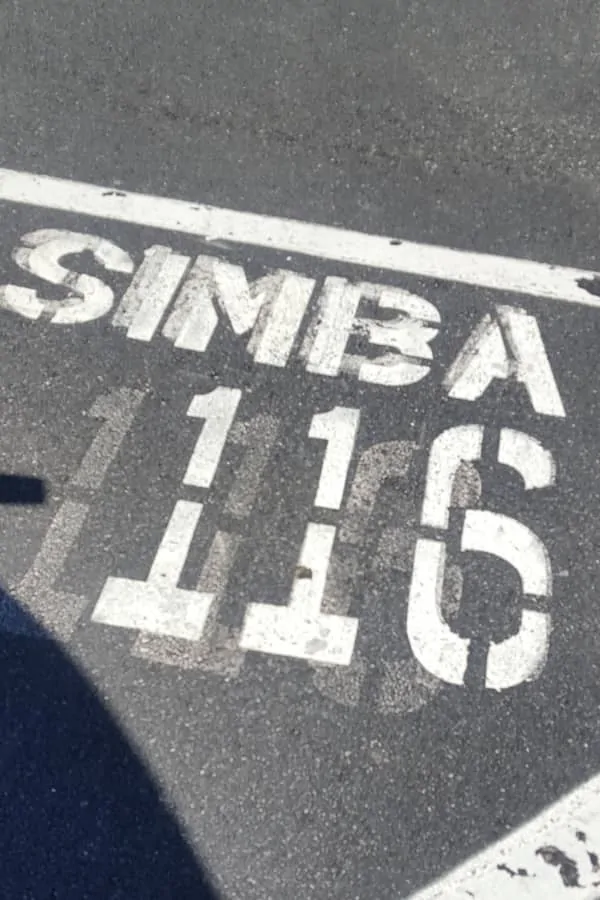 You will find them painted on the pavement.
By taking a photo, you can be sure to find your car at the end of the day when your memory seems to fade!
What if you forget to snap that picture once you are on the tram?
The tram driver will announce where you came from twice: once when you leave the parking lot and again when you arrive at the park entrance.
Be sure to pay attention and then text it to yourself or someone in your party!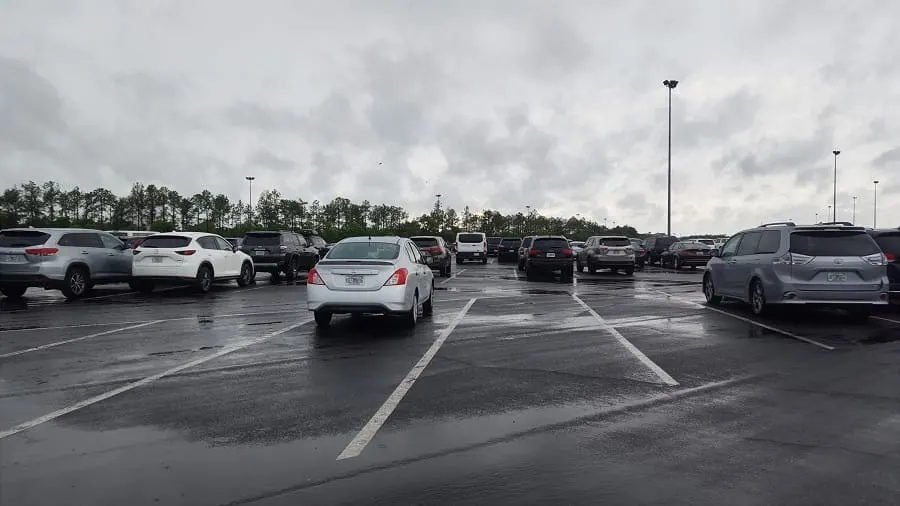 What to do if you can't find your car at Disney World
If you don't use our parking tip for Disney and you have no idea where you parked your car, you will want to go back where you got off the tram.
At some point another tram will arrive and you will want to let a cast member know that you've lost your car.
Someone will come by to help you locate it without you having to walk through the parking lot row by row.
Minnie Van Lyft Service
Disney World gives the option for Disney Resort Guests to use the Minnie Van service to get to the Disney World parks.
It works with the Lyft app.
Just open the Lyft app from anywhere within Walt Disney World Resort property and request a ride.
Because this is a service through Disney parks, cars usually show up in minutes.
How to request a Minnie Van Lyft Service:
Open the Lyft app and select your Walt Disney World destination
Confirm your pick-up location and tap "Select Minnie Van"
The app will display a map tracking the vehicle that is headed to pick you up & the identifying vehicle number
Pricing for Minnie Van Lyft Service to Disney World Parks
While there was once a flat fee for the service, Disney World guests will not pay a fee based on how far their Disney resort is from the park they want to go to.
Fees range from $25-$35 on average.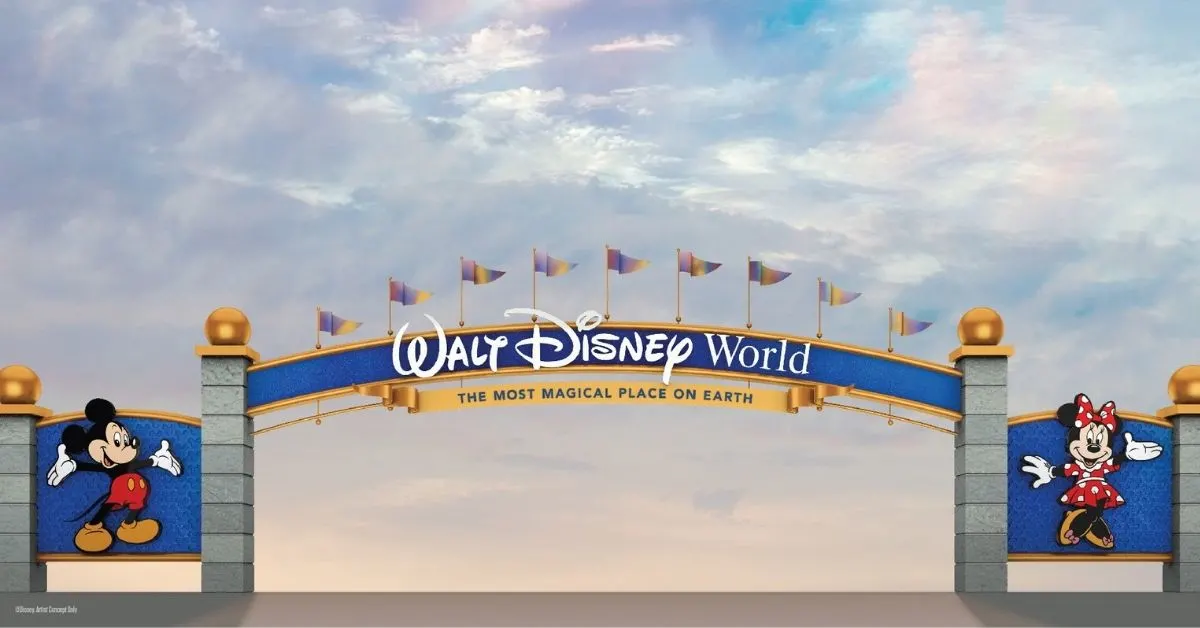 Frequently Asked Disney World Parking Questions
How do I avoid parking fees at Disney World?
Annual Passholders & Disney Resort guests do not have to pay Disney Parking Fees at the four Disney World parks.
Can you Uber to Disney World?
Yes, Disney does allow Uber to drop off at all Disney World parks. You can expect to pay less than $15.
How early can you park at Disney World?
The parking lots at Disney World open one hour prior to the parks opening.
Is Disney parking free after 6pm?
No, Disney World does not change the parking fees based on time of day.
Do you have any Disney World parking secrets or tips to share?