If you are going to Disney Springs and looking for a great place to eat with the kids, you should consider Rainforest Cafe. Rainforest Cafe is a jungle-themed restaurant where you eat among the animals! Located near in the Disney Marketplace, the Rainforest Cafe Disney Springs restaurant is a fun experience for the whole family.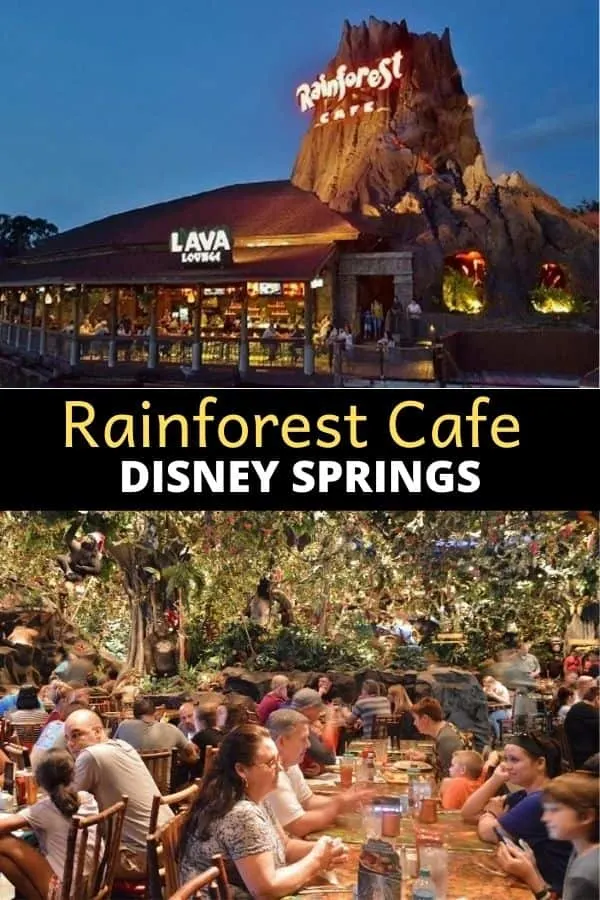 Rainforest Cafe Disney Springs
Disney Springs is full of great restaurants, but those traveling there with kids might be looking for something a bit more family-friendly.
One of our favorites when our kids were younger is Rainforest Cafe.
If you have never been, Rainforest Cafe is a restaurant that makes you feel like you are eating in the middle of a rainforest, animals & all!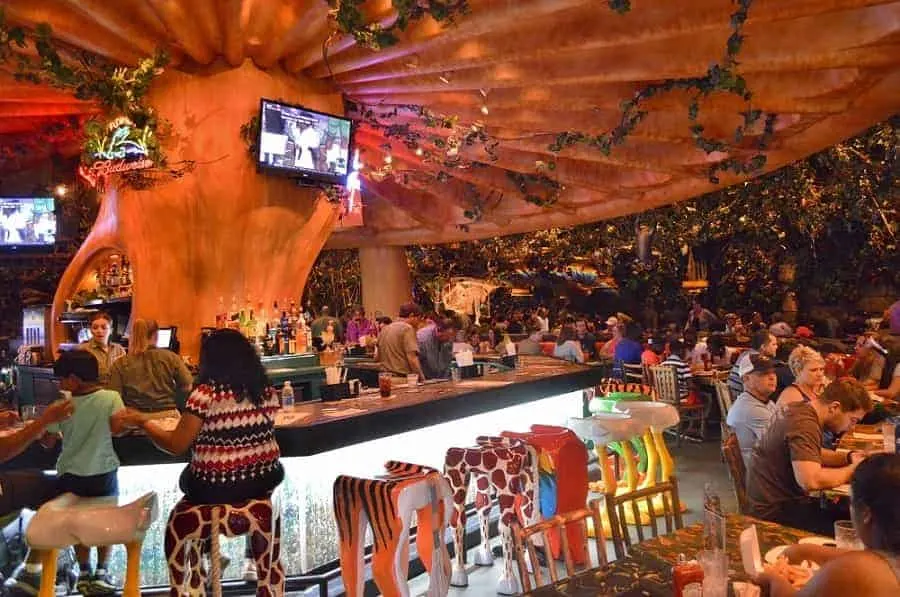 Those who don't want to do a full sit down meal and still go in & enjoy getting a drink at the bar! The bar stools are super fun!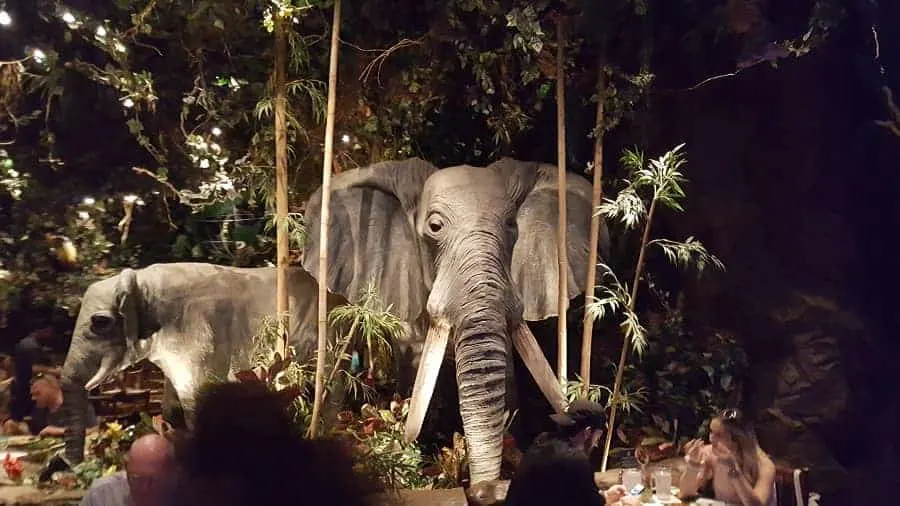 Once you arrive at your table, you will be able to experience what it would be like to eat in a tropical Rainforest alongside the animals that live there.
You will find the animlas come to life throughout your meal and you will even get to see what happens when a thunderstorm rolls through the jungle!
Meals at Rainforest Cafe
The Rainforest Cafe menu is traditional American. You will find ribs, chicken, steak and even shrimp.
Food prices are high at Rainforest Cafe and the food is fine, something similar to the quality at any big chain American restaurant.
What you are really paying for is the experience.
Nevertheless, if you put my dining at Disney on a budget tips to work, you can come out of the restaurant spending less than you think.
Rainforest Cafe is on the Disney dining plan, so if you are on the plan, you can choose to use it as one of your table service meals.
If you have any Disney Gift Cards burning a hole in your wallet, you can use them at Rainforest Cafe to pay your bill!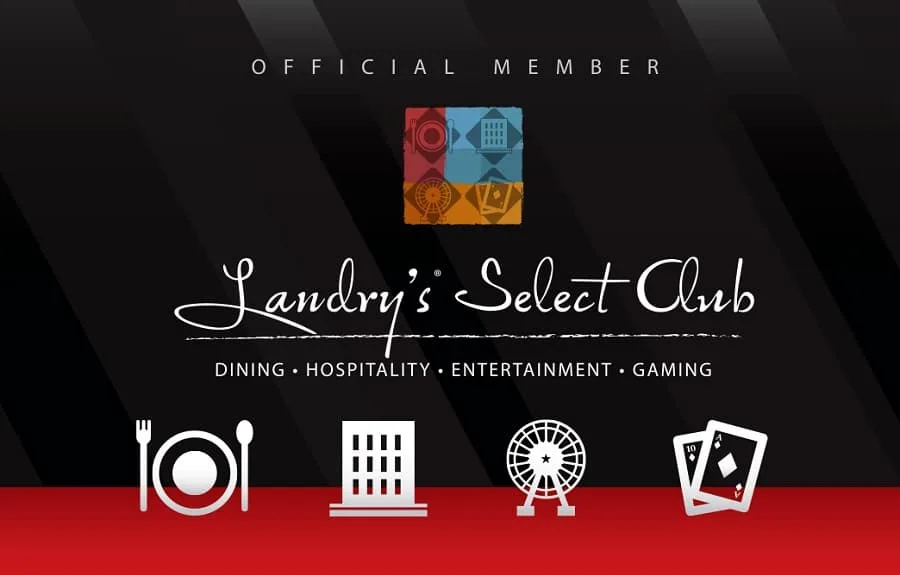 While Rainforest Cafe does come out with food coupons once in a while, right now if you join Landry's Select Club, you can score:
Priority Seating
$25 Welcome Reward
$25 For Every $250 You Spend
$25 Birthday Reward
10% Off Retail Purchases
Exclusive Member-Only Offers
You can also use the Landry card at other Landry restaurants, like T-Rex Cafe which is also in Disney Springs and offers a very similar dining experience (but focused on dinosaurs).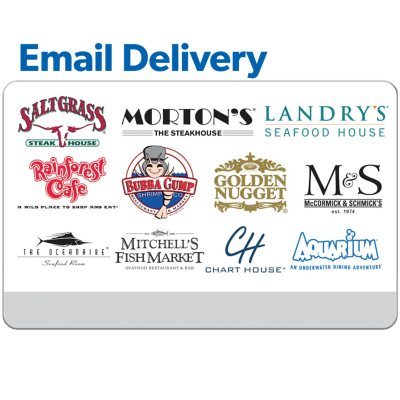 Buy Rain Forest Cafe Discount Gift Cards at
Sam's Club
Don't forget that you can get discount Landry gift cards at Sam's Club! It is a HUGE savings too!
They will send it via email so you can do it on the go!
You can also use the Landry card at other Disney restaurants like the Rainforest Cafe in Animal Kingdom or T-Rex Cafe.
Making Reservations
Rainforest Cafe is one of the more popular restaurants at Disney Springs and the lines can be really long.
Do yourself a favor & make a reservation in advance.
Since it is considered part of the Disney restaurants, you can book it through Disney.
Rainforest Cafe Disney Springs Restaurant Hours
Lunch: 11:00 AM – 4:55 PM
Dinner: 5:00 PM – 10:35 PM
Have you dined at Rainforest Cafe or joined the Landry's Select Club? What are your thoughts?