One of the first things you need to do when planning your Disneyland Paris trip is determining what you need to take with you. We have a great Disneyland Paris packing list that contains all the things you need for a perfect vacation!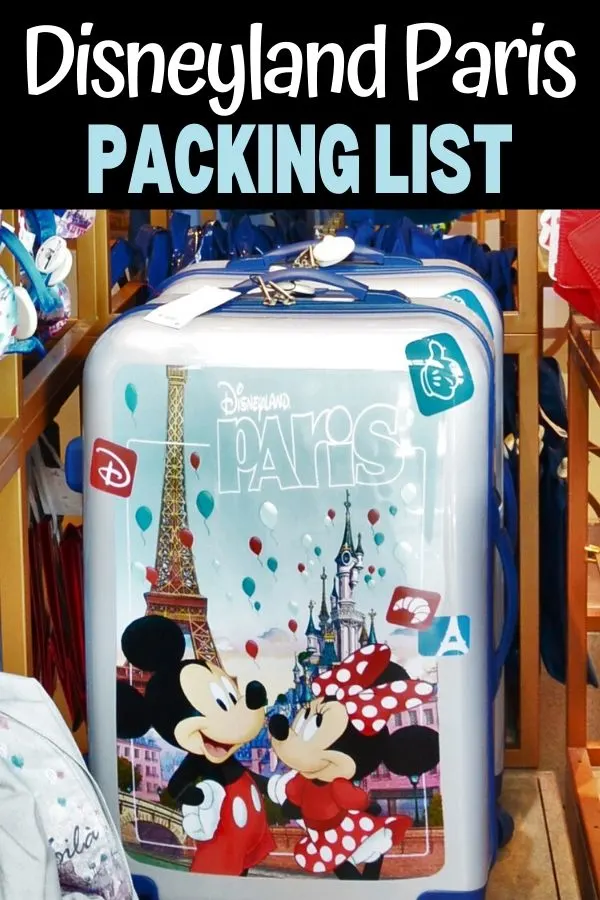 Disneyland Paris Packing List
Backpack
We believe that backpacks are the best bags to bring to Disney parks because they allow your arms to be free and can hold all the gear you need for a day.
Sunscreen
While you might not think of Paris as a sunny destination, if you plan on going to the parks in the summer months, the sun will be bright and it will be daylight for upwards of 14 hours. All that sun on your skin will create a burn that can last your whole vacation if you aren't careful.
Poncho
Rain can happen without any warning in Paris. Be on the safe side and pack a lightweight poncho.
Anti-Chafe Stick
I swear by the Body Glide sticks. They work on your heels, on toes, and on your inner thighs.
Portable Charger
You will be spending an entire day at the parks taking pictures, checking the Disneyland Paris app, and probably using the free Disneyland Paris wifi. Do yourself a favor and bring a portable charger just in case your phone goes through its battery power faster than usual.
Insulated Water Bottle
Staying hydrated no only allows you to do more, it will make you a lot less grouchy. Keep a refillable water bottle with you and refill it often.
Disney Autograph Books
If you are traveling with kids, do yourself a favor and go ahead and get a Disney autograph book in advance. Your kids are going to want to visit with characters while at the park and they love getting their autographs.
Good Pair of Walking Shoes
This is not the place to wear heels. You need a good pair of walking shoes! Choose ones that keep your toes covered and that allow them to breathe!
Soft Cooler
We always carry snacks with us in the park. Disneyland Paris allows you to bring food & drink into the park so it is a good idea to do so. These soft coolers can be freezed the night before and then will remain chilled throughout the day.
Wet Wipes & Hand Sanitizers
You are going to be touching a lot of things in Disneyland Paris and you should take care to stay safe. Bring these with you to wipe your hands after rides and before meals.
Lanyard
I think lanyards are essential when you are dealing with tickets of any type. You can easily misplace Disneyland Paris Fastpasses and park tickets when you keep them in your pocket. They will be easier to find around your neck in a lanyard!
Costume
If you're children are wanting to dress up for a day at Disneyland, then you should be sure to dress them in advance. Bring an extra set of clothes in case they get tired of wearing the costume.
When creating your own Disneyland Paris packing list, make sure that you actually write everything down so that you can check it off as you go.
Do you have anything else you think should be on our Disneyland Paris packing list?