We LOVE going to character breakfasts because the food is always so good and it is an easy way to get those autograph books filled with great character signatures! Located right off the monorail, Ohana breakfast at Polynesian Resort allows you to fill your belly & meet Lilo and Stitch.
The Ohana breakfast is great for days when you plan to head over to Magic Kingdom or Epcot early in the day. You can park at Polynesian Resort, eat your breakfast, and then either hop right on the monorail or walk straight over to the park!
Ohana Breakfast at Polynesian Resort
Like many character breakfasts, seating is done in a revolving basis. This is to accommodate the character table meet & greets. Arrive on time, because if you are late, they will work you into the next seating group and that might take some time (don't ask how I know this!).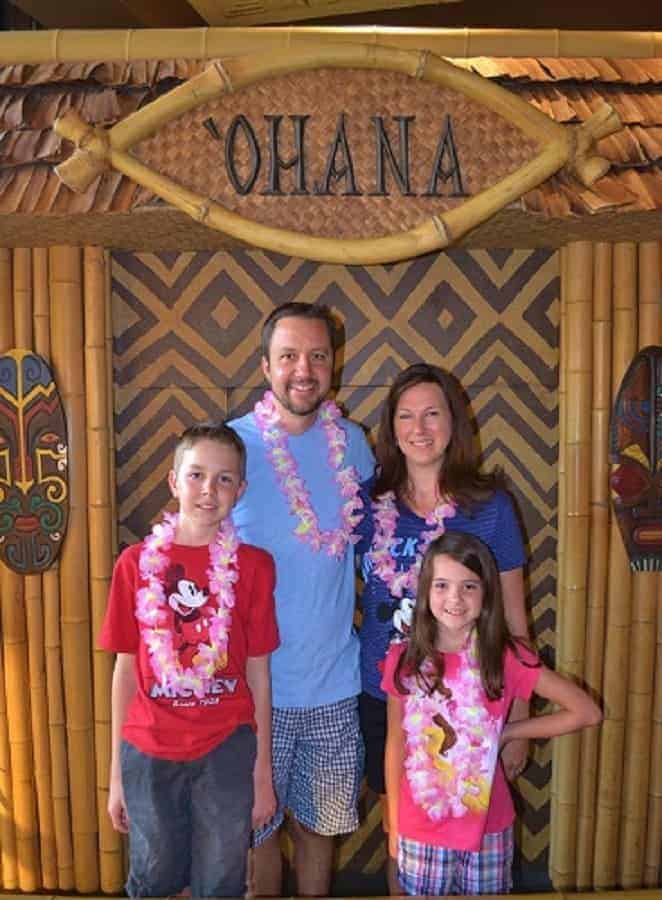 All guests will be given a (plastic) Hawaiian lei as a keepsake and you will have the opportunity to take your picture with the Tiki backdrop. From time to time, Stitch also appears for pictures.
Once seated for your Ohana breakfast, your server will give you a basket of their signature Pineapple sweet bread and take your drink order. Be sure to get their signature POG juice (blend of Passion Fruit, Orange and Guava Juices). It is delicious!
Your server will bring you a fresh fruit tray when your drinks are prepared and the kids will be given a set of maracas.
Why maracas? About 10 minutes after you are seated, there will be a conga line dance where the kids can dance with all the characters.
By the time the kids are back, your meal will be served and it is a lot of food! You will find Scrambled Eggs, Bacon, Sausage, Biscuits, Waffles and Fried Potatoes.
Don't worry that there won't be enough food, because there is no way you could possibly eat all that they give you and if you do need seconds, just ask. They will bring whatever you want.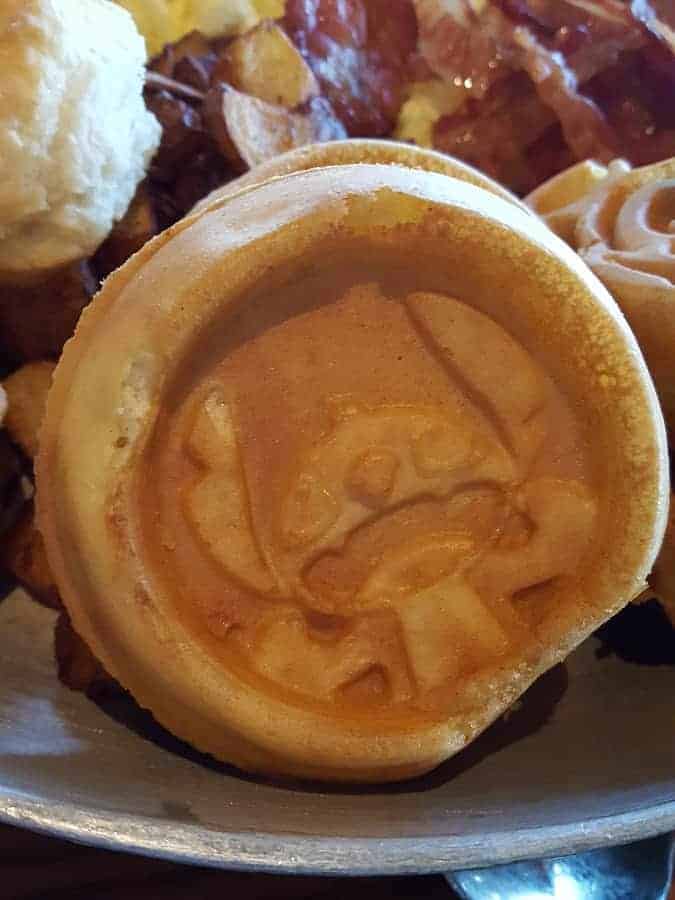 Yes, those are Stitch Waffles! Ohana Breakfast is the only place you will find them!
As you eat your breakfast, you will be greeted by a few of your favorite characters. Each will come straight to your table, sign autographs, and pose for photos before going on a parade throughout the Ohana restaurant.
During our Ohana breakfast we were able to meet & greet with Lilo, Stitch, Mickey Mouse & Pluto.
We really enjoyed our trip to Ohana for breakfast and I would definitely recommend it! If you've been to the Polynesian for the Ohana Character breakfast, I'd love to hear what you think.