(Note: The links in this post are affiliate links, and we will be compensated when you make a purchase by clicking through our links. Read our disclosure policy here.)
There is nothing better than a Tusker House Breakfast Buffet in Animal Kingdom! You get to meet your favorite Disney characters without having to stand in a Meet & Greet Line and you get to eat some delicious food!
When we get the opportunity to have a Disney character meal, we try to do breakfast.
It allows us to enter the park early and fuel our bodies for the long day ahead.
One of my favorite Disney Character meals is at Tusker House located at Animal Kingdom because it has a great selection of food and we get to hang out with most of the fab five.
Tusker House Breakfast Buffet
The Tusker House Breakfast buffet is located at the Harambe marketplace in the heart of Africa.
The building is spacious, giving you plenty of room to roam around searching for your favorite breakfast items.
There are no lines, so you just go to grab the items that you want.
You will find your favorites like Mickey Waffles, Omelets (made to order) and everyone's favorite drink, POG juice along with some traditional African dishes as well.
Because it is a buffet, you can go back as much as you want!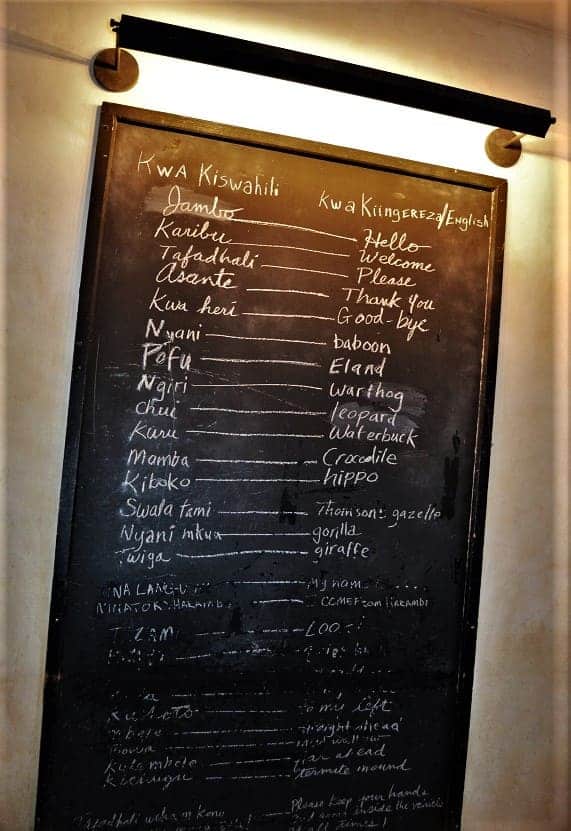 The entire restaurant is an African safari theme. You will find decorative African artifacts throughout Tusker House and your server will even be dressed as a safari guide. Your server might speak to you with some African phrases.
Not sure how to respond? You can learn Kwa Kiswahili phrases while you dine by reading this chart.
Which Characters are at Tusker House Breakfast Buffet?
The Tusker House Breakfast Buffet features Donald Duck Safari Friends.
You will get to meet and greet while you eat breakfast with some or all of the following Disney characters: Mickey Mouse, Minnie Mouse, Donald Duck, Daisy Duck & Goofy.
Each Disney friend is dressed in their safari gear!
One of the benefits to character buffets is getting a personal meet & greet. The Disney characters will come to your table to see you and pose for photos.
It is great because you can enjoy your meal without having to wait in line to see your favorite Disney character.
How Much is Tusker House Breakfast Buffet?
Tusker House Breakfast Buffet has a set price.
Currently, the price is $39.00 for adults and $23.00 for children (ages 3 to 9). If you are dining on the Disney Dining Plan, it is one Table Service Meal Credit.
Tusker House is also available for Lunch & Dinner with a similar buffet experience.
Lunch & Dinner are $52.00 for adults and $32.00 for children (ages 3 to 9). If you are dining on the Disney Dining Plan, it is two Table Service Meal credits.
Have you been to the Tusker House Breakfast Buffet? What is your favorite part of dining at Tusker House?