If you are staying at a Walt Disney Resort, you are going to want to know about the Disney Refillable Mug, also called a Rapid Fill Mug. These refillable cups at Disney are great for those who want to save money on drinks while dining at Disney Resorts.
What is a Disney Refillable Mug?
The Disney Refillable Mug allows you to get unlimited fountain drinks during your stay so you can drink everything from soda to coffee whenever you want.
If you are staying at a Disney Resort and plan on drinking anything besides water, you probably should go ahead and invest in at least one Disney Refillable Mug.
The mugs hold 16 ounces of hot or cold beverage, are dishwasher & microwave-safe and have a lid.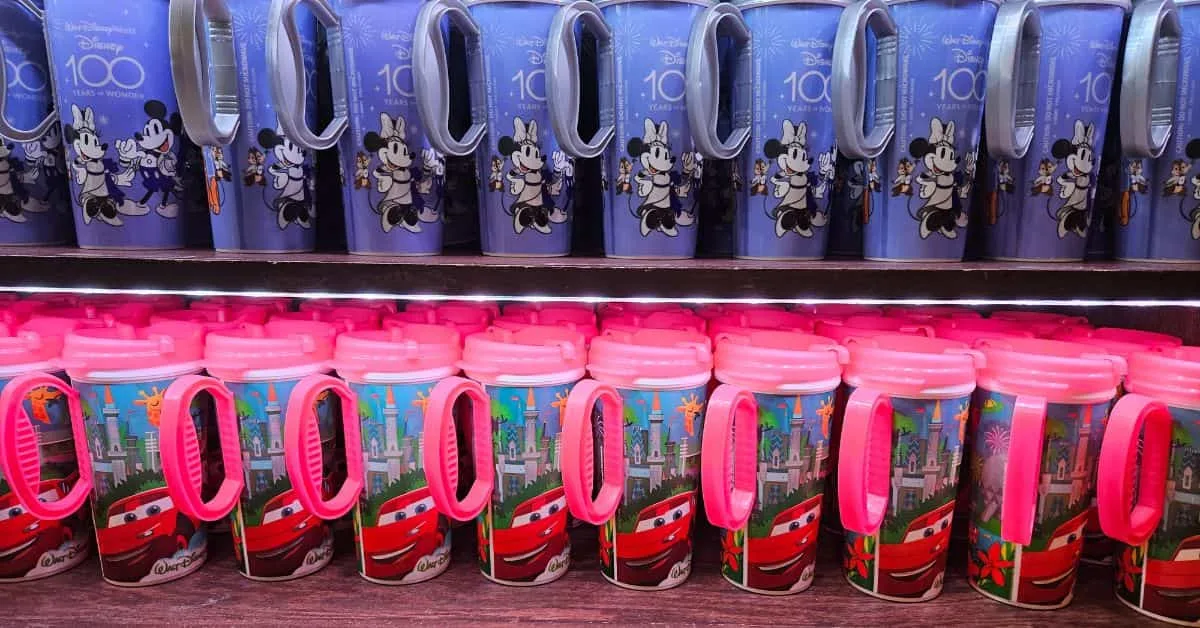 Purchasing Refillable Cups at Disney
Those staying at Disney Resorts and using the Disney Dining Plan will be able to get one mug per person on the plan for FREE.
This mug will allow you to get limitless refills at all Disney Resort drink stations for the length of your stay.
If you aren't on the Disney Dining Plan, you can purchase a Disney Refillable Mug for a set price (currently $21.99) at any quick-service dining location in any of the Disney resorts.
Once purchased, the mug will give you access to unlimited refills on any beverage at the drink station for the length of your stay (up to 14 days).
Your Disney Rapid Fill Mug will work at ANY Disney resort.
This means that if you resort-hop for meals, you can take your Disney refillable mug and use it.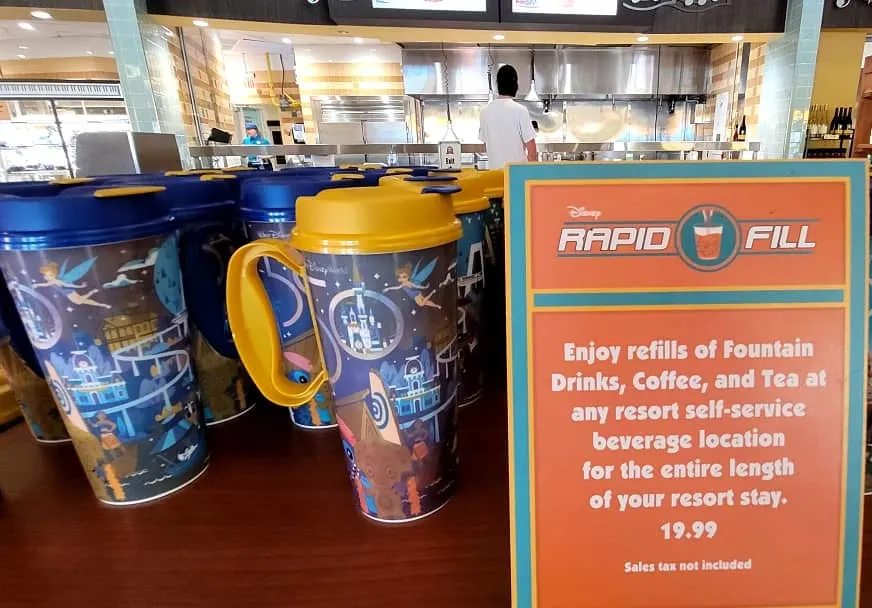 How Does it Work?
When you purchase your mug, the cast member will activate an RFID chip to make the drink machine accessible.
For those on the Disney Dining Plan, you will just pick up your mug at a quick service counter, scan your MagicBand at the checkout and your cashier will activate your refillable cup.
To use it, simply place the Rapid Fill mug on the circular holder and the machine will activate so that you can get your beverage of choice.
Your beverage choices will vary based on where you stay.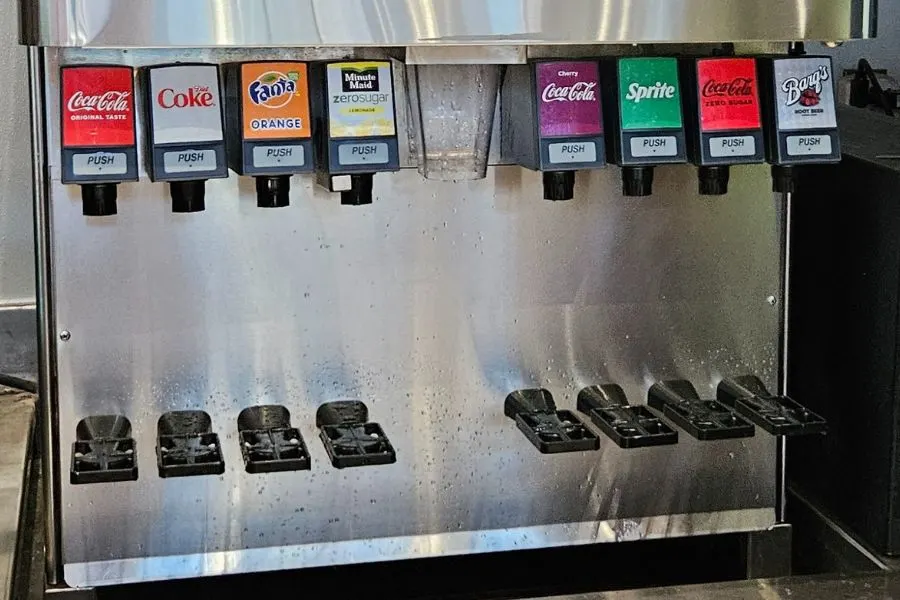 Disney has a deal with Coke, so you will always find Coke Products. The usuals are Coke, Coke Zero, Cherry Coke, Diet Coke, Fanta Orange, Sprite, Barg's Rootbeer and Minute Maid Zero Sugar Lemonade.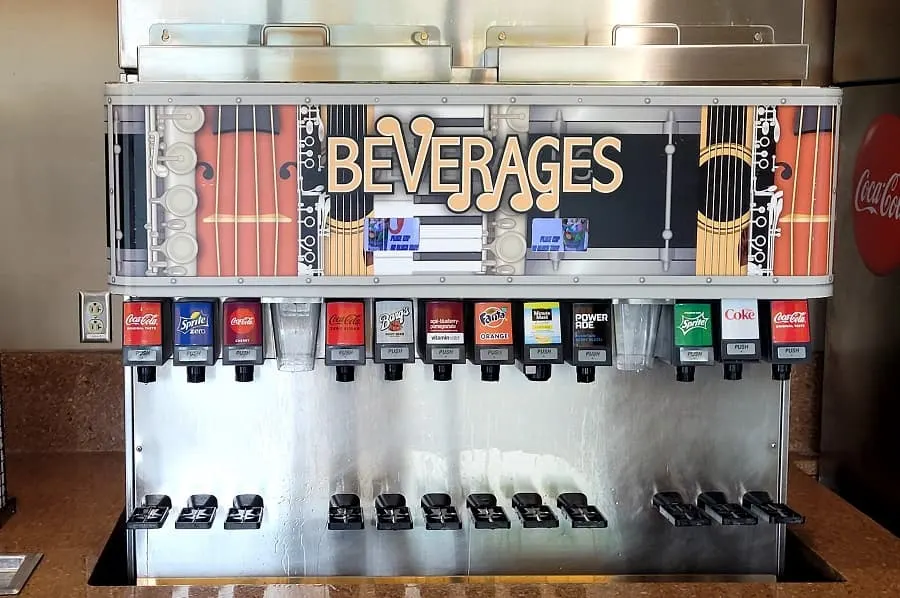 New Coke Freestyle machines are being added to many of the Disney Resort quick-service restaurants, but not all have been changed over.
Don't drink soda?
You will be glad to know that you will have more options at the refillable stations than just soda!
You will also find that the Disney Rapid Fill mugs work for Coffee, Tea, Lemonade, Powerade and Vitamin Water.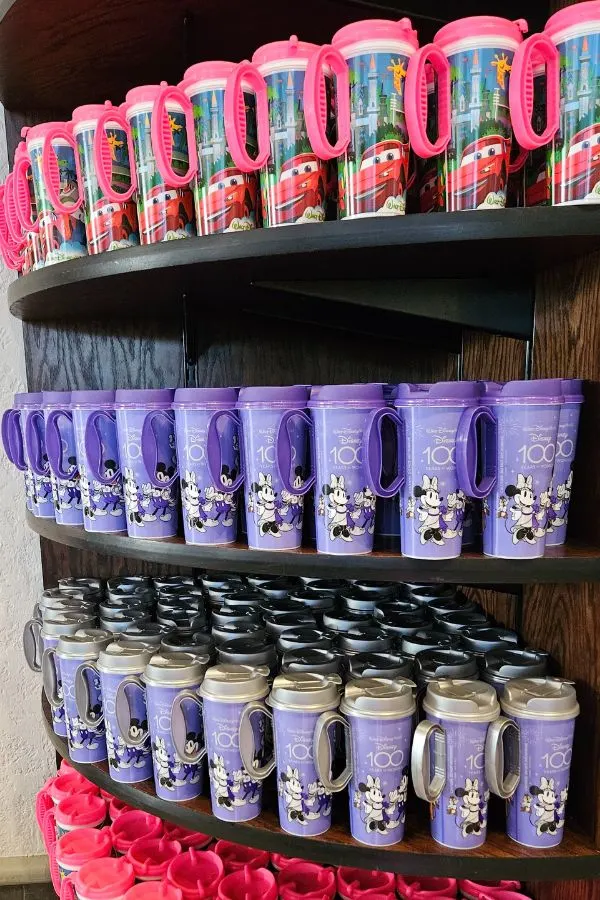 Are the Refillable Cups at Disney Worth the Cost?
With tax included, the Disney Refillable Mugs come out to be $23.
Considering a soda at a Disney quick service restaurant in a Disney Resort is an average of $4, you would have to purchase more than 6 sodas/ cups of coffee to make the cup worth purchasing.
If you are planning to eat 6 quick service meals at a resort, then it probably is worth it.
Now, the caveat is breakfast.
While you can get coffee in your refillable mug, the coffee machines are not RFID chip-enabled.
This means that you could just take the disposable coffee cups that can be found in your resort room to breakfast to get a coffee for zero cost.
So, while it is a cute souvenir, I would only recommend getting the Disney refillable mug if you know that you will be using it more than 6 times while at Disney World.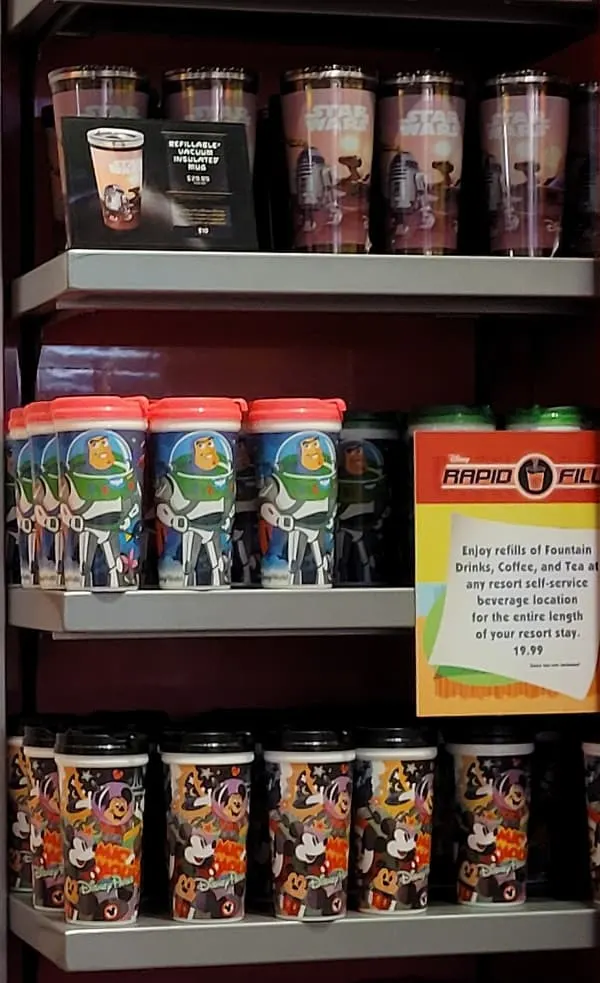 Disney Refillable Mug Facts
You don't have to stay at a Disney Resort to purchase a Rapid Refill mug, but you can only get them at Disney Resorts.
Mugs can be refilled at any quick service location at all Disney resorts.
Each mug features Disney characters in various scenes. The mugs change almost annually and you can also find seasonal mugs for Halloween & Christmas.
Mugs come with a choice of different lid colors. It's a good idea to get each person in your group a different color lid so that you can differentiate between them!
If you try one drink & want to switch to another, you have to wait 2 minutes for the chip to reset before you can access the machine.
There is a wash station at all quick service locations (so you can easily wash out your mug).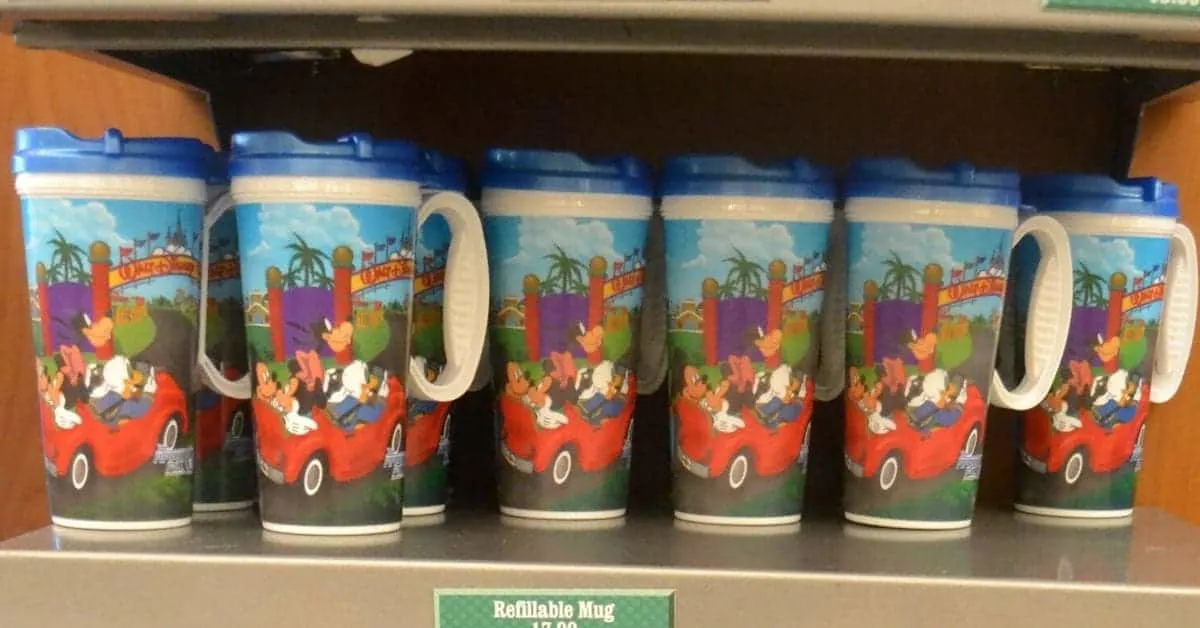 Questions about Disney's Rapid Refill Mugs
Can you use the Disney Refillable Mugs at Disney Parks
No, Disney Refillable Mugs cannot be refilled at the parks. You may take them to the park, but there are no self-service drink stations and cast members will not refill them at any of the food service locations.
Can you reuse Disney Refillable Mugs?
Yes. You can always bring them with you on your Disney vacation when staying at a Disney Resort, but you will not be able to get soda, lemonade, Powerade or Vitamin Water from the drink dispenser because your chip will not be active. You can, however, get water, brewed coffee and tea.
How much do the Disney Refillable Mugs cost?
The mugs are currently $19.99. Considering drinks are $4, if you plan on drinking 4 sodas, these are worth it!
What do you think of Disney Refillable Mugs?