(Note: The links in this post are affiliate links, and we will be compensated when you make a purchase by clicking through our links. Read our disclosure policy here.)
One of the best restaurants at Epcot is the Biergarten Restaurant in the Germany Pavilion. At this German buffet, you can expect to eat traditional food, drink great beer, and be entertained the entire time. Like they say, at the German Biergarten, Epcot guests can celebrate Oktoberfest every day!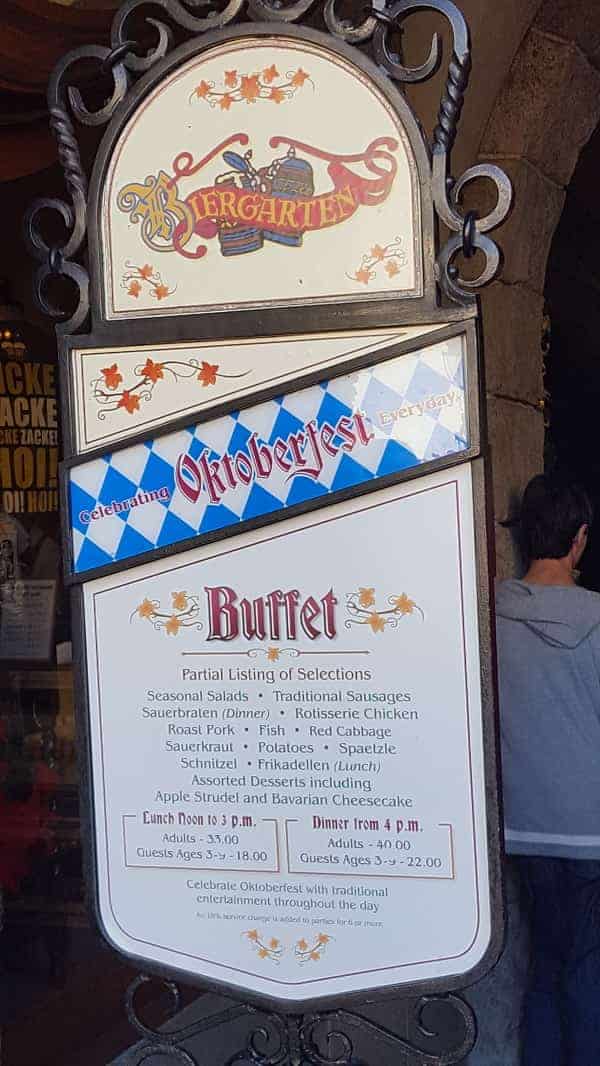 Epcot Biergarten Price
Considered a table service restaurant, the Biergarten buffet experience comes at a cost. While the Biergarten in Epcot used to offer different prices for lunch and dinner (with lunch being cheaper) this year, they unveiled a new pricing system.
$44 for adults
$24 for children
If you are on the Disney Dining Plan, the Epcot Biergarten is one table service credit which makes it a great bargain!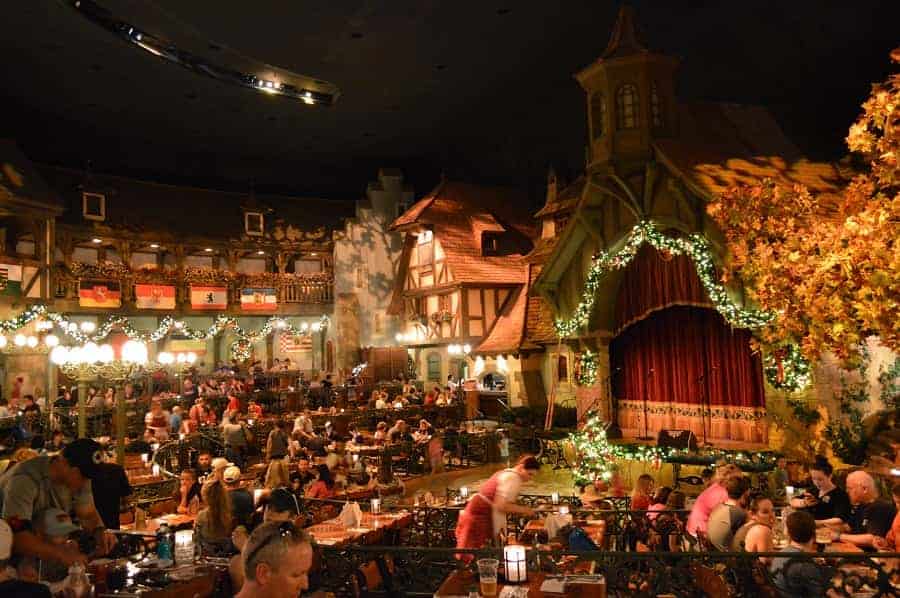 Biergarten German Buffet at Epcot Germany Pavilion
Behind the quaint German village exterior facade is a HUGE dining hall that makes you feel like you have stepped right into a Hofbräuhaus in Germany!
With what I consider the best buffet in Epcot, the Biergarten Restaurant should be on your list of must try dining experiences at Disney World!
When you arrive, your party will be taken into the dining hall straight out of the Hofbräuhaus in Germany where you will be seated at communal, biergarten-style tables.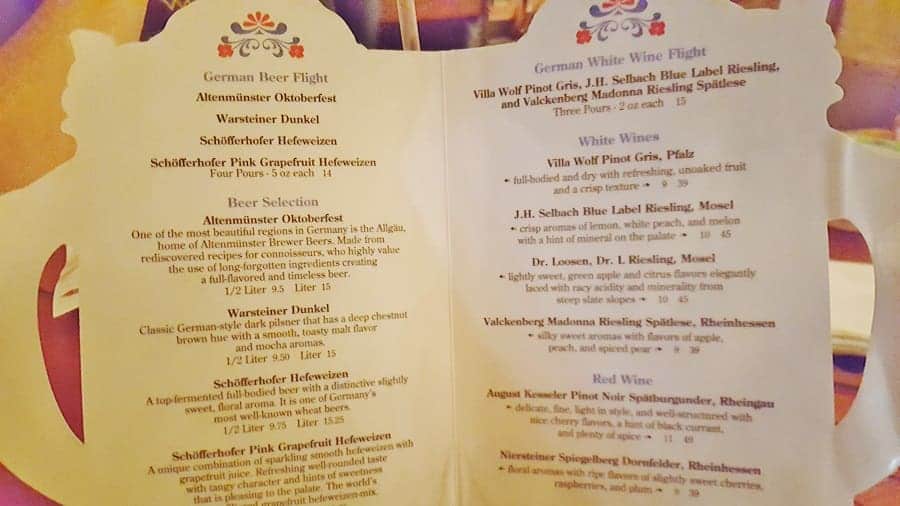 Biergarten Menu for Drinks
You will first be asked for your drink order. They serve Coke products and a selection of German beer and wine. A great option to try some German beer is with the German Beer Flight.
Once your drink order has been placed, you will be able to visit the all you can eat buffet.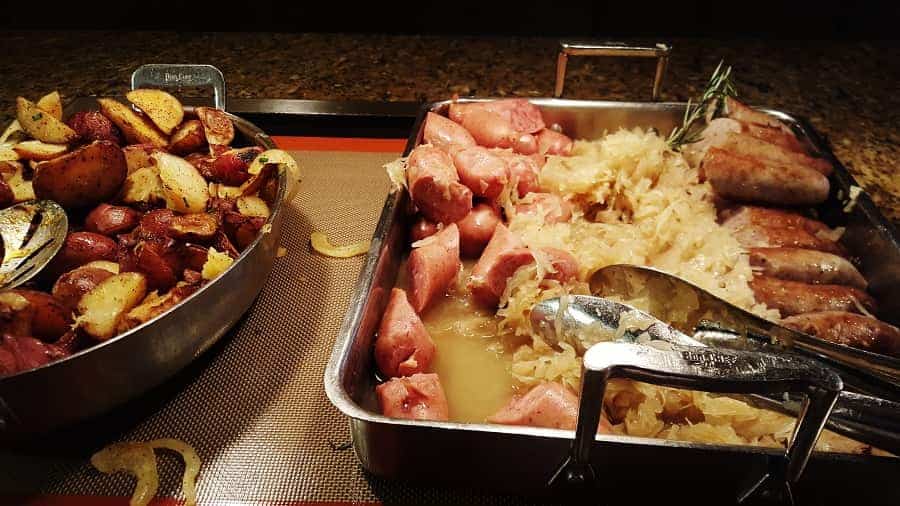 Biergarten Buffet
At the Biergarten, Epcot guests can dine on such German dishes as bratwurst, meatballs, and pork schnitzel along with rotisserie chicken and an assortment of side dishes like sauerkraut, German potato salad and the most delicious pretzel rolls you've ever had!
The buffet is limitless so you can serve yourself until you feel like you might burst. Just be sure to leave room for dessert because they are no joke.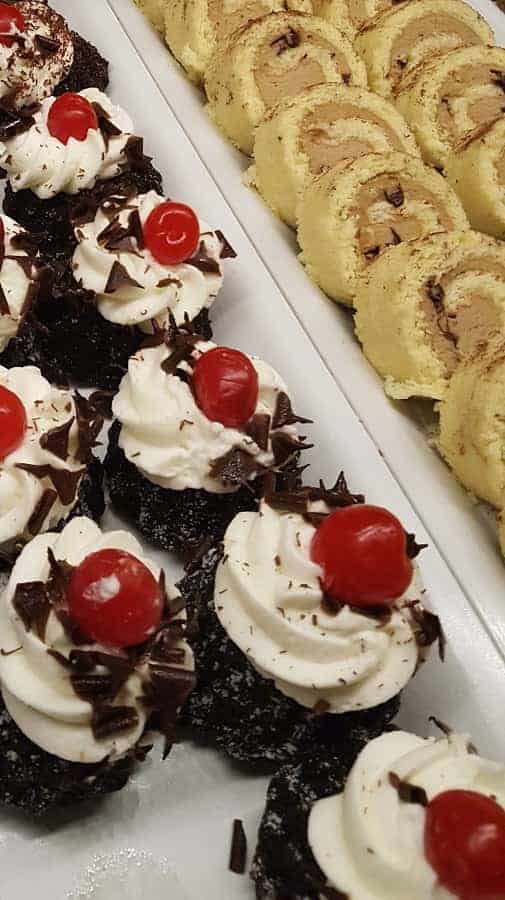 There are so many different dessert options that you are going to have a hard time deciding on just one. Luckily, you don't have to. On the dessert buffet at Biergarten, Epcot guests will find such gourmet goodies as Bavarian cheesecake, hand-pulled apple strudel, and German Chocolate cake!
What really sets this dining experience apart from other buffet restaurants at Epcot is the live entertainment. There is a wonderful German band that will play and a dance floor where you can dance the polka.
The band plays traditional German tunes and if you are there at Christmastime, you will also get to hear popular Christmas tunes.
Talk about transporting you to another place & time, the Biergarten Restaurant is the real deal. You will notice how every place you look has been painted or constructed to make you feel like you are really in a small German village. There are trees, building facades and even a moon in the night sky!
Even if you don't think you are a fan of German food, you should try the Biergarten. Epcot has something special with this dinner experience and I guarantee that once you dine here, you will want to go back every time you are in Epcot!
Have you been to the Biergarten at Epcot? What was your favorite part of the experience?