(Note: The links in this post are affiliate links, and we will be compensated when you make a purchase by clicking through our links. Read our disclosure policy.)
Animal Kingdom Lodge is one of my favorite Disney World Resorts for a number of reasons. One of the main reasons is for it's on-site dining. One of our favorites is Boma. You will find that both the Boma Breakfast & Dinner Buffets serving American cuisine alongside traditional African favorites.

What to Expect at Disney's Boma Breakfast & Dinner Buffet
Those staying at Animal Kingdom resort can take advantage of going to Boma, Flavors of Africa for two different meals.
They serve two buffet meals daily~ breakfast & dinner.
These are all you can eat buffet meals where you pick and choose the foods you want and then can go back as little or as much as you would like.
No matter which you choose, you will not be disappointed at the quality of food at the Boma buffets.

Boma Breakfast Buffet
The breakfast buffet features everything you could ever want.
There are traditional American breakfast foods like eggs, bacon, pancakes, French toast, & waffles.
You will find a made to order omelet station, freshly carved breakfast meats, and tons of fresh fruit.
Kids will love the cereal selection and yogurt bar along with all the wonderful pastries!
The Boma breakfast buffet also features traditional African dishes like corn beef bobotie and sweet plantains.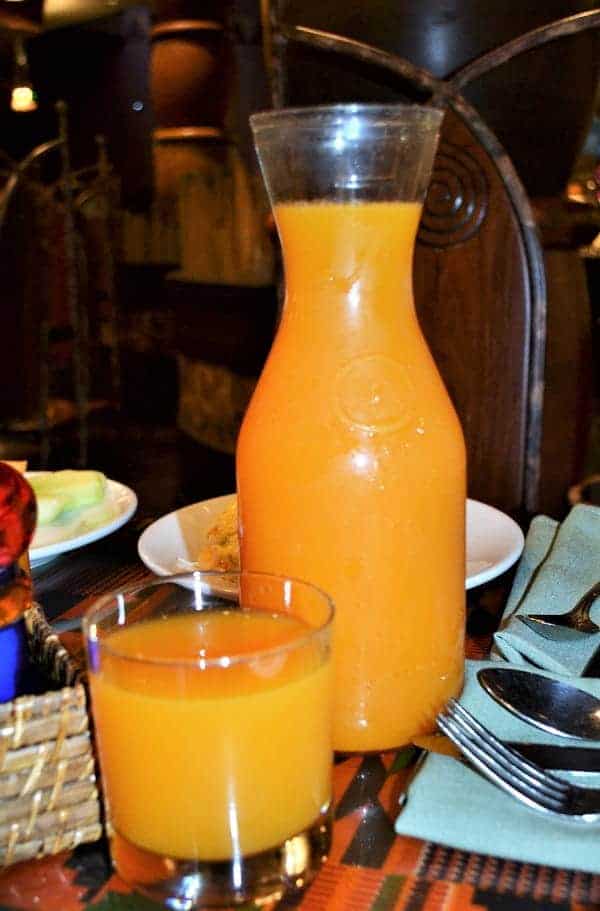 Something that sets Boma, Flavors of Africa apart from the rest is that you can get freshly brewed Kenyan coffee and a juice that is similar to the POG juice at the 'Ohana Breakfast Buffet.

Boma Dinner Buffet
If you enjoy having some variety for dinner, Boma, Flavors of Africa is the place to go.
The Boma dinner buffet is pretty extensive with nearly 50 different items to choose from.
You will find all sorts of fresh carved meat stations, seafood and a nice variety of vegetarian dishes alongside of traditional African dishes like Bobotie and Fufu.
Have a picky child with you? Don't worry.
Picky kids will find some of their favorites like chicken nuggets and macaroni & cheese on the buffet.
If you love soup, you will find half a dozen to choose from including a seafood gumbo and Coconut-Chicken-Curry at Boma, Flavors of Africa.
As stated, on each buffet you will find that some of the traditional African dishes mixed in with the American.
Be sure to try a few things you might not usually get! This may be the only time to get to experience the food of Africa!

Boma Desserts
With both breakfast & dinner, you will find a nice selection of desserts! My personal favorite are the Zebra Domes!
Zebra Domes are chocolate covered dessert filled with white cake and Amarula Liquor mousse. You definitely want to try one!

More about Boma at Animal Kingdom Lodge
Is Boma in Jambo House?
Yes, Boma is located in Jambo House (Animal Kingdom Resort). You will proceed through the center of lobby, taking the staircase to the first floor. Boma will be immediately on your left.
How much is the Boma buffet?
Breakfast: Adult $29 / Child Ages 3-9 $16
Dinner: Adult $49 / Child Ages 3-9 $27
How many table service credits is Boma?
If you are on the Disney Dining Plan, you will find that both buffet meals at Boma are one table service credit.
Are drinks included at Boma?
Yes, non-alcoholic drinks are included in the price of the buffet meals.
Does Boma have a dress code?
Boma does not have a dress code. You can feel free to come dressed casual or semi-casual.
Can you see animals from Boma?
While you cannot see animals from Boma, you can spend time at the resort and see animals from view platforms located off the lobby, outside.
While not required, we do recommend getting a reservation in advance!
Have you dined at Animal Kingdom Lodge Boma, Flavors of Africa buffet? Which meal did you get to enjoy?