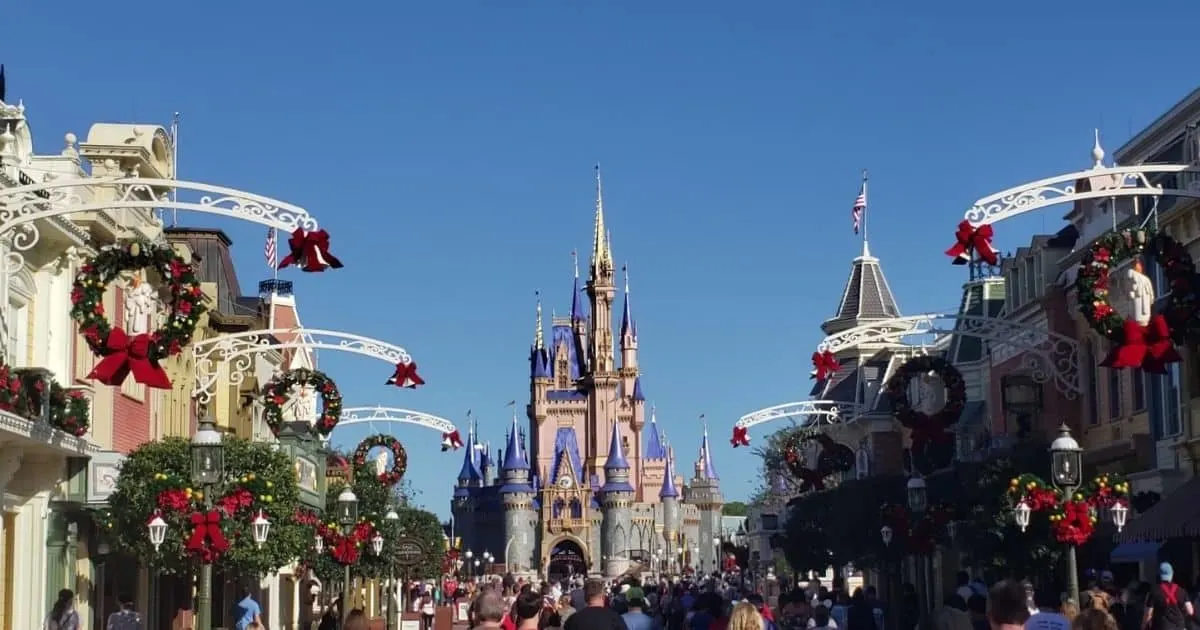 If you are looking for a special way to start your holiday season this year, consider attending Mickey's Very Merry Christmas Party in Magic Kingdom.
This special ticketed event begins as early as the first week of November and is a great way to start getting into the holiday spirit.
Wondering what you will get to experience at Mickey's Very Merry Christmas Party? Let me fill you in!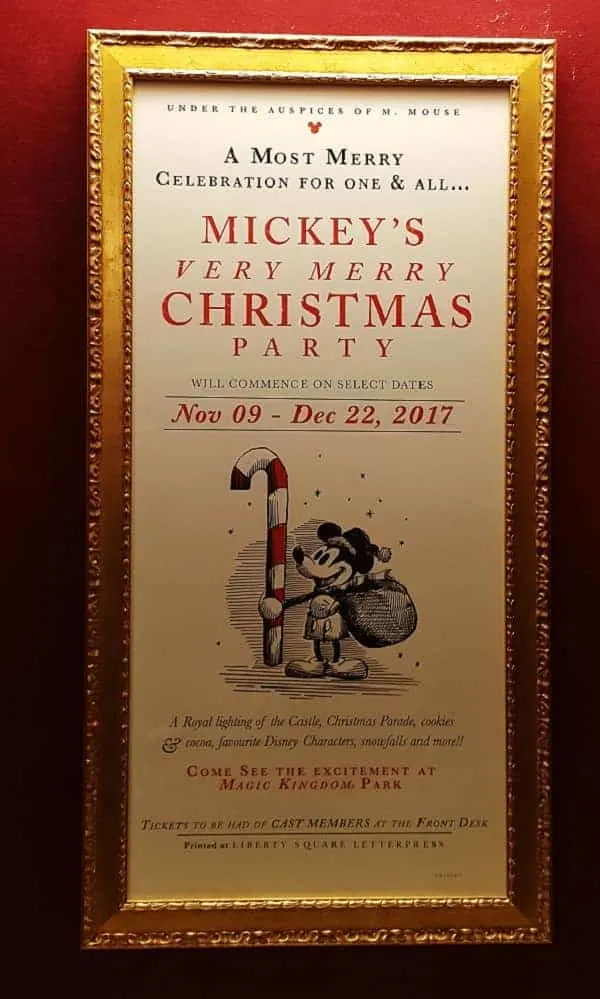 Dates for the 2022 Mickey's Christmas Party
November: 8, 10, 11, 14, 15, 17, 18, 20, 22, 27, 29
December: 1, 2, 4, 6, 8, 9, 11, 13, 15, 16, 18, 20, 22
You can purchase your official 2022 Mickey's Very Merry Christmas Party Tickets directly from Disney or for a discount at Undercover Tourist, our favorite authorized Disney ticket seller.
2022 Mickey's Very Merry Christmas Party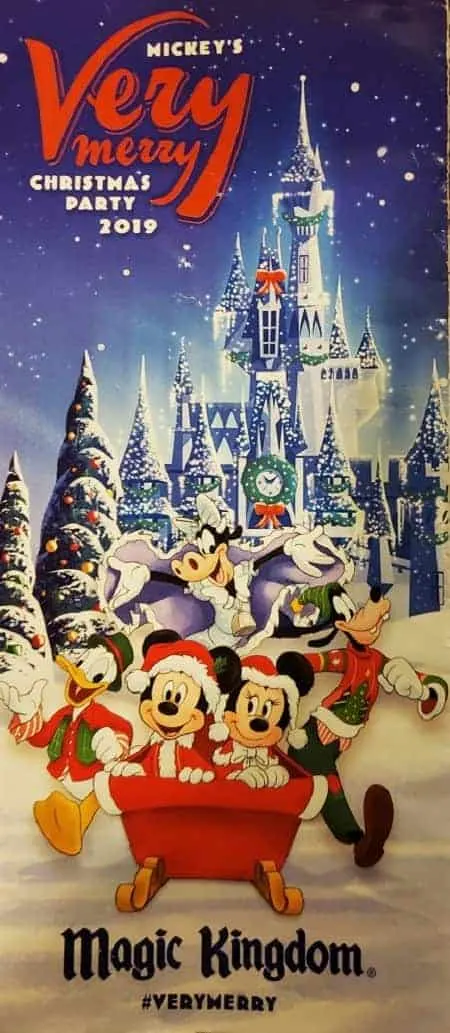 Christmas Party Guide
One of the things you will want to pick up as soon as you get into Magic Kingdom is the Mickey's Very Merry Christmas Party pamphlet.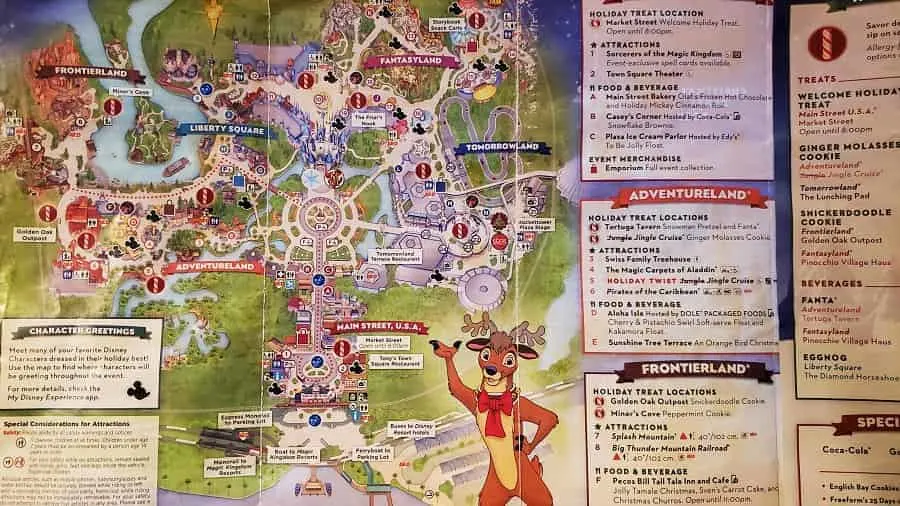 This will give you the details on which restaurants are open, which rides are running (because they all won't be), special holiday meet & greet locations, and places where you can find all the yummy special FREE Christmas treats!
These can be be found at the front entrance and at most of the gift shops.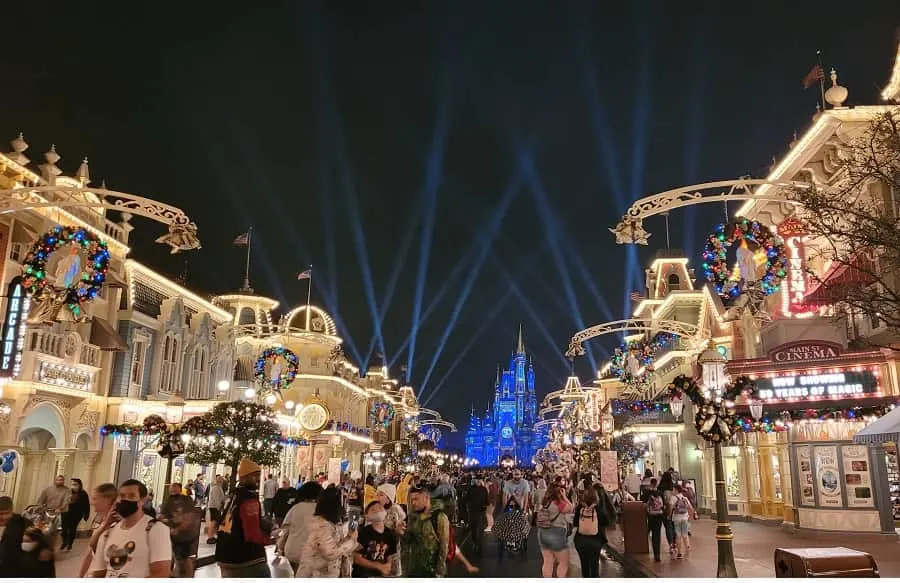 Main Street USA at Christmas
When you step through the gates, you will be in awe at the enormous decorated Christmas tree on Main Street USA flanked by larger-than-life nutcrackers.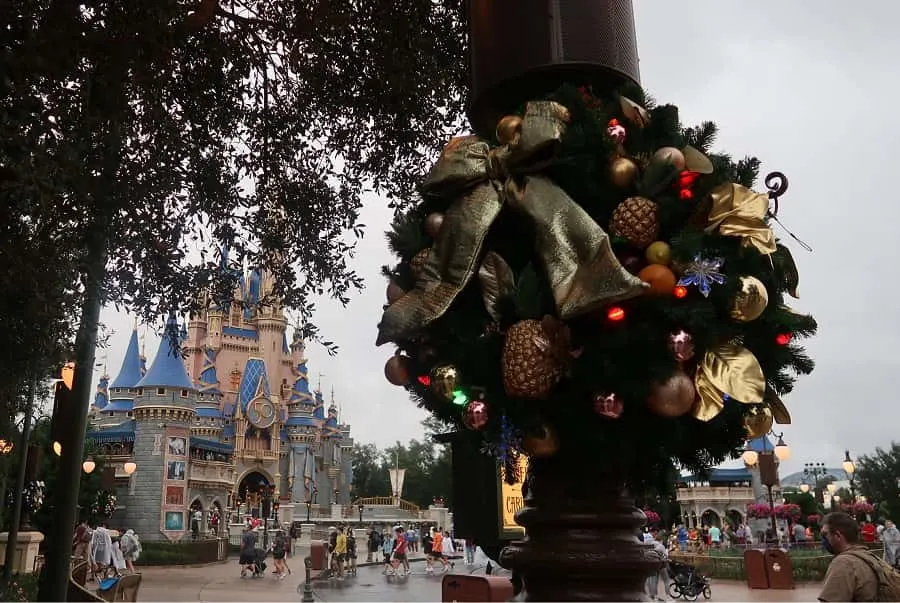 Main Street USA (while crowded) is absolutely beautiful with the wreaths, holiday window displays and of course Cinderella's Castle.
If you failed to buy your Disney Christmas shirts before your trip, you will find plenty in the shops along Main Street along with other holiday merchandise.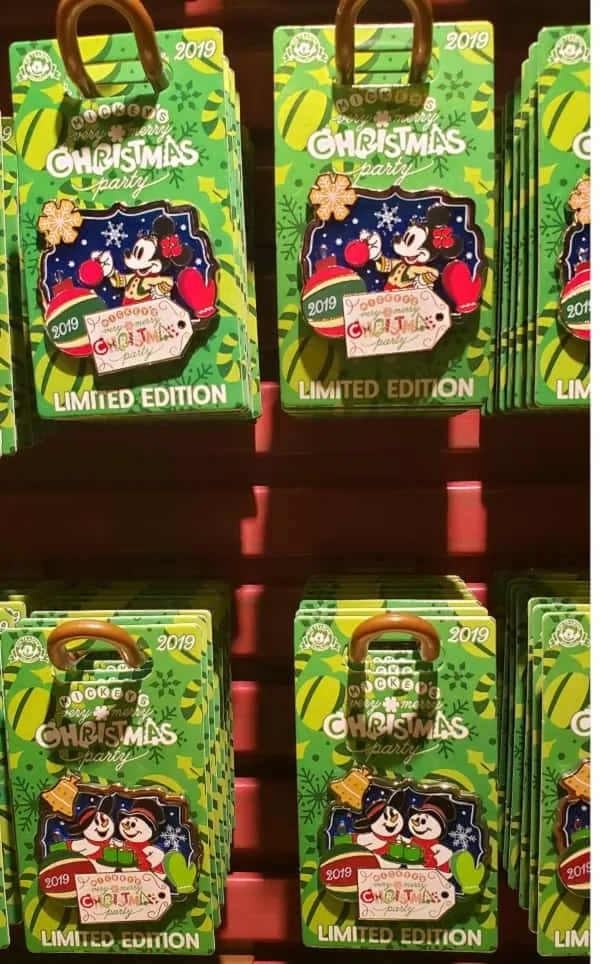 One thing to be on the look out for is the limited edition collectible Disney Christmas Party Pins. These are only sold during the party!
Jingle Cruise
This is the only time of year that you will find one of Disney's most beloved rides changed into a Christmas themed ride.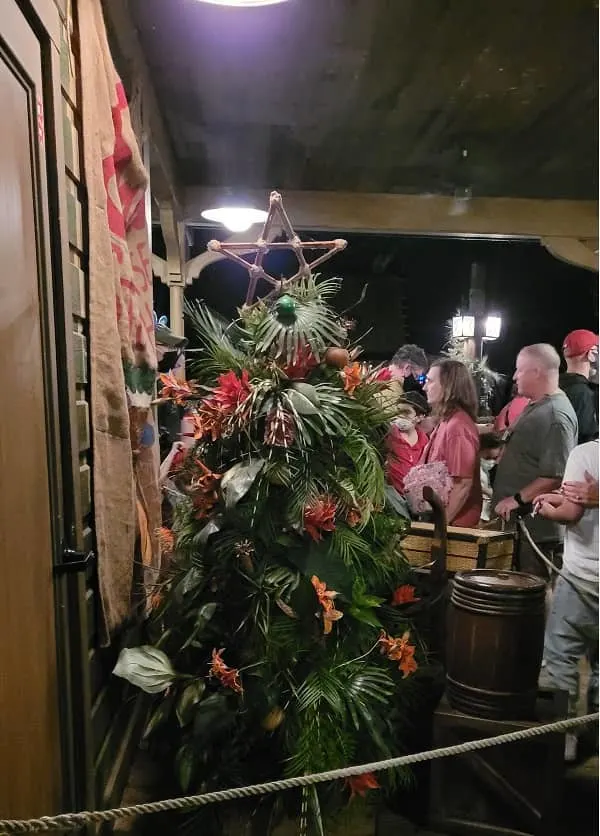 The Jungle Cruise turns into the Jingle Cruise. Same ride you love, but with an added holiday twist.
Guests will notice not only the change to the signage, but also the to queues.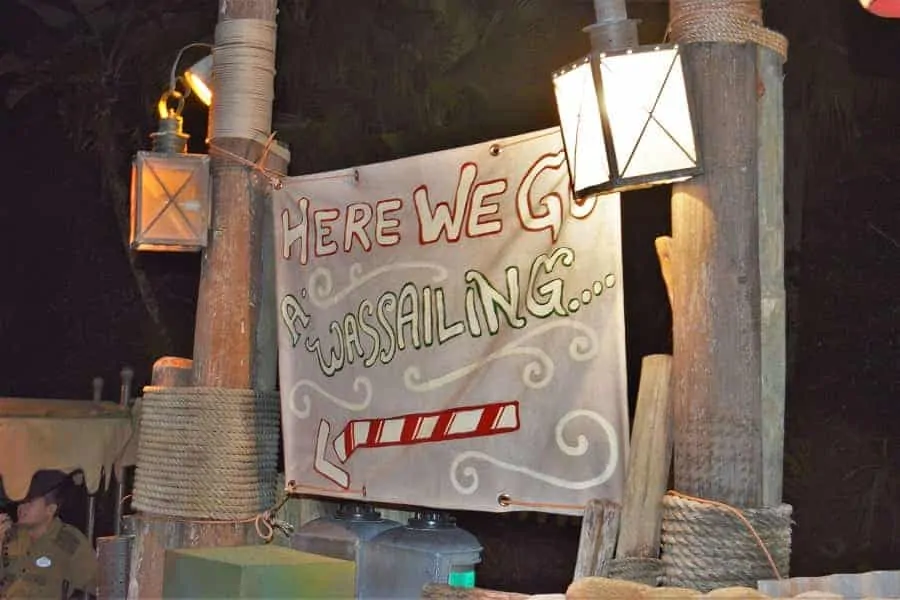 There are Christmas trees, holiday signs, banners and more guests will pass as they make their way to the ride itself.
Take time in the queue to look at all the details and you might even spot an invitation to the skipper for the Holiday White Elephant party!
The only difference between the Jungle Cruise and the Jingle Cruise is that the jokes all have a holiday flare! It is truly an experience not to be missed.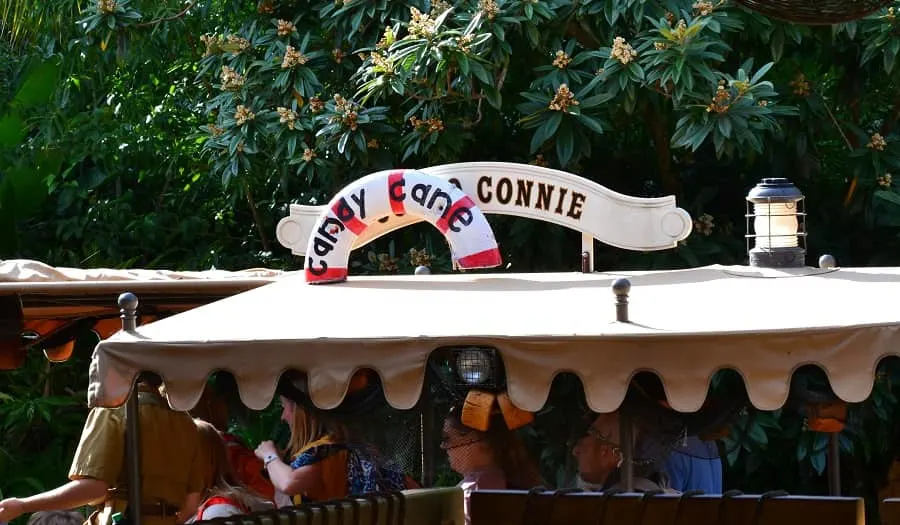 Even the boats take on a Christmas twist with fun holiday names like Candy Cane Connie and Fruitcake Zelda.
The crew are as corny as ever, but during the holiday season, the jokes take on a Christmas twist.
Whether you go during the daylight or night, you will get the same cruise experience.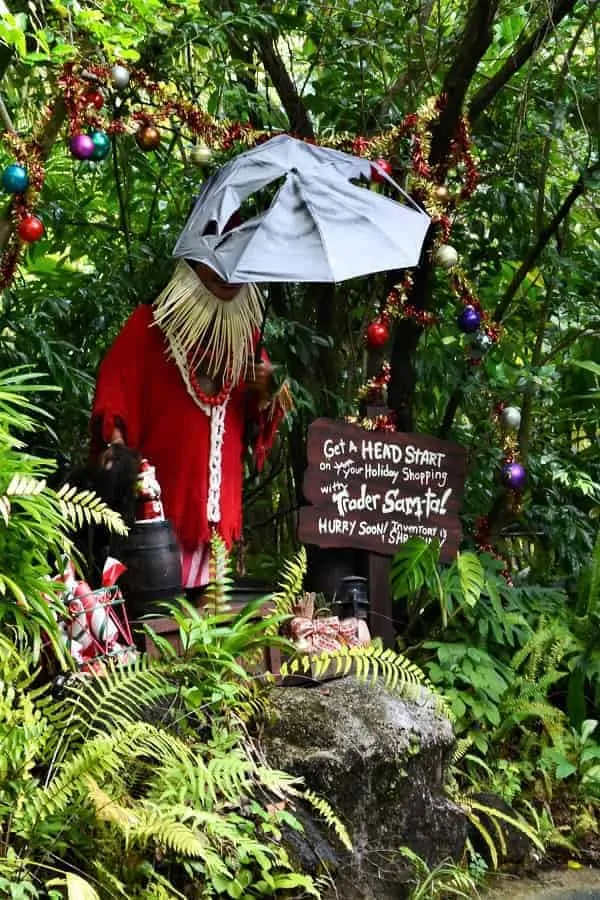 Be sure take time to look out for Trader Sam. He will help you get a HEAD Start on your Holiday Shopping!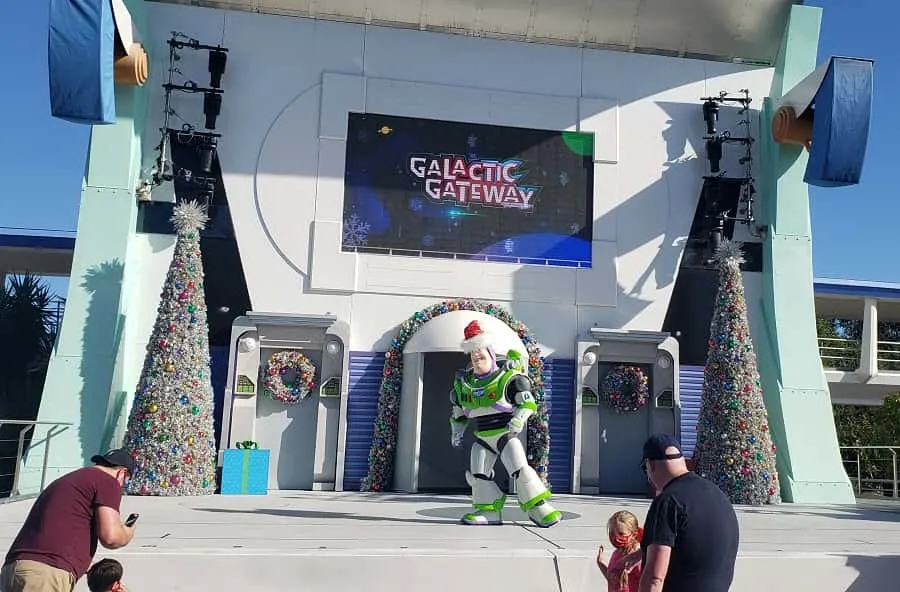 A Totally Tomorrowland Christmas
At Rockettower Plaza Stage, guests will be able to dance along side Stitch, Mike Wazowski, Buzz Lightyear and a troupe of intergalactic dancers!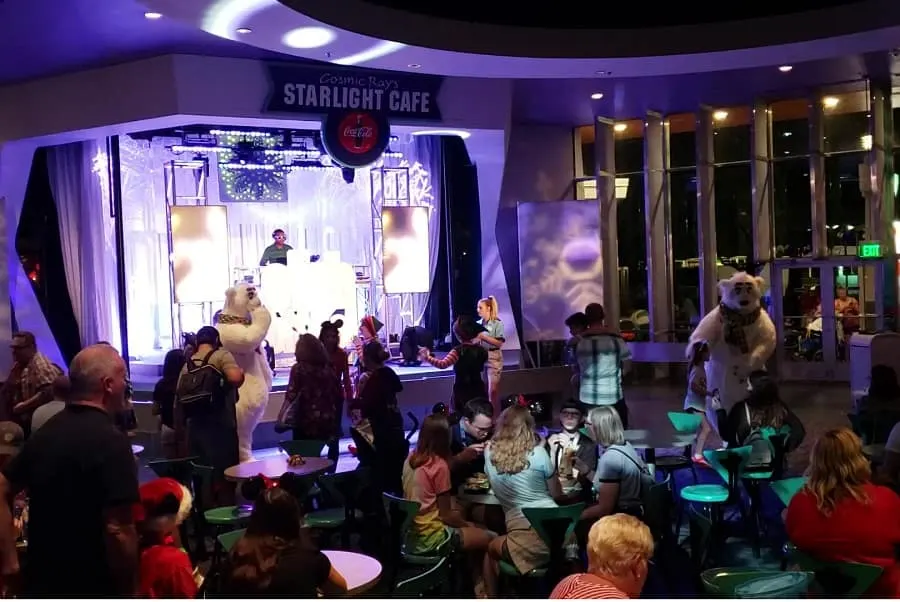 Club Tinsel at Cosmic Ray's Starlight Café
Make sure you stop by Cosmic Ray's Starlight Café where you will find a unique DJ spinning tunes at CLUB TINSEL!
The dance party sponsered by Coke, features dancing Coke a Cola Bears & lasts all night!
It is also one of the cookie stops, so don't pass it by!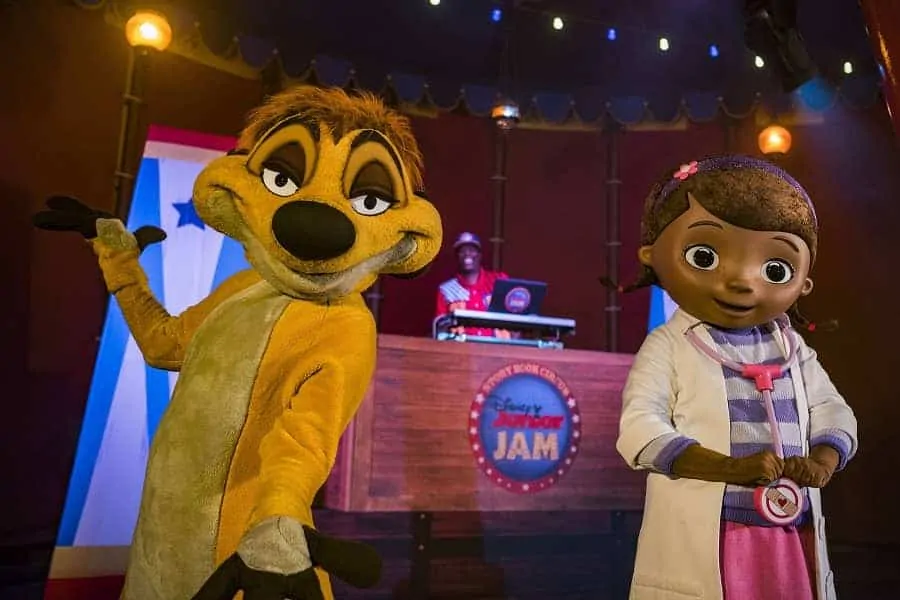 Disney Junior Jingle Jam
Younger kids will enjoy dancing the night away with their favorite Disney Junior pals at Storybook Circus!
Mickey's Most Merriest Celebration Show
Join Mickey and the gang over at Cinderella Castle for the Christmas extravaganza show.
Mickey's Most Merriest Celebration features both new & old holiday music paired with dance performances!
Mickey's Once Upon a Christmastime Parade
Disney is known for putting on some of the most spectacular parades and the Disney Christmas Parade is no different.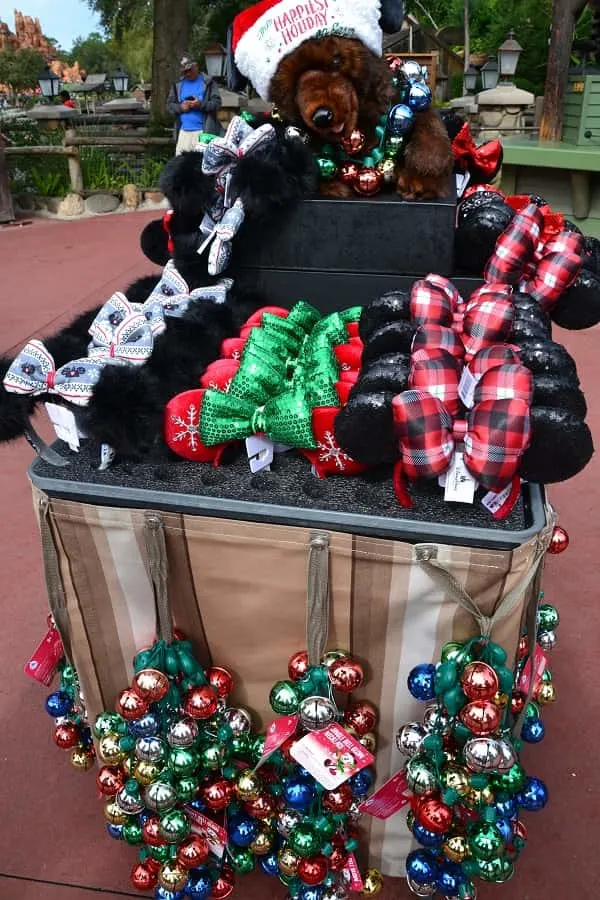 Be sure to get your spot early & if you forgot your glow sticks or holiday gear, you will find stands nearby selling them!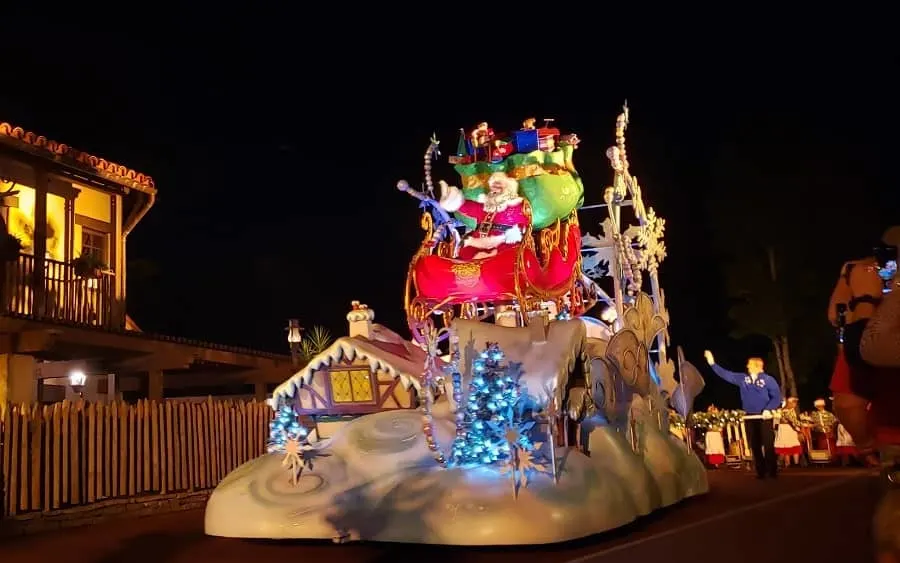 This parade features some of your favorite characters wearing their Christmas best and concludes with Santa himself!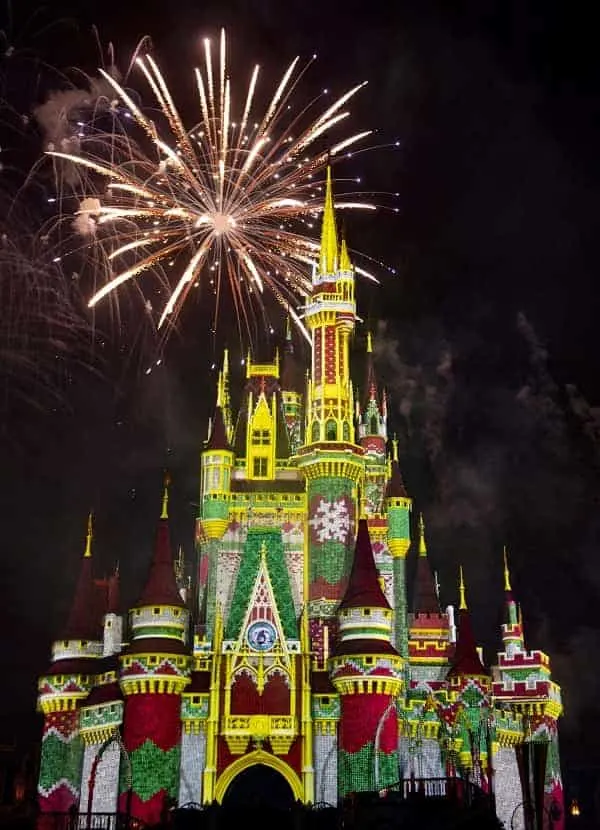 Minnie's Wonderful Christmastime Fireworks
Afterward, head over to Cinderella's Castle to watch the new Minnie's Wonderful Christmastime Fireworks show!
Hosted by Minnie Mouse, this spectacular fireworks show begins with a holiday-themed projection show featuring seasonal songs and ends with a firework display like no other!
More One of a Kind Disney Christmas Party Experiences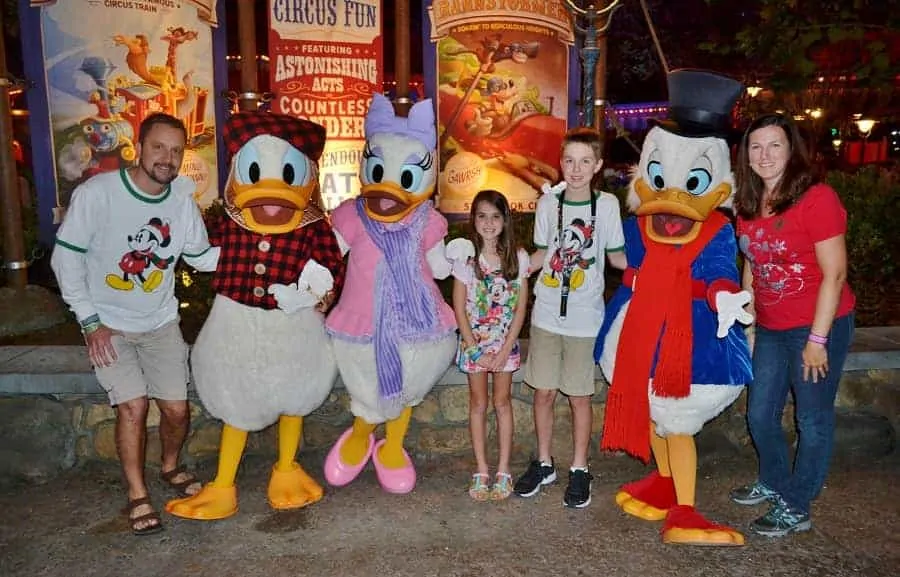 Disney Christmas Party Meet & Greets
While standing in line for character meet & greets aren't the way you want to spend your time at Mickey's Very Merry Christmas Party, there are certain Disney Characters you can only meet at special holiday events.
We've seen everyone from Donald's Uncle Scrooge to Jack Skellington. I would try to hit at least one.
Mickey's Very Merry Christmas Party Disney Character Meet & Greet Locations
Make sure you use your map to find the exact character meet & greet locations. In the past, these are where the Disney characters could be found:
Main Street U.S.A.
Santa Claus, Mickey Mouse, Jack Skellington, Sally Nightingale
Adventureland
Aladdin, Jasmine, Genie and Abu
Captain Jack Sparrow
Moana
Peter Pan
Frontierland
Country Bears
Liberty Square
Mary Poppins and Bert
Fantasyland
Seven Dwarfs
Donald Duck and Scrooge McDuck
Minnie and Daisy
Santa Goofy
Timon
Doc McStuffins and Vampirina
Ariel and Prince Eric
Rapunzel and Flynn
Cinderella and Prince Charming
Belle
Pooh and Friends
Snow White and Prince
Aurora and Prince Phillip
Elena of Avalor
Tiana and Naveen
Tweedledee and Tweedledum
Tomorrowland
Reindeer and Polar Bears
Nick Wilde and Judy Hopps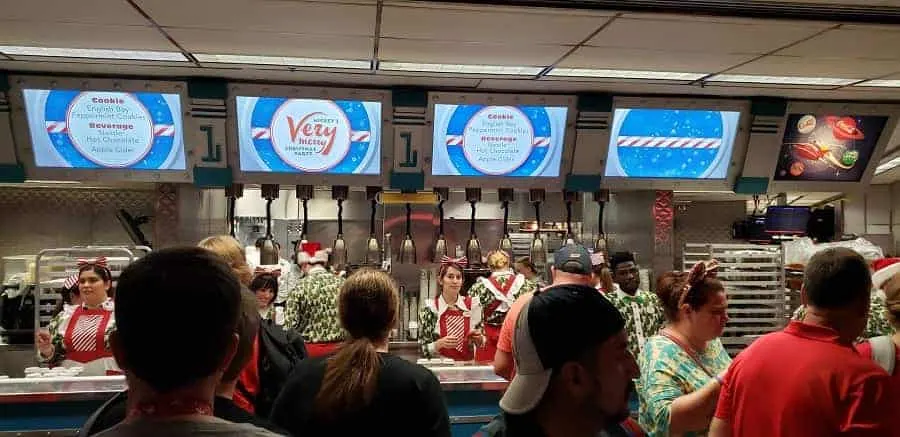 Cookies and Hot Cocoa Locations
One of my favorite things to do at Mickey's Very Merry Christmas Party is indulging in the yummy treats. You will find Christmas treat stations located throughout Magic Kingdom.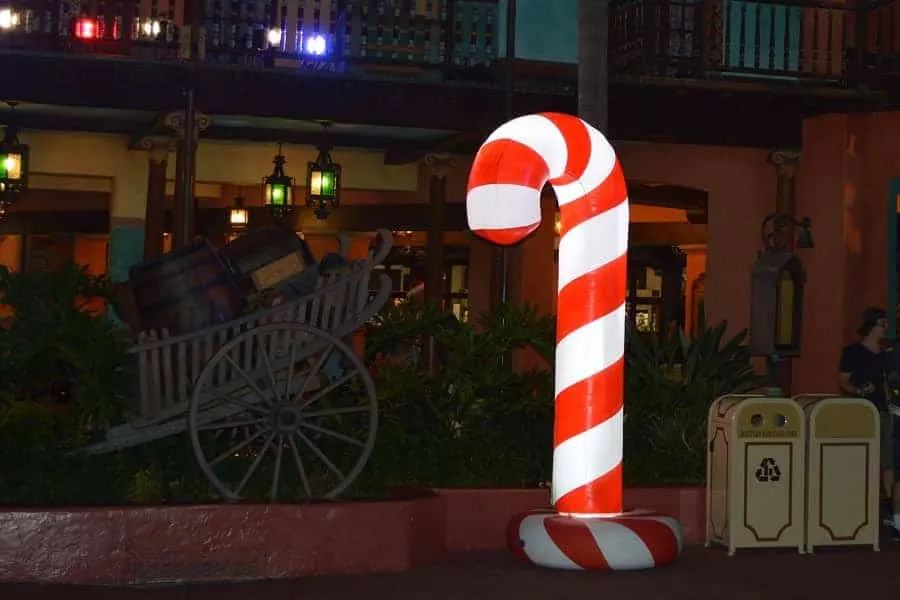 Just look for the large, lit up candy cane (or find the spots on the map)!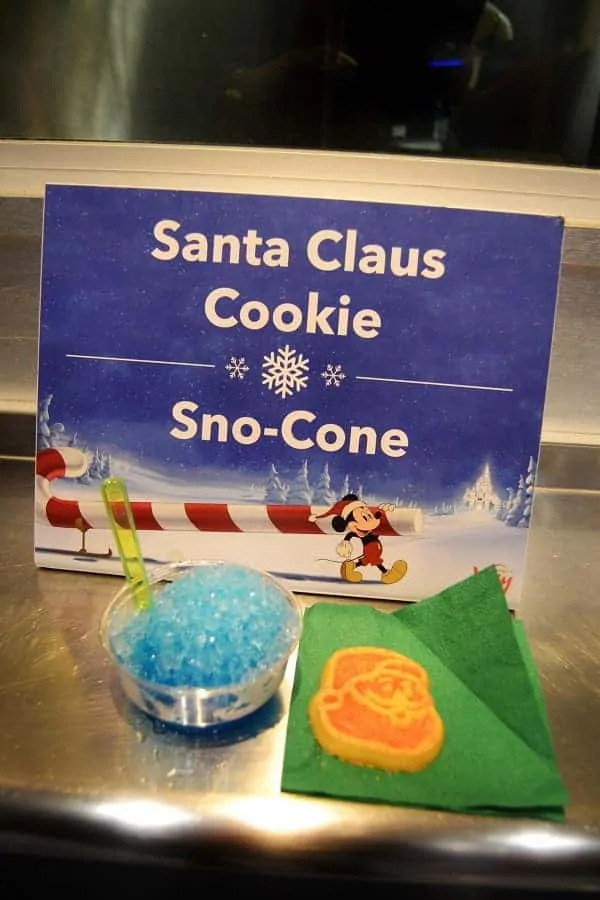 Each stop features a different treat and beverage. There are cookies, pretzels, Hot chocolate, eggnog and more! There may be a line for each stop, but they move very quickly and I've never spent more than 5 minutes in a line!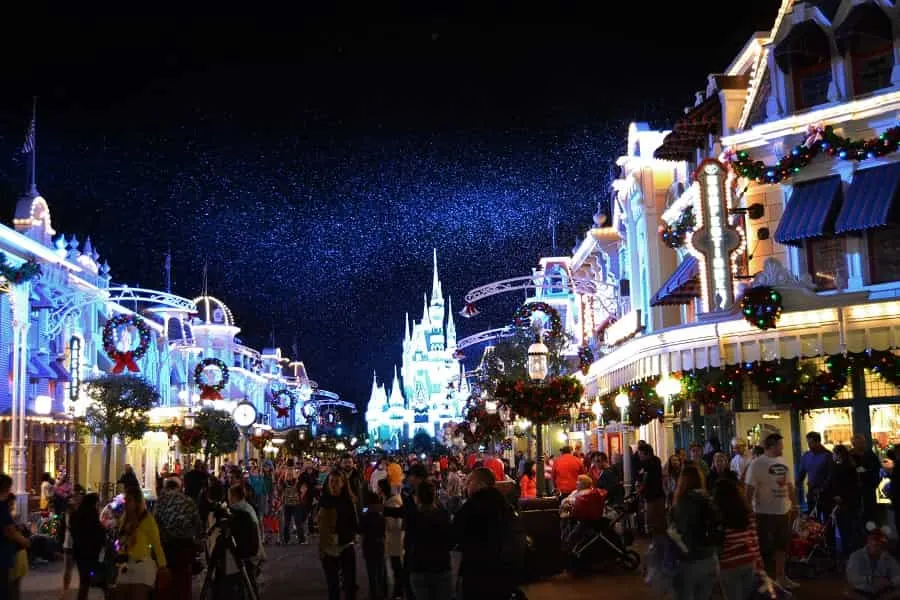 Watch it Snow on Main Street USA
After the party has ended, you will find it snowing on Main Street USA. This is the only time it snows in Magic Kingdom, so enjoy it!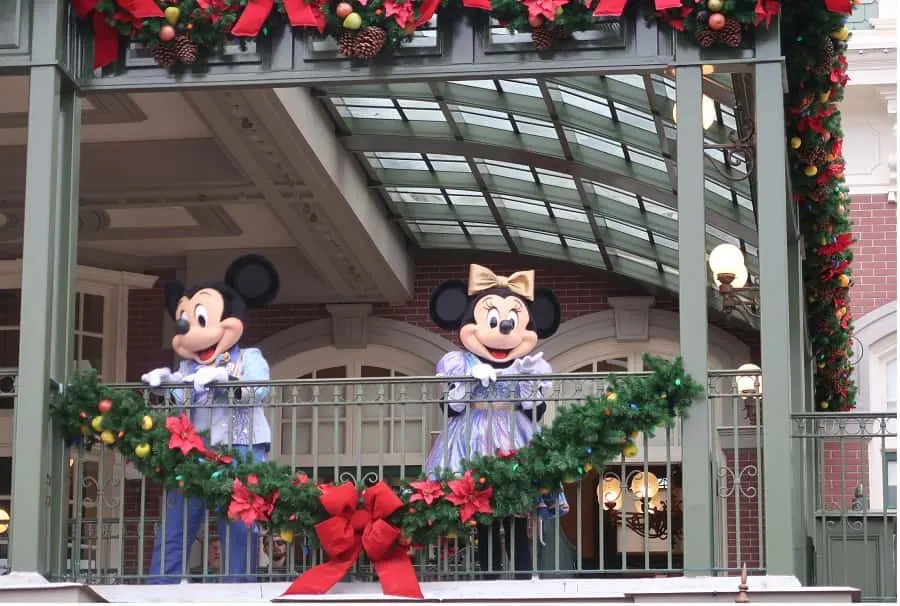 Mickey's Very Merry Christmas party is one of the most popular times to visit Magic Kingdom. Even the expensive ticket price doesn't sway people from experiencing all the Christmas magic Magic Kingdom has to offer.
Depending on the night you attend, it could get very crowded at the park during the Christmas Party.
This is why you will want to know our top Mickey's Very Merry Christmas party tips so you can make the most of your time at the party.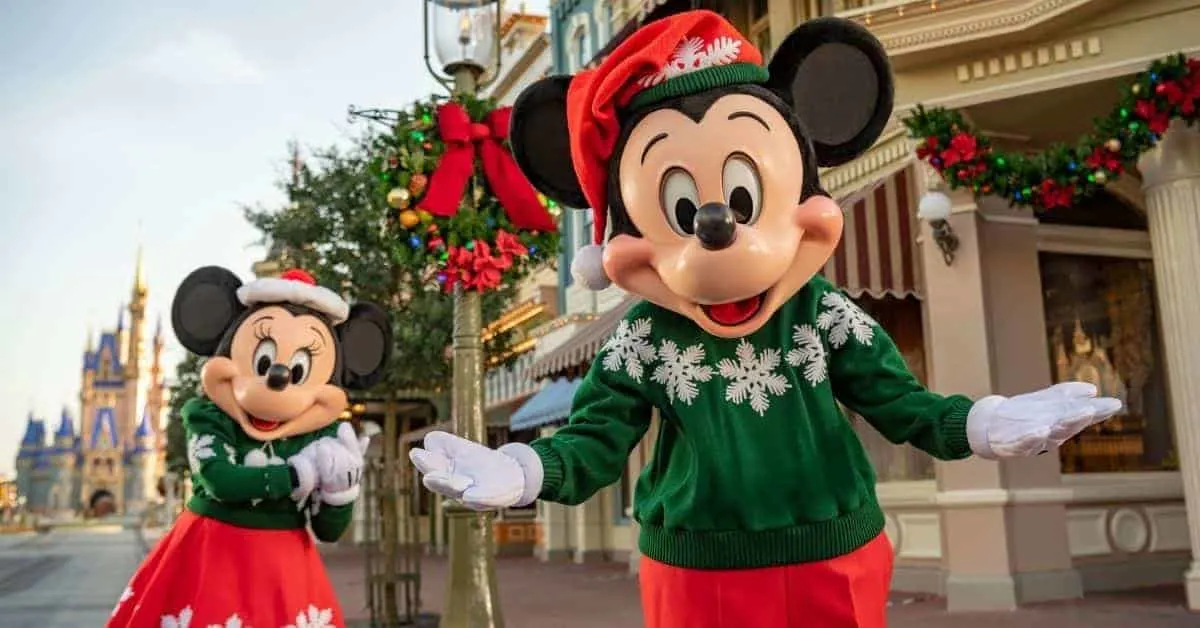 Mickey's Very Merry Christmas Party Tips
Buy your Mickey's Very Merry Christmas Party tickets in advance because they do sell out. We always buy ours through Undercover Tourist because they offer discounted tickets!
Get your Disney Christmas shirts before you arrive. You will find Disney Christmas shirts throughout the parks, but you will pay much more than if you buy them ahead of your trip.
Get there early! You can arrive as early as 3:45pm (even though your ticket will state 7pm). You will receive a special wristband that shows you have purchased a party ticket.
Not all restaurants are open during the party, so keep that in mind when planning your dinner.
Have your kids bring their Christmas letters for Santa. They can leave them in Ye Olde Christmas Shoppe.
There are 2 Mickey's Once Upon A Christmastime Parades. The 2nd is usually less crowded. Santa appears on his sleigh at the end of the parade so stay until the end!
Pin collectors will want to make sure they get the Limited Edition Mickey's Very Merry Christmas Party pin.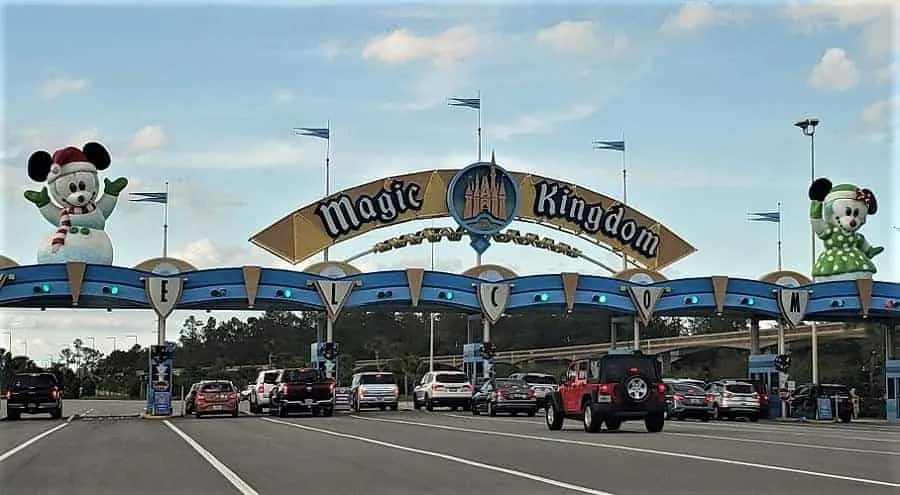 Is Mickey's Very Merry Christmas Party Worth It?
The first thing I am asked when discussing Mickey's Very Merry Christmas Party is: "Is it worth it?" Unequivocally, my answer is YES!
If you love Christmas, there is just no better place to get in the holiday spirit than at Mickey's Very Merry Christmas party!
The key to making this party worth the price of an extra ticket is to make sure you plan accordingly so that you can make the most of your time in the park!
If you are planning to attend the Christmas party this year, be sure to get your ticket in advance! The best place to buy them is at Undercover Tourist where you can get them for a discount.
Will you be attending the 2022 Mickey's Very Merry Christmas Party? What are you most excited about?