If you are a fan of Pixar's animation hit, Coco, you will be glad to know that you can find a Coco at Disney World! You will need to head to EPCOT and visit the Aztec Pyramid at the Mexico Pavilion.
If you haven't yet seen the Pixar movie Coco, it is about Miguel, a 12 year old boy, who embarks on an extraordinary journey to the magical land of his ancestors.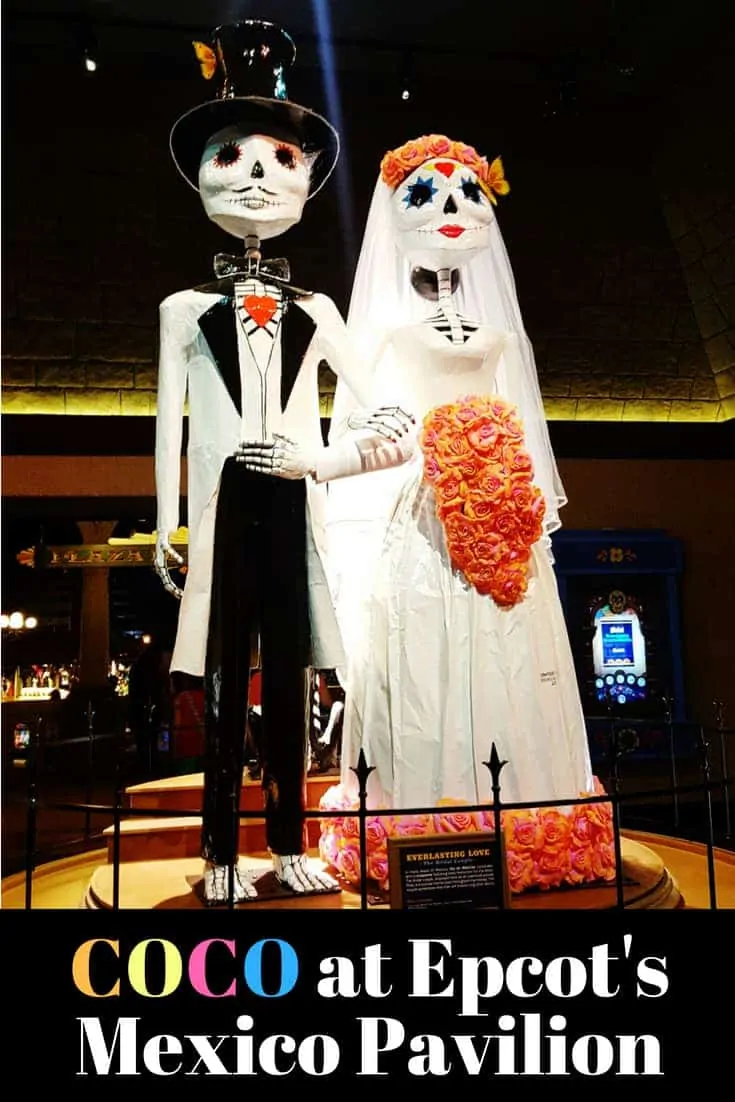 Where to See Coco at Disney World
Coco surpassed expectations at the box office and became a very popular Disney animated film. Disney imagineers worked very hard to bring parts of the movie to Disney World.
If you are hoping to find Coco at Disney World, EPCOT is the only place where you will be able to experience characters and events from the movie.
If you have seen Coco, you know movie centers around Dia de los Muertos (Day of the Dead), a Mexican celebration that involves showing respect to the ancestor's who have crossed over.
At Epcot's Mexico Pavilion, you will find Remember Me!' La Celebración del Día de Muertos, various Coco souvenirs and hopefully, one day, we will see a Coco ride.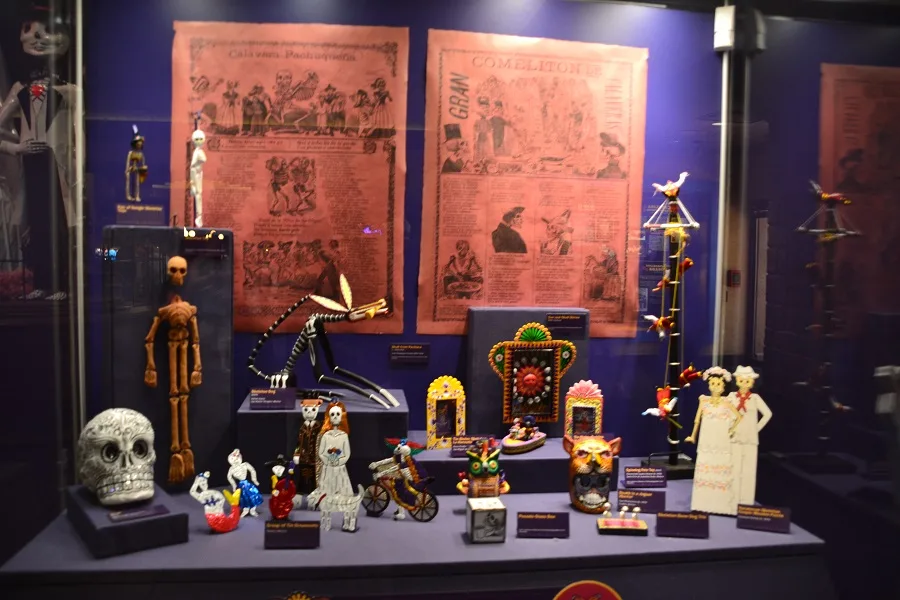 'Remember Me!' La Celebración del Día de Muertos
Inside the Grand Mayan Pyramid, you will find beautiful authentic Mexican art along with interactive displays featuring characters from Coco.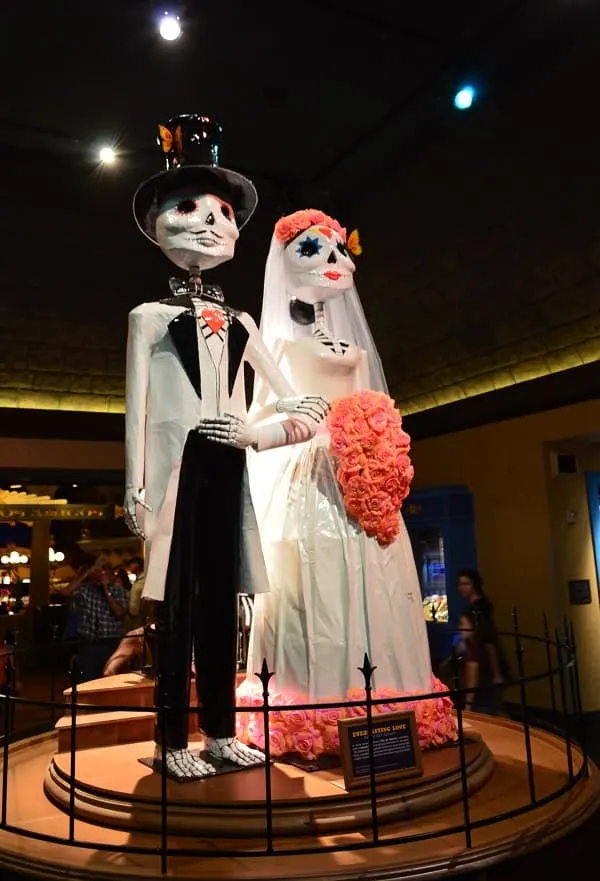 At the center of the room are two displays. The largest is the Dia de los Muertos Bridal Couple who symbolize that love that remains long after death.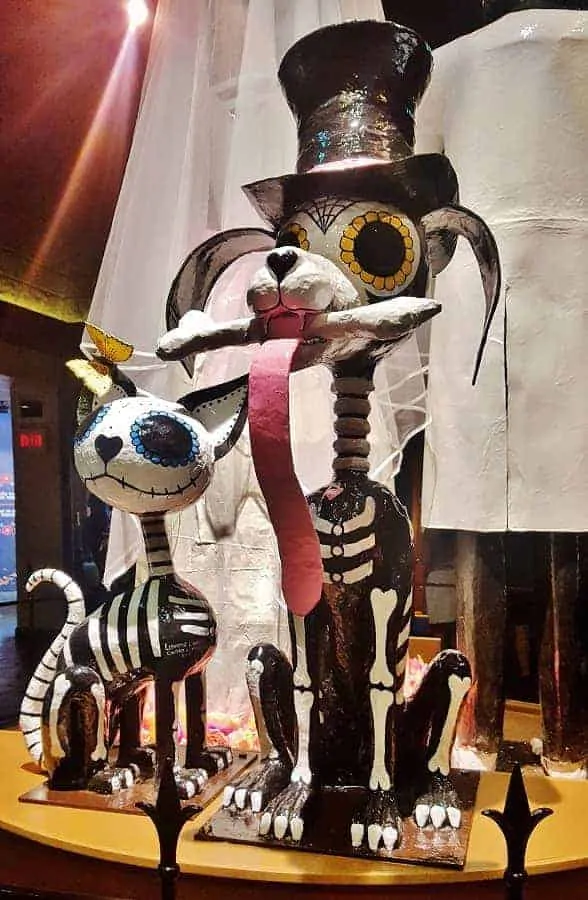 On the other side of the Bridal Couple is a Dia de los Muertos sculpture of a dog & cat which symbolizes the friendship and eternal love for our animals.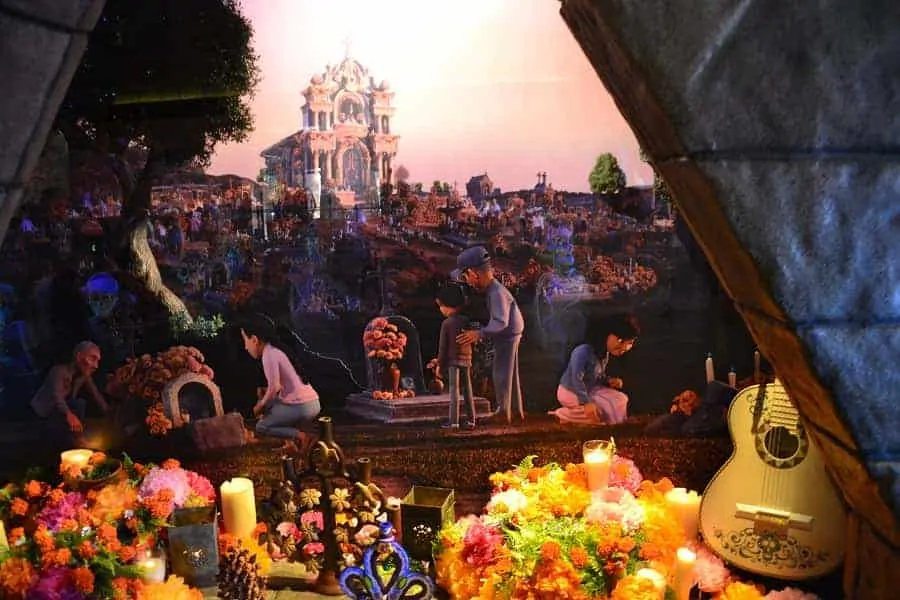 As you walk through the room, you will find different scenes from the movie Coco.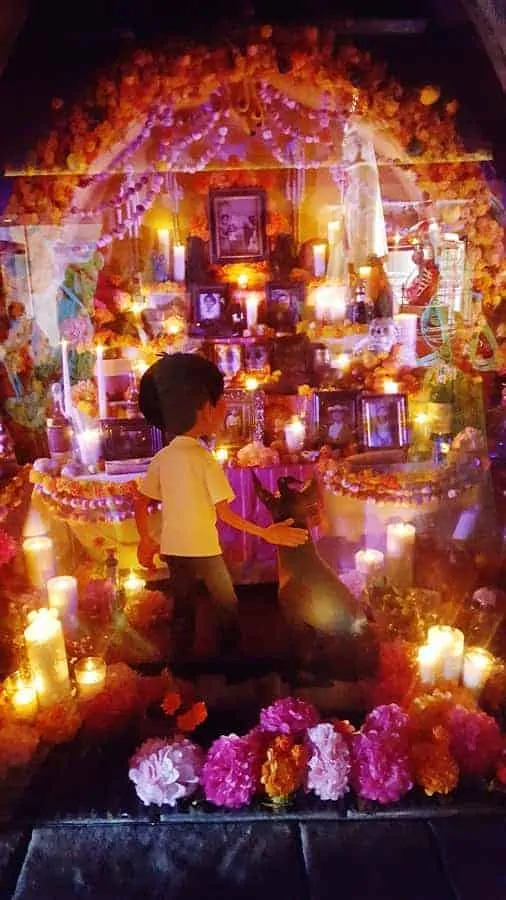 One is the beautiful Ofrenda scene where Miguel begins to learn about his ancestors. Take your time to look at everything carefully as these pieces are beautifully done!
There is another scene from Coco shows people preparing for the Dia de los Muertos.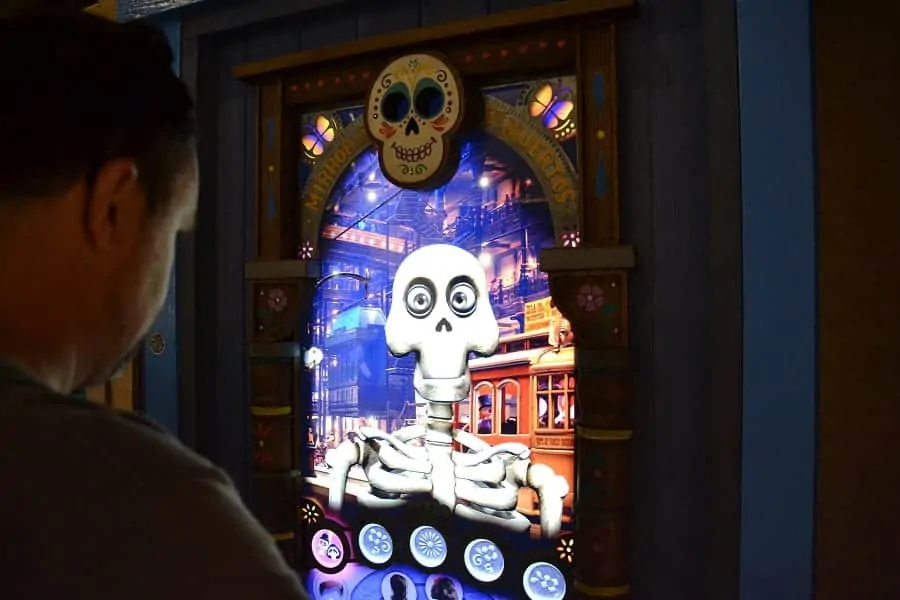 Make sure you don't miss the interactive Mirror de los Muertos. If you look carefully, you may find yourself transported into the Land of the Dead!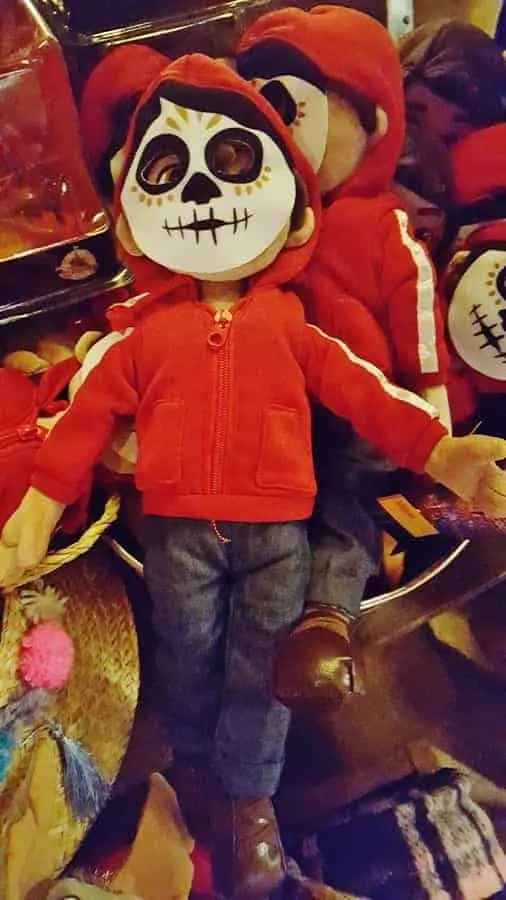 Shopping for Coco Souvenirs
If you are looking for Coco souvenirs at Epcot, you will want to go to inside the Mayan Pyramid.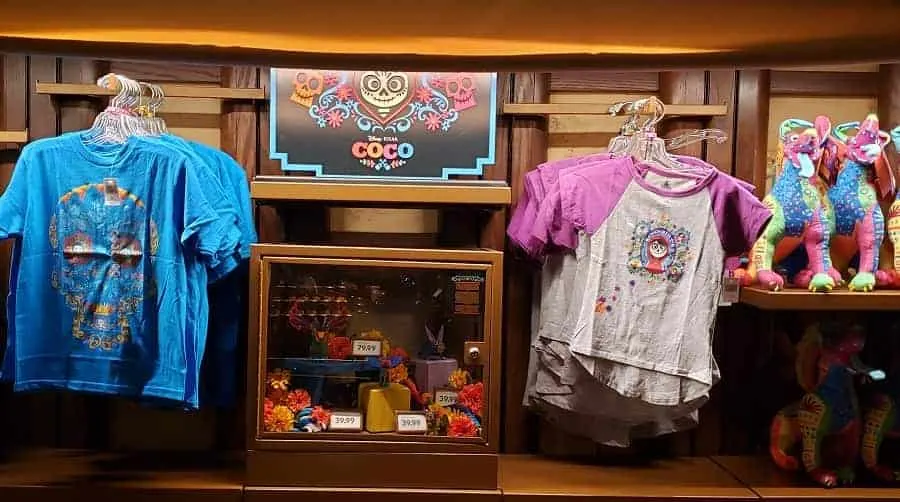 As you pass into Plaza de Los Amigos, you will find many souvenir displays featuring the characters from Coco. There are Coco toys, Miguel dolls and Coco t-shirts.
You will also find a large selection of authentic Mexican goods, art and Oaxacan wood carvings!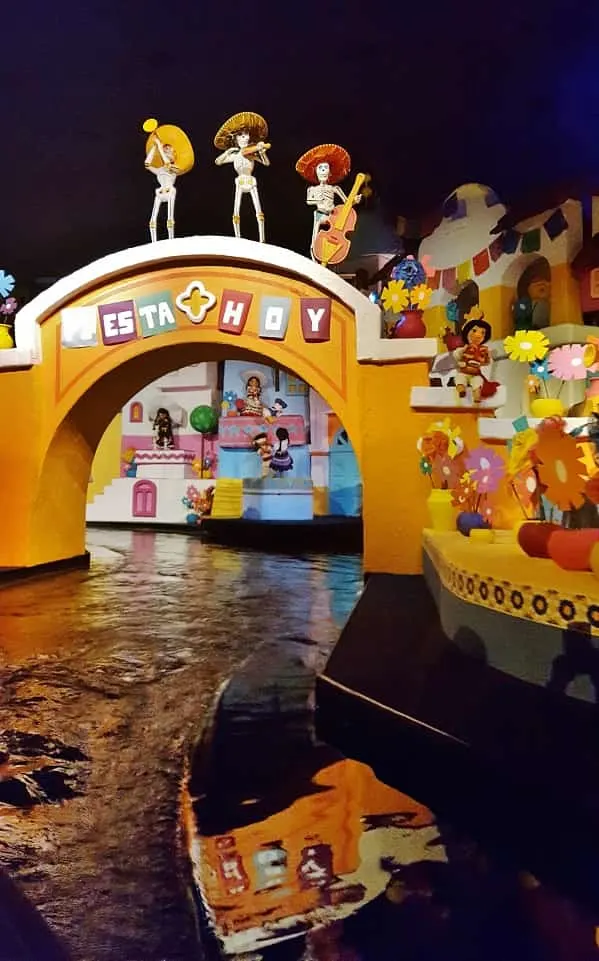 Is there a Coco Ride at Epcot?
While there is not yet a Coco Ride at EPCOT, our guess is that one will be coming. Currently, the ride inside the Mayan pyramid is the Gran Fiesta Tour boat ride featuring the Three Caballeros.
This ride is outdated and is based mainly on scenes from South America, not Mexico.
A Coco ride would be a wonderful addition and once we hear something other than a rumor, we will let you know.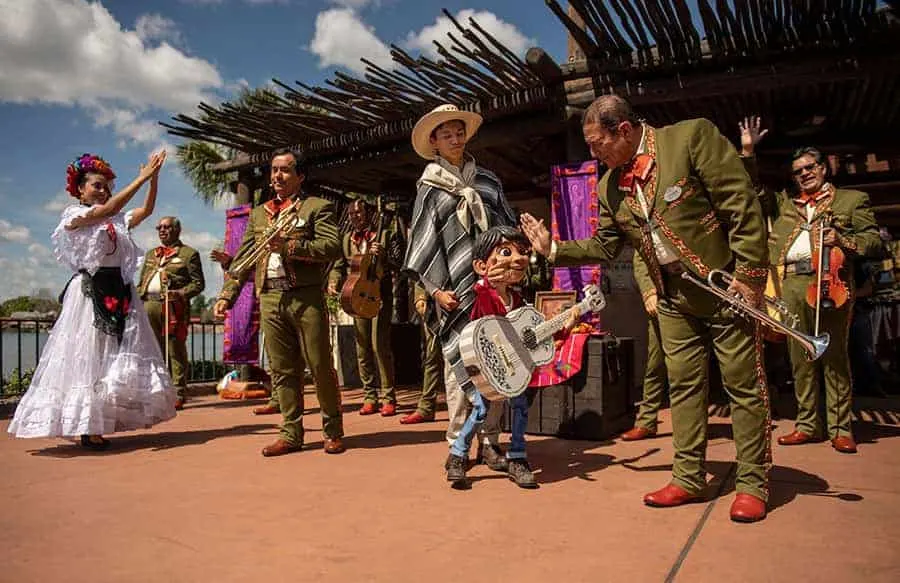 Mariachi Cobre Presents…the Story of Coco
Guests visiting the Mexico pavilion during the Flower and Garden Festival can also experience a musical puppet show featuring Miguel by Mariachi Cobre musicians & the Folklórico dancers.
The dancers perform to the music of the film (played by Mariachi Cobre), and Miguel himself appears in the form of a whimsical, hand-crafted puppet.
If you love Coco, EPCOT is the only place you will find any reference to the animated movie or characters.
Would you like to see a Coco ride at Epcot?