(Note: The links in this post are affiliate links, and we will be compensated when you make a purchase by clicking through our links. Read our disclosure policy here.)
There is nothing quite like Walt Disney World during Christmas. You will find that each Disney park has it's own special way to ring in the holiday season.
Magic Kingdom has Mickey's Very Merry Christmas Party, Hollywood Studios has the Jingle Bell, Jingle BAM show, Animal Kingdom has a special Mickey & Minnie Christmas meet & greet and Epcot has the Christmas Processional.
What you may not realize is that besides the Christmas processional, Epcot also has a festival that celebrates holiday traditions in the 11 World Showcase Nations called the Epcot Festival of the Holidays!
Beginning November 19 and running til the end of December is the Epcot Festival of the Holidays. During this time, you will be able to experience the countries like never before.
You will find storytellers in different showcase stops who will explain their own take on holidays; Holiday Kitchens featuring seasonal food; and an ornament scavenger hunt featuring Chip & Dale.
Holiday Kitchens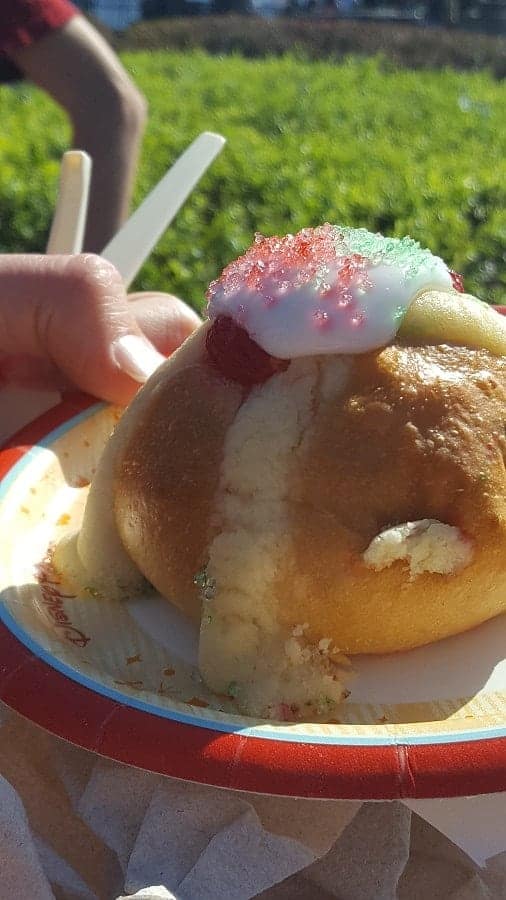 Be sure to grab your Holiday Passport as you arrive in Epcot. It will come complete with list of  Holiday Kitchens in each location. The one item you won't want to miss trying is the Three Kings Bread! You'll find it in The Showcase Plaza at the Feast of the Three Kings.
American Holiday Table – From the tender roast turkey to the tasty pork tenderloin, memories of grandma's kitchen will come flooding back when you visit this salute to the great flavors of America
Feast of the Three Kings – Dine like royalty as you enjoy scrumptious foods and delicious drinks from the Caribbean at this holiday kiosk inspired by the story of the Magi. While you nibble, learn about the celebration of Three Kings' Day, El Día De Los Reyes Magos!
Holiday Sweets and Treats – From decadent desserts to savory snacks and merry libations, you'll be in full swing of the season at this festively-appointed holiday kiosk.
Mexico – Watch mariachi dancers celebrating a Feliz Navidad, while imbibing on the zippy spices of Mexican cuisine.
Chip & Dale's Christmas Tree Spree
Chip & Dale need your help collecting ornaments for their tree. All the ornaments can be found in the World Showcase. You can do this on your own OR you can purchase a sticker map for $6.99.   If you do purchase the map, once you complete it, you can turn it in for a souvenir.  Maps are available to purchase at Pin Central, Disney Traders and World Traveler at International Gateway.
Performers at Epcot Festival of the Holidays
At each stop in the World Showcase you can get a true taste of how that country celebrates the holiday season. There are storytellers and music that you can enjoy as you walk from one pavilion to the next. Here is a glimpse of what you may see:
Norway: Sigrid and Julenissen tell story with the help of a Gnome
China: Lion Dancers put on a show Welcoming the New Year and wishing guests good luck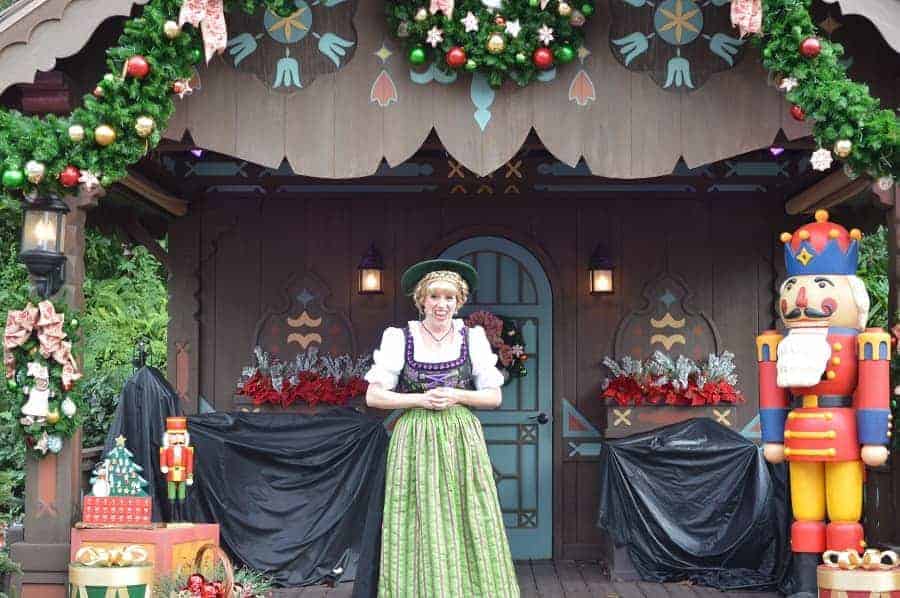 Germany: Heiga tells Story of the Nutcracker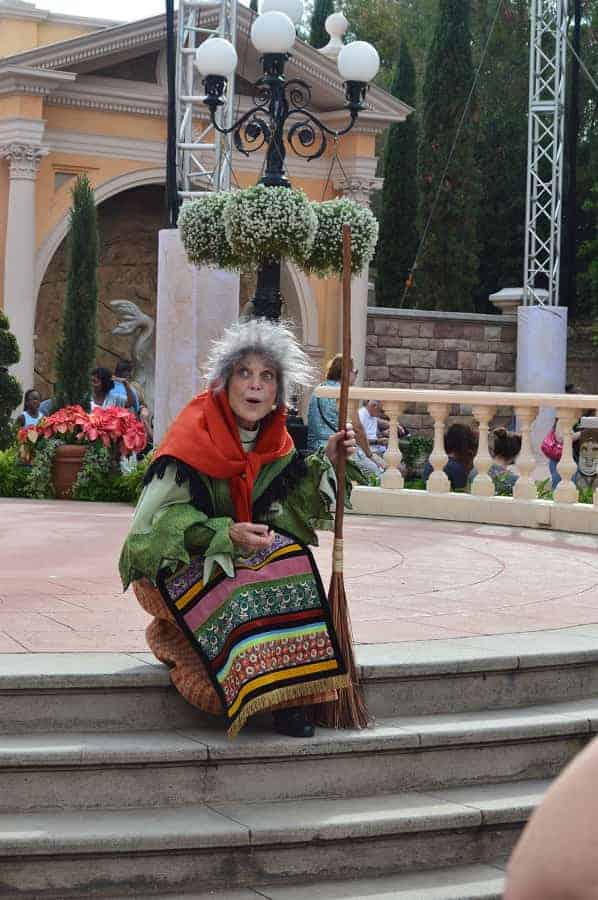 Italy: La Befana the good witch tells the story of Epiphany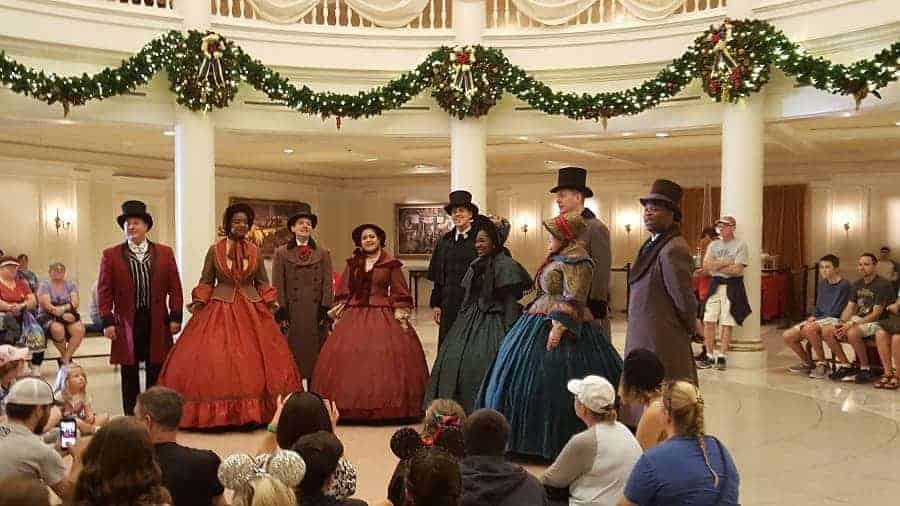 America: Story of Maccabees and Hanukkah celebration, Kwanzaa celebration, Voices of Liberty sing seasonal favorites
Japan: Daruma Vendor tells about Daruma Doll and New Year celebration
Morocco: Holiday Storyteller
France: Pere Noel tells the story of receiving a letter from a child at Christmas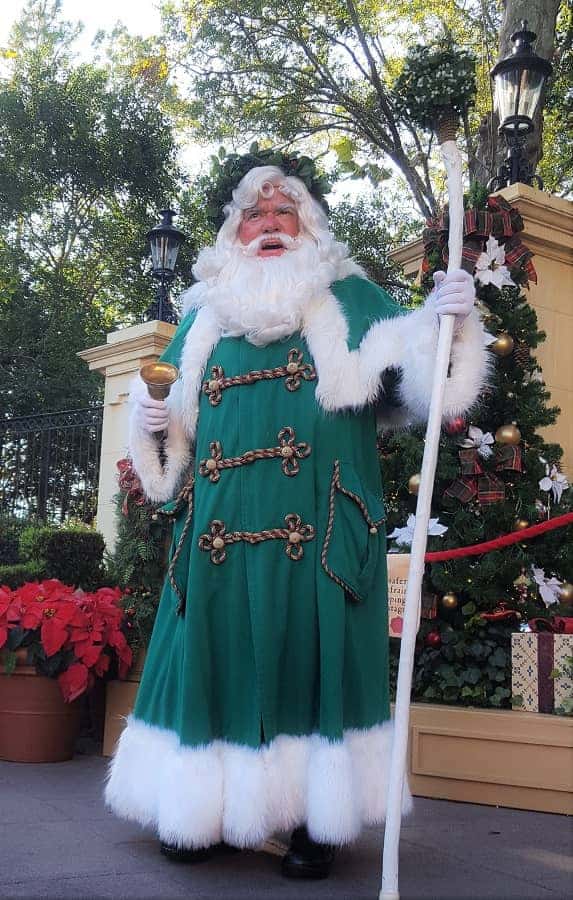 United Kingdom: Father Christmas rings in the season with traditions
Canada: Take a musical tour of Canada
Mexico: Mariachis and Dancers explain the pinata.
If you are planning to go to Walt Disney World from mid November through the end of the year, I highly recommend you go to Epcot. With the Candlelight Processional and the Festival of the Holidays, Epcot is a great park to get you into the holiday spirit.
Have you been to the Epcot Festival of the Holidays? What was your favorite part of your trip?