During the Christmas season, Epcot celebrates holiday traditions for each of the 11 World Showcase Nations with storytelling, decorations, food, and music with the EPCOT International Festival of the Holidays. It is one of my favorite times to visit EPCOT.
If you are planning to go to Walt Disney World from November 24-December 30, I highly recommend you check out the Epcot International Festival of the Holidays!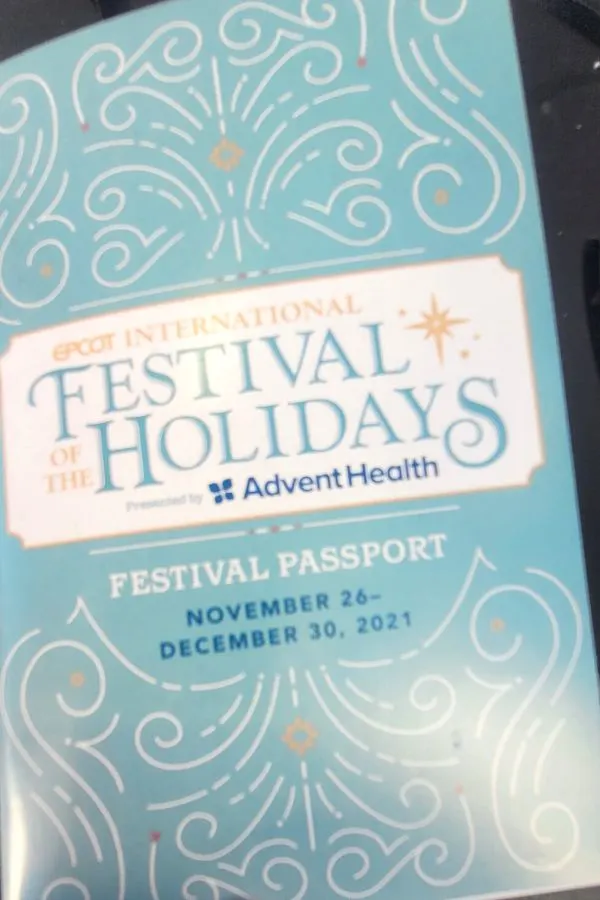 When you arrive at Epcot, the first thing you need to do is grab an Epcot International Festival of the Holidays Passport.
This will tell you about everything going on during the festival along with where you will find everything from Holiday Food Kitchens to Cookie Stroll locations.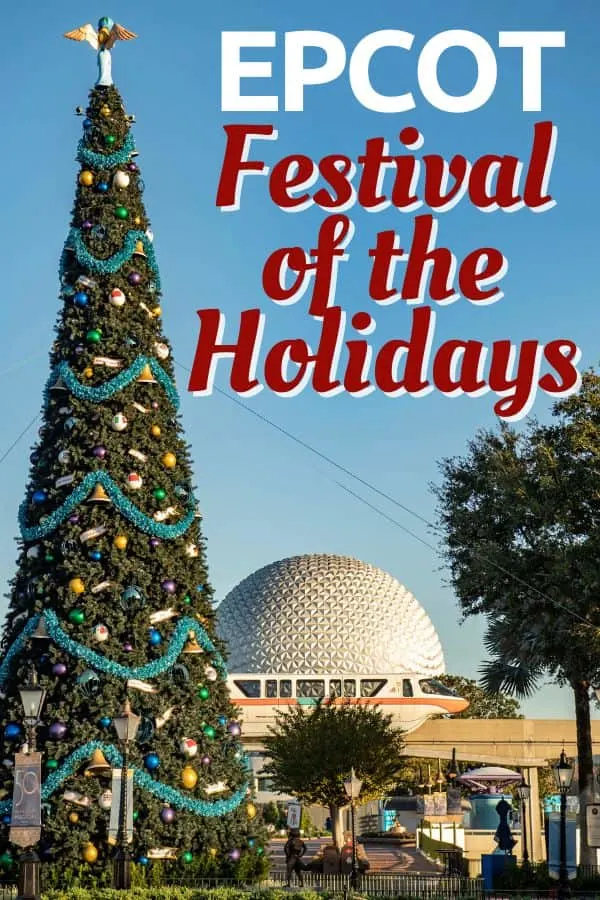 Epcot International Festival of the Holidays
There is so much to enjoy this time of year. Guests can enjoy seasonal food and beverages, festive merchandise, holiday storytelling and the Candlelight Processional featuring celebrity narrators.
Here is what you can look forward to:
1. Holiday Kitchens
During the Epcot International Festival of the Holidays, you will be able to try different holiday dishes from around the world.
Each kitchen showcases different small plates, desserts, and beverages. Here is some of what you will find:
American Holiday Table – Roast turkey & pork tenderloin; all the things that you think of when you think about an American holiday dinner!
Feast of the Three Kings – Dine like royalty on foods and delicious drinks from the Caribbean at this holiday kiosk inspired by the story of the Magi.
While you nibble, learn about the celebration of Three Kings' Day, El Día De Los Reyes Magos!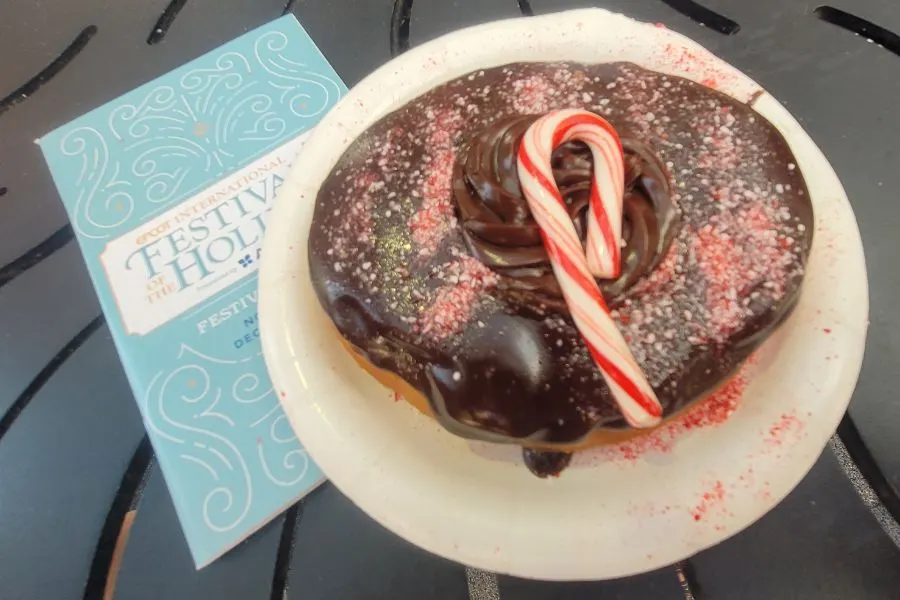 Holiday Sweets and Treats– Tasty desserts along with savory snacks and holiday drinks are over at this festive holiday kiosk.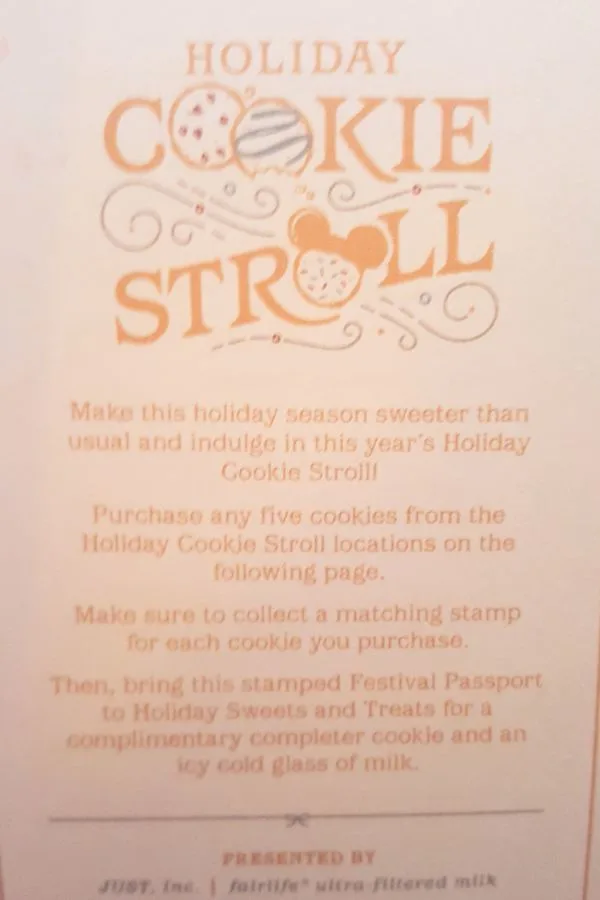 2. EPCOT Cookie Stroll
Inside your Festival Passport, you will find the 5 cookie stroll locations.
Each place offers a delicious cookie for purchase and once you purchase it be sure to get your passport stamped.
If you try all 5 and bring your Passport to the Sweets & Treats Holiday Kitchen, you will receive a complimentary Disney Sugar Cookie!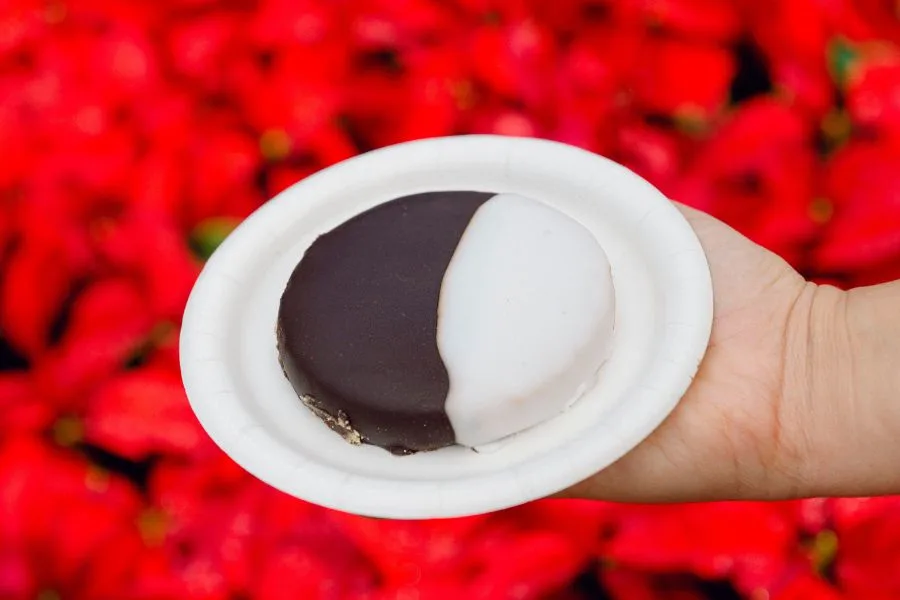 Epcot Cookie Stroll Locations
Yukon Holiday Kitchen: SNICKERS®-Doodle Cookie made with SNICKERS® bar pieces
L'Chaim! Holiday Kitchen: Black and White Cookie
American Holiday Table: Chocolate Crinkle Cookie made with DOVE® Dark Chocolate
Bavaria Holiday Kitchen: Linzer Cookie
Holiday Hearth Desserts: Gingerbread Cookie
Holiday Storytellers
Guests get the chance to learn about other cultures through story-telling and music during their time in the World Showcase section of Epcot.
It is a fun event for the whole family and I'm sure you will walk away learning something you didn't know before!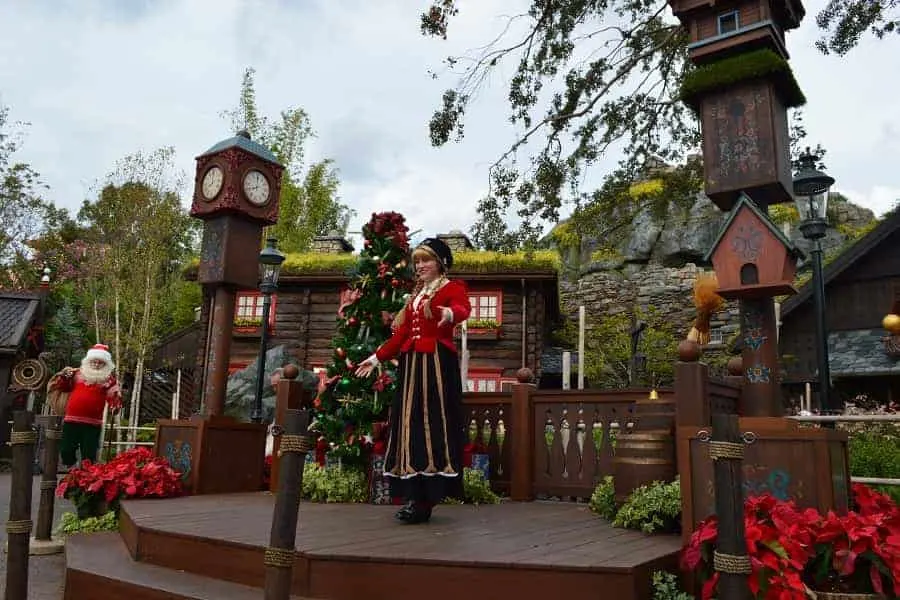 Norway Sigrid & Julenissen
Sigrid and Julenissen tell the story of Christmas with the help of a Gnome.
China Lion Dancers
These dancers put on a show Welcoming the New Year and wishing guests good luck.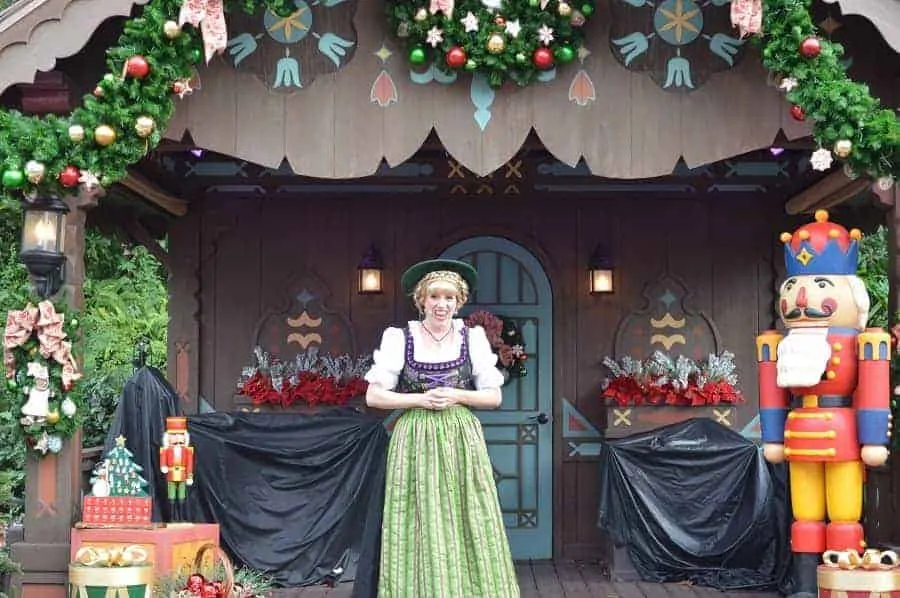 Germany Nutcracker Story
Heiga tells the Story of the Nutcracker with a few twists!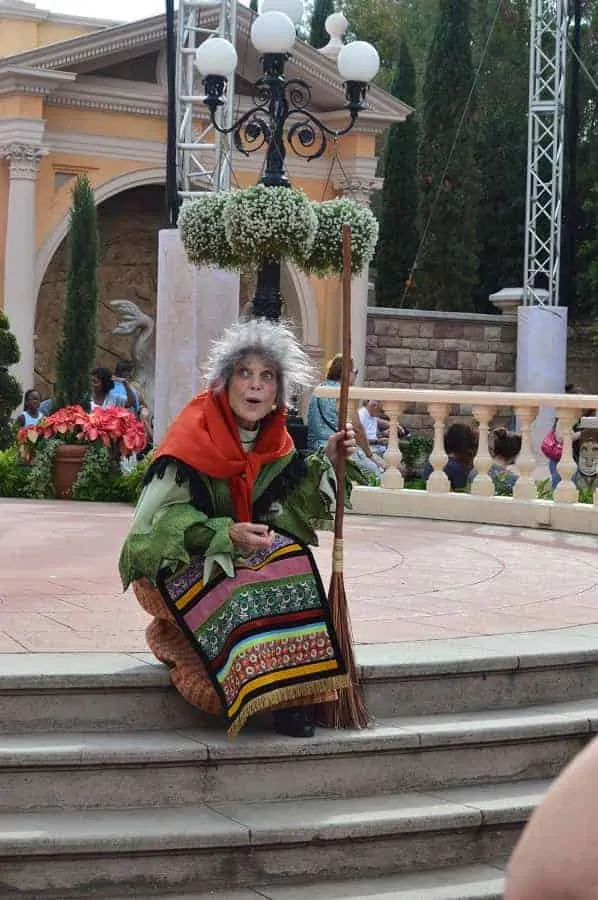 Italy La Befana
The good witch tells the story of Epiphany from her native Italy.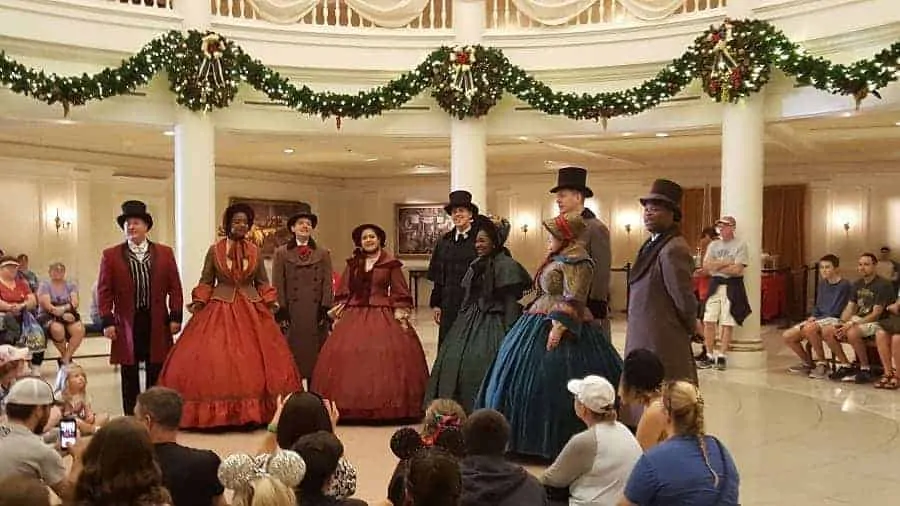 America Voices of Liberty
Hear the story of Maccabees and Hanukkah celebration, Kwanzaa celebration, Voices of Liberty sing seasonal favorites. You won't want to miss this performance in the America Pavilion.
This is also where you will be able to see Santa Claus. While you won't be able to sit on his lap, you will be able to take a photo with him!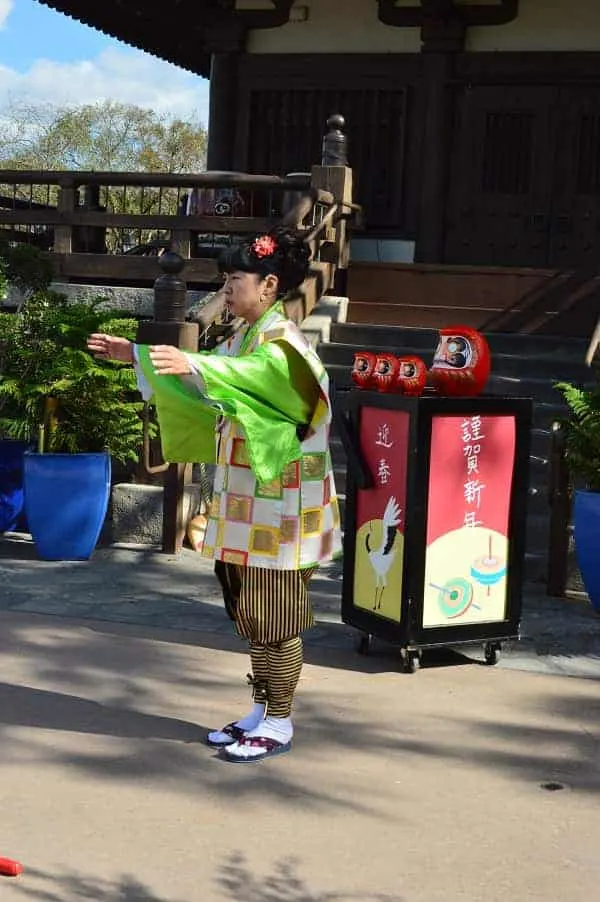 Japan Daruma Vendor
Learn about Daruma Doll and New Year celebration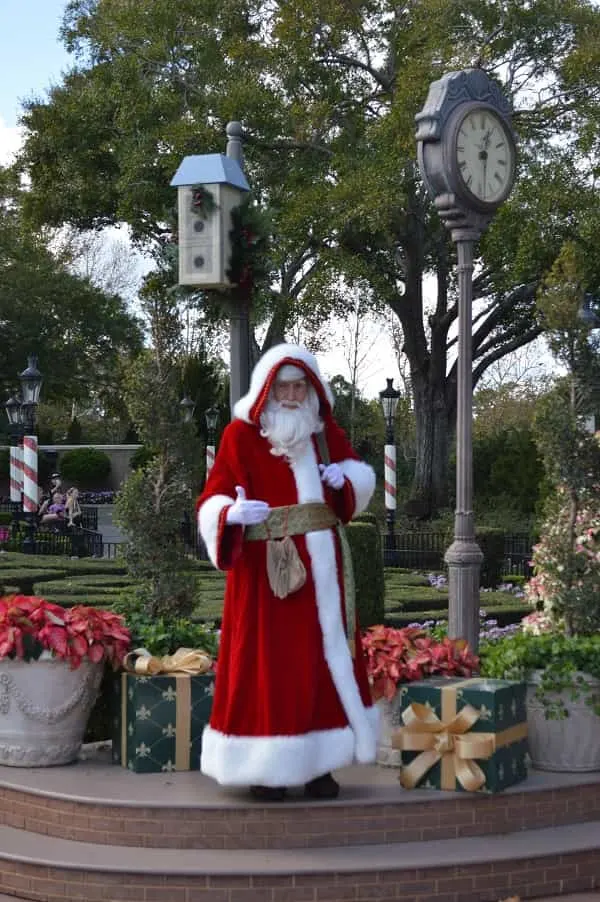 France Pere Noel
Listen as he tells the story of receiving a letter from a child at Christmas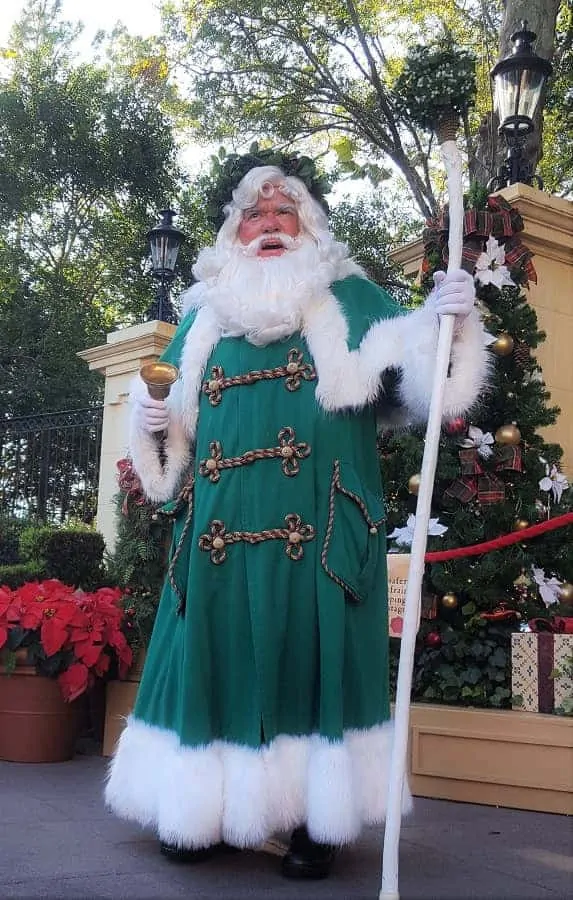 United Kingdom Father Christmas
Learn about how Father Christmas rings in the season with traditions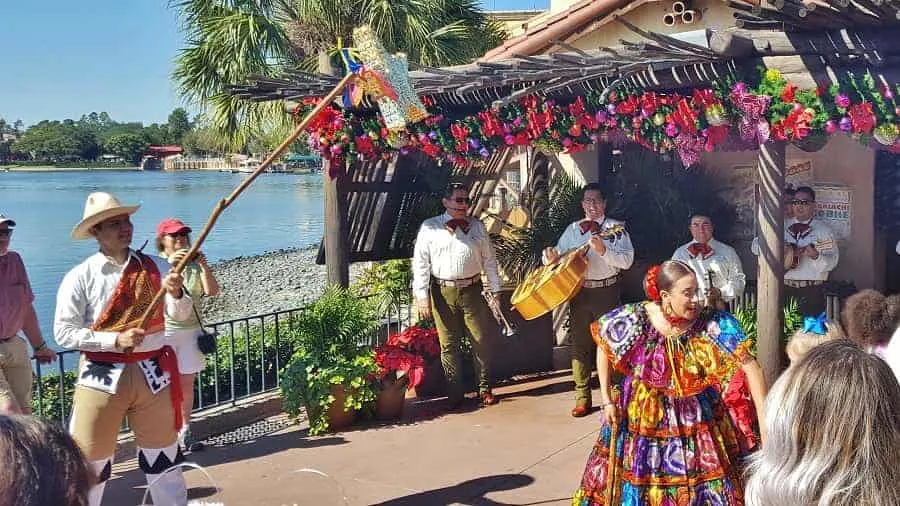 Mexico & the Pinata
Mariachis and Dancers explain the pinata.
Olaf's Holiday Tradition Expedition Scavenger Hunt
This scavenger hunt has you searching for Olaf through the World Showcase where you will hopefully find him showing off a holiday tradition for that particular place.
You can do this on your own OR you can purchase a sticker map for $9.99.
If you do purchase the map, once you complete it, you can turn it in for a souvenir.
Maps are available to purchase at Pin Central, Disney Traders and World Traveler at International Gateway.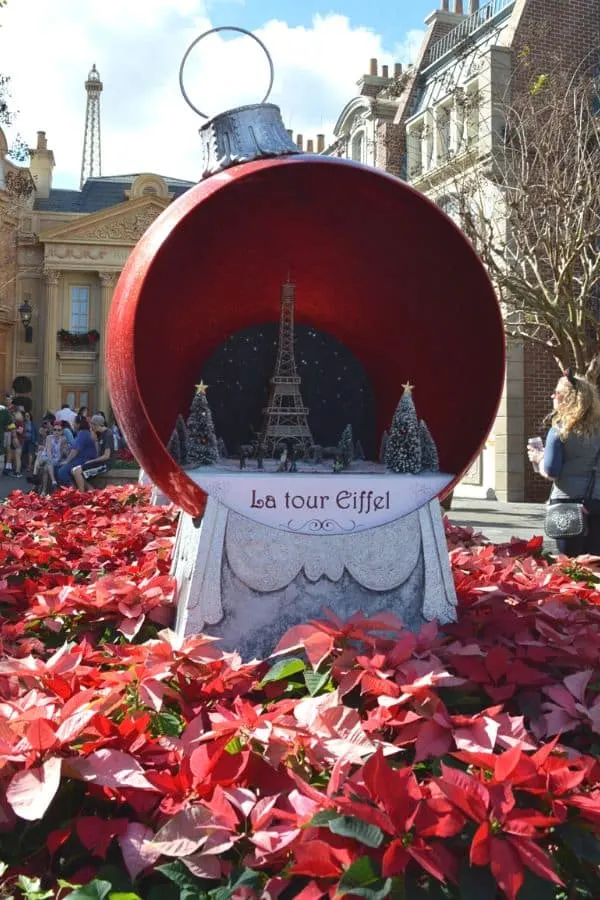 Epcot Christmas Displays
When we think of Christmas decorations at Disney parks, we usually think of Magic Kingdom. It is always decorated beautifully with wreaths and garlands.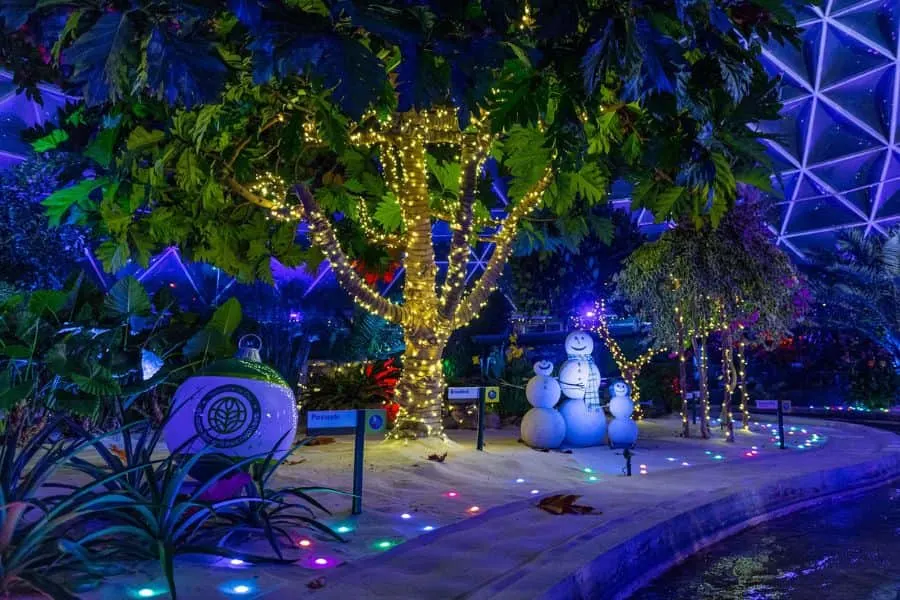 But don't sleep on EPCOT, it has some pretty cool holiday displays as well!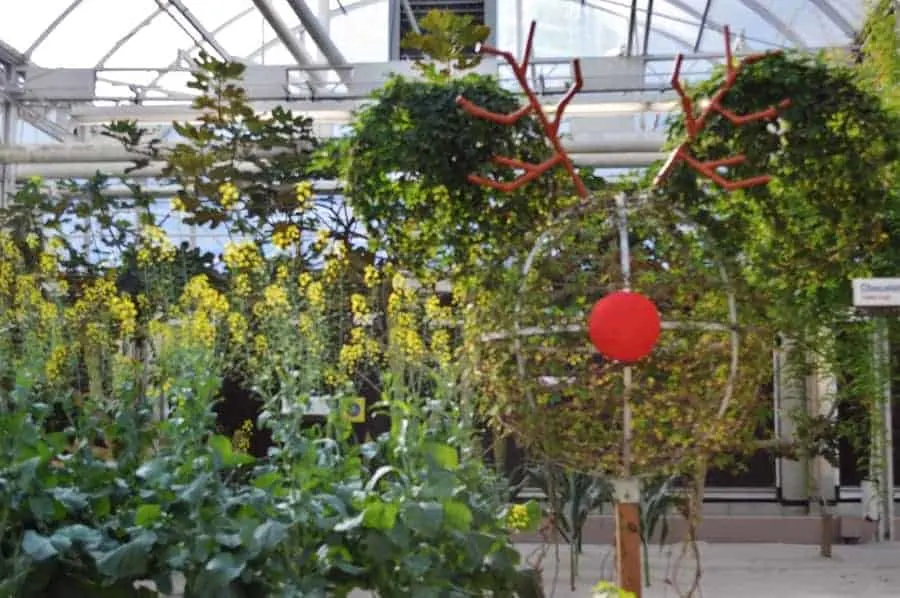 When you attend the International Festival of Holidays, you will find Epcot Christmas decorations, both traditional and whimsical!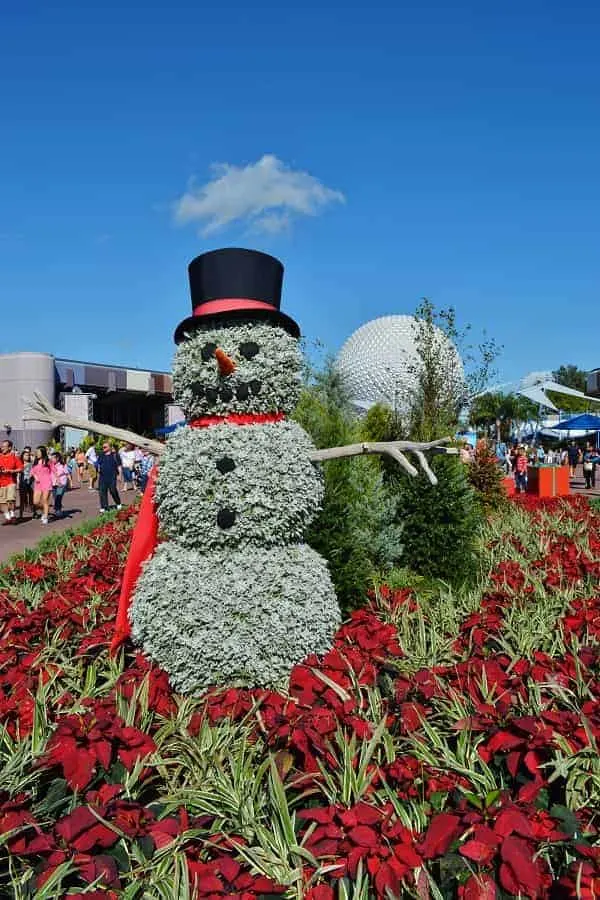 When you think of topiaries, you probably think of Epcot's Flower & Garden festival that happens in the Spring.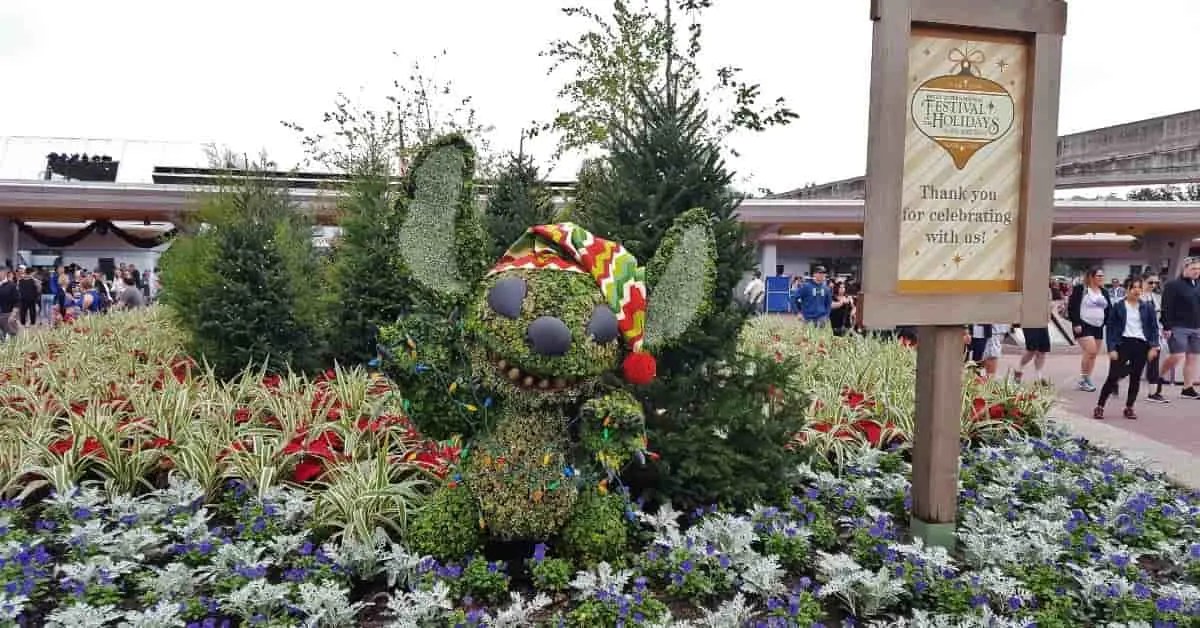 Epcot brings a few back for the holiday season! You will find Disney characters along with traditional holiday-themed designs throughout the park.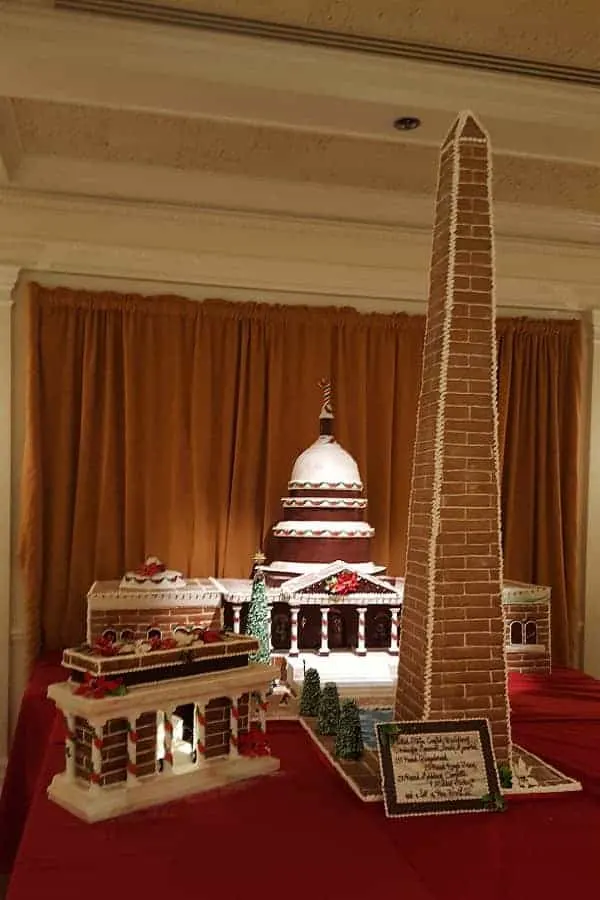 Epcot Gingerbread Display
One thing you won't want to miss seeing is the Gingerbread Capitol Building, Lincoln Memorial, and Washington Monument.
Located inside the American Adventure Pavilion in World Showcase, this Gingerbread display is a site to see.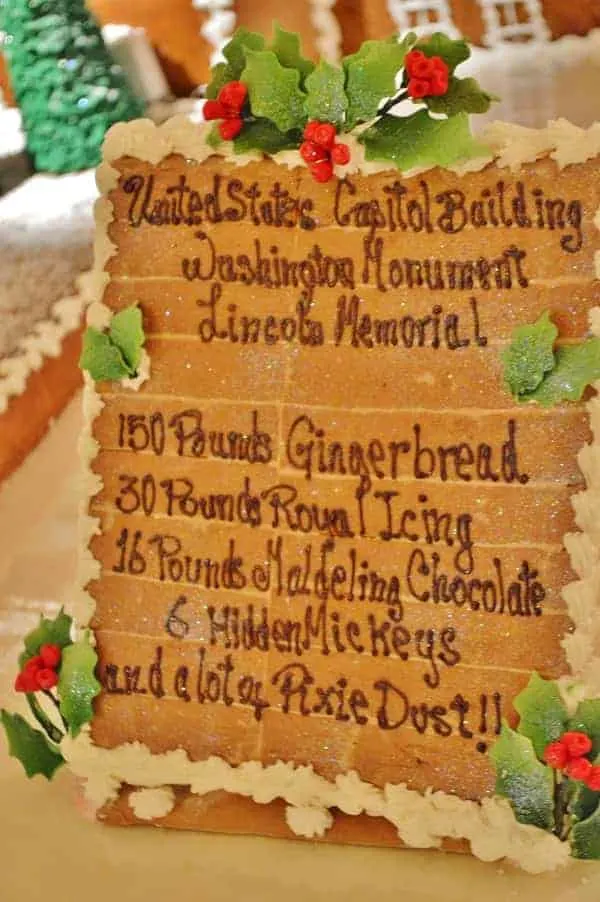 Not only is it totally built from sugary goodness, it also has some Hidden Mickeys for you to find!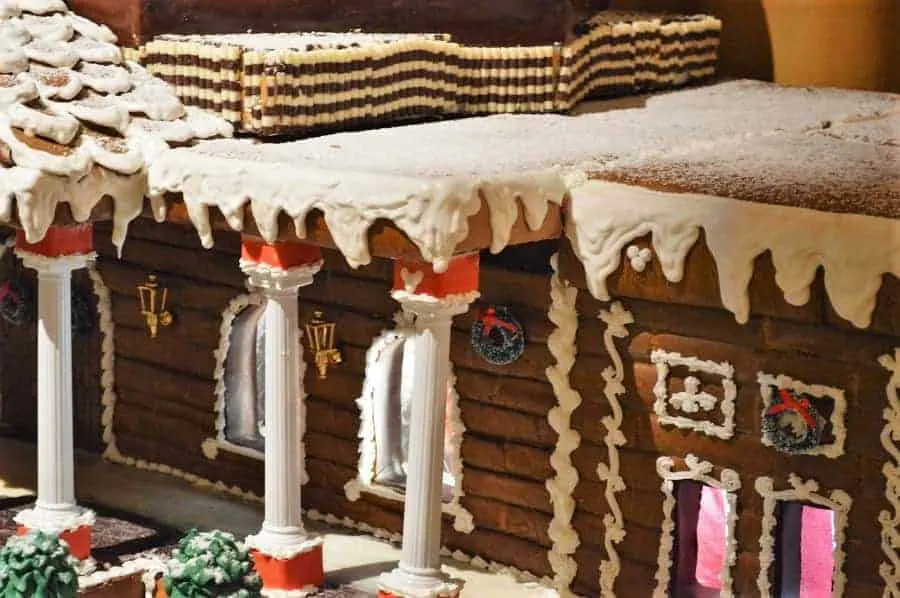 Look carefully and you can probably spot a few in this photo. Make sure you take your time to find all of them while you are there!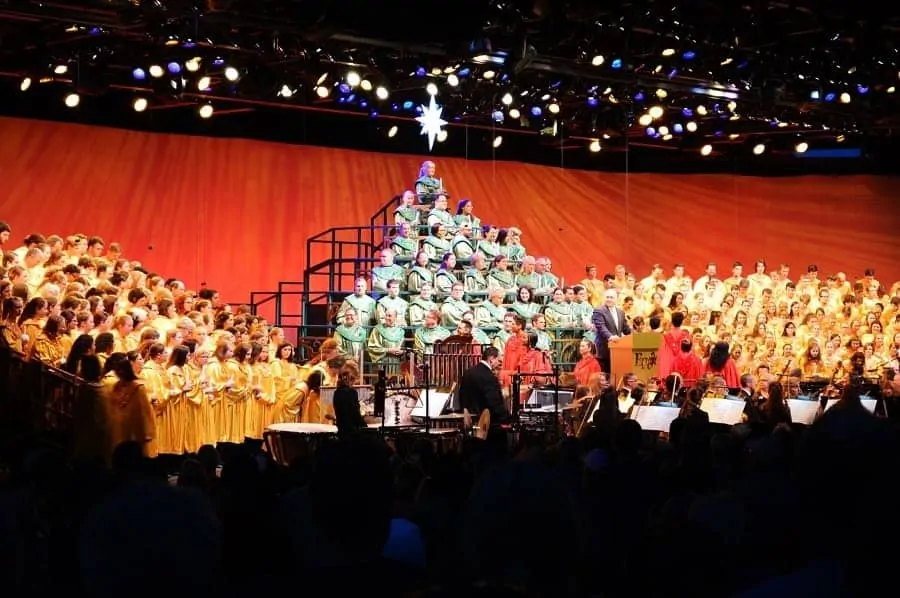 2023 Epcot Candlelight Processional
Held in the America Gardens Theatre, the Candlelight Processional is one of the highlights of the holiday season.
This show is part live orchestra, part massed choir, and usually involves a celebrity narrator in the retelling of the traditional Christmas story.
There is nothing quite like it and you will walk away feeling the Christmas spirit for sure!
The Candlelight Processional is performed three times per night (5:15, 7:00 and 8:30pm), and guaranteed seating is available if you book a breakfast, lunch or dinner with the Candlelight Processional Dining Package.
If you don't have guaranteed seating, you will need to line up about one hour before the Candlelight Processional in order to get a good seat!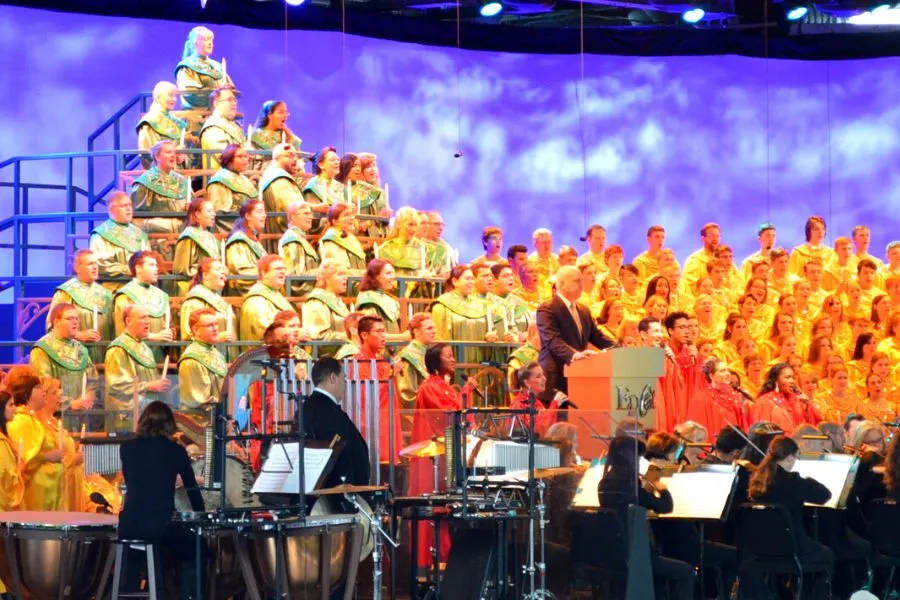 Epcot Christmas Candlelight Processional Narrators
November 25 and 26, 2022 Simu Liu
Chrissy Metz (NEW): Nov. 24-25
Luis Fonsi (NEW): Nov. 26-27
Ann-Margret (NEW): Nov. 28-29
Simu Liu: Nov. 30-Dec. 2
John Stamos: Dec. 3-5
Neil Patrick Harris: Dec. 6-8
Marlee Matlin: Dec. 9-11
Brendan Fraser (NEW): Dec. 12-14
Eva Longoria (NEW): Dec. 15-16
Joey McIntyre (NEW): Dec. 17-18
Sterling K. Brown (NEW): Dec. 19-20
Jordan Fisher (NEW): Dec. 21-23
Steven Curtis Chapman: Dec. 24-26
Audra McDonald (NEW): Dec. 27-28
Lisa Ling: Dec. 29-30
December is a great time to visit Disney World and if you want to get into the holiday spirit, make sure you visit EPCOT during their Festival of the Holidays celebration!
Have you been to the Epcot Festival of the Holidays? What was your favorite part of your trip?