When you visit Disney World in December, not only are all the Disney parks are all decorated for the holidays, but the Disney resorts are also decked out for Christmas. We've toured most of the Disney resorts at Christmastime and think these have the best Disney Resort Christmas decorations.
Check out these 7 Disney Resort Christmas Decorations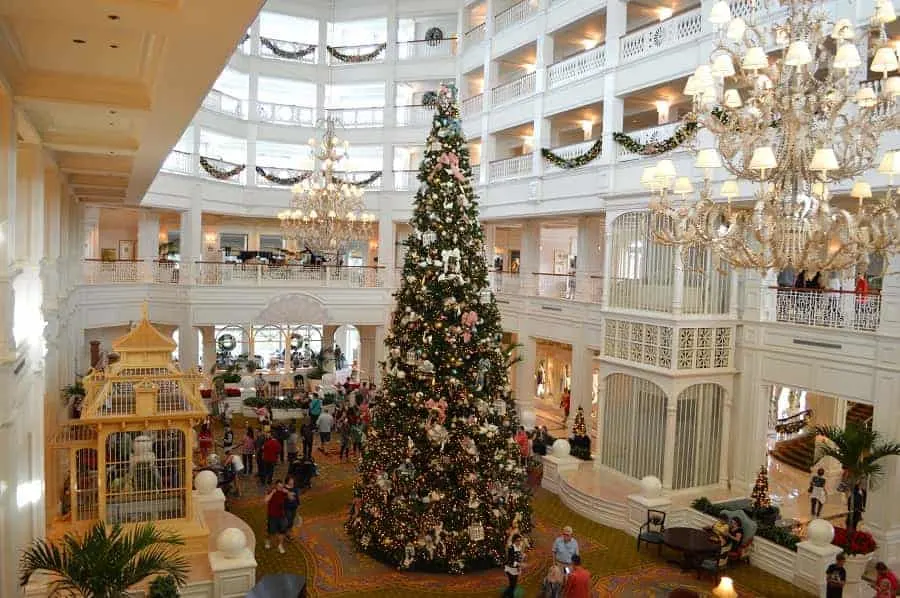 1. The Grand Floridian
When it comes to the best Disney Resort Christmas decorations, Grand Floridian resort tops the list. There is nothing like Grand Floridian at Christmas.
Not only does this Deluxe resort have one of the largest trees at Disney World, but it is also known for its amazing, life-like Gingerbread House.
Be sure to venture to other areas of the resort to see all the other decorations and ways they celebrate the holidays.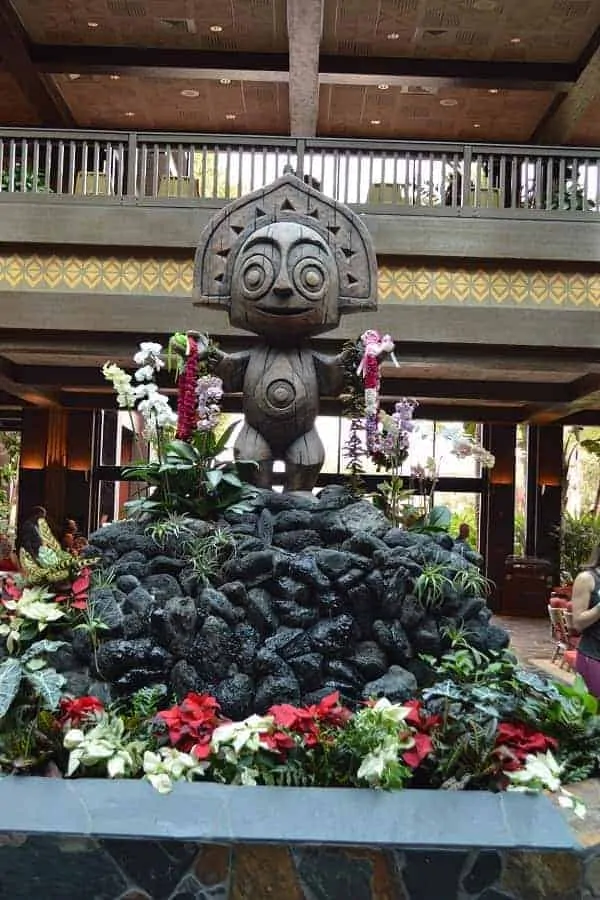 2. The Polynesian Resort
This resort is also located on the monorail and is worth a stop to see their beautiful Christmas decor that takes on a tropical flare!
While there, you can also grab a bite to eat or try the famous Disney Dole Whip!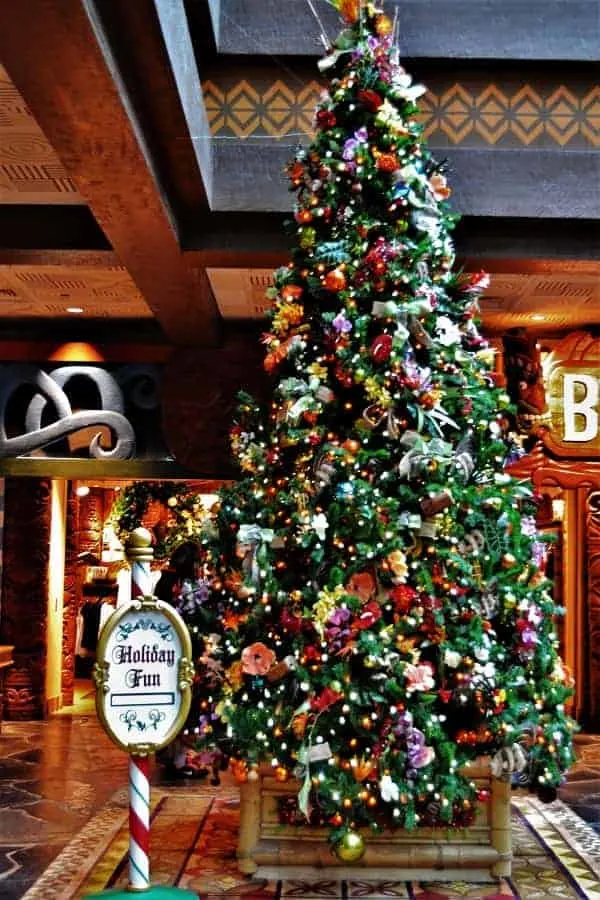 You will love all the festive Poinsettia displays and the tropical way they decorate their trees for Christmas.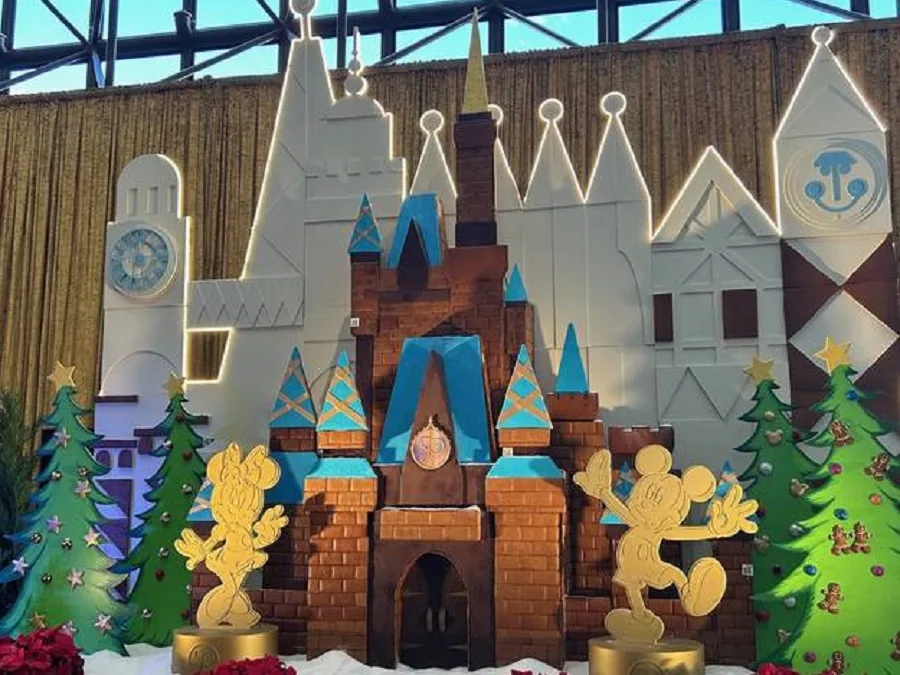 3. Contemporary Resort
Disney's Contemporary Resort has a must-see 17-foot tall gingerbread Cinderella Castle that was constructed with nearly 4,000 gingerbread bricks.
The eleven five-legged goats on the display are an homage to the towering mural in the resort's Grand Canyon Concourse and represent the 11 years that the castle has been displayed.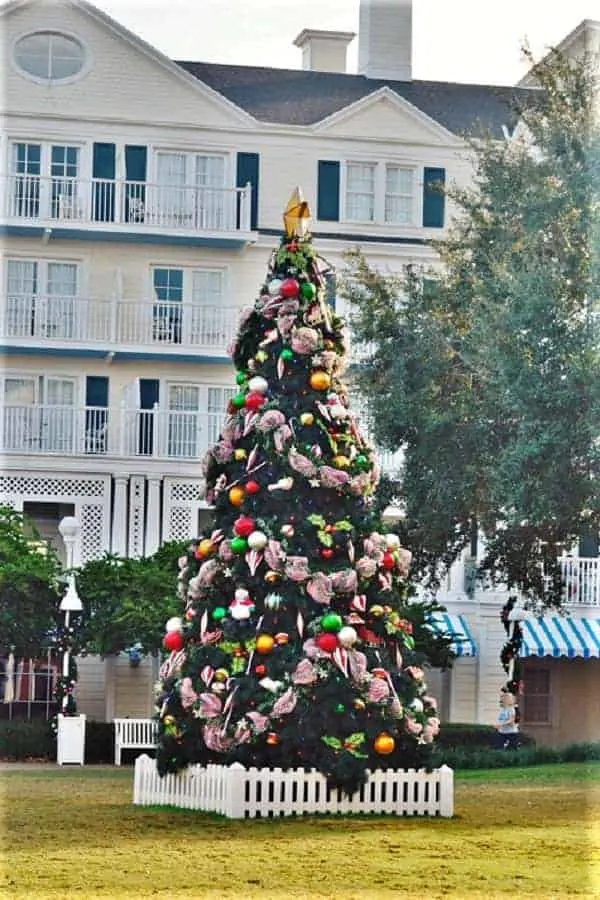 4. The Boardwalk Resort
Some of the best Disney Resort Christmas decorations are over at the Boardwalk area of Disney World. You can access Disney's Boardwalk resort by boat from both Hollywood Studios and Epcot.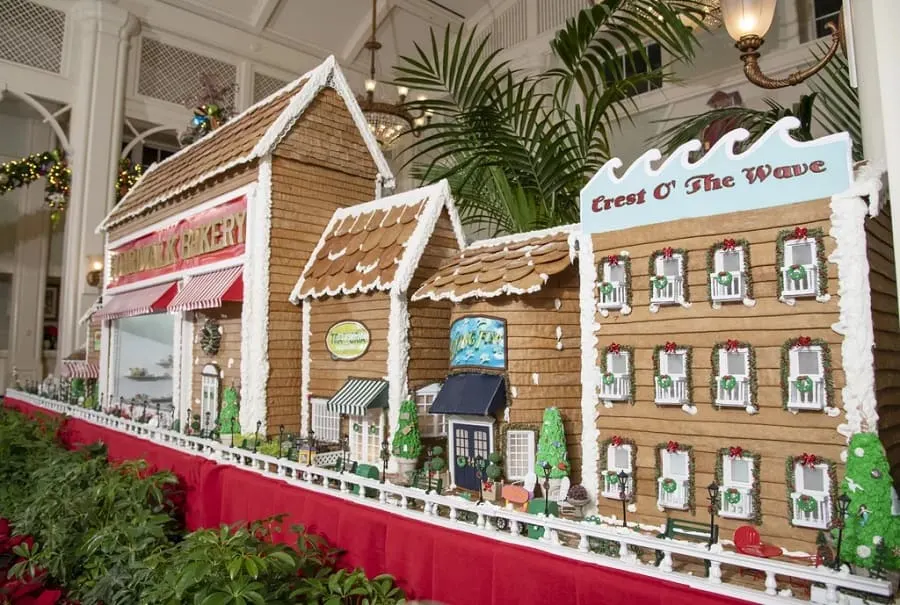 The gingerbread display at Disney's BoardWalk Inn features a gingerbread version of the BoardWalk Deli.
Made with 21 gallons of honey, over 500 total pounds of flour, it took Disney bakers 200 hours to decorate.
Not only will you find a gingerbread display & elaborately decorated trees inside, they also have a giant tree outside as well!
5. Beach Club Resort
This is one of my favorite Disney resort Christmas displays.
Disney's Beach Club Resort features a life-sized gingerbread carousel in the lobby. Sharp-eyed guests can find 21 hidden Mickeys on it – one for each year it has appeared in the hotel.
The best feature about this carousel is that it actually turns! This means that you can see all the details without having to even move!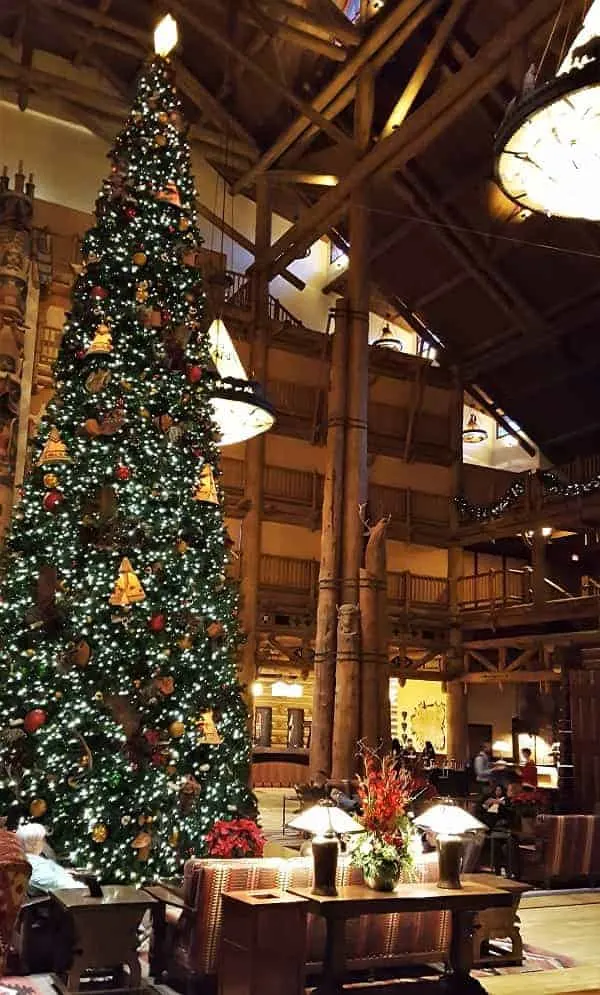 6. Wilderness Lodge
Wilderness Lodge Resort at Christmas is all decked out for the holidays in a more traditional design. You will find trees decked with lots of natural items like pine cones and antlers.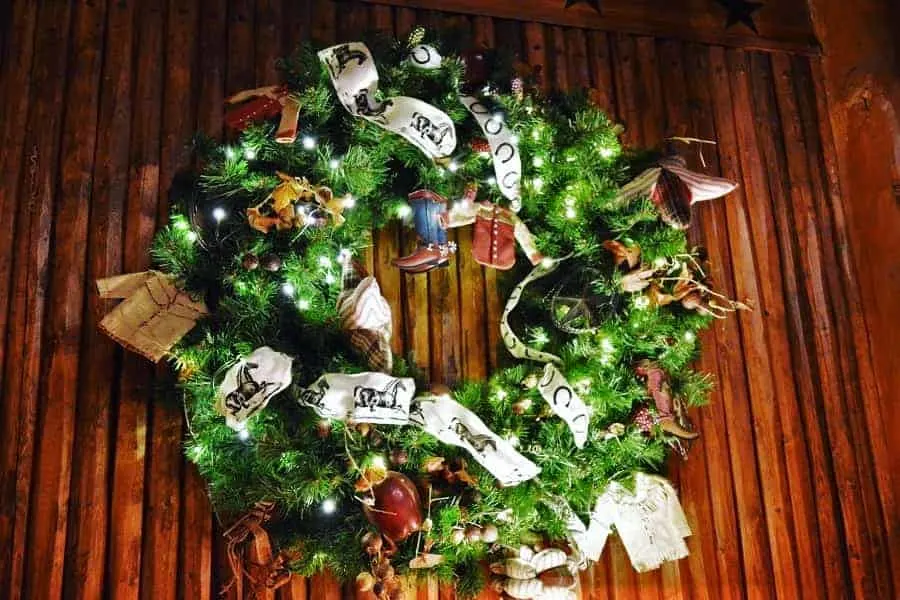 And since this resort is all about the American West, you can expect for find some Cowboy elements as well.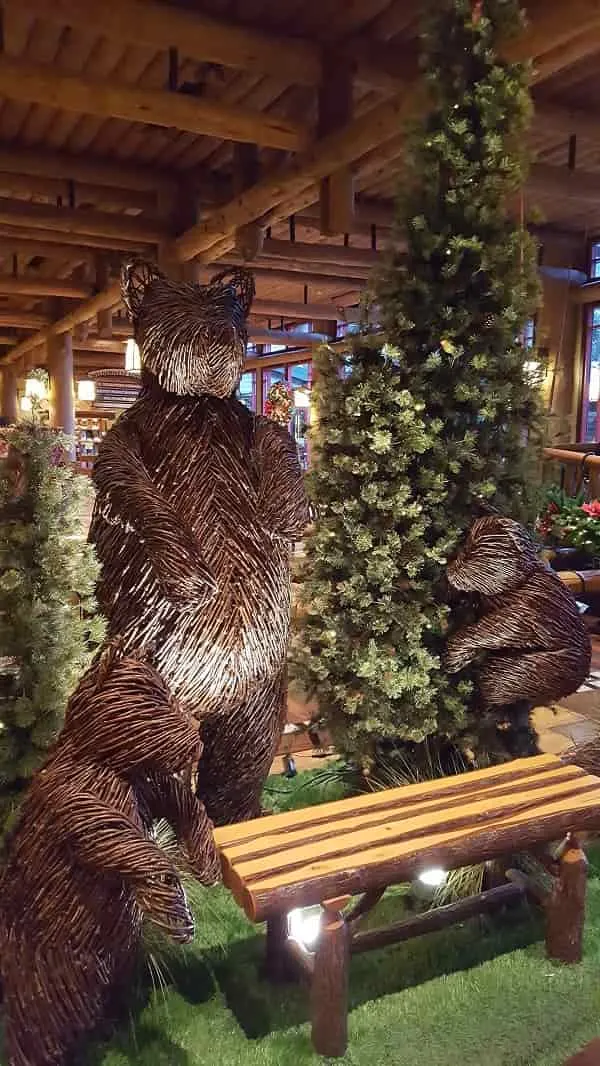 Make sure that you walk around the entire lobby because there are some incredible details and great picture spots to take advantage of!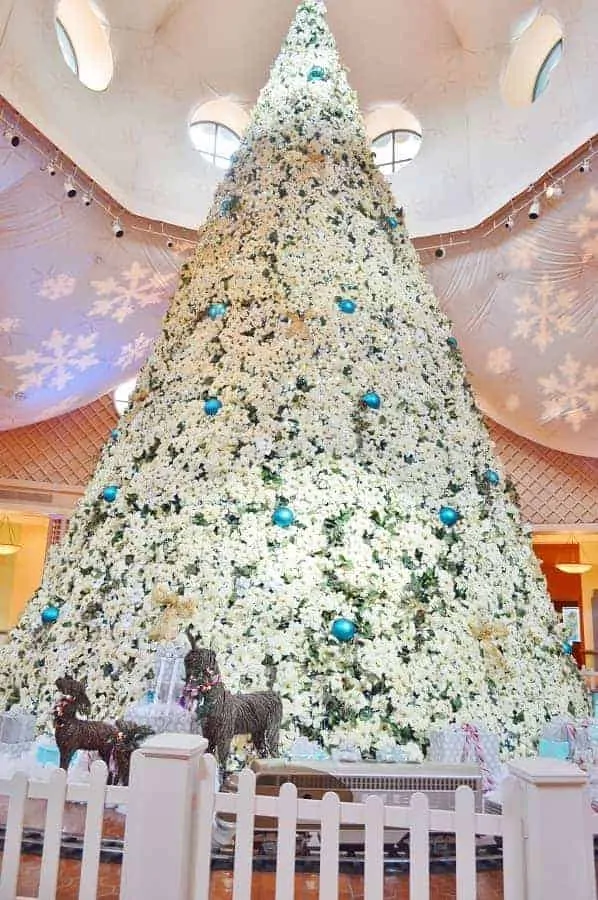 7. Swan & Dolphin Resort at Christmas
Inside the Swan & Dolphin Resort, you will find the only White poinsettia Christmas tree on Disney property.
Not only will you see this beautiful tree surrounded by reindeer and a working train that encircles the tree!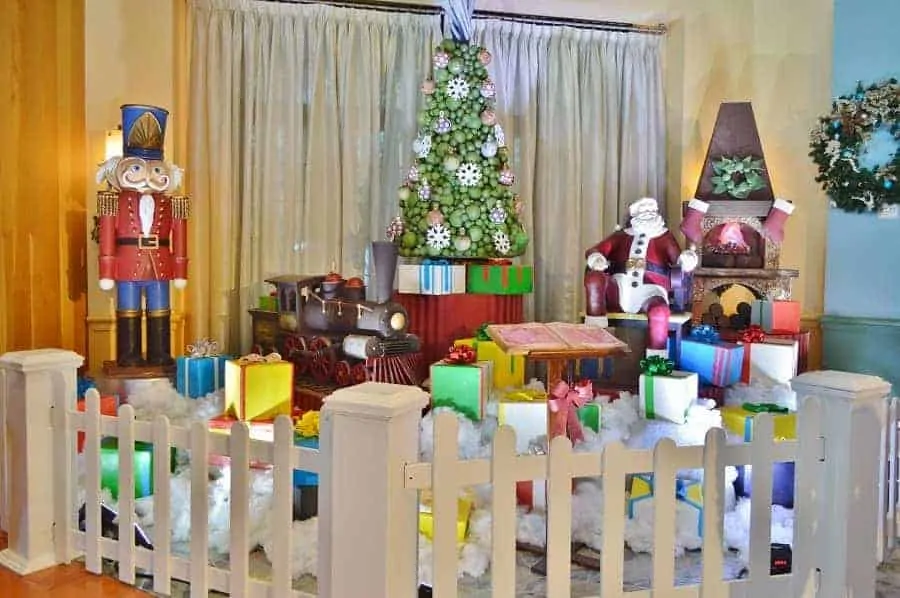 This is one of the few Disney Resort Christmas displays that feature Santa Claus! This life-size display makes you feel as though you've caught Santa red-handed!
---
Even if you don't get to stay at any of the Disney resorts at Christmas, you can visit them for free. It is fun just to stop by & see how they decorate for the holidays.
While you do have to drive to many of the Disney resorts, there are many that can be accessed from the monorail or by a quick boat ride. This makes stopping by as easy as a trip to a Disney park.
Do you visit Disney Resorts at Christmas? Which one is your favorite?