(We may earn a commission via affiliate links in this post. Read our full disclosure policy.)
One of the best places to grab a quick service meal in Magic Kingdom is at Pecos Bill Tall Tale Inn and Cafe. The Pecos Bill menu is filled with wonderful choices featuring some southwestern favorites.
Pecos Bill Menu has Something For Everyone
Pecos Bills Tall Tale in & Cafe is in Frontierland and is just down from Country Bear Jamboree. Inside, you will find plenty of air conditioned space to sit and relax while enjoying a great meal.
There are two ways to order you meal at Pecos Bill. You can go the traditional route and order at the counter or you can use one of Disney's newest features which is ordering on the My Disney Experience App.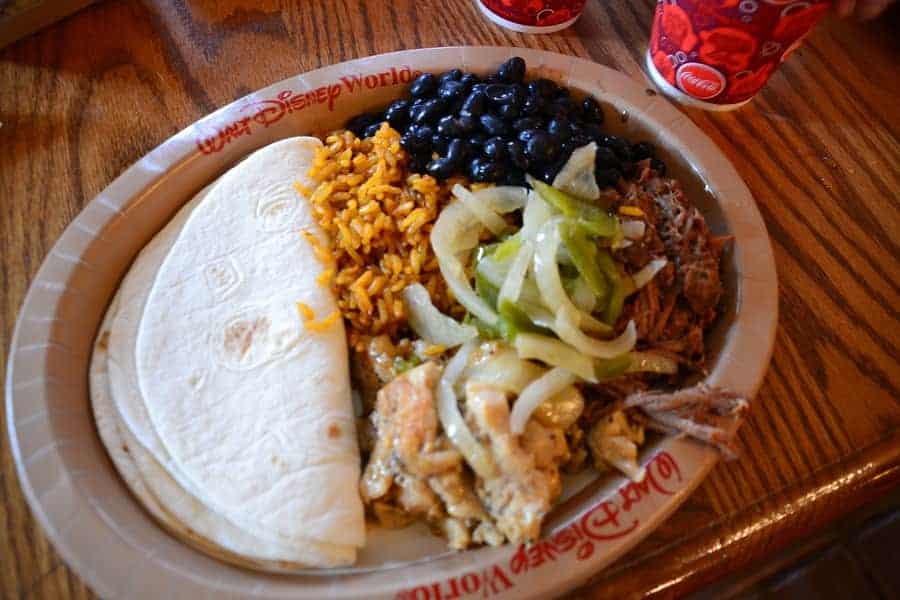 Pecos Bill Menu Options
You are going to find many great choices on the Pecos Bill Menu. There is everything from Fajitas & Tacos to Salads. And what about someone who doesn't like tacos & the like? Well, they have cheeseburgers too!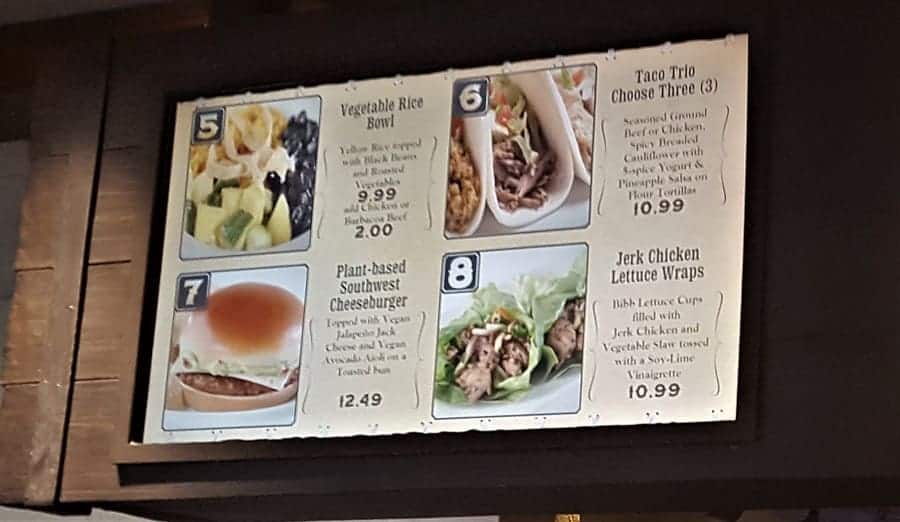 If you are travelling to Magic Kingdom on the Keto diet or other lo-carb diet, you will be glad to know that there are Jerk Chicken Lettuce Wraps on the Pecos Bill menu as well as other things you can eat and keep within your dietary restrictions with just a little alteration.
Those of you who are vegetarians can delight in knowing that besides salads, you will find Veggie Rice Bowls and Veggie Nachos available!
The Pecos Bill menu for kids is really good too. Kids can also have nachos & rice bowls or something all picky eaters enjoy, Macaroni & Cheese & Smuckers Uncrustables.
What we were really surprised to find on the Pecos Bill menu was a selection of Gluten/Wheat Allergy-Friendly items.
Not only that, you will also find other allergy-friendly menus available for those suffering from egg, dairy and nut allergies.
There are so many great quick service options at Magic Kingdom and the Pecos Bill menu offers a really great selection of Southwest favorites.
Using the My Disney Experience App to Order from the Pecos Bill Menu
To begin, tap "Order Food".
Choose Pecos Bill as the restaurant
Browse the menu and make your selections.
Feel free to customize certain items.
Review the meal(s),
Purchase your order using a credit card, debit card or Disney dining plan.
Once you get to the restaurant, tap the "I'm Here, Prepare My Order" button
Find a table, get your napkins & straws and wait for your text that your food is ready
Show up at the Counter Marked Mobile Order Pick Up & grab your food.
What about you? What do you think of Pecos Bills?