When it comes to celebrating the holidays, no one does it quite like Disney! Apart from the Christmas decorations throughout the parks, Disney World holiday food is a huge draw for visiting the parks this time of the year. With so many different Disney Christmas treats to choose from, it is hard to know which ones to try.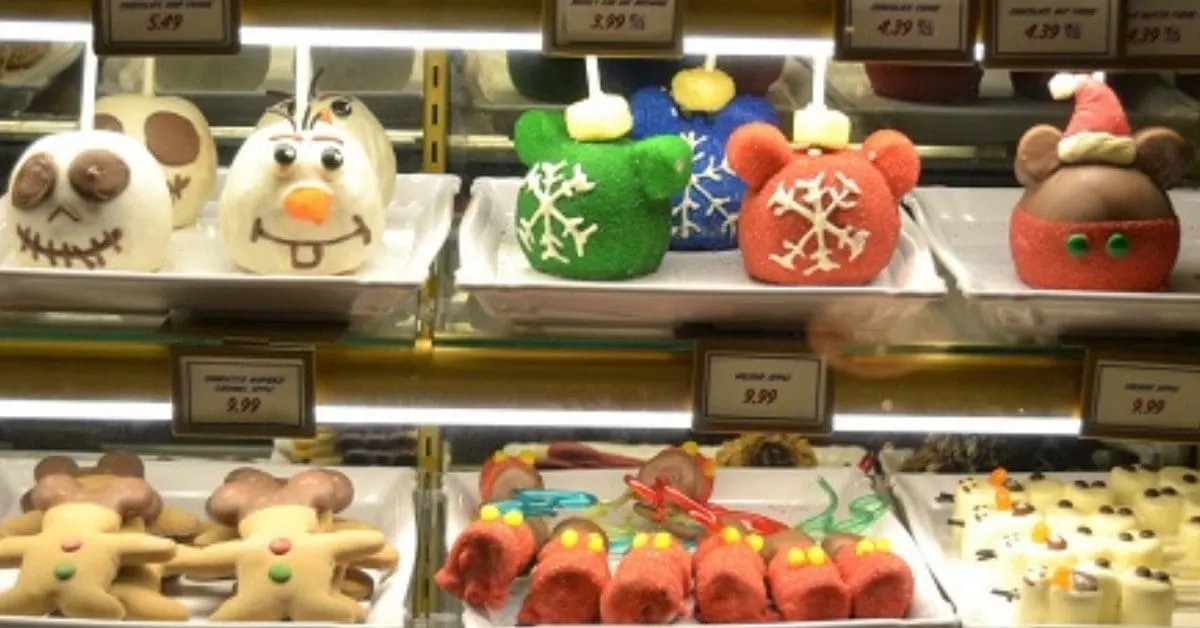 Traditional Disney Christmas Treats
These are the Disney Christmas treats that you will find in the Disney parks between November and December: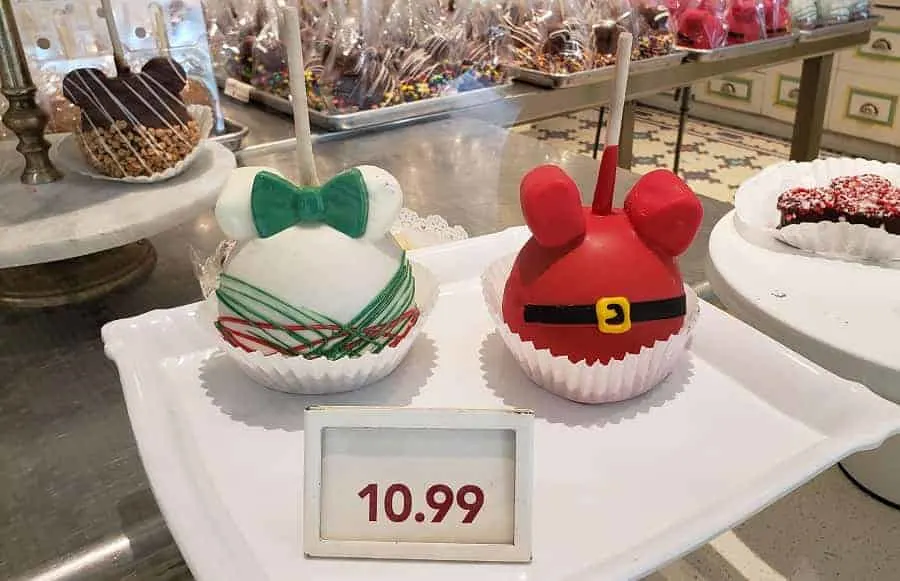 1. Disney Christmas Themed Candy Apples
Candy Apples can be purchased at Disney year-round, but during the holidays, they take on a special holiday flare.
You will find them looking their seasonal best with homages to Santa Claus, Olaf and even Jack Skellington.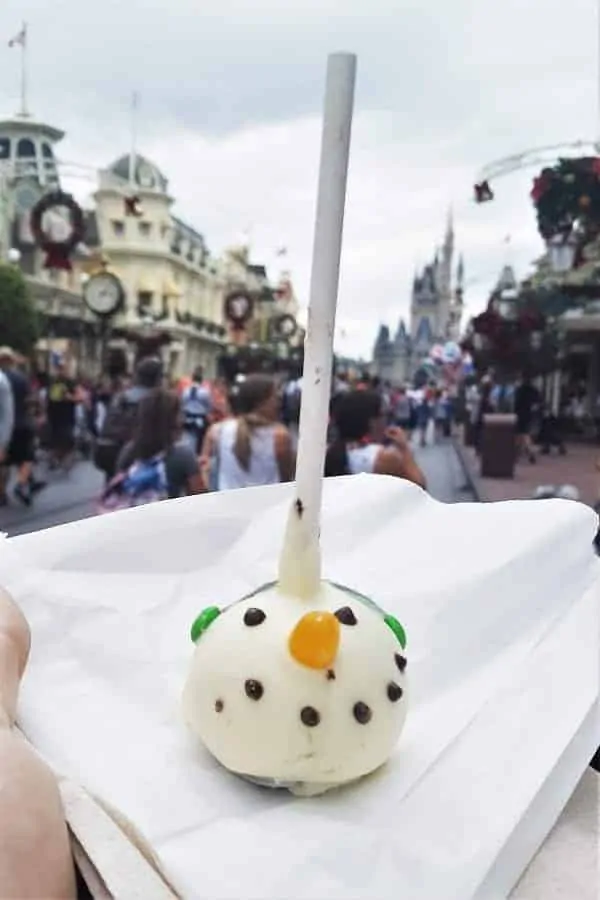 2. Cake Pops
Nearly all the Disney parks carry holiday cake pops in vanilla, chocolate and red velvet cake!
How cute is this little snowman? He was filled with chocolate cake and was delicious!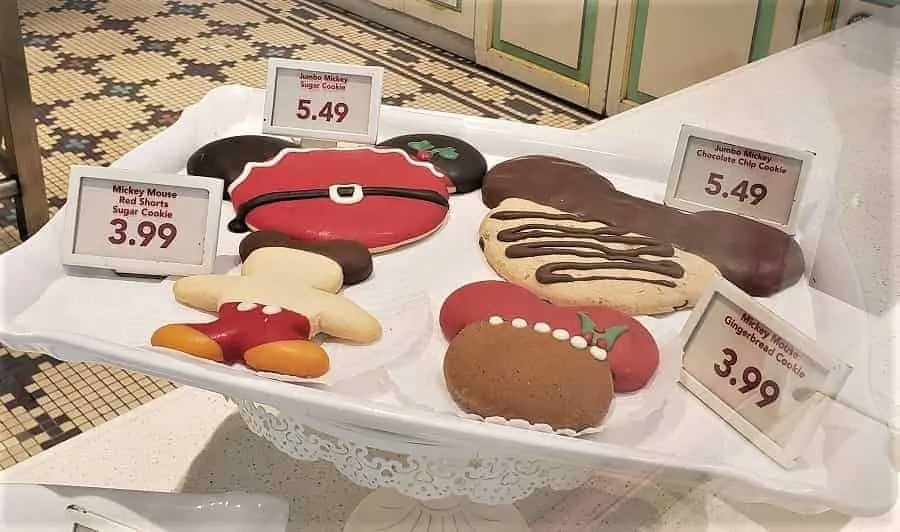 If you have a hard time choosing a treat, there are plenty of Christmas-themed cookies to choose from.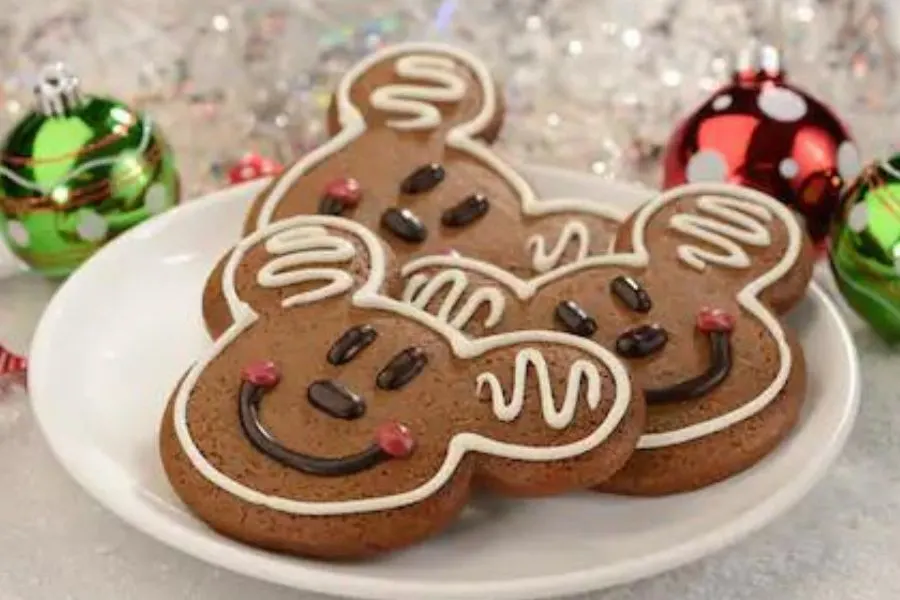 You will find iced sugar cookies, decorated shortbread, chocolate drizzled chocolate chip, and even Mickey Mouse gingerbread this time of year.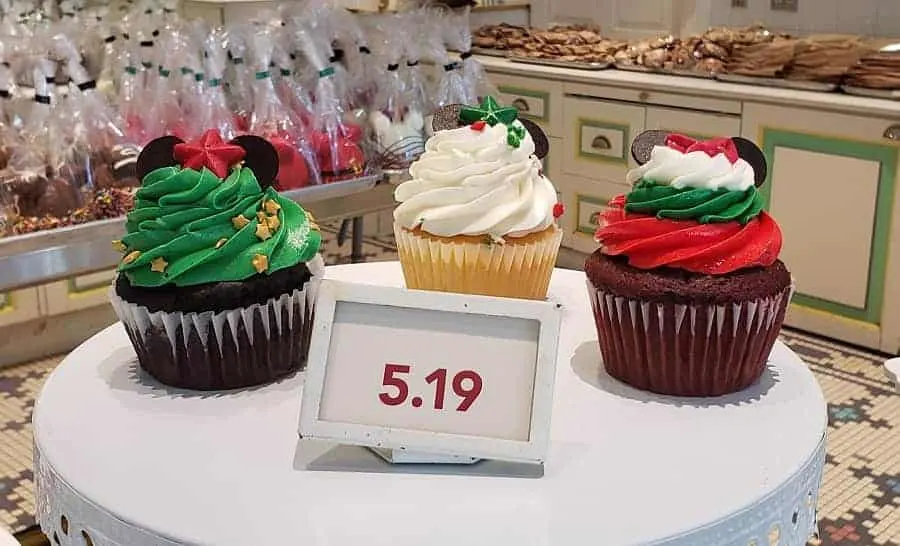 3. Holiday Cupcakes
Everyone loves a good cupcake & when it comes to the most popular Disney Christmas treats, these always get the most love.
You will find chocolate & vanilla this year decorated with festive-colored icing.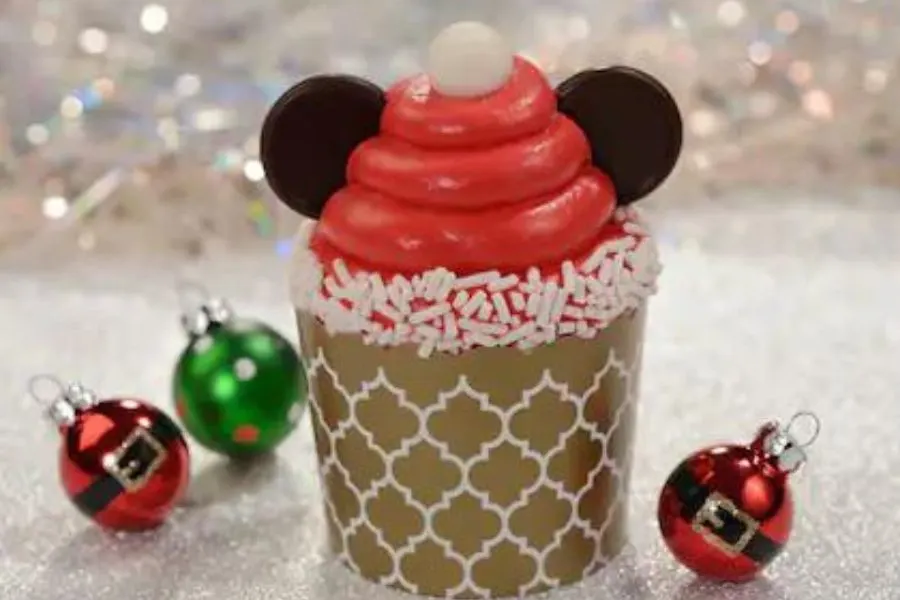 There are some specialty cupcakes this year, like the Santa Mickey Mouse Cupcake over in Hollywood Studios.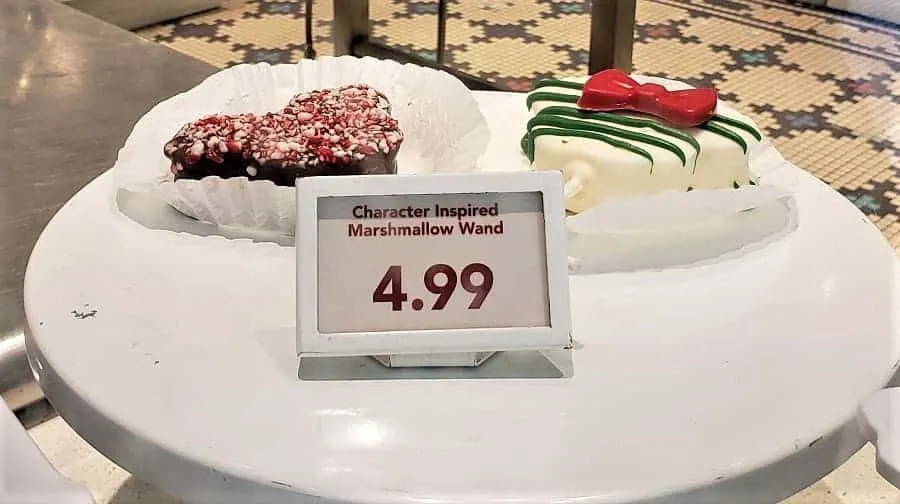 4. Marshmallow Wands
If you love marshmallows, you will want to try one of these marshmallow wands. They come dipped in chocolate and covered with sprinkles or candy cane pieces.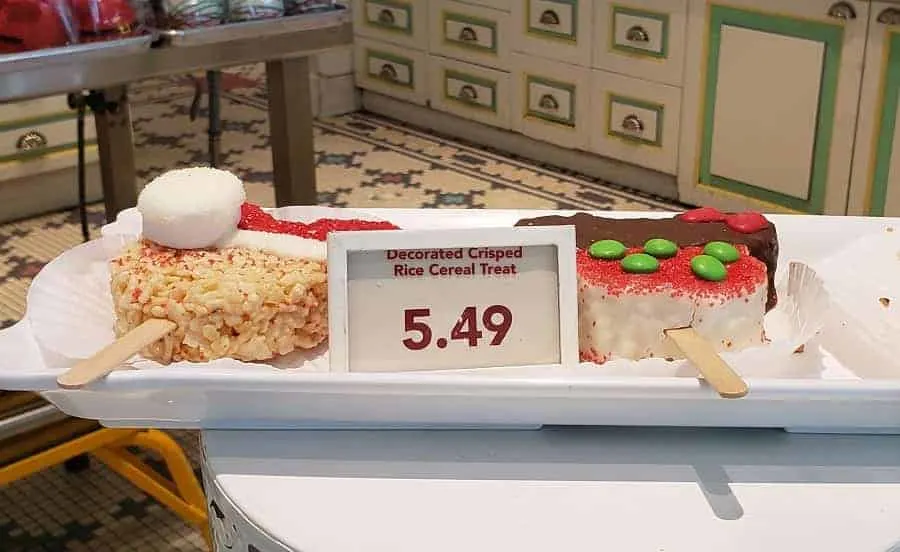 5. Rice Krispy Treats
If you happen to love Disney's Crispy Rice treats, you will find that there are several Christmas styles to choose from.
They come both fully & partially dipped in chocolate and with or without sprinkles.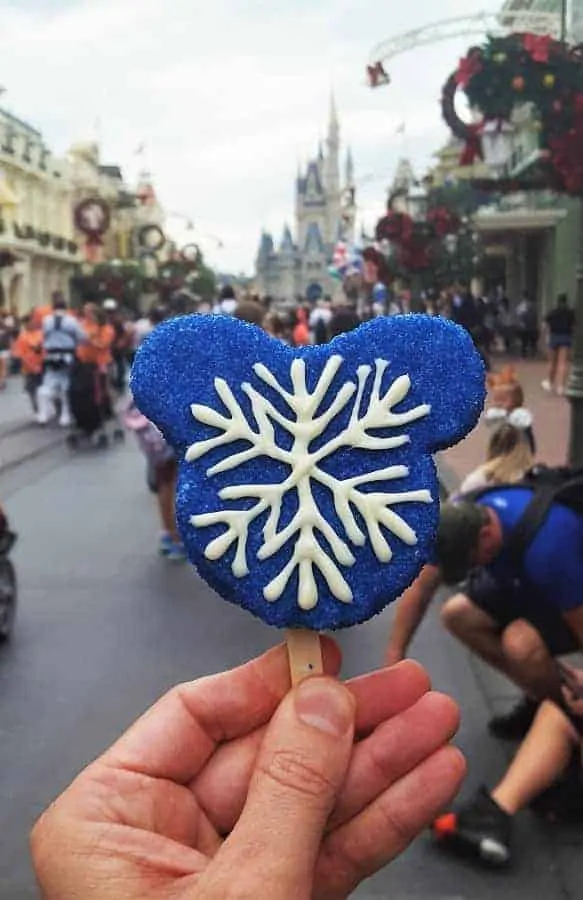 We are partial to this one that is a Mickey Mouse Snowflake.
15 Disney Christmas Treats to Try This Year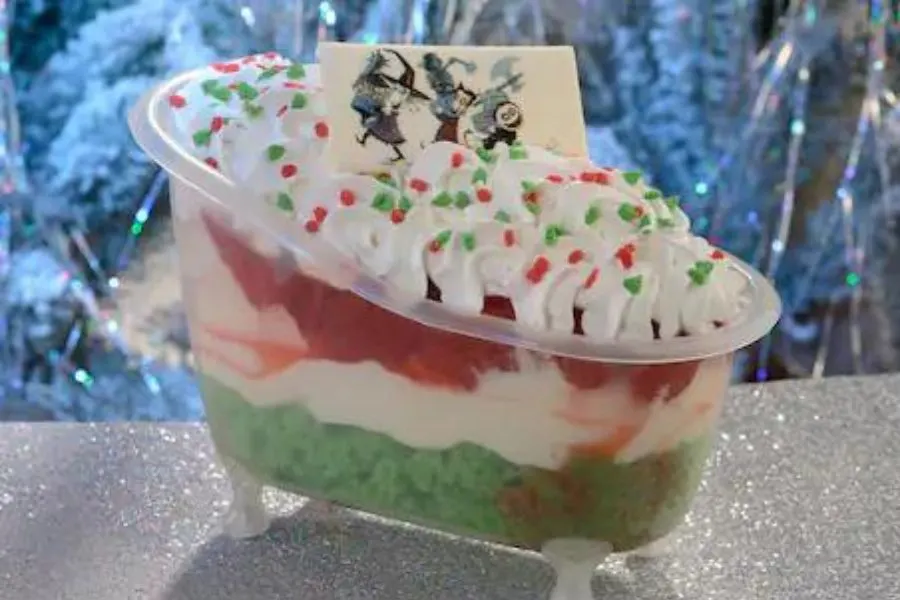 6. Lock, Shock & Barrel Sundae
If you are looking for a frosty treat, head to Auntie Gravity's Galactic Goodies in Magic Kingdom and grab this sundae.
It has a base of vanilla cake, and is topped with vanilla ice cream, strawberry topping, whipped cream, and Christmas sprinkles with a Lock, Shock, and Barrel chocolate.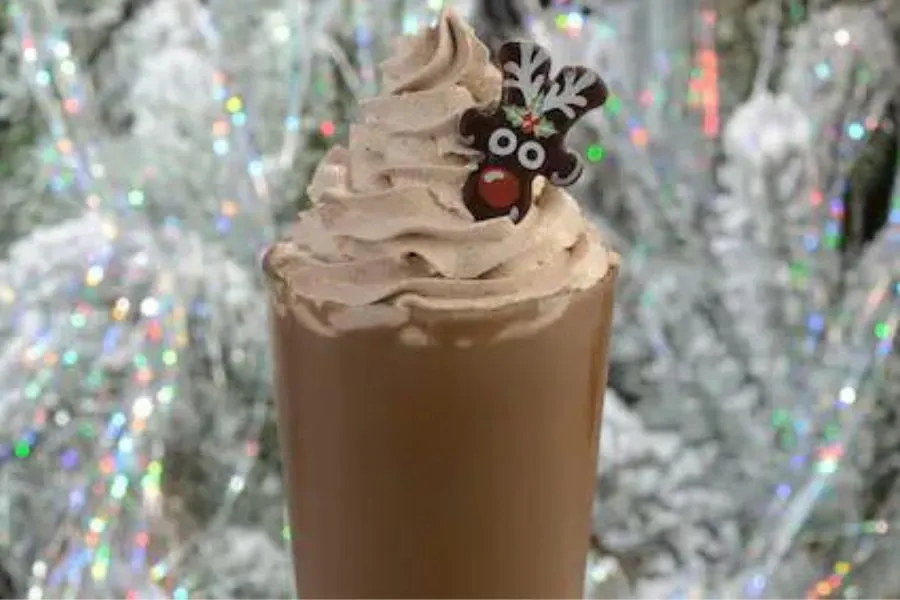 7. Chai Caramel Freeze
Over at Golden Oak Outpost in Magic Kingdom you will find the NEW Chai Caramel Freeze. This frosty treat is made of Salted caramel freeze with chai spiced whipped cream and topped with a chocolate reindeer.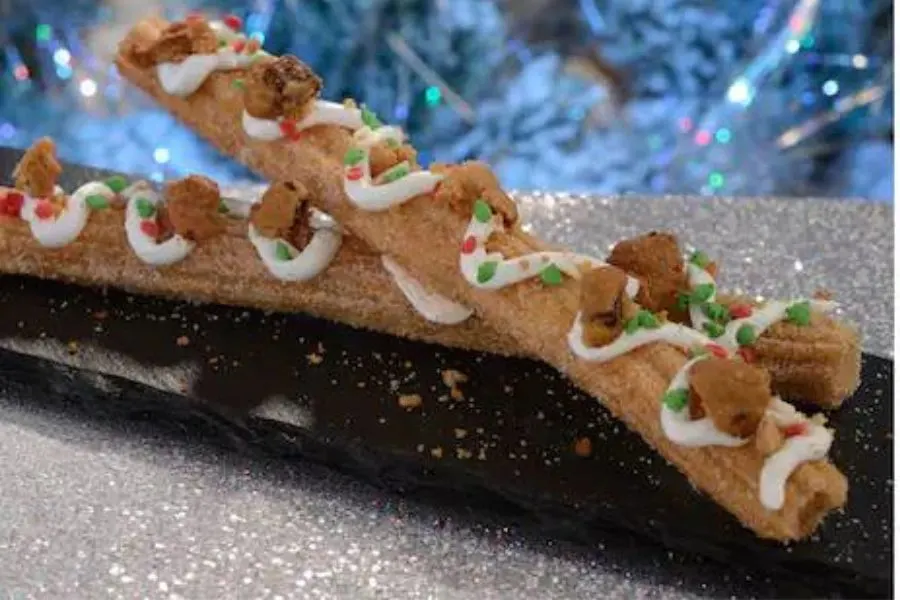 8. Christmas Cookie Churro
Who doesn't love a Disney Churro? During Christmas, you will find both the traditional churro and the Christmas Cookie Churro which is a normal churro topped with marshmallow cream, cookie crumbles, and Christmas sprinkles
9. Christmas Wreath Doughnut
If you are looking for a tasty doughnut, look for one of the carts along Main Street USA in Magic Kingdom serving these red velvet doughnuts topped with green buttercream and Holiday sprinkle decorations.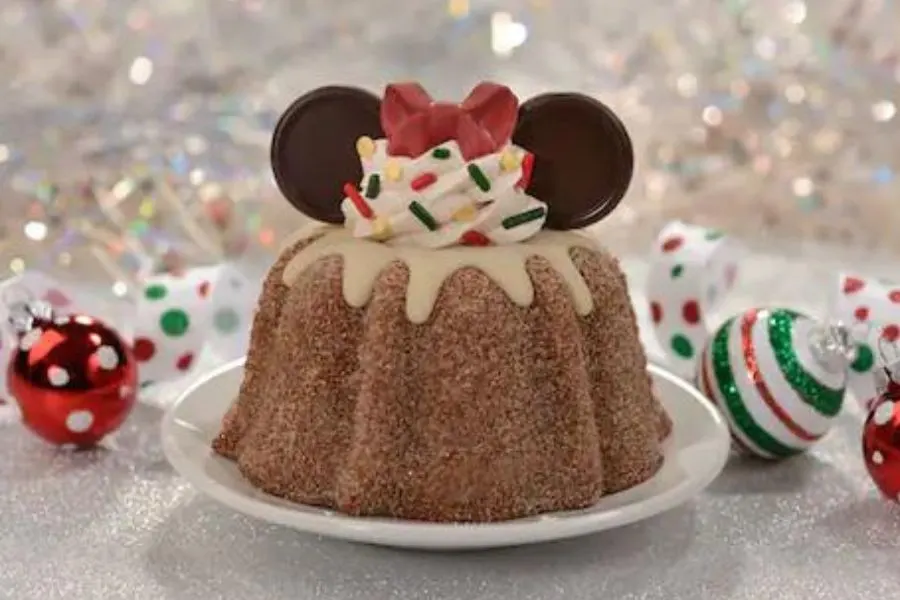 10. Holiday Minnie Mouse Bundt Cake
You will need to visit ABC Commissary in Hollywood Studios to try this spiced bundt cake.
It is rolled in cinnamon and sugar and filled with apple pie filling and then topped with spiced maple buttercream and salted caramel icing.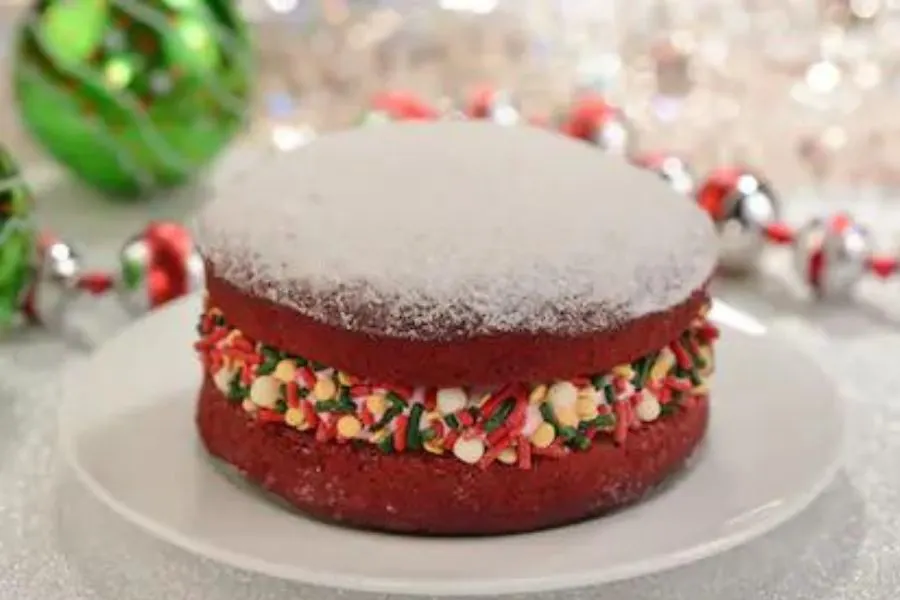 11. Red Velvet Whoopie Pie
Head to Backlot Express in Hollywood Studios to grab this Red Velvet Whoopie Pie that is topped with candy cane buttercream and holiday sprinkles.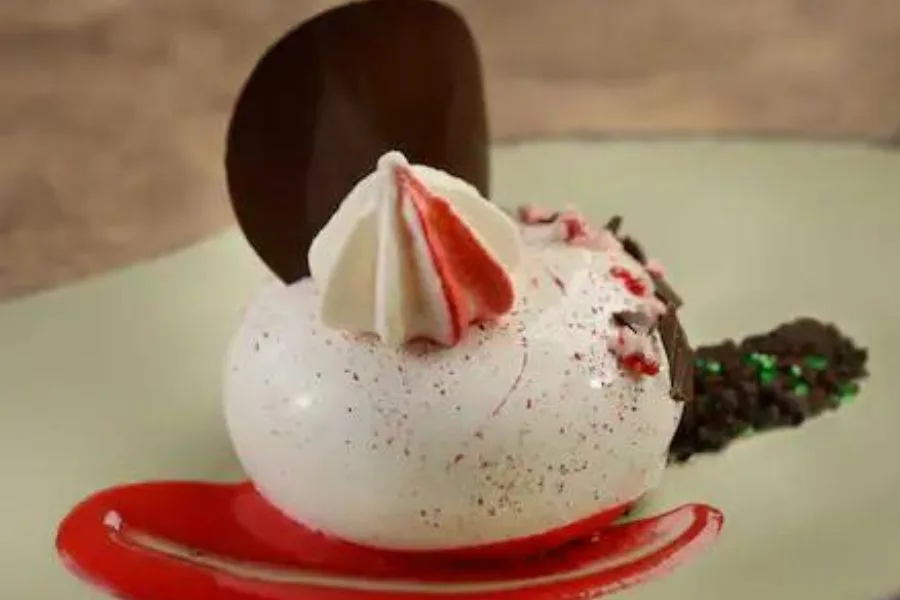 12. Peppermint Cream Cheese Mousse
You'll find this Peppermint Cream Cheese Mousse with peppermint sauce, peppermint candy pieces, and chocolate "dirt" at Satu'li Canteen in Animal Kingdom.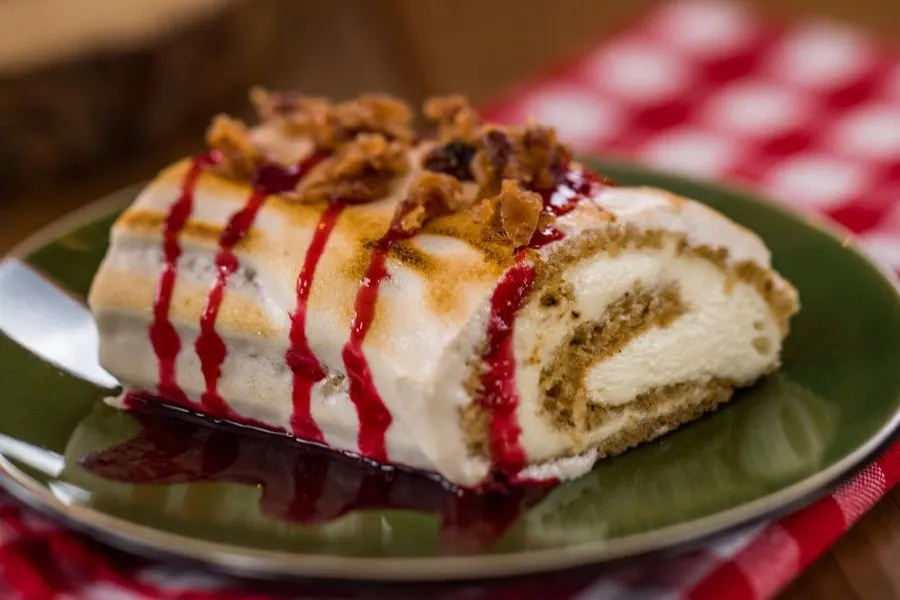 13. Maple Bûche de Noël
EPCOT's International Festival of the Holidays is filled with great Disney Christmas treats. One that you will want to try is the Maple Bûche de Noël at the Odyssey Pavillion.
It is maple mousse and cranberry rolled in gingerbread chiffon cake.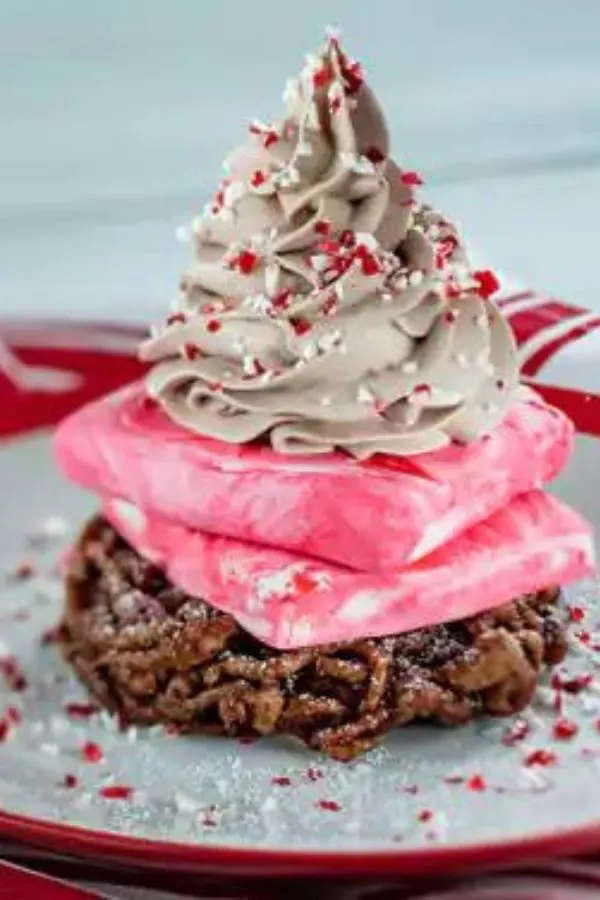 14. Peppermint Funnel Cake
American Adventure Pavilion in EPCOT is the place to go for funnel cakes. During the holidays, you will find this Mini Funnel Cake topped with Peppermint Ice Cream, Chocolate Whipped Cream, and Crushed Peppermint.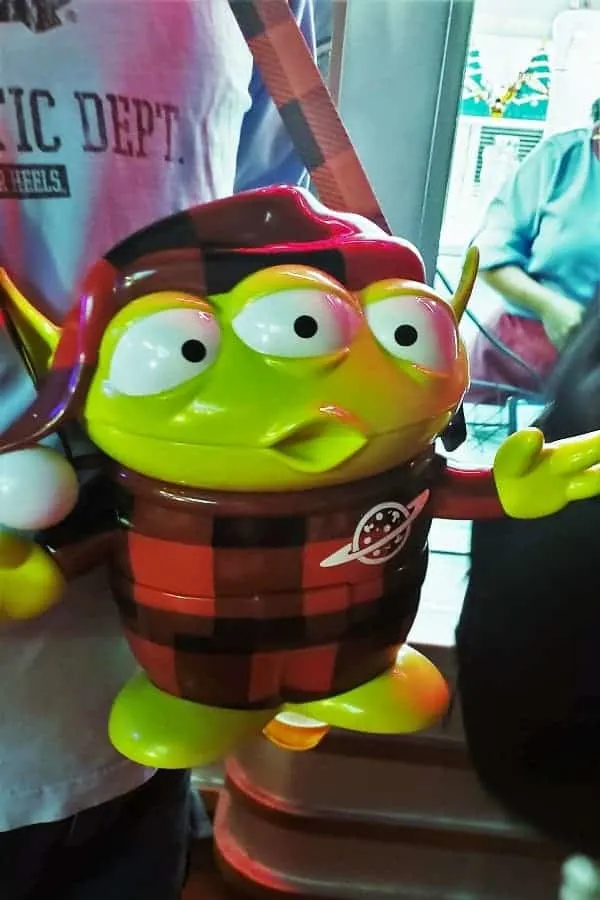 15. Disney Pop Corn Bucket
When it comes to Disney World holiday food, don't overlook the popcorn. If you love getting popcorn at Disney, then you might want to get a Pop Corn Bucket at Disney!
Each Disney park has different buckets and they do sell out, but if you can grab one, you can use it for years to come!
They cost around $25, but you can get refills at any park for only a few dollars!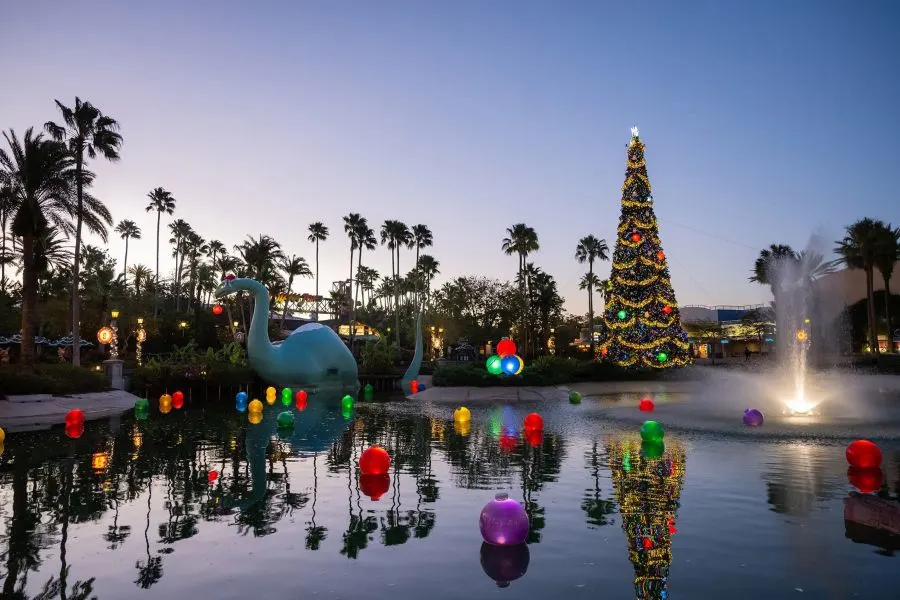 If this doesn't get you excited about spending the holidays in Disney World, I'm not sure what else will! Are you planning to visit Disney World this holiday season?