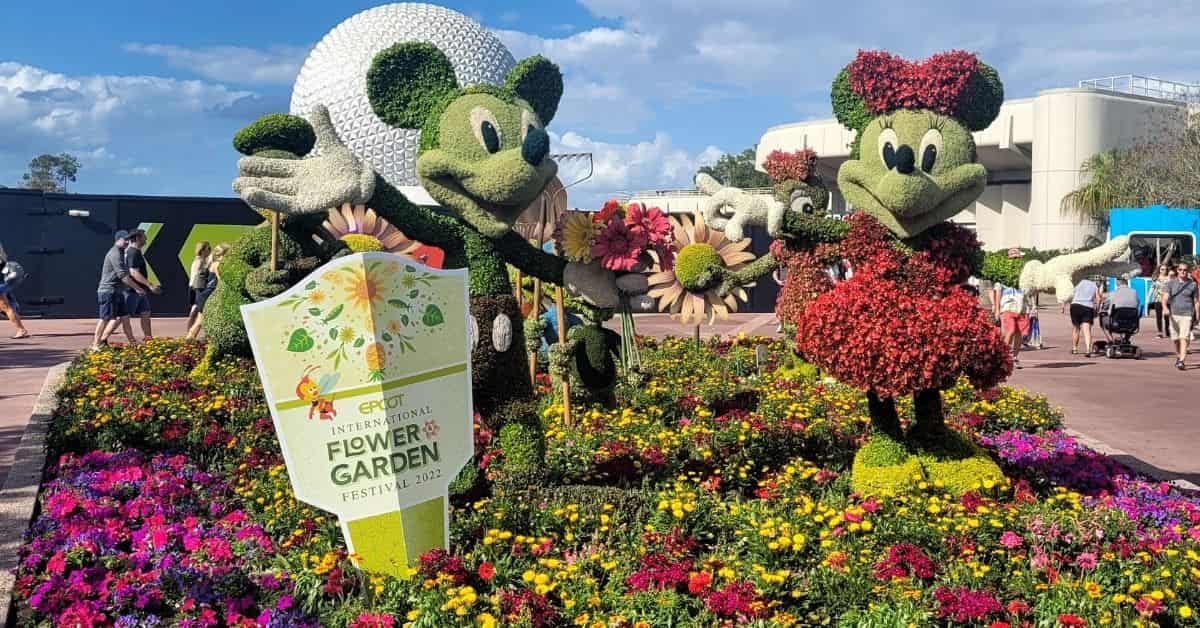 From March 2- July 4, 2022, guests will be able to experience many things while at EPCOT this Spring, including new topiaries, live music and open air kitchens!
2022 EPCOT Flower and Garden Festival
If you have never been to EPCOT during the Flower & Garden Festival, you are in for a real treat. The key to having the best experience is knowing what not to miss. Here is what you can expect to see and some great tips to help you navigate the festival.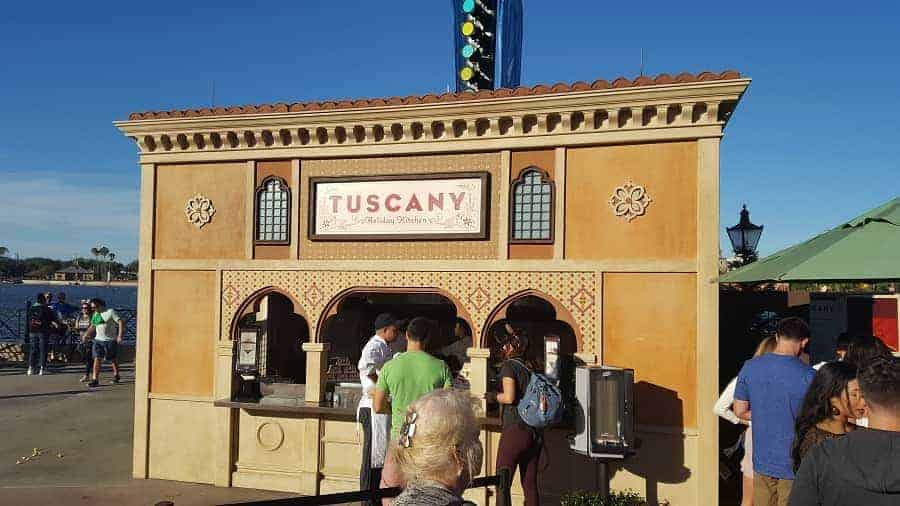 Outdoor Kitchens
One of the best things to do at EPCOT is to visit the outdoor kitchens that give sample selections of food and drinks.
It is a great way to try things you might not ordinarily taste.
This year, you will find some old favorites and some new options:
Bauernmarkt: Farmer's Market (Germany)
Venture to Germany for Bavarian bites & biers!
Cider House (Located Near the United Kingdom)
Behold buzz-worthy ciders and artisanal small bites.
The Citrus Blossom (Near Port of Entry)
Treat your taste buds to delicious dishes and beverages that showcase bright citrus fruits like lemon, orange and grapefruit.
EPCOT Farmers Feast (Near Test Track presented by Chevrolet®)
Fuel up for a fun-filled day at EPCOT with hearty dishes and savory sides featuring farm-fresh ingredients.
EPCOT Sunshine Griddle (Near Test Track presented by Chevrolet®)
Enjoy delicious breakfast dishes like avocado toast and shrimp & grits.
Flavor Full Kitchen Hosted by AdventHealth (Between Imagination! and Refreshment Port)
Nourish yourself with flavorful fare made with healthy ingredients fresh from the garden.
Fleur de Lys (France)
Indulge in haute cuisine and boissons.
Hanami (Japan)
Journey to Japan for innovative plates crafted with culinary Zen—which pair beautifully with sake and Japanese-inspired cocktails.
The Honey Bee-stro Hosted by National Honey Board® (Near Port of Entry)
Find an incredible menu of foods and beverages infused with HONEY!
Jardin de Fiestas (Mexico)
Find plenty of small bites filled with your Mexican favorites!
La Isla Fresca (Between Morocco and France)
Nibble on Caribbean-seasoned dishes that'll send appetites swaying to the island beat!
Lotus House (China)
Sink your teeth into authentic Chinese eats!
Magnolia Terrace (American Adventure)
Get a taste of the bayou as you savor classic comfort food of the American Gulf Coast.
Northern Bloom (Canada)
Discover palate-pleasing fare from Canada!
Pineapple Promenade (Near Port of Entry)
Get your tropical fruit fix from tart 'n' tangy to the sweetest frozen treats inlcuding everyone's favorite, Dole Whip!
Primavera Kitchen (Italy)
Small plate Old-Country dishes—like arancini and ravioli—served with a glass of wine.
Tangierine Café: Flavors of the Medina (Morocco)
Spice is the flavor or Morocco! Enjoy plenty of small bites that will have you salivating.
Trowel & Trellis Hosted by Impossible™ (Near Disney Traders)
Lookig for vegan & vegetarian fare? This is the place to go!
Additional Locations
Delight your appetite with mouthwatering morsels, nibbles and noshes from these year-round food stops.
Funnel Cake
Joffrey's Coffee & Tea Company
Refreshment Outpost
Refreshment Port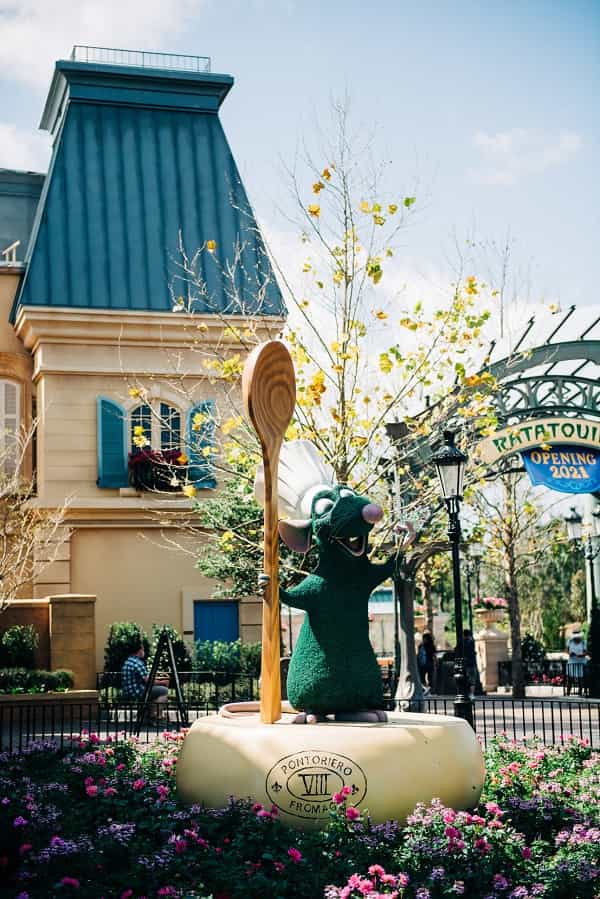 Visit the Topiary Displays throughout the park
This year you will find nearly 100 individual topiaries throughout EPCOT, including floral sculptures of Disney characters as well as fanciful gardens. Highlights include:
Sorcerer Mickey Mouse at the park's main entrance
Lady and the Tramp in the Italy pavilion
Anna and Elsa in the Norway pavilion
Remy in the France pavilion
Tinker Bell and the Fairy Houses in the United Kingdom pavilion
Spike's Pollen Nation Exploration family scavenger hunt
If you have kids with you, make sure they take part in Spike's Pollen Nation Exploration! It's a great way to keep kids engaged while you are enjoying the different gardens throughout EPCOT.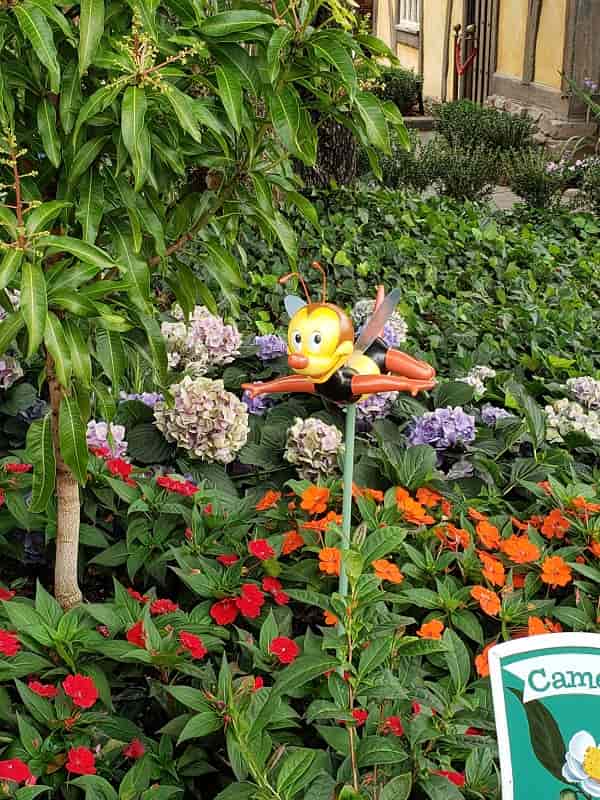 You'll be searching for Spike, a friendly little honey bee who is hiding in the gardens throughout EPCOT.
Goodness Garden Butterfly House
This year it is in a new location between The Land and Imagination! There you will find nearly 1,000 native butterflies in the garden's two dozen nectar plants.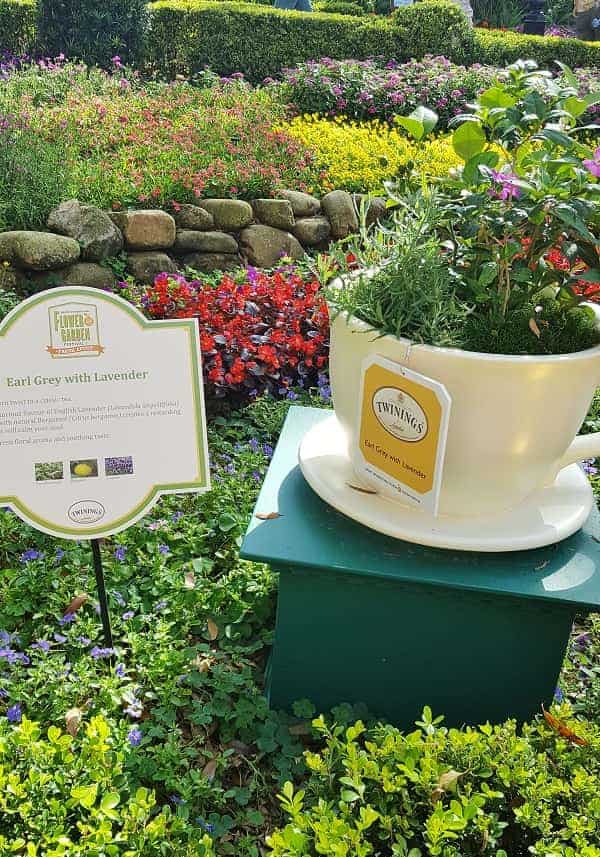 The Royal Tea Garden Tour
Each festival morning at the United Kingdom pavilion\guests can follow a knowledgeable guide through a tranquil tea garden setting to learn the history and artistry behind growing and blending tea (there is a fee).
A post-tour treat of tea and scones is included.
The shorter, complimentary English Tea Garden Tour presented by Twinings of London also will be offered on select days.
2022 Garden Rocks Concert Series
There is live music this year. Here is who you can expect to see:
The Guess Who March 4 & 5
Rick Springfield March 6 & 7
Melina León – NEW to Garden March 11 & 12
TBD March 13 & 14
Mike DelGuidice, currently on tour with Billy Joel – NEW! March 18 & 19
Kool & The Gang – NEW to Garden Rocks! March 20 & 21
The Orchestra starring former members of ELO March 25 to 28
The Spinners April 1 & 2
The Pointer Sisters April 3 & 4
Blue October – NEW to Garden Rocks! April 8 & 9
TBD April 10 & 11
TBD April 15 & 16
Don Felder, formerly of The Eagles April 17 & 18
STARSHIP featuring Mickey Thomas April 22 & 23
Claudia Leitte – NEW! April 24 & 25
Berlin April 29 & 30
TobyMac May 1 & 2
Blood, Sweat & Tears May 6 & 7
The Commodores – NEW to Garden Rocks! May 8 & 9
Ambrosia with Peter Beckett – NEW! May 13 & 14
TBD
May 15 & 16
A Flock of Seagulls May 20 & 21
Collin Raye – NEW! May 22 & 23
Thelma Houston – NEW! May 27 & 28
Little River Band May 29 & 30
Simple Plan June 3 to 6
Herman's Hermits starring Peter Noone June 10 to 13
Plain White T's June 17 to 20
TBD June 24 & 25
TBD June 26 & 27
Epcot Flower and Garden Festival Tips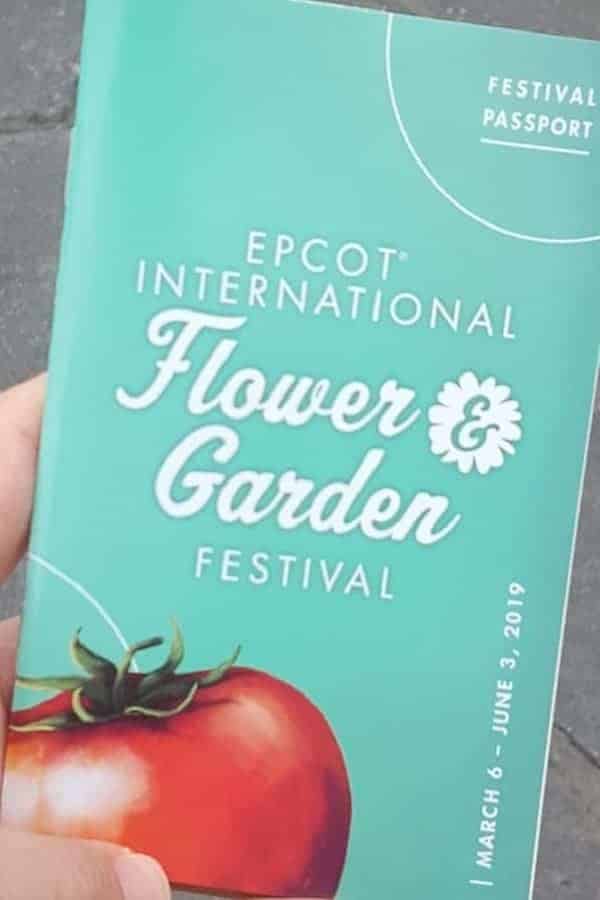 Pick up a Festival Passport when you get to the park. This guide to the Flower & Garden Festival will give you information on all of the different exhibits, food experiences and topiary displays throughout the park.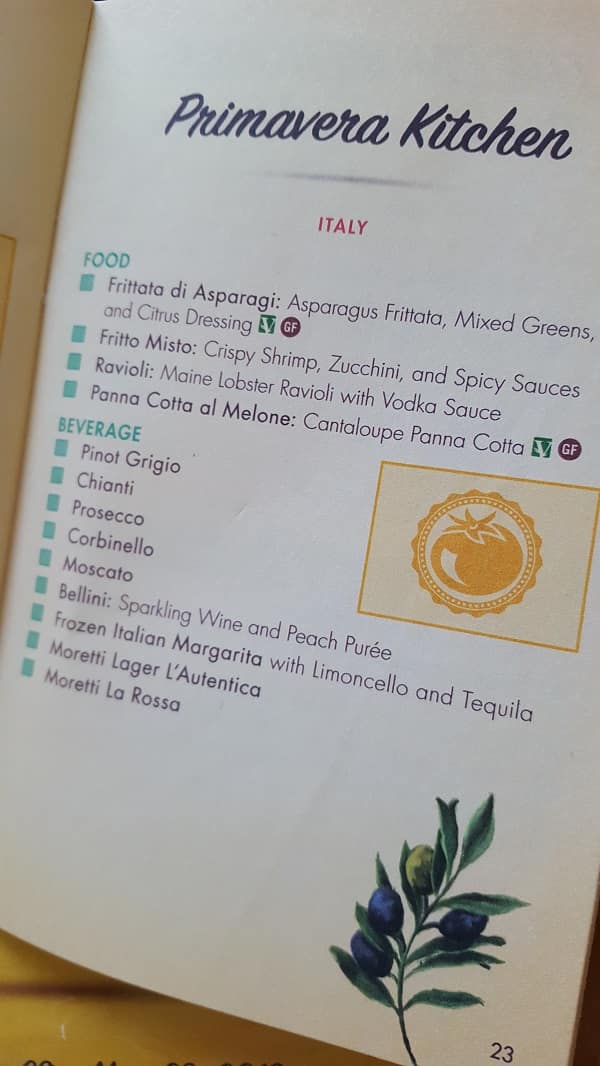 There is even an area in the Food & Garden Passport where you can check off the foods and drinks you have tried so you know what you really enjoyed.
Use your snack credits! If you are on the Disney Dining Plan, many of the samples qualify for snack credit.
This is also one of the only times of the year you will find the Dole whip at Epcot!
Don't miss your chance to try this delicious dessert only found at Disney!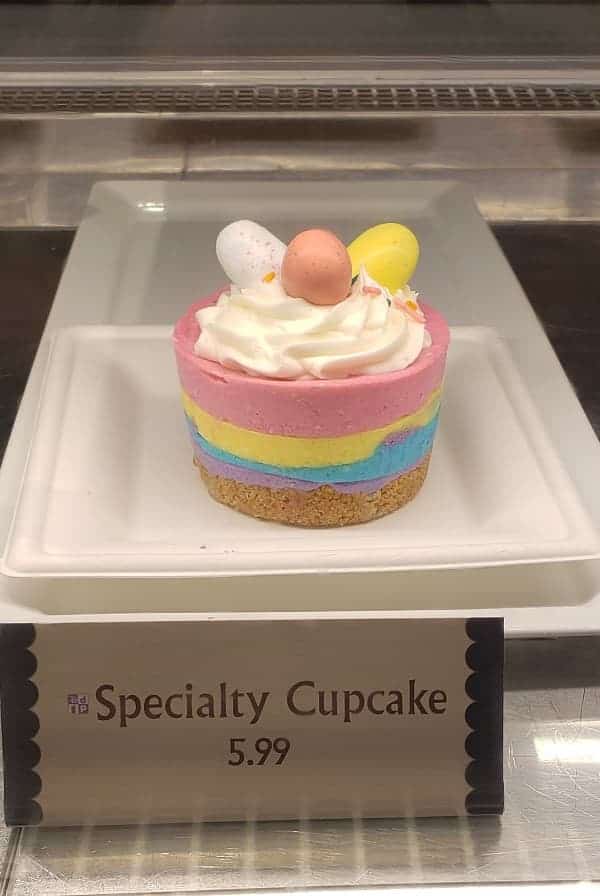 Look for seasonal treats. During spring months you will be able to find holiday treats that aren't available any other time of the year.
For example, if you are headed around Easter, you can try a special holiday cupcake!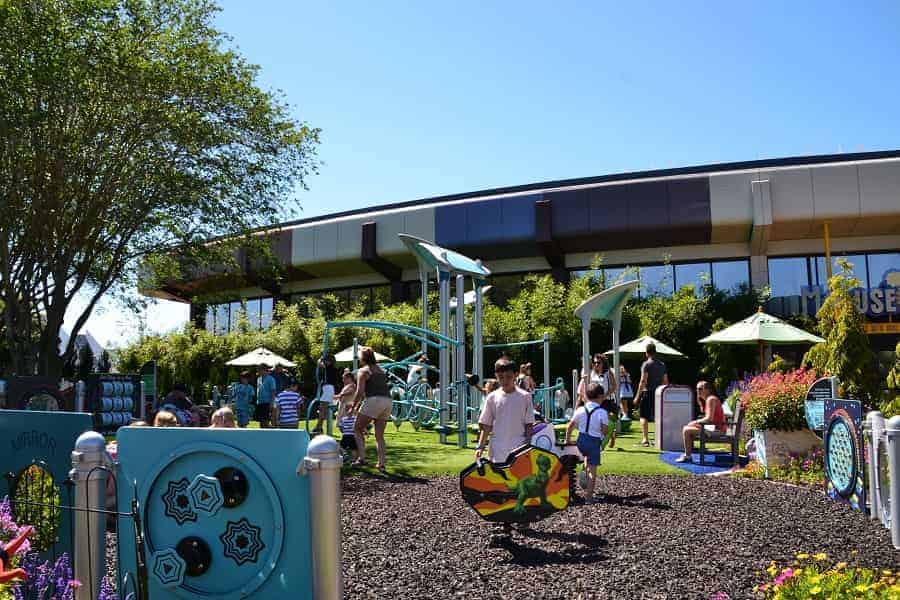 Fun things for kids to do! Kids will love visiting during the Epcot Flower and Garden Festival because they can choose from several Family Play Zones where they can climb and explore.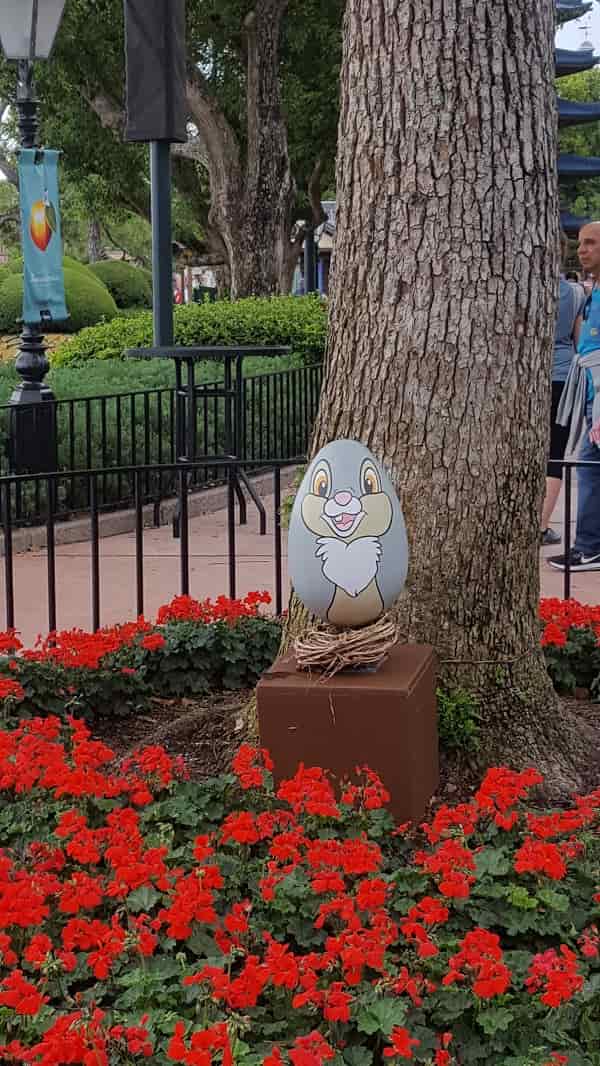 If you go to the Epcot International Flower and Garden Festival after March 18th, you can also take advantage of the Eggstravaganza Easter Egg Hunt where you search for Disney character Easter Eggs at EPCOT's World Showcase!
Kids will really enjoy doing this because at the end, they get a special souvenir!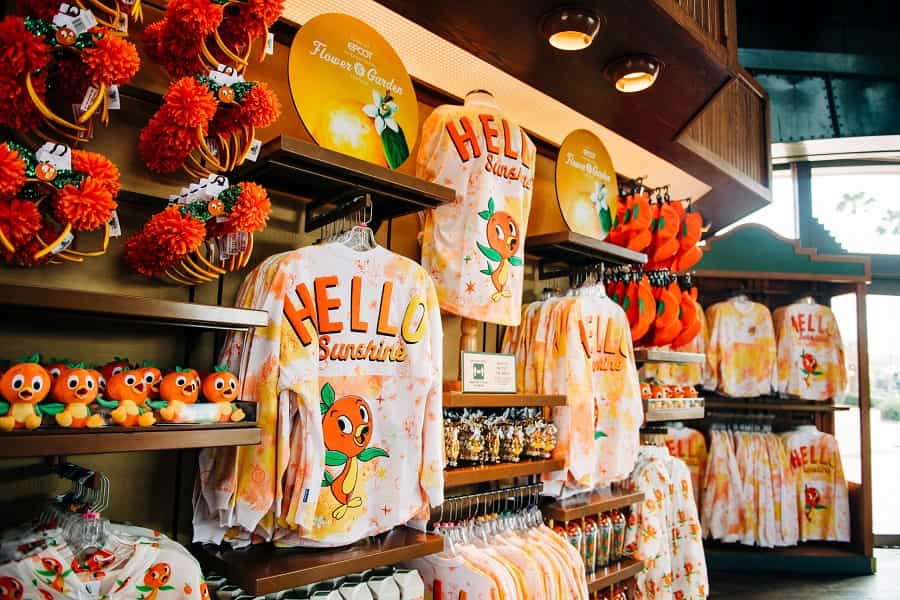 NEW 2022 EPCOT Flower and Garden Festival Merchandise. There are t-shirts, coffee mugs, pins and garden decor!
Even if you can't make it to the park, you can still buy some of the EPCOT Flower and Garden Festival merchandise online.
The EPCOT Flower & Garden festival is truly one of the best things about visiting Walt Disney World in the Spring.
Will you be going to the EPCOT International Flower and Garden Festival this year?