(We may earn a commission via affiliate links in this post. Read our full disclosure policy.)
This party has been replaced for 2021 with Disney After Hours BOO BASH, a three-hour event that begins when the park closes on select nights from Aug. 10 through Oct. 31.
If you are planning to go to Mickey's Not So Scary Halloween Party this year, you will want to be prepared. This is an expensive event to attend and in order to get your money's worth, planning is key. That means knowing all the Mickey's Not So Scary Halloween Party Tips!
Guide to Mickey's Not So Scary Halloween Party
This special-ticket event runs select nights Aug. 13-Nov 1. It doesn't occur every night, so be sure to check to see if it is going to be going on while you are there. You can see based on previous dates, when it will begin and end.
Mickey's Not-So-Scary Halloween Party 2020 Dates
August: 13, 18, 21, 25, 28.
September: 1, 4, 7, 11, 13, 15, 18, 20, 22, 25, 27, 29.
October: 1, 2, 4, 6, 8, 9, 12, 13, 15, 16, 18, 20, 22, 23, 25, 27, 31
November:1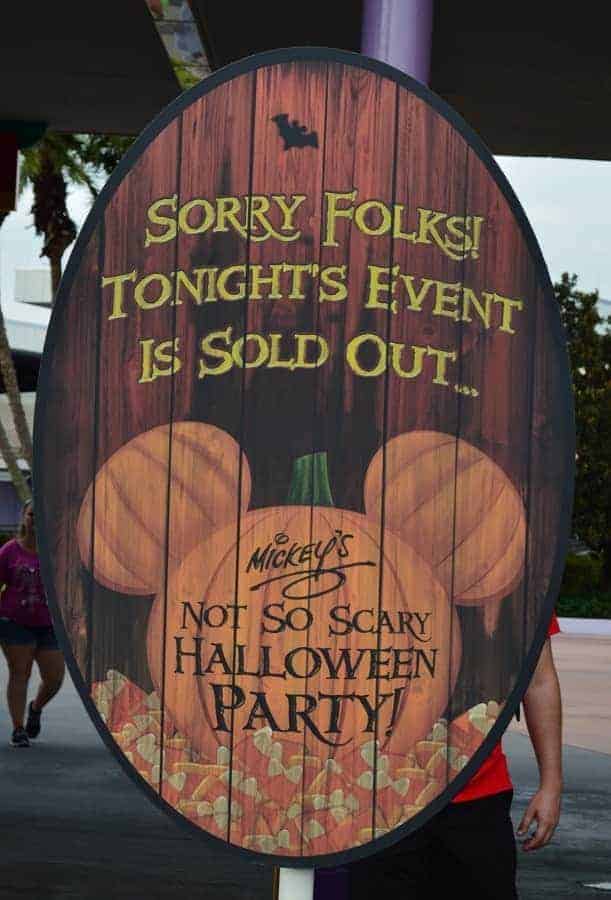 Believe me, I have seen it happen far too often; people will arrive the day of the party without tickets thinking they can just get them at the ticket counter. Instead, they will find signs posted that the party is SOLD OUT.
Don't let this happen to you!
Get your Mickey's Not So Scary Halloween tickets ahead of time (and at a DISCOUNT when you buy them through Undercover Tourist)!
Advance tickets start at $78 for adults and $73 for children ages 3-9 (plus tax). This is a savings of up to $19!
Choosing the Right Costume for Mickey's Not So Scary Halloween Party
Once you have your tickets, you are ready to start costume planning! EVERYONE young and old dresses up for Mickey's Not So Scary Halloween party.
Choose your costumes carefully. There are specific regulations in regards to costumes for adults so make sure you read THIS before you go.
Here are the Basic Disney Halloween Costume Rules:
GUESTS AGES 0-13
Costumes and some masks may be worn, as long as the mask does not cover the entire face and eyes are visible.
GUESTS AGES 14+
Layered costumes or costume props that surround the entire body are strongly discouraged and may be subject to additional security screening.
Costumes may not reach or drag on the ground. (e.g., full-length Princess dresses)
Capes may be worn if the length does not go below the waist.
Themed T-shirts, blouses, sweatshirts and hats are acceptable.
Acceptable accessories include: transparent wings, plastic light sabers, toy swords and tutus. Head wear may be worn as long as it does not cover the entire face.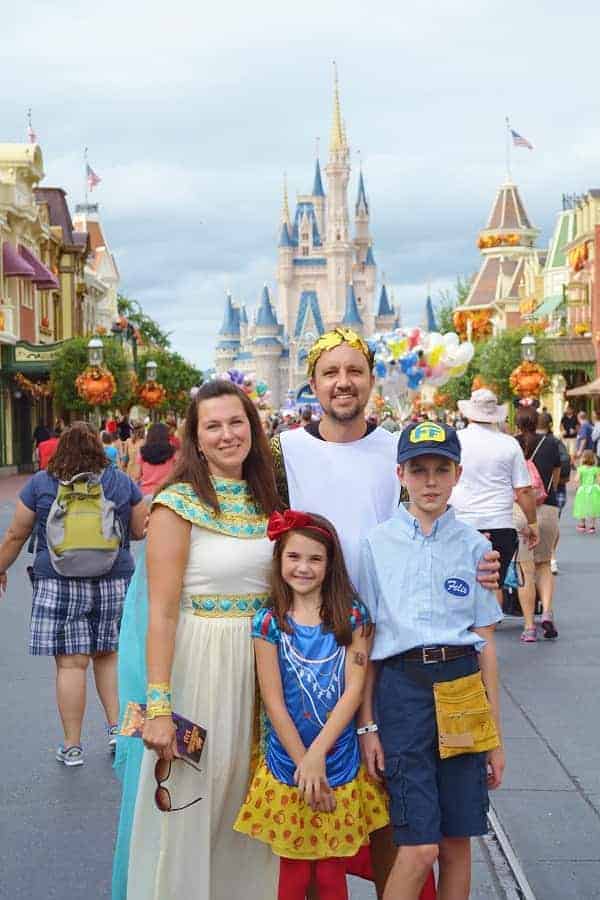 You will find that many families choose themed costumes. They might all come as Pirates or Monsters from Monsters Inc. Others, don't wear costumes at all!
We've got a whole list of really great Disney character costumes you can get inspiration from.
And if you don't want a costume, that's okay too! There are plenty of cute Disney Halloween shirts on the market!
Getting into Mickey's Not So Scary Halloween Party
When guests arrive for Mickey's Not So Scary Halloween Party, they will be given a special wrist band to let cast members know you have paid to be in Magic Kingdom for the party.
One of the first things people ask is how Disney does crowd control for events when people are already in the park.
If you are in Magic Kingdom the same day as they have Mickey's Not So Scary Halloween Party and DON'T have a ticket to the party, you will have to exit the park before the party starts.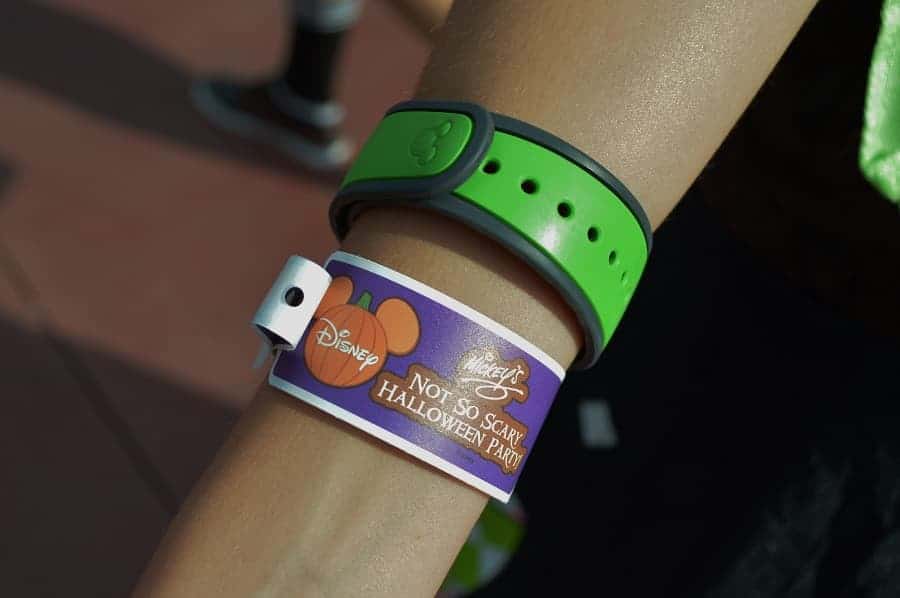 You will find that Cast Members will be looking for those bands as it gets closer for the park to close for non-party guests. If you don't have a wrist band, you will be told that it is time for you to leave.
They will also announce this to park guests several times on loud speakers closer to the time the Halloween party begins.
If you are already at the park ahead of Mickey's Not So Scary Halloween party and do have tickets to attend, you will find cast members in various locations in each of the lands scanning tickets and handing out wrist bands and treat bags.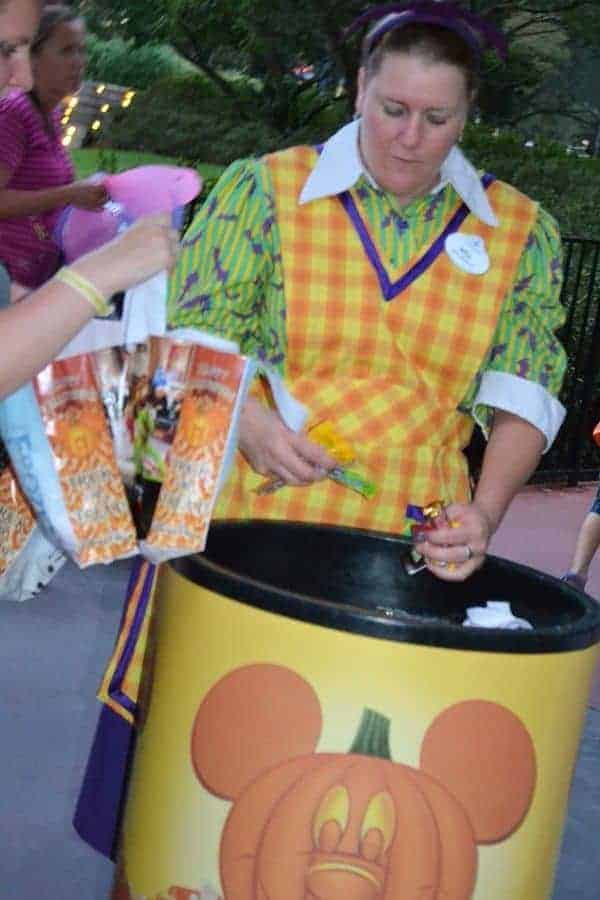 Trick or Treating at Mickey's Not So Scary Halloween Party
When you arrive at Mickey's Not So Scary Halloween Party, cast members will give each person a bag to collect their goodies.
You will find treat stops throughout the park (as listed on your map). Cast members are very generous with handing out yummy goodies so don't feel like you have to hit each treat location!
Your bag will be completely full after just a few stops!
If you have food allergies, be sure to check your map for peanut-free stops.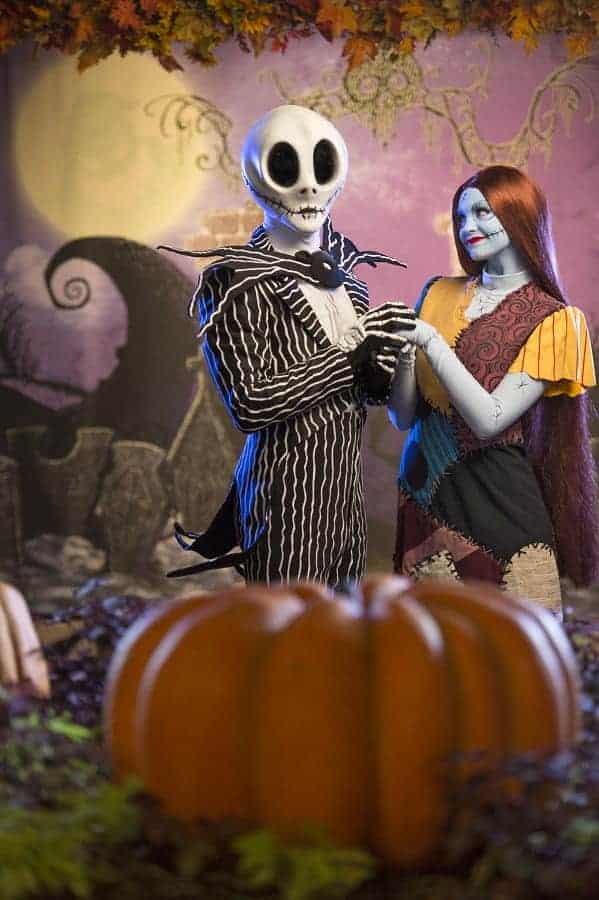 Halloween Character Meet & Greets
If you love character meet & greets, here is your chance to meet some Disney characters that rarely make an appearance (like the Disney villains).
Be prepared for some pretty long lines!
Luckily, if you grab some candy from the trick or treat stations, that will keep your kids distracted while you wait!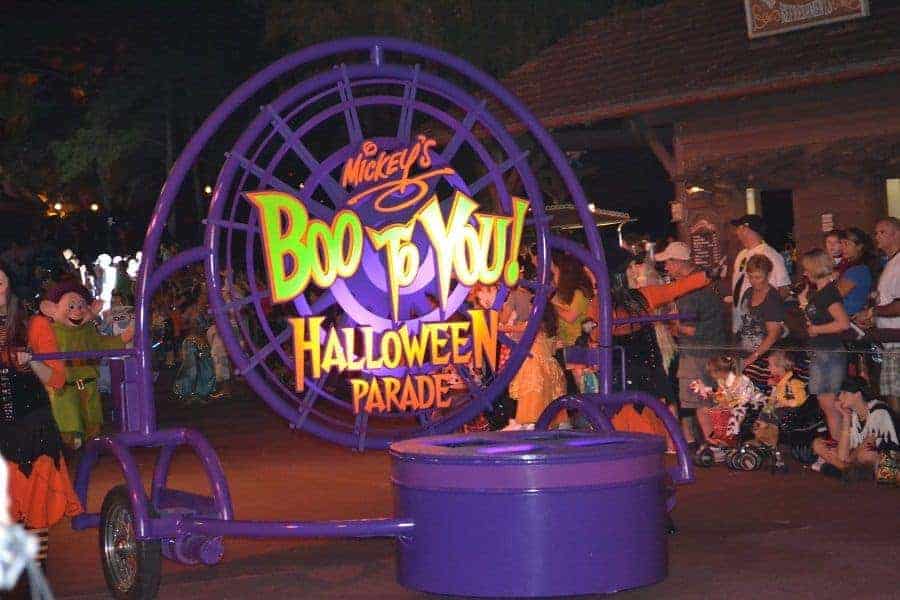 Boo to You Parade
One thing that is the true highlight of Mickey's Not So Scary Halloween Party is the Boo to You parade.
If you are planning to attend the parade, get a spot early so that you can see the Headless Horseman parade processional.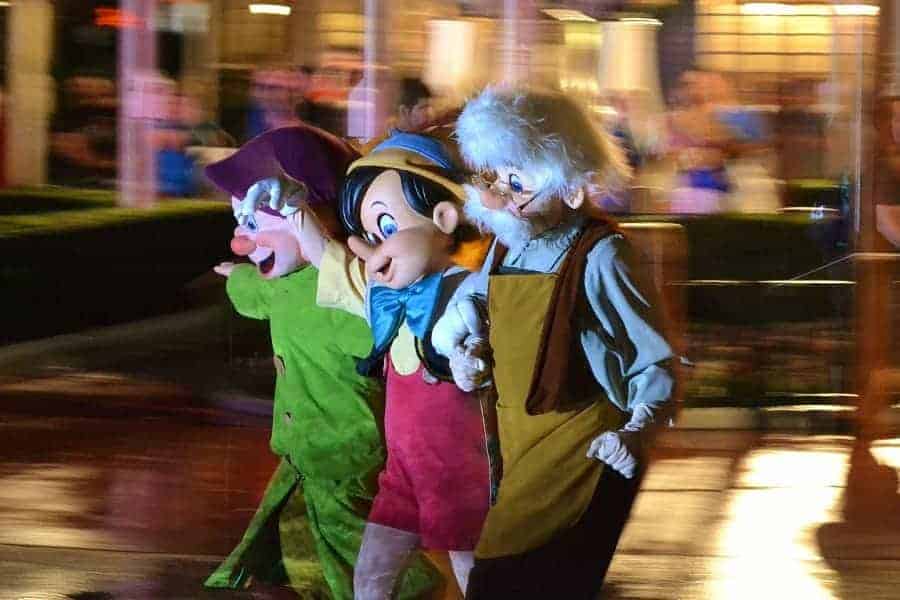 One of the best aspects to this parade is that you get to see all your favorite Disney characters dressed up in their own Halloween costumes and seeing characters that rarely make an appearance!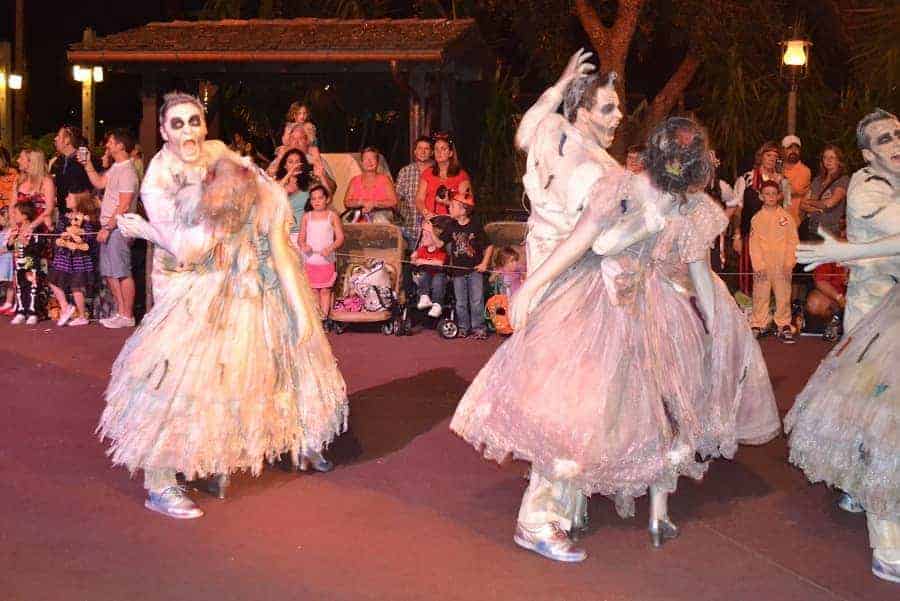 There are moments that the parade can be scary for the little ones. Prepare small kids in advance that they will see zombies & some of Disney's villains.
I believe that if you prep them in advance that it is all in good fun, that they won't be afraid.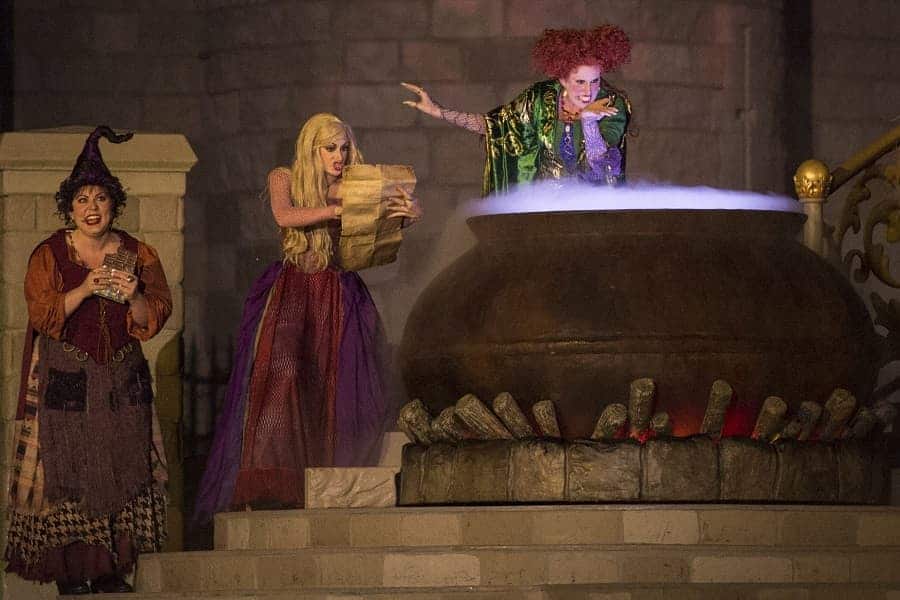 Hocus Pocus Villain Spectacular
If you love the movie Hocus Pocus, you won't want to miss the stage show at Cinderella Castle! The Sanderson Sisters will "put a spell on you."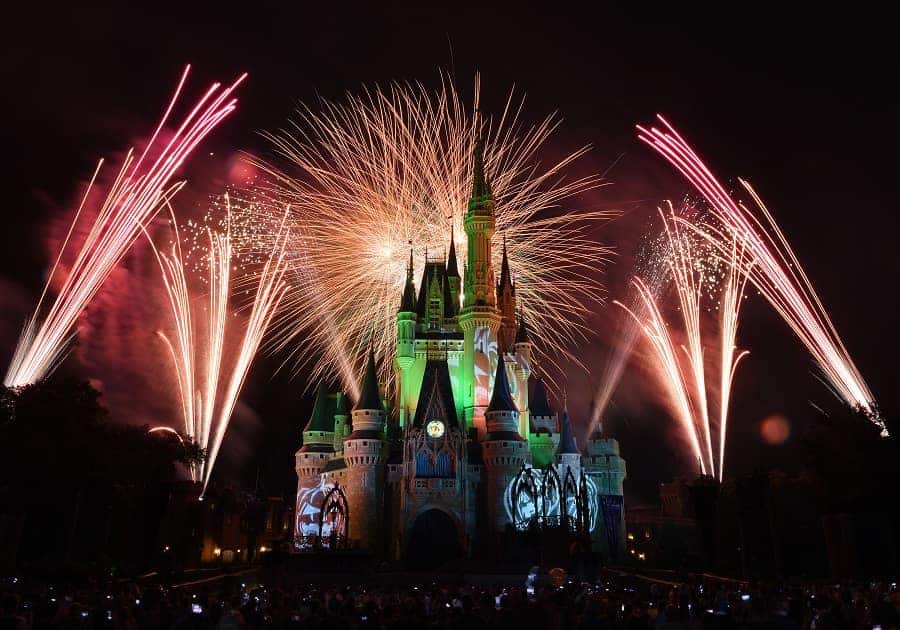 Happy HalloWishes Fireworks
At the end of the evening, you won't want to miss the stage show which ends with a beautiful Happy HalloWishes Firework Display.
Other things you can experience at Mickey's Not So Scary Halloween Party
On Pirates of the Caribbean, new pirates invade the experience, interacting with sailing guests who will join the search for Gunpowder Pete.
The Mad Tea Party will take guests on a colorful teacup ride, as special lighting and other effects put a glowing new spin on the night.
Explorers visiting Space Mountain will hurtle through deep space, as a new soundtrack and more transform the adventure.
Storybook Circus welcomes the Storybook Circus Disney Junior Jam, a dance party featuring favorite Disney Junior Characters, including Doc McStuffins.
In Frontierland, prospector Cactus-Flower Cate rounds up youngsters for the Frontierland Costume Promenade.
2021 Mickey's Not So Scary Halloween Party tips:
You can actually enter the park as early as 4pm!
Guests who were at the Magic Kingdom earlier in the day and didn't purchase tickets to Mickey's Not So Scary Halloween Party must leave by 7pm.
If you are already going to be at Magic Kingdom prior to the party, you will find wristband stations in the park.
You do not need to bring your own trick or treat bags, they are provided for you.There are trick or street stations throughout the park.
Don't go when they first start. The lines are ridiculous. Go after the parade for the quickest lines!
Grabbing dinner in the park? Not all restaurants are open. Be sure to look at the Halloween Party map to see which ones are open during the party.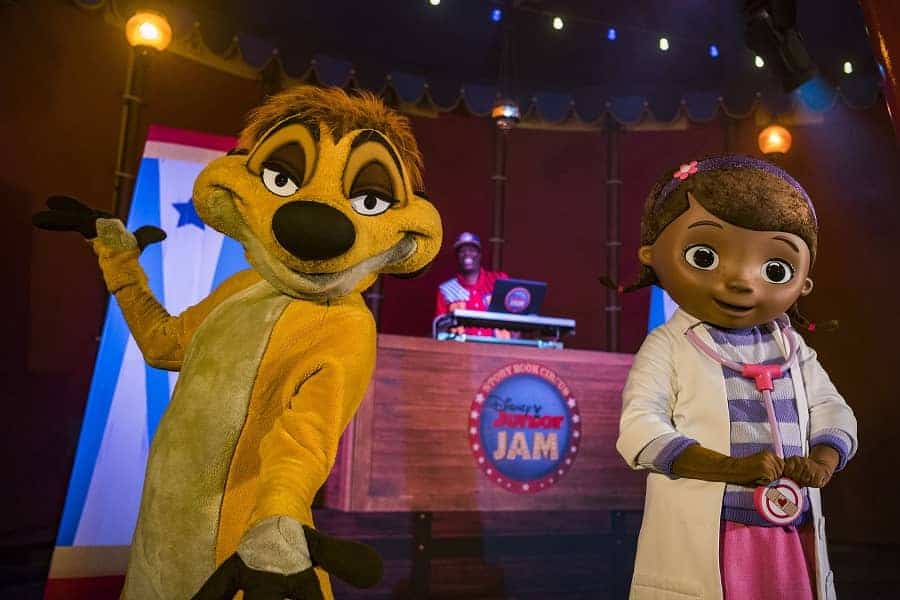 Want to meet characters? Plan to get to the line early and give yourself between 30 min-1 hour for the waiting time.
OR go to the all-new Storybook Circus Disney Junior Jam where you can dance with some of your favorite Disney characters.
Want a great parade view. You will need to find a seat 30-45 minutes prior to the start. This parade begins in Frontierland and runs through Main Street and begins with the headless horsemen.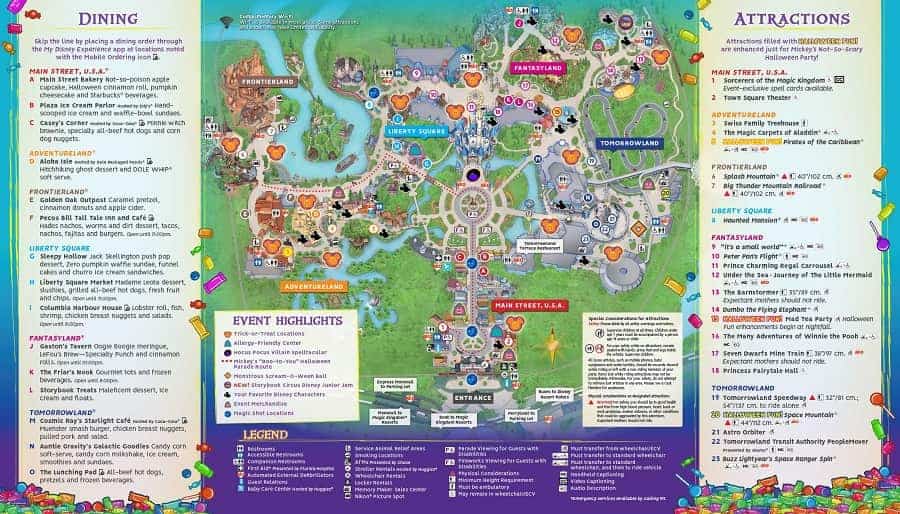 Not all rides are open and there are NO fast passes available during the party. You will find a list of attractions that are open on the park map.
There are special treats for Halloween and some are only available at the Halloween Party and only available at certain locations in the park.
Plan to stop and get your one of a kind treats while in these areas so you don't waste time running from one side of the park to the other.
You can score a FREE Limited Edition Sorcerer's of Magic Kingdom Card. Even if you don't plan on playing the game, you can score a FREE Halloween Party card!
Fantasyland is closed during the Fireworks, so ride those rides earlier in the evening.
If you wait in the line at Haunted Mansion, you might be surprised to find a ghost talking to the crowd!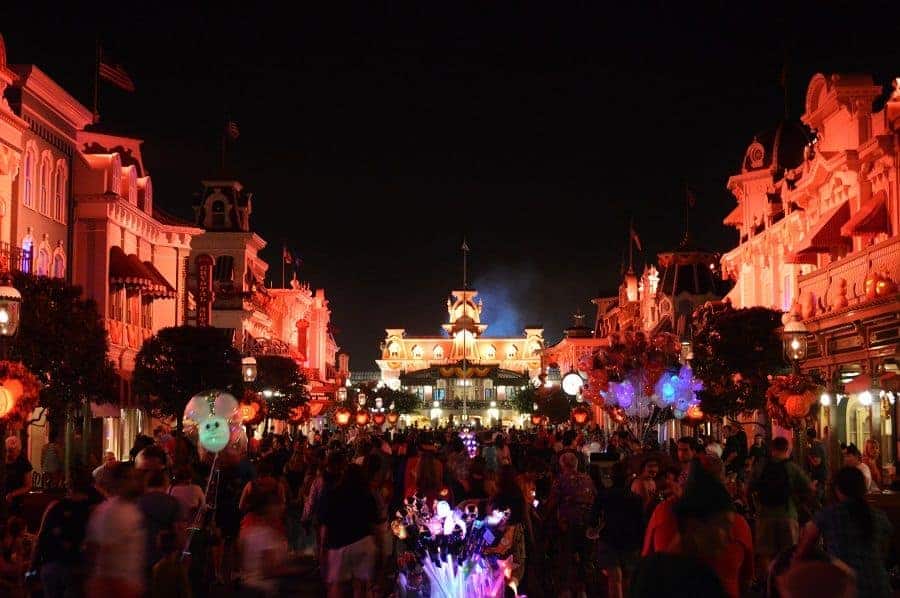 This is the one time of year the park can get very dark. I would suggest bringing lanterns, glow sticks, or small flashlights for little ones who are usually uncomfortable in dark settings.
We hope that these Mickey's Not So Scary Halloween Party tips help you to plan the most magical night ever! Have you been to Disney's Halloween party? What was your favorite part?