Many people go on vacation in the summer months and because of this, July is one of the busiest months at Disney World. If you are planning to visit Disney World in July, be prepared for crowds and hot weather!
Guide to Going to Disney World in July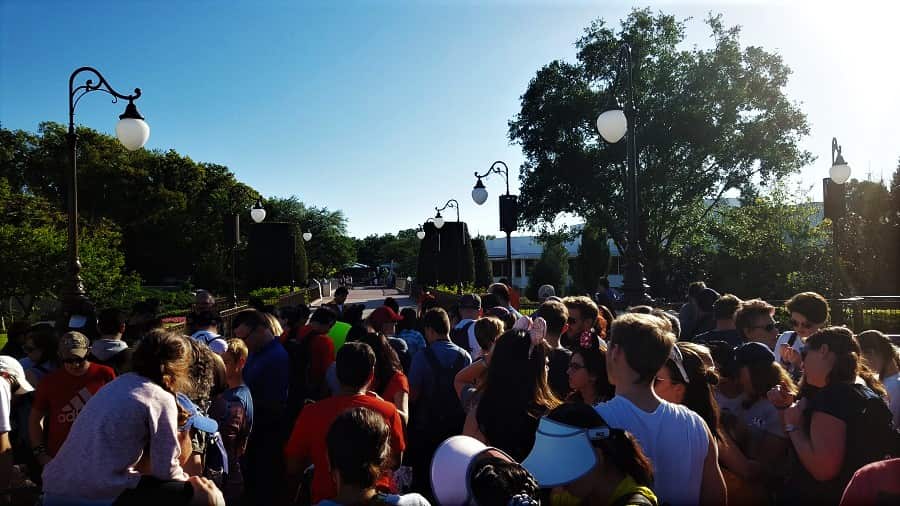 Crowds at Disney World in July
If you take a look at any of the Disney crowd calendars you will see that July is quite possibly the busiest month of the year.
What this means for you is that there are going to be long lines and some parks might even close due to too many people.
I suggest going to the park as soon as it opens. This will help you get the most out of your day.
Just make sure that you have those Disney Fastpasses booked because you are going to need them!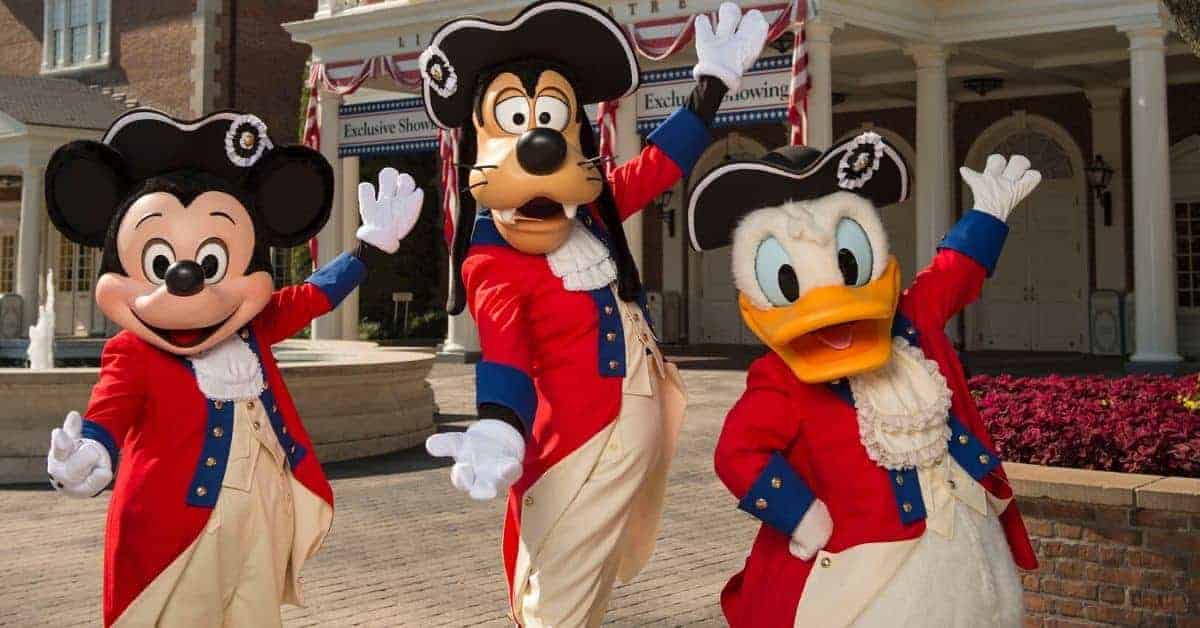 Disney World Events in July
Magic Kingdom Park
"Disney's Celebrate America! A Fourth of July Concert in the Sky" will offer booming fireworks orchestrated to patriotic melodies at Magic Kingdom Park on both July 3 and July 4 at 9:15 p.m.
Epcot
The Voices of Liberty will perform great American tunes during a Fourth of July concert on the America Gardens Theatre stage at 5:30, 6:45 and 8 p.m. on July 4. The group also will perform in the rotunda inside The American Adventure pavilion at 2 p.m. and 3 p.m.
Disney characters wearing "Spirit of 76" patriotic attire at The American Adventure throughout the day on July 4th.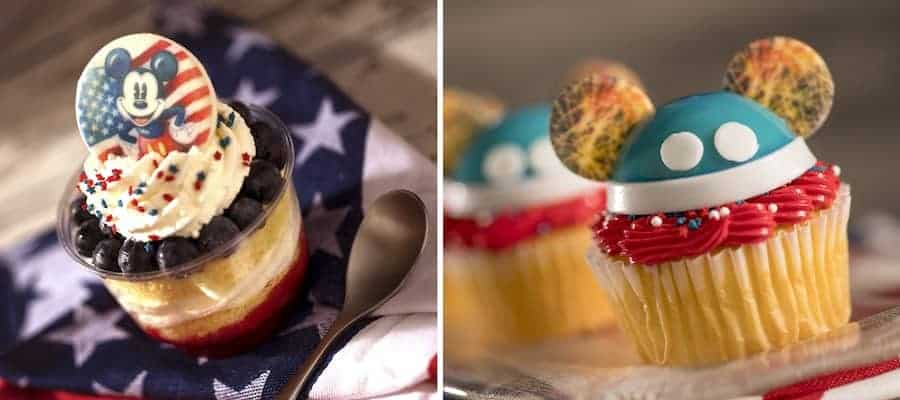 Disney World 4th of July Treats
Special 4th of July themed treats and drinks can be found at all the different Disney World parks, Resorts and even at Disney Springs in the month of July.
Here is a sampling of what you will find:
Berry Shortcake –Available July 4 at Sunshine Seasons: Fresh blueberries, strawberries, and whipped cream topped with patriotic sprinkles and a chocolate Mickey coin
Fourth of July Cupcake –Available through July 7 at Creature Comforts and Restaurantosaurus: Yellow cupcake with apple pie filling, buttercream, and chocolate fireworks
4th of July White Berry Sangria –Available July 4-7 at Tusker House Restaurant, Tiffins Restaurant, Dawa Bar, and Nomad Lounge: White sangria with blueberries and strawberries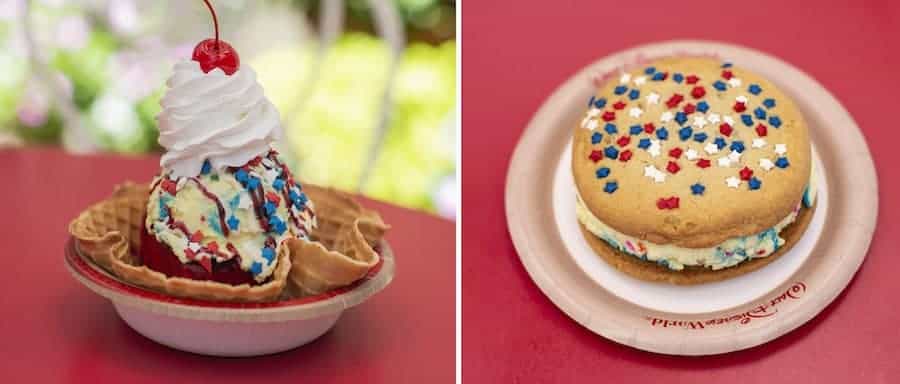 While many of the treats are limited to the 4th of July (and surrounding days) these treats can be found all month long:
It's a Party! Sundae at Plaza Ice Cream Parlor: Red velvet cake topped with birthday cake ice cream, vanilla sauce, raspberry sauce, whipped cream, a cherry, and red, white, and blue sprinkles
Sugar Cookie Sandwich at Plaza Ice Cream Parlor: Birthday cake ice cream sandwiched between two sugar cookies with red, white, and blue sprinkles
Disney Villains After Hours at Magic Kingdom Park
There are only has two dates in July:
Monday, July 6, 2020
Friday, July 10, 2020
Disney Villains after Hours is a special ticketed event where you get to visit Magic Kingdom after most of the other guests leave.
There are 20 attractions and experiences open for this special event. They include Haunted Mansion, Jungle Cruise, Pirates of the Caribbean, and Space Mountain, & Seven Dwarfs Mine Train.
The Event ticket also includes special ice cream treats, popcorn and soda.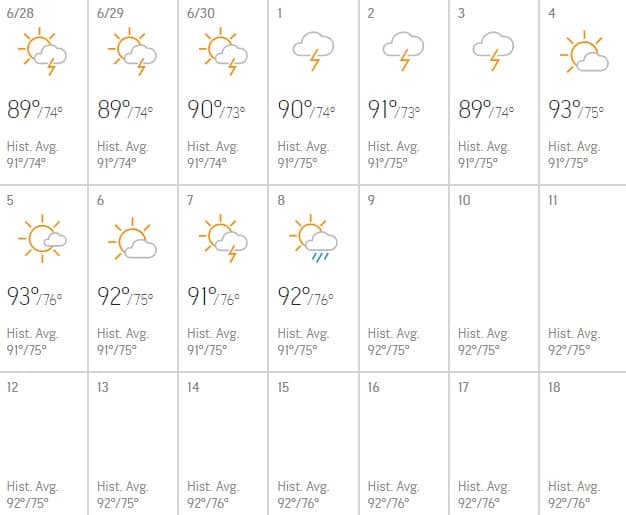 Weather in Disney World in July
July is HOT and HUMID.
The temps are going to be in the 90's all month and it is going to feel even hotter because of the intense humidity.
If you aren't familiar with Florida humidity, it is when you feel like you are sweating when you are standing still. It's sticky and at times, unbearable.
This is totally normal weather for Florida in the summer and you are going to have to do your best to stay hydrated and cool.
Thank goodness Disney is prepared with free cold water and misting fans that can be found throughout the Disney parks.
You can count on it raining at least once a day (usually in the afternoon), but don't dismay. The rain will pass and often rainy days make the crowds leave which means you can enjoy shorter lines.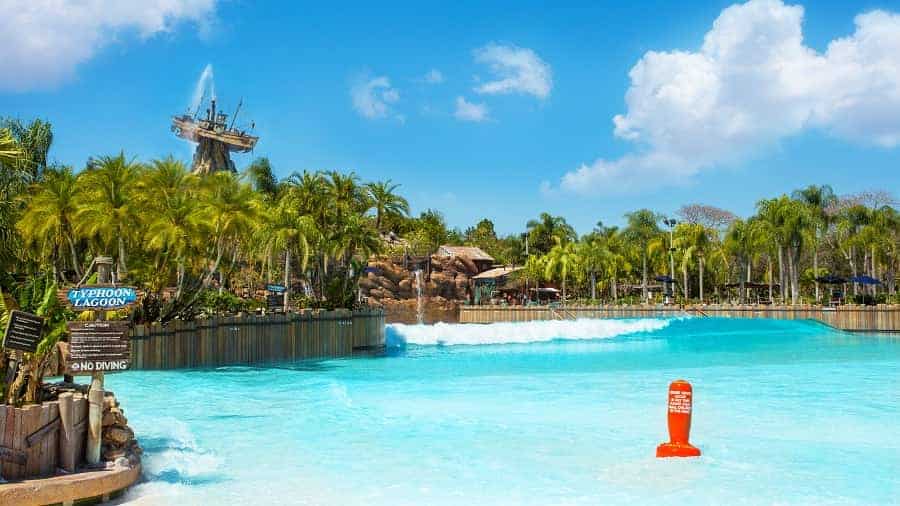 Visit a Disney Waterpark to Your Vacation
When visiting Disney World in July, you really should add on a trip to one of the two Disney waterparks.
You can go for the entire day, or spend half of the day in the park and then hit the waterpark in the afternoon.
Take a look at both Typhoon Lagoon and Blizzard Beach so that you can make an educated choice in which one is best for your family!
How do people survive in Disney World in July?
One of the most important things to do when you visit Disney World in July is to pack things that will help you stay you hydrated and provide you relief from the sun.
Summer Essentials for Disney World
These are the items I think are important to have with you when you are visiting Disney in the summer months:
Poncho. Let's face it, you are in Florida in July and you are going to see rain. Bring an inexpensive Rain Poncho so you won't have to buy one at the park!
Sunscreen. Apply sunscreen throughout the day. I bring a sunscreen stick because it is so easy to apply when you are on the go.
Misting Fans. These misting fans are perfect to cool you off when you are in line for a ride or waiting for the parade to begin.
Small towel. If you have to sit on pavement to watch the parade, you will be glad to have a towel. The black asphalt retains heat and you can easily burn your skin if you touch it.
Sunglasses/Hat. You won't want to be without your sunglasses or a hat in sunny Florida.
Insulated Water Bottle. While ice water is free at Disney counter service restaurants, I like to have my own light weight, insulated bottle that I am able to keep with me at all times. I just pour the free cold water in it when I need to refill
Freezable insulated lunch bag. I love these Packit bags because they keep everything cold!
Cooling towel. These cooling towels are amazing. Simply put a little water on them and wrap them around your neck. They turn icy cold and dry fast!
While it is hot and crowded during summer months, there is still plenty of fun to be had!
If you are still trying to decide on the best time to visit Disney World and haven't settled on July, be sure to check out all our Disney World crowd calendars.