While there are plenty of delicious treats in Disney World, when it comes to the best Disney World Ice Cream shop, there is only one choice: L'Artisan des Glaces in the France pavilion of EPCOT.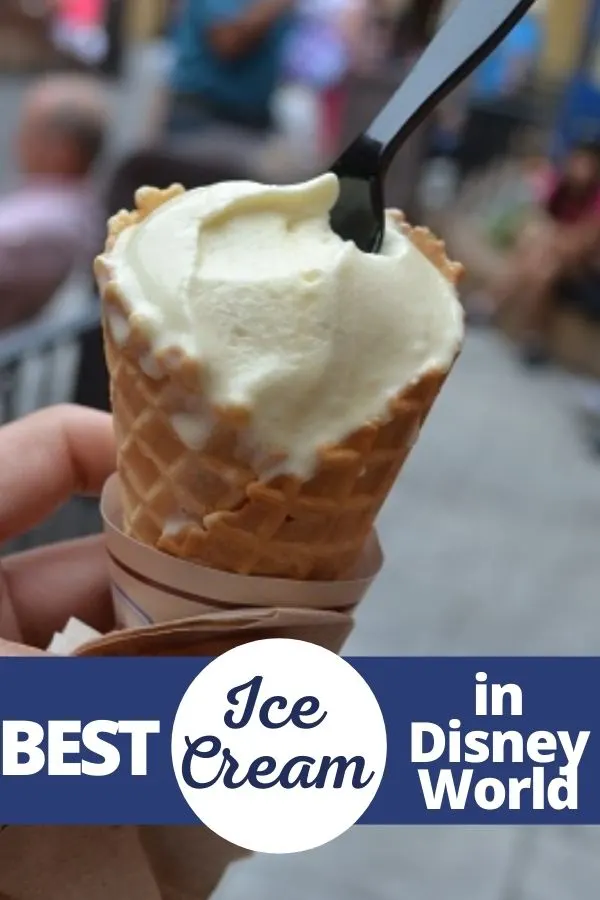 Best Disney World Ice Cream is at L'artisan des Glaces
L'artisan des Glaces has a dozen hand-churned ice cream and sorbet flavors along with other delicious desserts that are sure to please everyone.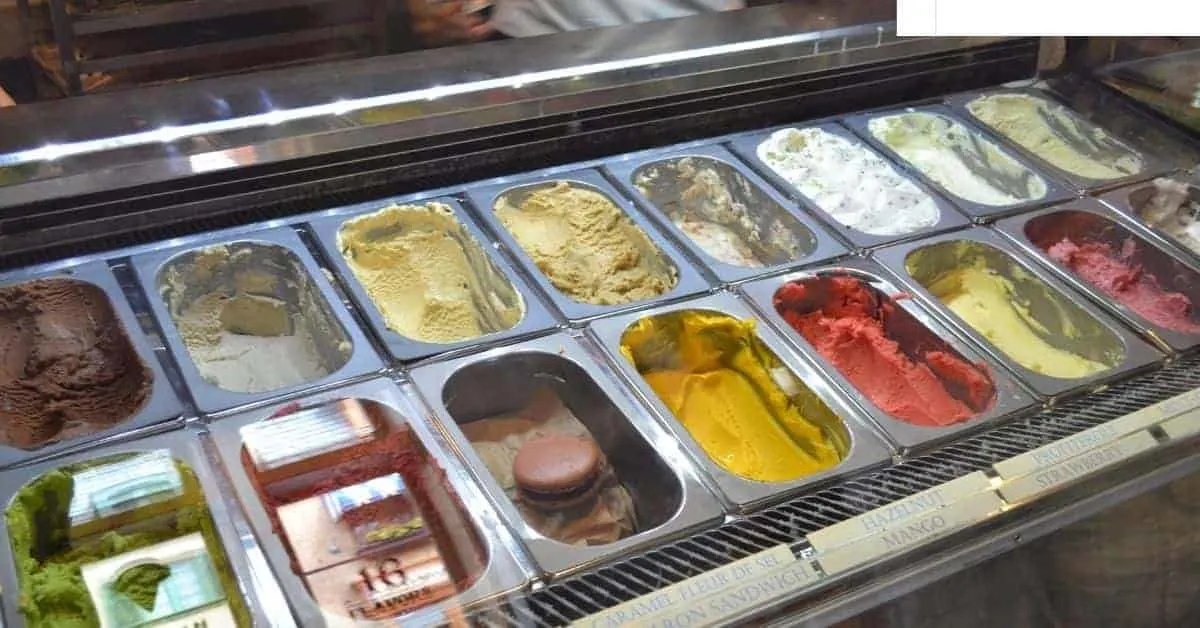 You will also find both Gluten Free and Dairy Free dessert options which is hard to come by at Disney World.
This is not your typical ice cream shop.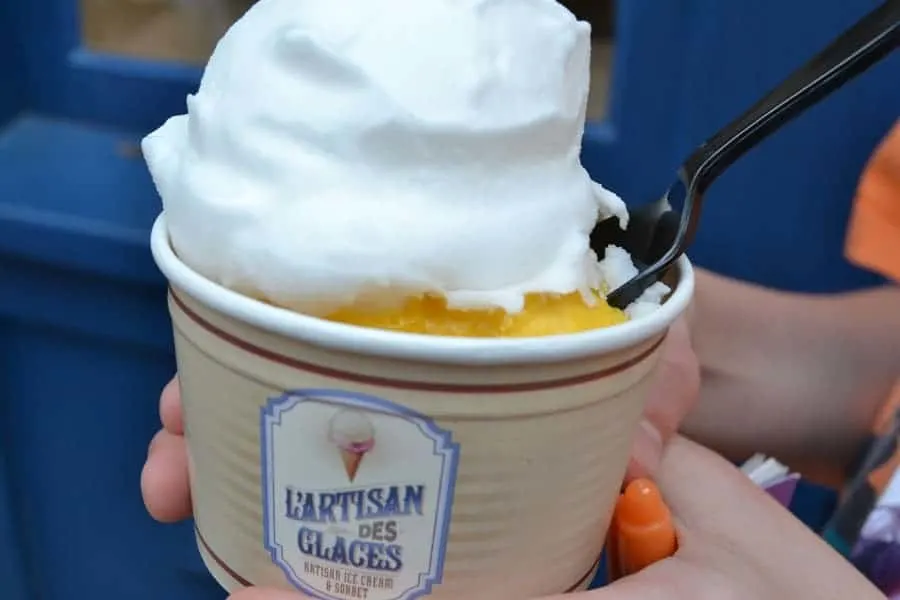 You will find the flavors rich and creamy, and if you are someone who appreciates a seasonal selection of tastes, the menu reflects ingredients that are in season.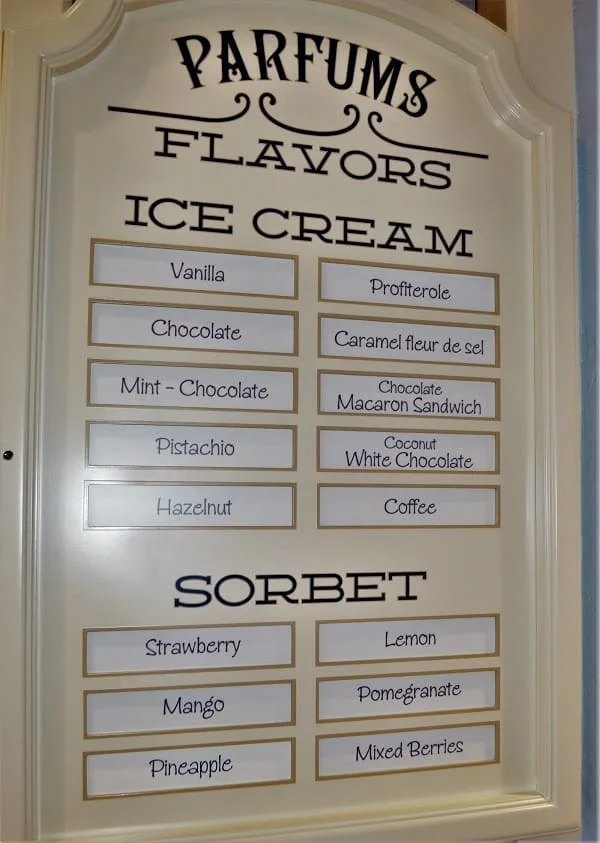 L'Artisan des Glaces Menu of Ice Cream & Sorbet Flavors
The flavors do change from time to time, but you will find a list of all current flavors inside the shop. Here are some of the flavors that they rotate:
Caramel Fleur de Sel Ice Cream
Coffee Ice Cream
Cinnamon with Caramelized Pecan Ice Cream
Cinnamon with Caramelized Apple and Crumble Crunch Ice Cream
Chocolate Ice Cream
Coco-white Chocolate Ice Cream
Mint-Chocolate Ice Cream
Vanilla Ice Cream
Milk Chocolate and Orange Ice Cream
Lemon Sorbet
Mango Sorbet
Mixed Berry Sorbet
Strawberry Sorbet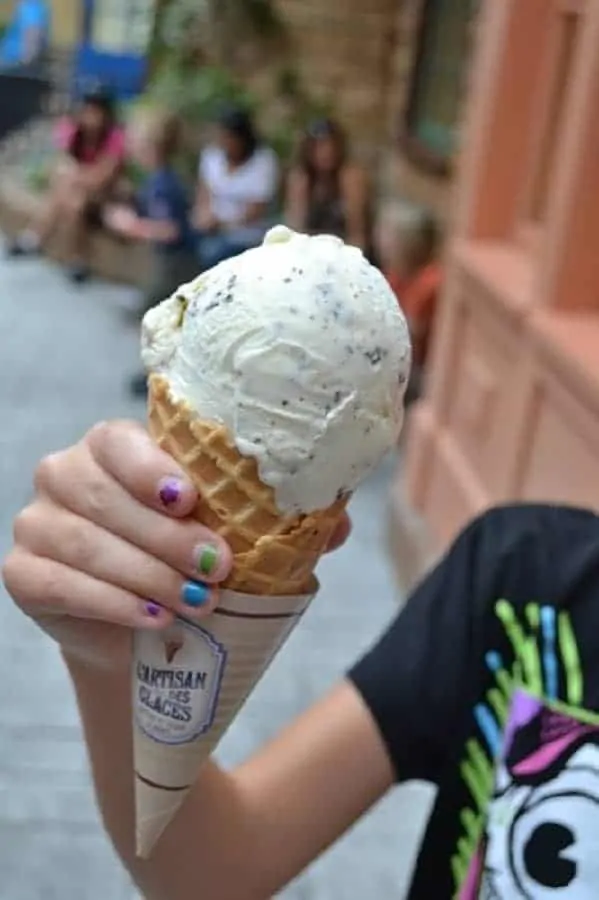 Choose a single scoop ($4.69) or double ($7.04) ice cream or sorbet in a waffle cone or cup.
Besides Ice Cream & Sorbet by the scoop, L'Artisan des Glaces also has some other specialty dessert options.
L'Artisan des Glaces Other Dessert Options
Macaron Ice Cream Sandwich
Croque Glacé (ice cream & sauce inside a Homemade Brioche)
Café Glacé (Ice Cappuccino with 1 scoop of Ice Cream and Whipped Cream)
Coupe du Dimanche (2 scoops in a Homemade Waffle Bowl, Whipped Cream and Sauce)
Ice Cream Martini (2 Scoops, with a shot of Grand Marnier, Whipped Cream and choice of Vodka or Rum)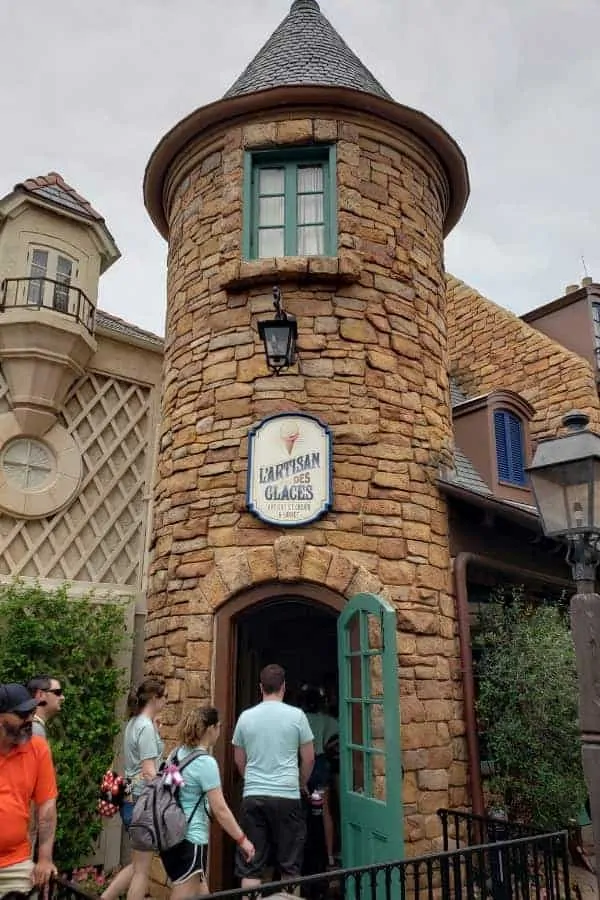 There is no interior seating at this counter service restaurant, but there are some bistro style tables nearby on the exterior of the shop and benches through out the France Pavilion.
We think this is the BEST place in Epcot for ice cream.
Do you have a favorite place to grab dessert in Epcot?