The Epcot Candlelight Processional is one of the most popular events at Disney World Resort during the holiday season. This special event features a celebrity narrator telling the story of Christmas, accompanied by a 50-piece orchestra and choir. If you're looking to experience this magical tradition for yourself, here are all the details you need to know!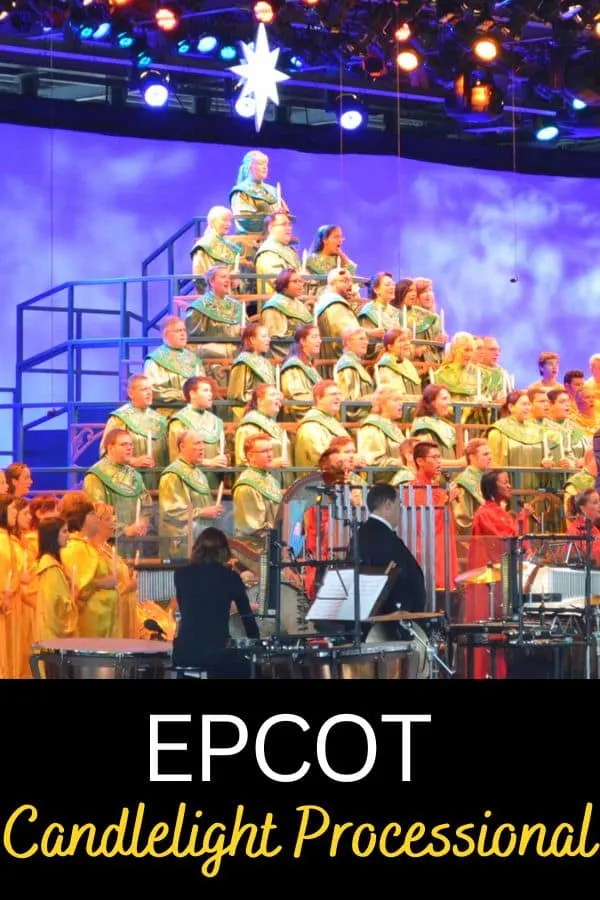 What You Need to Know about the Epcot Candlelight Processional
The processional runs from November 25 through December 30 in Epcot's America Gardens Theatre and is included in your admission price to the park.
This show is part live orchestra, part massed choir and involves rotating celebrity narrators that retell the traditional Christmas story.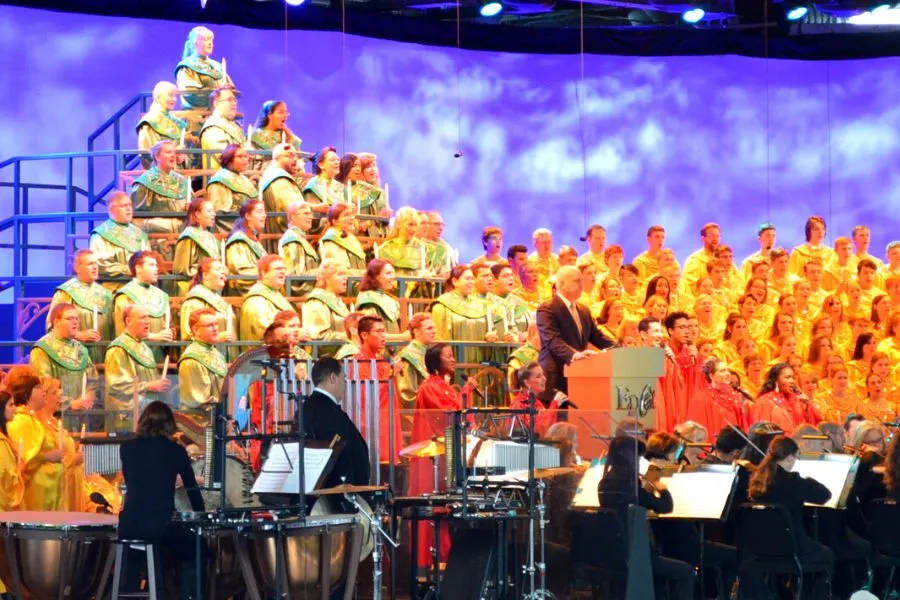 2022
Epcot Christmas Candlelight Processional Narrators
November 25-26: Simu Liu
November 27-29: Edward James Olmos
November 30-December 1: Raul Esparza
December 2-3: Whoopi Goldberg
December 4-6: Isabella Rossellini
December 7-9: Daymond John
December 10-12: Josh Gad
December 13-14: Gloria Estefan
December 15-18: Neil Patrick Harris
December 19-20: Mariska Hargitay
December 21-23: Cal Ripken Jr.
December 24-26: Marie Osmond
December 27-28: Courtney Vance
December 29-30: Angela Bassett
The Candlelight Processional is performed three times per night (5:15, 7:00 and 8:30pm) so you will have more than one chance to catch it.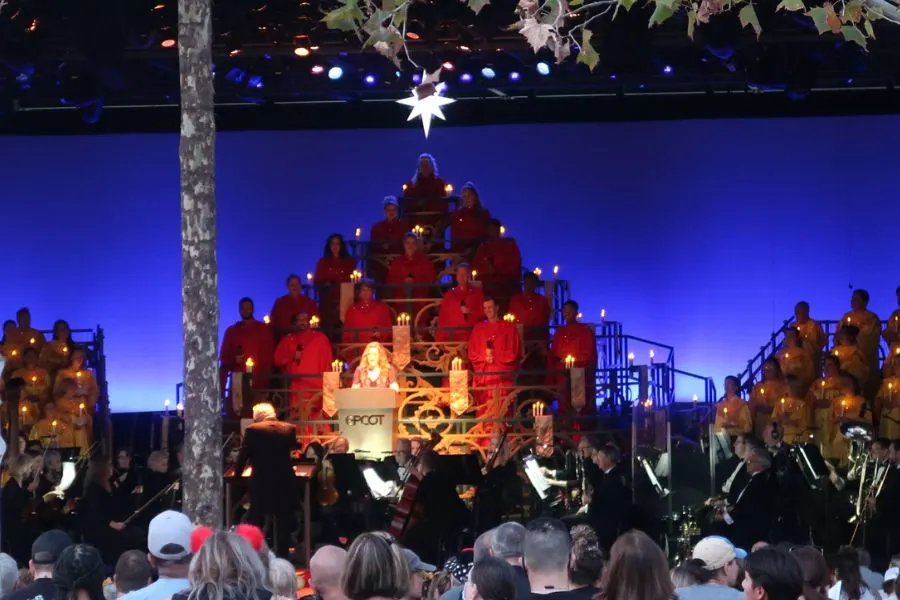 I personally prefer seeing it when it is dark because it makes the lights even that more impactful.
Because the Candlelight Processional is free, seats can be hard to come by. You will either need to line up early or purchase a dinner package that gives you priority seating.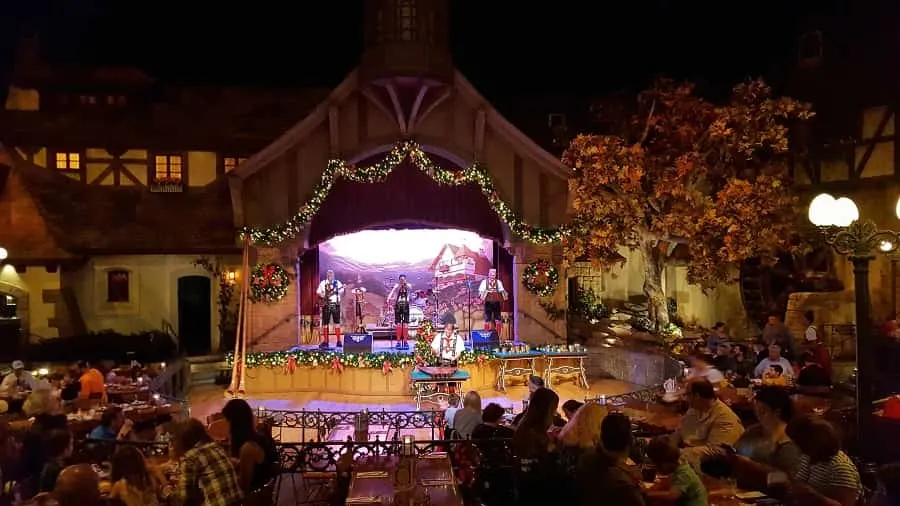 Epcot Candlelight Processional Dining Packages and Prices
If you want to secure a seat at the processional, the best thing to do is to purchase the Candlelight Processional Packages. Each package includes: an appetizer, entrée and dessert or one (1) full buffet (where applicable), along with a non-alcoholic beverage along with guaranteeed seating.
Guests will receive Candlelight Seating badges at the restaurant after their meal. The badge will show the date and time they have reserved & give them entrance to America Gardens Theatre in a separate queue.
Seating is guaranteed, but is first come, first served.
Participating Restaurants
Biergarten ($65 adult /$37 child) *my personal favorite
Coral Reef ($74 adult /$30 child)
Garden Grill ($71 adult /$46 child)
Le Cellier ($100 adult /$39 child)
Regal Eagle Smokehouse ($40 adult /$40 child)
Rose & Crown ($64 adult /$28 child)
Spice Road Table ($52 adult /$23 child)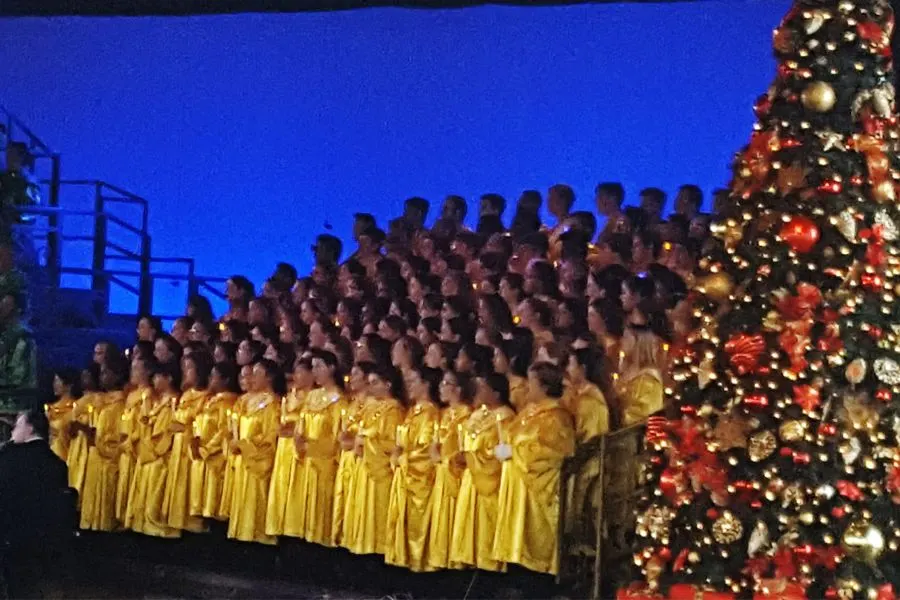 There is nothing quite like this event and should be something you try to do while in Epcot. You will walk away feeling the Christmas spirit for sure!