Toy Story Land at Hollywood Studios is designed to make guests feel like they have been shrunk down to the size of a toy, with oversized objects and toys scattered throughout. The area is based on the beloved Pixar film franchise, Toy Story, which follows the adventures of a group of toys that come to life when humans are not around.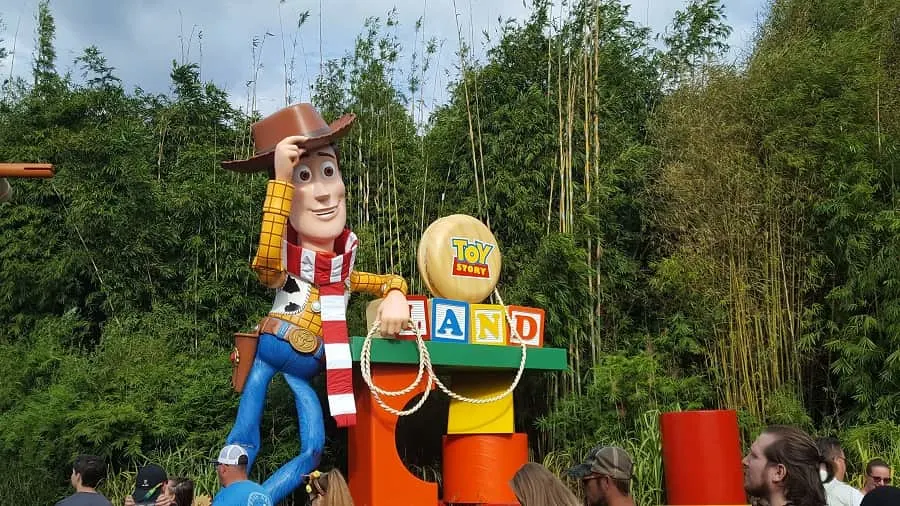 This land brings the magic and wonder of these animated films to life, allowing guests to step into Andy's backyard and join their favorite characters on exciting adventures.
Toy Story Land Rides
Within Toy Story Land, guests can find three main rides and attractions: Slinky Dog Dash, Alien Swirling Saucers, and Toy Story Mania! Each ride offers a unique experience that is perfect for the whole family to enjoy.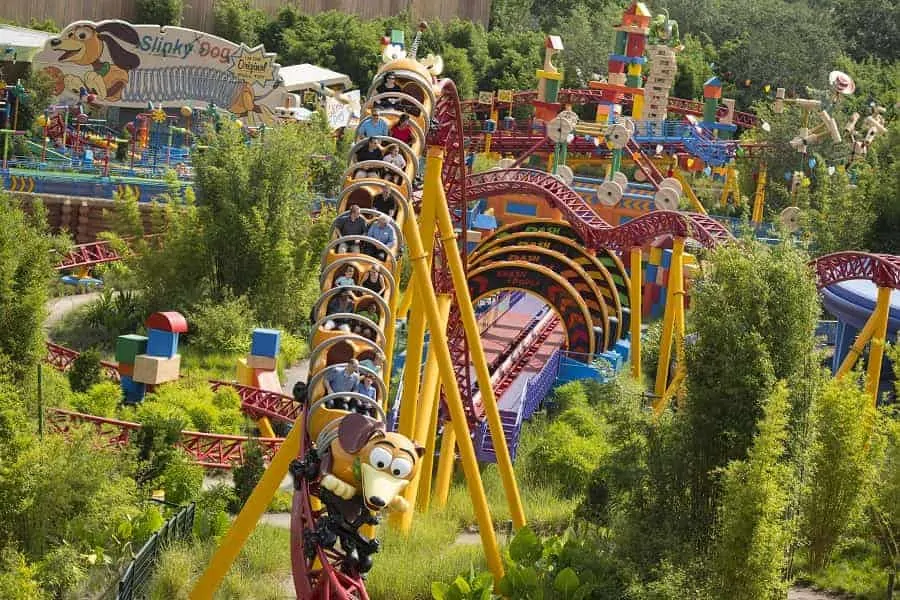 Slinky Dog Dash
This roller coaster takes guests on a thrilling ride through Andy's backyard on the back of Slinky Dog.
Riders sit two by tow on Slinky Dog and blast off on a tall track, followed by a steep drop into turns and bumpy tracks.
The track winds around giant toys and through tunnels, giving riders a view of the entire Toy Story Land.
Midway through the ride, you stop, then back up, before being catapulted forward on more of the ride.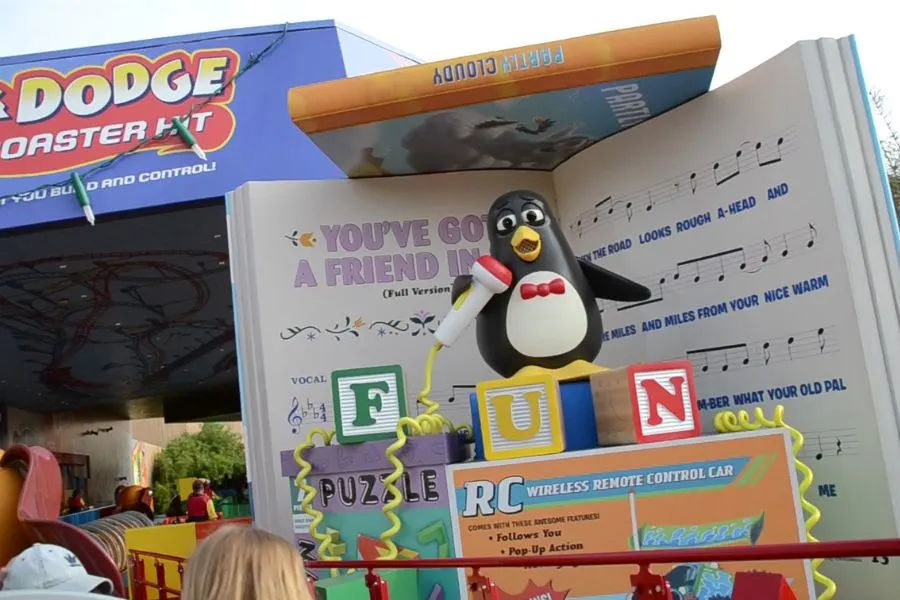 As the coaster slows to a finish, you will see everyone's favorite Penguin who will be singing the iconic Toy Story song, "You've Got a Friend in Me."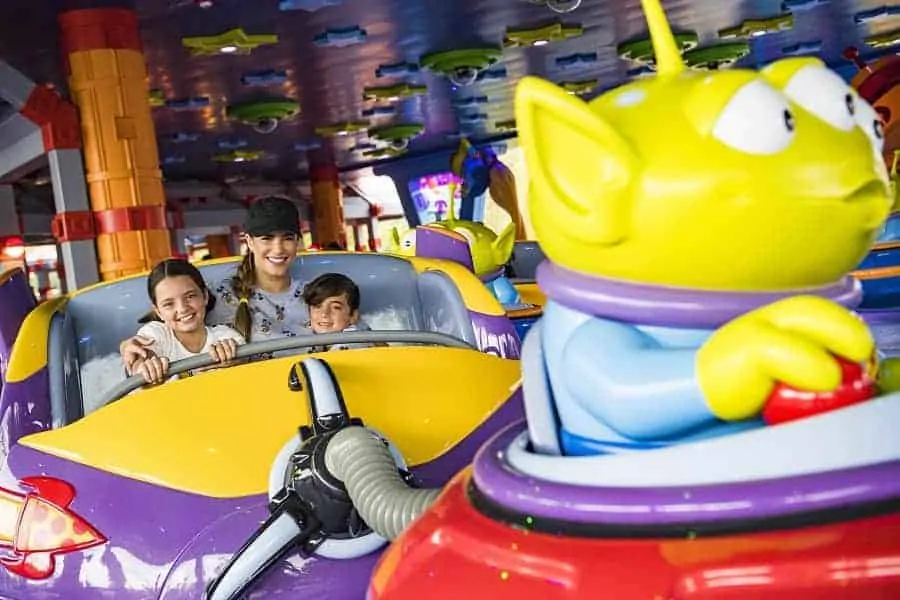 Alien Swirling Saucers
Inspired by the iconic claw machine from Toy Story, this ride spins guests around in toy rocket ships as they try to escape the grasp of The Claw.
It is a slow ride.
Nothing like the spinning you do on the Tea Cups in Magic Kingdom, but once you get going, there are some fun twists to be had on the Swirling Saucers.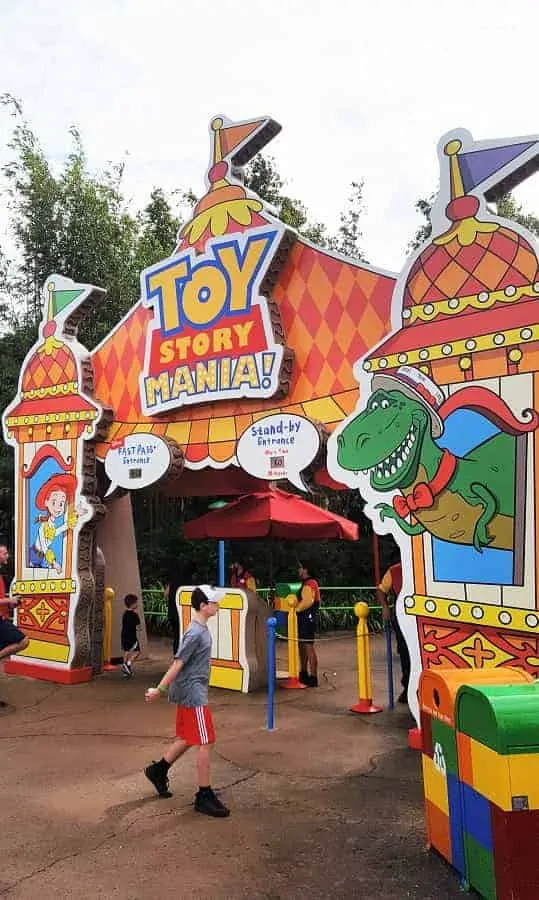 Toy Story Mania
Walk through Andy's collection of games and then board your own Carnival Ride Tram.
While wearing your 3D glasses, you will go on a carnival game extravaganza.
If you play well, you just might make it to top car!
Here is the list of games you'll get to play:
Game 1: Hamm & Eggs. Knock down barnyard animal targets using hard-boiled eggs.
Game 2: Rex & Trixie's Dino Darts. Launch darts to pop balloons in this game starring Rex and Trixie.
Game 3: Green Army Men Shoot Camp. Baseball toss game that give you the chance to break plates.
Game 4: Buzz Lightyear's Flying Tossers. It's your favorite ring toss game but this time you will be tossing them on Aliens!
Game 5: Woody's Rootin' Tootin' Shootin' Gallery. Shoot suction-cup-tipped darts at a variety of mine-cart targets. You will be on a race to the finish with this one!
Toy Story Dining
In addition to the rides, Toy Story Land also offers two dining options for hungry visitors.
Woody's Lunch Box is a main quick-service restaurant, serving up classic American dishes with a playful twist and Roundup Rodeo BBQ is a table-service restaurant that offers a fun Western-themed atmosphere and delicious barbecue dishes.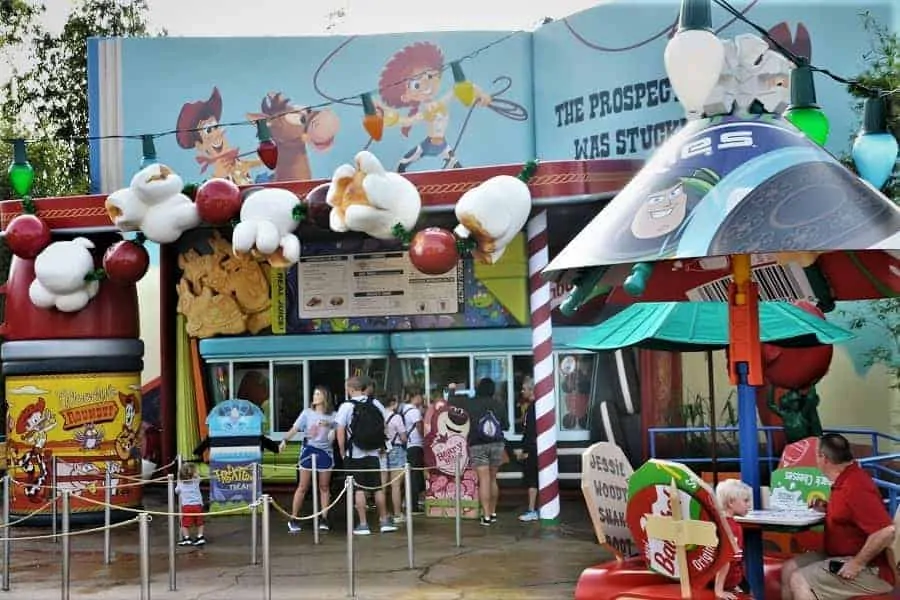 Woody's Lunch Box (Menu Included)
This quick service counter features classic American food, ice cream floats and other Toy Story-themed goodies.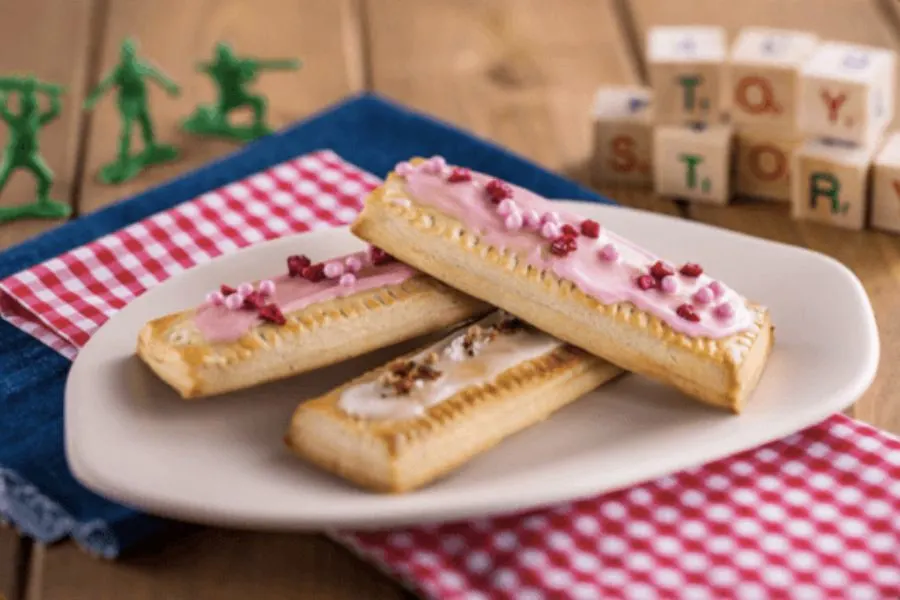 Lunch & Dinner Options
BBQ Brisket Melt
Grilled Three-Cheese Sandwich
Smoked Turkey Sandwich
"Totchos"
Lunch Box Tart
Round Up Rodeo BBQ
When guests step into Roundup Rodeo BBQ, they become Andy's honorary toys.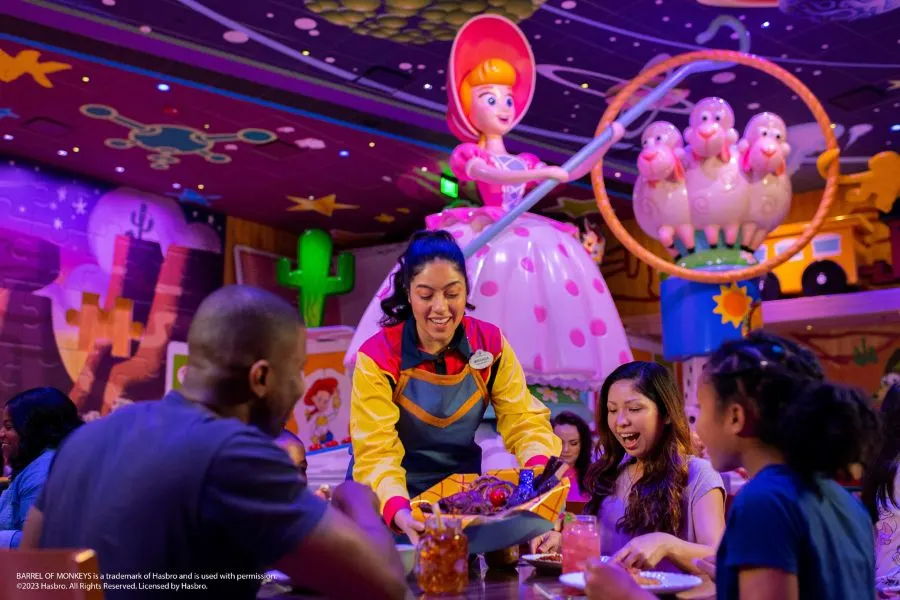 When guests arrive, they will see a scene depicting a toy rodeo and come face-to-face with life-size figures of Jessie and Trixie in one area and Bo Peep and her sheep in another.  
Guests can dine family style on:
Evil Dr. Smoked Ribs
Buttercup's Beef Brisket
There's a Sausage in my Boot – Fire-Grilled Pork Sausage
BBQ Chicken – With Style
Meals come with an array of BBQ sides and of course, desserts.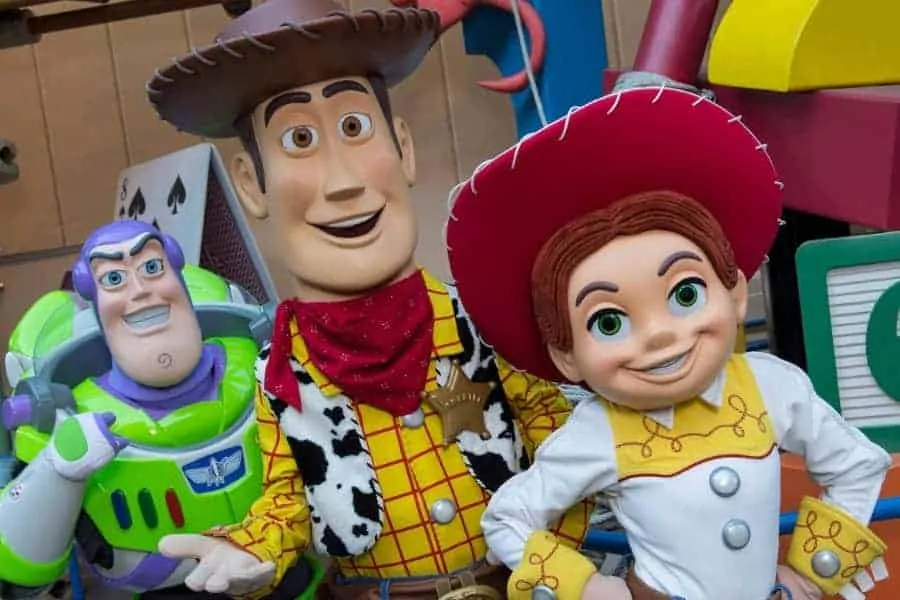 Toy Story Meet & Greets
You can meet Sheriff Woody, Buzz Lightyear, and Jessie the Cowgirl.
You might also find Green Army men on patrol through this area of the park.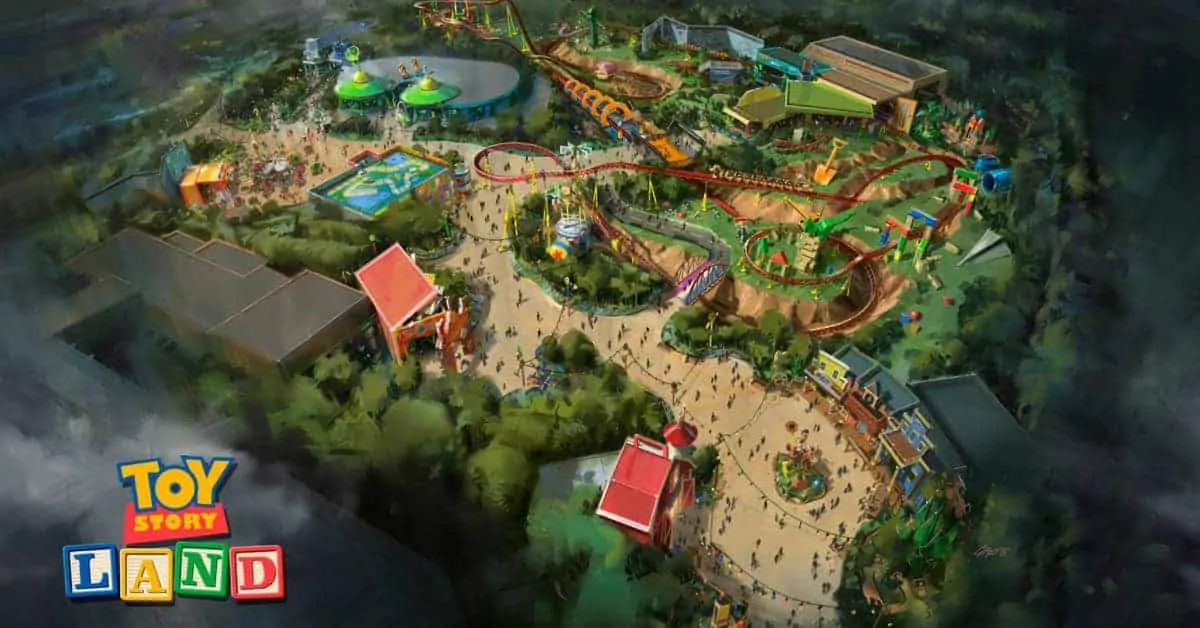 Toy Story Land is a great addition to Hollywood Studios and full of great things to check out! This part is quite busy, so if you plan on visiting, be sure to get there early.
What is your favorite part of Toy Story Land?