While there are many great restaurants on Disney property, not all of them are "fun" for kids. If you are traveling with school-aged children, you should check out T-Rex Cafe, the Dinosaur restaurant in Disney Springs.
Very similar to Rainforest Cafe, this kid friendly restaurant in Disney Springs features an interactive dining experience where the dinosaurs come to life.
First thing you should know is that T-Rex restaurant can have very long lines.
This is a restaurant where having a reservation can make quite a difference in your wait time.
It is part of the Disney dining plan, so you can use your My Disney Experience app to book your dining reservation.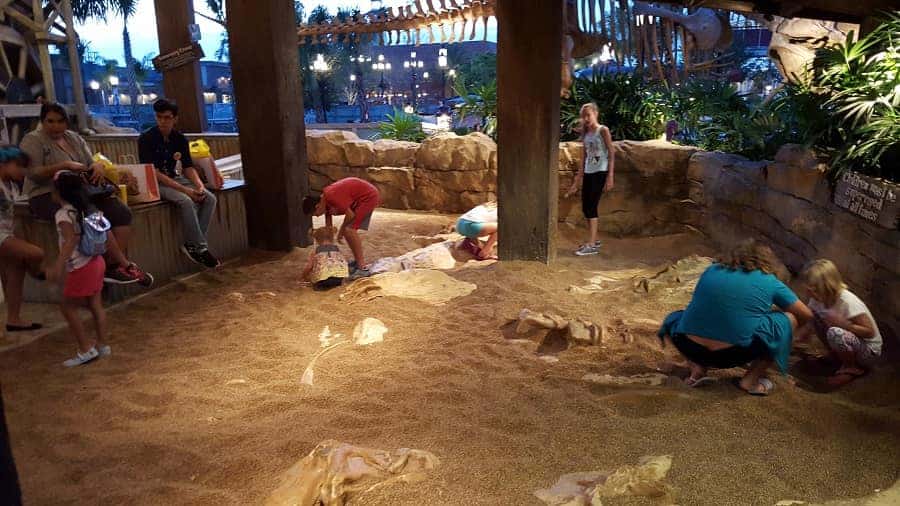 If you do decide to show up without a reservation and have to wait, kids can spend time digging for fossils and treasures in Discovery Creek.
T-Rex Cafe: The Dinosaur Restaurant in Disney Springs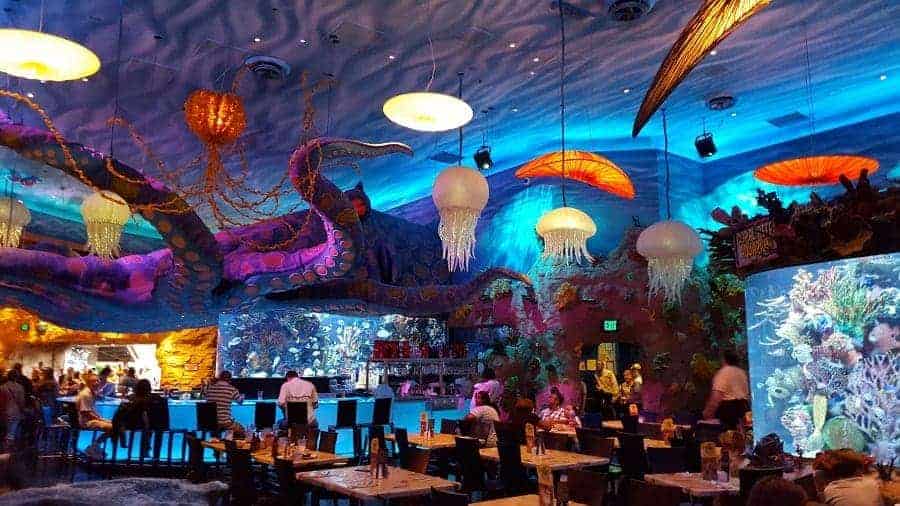 The bar inside T-Rex cafe is simply amazing! You will feel like you are underwater near an enormous octopus with jellyfish floating above you.
It is probably the most beautiful bar at Disney Springs.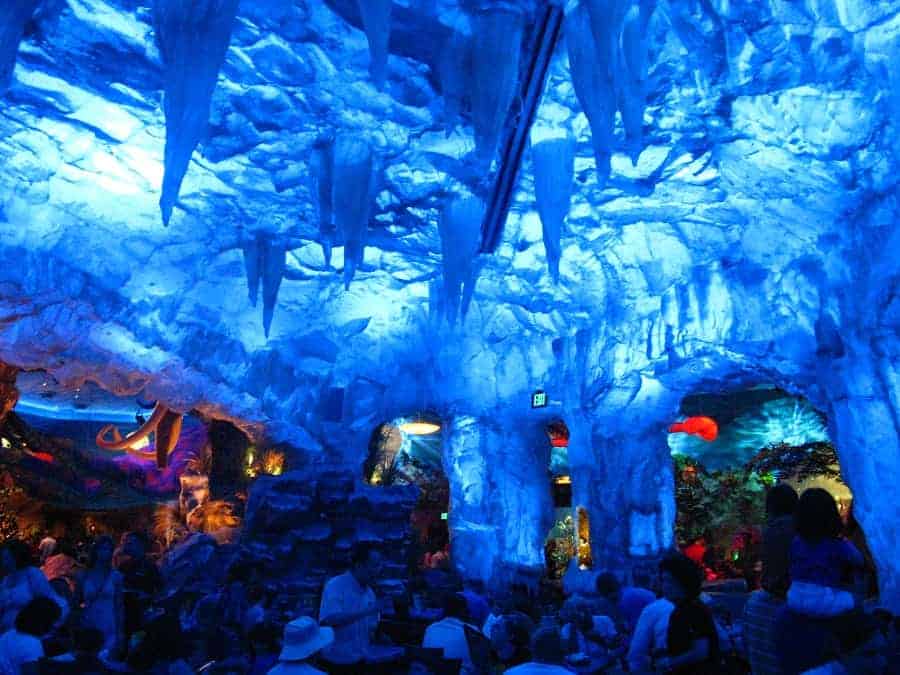 Adjacent to the bar, is the Ice Cavern dining area.
This area is also amazing to see, with it's bright blue & white walls built to look like you are inside an ice cave.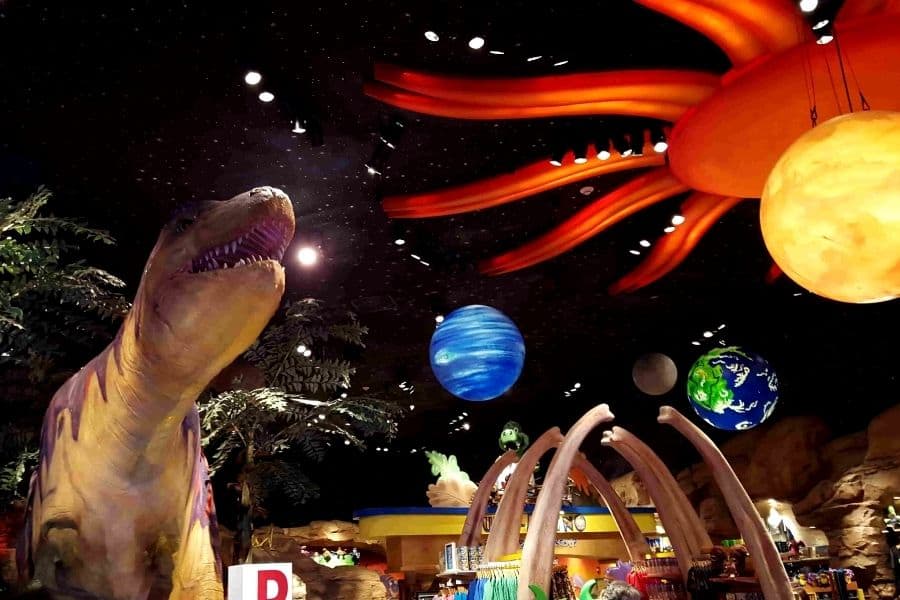 Just past the Ice Caverns is where you will find the dinosaurs!
You will find different types of dinosaurs perched around the restaurant and at different points during your meal, they will come to life!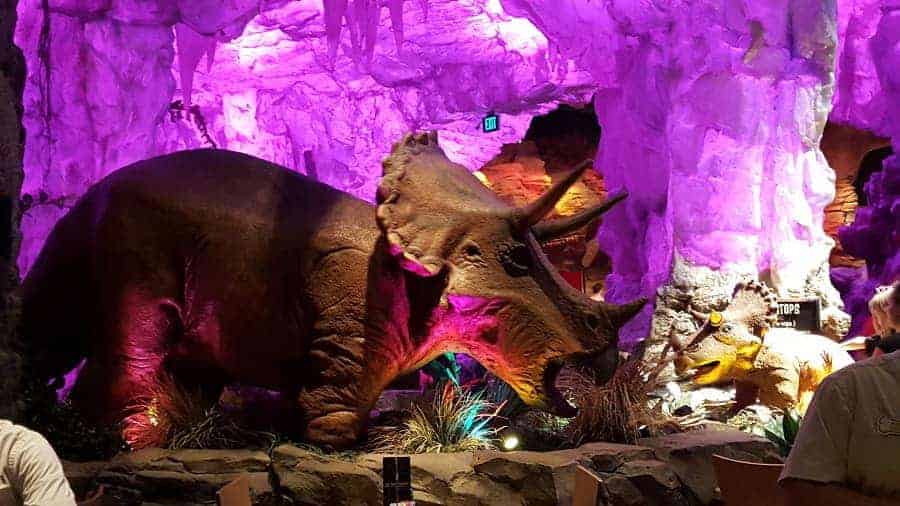 This Dinosaur restaurant does get dark when the dinosaurs come to life.
Children who are easily frightened might be caught off guard by this so be sure to prepare them in advance.
For most children, it is fun, but we know that there are kids out there who startle easily.
When it comes to the T-Rex Cafe menu, it is very similar to the food at Rain Forest Cafe.
You will find typical American favorites, like chicken, steak and fish along side quesadillas and chicken wings.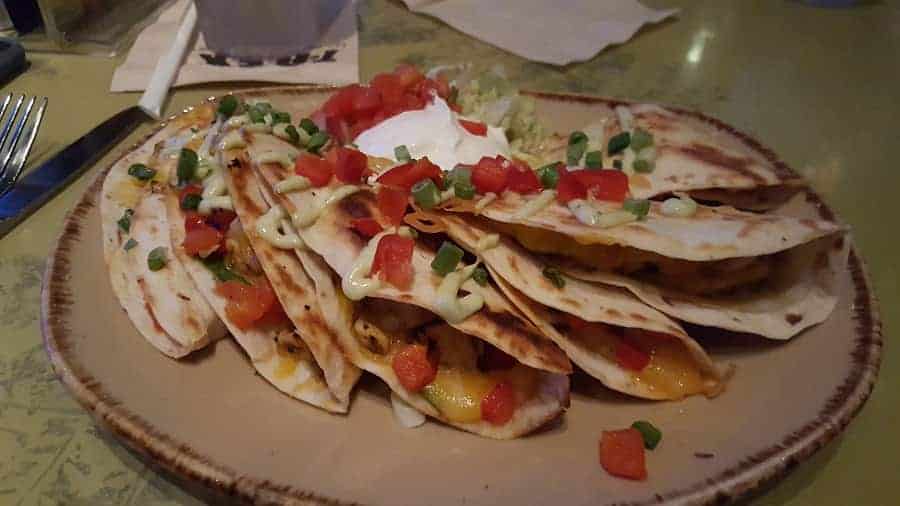 You will be paying a premium for the food. Just consider that you are really paying for the experience.
Because T Rex is part of the Disney dining plan, you can use your table service credit for meals.
If you have Disney Gift Cards, you can also use them to pay for your meal.
If not using the Disney dining plan, consider joining the Landy's Select Club.
If you hit more than one of their restaurants (it includes Rainforest Cafe) during your stay, you might find that it saves you money.
Have you been to T-Rex, the Dinosaur Restaurant in Disney Springs? What did you think?