Disneyland and Disney World are two popular theme parks owned by The Walt Disney Company. While they both offer a magical experience, there are some key differences between Disneyland and Disney World. If you are sizing up Disneyland vs Disney World, there are some things to consider.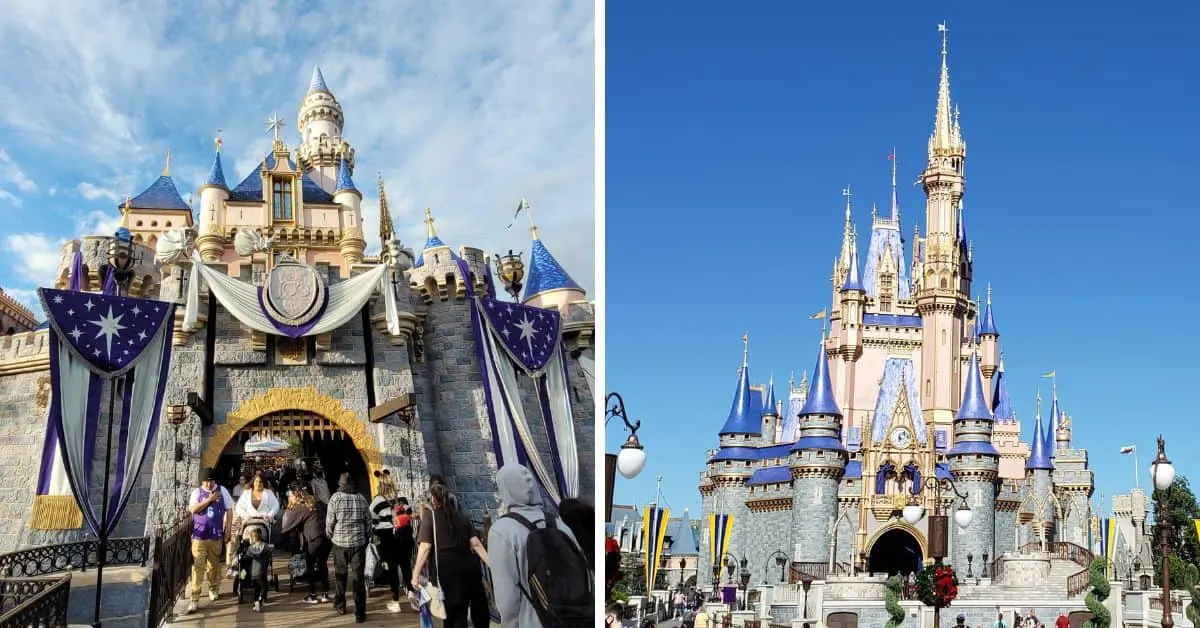 Disneyland vs Disney World
Disneyland is located in Anaheim, California and the original Disney park.
It consists of eight themed lands: Adventureland, Critter Country, Fantasyland, Frontierland, Mickey's Toontown, New Orleans Square, Star Wars: Galaxy's Edge and Tomorrowland.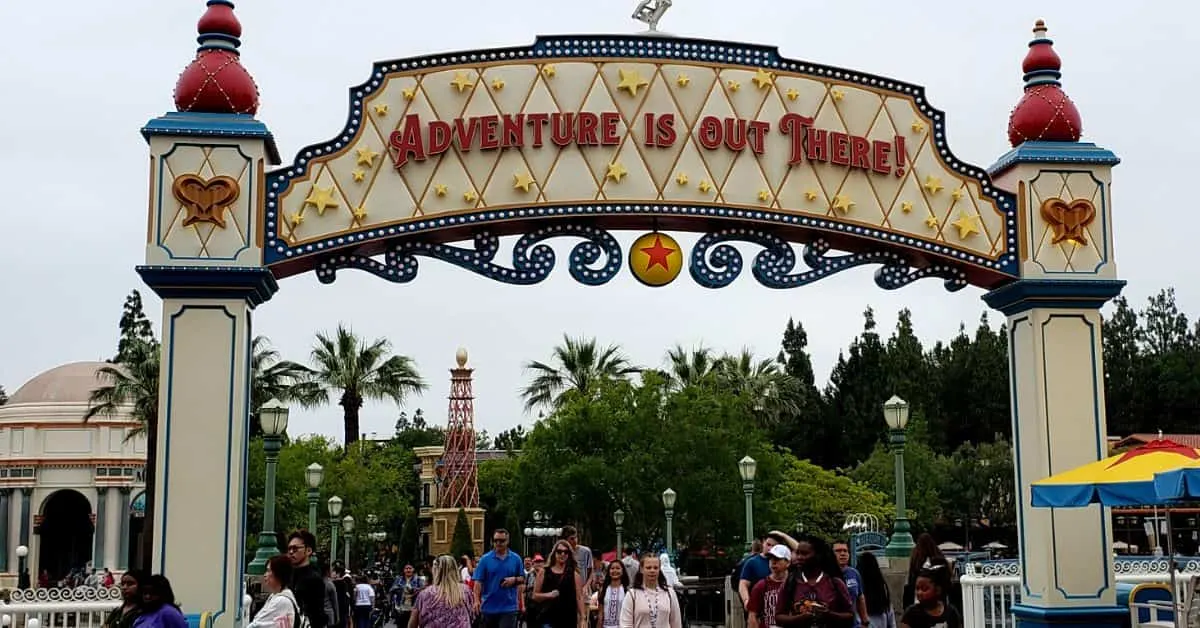 California Adventure is smaller than its counterpart but still offers an amazing variety of rides, shows and other attractions to enjoy throughout the day.
Disneyland has a few resort options and a shopping district, but unfortunately, it lacks a waterpark.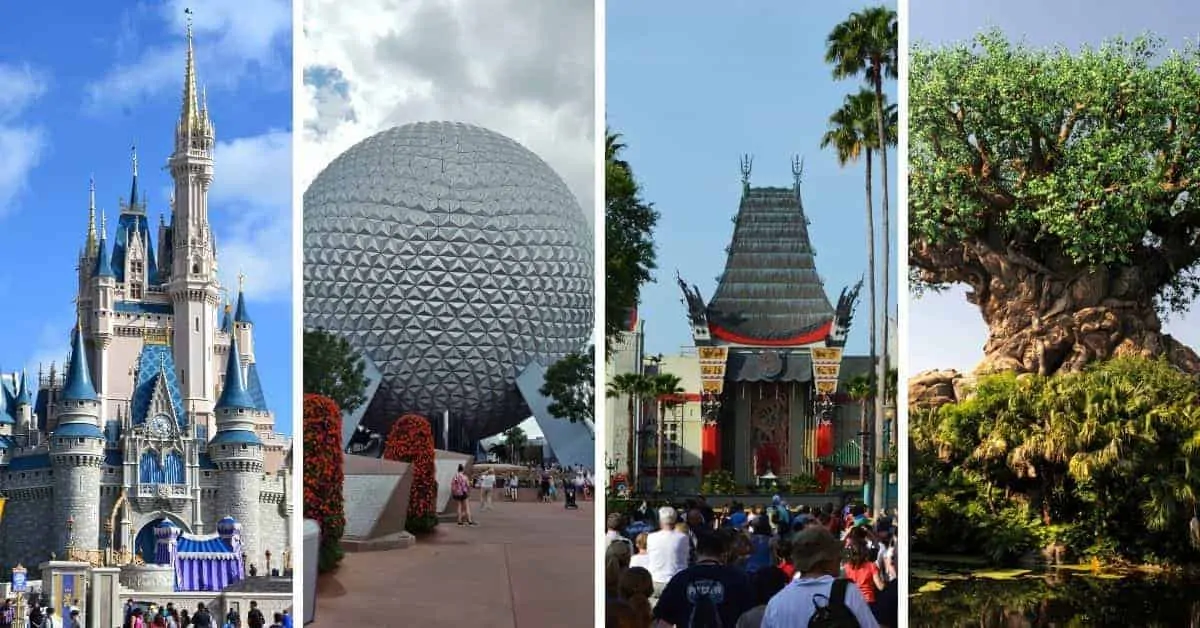 Disney World is located in Orlando, Florida and consists of 4 different parks: Magic Kingdom, Animal Kingdom, EPCOT and Hollywood Studios.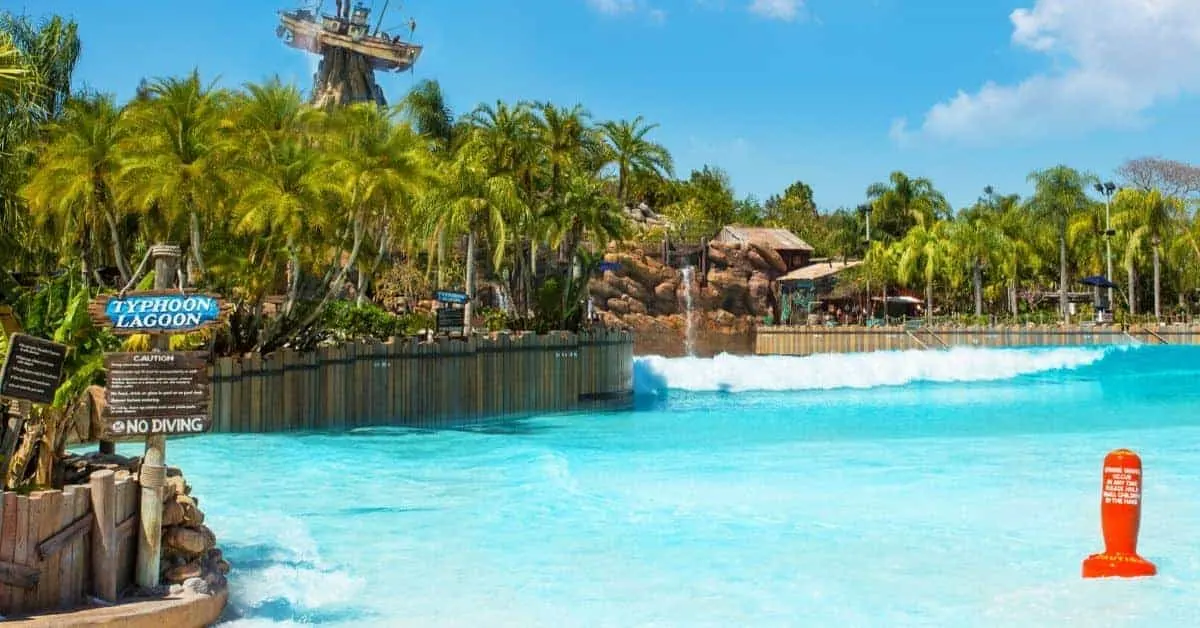 It also has two waterparks, Typhoon Lagoon and Blizzard Beach along with mini golf courses and a shopping district.
Disney World is considerably larger than Disneyland and offers more attractions, resorts and restaurant choices.
While both parks are great in their own ways, I'm not sure you can adequately measure them against each other.
While both sets of parks have rides that overlap, each also have rides that are unique to that park.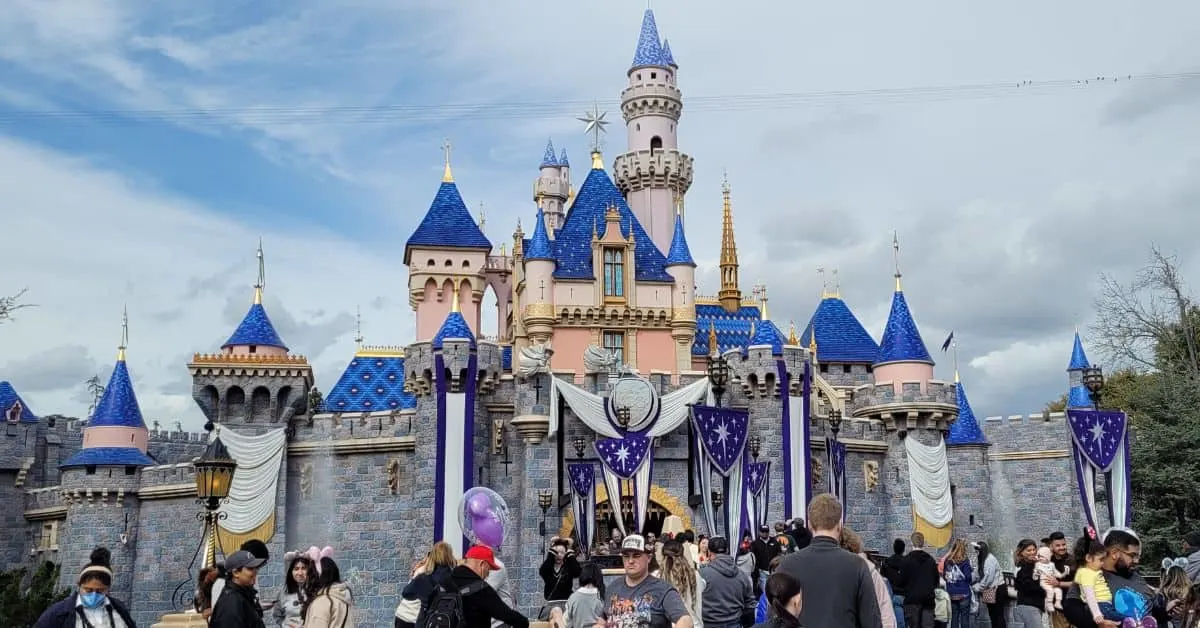 20 Rides at Disneyland that aren't at Disney World
If you are an avid Disney World guest, but traveling to Disneyland for the first time, you might be interested in knowing that Disneyland has rides that you won't find at Disney World.
Some are iconic Disneyland rides that have existed for decades, while others have been updated and reimagined in recent years.
If you are headed to Disneyland and looking forward to experiencing what makes Disneyland & California Adventure different from Disney World, these are the rides to prioritize: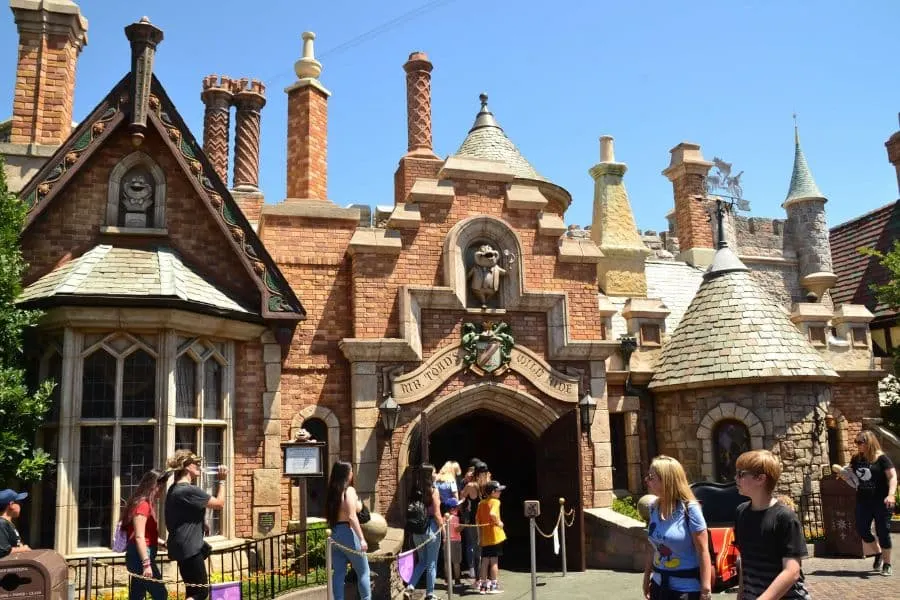 1. Mr. Toad's Wild Ride
Mr. Toad's Wild Ride is based on the classic story of Wind in the Willows, with Mr. Toad being the main character of the ride.
The ride itself consists of a series of scenes featuring characters from the book and various twists and turns as guests journey through Mr. Toad's wild world.
The ride culminates with a high-speed chase between Mr. Toad and police officers as he attempts to escape them in his car!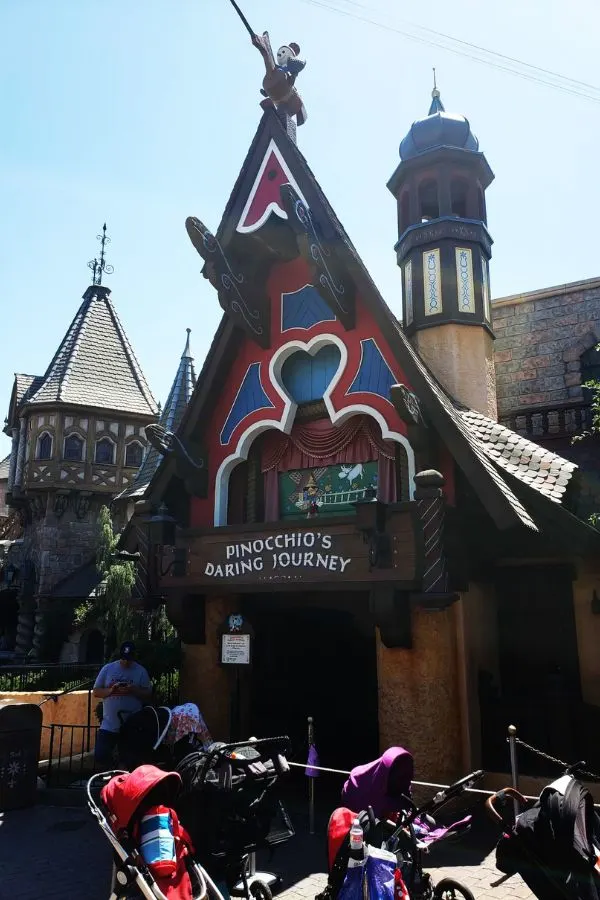 2. Pinocchio's Daring Journey
Pinocchio's Daring Journey at Disneyland is a classic ride that takes guests on an adventure through the world of Geppetto's beloved puppet.
The attraction begins with Pinocchio and Jiminy Cricket traveling through nearby Pleasure Island, where they are quickly met by the villainous Coachman.
Guests must then go on a thrilling journey to help save Pinocchio from the Coachman's clutches, all while experiencing some breathtaking scenes featuring characters, music, and special effects throughout.
Along the way, guests will get to see familiar sights like Monstro the Whale and Stromboli's Theater before eventually reaching safely back home.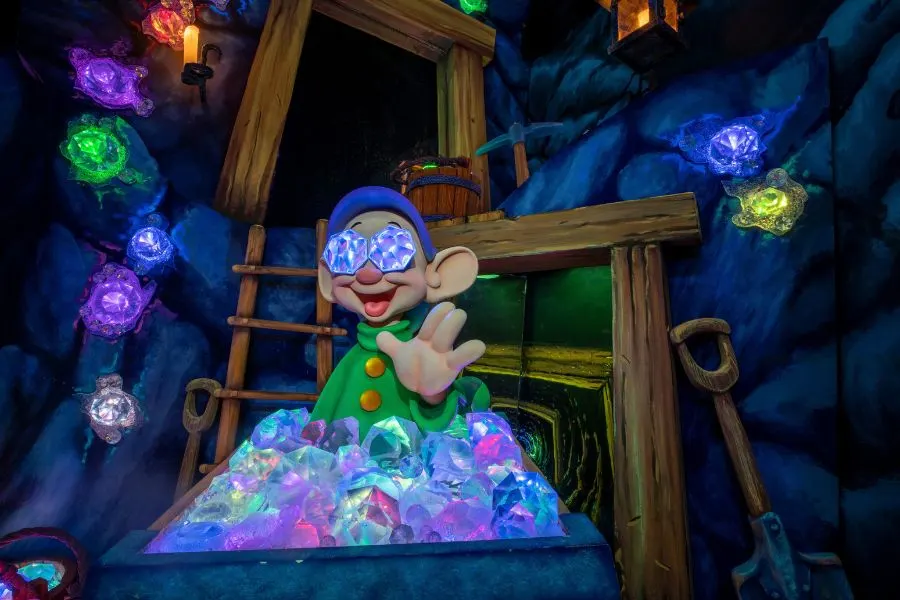 3. Snow White's Enchanted Wish
Snow White's Enchanted Wish at Disneyland takes guests into the classic story of Snow White and the Seven Dwarfs.
The journey takes guests into the enchanted forest to encounter seven charming dwarfs, into their cottages, and of course into the mine in which they work.
Along the way, guests will encounter the characters like the Evil Queen, who gives her the poison apple, and Prince, who brings Snow White back with true love's kiss.
What makes this ride magical is the animatronics and special effects guests experience throughout the ride.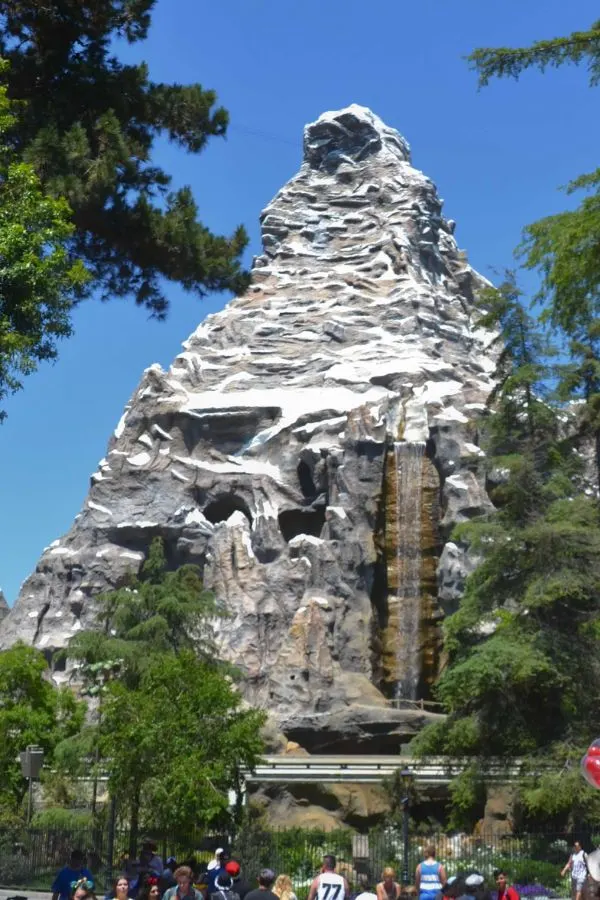 4. Matterhorn Bobsleds
The Matterhorn Bobsleds ride is an iconic attraction at Disneyland that dates back to 1959.
On this ride, bobsleds race around a replica of the Swiss Matterhorn mountain.
The winding track takes riders through twists and turns, through tunnels and cascading waterfalls before ending at the bottom.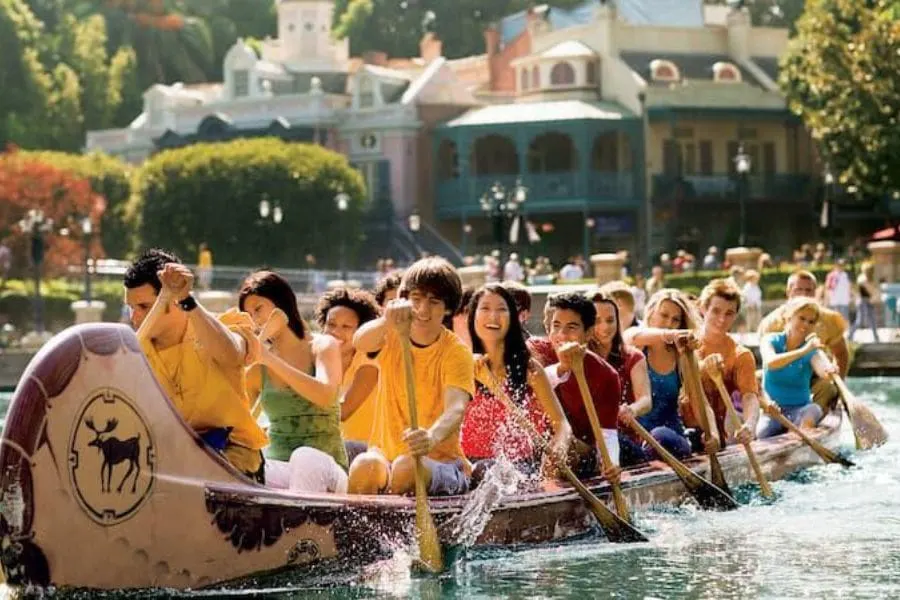 5. Davy Crockett's Explorer Canoes
Davy Crockett's Explorer Canoes is one of the oldest attractions at Disneyland and was originally called Indian War Canoes.
The ride features 35-foot-long canoes that seat up to 20 guests.
Guests paddle around the river with two guides enjoying different views of 3 different lands.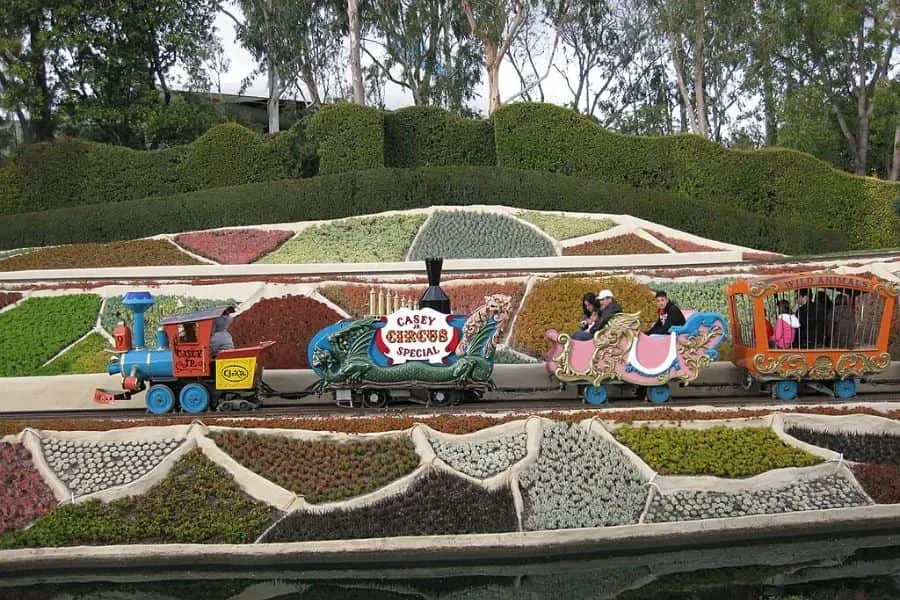 6. Casey Jr. Circus Train
The Casey Jr. Circus Train which is based on Dumbo, takes passengers for a ride around parts of Fantasyland.
There are several fun surprises along the way, including an elephant spraying water from his trunk and a giraffe with moving eyes.
7. Indiana Jones Adventure
On Indiana Jones Adventure guests board a troop transport vehicle and head to the Temple of the Forbidden Eye.
Once inside, they go on an exciting journey through ancient ruins as try to avoid traps along the way.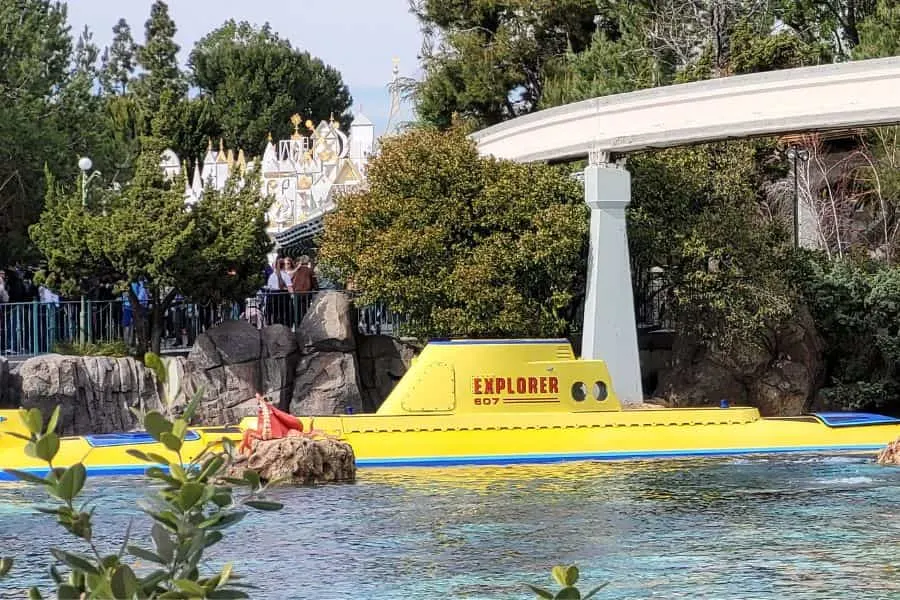 8. Finding Nemo Submarine
Finding Nemo Submarine is a unique underwater attraction that takes guests on an underwater adventure in search of Nemo aboard a submarine.
As the submarine goes on a voyage, guests can look through underwater portholes to search for Nemo. Along the way, guests will encounter many of the Finding Nemo characters.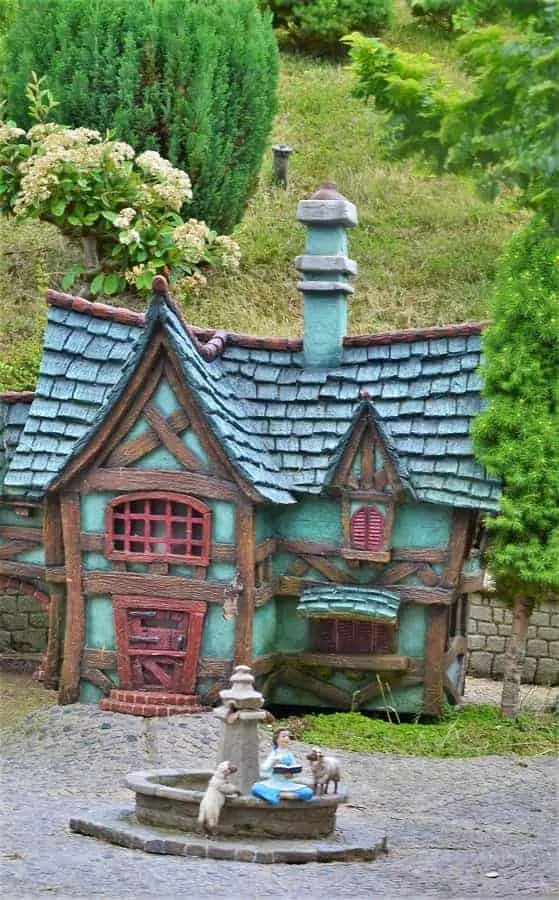 9. Storybook Land Canal
Storybook Land Canal is a charming attraction at Disneyland that takes guests on a leisurely boat ride through a miniature world of iconic fairytale settings.
Like the Storybook Land Canal ride in Disneyland Paris, the boats travel along a winding canal miniature scenes from some of Disney's most beloved movies.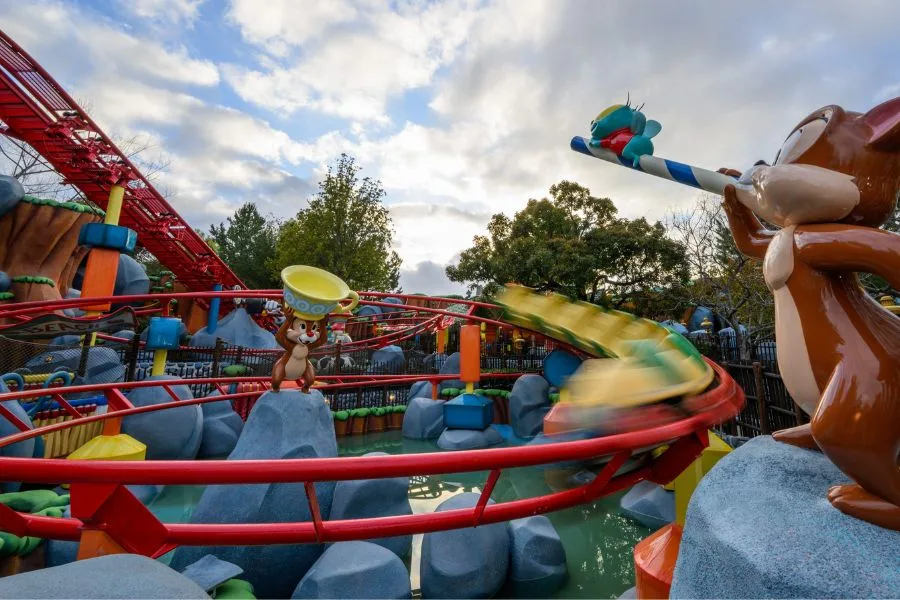 10. Gadget's Go Coaster
Located in the Toontown section of Disneyland, this fun kid-sized roller coaster takes guests through a series of gentle curves and dips while viewing iconic characters from Chip 'n Dale Rescue Rangers.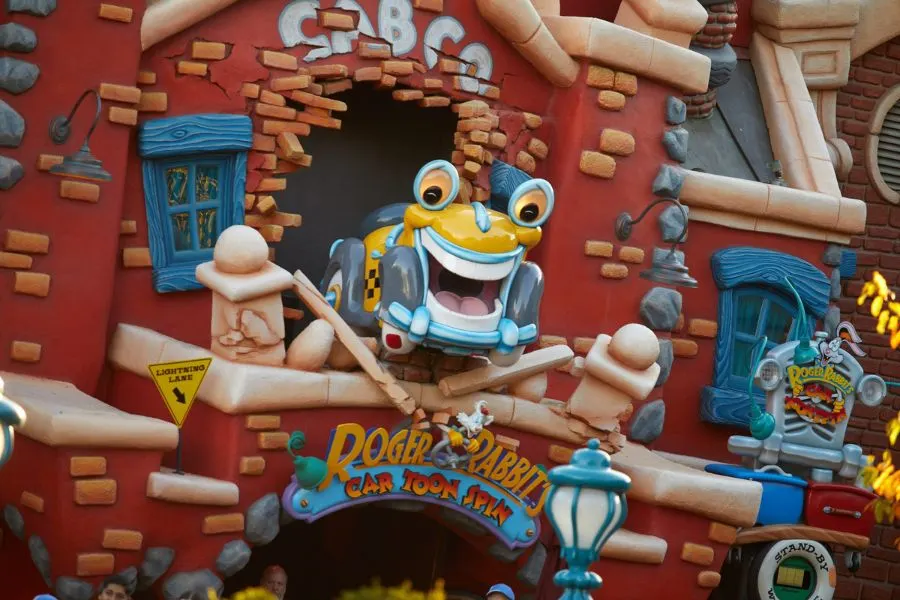 11. Roger Rabbit's Car Toon Spin
Roger Rabbit's Car Toon Spin takes guests on a wild ride through the toon-filled streets of Toontown as they attempt to help Roger Rabbit escape from Judge Doom and his weasels.
Guests can control their cars by spinning their steering wheels in different directions that allow them to go up, down, left, and right throughout the ride experience.
12. Monsters, Inc. Mike & Sulley to the Rescue!
On this ride in California Adventure Park, guests board a taxi cab and join Mike and Sulley on their mission to rescue Boo from Randall's evil plot.
During the experience, guests will travel through various scenes from the movie and see many characters along the way.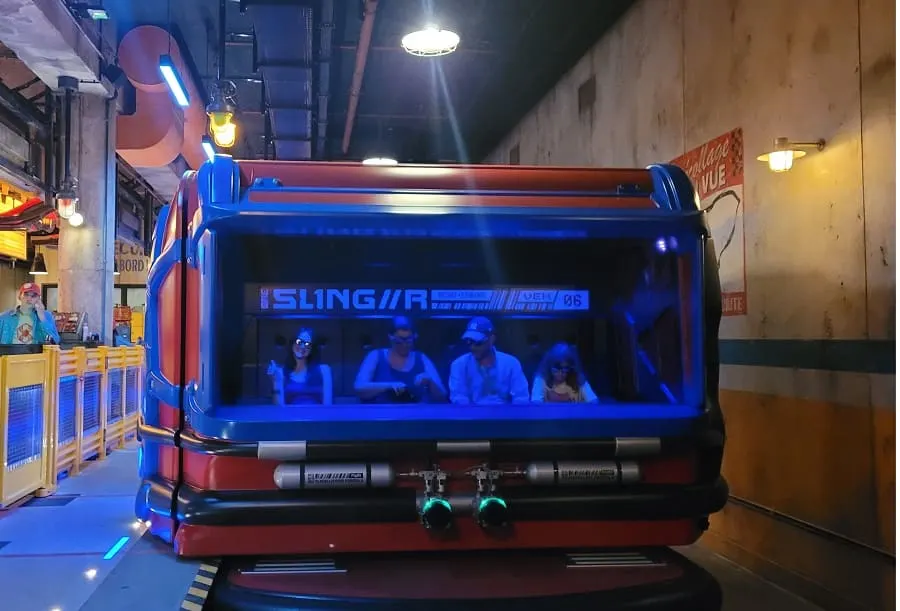 13. Web Slingers: A Spider-Man Adventure
Located in the new Avenger's Campus, guests will join Spider-Man on a thrilling journey through the streets of San Francisco to stop the spiderbots that are running rampent.
Each guest will virtually sling webs just like Spider-Man in a race to get the most spiderbots!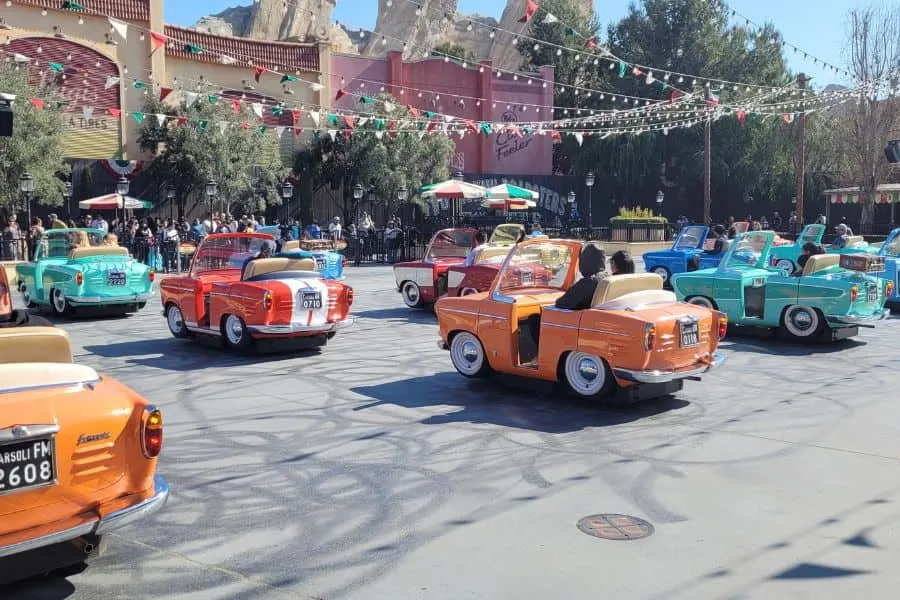 14. Luigi's Rollickin' Roadsters
Guests ride two by two in small micro cars that have a mind of their own.
These dancing cars will move in sync and also go spinning off on their own.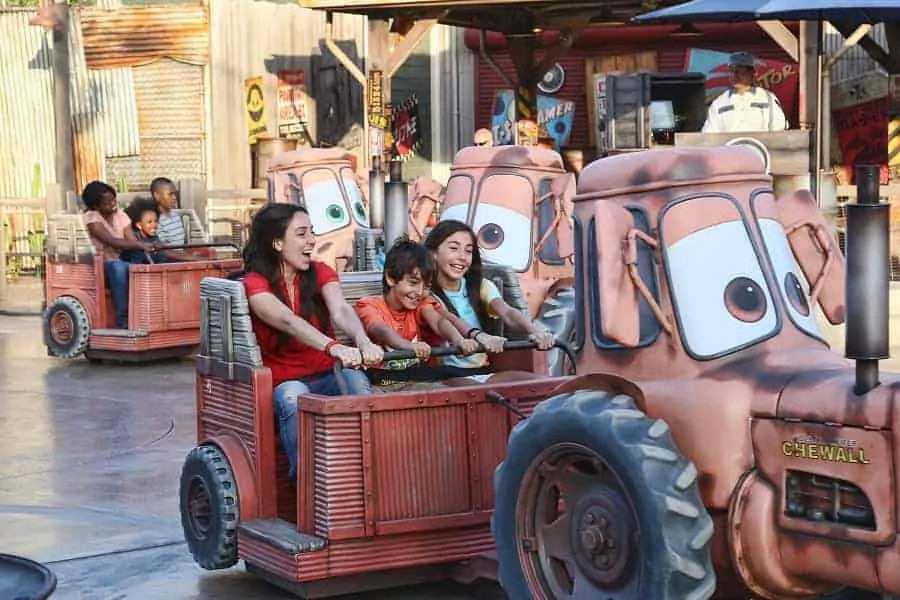 15. Mater's Junkyard Jamboree
This silly ride has guests boarding tractors who spin out of control while square dancing to the music on Mater's Junkyard jukebox.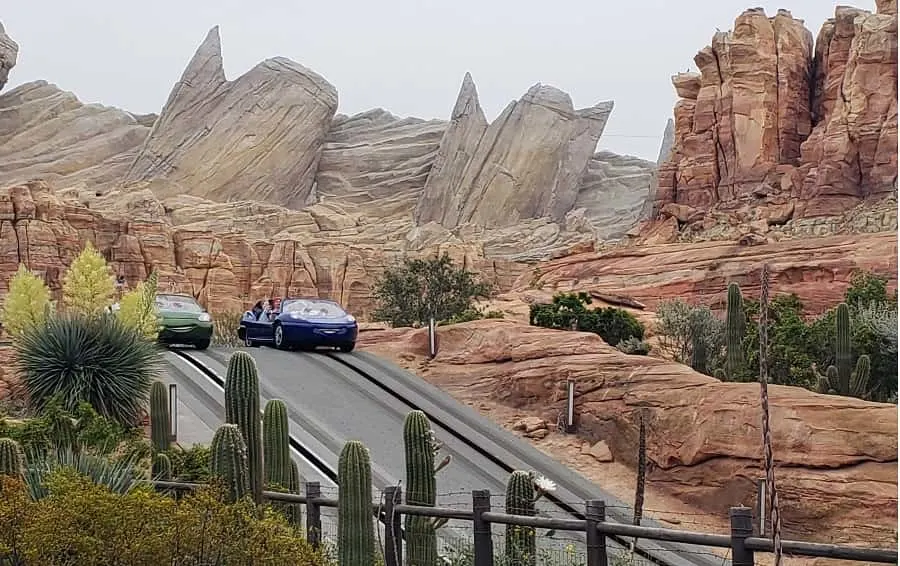 16. Radiator Springs Racers
This Carsland ride takes guests on an adventure in a racing car through Ornament Valley.
The high-tech experience features an immersive storyline and some special effects, including a "turbo boost" that will have guests feeling like they are really inside the movie.
Along the way, guests will see many of popular Cars characters.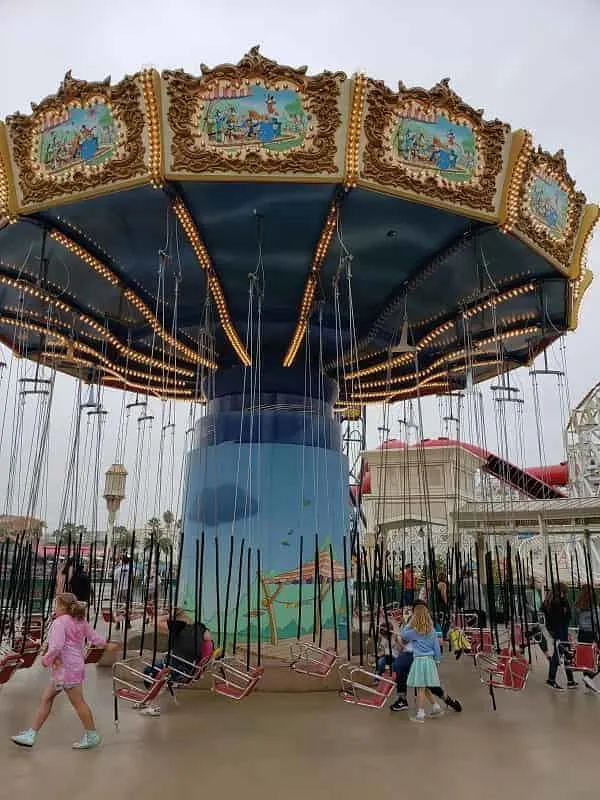 17. Silly Symphony Swings
Silly Symphony Swings pays homage to the 1935 cartoon, "The Band Concert" featuring Mickey Mouse as a harried conductor who keeps his orchestra playing even as weather turns dangerous.
Guests will sail high over California Adventure, swinging while the William Tell Overture plays.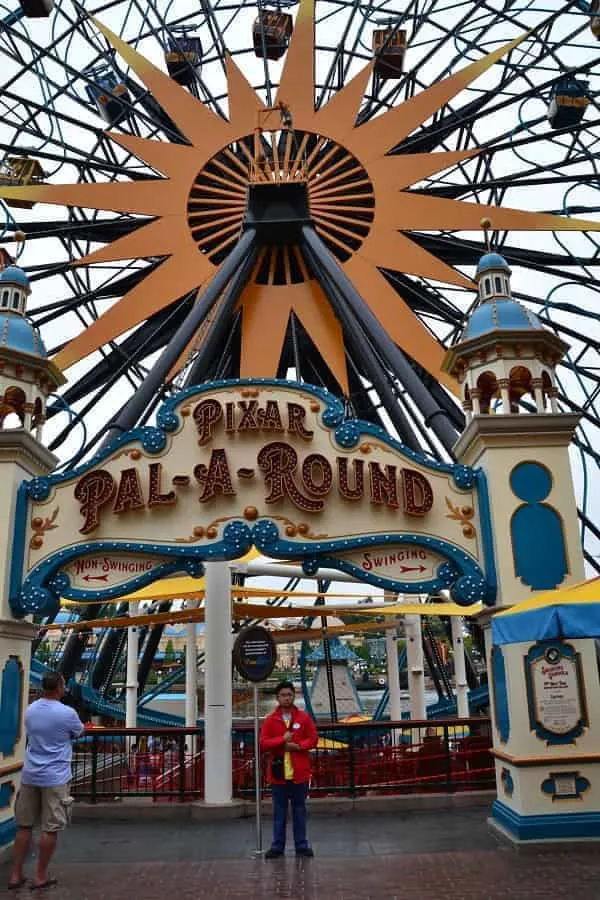 18. Pixar Pal-A-Round
While this might seem like just another Ferris Wheel, but this one has some thrill to it!
Of the 24 gondolas, 16 slide inward and outward as the wheel rotates. This results in a more intense experience.
If that doesn't seem appealing, there are 8 gondolas that are fixed and do not slide.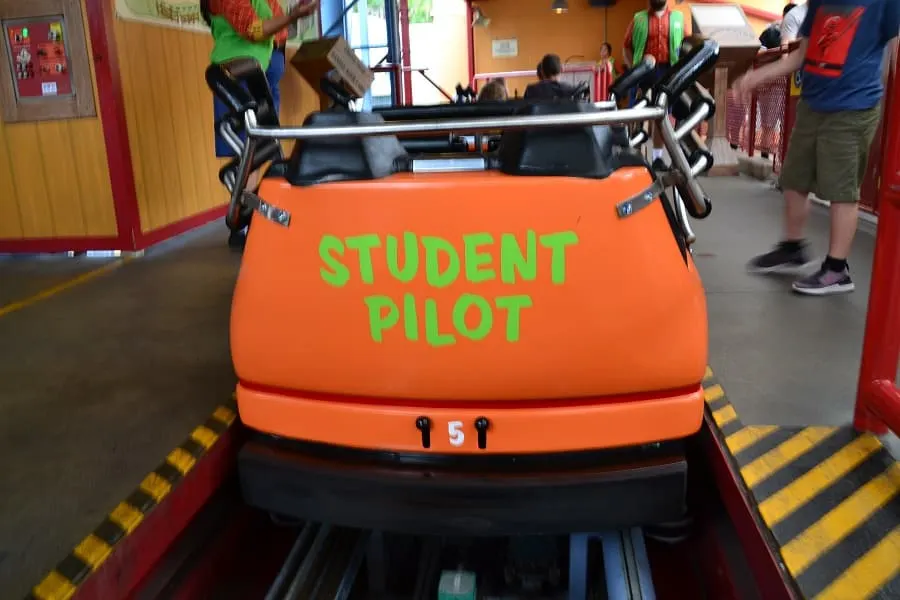 19. Goofy's Sky School
Goofy's Sky School is a thrilling rollercoaster that lets guests take flight with Goofy high over Calfornia Adventure park.
As they soar through the air, guests will encounter fast-paced sections, sharp turns, and unexpected drops.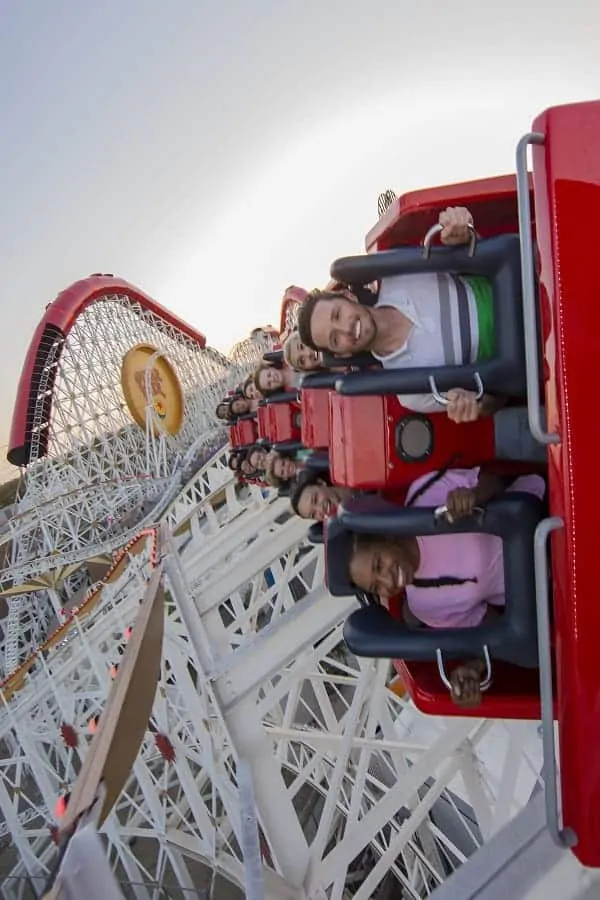 20. Incredicoaster
This rollercoaster takes riders through the world of The Incredibles, with exciting twists and turns as they join baby Jack-Jack on his adventures.
This roller coaster reaches speeds up to 55 mph and has inversions, making it one of the most thrilling rides in the park.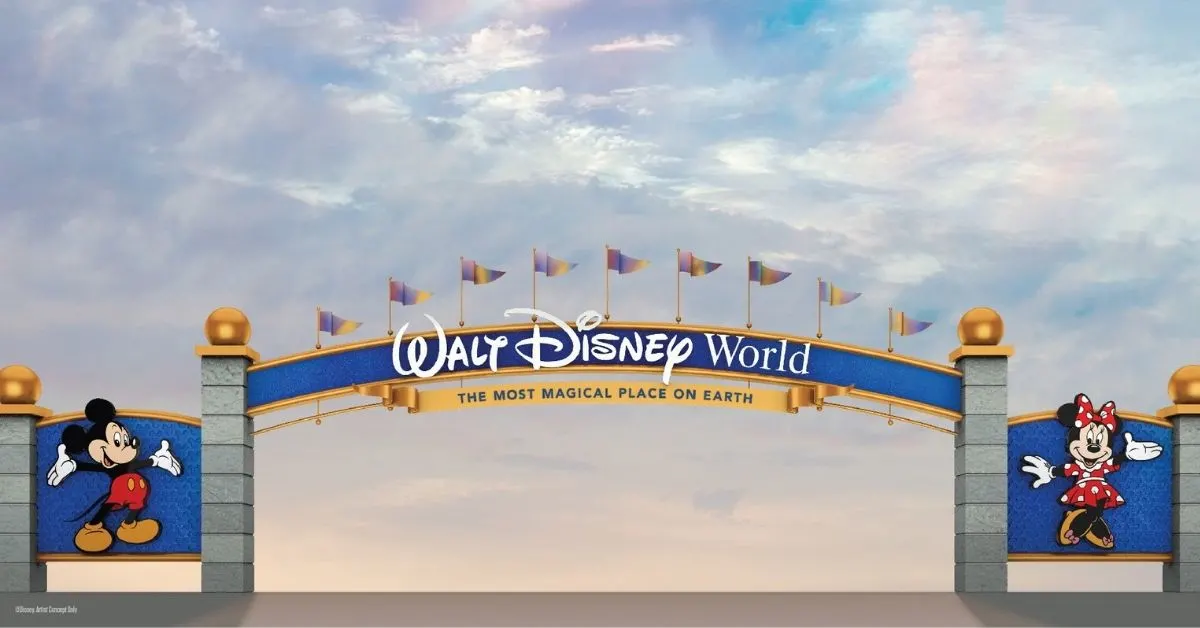 20 Rides at Disney World That Aren't at Disneyland
If you are headed to the four Disney World parks and looking forward to experiencing what makes Disney World different from Disneyland, these are the rides to prioritize: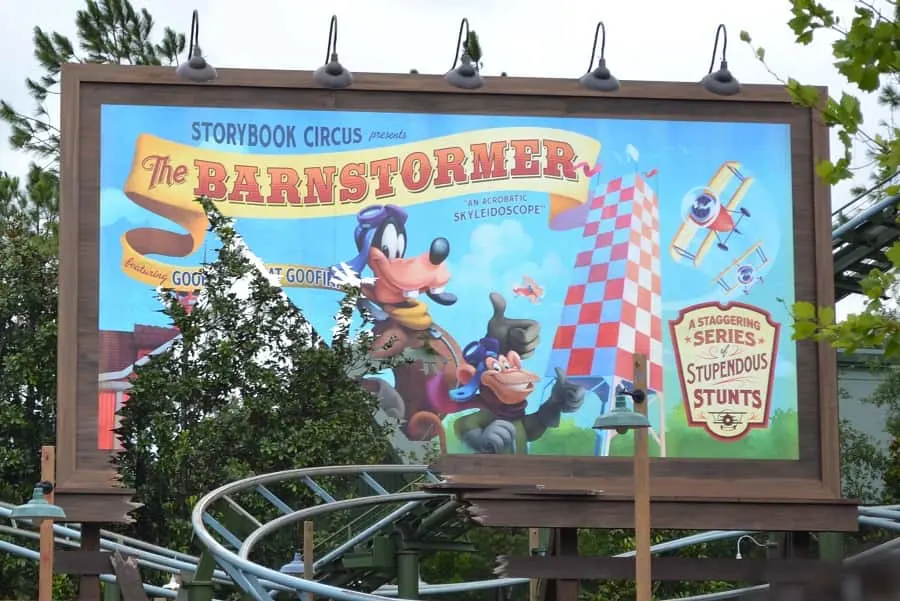 1. Barnstormer
The Barnstormer at Magic Kingdom is a roller coaster that takes guests soaring around Goofy's backyard and into the air.
As guests speed through twists, turns and sudden drops, riders will feel like they are on an airplane voyage without leaving the ground!
2. Seven Dwarfs Mine Train (Magic Kingdom)
Seven Dwarfs Mine Train is an outdoor roller coaster where riders take a mining cart through a winding track that enters a diamond mine and ends at the Seven Dwarfs cottage.
As the ride progresses, it takes guests through scenes from Snow White and has animatronic figures throughout that bring the story of the Seven Dwarfs to life.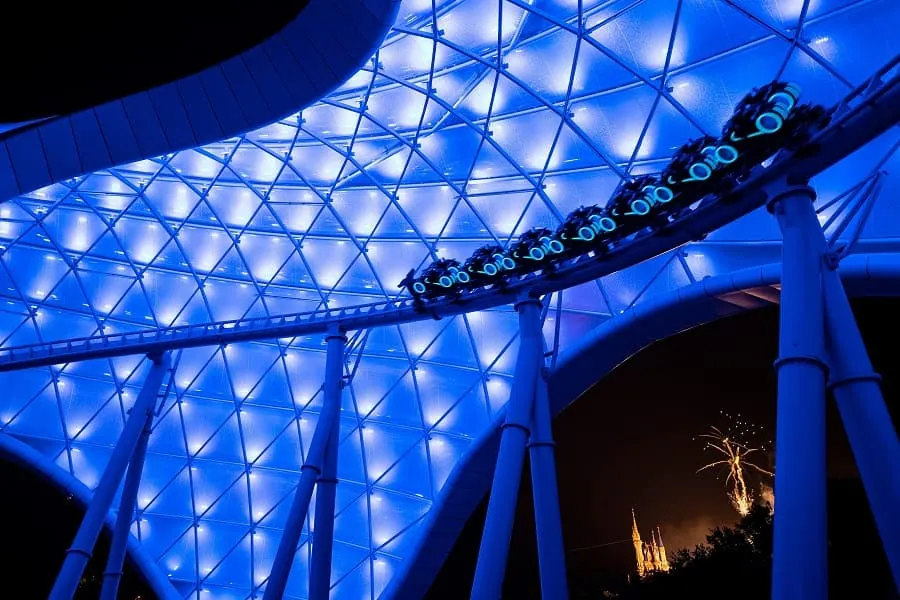 3. TRON Lightcycle Run (Magic Kingdom)
TRON Lightcycle Run is the newest attraction in Magic Kingdom!
This technologically advanced roller coaster ride puts riders behind the handlebars of a lightcycle to twist and turn their way around a track in a race against time.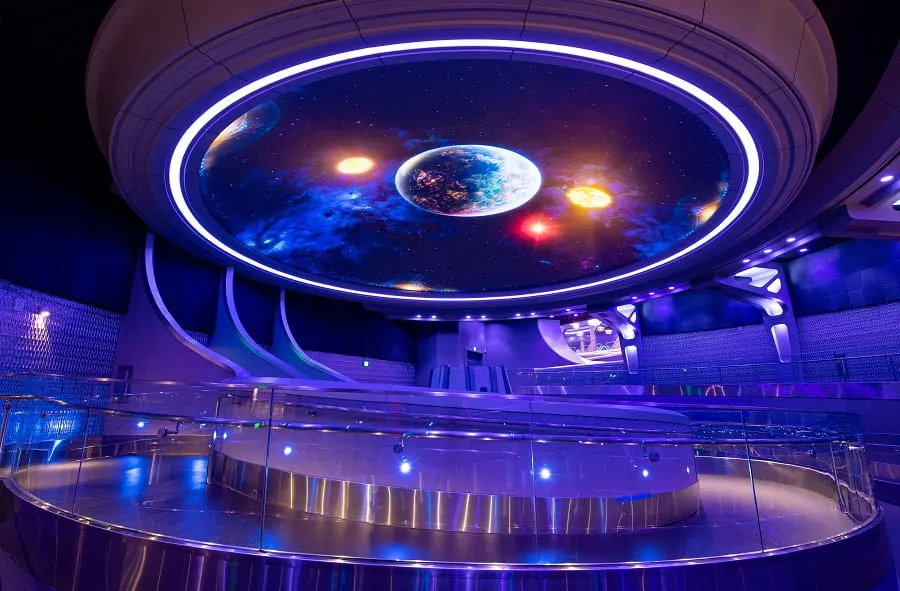 4. Guardians of the Galaxy: Cosmic Rewind (EPCOT)
Guardians of the Galaxy: Cosmic Rewind is a rollercoaster experience that takes riders on a journey alongside the Guardians—Rocket, Gamora, Groot, and Star-Lord—as they travel through time and space to collect valuable relics from the past.
Along the way, guests come face-to-face with creatures from across the galaxy, along with a few Marvel characters.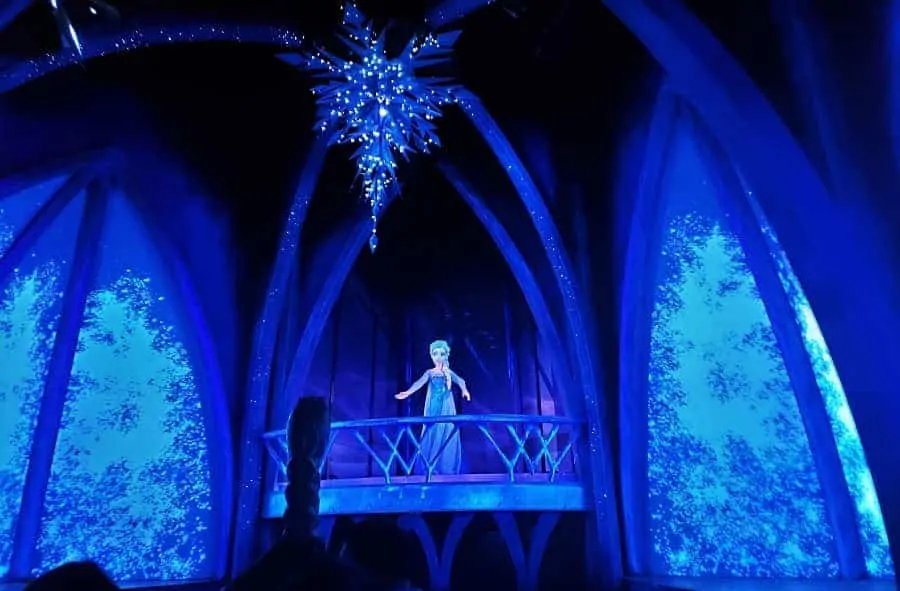 5. Frozen Ever After (EPCOT)
Frozen Ever After takes guests on a musical boat ride through the kingdom of Arendelle.
As they make their way to see Elsa, guests will see animatronics Anna, Elsa, Kristoff, Olaf and Sven and hear favorite songs from the movie.
The ride ends with a visit to Elsa's Ice Palace before having to face a sleeping Marshmallow who awakens and sends guests plummeting down the mountain.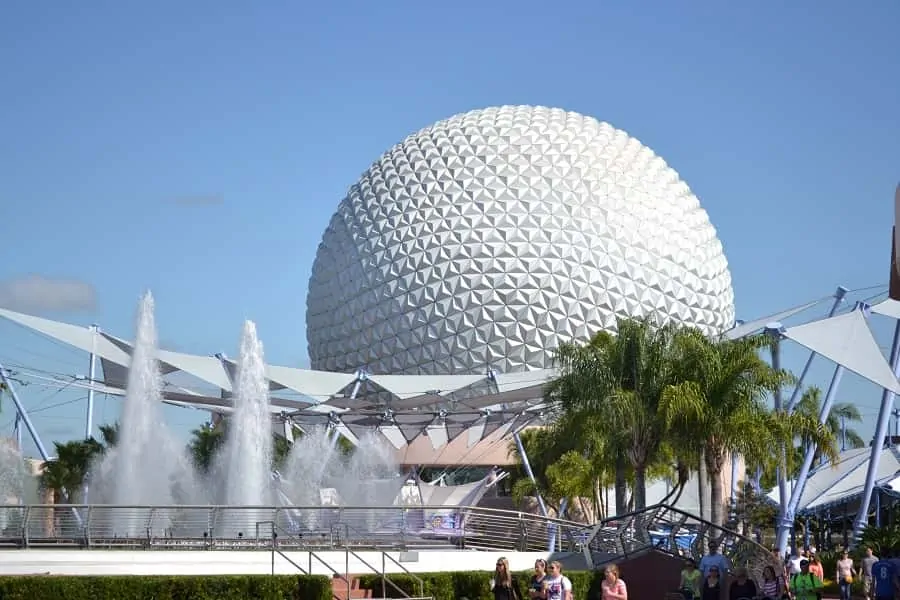 6. Spaceship Earth (EPCOT)
Spaceship Earth is a geodesic sphere that is home to a ride taking guests on a 15-minute journey through time and space, narrated by Dame Judi Dench.
Guests will explore human evolution and how technology has shaped our world.
There is also an interactive component where guests can imagine themselves living in the future based on the choices that they make while on board.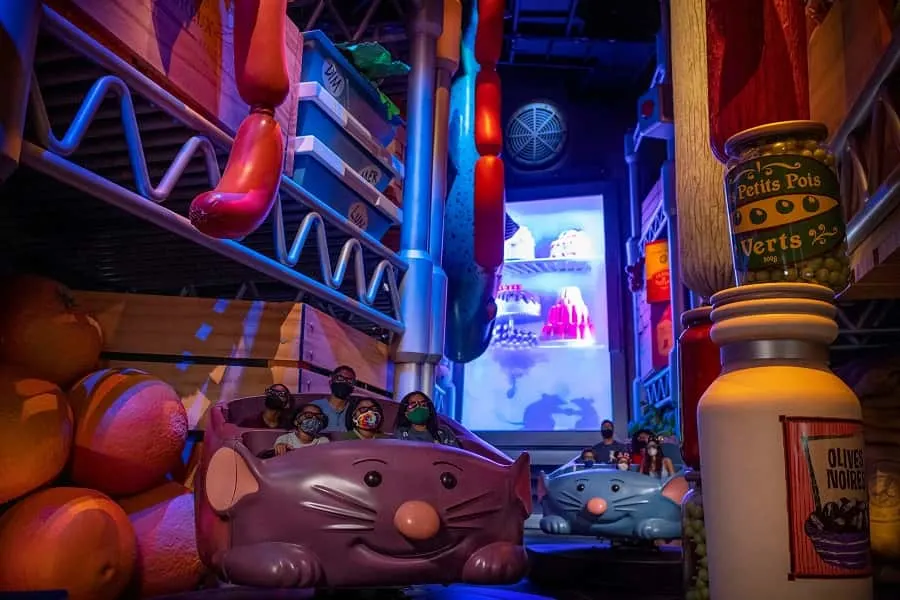 7. Remy's Ratatouille Adventure (EPCOT)
Remy's Ratatouille Adventure takes guests on a race through Gustau's restaurant and Remy's kitchen as though they are the size of a mouse.
The ride is a 4D experience with scents, sights, sounds, and sensations that bring the Ratatouille world to life!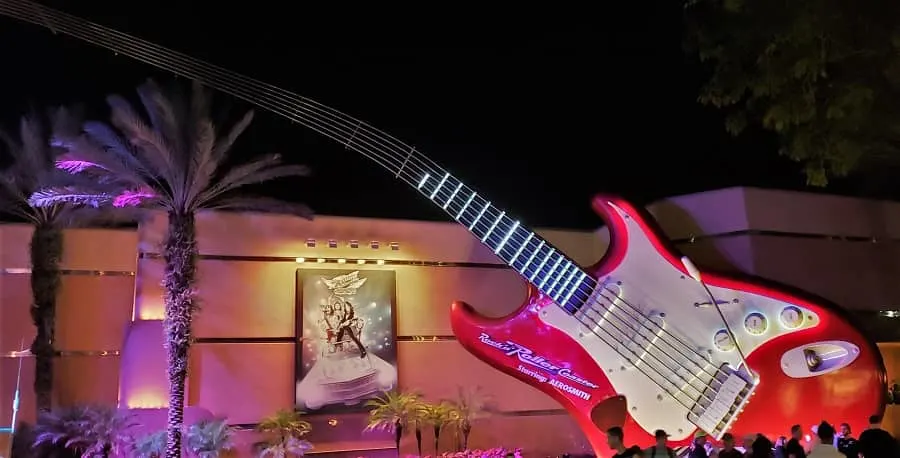 8. Rock 'n' Roller Coaster (Hollywood Studios)
This indoor roller coaster takes guests on a fast-paced journey through the darkened streets of Los Angeles to get to an Aerosmith concert.
The ride is filled with flashing lights, neon signs, and of course, music from Aerosmith.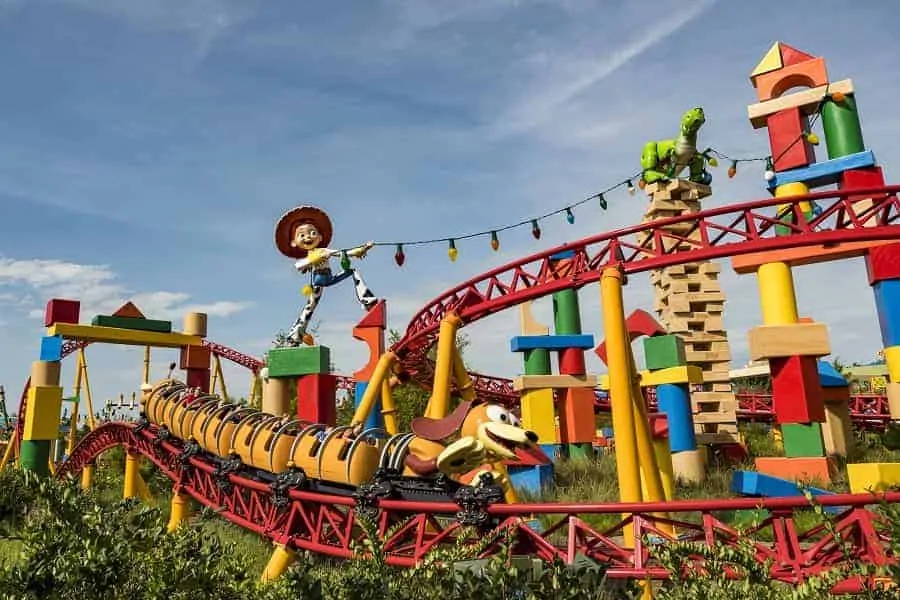 9. Slinky Dog Dash (Hollywood Studios)
This rollercoaster ride is based on the classic Slinky Dog character from Toy Story. Riders are whisked through Andy's backyard with several exciting drops, twists and turns.
There is even a slingshot aspect that is one of a kind.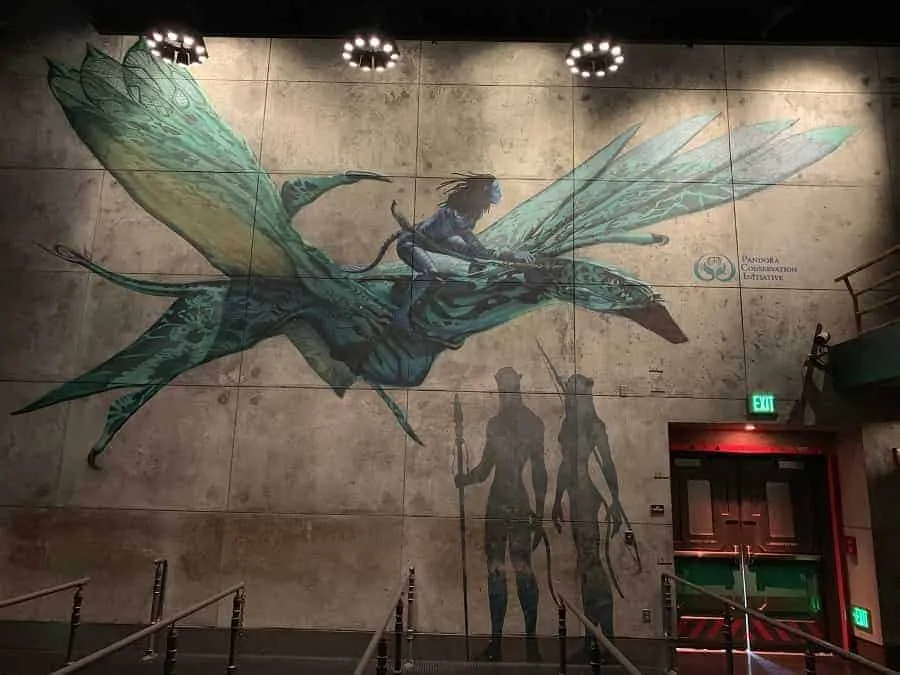 10. Avatar Flight of Passage (Animal Kingdom)
Avatar Flight of Passage takes guests on an incredible 3D journey over the world of Pandora.
This unique experience has guests riding on a banshee simulator through floating forests and over oceans where the wind will blow their hair and water sprays lightly in their face.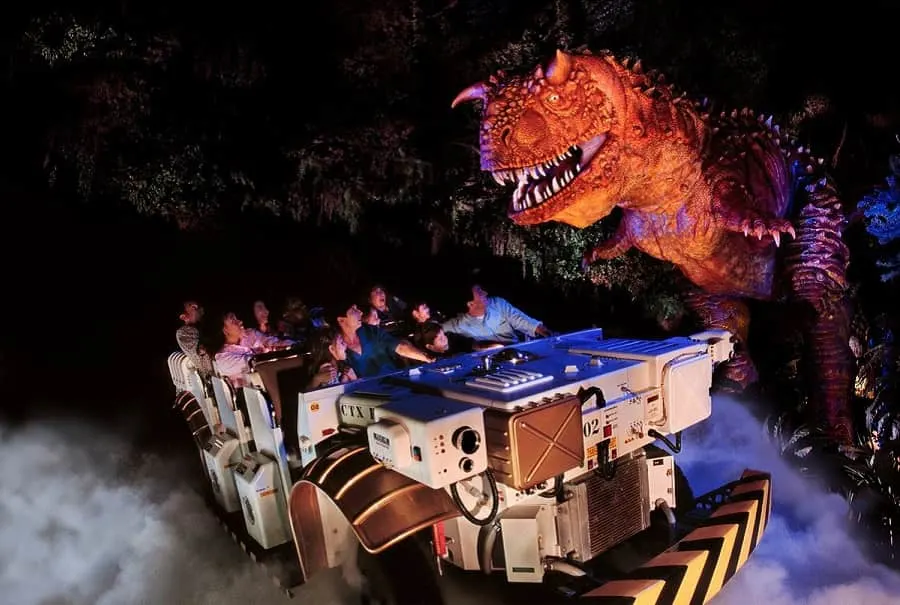 11. DINOSAUR (Animal Kingdom)
The Dinosaur ride takes guests on a research expedition back in time when Dinosaurs roamed the Earth.
Along the way, guests encounter some of Earth's most incredible creatures- Triceratops, Stegosaurus, Tyrannosaurus Rex while running for their life as they try to escape an impending meteor strike !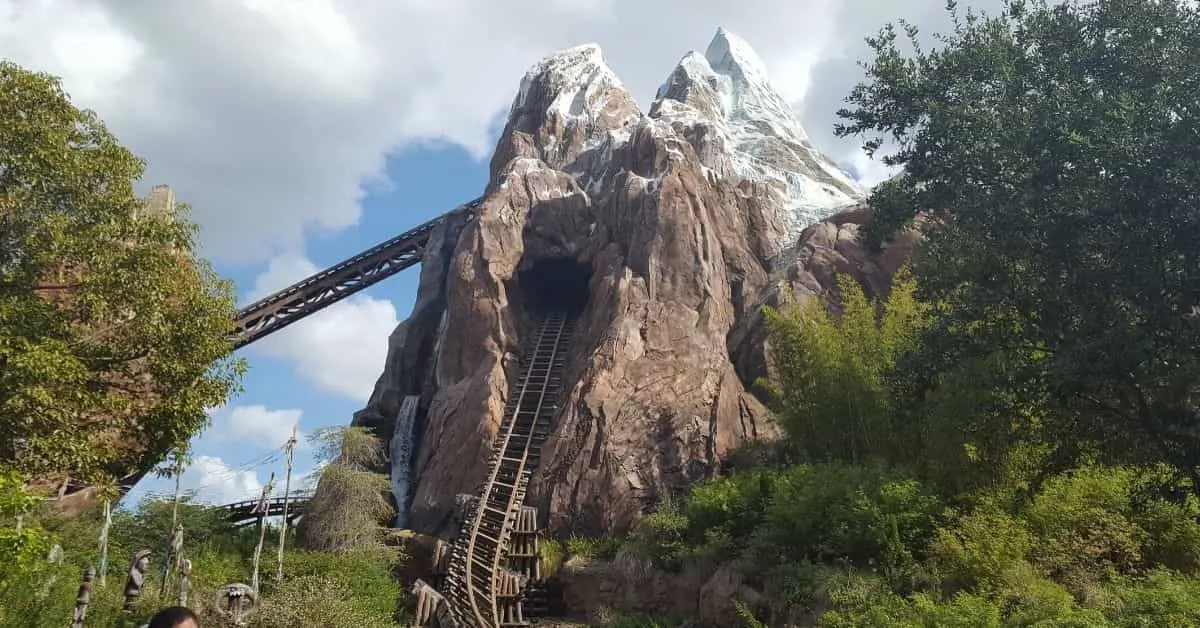 12. Expedition Everest (Animal Kingdom)
Expedition Everest is a rollercoaster that takes guests on a thrilling journey up the Himalayan Mountains to search for the elusive Yeti.
While on the hunt, the train climbs up the mountain and takes a steep drop into the snow-covered mountain terrain after a close encounter with the beast.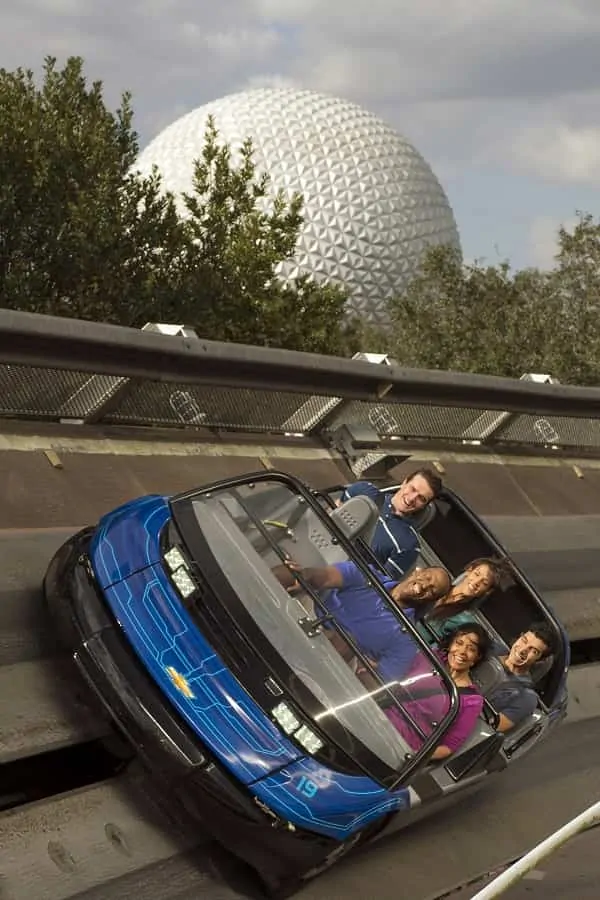 13. TEST Track (EPCOT)
Guests are able to design their own virtual car before it is put through its paces on an outdoor track.
After the design concept is finished, guests go on a high speed race around the circuit to test speed, handling and effieciency.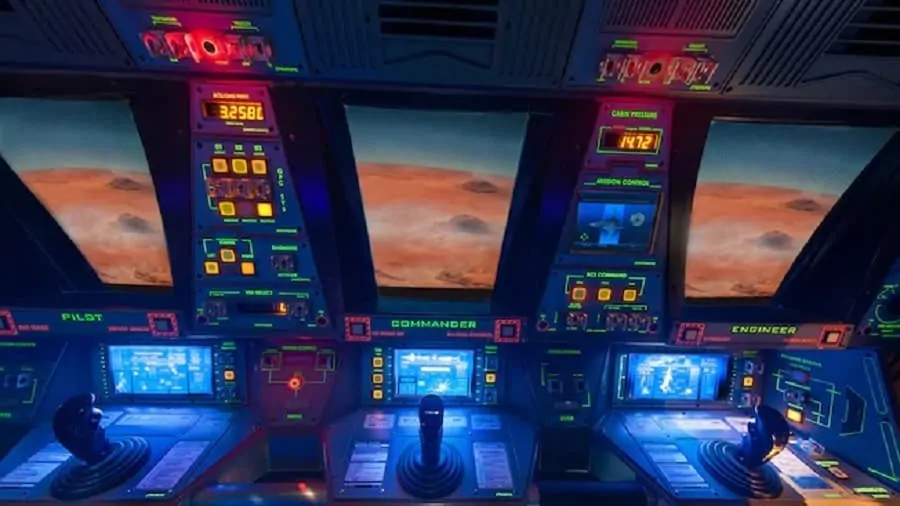 14. Mission Space (EPCOT)
This thrill ride takes guests on a simulated mission to Mars, and it gives riders the feeling of what it would be like to experience a space-launch and landing.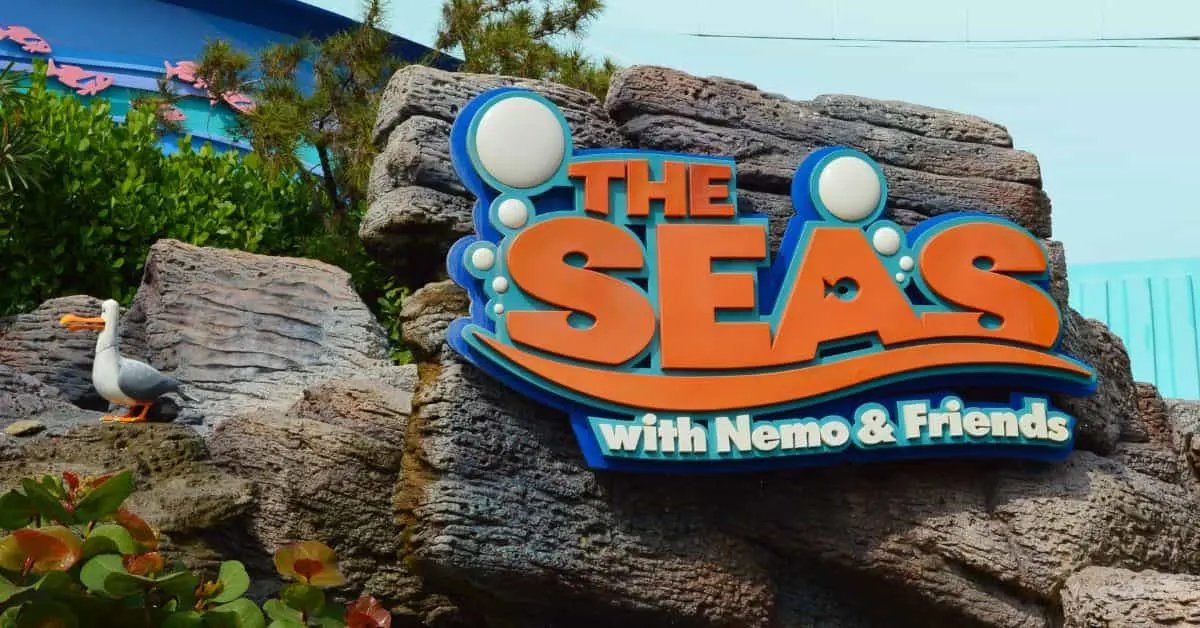 15. The Seas with Nemo & Friends (EPCOT)
Guests board clamshells to go on a jouney to find Nemo.
Along the way, they pass through various scenes full of colorful characters from the animated Pixar movie.
The ride ends at a real aquarium where guests can sing along to "Big Blue World" while disembarking.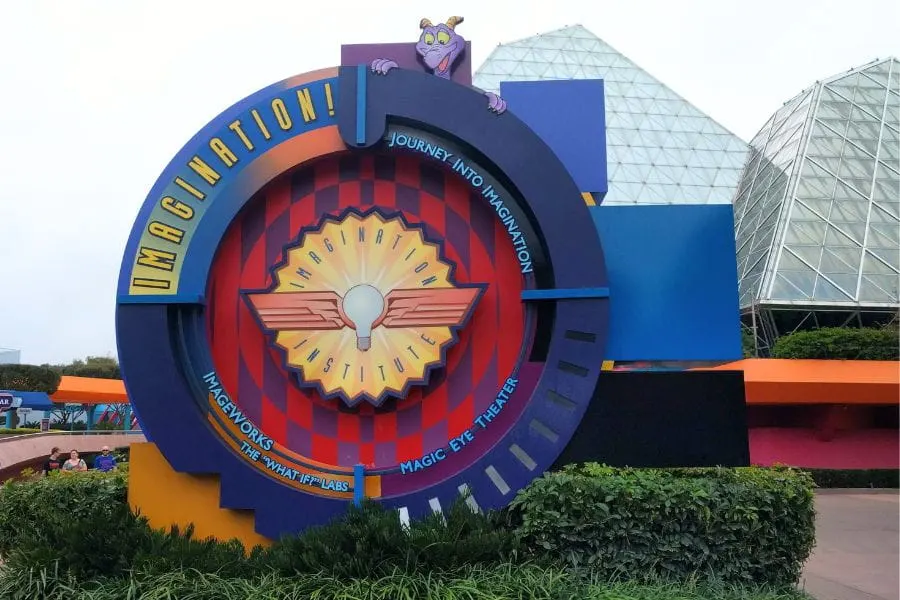 16. Journey into Imagination with Figment (EPCOT)
The attraction takes place in the Imagination Institute where guests explore the power of imagination with a little help from a fiesty dragon named Figment.
As they travel around the institute, guests experience a world filled with colorful visuals, catchy music and whimsical experiences that show how imagination can help them dream up all kinds of possibilities.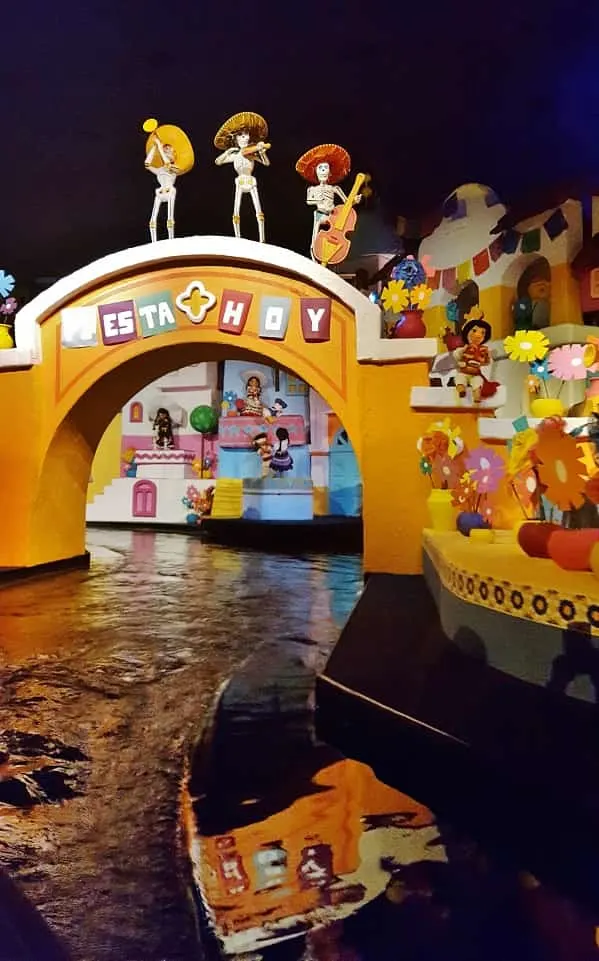 17. Gran Fiesta Tour
This small water ride takeg guests on a quest with Panchito, the Mexican charro rooster, and José Carioca, the Brazilian parrot as they search for Dontald Duck.
As they go down the Rio Grande, guests will see landmarks such as Chichen Itza and Teotihuacan, plus vibrant street performers. The journey ends with an exciting finale complete with fireworks!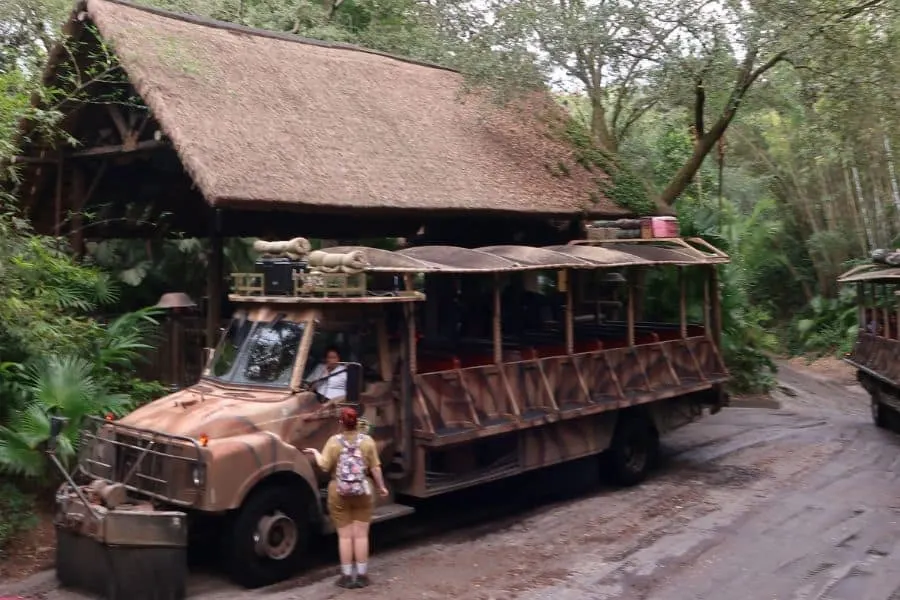 18. Kilimanjaro Safari (Animal Kingdom)
On this rides, guests will take an expedition out to the savanna where they will have the chance to seer over 34 species of animals.
As they ride along the trail, guest will see everything from giraffes and elephants to gazelles and lions.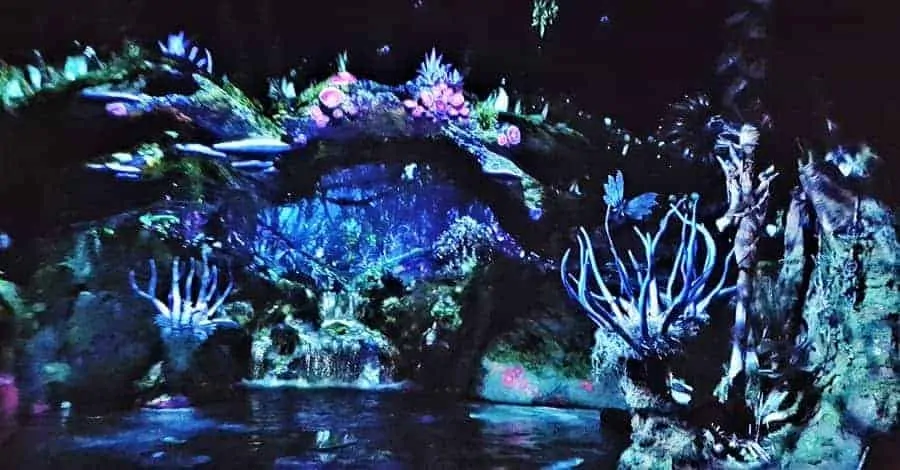 19. Na'vi River Journey (Animal Kingdom)
Guests are taken on a bioluminescent river ride, surrounded by exotic wildlife and lush foliage.
As they journey downriver, they will be immersed in an unforgettable soundtrack filled with the rhythms and melodies of the Na'vi people.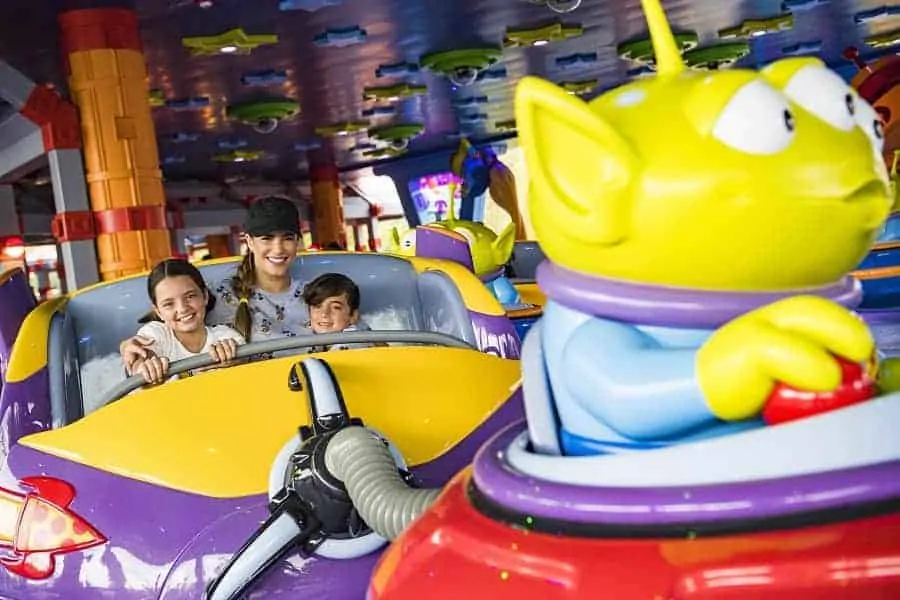 20. Alien Swirlin Saucers (Hollywood Studios)
On this ride, guests board their own alien spacecraft being driven by tiny green men.
The spaceship then takes off, spinning around other intergalactic aliens.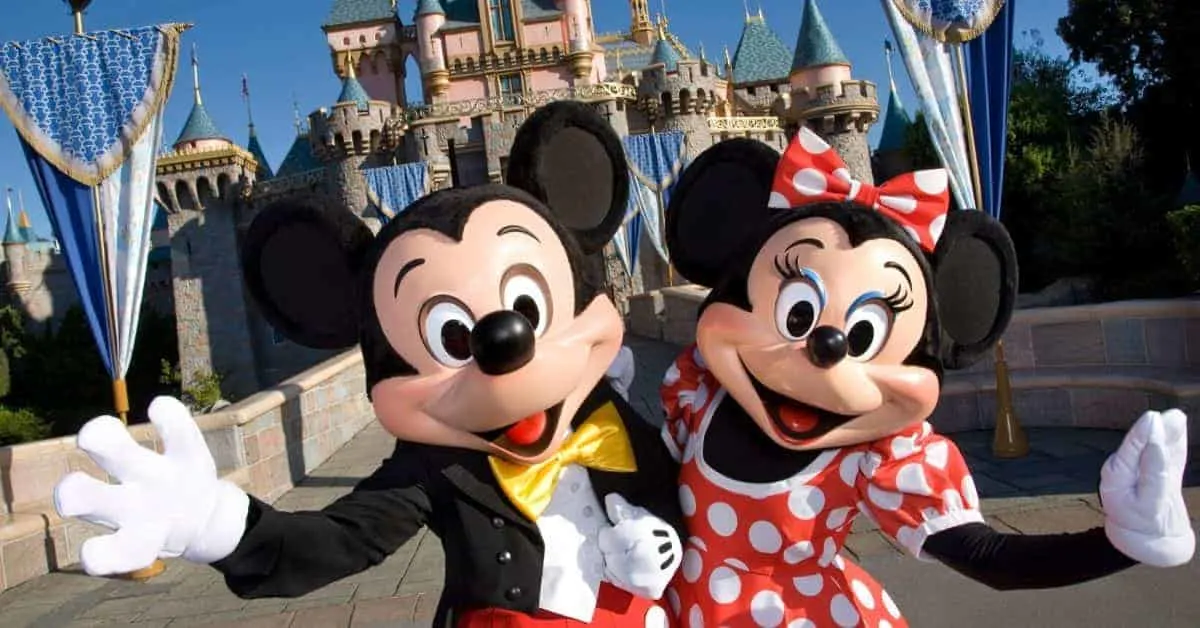 Is Disneyland or Disney World Better?
This is a hard one! When looking at Disneyland vs Disney World, there is more than just rides to consider.
There are shows and restaurants, not to mention restaurants.
What makes the most sense (at least financially) is to visit which ever Disney park is closer to where you live.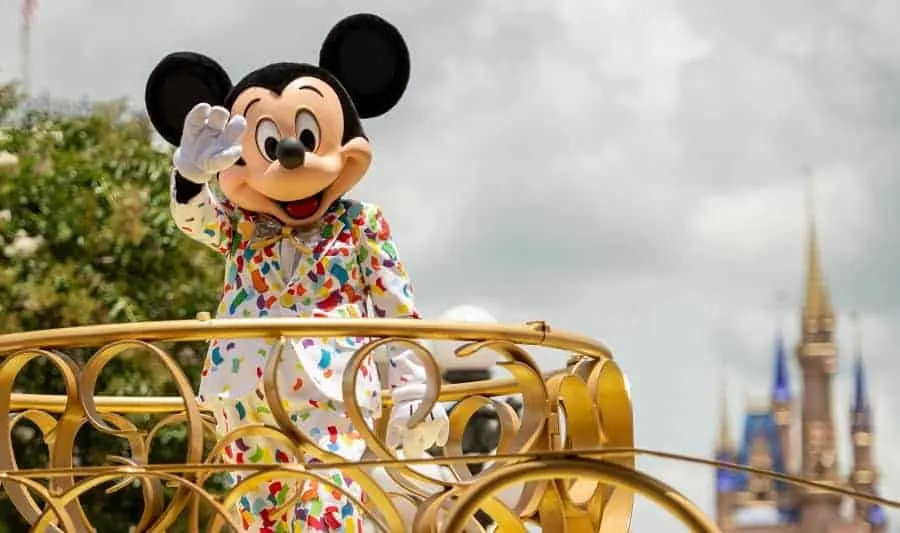 If both are equally distant to where you live, then I would personally choose Disney World because not only do they have four parks, the also have two water parks and a much larger shopping district at Disney Springs.