(Note: The links in this post are affiliate links, and we will be compensated when you make a purchase by clicking through our links. Read our disclosure policy.)
The Disneyland Paris Castle is one of the most beautiful castles at a Disney theme park. Not only is it more than twice as tall as the original Sleeping Beauty castle in Disneyland California, the Parisian version is also twice as elaborate!
Wondering a little bit more about Disneyland Paris' castle?
We've got some facts you might be interested in hearing about.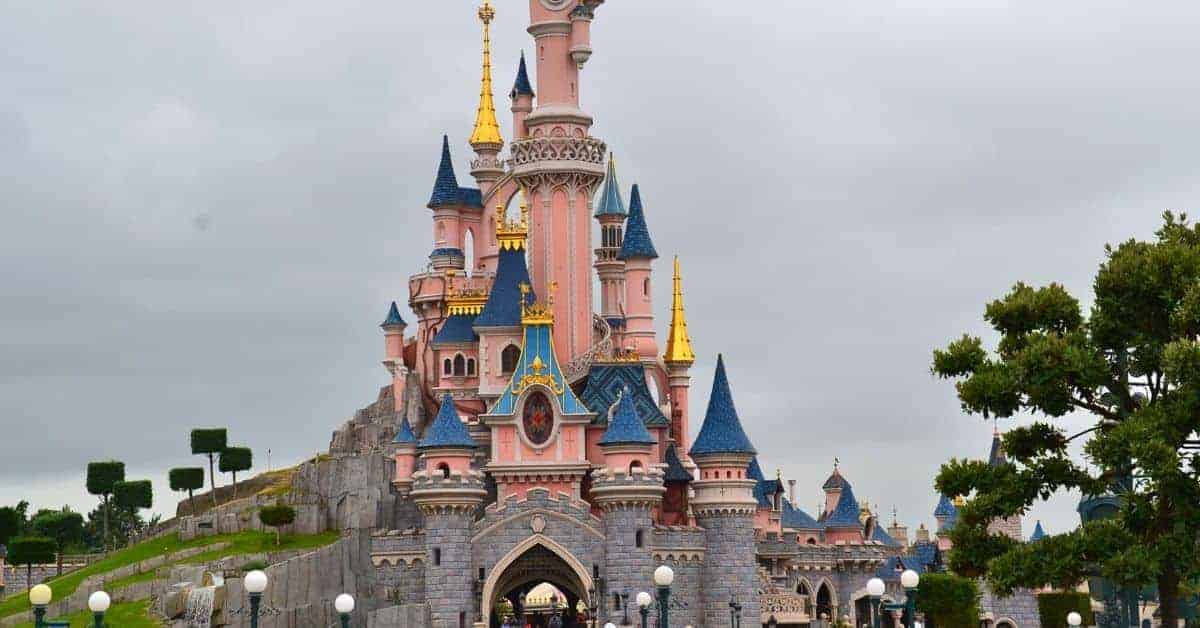 Disneyland Paris Castle Facts
The Disneyland Paris castle is known also as Château de la Belle au Bois Dormant.
You may remember this as the book inside Enchanted Tales by Belle at Disney World or more commonly as Sleeping Beauty.
Sleeping Beauty Castle was created to look like the fairy tale castle from the Sleeping Beauty animated movie.
And while it does resemble features of a classic French Chateau, it was not designed with any real castle in mind.
The castle is surrounded by square cut trees that are also a nod from the Sleeping Beauty film.
The interior of the Disneyland Paris castle is different than all others. You will find that it is very Gothic and was constructed to include details from other famous French buildings.
Sleeping Beauty Castle is the only Disney Castle in the world with its own dragon.
The dragon was designed to resemble the dragons of European folklore, not ones found in Disney movies.
The exterior of this castle is deliberately situated so that is faces South. This was done so that the castle would not be backlit for those wishing to capture the perfect photo in front!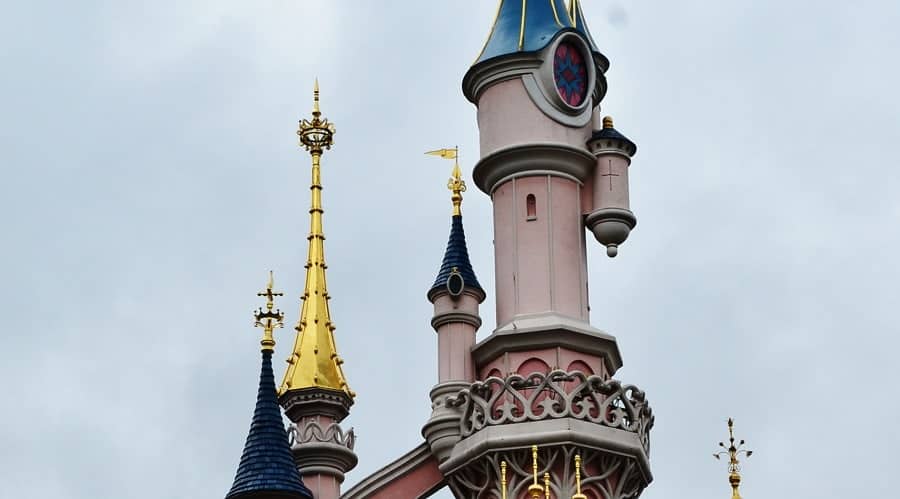 If you zoom your camera up close, you might be surprised to find snails climbing on of the turrets and fleur de lis in the design of Sleeping Beauty Castle in Disneyland Paris.
You will also find that each turret features a different decorative weather vane!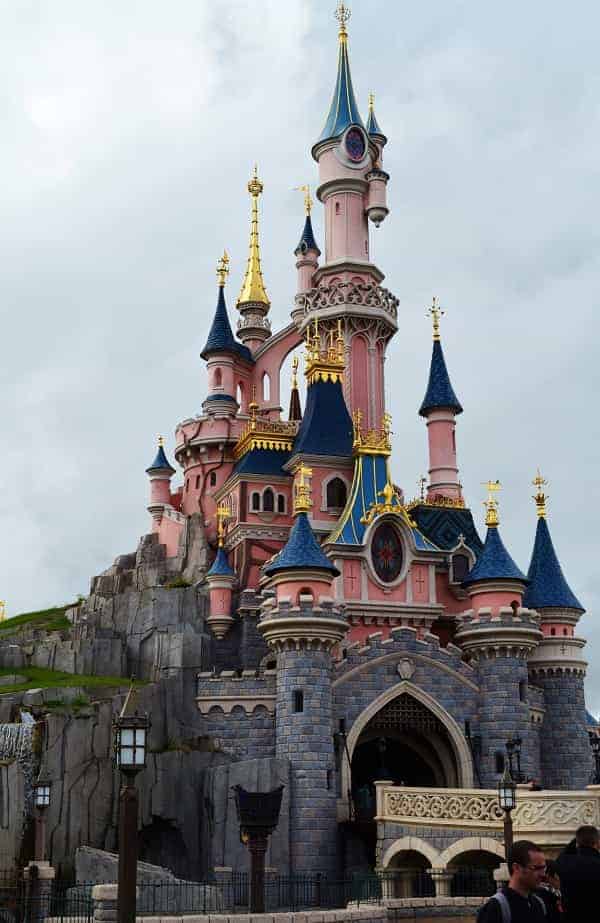 Inside Sleeping Beauty Castle
There are two levels to the Disneyland Paris castle.
The upper level features a gallery featuring the story of Sleeping beauty, while the bottom houses a dragon and a few shops.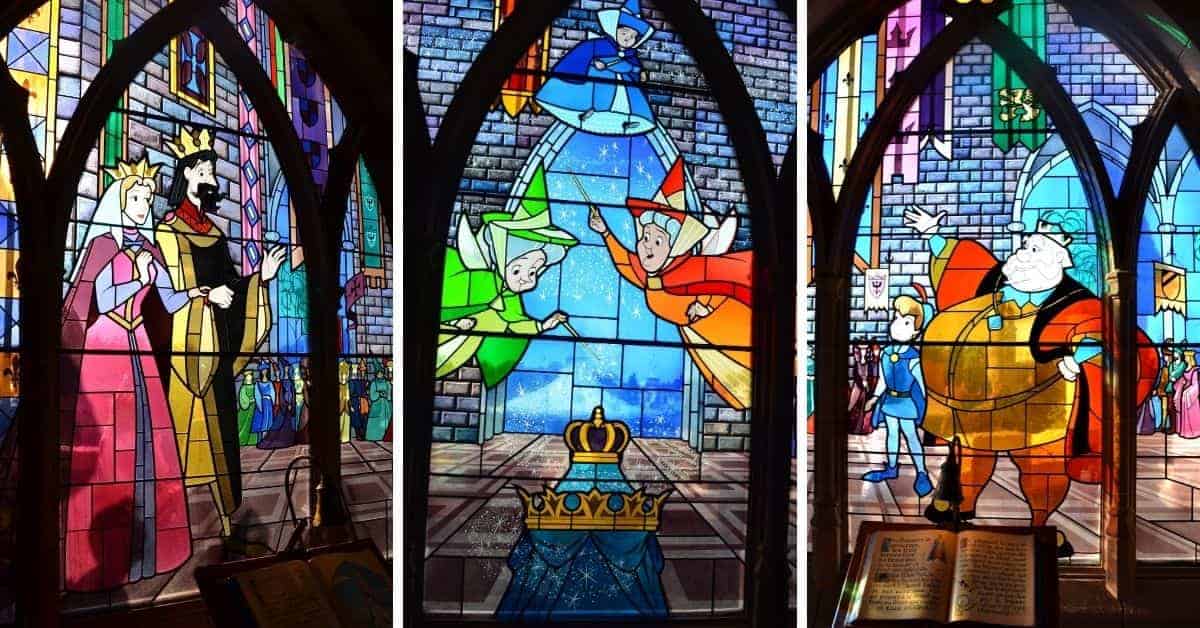 Sleeping Beauty Gallery
It is easy to walk straight through the Disneyland Paris castle, but you might want to take the stairs to the second level where you will find La Galerie de la Belle au Bois Dormant, a gallery of displays that tell the story of Sleeping Beauty.
Just like the mosaics in Cinderella's castle tell the story of how Cinderella met her prince, the stained glass windows inside the Disneyland Paris castle tell the story of Aurora's life from her birth to her being awakened with a kiss from her prince.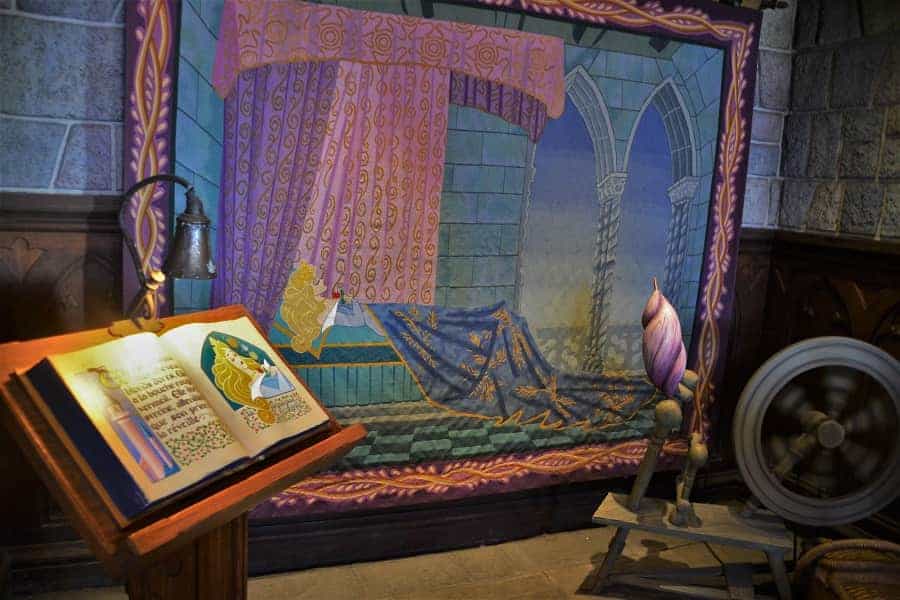 There are several tapestries hanging in the castle, but the one you will most enjoy is the one of Sleeping Beauty on her death bed. The spinning wheel is placed right in front of it and is spinning out of control.
Along with the beautiful stained glass and woven tapestries, you will see a beautiful statue featuring Sleeping Beauty dancing with her prince.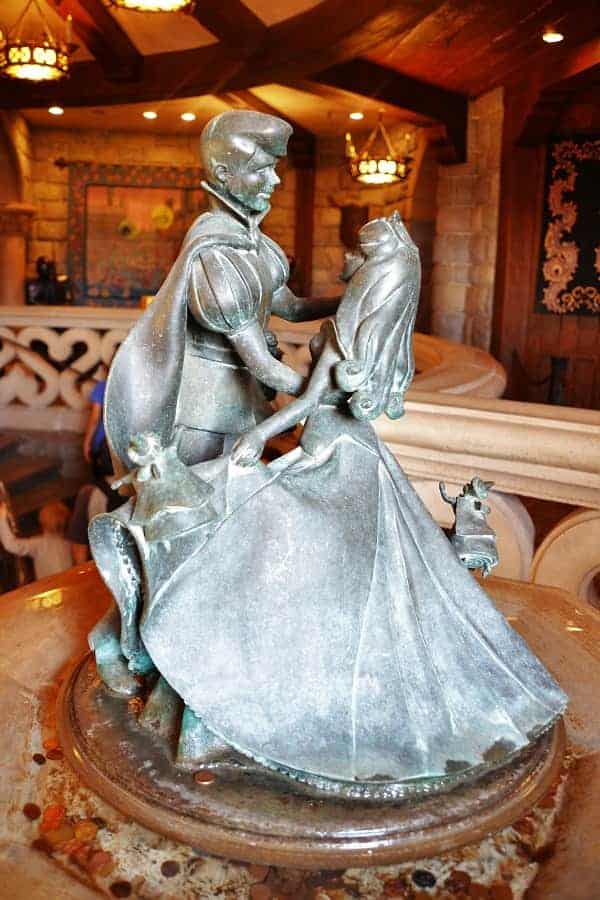 Perched along her dress are the three fairies.
While the Disneyland castle is bright and cheery above ground, below ground is a whole different story!
Make sure that you venture beneath the castle to see what lies below!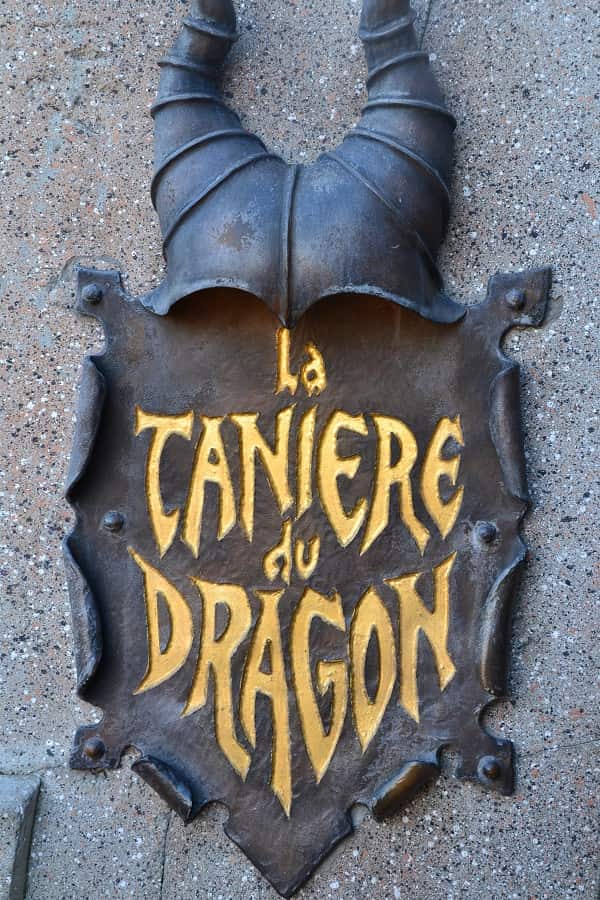 The Dragon's Den
Deep below the castle you will find "La Tanière du Dragon."
Once the ruler of the skies, this defeated dragon lies chained against jagged rocks. You may find it sleeping, but know that it does awaken and isn't very happy when it does!
Sleeping Beauty castle in Disneyland Paris is one of the most beautiful in terms of details both inside & out.
Make sure that you take time to explore it next time you are visiting Disneyland Paris!
Have you been inside the Disneyland Paris castle? What was your favorite part?