(Note: The links in this post are affiliate links, and we will be compensated when you make a purchase by clicking through our links. Read our disclosure policy here.)
There isn't anything more memorable than celebrating a birthday at Disney World! Going to Disney any time of year is pretty fantastic, but when you can go on your birthday, it makes the occasion even more magical.
Disney loves to make you feel special, but the key is to let them know you are celebrating! If you are lucky enough to be going to Disney during your birthday, there are a few things you should know.
If you are using the My Disney Experience App and have linked your tickets, your birthday will be known to the employees at Disney automatically.
Upon check in at Disney resorts, the cast member will probably wish you a happy birthday if your birthday is during your stay.
BUT even if your stay isn't on your exact birthday, it is worth telling them you are celebrating your birthday at Disney.
Did you know you can purchase a special package where the resort will decorate your room for your birthday? They will put balloons, streamers, and even a special gift.
Want a birthday cake delivered to your room? Disney resorts will do that too.
But even if you don't pay for the extra birthday service, you never know how the resort may help you celebrate your special day! You might find that your towels are left in the shape of a birthday cake or you might find a little something extra done to make your day all that more special.
The point is to let them know it's your birthday!
The Disney resort cast member will also give you a special Birthday Button to wear. This is something you should wear your entire stay at Disney (and of course at the Disney parks).
It alerts Disney Cast Members to treat you extra special. Even if you aren't staying at a Disney resort, you can get a Disney Birthday pin at the Disney park ticket counter.
You will also find people carrying baskets of pins when you enter the park, but you are better off having it in advance just in case you can't locate the person carrying the baskets.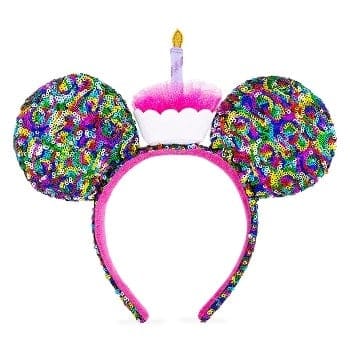 Wearing a Disney Birthday pin will alert the cast members at the Disney parks that it's your special day. Want to take it up a notch? Grab this set of Micky Mouse Birthday ears!
You will find that cast members will personally wish you Happy Birthday and go out of their way to make you feel special.
This might mean special photo opts with the Disney PhotoPass photographers or extra treats.
Speaking of extra treats, if there was a time when you were going to splurge for table service meals at Disney, this is it. Disney is known for going all out for birthday.
Be sure to book your restaurant reservations through the My Disney Experience App. All Disney cast members are able to access your birth date when they pull up your reservations so they should know that it's your birthday and to make it extra special.
Even if they don't pay attention to that, the fact that you are wearing your Disney Birthday Pin will let them know you are celebrating your birthday at Disney.
Why is this important? Well, you will find that Disney might give you something special. We've been given birthday cards signed by characters, birthday cupcakes, and of course, sung to by restaurant staff.
If that doesn't make celebrating a birthday at Disney World extra special, I'm not sure what else would!

Will you be celebrating a birthday at Disney World this year?