Pressed pennies are a great souvenir to collect while at Disney and are very popular with kids. Each penny features a Disney character, a Disney ride or attraction or event. With hundreds of possibilities, many people collect them over several trips.
In recent years, the Disney Pressed Pennies have evolved. There have been new pennies added and also new types of machines.
If you are planning a trip to Disney World and want to collect these pennies, here is everything you need to know.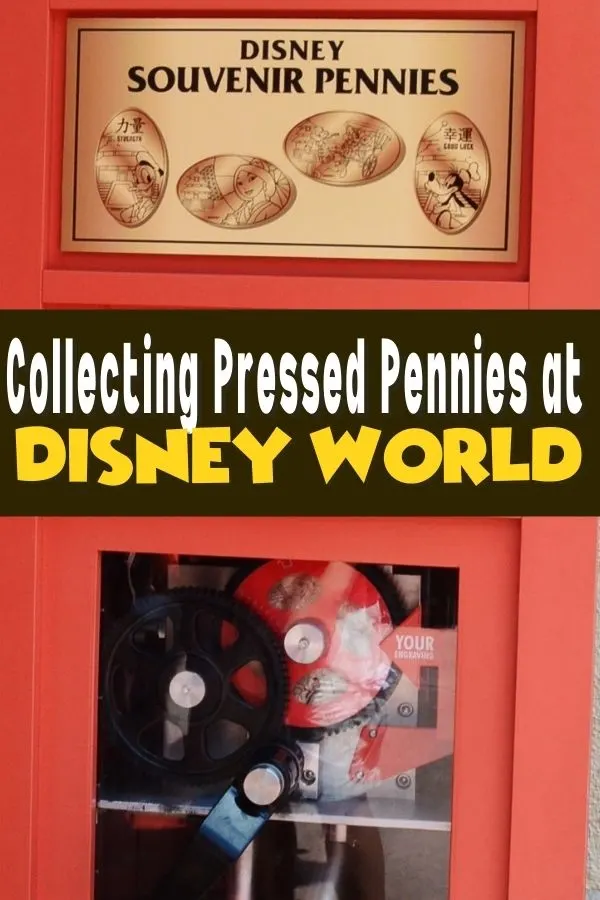 Guide to Collecting Disney Pressed Pennies 2022 & Beyond
Old Crank Arm Disney Pressed Penny Machines
In the past, Disney pressed pennies were 51 cents and had to be purchased with 2 quarters and a penny.
You would place your coins in the appropriates slots, select the penny design crank and arm, and out would pop the penny you choose.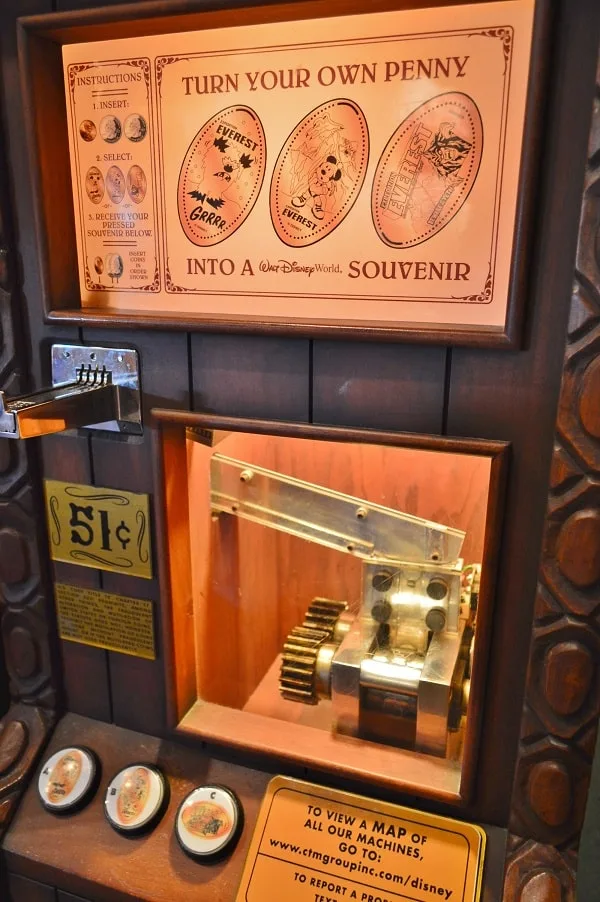 While some of these machines still exists, they are harder to find.
Disney World is now replacing these machines with new machines that no longer need coins and these machines are a tad bit pricier.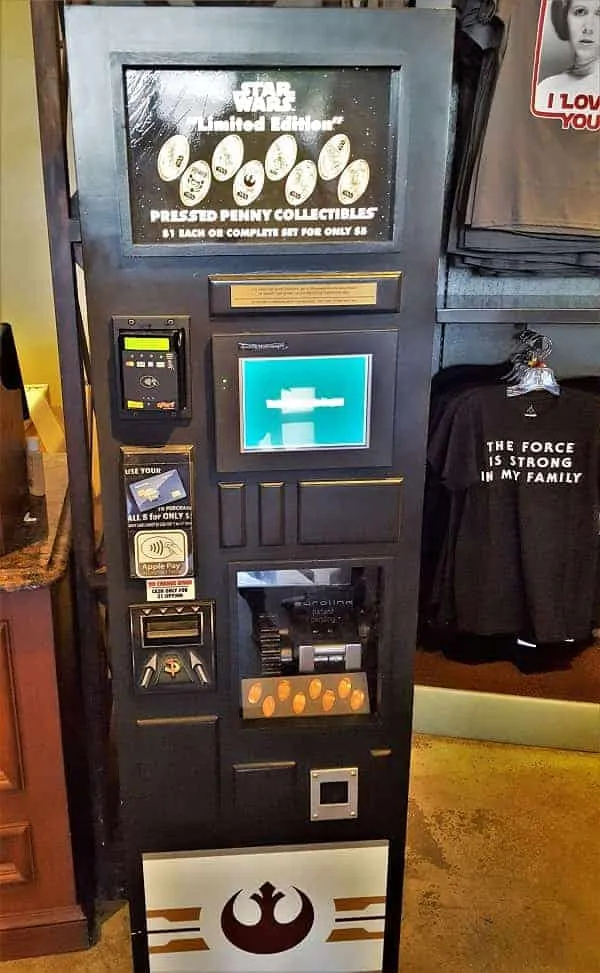 NEW Digital Disney Pressed Penny Machines
Disney has been rolling out NEW digital presses where you are able to pay with cash, card (VISA, Mastercard, American Express, Discover) or Smartphone app (Apple Pay, Samsung Pay & Google Pay).
No longer are you required to bring a penny. The new Disney Penny presses come with brand-new, uncirculated pennies ready to be stamped!
Also the NEW Disney Pressed Penny machings allow you to get one, or a set of eight-twelve different penny designs all at once for easy collecting.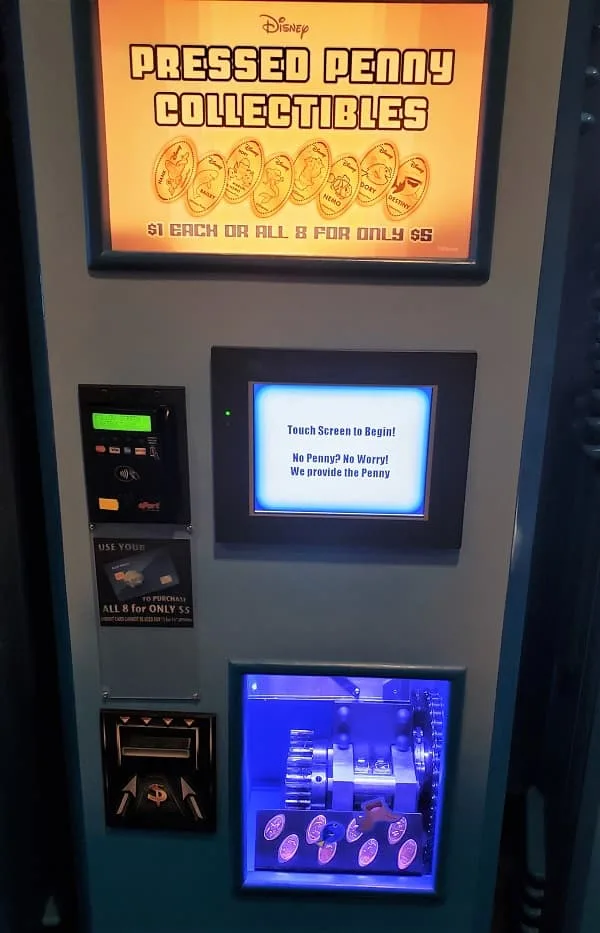 Where Can you Find Disney Pressed Pennies?
Disney World parks. Pressed Penny Machines are usually placed in the gift shop and near exit points of rides and attractions.
Disney Resorts. They are often located near restaurants, open hallways and near check-in desks.
Disney Springs. You will find them at Disney Pin Traders and in stores like Once Upon a Toy, World of Disney and Disney Marketplace.
Disney Mini Golf Courses .Each mini-golf location has a machine near their snack area
Disney Cruise Ships. At Port Canaveral, you will be able to find a machine in the lobby area.
Disney Wild World of Sports. Look for a machine in the gift shop.
Orlando International Airport. Only one place here, Disney's Earport.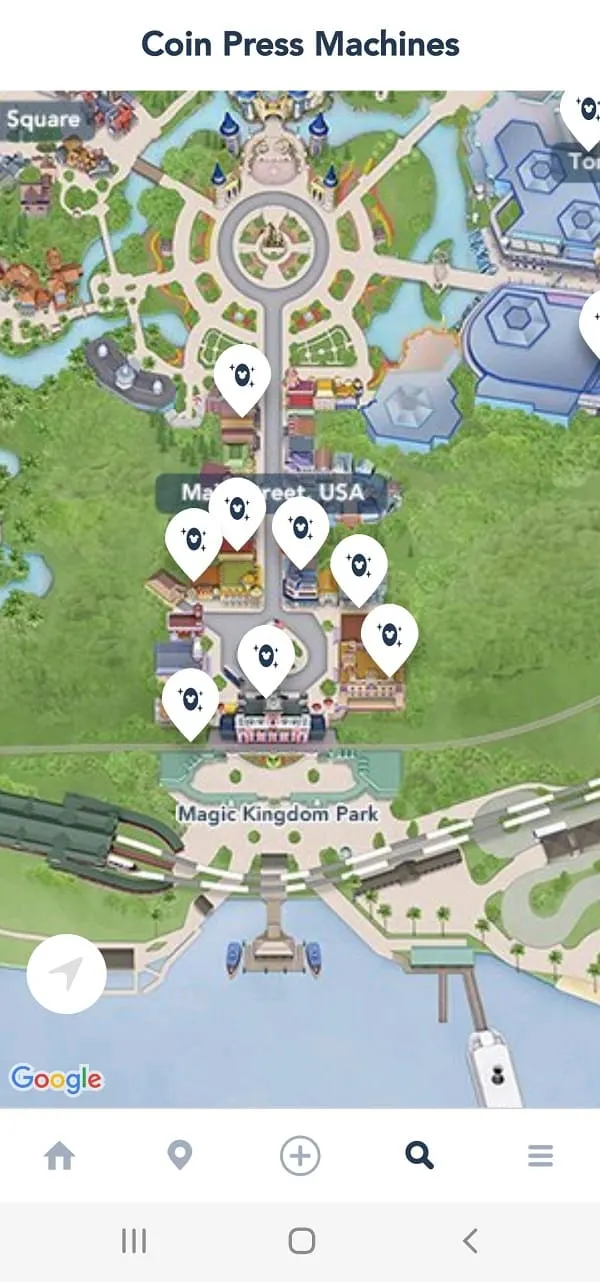 Use the My Disney Experience App
Coin Press Machine locations can be located easily with the My Disney Experience Mobile app!
Select the magnifying glass located on the bottom of the screen.
At the search bar, type in "Coin Press Machines"
Select"Find on Map" for machine locations all over Walt Disney World Resort
Collecting Disney pressed pennies is a great way to document your favorite parts of your Disney trip.
You might collect pressed pennies of a favorite character, or maybe you could get one from your favorite rides.
Any way you slice it, it is one of the most affordable souvenirs you can get!
50th Anniversary Collectible Pressed Penny Coins
During the Walt Disney World 50th anniversary celebration you can purchase 50th anniversary-themed pressed coins!!.
Coins are available in 50 unique designs featuring the Disney Fab 50 characters, including:
Mickey Mouse
Minnie Mouse
Goofy
Pluto
Donald Duck
Daisy Duck
Tinker Bell
Dumbo
Orange Bird
Winnie the Pooh
Figment
Olaf
Genie
R2-D2
And many more!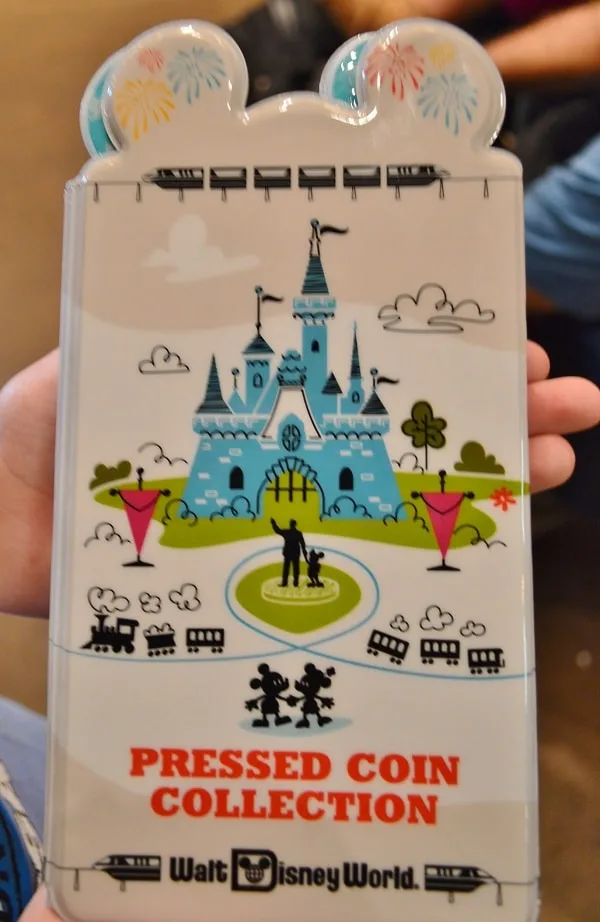 Disney Pressed Penny Book
Those looking to collect Pressed Pennies at Disney World, can find Disney Pressed Penny books located at the register in most Disney gift shops.
This booklet has 65 pockets: eight for coins to be pressed (so you can store money for future pennies), 48 for pressed pennies, and nine for pressed quarters (yes, they have those at the parks too).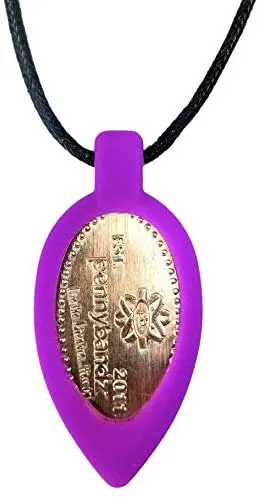 Pressed Penny Jewelry
Another cool way to display your pins is with a PennyBandz Necklace or PennyBandz Bracelet.
You can choose your favorite pressed penny to display (and it can be changed out each day of your trip if you would like).
It even glows in the dark which is even more fun for being at the parks at night!
Overall, we think Pressed Pennies are a great Disney Souvenir and definitely one you should consider if you are traveling to Disney World on a budget!
Are you collecting pressed pennies at Disney World? What do you think about the changes?