(Note: The links in this post are affiliate links, and we will be compensated when you make a purchase by clicking through our links. Read our disclosure policy.)
If you are looking for an inexpensive souvenir to bring back from your Disney vacation, consider collecting Disney Pressed Pennies. For only 51¢, you can get a penny that has been pressed into the design of a Disney character, Theme Park Ride, Attraction or Resort.
Each Disney Pressed Penny machine has a choice of three possibilities, and there are hundreds of machines all over Walt Disney World property!
This makes collecting Disney Pressed Pennies fun because you can collect on one trip or over many trips to Disney.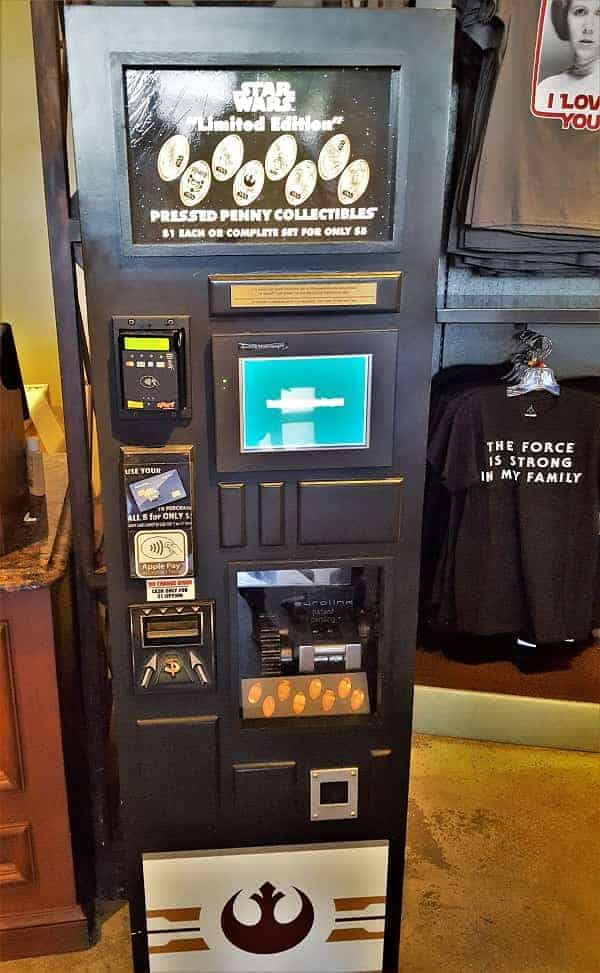 New Disney Pressed Penny machines have started to pop up in Walt Disney World.
These machines have the ability to take credit cards. For these newer Pressed Penny machines, you will pay $1 per penny or can purchase the entire set for $5 (making each pin cheaper).
Where Can you Find Disney Pressed Pennies?
Disney World parks. Pressed Penny Machines are usually placed in the gift shop and near exit points of rides and attractions.
Disney Resorts. They are often located near restaurants, open hallways and near check-in desks.
Disney Springs. You will find them in stores like Once Upon a Toy, World of Disney and Disney Marketplace.
Disney Mini Golf Courses .Each mini-golf location has a machine near their snack area
Disney Cruise Ships. At Port Canaveral, you will be able to find a machine in the lobby area.
Disney Wild World of Sports. Look for a machine in the gift shop.
Orlando International Airport. Only one place here, Disney's Earport.
Collecting Disney pressed pennies is a great way to document your favorite parts of your Disney trip.
You might collect pressed pennies of a favorite character, or maybe you could get one from your favorite rides.
Any way you slice it, it is one of the most affordable souvenirs you can get!
Those looking to collect Pressed Pennies at Disney World, can find Disney Pressed Penny collector books located at the register in most Disney gift shops.
This booklet has 65 pockets: eight for coins to be pressed (so you can store money for future pennies), 48 for pressed pennies, and nine for pressed quarters (yes, they have those at the parks too).

Another cool way to display your pins is with this PennyBandz Bracelet.
You can choose your favorite pressed penny to display (and it can be changed out each day of your trip if you would like).
It even glows in the dark which is even more fun for being at the parks at night!
Are you collecting pressed pennies at Disney World?
Check out the Pressed Penny bracelet one Disney fan made after collecting pressed pennies at Disney.