If you are going to Walt Disney World, you really need to take a little time to check out Rainforest Cafe, a jungle-themed restaurant, where you eat in the middle of a faux rainforest where animals come to life! The Rainforest Cafe Animal Kingdom location is conveniently located at the park which makes it an easy place to grab a meal!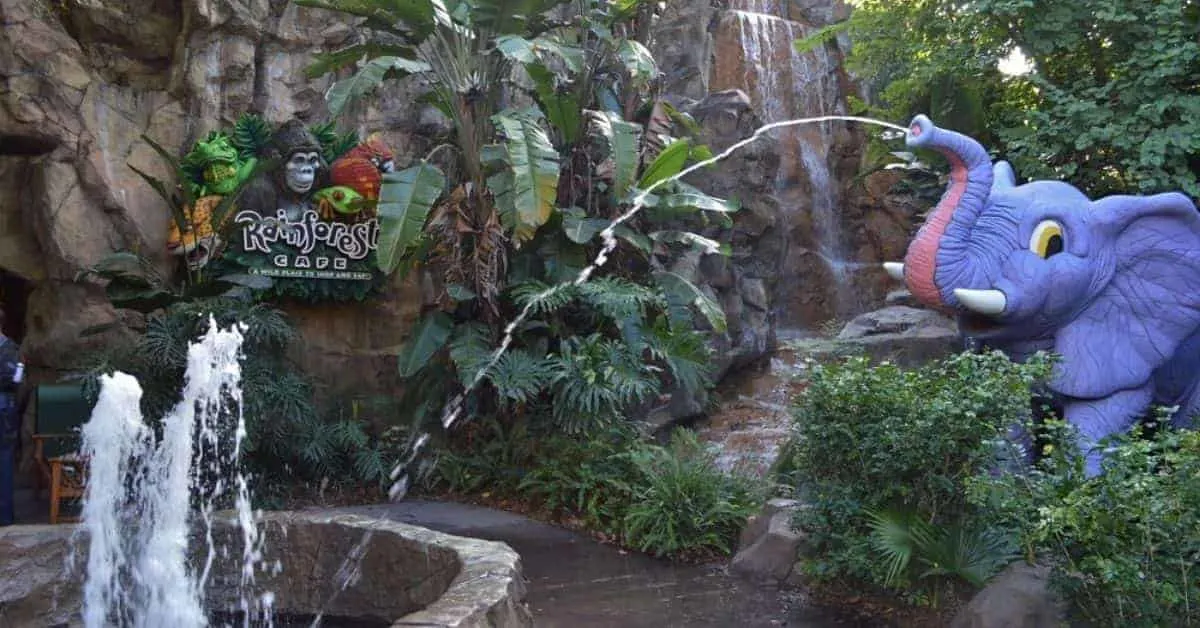 Rain Forest Cafe Animal Kingdom Dining Experience
At Animal Kingdom, Rainforest Cafe is located to the left of the entrance of the park. It is open for breakfast, lunch, and dinner.
Breakfast 8:30 AM – 10:00 AM
Lunch 10:15 AM – 4:45 PM
Dinner 5:00 PM – 9:00 PM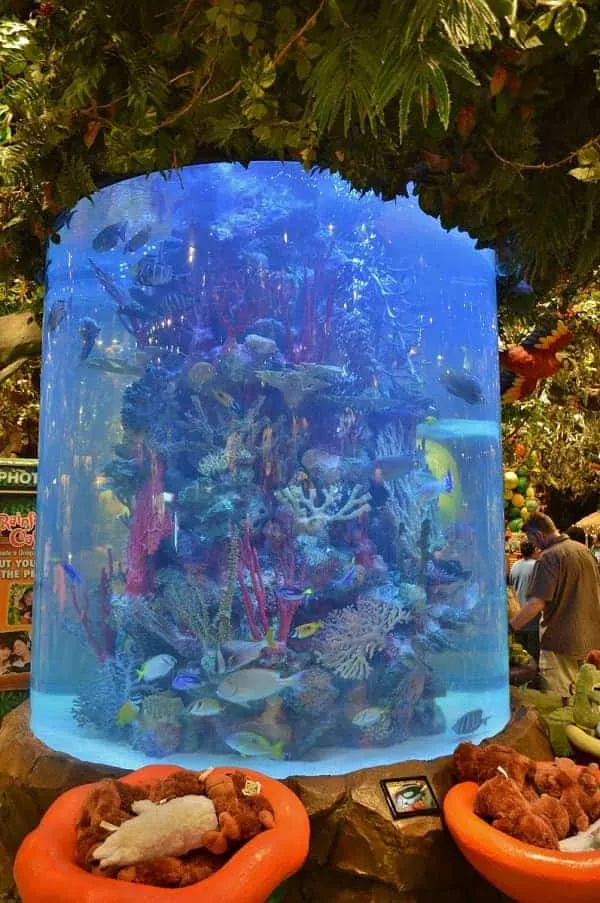 When you arrive, you will notice that there are HUGE tropical fish tanks that appear to go from floor to ceiling.
This is great for keeping kids busy when you are waiting for a table.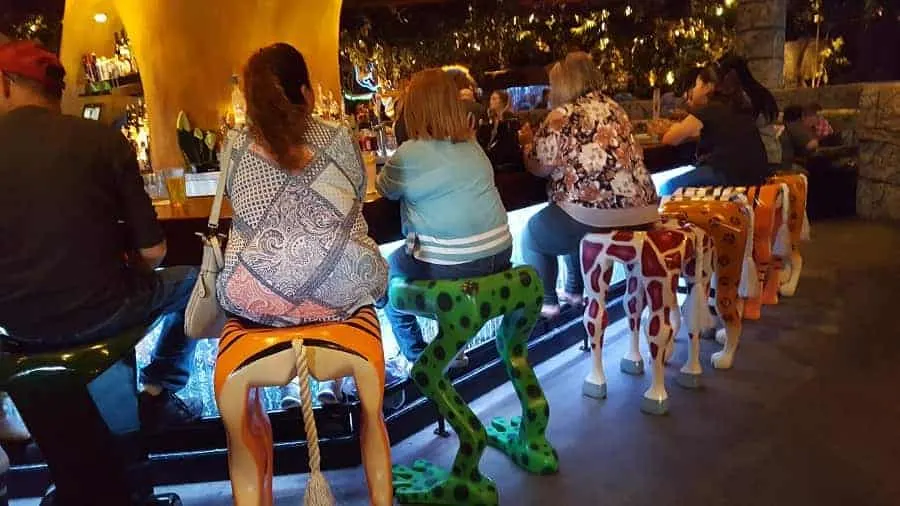 Another great place to check out while you wait for your table is the bar.
The stools look like the bottoms of animals.
Kids are more than welcome to sit at the bar & will enjoy choosing an animal bottom to sit on while having a milkshake!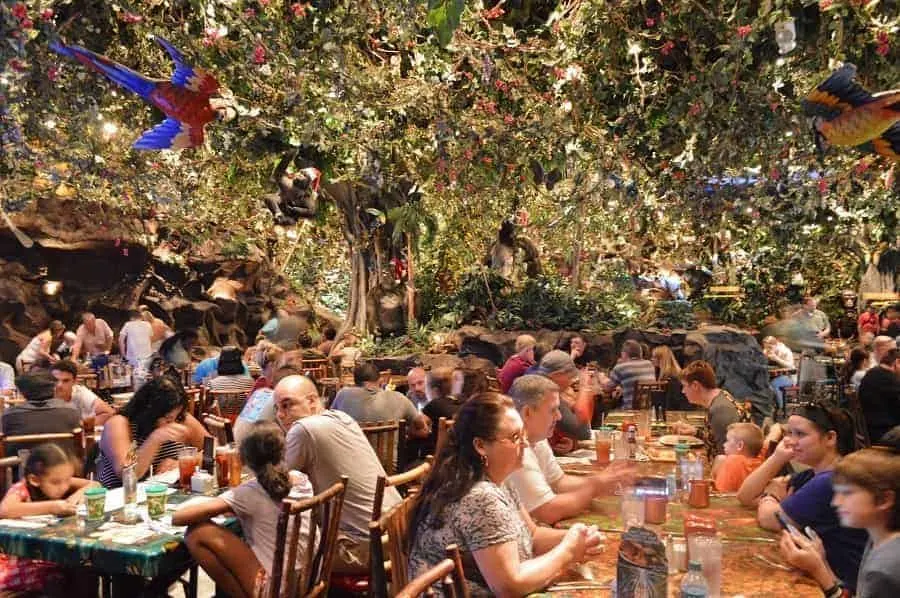 Once you arrive at your table, you will be able to experience what it would be like to eat in a tropical Rainforest alongside the animals that live there.
Not only do you experience a thunderstorm during your meal, but the animals that are in the Rainforest actually come to life.
If you have children who are scared easily by loud noises or have a fear of thunderstorms, it is best to prepare them before you go.
The room does darken prior to the thunderstorm and some of the animals are large and look ferocious.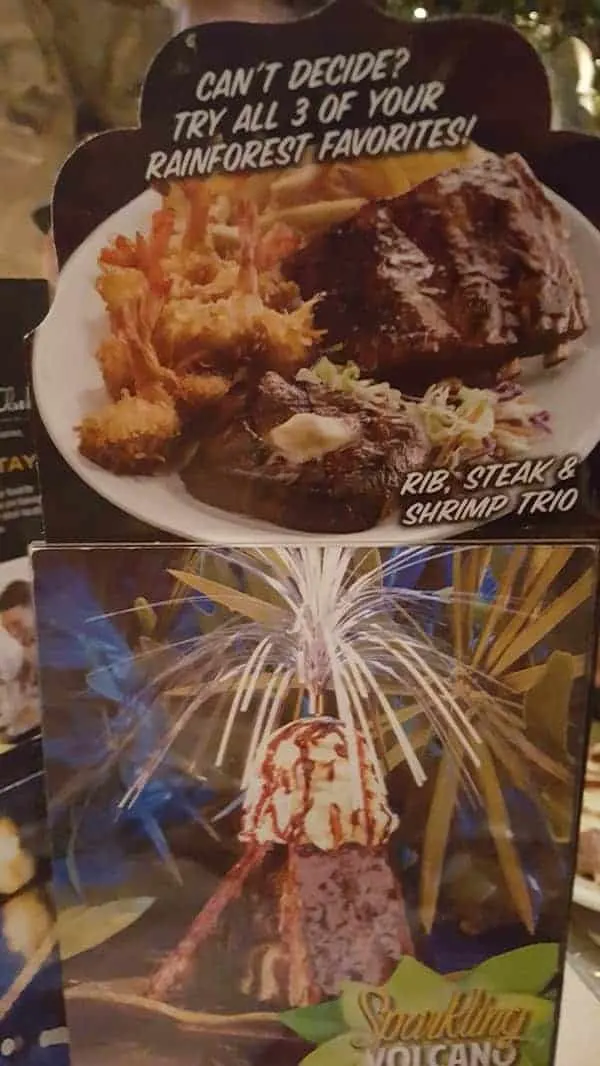 Meals at Rainforest Cafe
The Rainforest Cafe menu is traditional American with items like ribs, chicken, steak and even shrimp.
Food prices are high at Rainforest Cafe and the food is fine, something similar to the quality at any big chain American restaurant.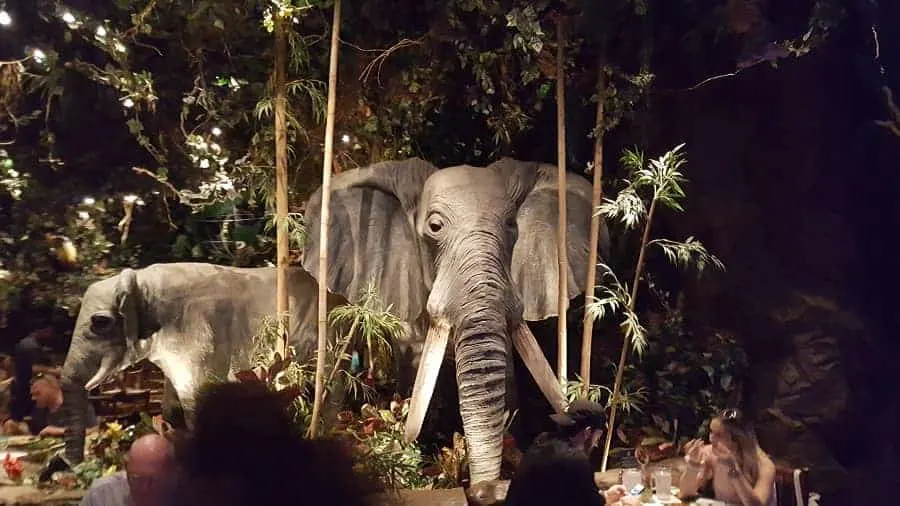 What you are really paying for is the experience.
Nevertheless, if you put my dining at Disney on a budget tips to work, you can come out of the restaurant spending less than you think.
Rainforest Cafe is on the Disney dining plan, so if you are on the plan, you can choose to use it as one of your table service meals.
You can also use Disney Gift Cards at Rainforest Cafe to pay your bill!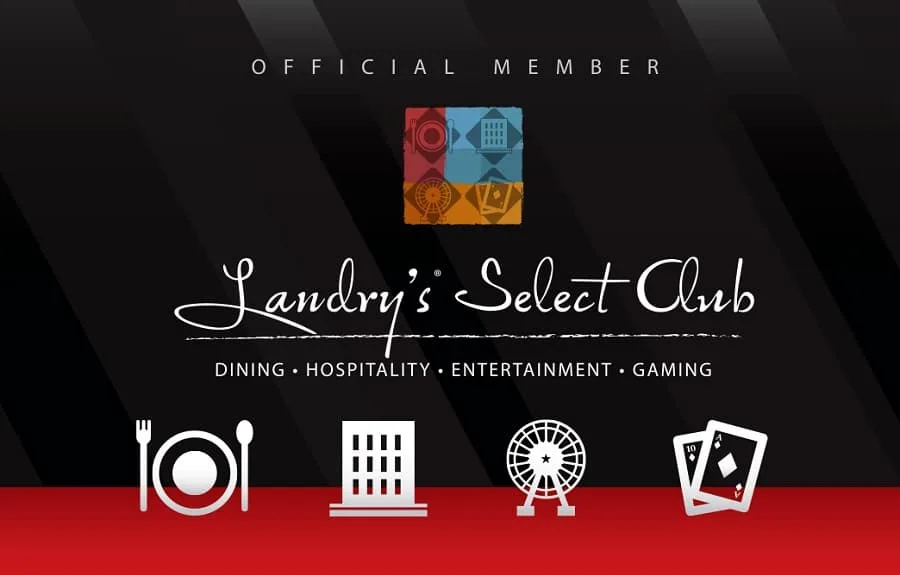 Rainforest Cafe Coupons & Savings
While Rainforest Cafe does come out with food coupons once in a while, right now if you join Landry's Select Club, you can score:
Priority Seating
$25 Welcome Reward
$25 For Every $250 You Spend
$25 Birthday Reward
10% Off Retail Purchases
Exclusive Member-Only Offers
Landry Gift Cards at Sam's Club
Don't forget that you can get discount Landry gift cards at Sam's Club! It is a HUGE savings too!
They will send it via email so you can do it on the go!
You can also use the Landry card at other Disney restaurants like the Rainforest Cafe in Disney Springs or T-Rex Cafe.
Frequently Asked Questions about Rainforest Cafe in Animal Kingdom
Do you need park admission for Rainforest Cafe at Animal Kingdom?
No, you do not have to have a park ticket to enter Rainforest Cafe. There is an entrance to the restaurant before you get to the park entrance.
Can you get into Animal Kingdom through Rainforest Cafe?
Yes, there is a direct entrance to Animal Kingdom park at the back of the restaurant.
You will have to have a ticket to be able to enter the park.
Have you dined at Rainforest Cafe or joined the Landry's Select Club? What are your thoughts?