(Note: The links in this post are affiliate links, and we will be compensated when you make a purchase by clicking through our links. Read our disclosure policy here.)
Gaston's Tavern in Fantasyland is a great place to grab a cold drink and snack between rides. Located right next to Be Our Guest, this quick service stop has a HUGE fountain featuring both Gaston and LeFou right out front.   Inside, you will find a air-conditioned seating area, a menu full of treats inspired by The Beauty & the Beast, and one of my favorite beverages at Magic Kingdom.
Gaston's Tavern is the only place where you will be able to find LeFou's Brew (a frozen apple juice with marshmallow topping)!  This fruity beverage is the perfect drink for a hot day in the parks.
Also available are french inspired treats like Macaroons, warm Cinnamon Rolls and Chocolate Croissant which pair quite nicely with the sweet Le Fou's Brew. Want a healthy snack? Gaston's Tavern has that too. Enjoy some Babybel snack cheese, Apple Slices, Hummus & chips or Veggies and Dip.  If you are on the Disney Dining Plan, many of the menu options qualify as snack credits.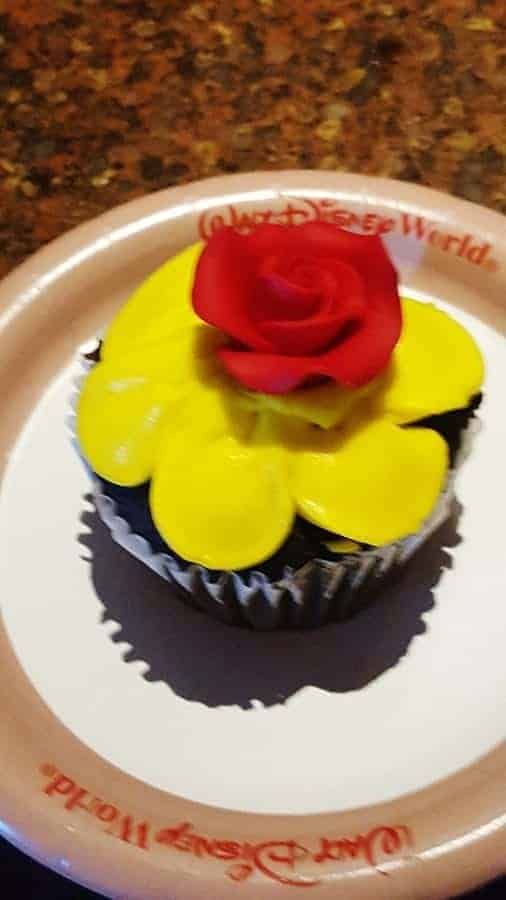 What is one thing you will ONLY find at Gaston's Tavern besides Le Fou's Brew? How about the Enchanted Rose Cupcake. This chocolate cupcake features a beautiful fondant rose!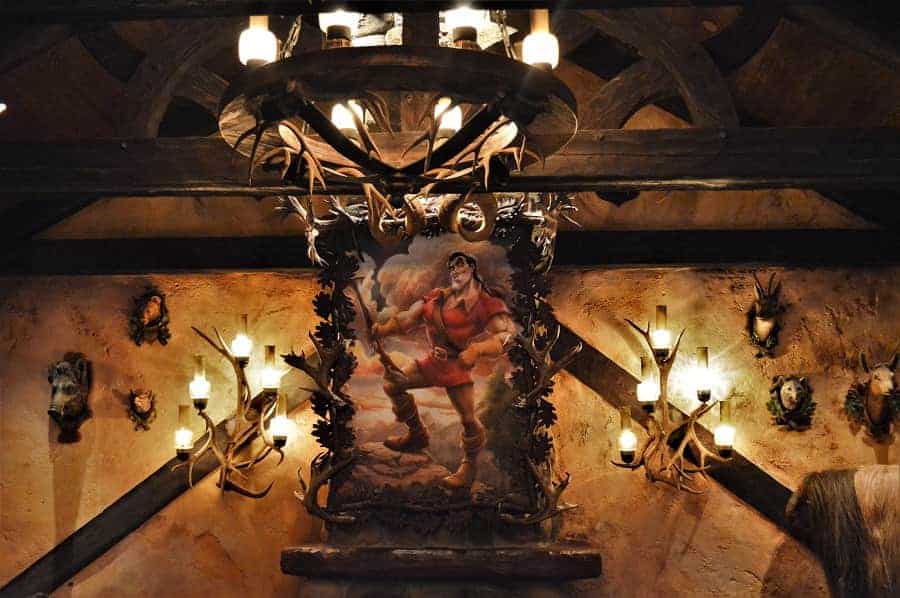 Gaston's Tavern has both outside & inside seating, although the outside seating is quite limited.  Even if you don't plan on eating anything, you should check out the interior seating area. It makes you feel like you are in the world of Gaston, where he is certainly center stage!
If you wait around long enough, you might even spot Gaston right outside. He is known to frequent the area for meet & greets!  He is quite the character.  Be sure to ask him about his muscles, you never know what he might say or do.
Have you been to Gaston's Tavern? What treats did you choose?