Be Our Guest Restaurant is a table-service dining experience located in Beast's Castle at Magic Kingdom. It opened its doors in 2012 and has quickly become one of the most popular dining options at the park.
If there is one restaurant in Magic Kingdom you should experience it is this one!
While Be Our Guest is one of the more expensive restaurants in the park due to its fixed-price menu, we think it that it is worth the cost for such an immersive dining experience.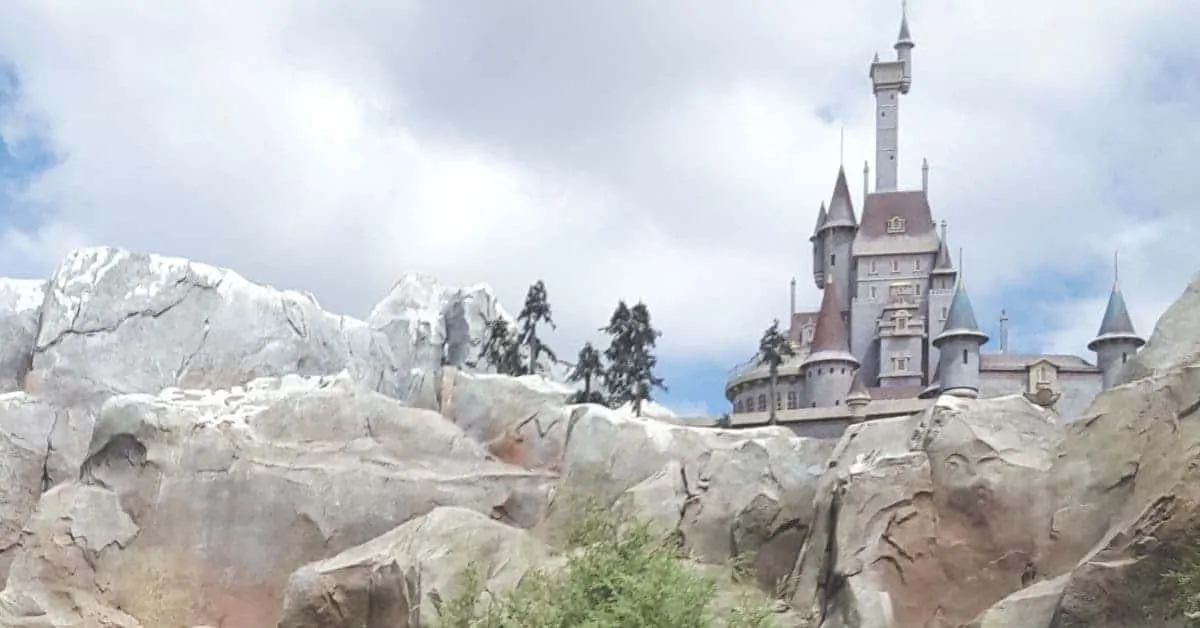 This restaurant is set inside Beast's Castle & from the time you enter the castle, you will feel like you've stepped right into the animated classic Beauty & the Beast.
If you are a fan of Beauty and the Beast, you won't want to miss out on having dinner here.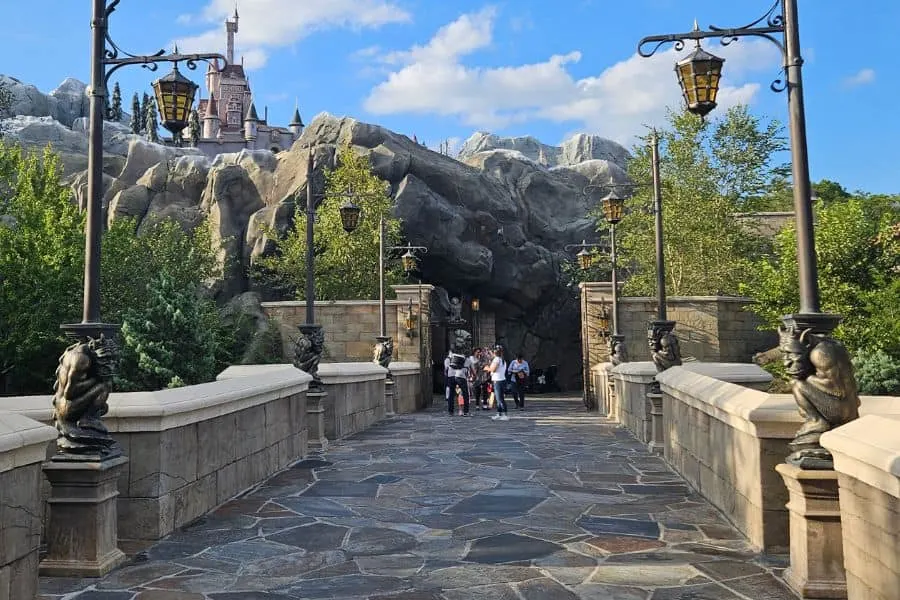 Be Our Guest Restaurant Experience
Entrance to Beast's Castle
As soon as you step on the bridge that takes you to Be Our Guest Restaurant, you will feel like you have been transported into the enchanted world of Beauty and the Beast.
The elaborate theming and attention to detail are amazing.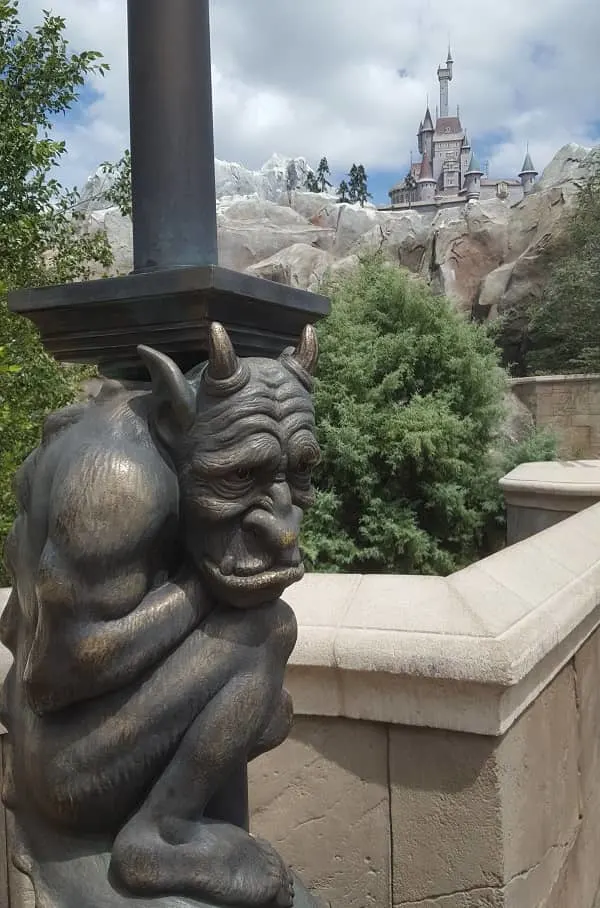 Life-like gargoyles who appear to be holding up light poles flank each side of the bridge.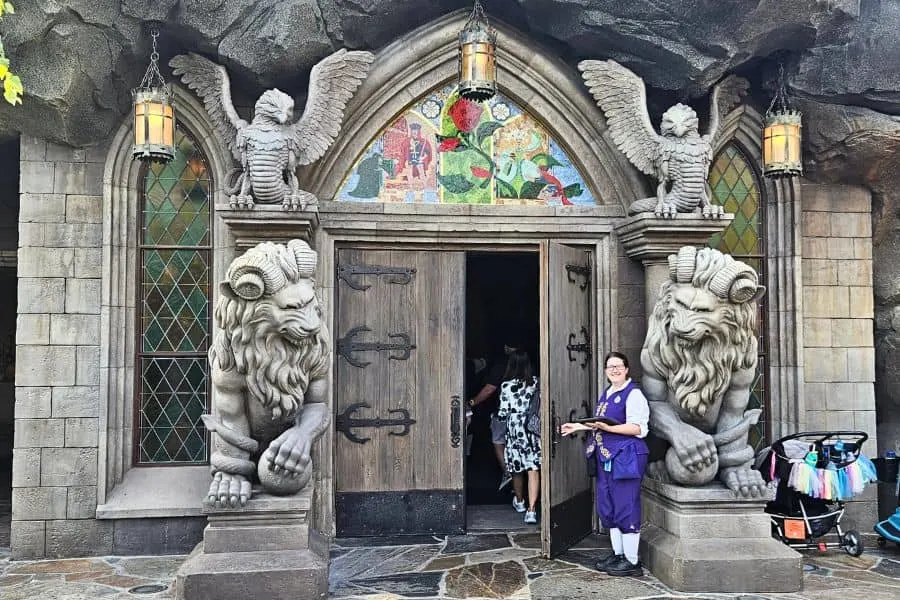 The front doors of Beasts Castle look as if they are guarded by several mythological creatures.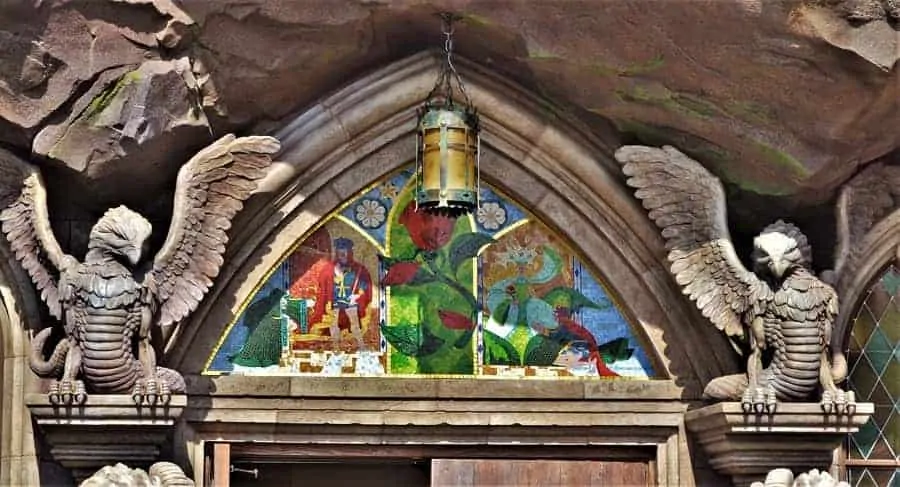 The stained glass above the door depicts major scenes from the story of Beauty and the Beast.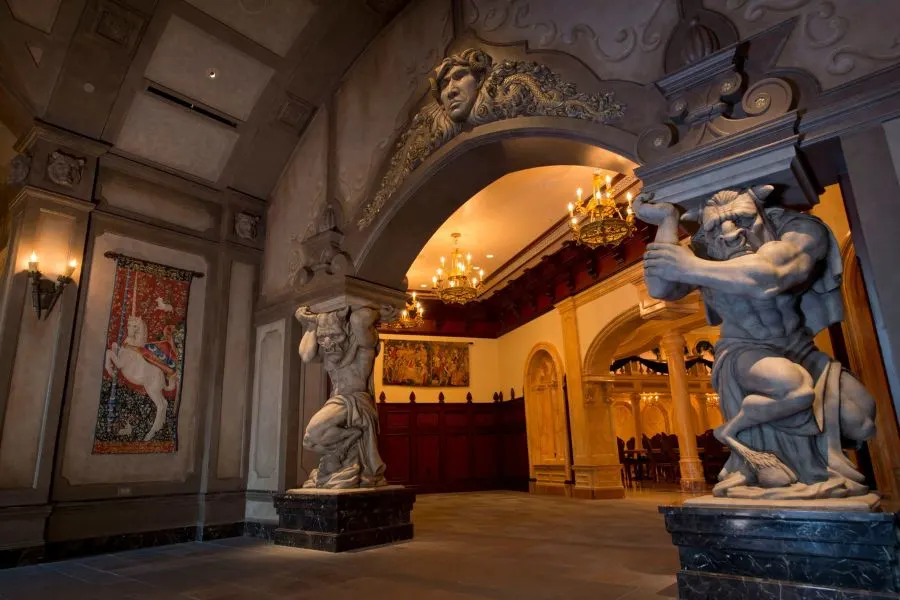 Inside Beast's Castle
Inside the castle is just as elaborate as outside.
The first thing you will notice are two minotaurs who welcome guests at the front entrance of the restaurant.
Their design was inspired by animated footage from the "Beauty and The Beast" film, specifically the scene in which Belle enters the castle for the first time.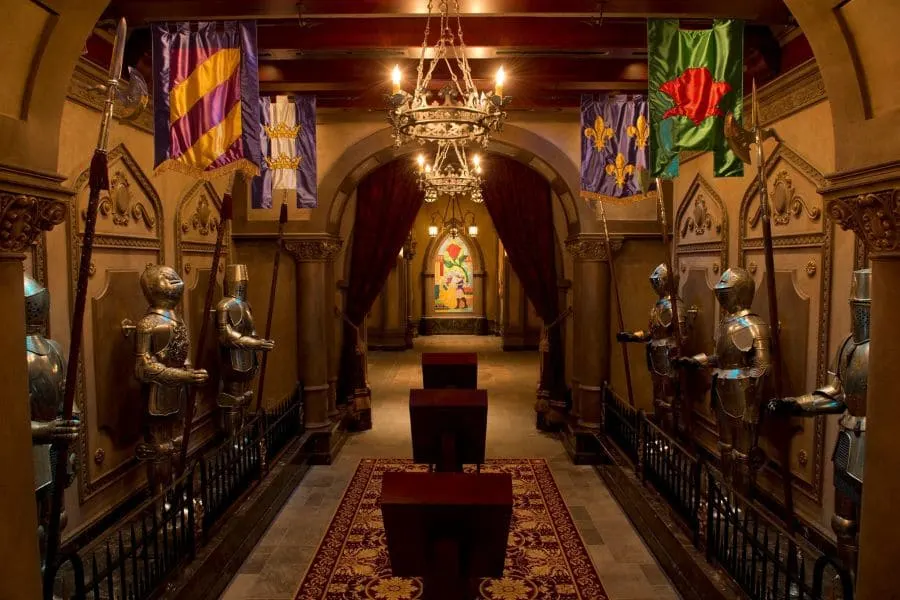 But before you enter the restaurant, take time to walk down the hall to your right. It is flanked by suits of armor.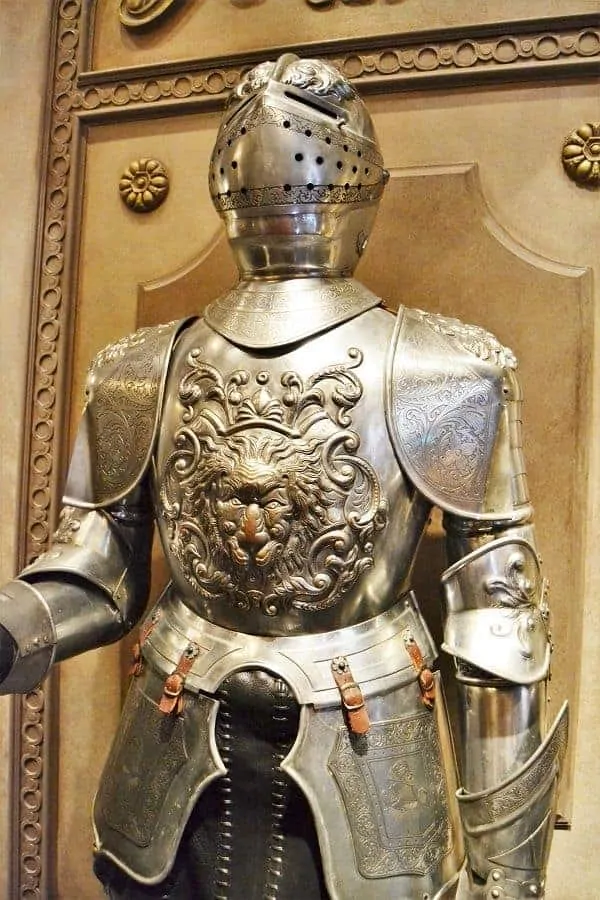 While the suits of armor may look like props, if you walk up to them, you will hear some of them having conversations and others, sleeping.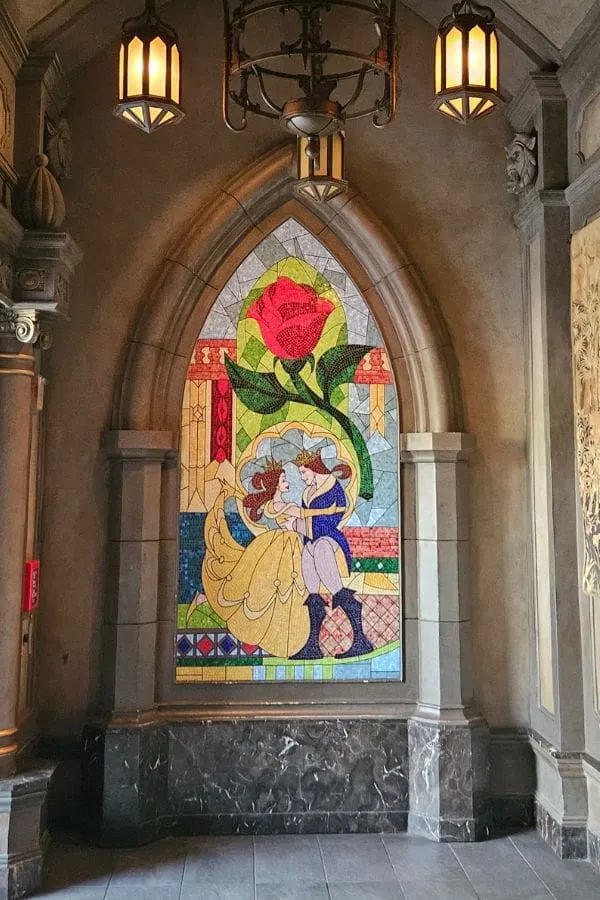 To the left of the Be Our Guest restaurant entrance is a beautiful stained glass window that features Belle & the Prince.
Be Our Guest Dining Rooms
There are 3 dining areas inside Beast's castle. You can request the one you would like to dine in, but, you need to be prepared to wait if there is no available seating in that particular room.
No matter which dining area in Be Our Guest you are seated in, they are all beautifully themed and will make you feel as though you are fully immersed in the story of Beauty & the Beast.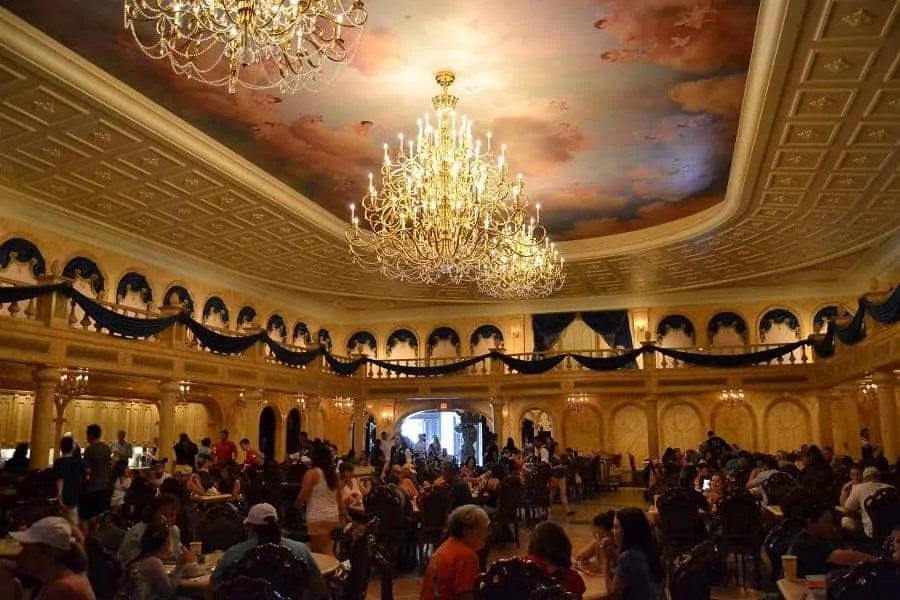 The Grand Ballroom
The main dining area in Beast's castle is the ballroom.
You will find this formal dining space filled with stunning details.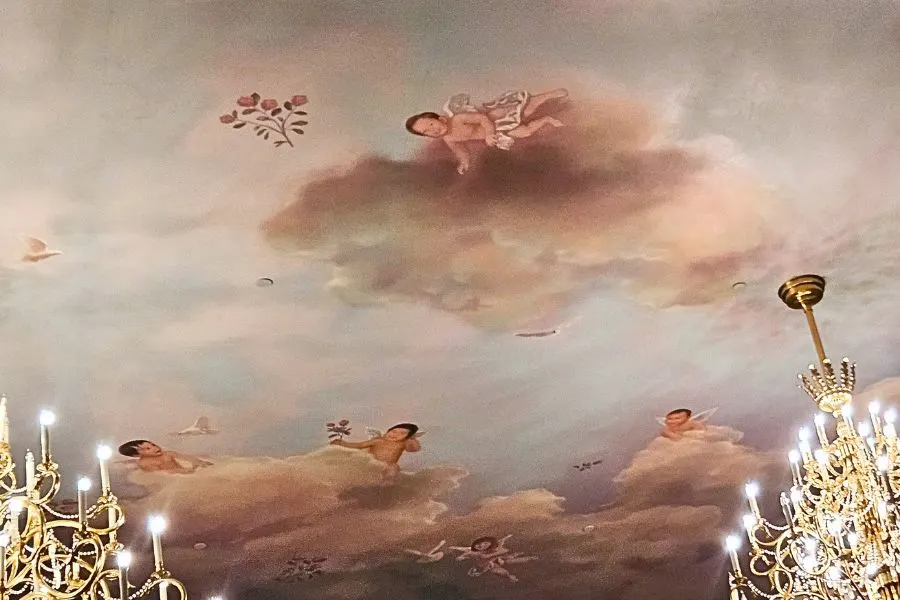 The high baroque ceiling features fancy chandeliers and a mural of smiling cherubs who watch you dine.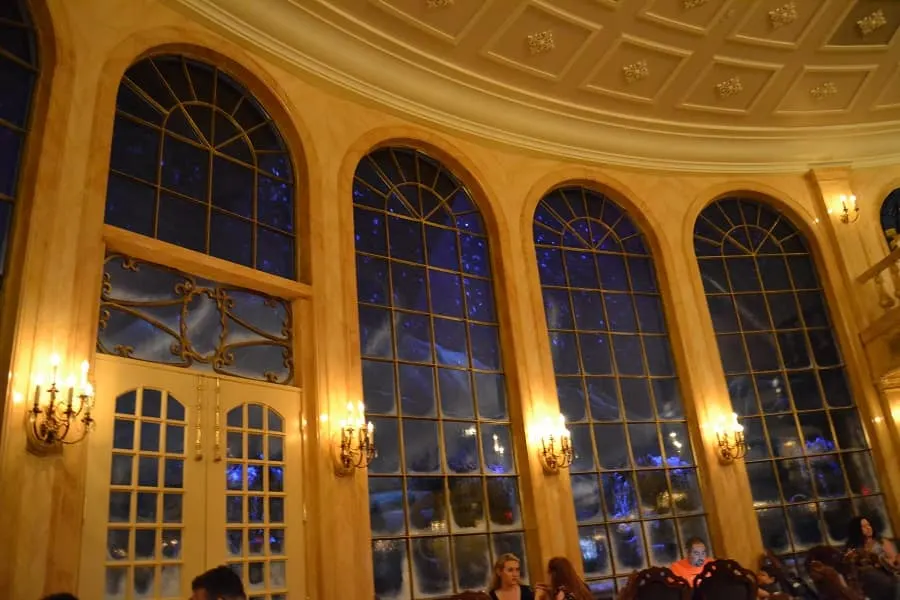 Along the back wall of the ballroom, you will see large arched picture windows. If you look closely, you will notice that it appears to be snowing outside!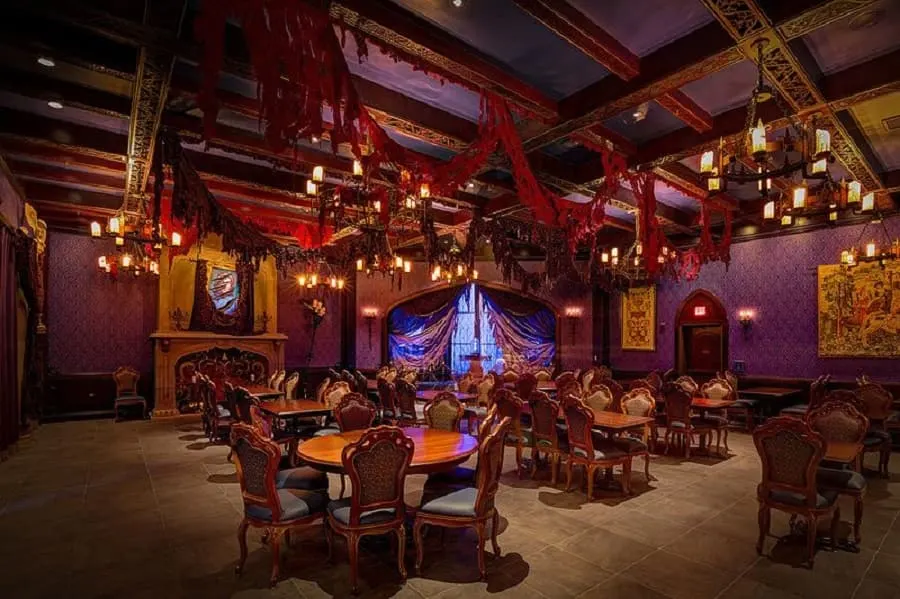 The West Wing
The Beast's West Wing study is a more intimate dining space.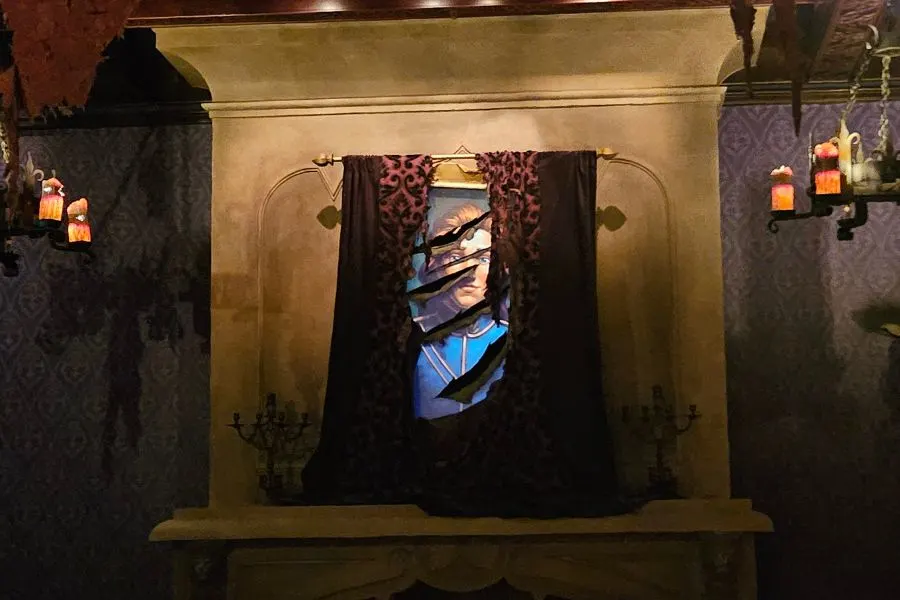 This small room features a darker interior with a portrait of the Prince that appears to change depending on the angle you look at it.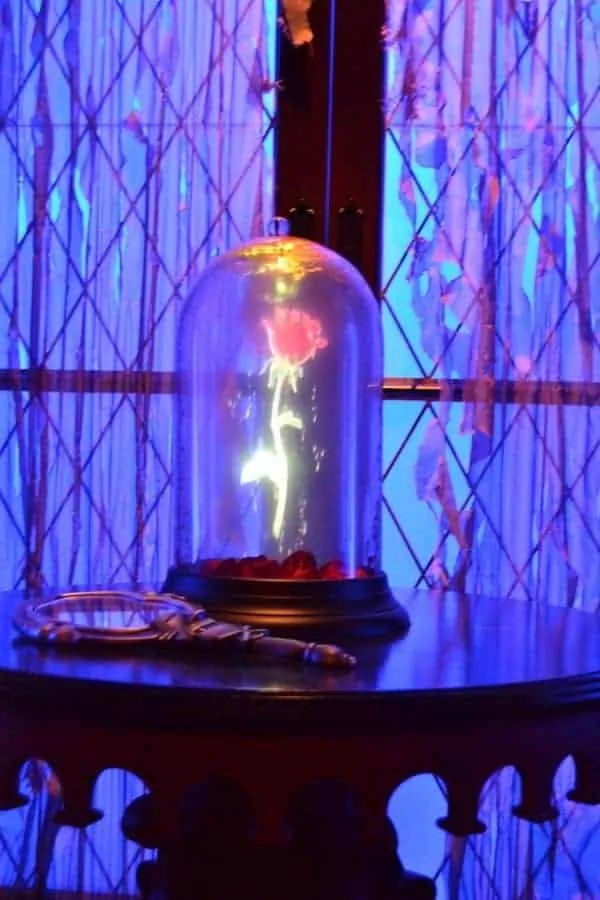 Another prominent feature of this space is the enchanted rose encased in glass that appears to lose petals.
Don't be alarmed that at times during your meal, you might experience a storm.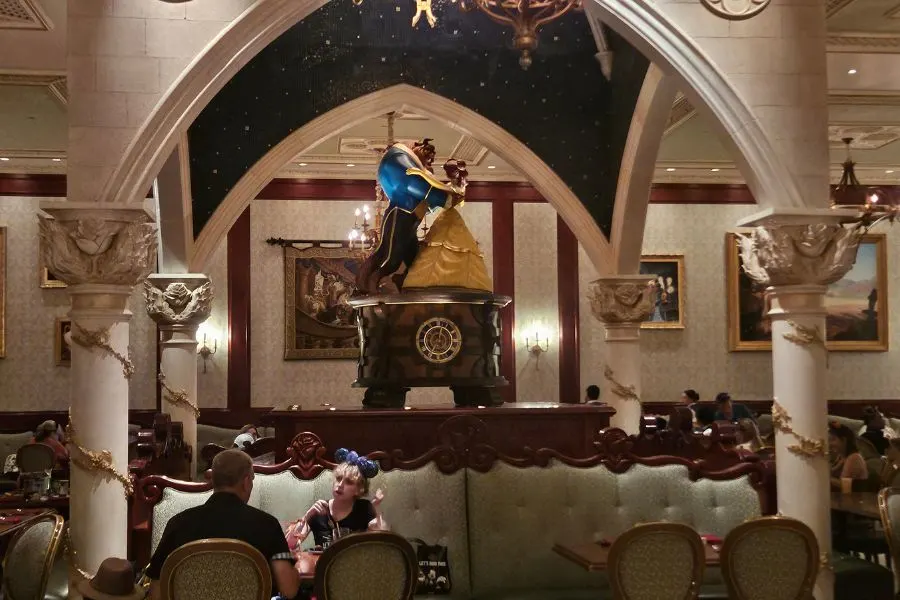 The Rose Gallery
This area of the Beast's castle is all about the most important moments between Belle and the Beast.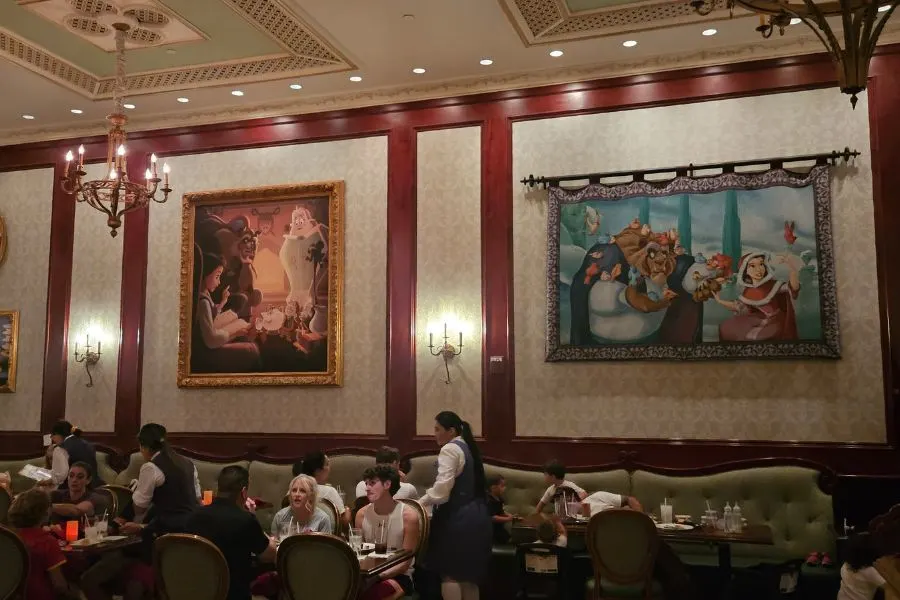 Throughout the dining space, you will find portraits and tapestries of their best memories.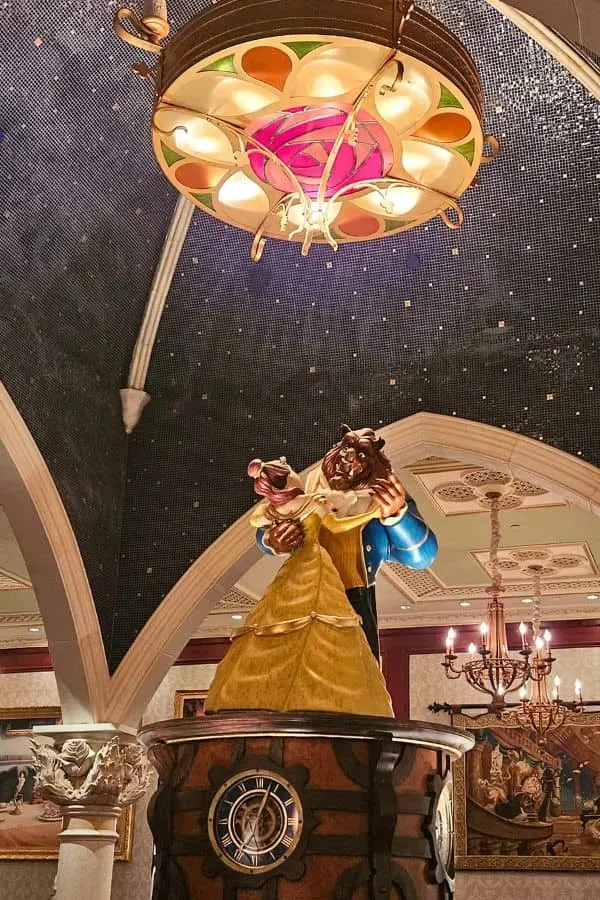 In the center of the room is a life-size figure of Belle and the Beast dancing.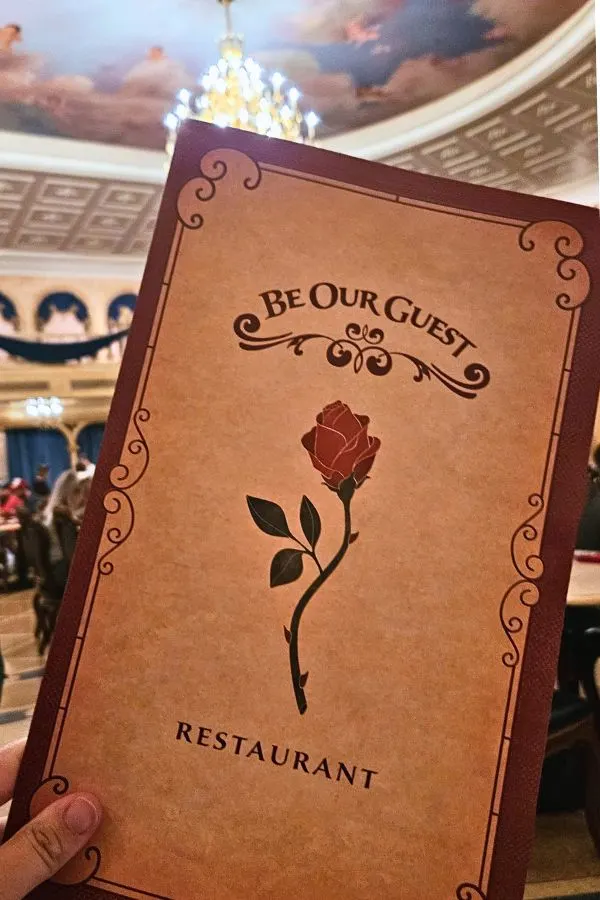 Be Our Guest Menu
Before you book this Magic Kingdom restaurant, you should know that both lunch & dinner are a prix fixe menu.
This means that you will have a 3-course menu featuring French-inspired dishes.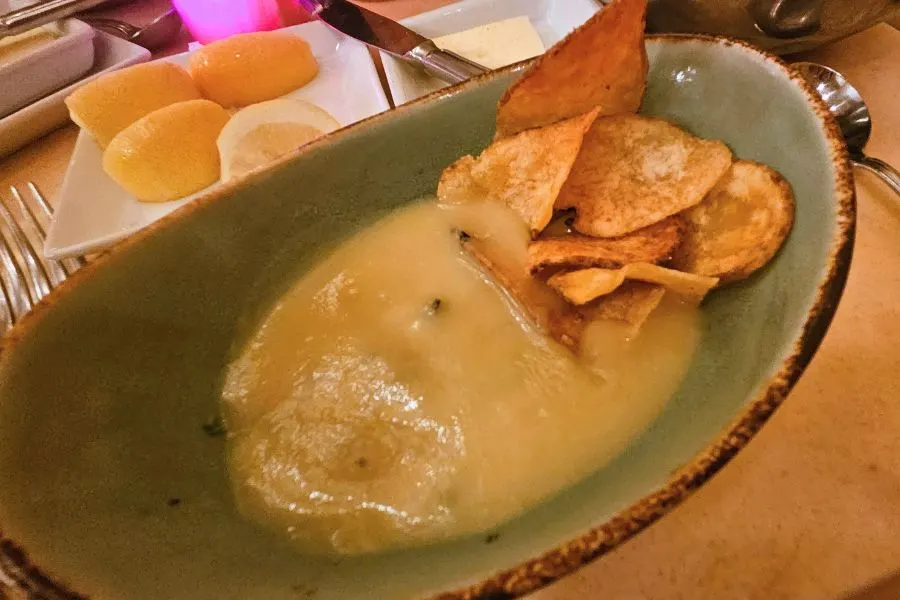 Your meal will begin with an appetizer. You can choose between a selection of soups, escargot, or a salad.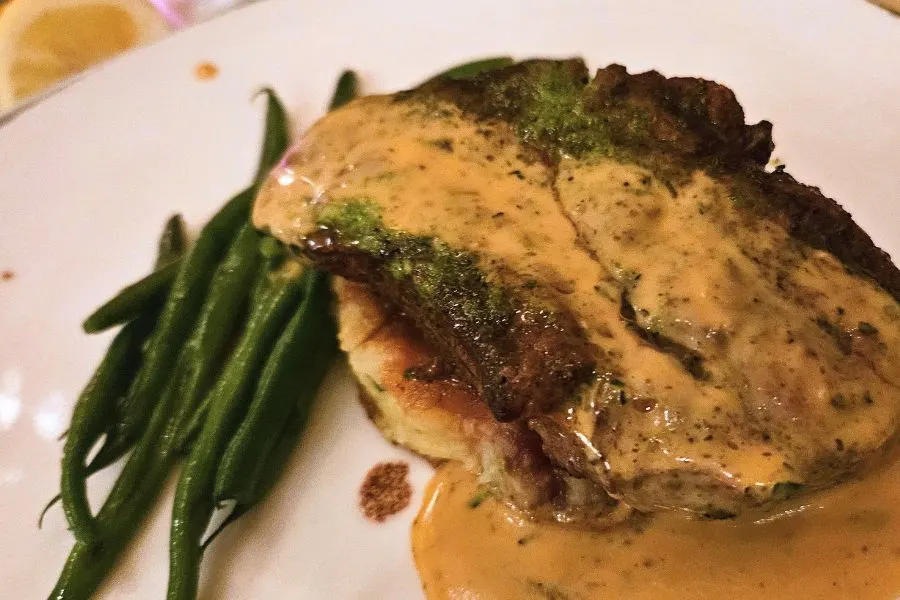 For your main entree, you can choose from the following:
Dry-Aged Duroc Pork Chop
Grilled Filet Mignon
Roasted Poulet Rouge Chicken
Trout Amandine
Pan-roasted Zucchini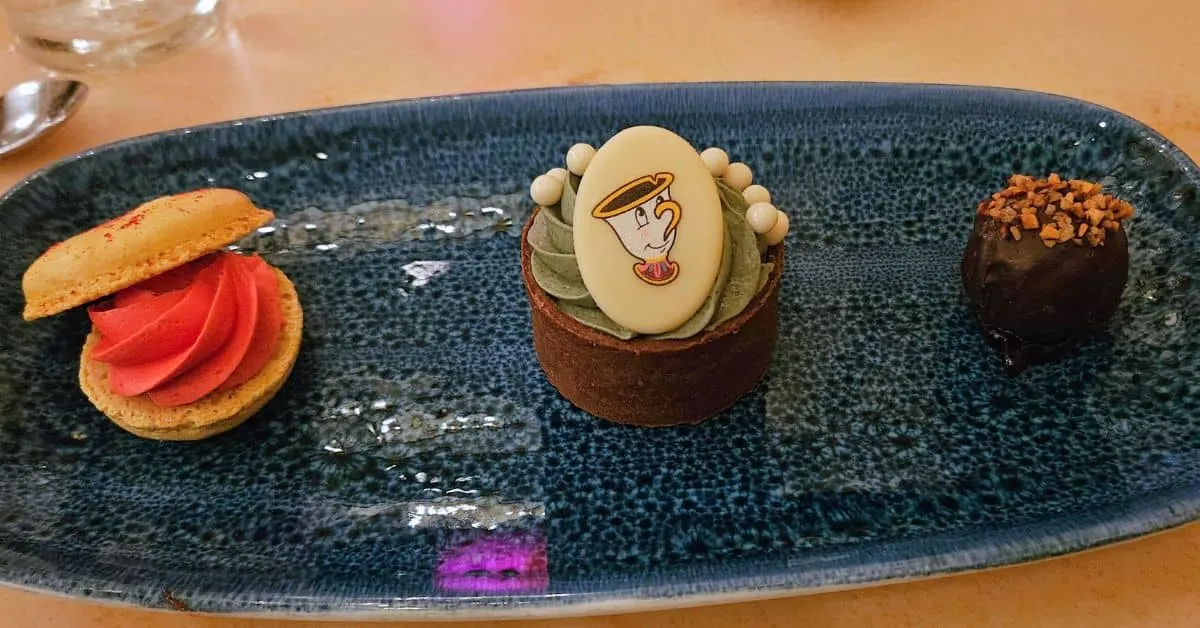 You will end your dining experience with a choice of three sample-sized desserts. You can choose between Lemon Jam Macaron, Dark Chocolate Truffle, Chocolate Tart, or Vanilla Cake with Lemon Curd.
This 3-course dining experience is $67 for adults (ages 10 and up)
When using the Disney Dining Plan for lunch or dinner at this location, 2 Table-Service meals will be redeemed from the dining plan for each person dining.
Be Our Guest Kids Menu
Guests age 9 and under also have a 3-course prix fixe meal.
They can begin with a choice of iceberg wedge salad, a fruit and cheese board, or house-made peach apple sauce.
For their main course, kids can choose from grilled beef tenderloin, pan-seared chicken breast or shrimp, chicken strips or macaroni and cheese.
Kids get to choose between two dessert options. They can have seasonal fruit served with yogurt dip or a trio of mini desserts.
This 3-course dining experience is $39 for children (ages 3 to 9).
When using the Disney Dining Plan for lunch or dinner at this location, 2 Table-Service meals will be redeemed from the dining plan for each person dining.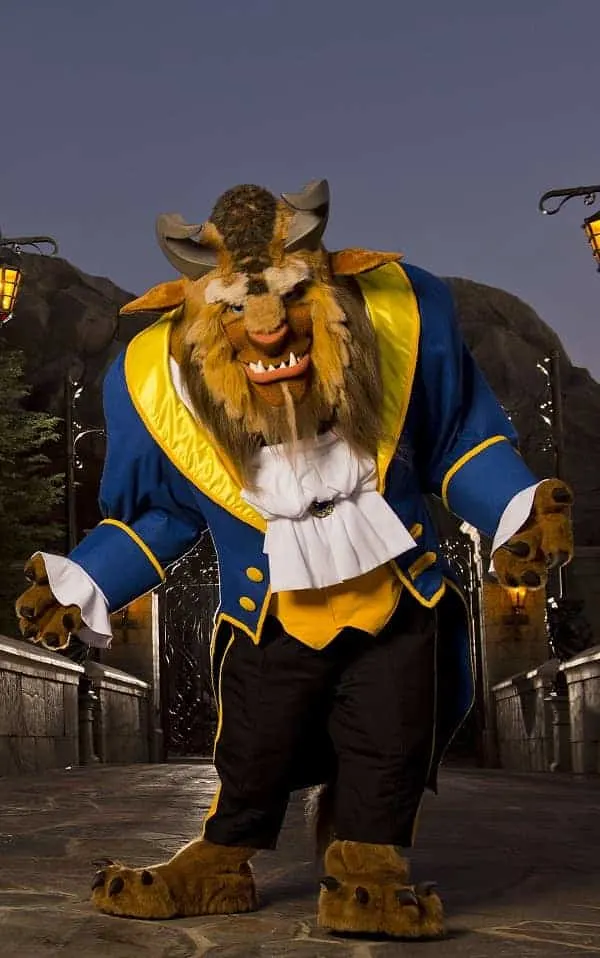 Seeing the Beast at Be Our Guest
During the meal, the Beast will make at least one appearance. If you are at the restaurant long enough, you might see him twice.
His presence will be announced prior to him showing up.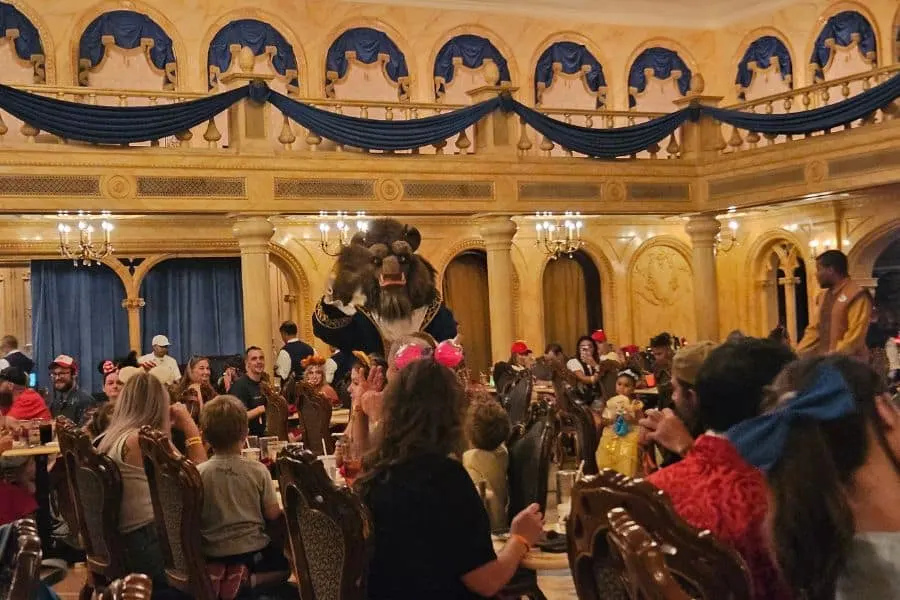 He will walk through each of the dining rooms in Be Our Guest, stopping occasionally to wave.
He will not stop at each and every table like other Disney character dining experiences.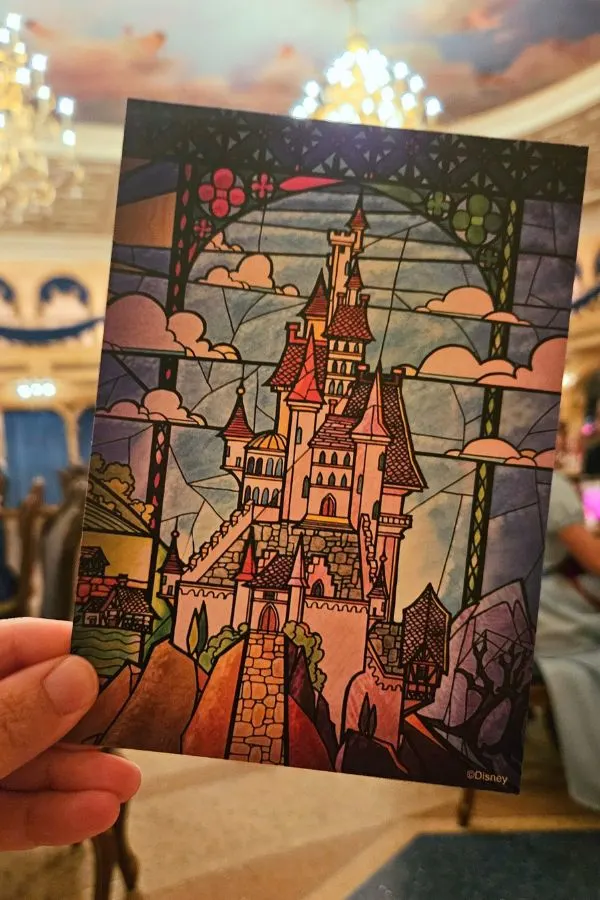 Beast also does not do autographs, but, you will leave with a lovely card with his signature on it.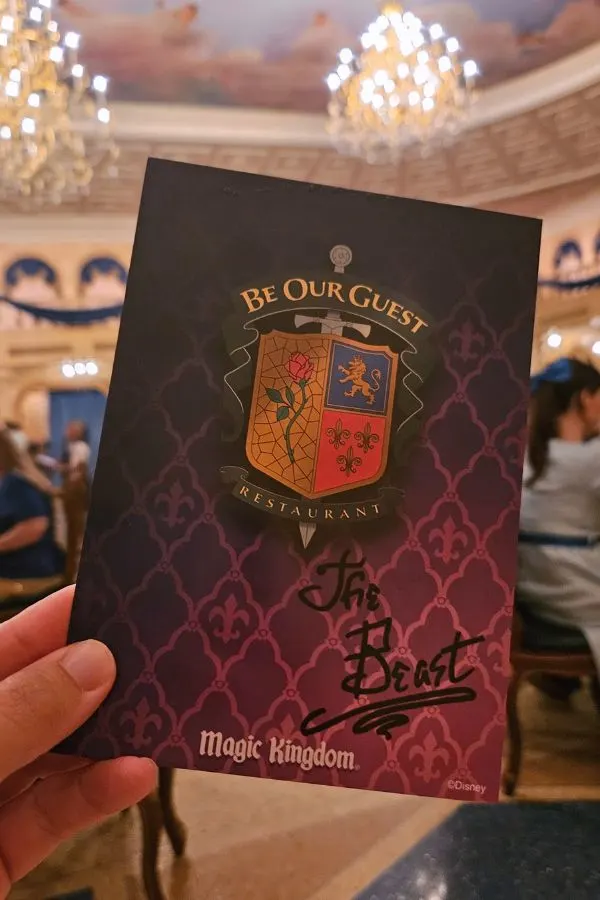 Getting a Reservation for Be Our Guest
Due to its popularity, Be Our Guest Restaurant is a difficult reservation to secure.
Both Guests staying at a Disney Resort and staying off Disney property can make reservations up to 60 days in advance of their stay.
Reservations for the booking window open at 6 am daily.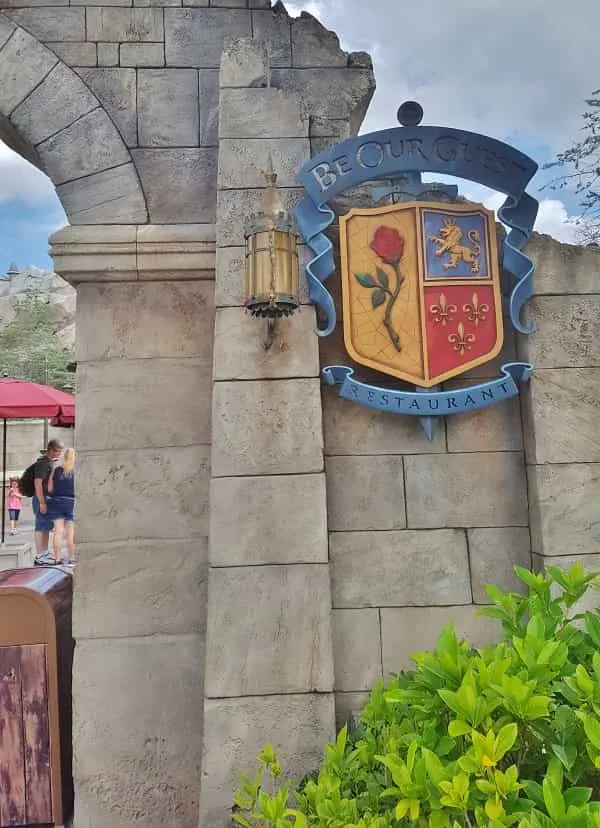 Be Our Guest Restaurant truly encapsulates the magic of Disney and brings to life the enchanting world of Beauty and the Beast. From its stunning theming to its delicious French-inspired cuisine, it is a must-visit for any Disney fan.
Have you dined at Be Our Guest? What was your favorite part about it?