When it comes to dining in Magic Kingdom, there is probably no more popular restaurant than Be Our Guest. Located inside Beast's Castle, Be Our Guest gives you the full Disney dining experience with great food in the perfect setting.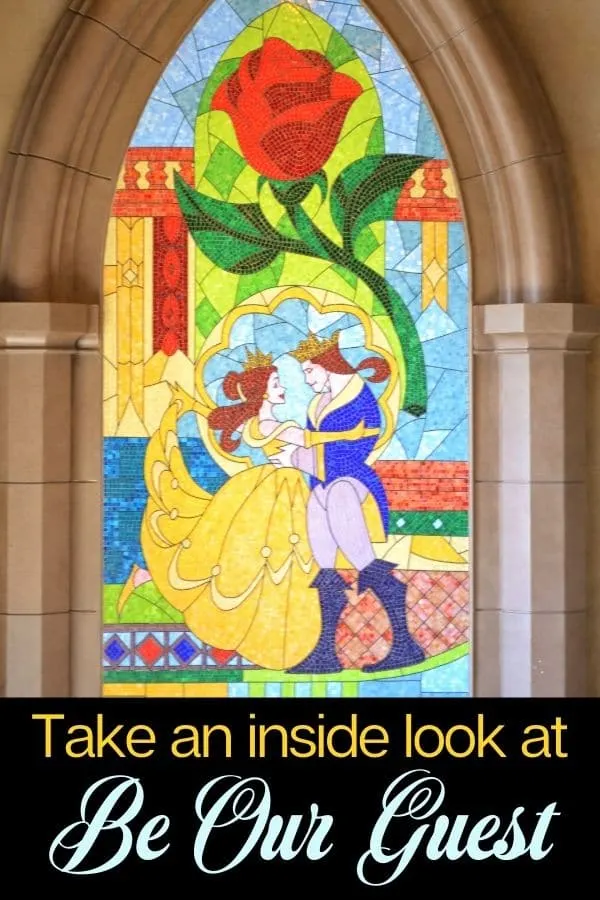 Be Our Guest Restaurant Experience
Entrance to Beast's Castle
Part of the experience of dining at Be Our Guest is feeling like you are fully immersed in the story.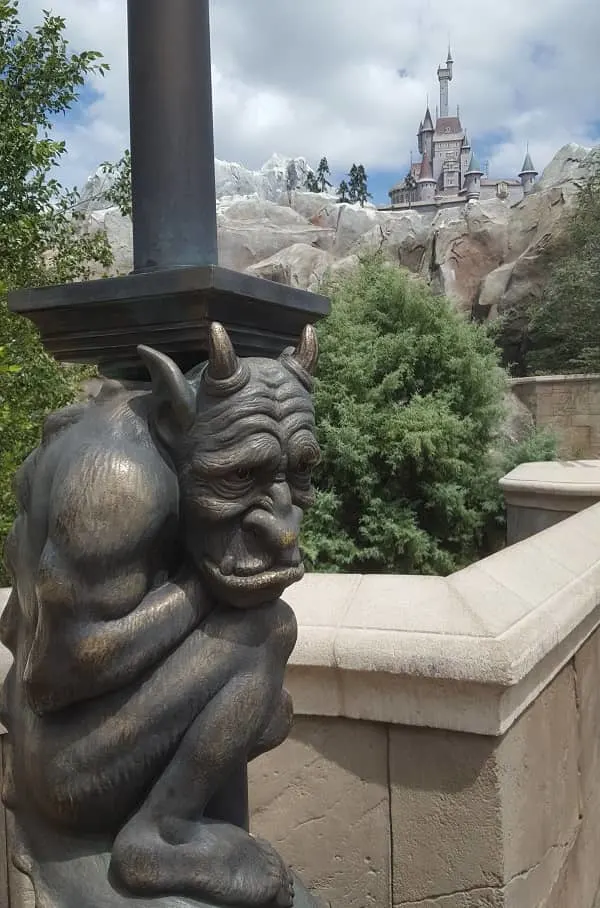 As you walk down the bridge that takes you to the entrance of the castle, make sure that you notice all the details.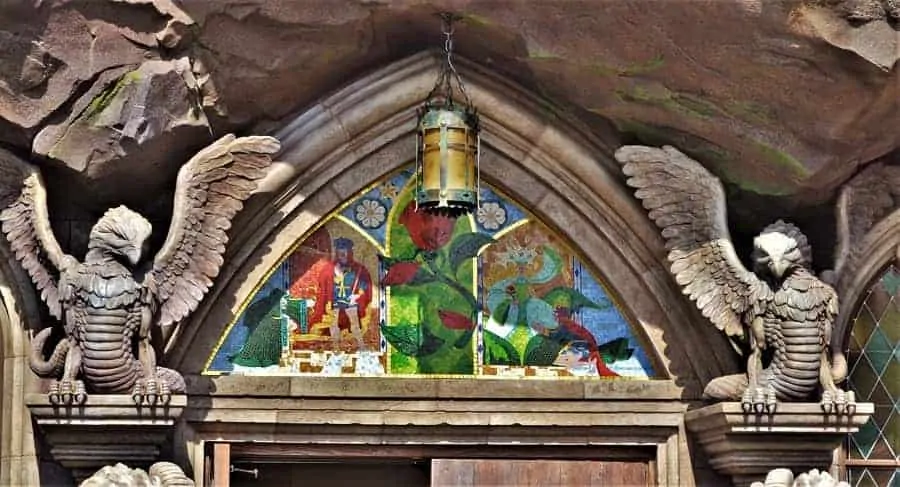 Inside Beast's Castle
Inside the castle is just as elaborate as outside.
The first thing you will notice is the overall rose theme throughout the restaurant.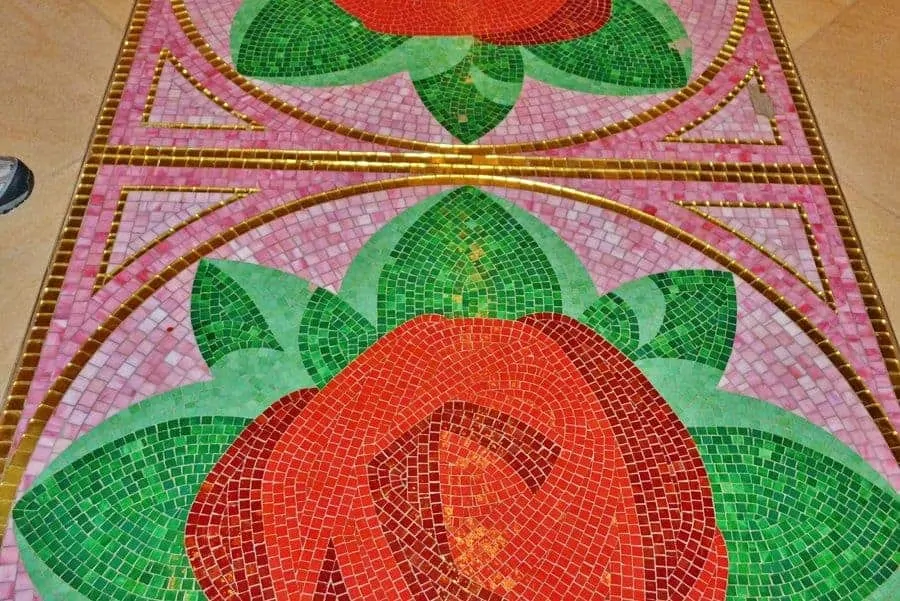 From the time you enter to the time you leave, you will find roses on the floor and on the ceiling, and everywhere in between.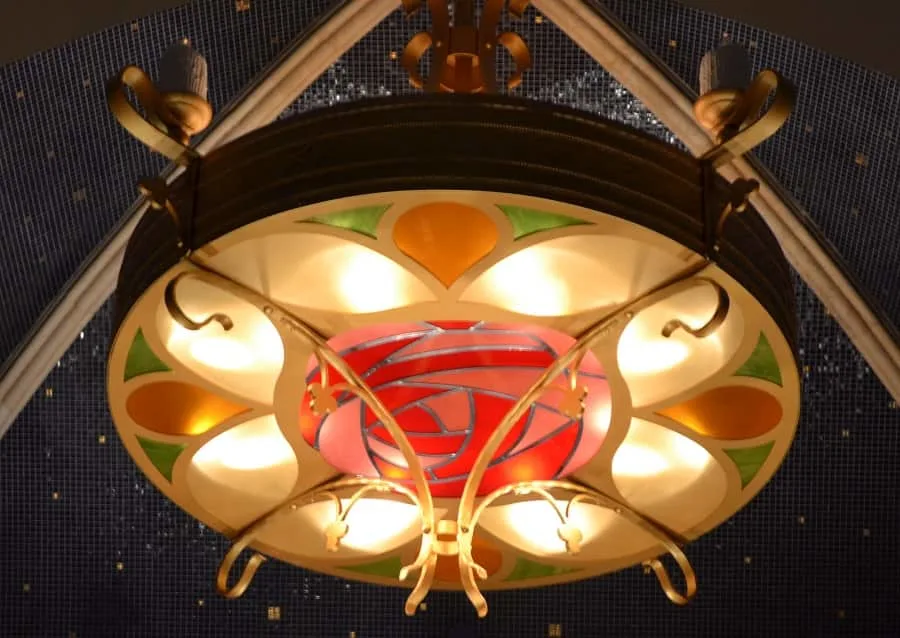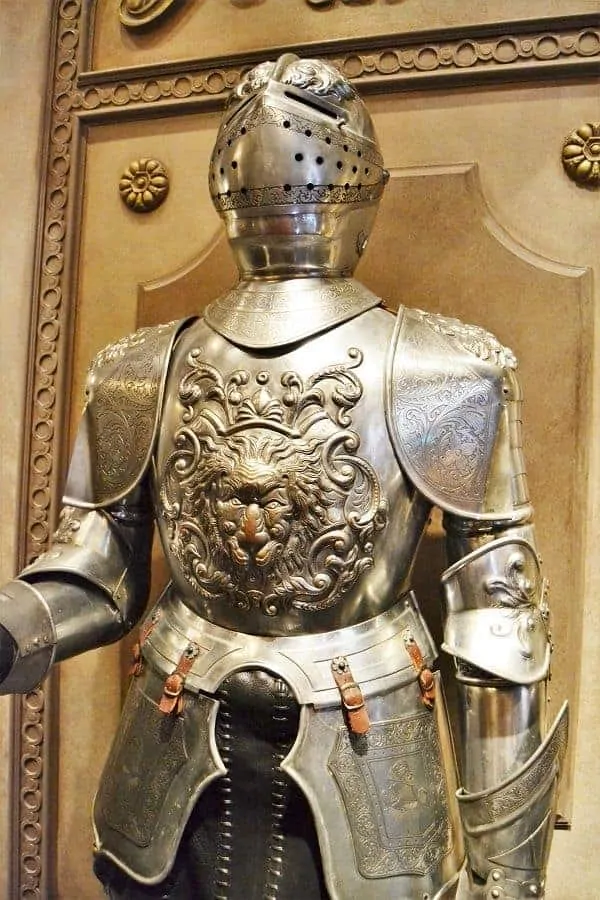 As you walk through the entrance hall, you be flanked with suits of armor. Take your time. You might be able to hear the suits of armor talking!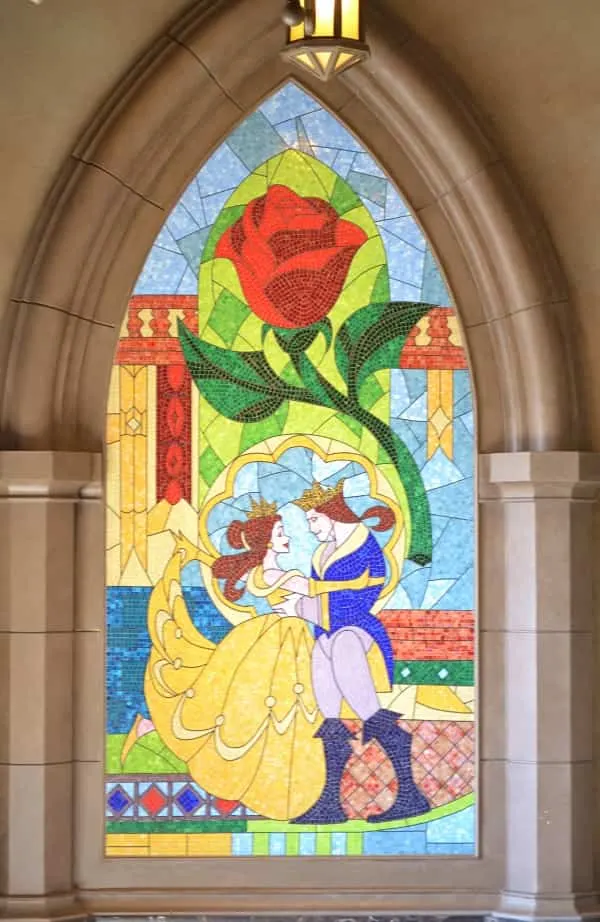 Something else you don't want to miss seeing is the beautiful stained glass window that features Belle & the Prince. You will find time as you leave to take a picture in front of it if you so choose.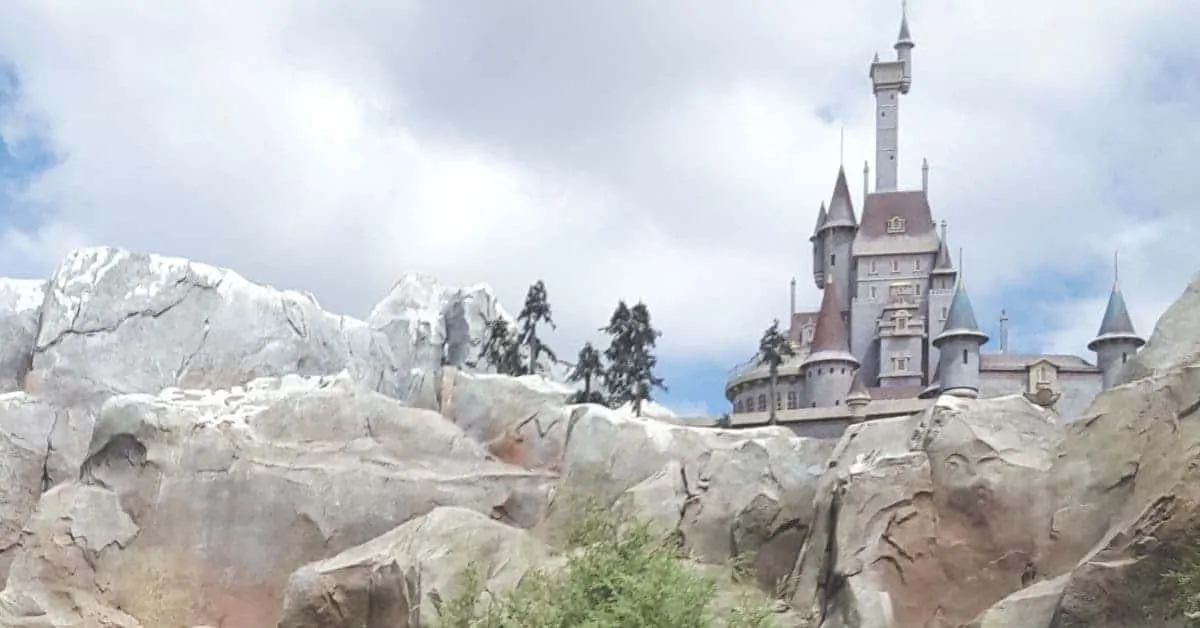 Be Our Guest Restaurant Dining Rooms
There are 3 dining areas and if you can request the one you would like to dine in. But, you need to be prepared to wait if there is no available seating at the section you are interested in.
No matter which dining are in Be Our Guest you choose, they are all nice and will make you feel as through you are fully immersed in the story of Beauty & the Beast.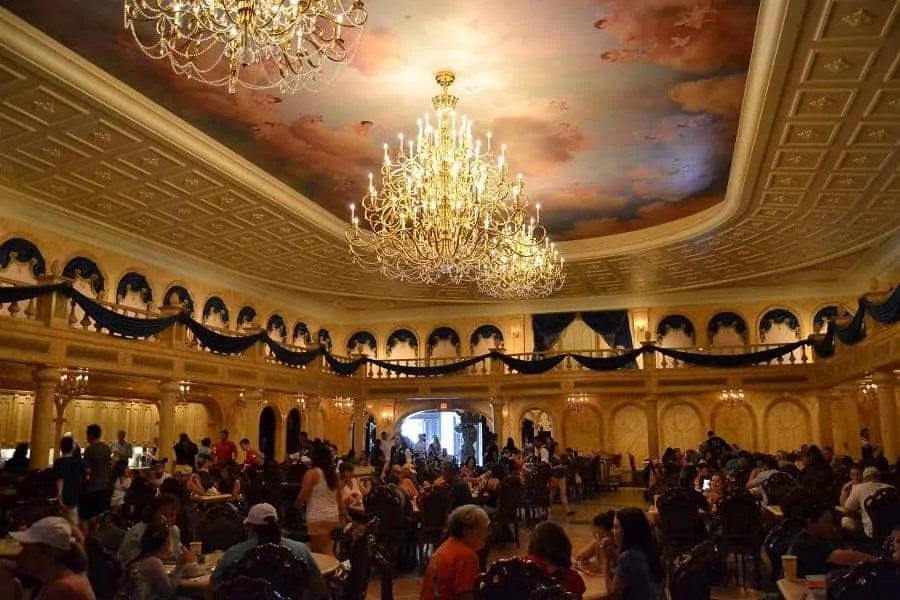 The Grand Ballroom
The main dining area in Beast's castle is the ballroom.
You will find this formal dining space filled with stunning details. The high gilded ceiling with fancy chandeliers and a cherub mural ceiling.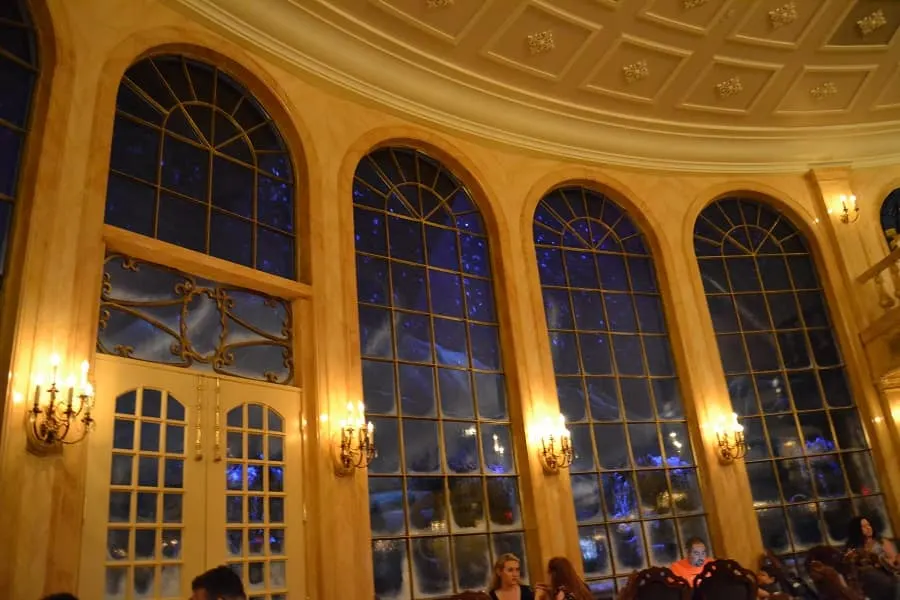 Even the large windows along one wall make it appear like it is snowing outside!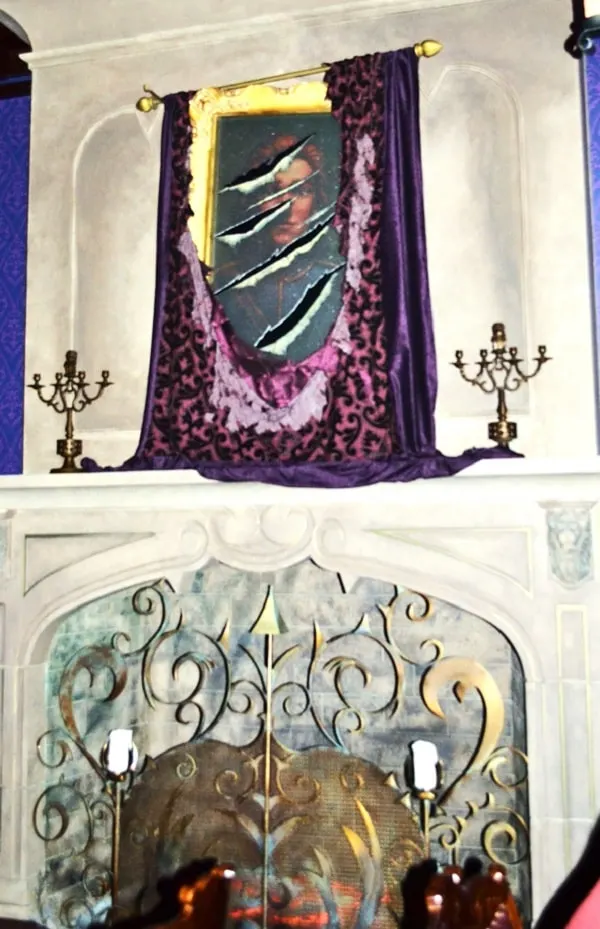 The West Wing
The Beast's West Wing study is a more intimate dining space.
It features a darker interior with a portrait of the Prince that appears to change depending on the angle you look at it.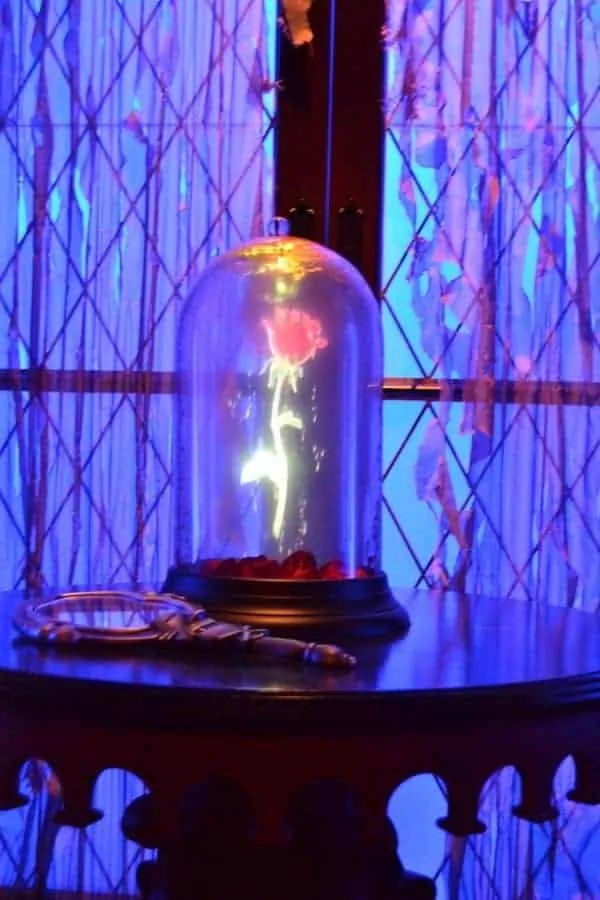 You will also find the enchanted rose encased in glass.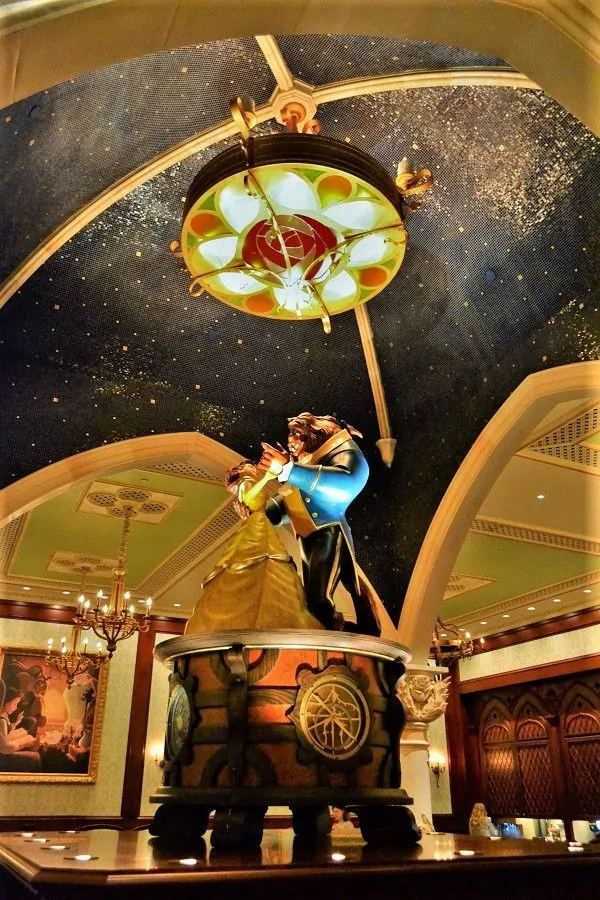 The Castle Gallery
This area of Beast's castle is all about Belle.
You will find a life size figure of Belle and the Beast dancing in the center of the room.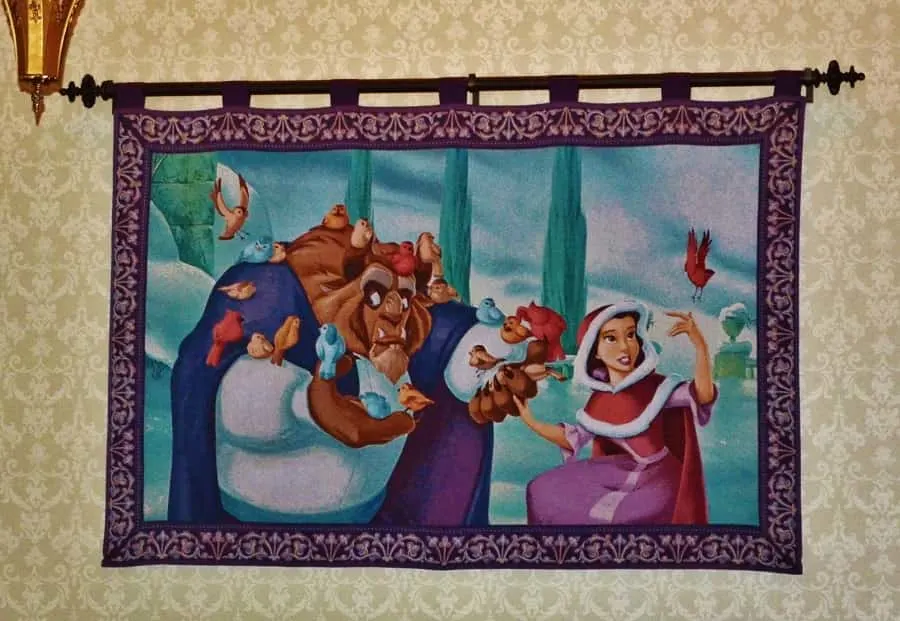 Throughout the dinging space are portraits and tapestries at various stages of Belle's life.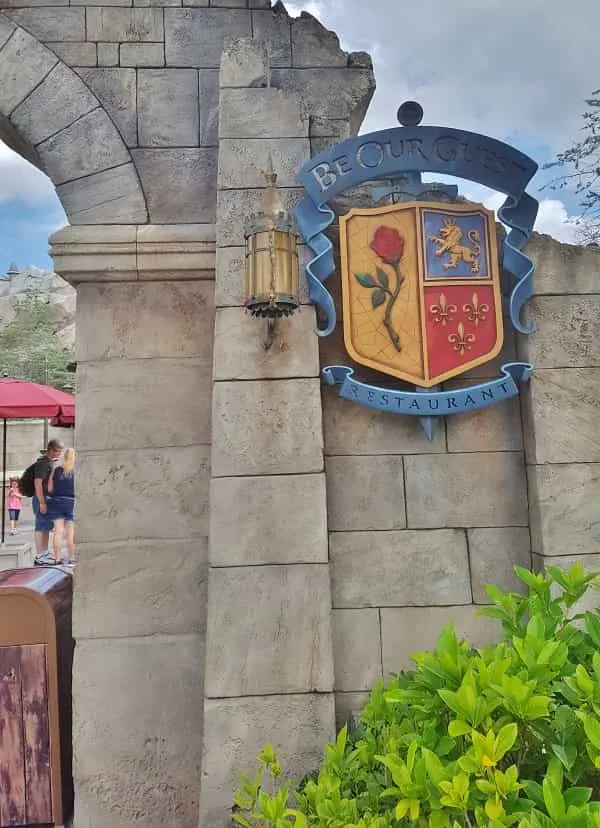 Be Our Guest Prix Fixe Menu
Before you book this Magic Kingdom restaurant, you should know that both lunch & dinner are a prix fixe menu.
This means that you will have a 3-course menu featuring French-inspired dishes.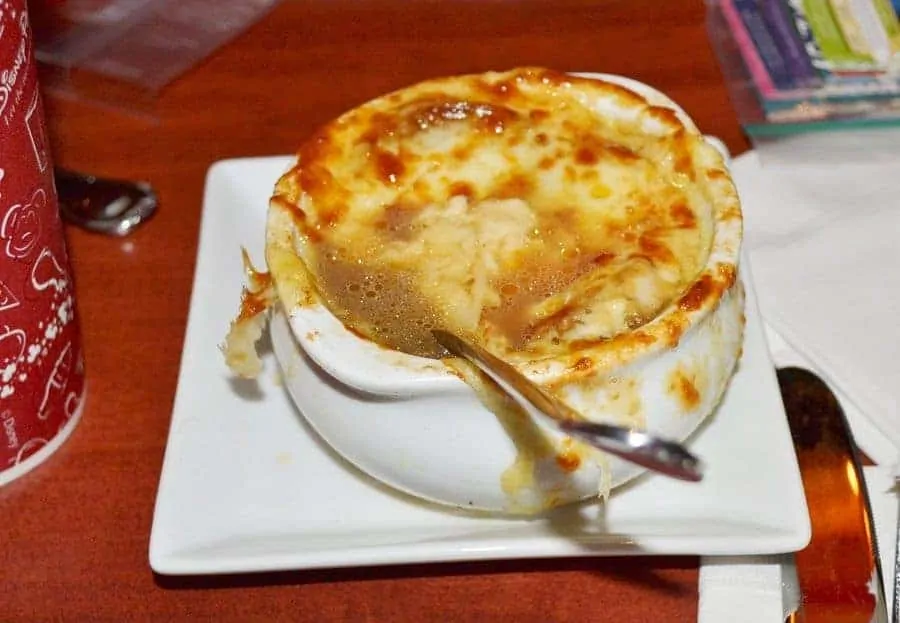 Your meal will begin with an appetizer. You can choose between French onion soup, lobster bisque or a selection of assorted meats and artisanal cheeses.
For your main entree, you can choose from the following:
Herb-salted Pork Tenderloin
Center-cut Filet Mignon
Poulet Rouge Chicken
Vadouvan Spiced Vegetables
Pan-seared Sea Scallops
You will end your dining experience with a choice of three sample sized desserts. You can choose between Lemon Jam Macaron, Dark Chocolate Truffle, Chocolate Tart or Vanilla Cake with Lemon Curd.
This 3-course dining experience is $62 for adults (ages 10 and up)
Be Our Guest Kids Menu
Guests age 9 and under also have a 3-course prix fixe meal.
They can begin with a choice of iceberg wedge salad, a fruit and cheese board or house-made peach apple sauce.
For their main course, kids can choose from grilled beef tenderloin, pan-seared chicken breast or macaroni and cheese.
Kids get to choose between two dessert options. They can have seasonal fruit served with yogurt dip or a trio of mini desserts.
This 3-course dining experience is $37 for children (ages 3 to 9).
Have you dined at Be Our Guest? What was your favorite part about it?