If you are traveling to Epcot – , 2018, you will get the chance to check out the 2018 Epcot International Food & Wine Festival. This free event (with regular admission price ticket) gives you the chance to have some specials experiences that aren't available other times of the year.
Epcot International Food & Wine Festival Experiences:
35 Unique Food & Beverage Kiosks which include 70 new non-alcoholic beverages, cocktails, wines and beers, including seven festival-exclusive brews.
On Friday and Saturday evenings, kids enjoy a dance party with Disney Characters.
Food Demonstrations & Cooking Seminars
Celebrity chef book signings and demonstrations
Cooking Classes (additional cost)
Specialty Tasting Events (additional cost)
Remy's Ratatouille Hide & Squeak scavenger hunt for kids (additional purchase required)
FREE "Eat to the Beat" Concerts
The 2018 Epcot International Food & Wine Festival is a great opportunity to taste some pretty amazing dishes that are otherwise not available at the park. What I like about this festival is that the samples are small portions and reasonably priced, so you can feel free to try many different types of food.
Not only will you find main dishes, but some pretty yummy desserts! If you are on the Disney Dining Plan, you'll be glad to know that many of the samples are a snack credit! This is one of the best ways to spend those snack credits at Epcot!There are even beverage samples for beer, wine & non-alcoholic drinks.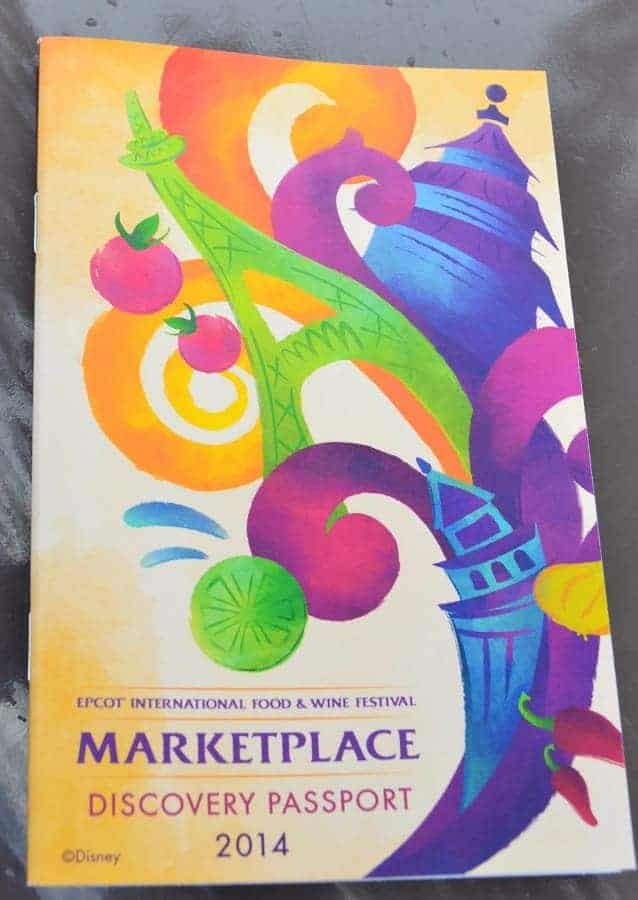 If you are overwhelmed by all of the food and beverage options and don't know where to go for what, Epcot has a handy Epcot International Food and Wine Passport. It is free and available at all Food Kiosks.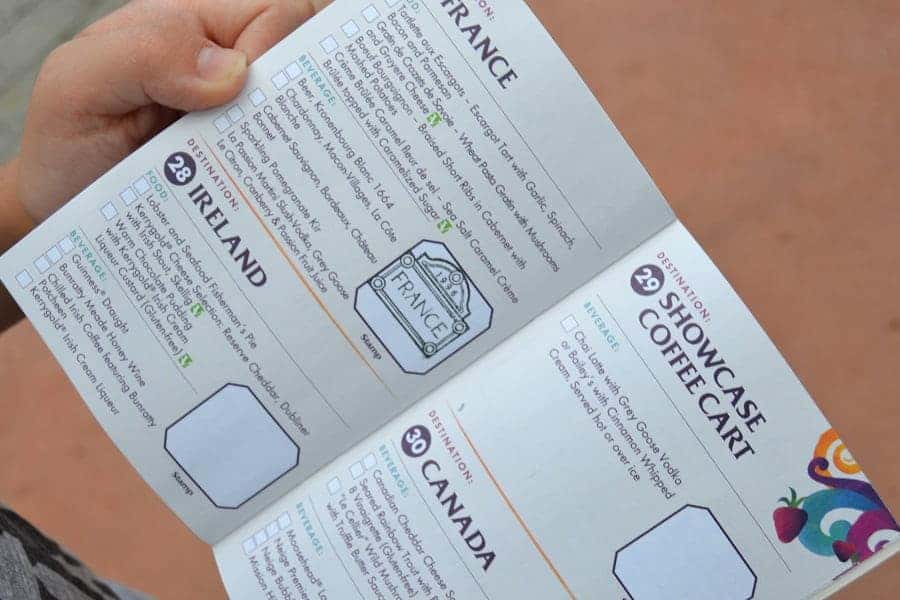 Inside the Passport you will find a list of all Kiosk locations and what types of food or beverage you will find there. You can check off what you try and even get your passport stamped at the Kiosk that you go to.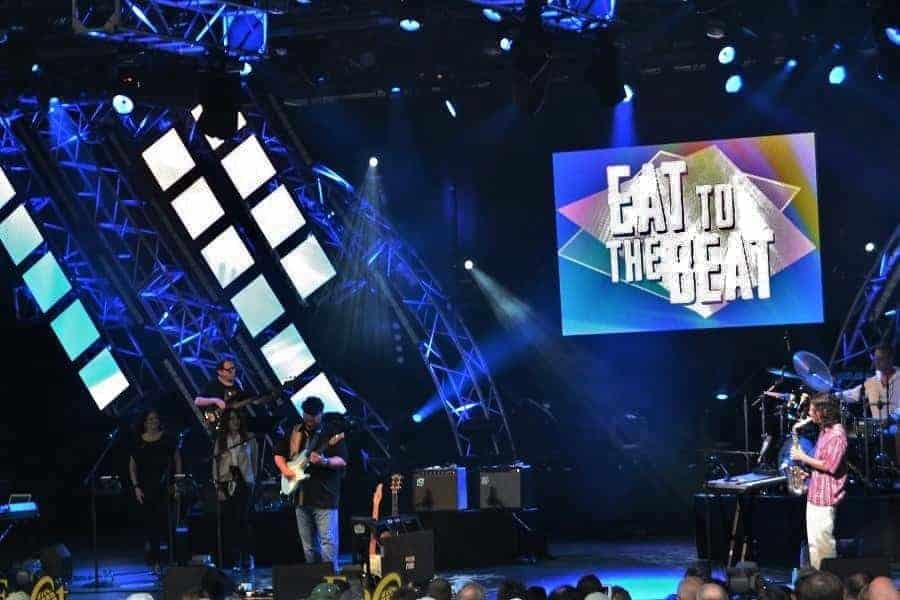 One of the best parts of the Epcot International Food & Wine Festival are the free concerts. Each year, Disney brings in great musicians to put on free concerts during the festival. This concert series is called Eat to the Beat and features many different types of musical artists. Here is this years lineup:
Eat to the Beat Lineup
Aug. 30-31 Blue October – "Into the Ocean"
Sept. 1-3 Tiffany – "I Think We're Alone Now"
Sept. 4-5 MercyMe – "I Can Only Imagine"
Sept. 6-7 Glass Tiger – "Don't Forget Me (When I'm Gone)"
Sept. 8-9 Tauren Wells – "Hills and Valleys"
Sept. 10-11 Postmodern Jukebox – Known for vintage-style covers of modern hits
Sept. 12-13 Vertical Horizon – "Everything You Want"
Sept. 14-16 Baha Men – "Who Let the Dogs Out"
Sept. 17-19 Plain White T's – "Hey There Delilah"
Sept. 20-21 Living Colour – "Cult of Personality"
Sept. 22-23 Sheila E – "The Glamorous Life"
Sept. 24-26 Sugar Ray – "Every Morning"
Sept. 27-28 David Cook – "Light On"
Sept. 29-30 Jeffrey Osborne – "On the Wings of Love"
Oct. 1-2 Jim Belushi and the Sacred Hearts – Known for their soulful rhythm & blues covers
Oct. 3-4 Everclear – "Santa Monica"
Oct. 5-7 Mark Wills – "19 Something"
Oct. 8-10 Air Supply – "All Out of Love"
Oct. 11-12 Anderson East – "All on My Mind"
Oct. 13-14 Smash Mouth – "All Star"
Oct. 15-16 98 Degrees – "Give Me Just One Night"
Oct. 17-18 38 Special – "Hold On Loosely"
Oct. 19-21 The Devon Allman Project – "Ragged and Dirty"
Oct. 22-23 Kenny G – "Songbird"
Oct. 24-25 Billy Ocean – "Get Outta My Dreams"
Oct. 26-28 Starship featuring Mickey Thomas – "We Built this City"
Oct. 29-31 Hanson – "MMMBop"
Nov. 1-2 High Valley – "She's with Me."
Nov. 3-4 Taylor Dayne – "Prove Your Love"
Nov. 5-7 Boyz II Men – "End of the Road"
Nov. 8-9 The Hooters – "And We Danced"
Nov. 10-12 Big Bad Voodoo Daddy – "Go Daddy-O"
Bringing the Kids to the 2018 Epcot International Food & Wine Festival?
For a small fee, they can purchase Remy's Ratatouille Hide & Squeak scavenger hunt maps at select merchandise locations in Epcot. Remy needs help with ingredients to make his signature dish, ratatouille.
Kids can search through the park to find 15 hidden Remy statuettes. Once completed, they can take their completed maps to Disney Traders at the entrance to World Showcase to choose a surprise, compliments of Chef Remy.
Kids will also enjoy the Disney Du Jour Dance Party where they can dance with some of their favorite Disney characters! Taking place at at the Future World Fountain Stage on Fridays and Saturdays throughout the festival, you never know who you might see.
Each weekend, will give you a new set of characters! Some of the special characters will be Remy and Emile, Clarabelle Cow and Horace Horsecollar, Chip and Dale, Lilo and Stitch or Nick Wilde and Judy Hopps.
Have you been to the Epcot International Food & Wine Festival? What did you think about it?