If you are traveling to Epcot between July 27 to November 18, 2023, you will get the chance to check out the 2023 Epcot Food & Wine Festival. This free event (with a regular admission price ticket) gives you the chance to have some special experiences that aren't available at other times of the year.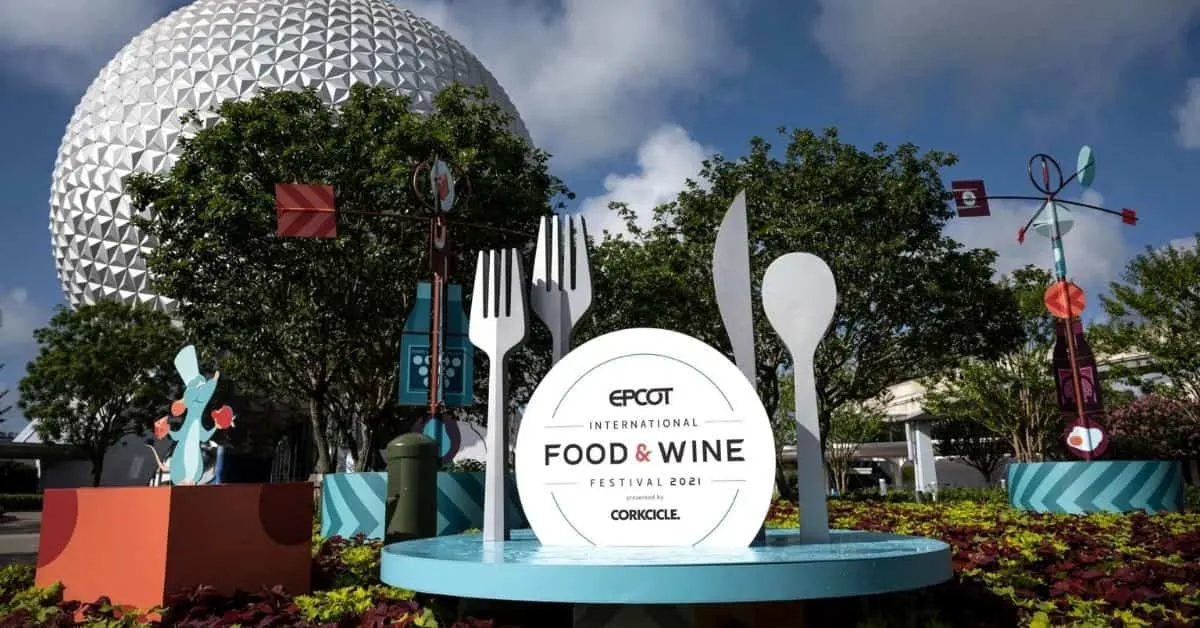 2023 Epcot International Food & Wine Festival Experiences
While this year will be a little different than years past, you will still have a great time exploring different food & wine around World Showcase.
Here is what you can experience: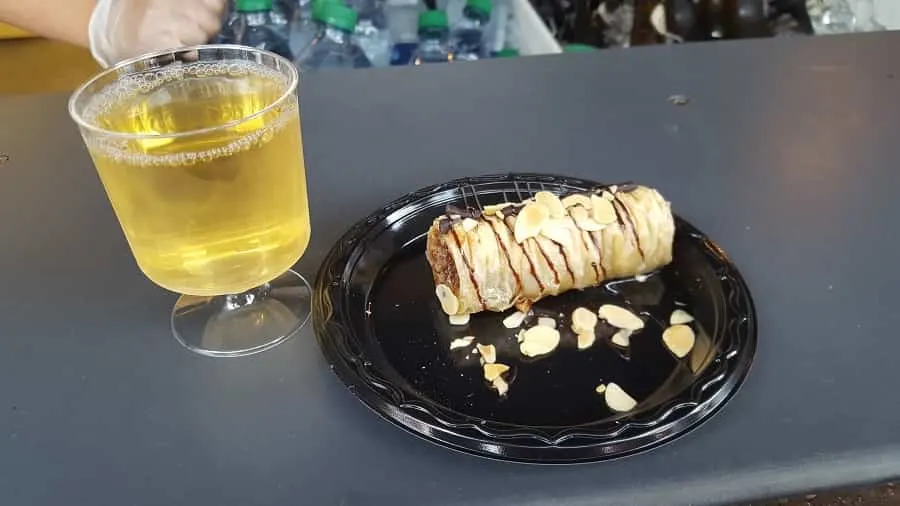 Food & Wine Kiosks
This year there will be more than 25 Unique Food & Beverage Kiosks which include new non-alcoholic beverages, cocktails, wines, and beers.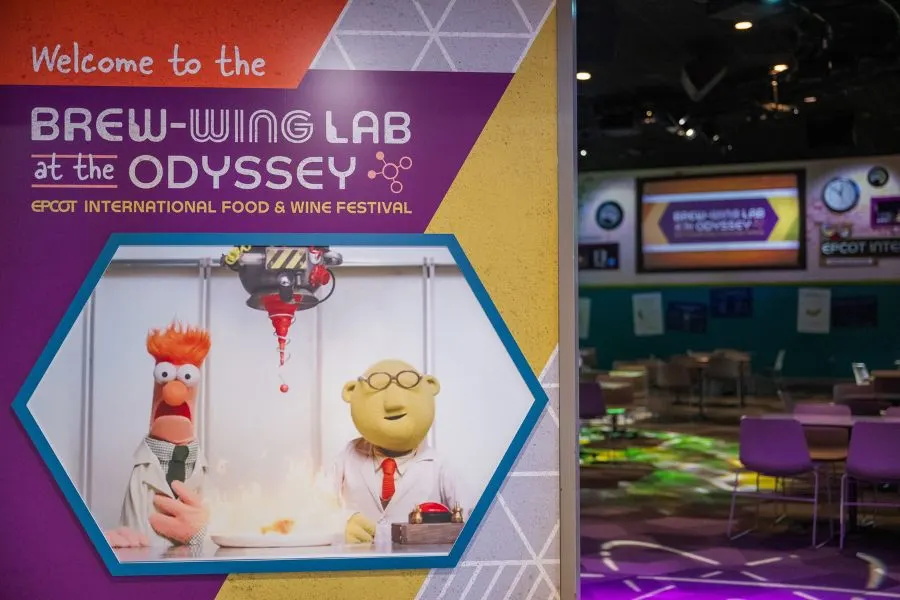 New marketplaces include Brew-Wing Lab at the Odyssey with chicken wing flavors like Unnecessarily Spicy, Yet Extremely Tasty Scotch Bonnet Pepper-Curry Wings with Cool Cucumber Yogurt and Peanut Butter and Jelly Sticky Wings.
Vegan guests can enjoy Impossible™ Buffalo Chicken Tenders with plant-based blue cheese, plant-based ranch and celery.
Also available are innovative beverages like the Pickle Milkshake and the Frozen Fusion featuring Twinings Pomegranate and Raspberry Herbal Tea fused with Orange Ice Cream.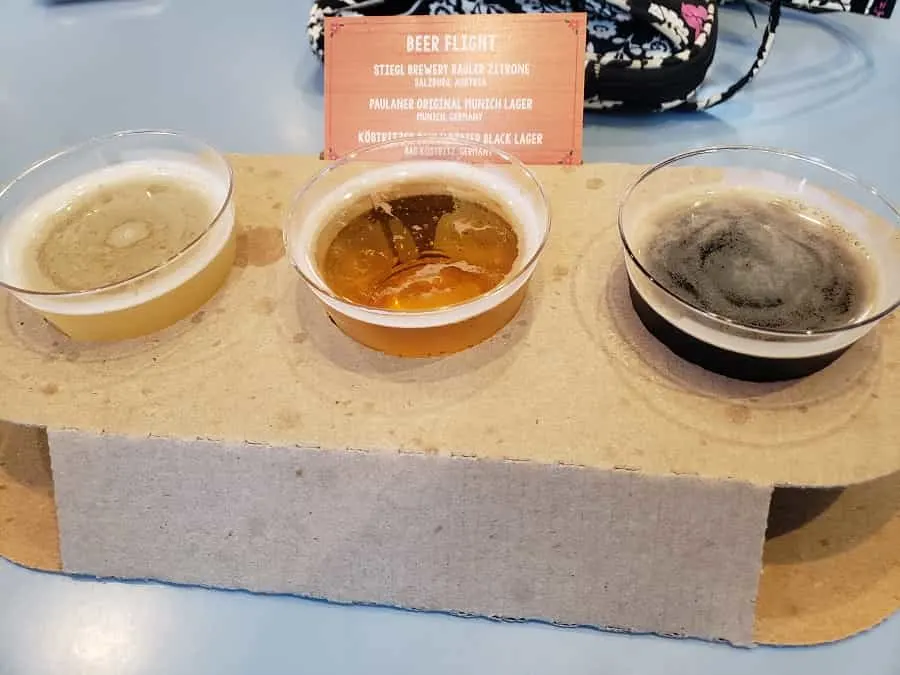 Aside from food, guests can also indulge in brews, ciders and wines will be offered individually or as flights!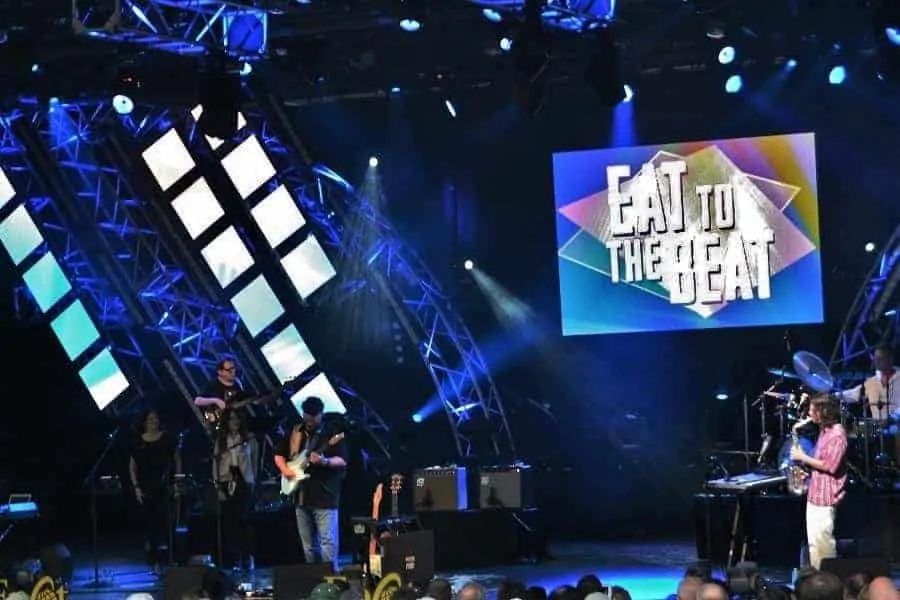 2023 Eat to the Beat Lineup
One of the best perks of the Food & Wine Festival at Epcot is the free concerts you get to enjoy! Here is the 2022 Eat to the Beat Line up!
August 1-3: Funkafied
August 4-5: Southern Avenue
August 6-7: Tiffany
August 8-10: Champagne
August 11-12: Ruben Studdard
August 13-14: Bacon Brothers (Yes, it is Kevin Bacon!)
August 15-17: M-80's
August 18-21: Joey Fatone & Friends
August 22-24: The Female Collective
August 25-26: Ayron Jones
August 27-28: Philip Phillips
August 29-31: Element
September 1-2: Baha Men
September 3-4: Mercey Me
September 5-7: Foreigners Journey
September 8-9: Ray Parker Jr.
September 10-11: Toby Mac
September 12-14: Hooligans
September 15: Monsieur Periné
September 16-17: Raul Acosta & Oro Solido
September 18: TBA
September 19-21: Audio Exchange
September 22-24: Los Amigos Invisibles
September 25-26: 98 Degrees
September 27-28: Latin Ambition
September 29-30: Boys II Men
Oct. 1-2: Boys II Men
Oct. 3-5: Wish Radio
Oct. 6-7: Mark Wills
Oct. 8-9 : Sugar Ray
Oct. 10-12: Icon Party Band
Oct. 13-14: Hoobastank
Oct 15-16: Air Supply
Oct 17-19: Evolution Motown
Oct. 20-21: Taylor Dayne
Oct 22-23: Billy Ocean
Oct 24-26: Sound Up
Oct. 27-30: Hanson
Oct 31: Rexine
Nov 1-2: Rexine
Nov 3-4: We the Kings
Nov 5-6: Shelia E
Nov 7-9: Epic Live
Nov 10-11: Big Bad Voodoo Daddy
Nov 12-13: 38 Special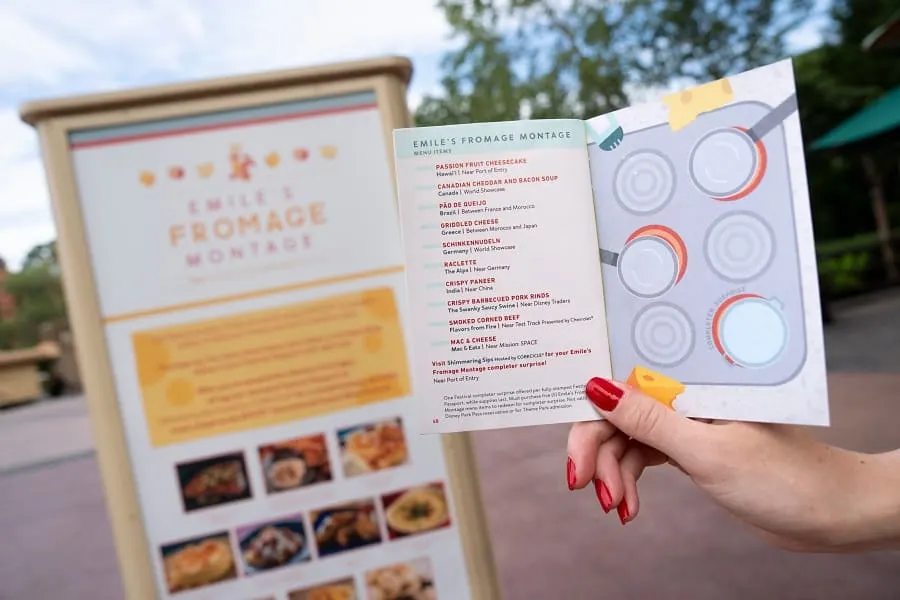 Emile's Fromage Montage
Do you love cheese? Here is your chance to try cheese from around the world!
Emile's Fromage Montage allows you to sample a variety of delicious cheeses served in inventive ways.
Purchase 5 cheese dishes from select Global Marketplaces and collect a stamp for each dish.
Once you've collected 5 stamps, bring the stamped Festival Passport to Shimmering Sips for a specialty prize unique to the Epcot International Food & Wine Festival.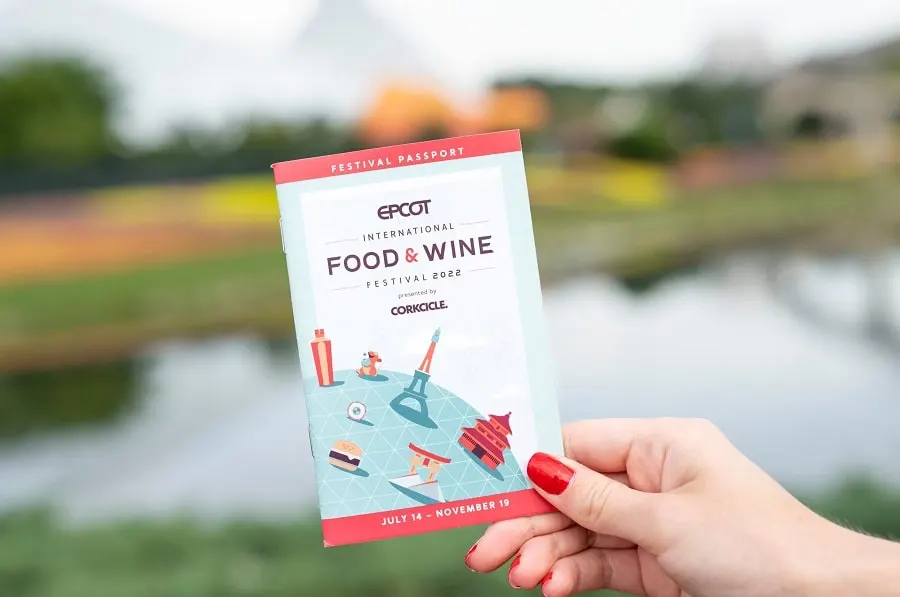 2023 Epcot Food & Wine Festival Passport
If you are overwhelmed by all of the food and beverage options and don't know where to go for what, Epcot has a handy Epcot International Food and Wine Passport. It is free and available at all Food Kiosks.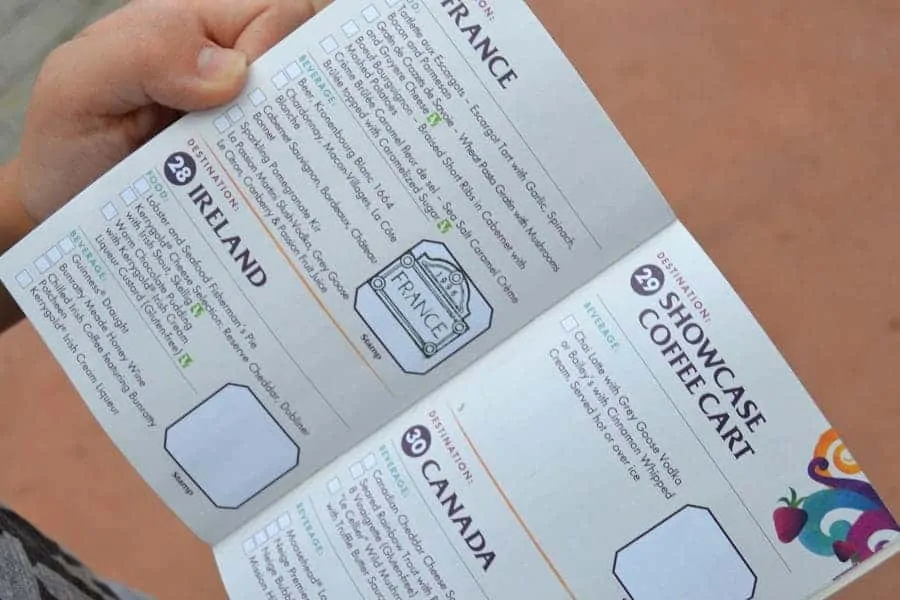 Inside the Passport you will find a list of all Kiosk locations and what types of food or beverage you will find there.
You can check off what you try and even get your passport stamped at the Kiosk that you go to.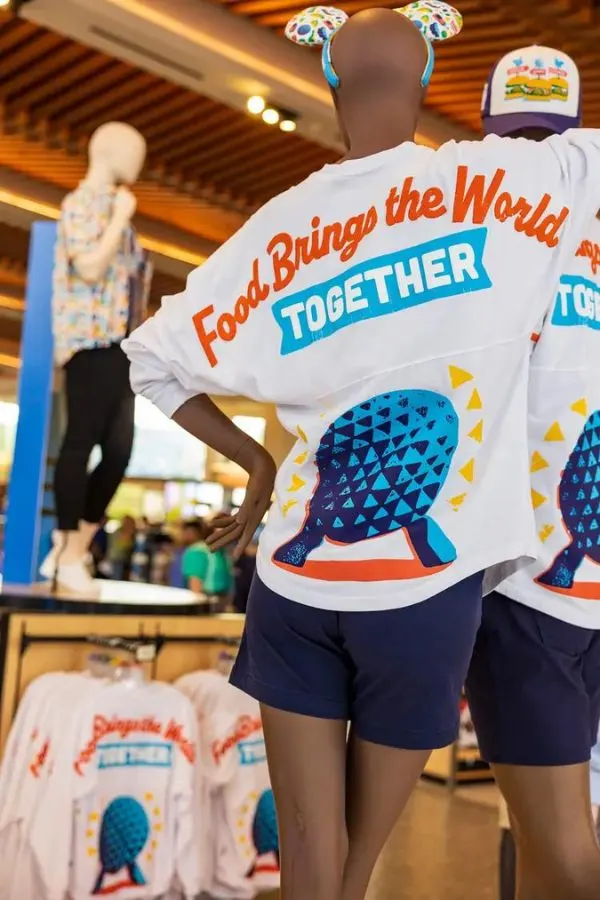 2023 Epcot International Food & Wine Festival Souvenirs
One of my favorite things about the festivals is that you can get unique souvenirs. This year at the Food & Wine Festival you will find colorful clothing and accessories featuring the EPCOT ball.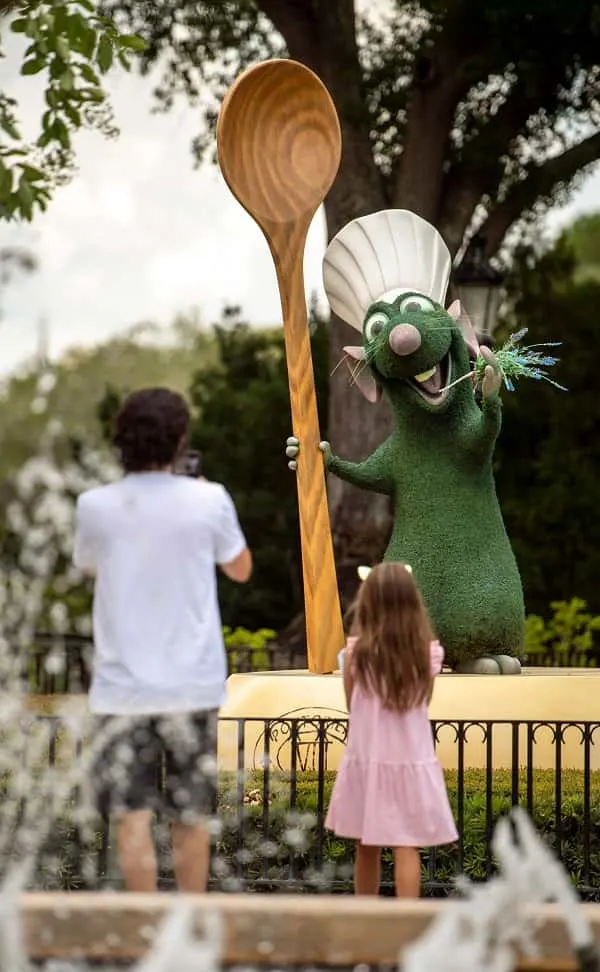 Bringing the Kids to the Epcot International Food & Wine Festival?
For a small fee, they can purchase Remy's Ratatouille Hide & Squeak scavenger hunt maps at select merchandise locations in Epcot. Remy needs help with ingredients to make his signature dish, ratatouille.
Kids can search through the park to find 15 hidden Remy statuettes. Once completed, they can take their completed maps to Disney Traders at the entrance to World Showcase to choose a surprise, compliments of Chef Remy.
From Sept. 29 through Oct. 31, or while supplies last, Pluto's Pumpkin Pursuit allows guests to search throughout EPCOT for hidden Disney character-themed decorative pumpkins.
Maps & stickers are available to be purchased inside the park.
At the end of the hunt, maps can be redeemed for a spooky festival keepsake.
Have you been to the Epcot Food & Wine Festival? What did you think about it?