If you are looking for a fine dining experience in Epcot, one of the best restaurants to make a reservation for is Chefs de France. This restaurant is one of the fancier restaurants in World Showcase and will make you feel like you are dining at a real French bistro.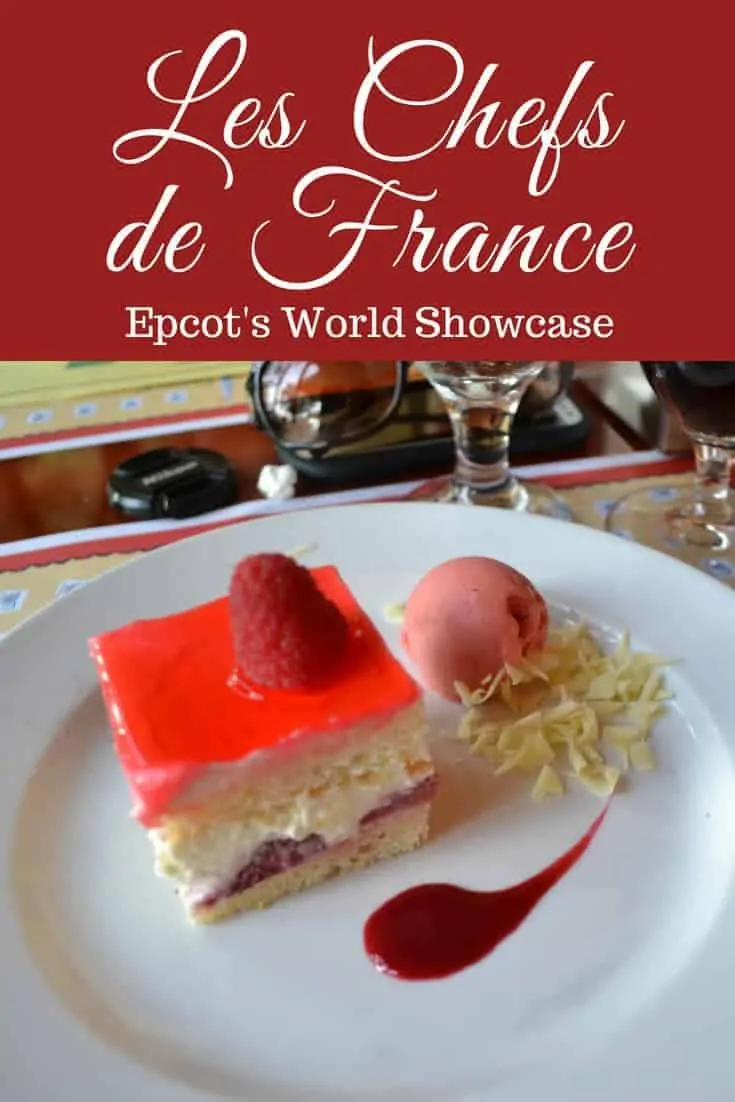 Dining at Les Chefs de France: Epcot French Restaurant
Once you enter Les Chefs de France, you will feel like you've stepped off the streets of Paris into a charming café.
There are generally two seating areas in the restaurant and the one we prefer is lined with windows adjacent to the France Pavilion promenade.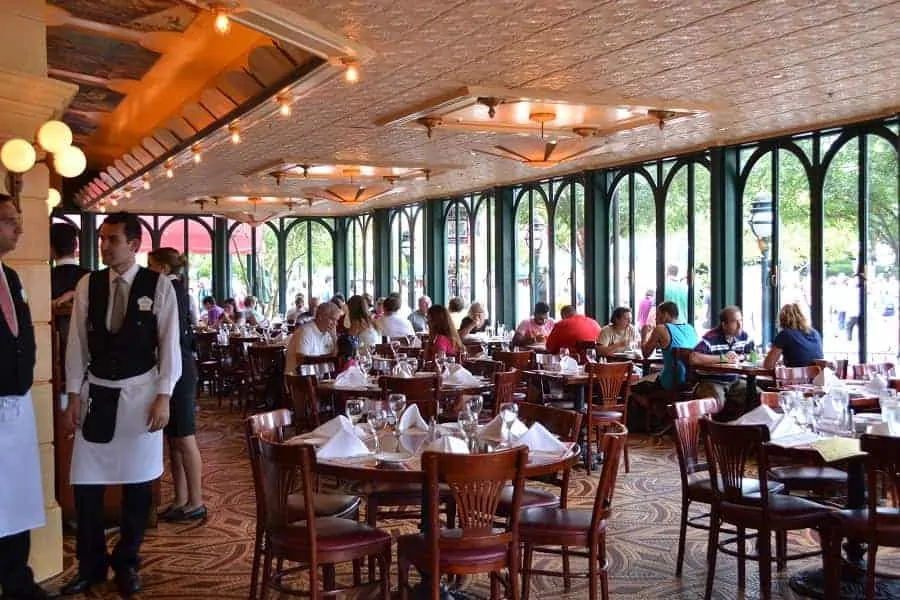 Here you will find floor to ceiling windows that let in an enormous amount of natural light and give you the opportunity to people watch.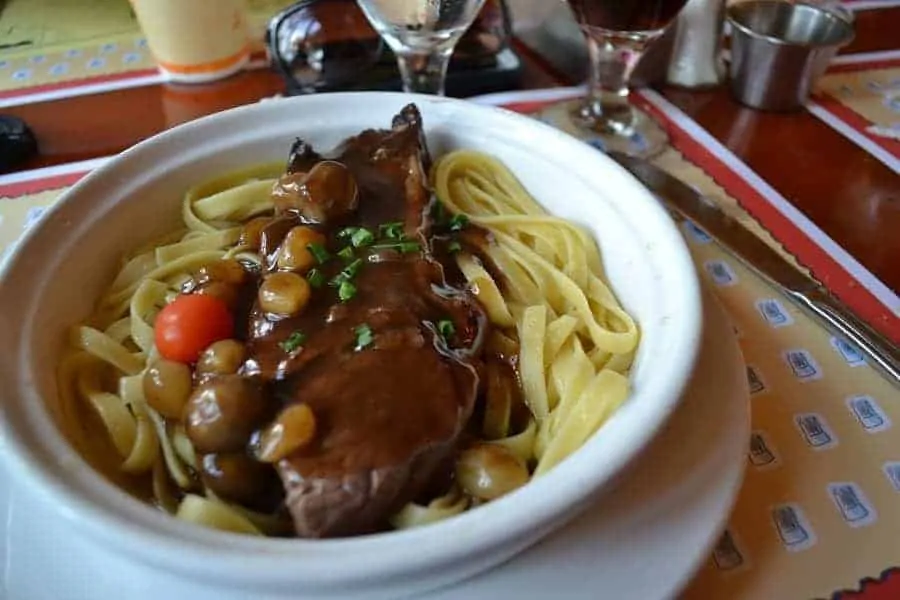 The French menu changes seasonally but has some standard dishes in its rotation.
I ordered the Plat de cote de boeuf au cabernet avec pates which seems to be on the menu year round.
These are beef short ribs are braised in Cabernet and served atop pasta, with pearl onions and mushrooms.
It was cooked perfectly with very little fat (as sometimes can be the case with beef short ribs).
Up until 2013, Remy used to make an appearance.
Remy would be brought to the table under a covered dish, exactly as he would appear from the Pixar movie, Ratatouille.
While Remy is no longer appearing at Les Chefs de France, I am hoping this will be returning when the new Ratatouille Ride is added to France pavilion as part of the updates to Epcot that is coming soon.
Dessert is the crowning jewel of Chefs de France. My personal favorite is always Chocolate Mousse.
It is light, airy and simply yummy!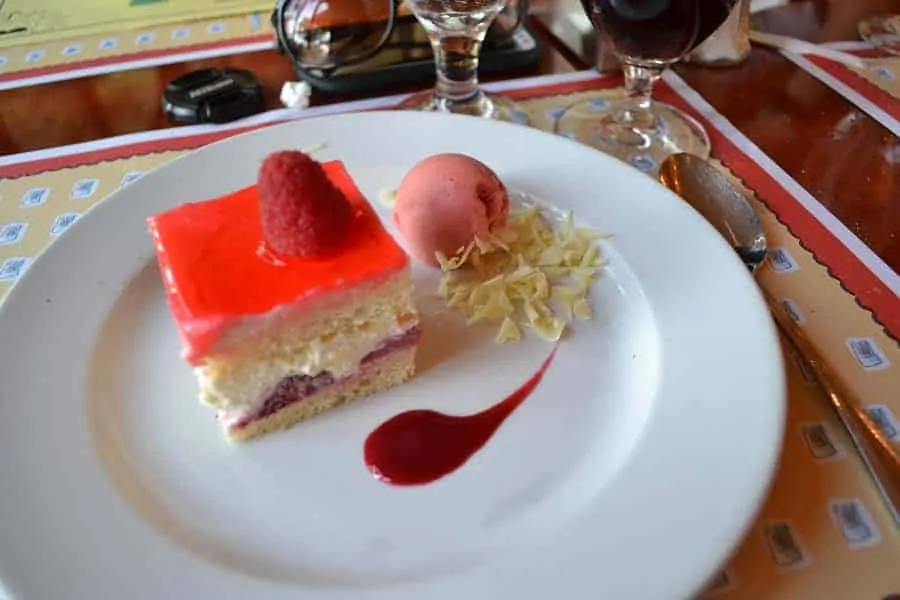 This time, however, I opted for the Strawberry Shortcake with scoop of Strawberry Sorbet. It was wonderful!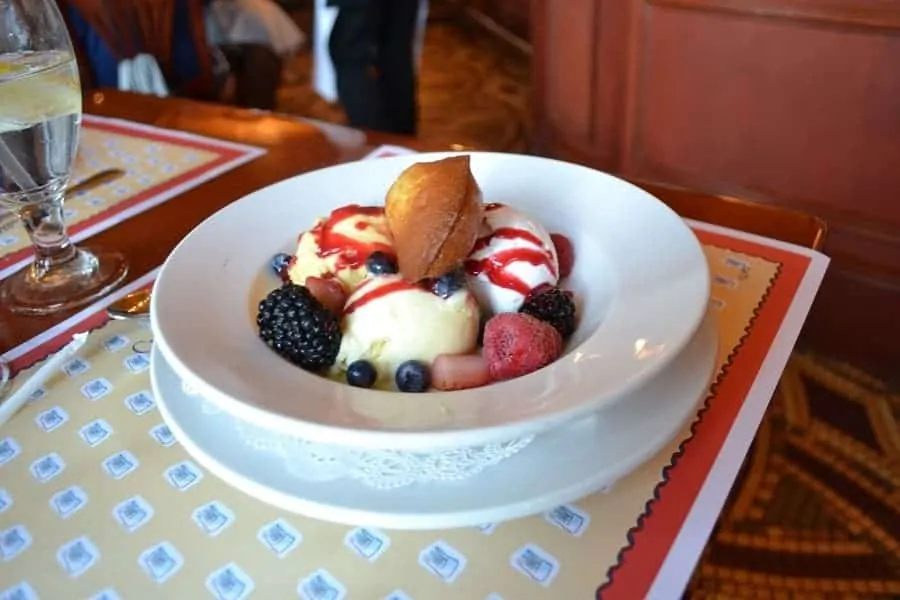 If you love Gelato, you probably should order Assiette de Sorbets du jour et son palmier (daily assortment of fresh sorbets served with an elephant ear).
Talk about heavenly, these creamy scoops of joy were packed full of flavor!
Whenever we are celebrating a special occasion while in Epcot, we try to make a trip to Chefs de France because we know the food never disappoints.
Frequently asked questions about Le Chef de France
Does Chefs de France serve alcohol?
Yes, Chefs de France does serve alcohol and has an extensive wine list.
Is Chefs de France on the dining plan?
Yes, Chefs de France is on the Disney Dining Plan.
How many credits is Chefs de France?
Chefs de France is on the Disney Dining plan. It is one table service dining credit on the Disney Dining plan.
Is Remy still at Chefs de France?
Remy is no longer appearing at Les Chefs de France.
Have you dined at Les Chefs de France? What was your experience?