If you are looking for Star Wars attractions at Disney World, the park you want to be sure to visit is Hollywood Studios. This is where you will find Galaxy's Edge, Star Wars rides, and attractions.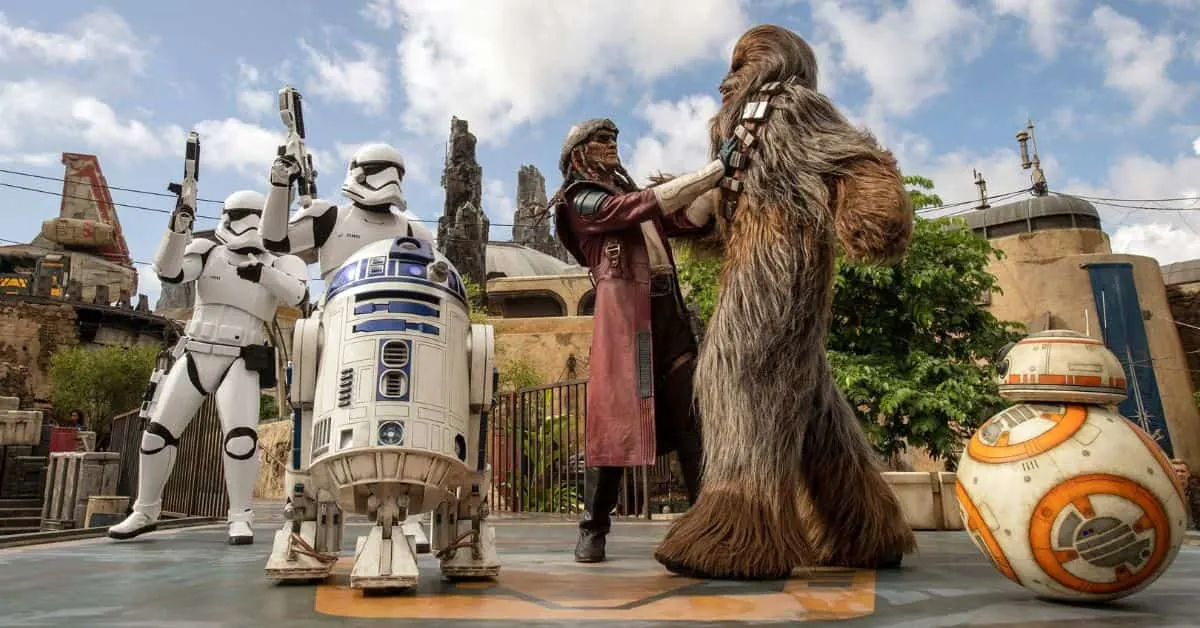 Galaxy's Edge should be your first stop at Hollywood Studios if you are a Star Wars fan!
When it comes to rides, there are two in Galaxy's Edge: Millennium Falcon: Smugglers Run and Star Wars: Rise of the Resistance.
Including the rides, there are plenty of other Star Wars attractions to keep you busy all day long!
10 Best Star Wars Attractions at Disney World
Here are what we consider the top 10 Star Wars-themed things to experience at Disney World: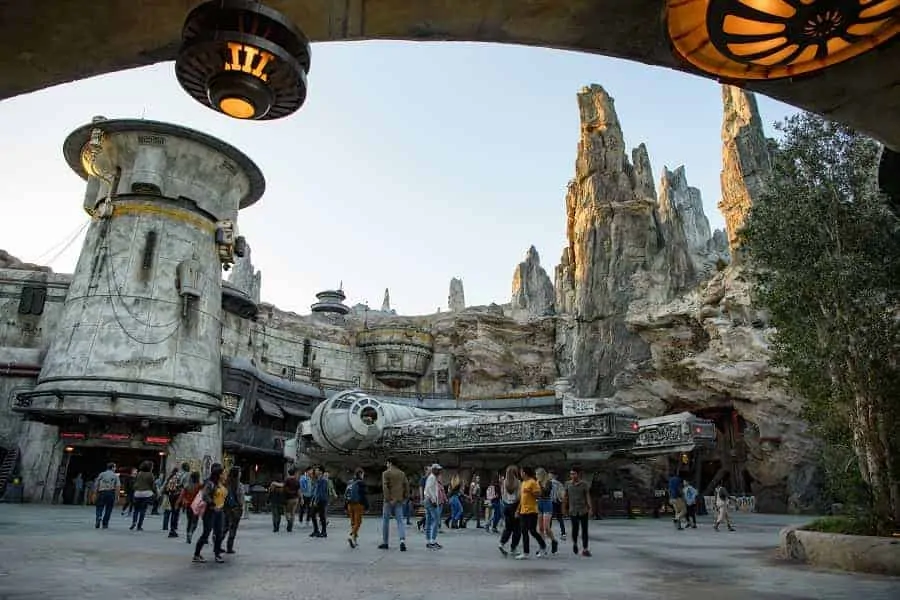 1. Millennium Falcon Smugglers Run
On this ride, you will board the Millennium Falcon along with others who will have to work together to command "the fastest hunk of junk in the galaxy."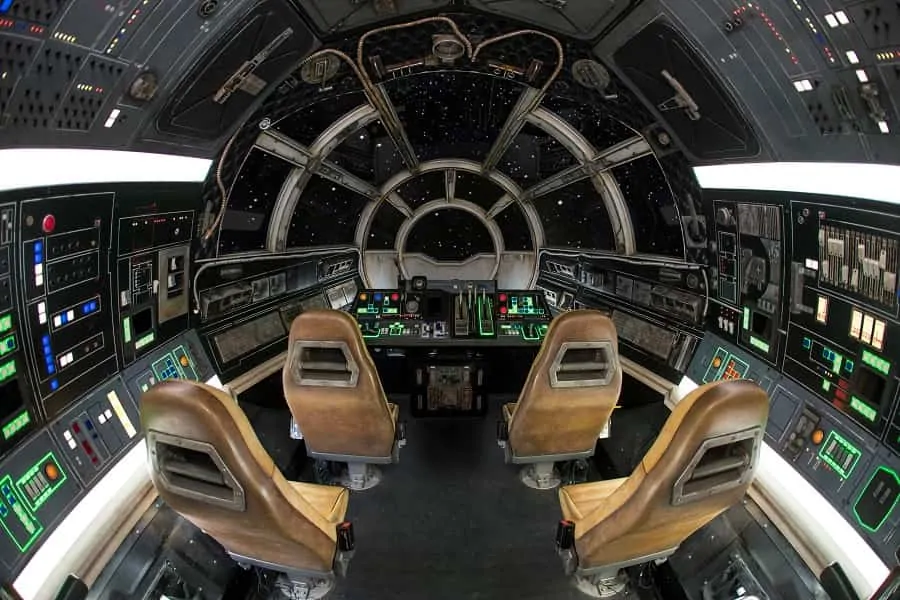 No matter what role you receive in your mission, the fully interactive ride will take you flying through the galaxy at warp speed, dodging fire, and structures!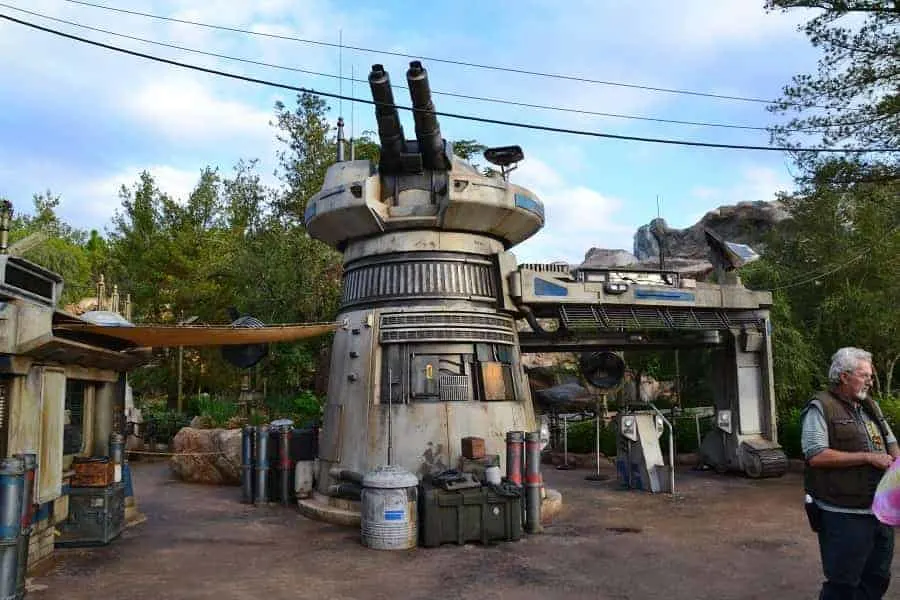 2. Star Wars: Rise of the Resistance
This ride pits you between First Order and the Resistance!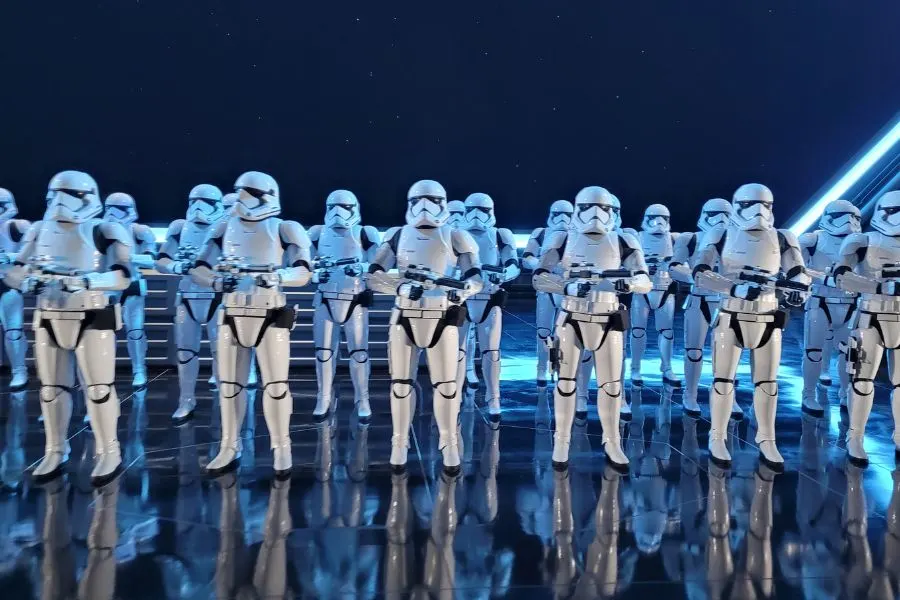 You will begin by boarding a transport shuttle that gets caught by the First Order.
This fully immersive experience gives you a chance to battle back from being taken by the First Order.
With the help of some Resistance fighters, you will be forced to fight back in order to break free!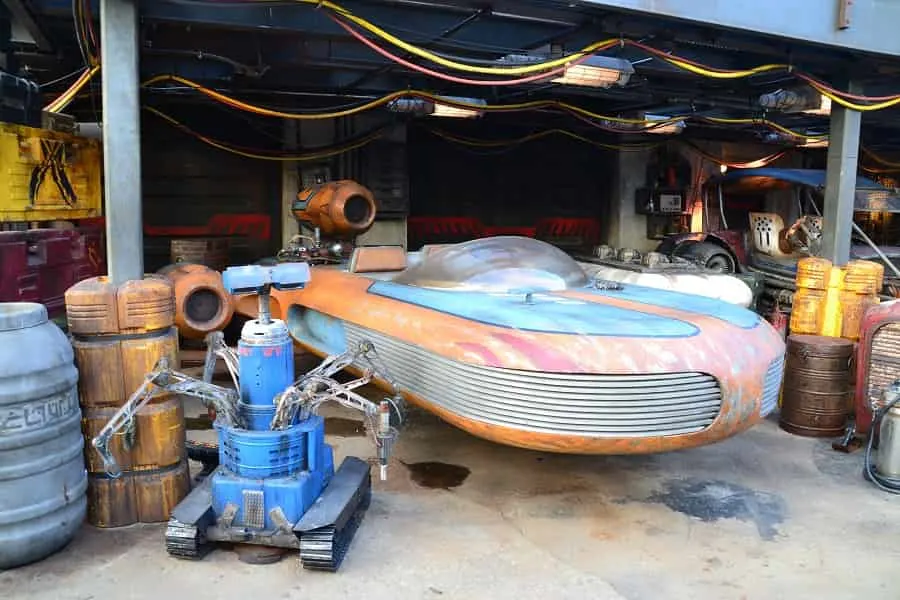 While there are only two rides, there are a ton of other things to do & see while you are in Galaxy's Edge.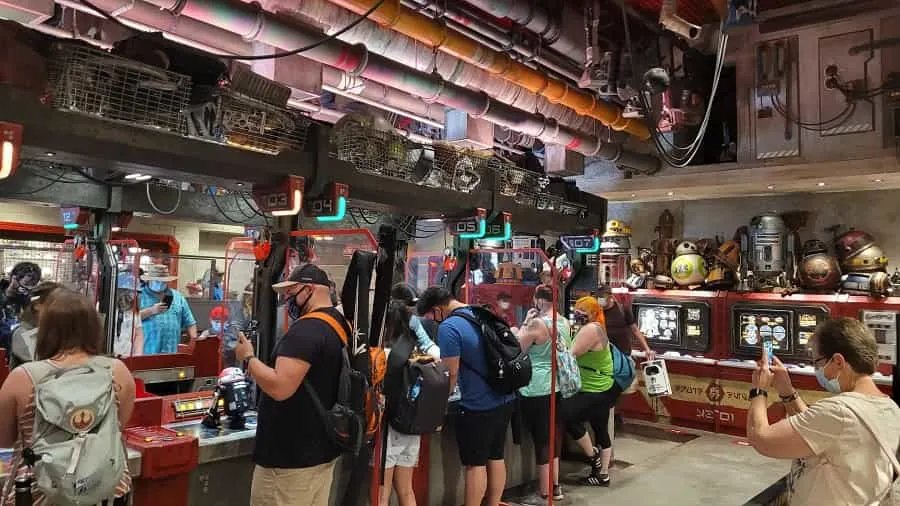 3. Droid Depot
Those over 14 can build their own droid at Droid Depot for $119.99.
Once you arrive, you will register either a BB-series unit or an R-series unit with the clerk, who'll give you a basket and building instructions.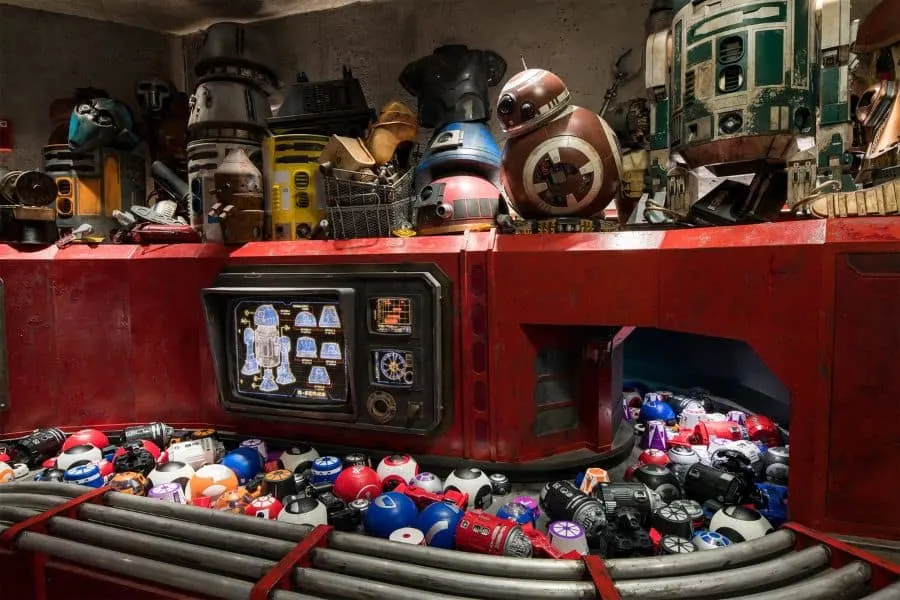 Then you will go through stations to construct your droid.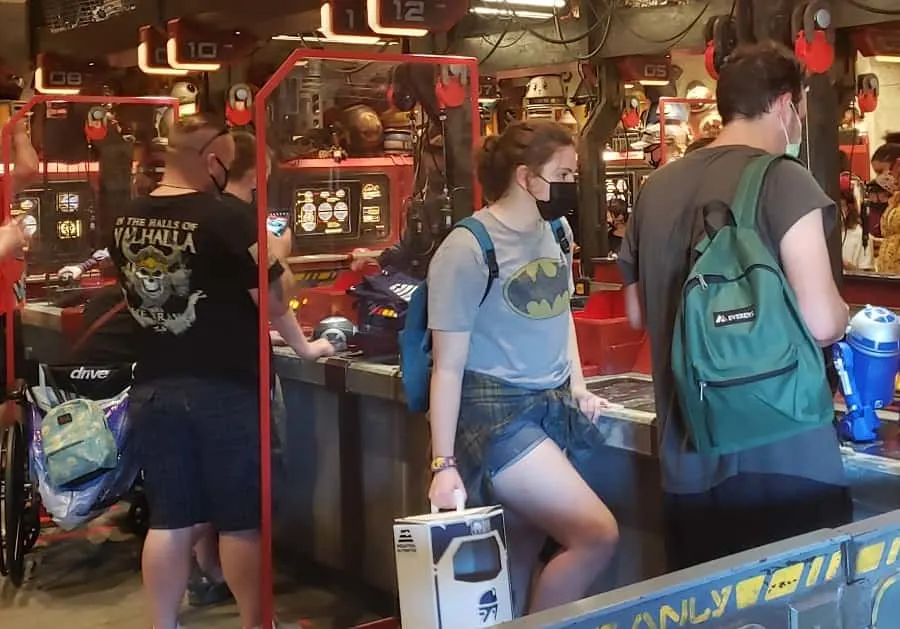 Once completed, your droid will be paired with a remote control and activated so that it can come to life!
One additional guest is permitted to watch you build the droid.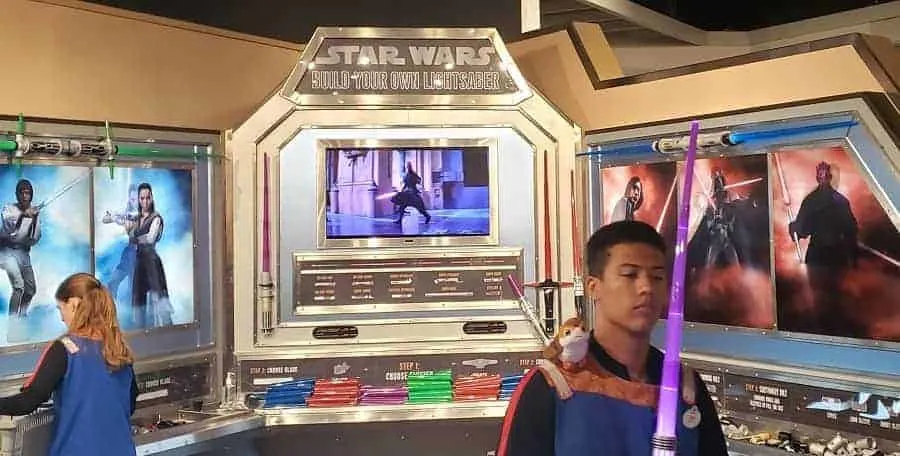 4. Savi's Workshop
Guest over 14 can build their own lightsaber (for a hefty charge of $249.99) at Savi's Workshop.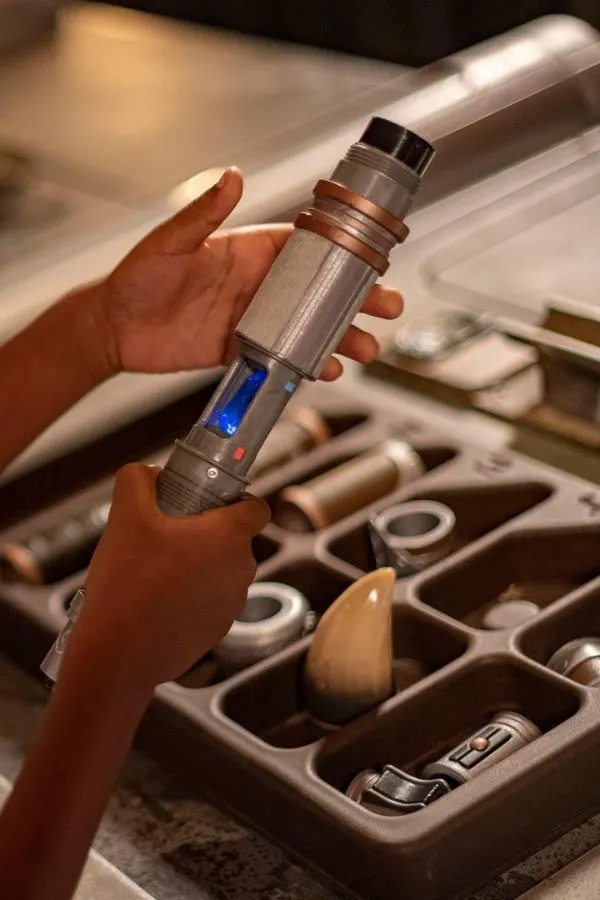 You will get to create your lightsaber based on one of four themes:
Peace and Justice
Salvaged scraps from fallen Jedi temples and crashed starships in these Republic-era designs honor the galaxy's former guardians.

Power and Control
Originally forged by dark-side warriors, this style features rumored remnants from the Sith homeworld and abandoned temples.

Elemental Nature
This theme embodies the Force—an energy created by all living things, like Brylark trees, Cartusion whale bones and Rancor teeth.

Protection and Defense
Hilt materials bear mysterious motifs and inscriptions that reconnect users with the ancient wellspring of the Force.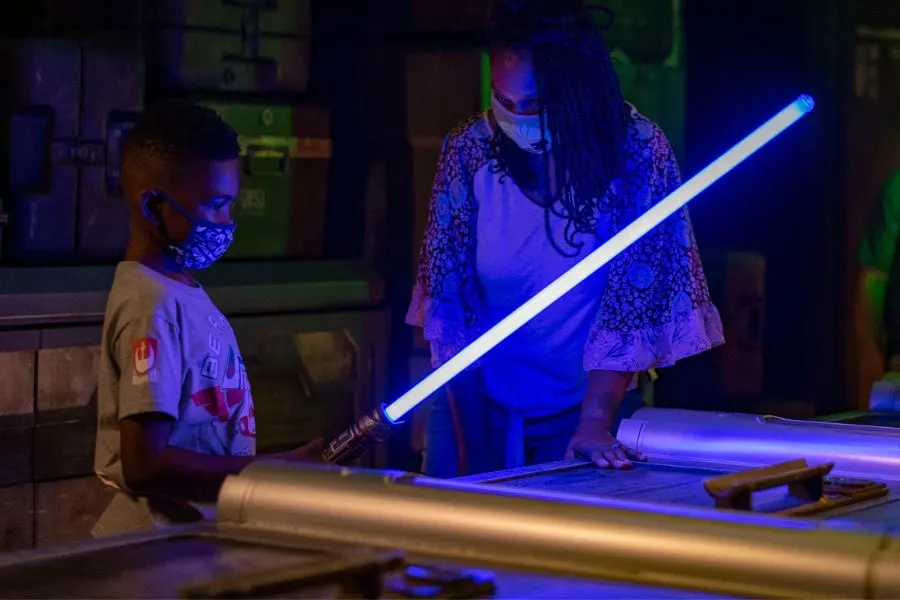 You will put the lightsaber together with the help of a Gatherer who will also help you add the kyber crystal (choose from red, blue, green or purple).
Each person building a lightsaber can bring one guest (who can be under 14), but they are not permitted to build anything.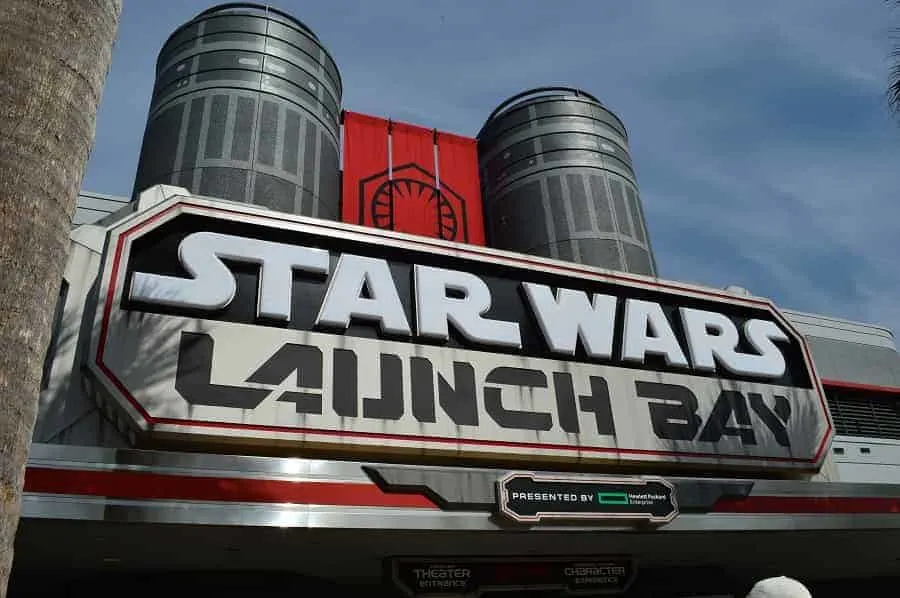 5. Star Wars Launch Bay
Star Wars Launch Bay is one place you don't want to miss if you are a Star Wars fan going to Hollywood Studios.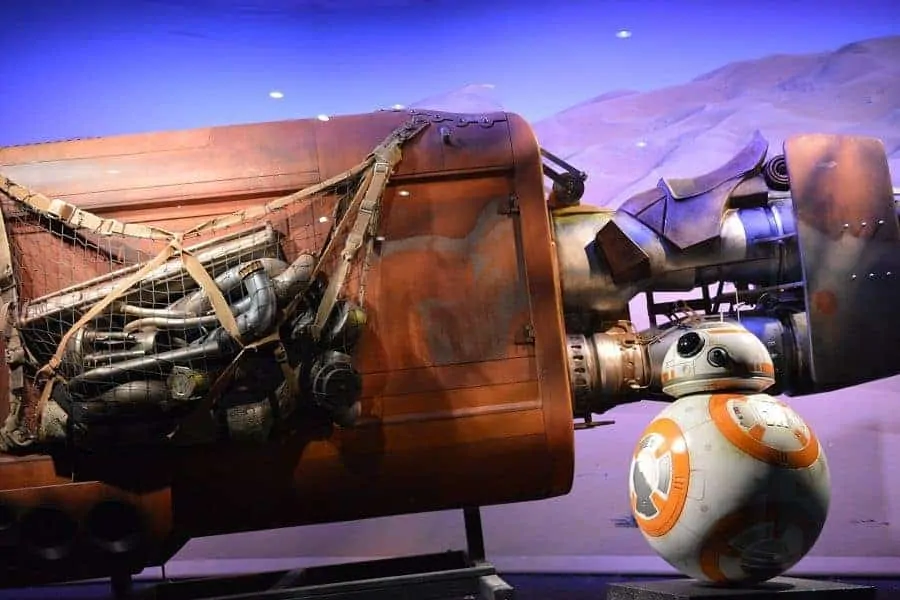 While not part of Galaxy's Edge, it is a great spot to find everything from movie memorabilia to characters! Here is what you will find:
Launch Bay Theater – Watch a short video about the making of the Star Wars saga into a film.
Character Meet & Greets – Visit with Darth Vader, Chewbacca & BB8. While in the area, you will also be able to see replicas of Star Wars props.
The Cantina – This is a small area where you might spot a Jawa (if you are lucky!). Even if they aren't around, you will get to have a great place to take some photos with some really cool backdrops like a holo chess game table.
Launch Bay Cargo – This Star Wars store is what dreams are made of. You will find authentic movie props, costumes, and some pretty neat Star Wars souvenirs.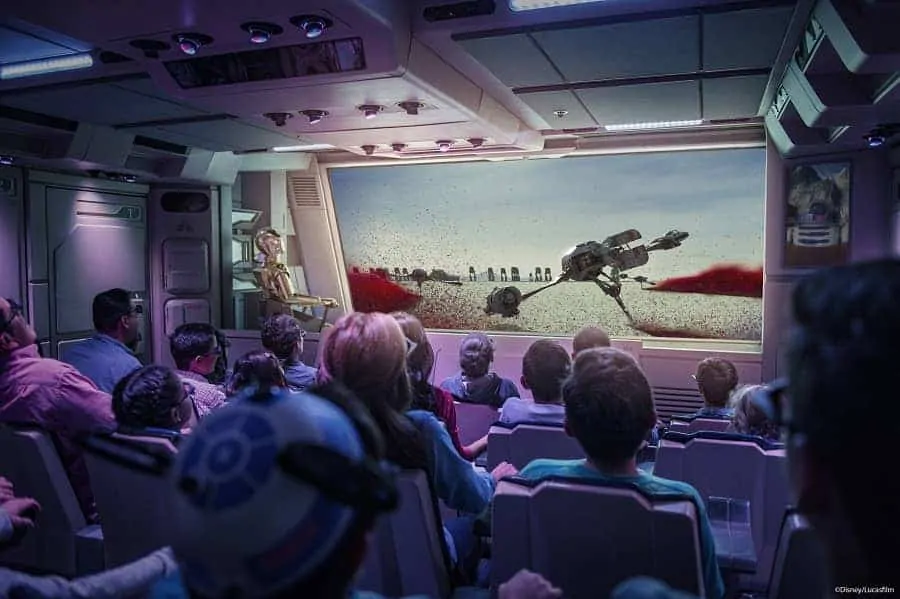 6. Star Tours
On this simulator ride, guests take flight aboard a Starspeeder 1000 and race to faraway places like Jakku, Coruscant, Naboo or even Crait!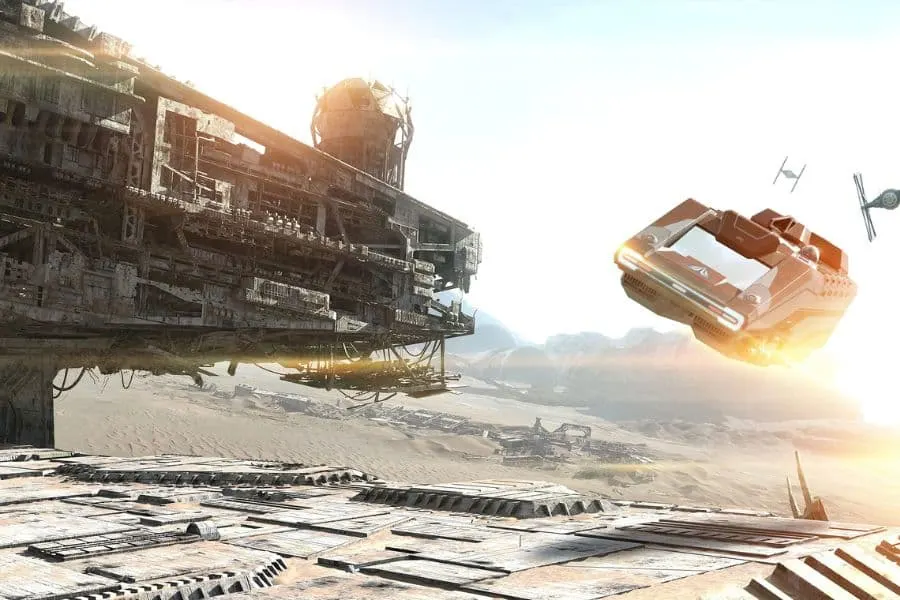 You could end up in a new location each time you ride Star Tours!
During your voyage, you will interact with many otherworldly characters and never know who you might run into!
7. Star Wars Photo Opportunities
Hop on a replica speeder bike and pretend like you are darting between the giant trees on Endor.
You will find countless picture opportunities for your Jedi in training!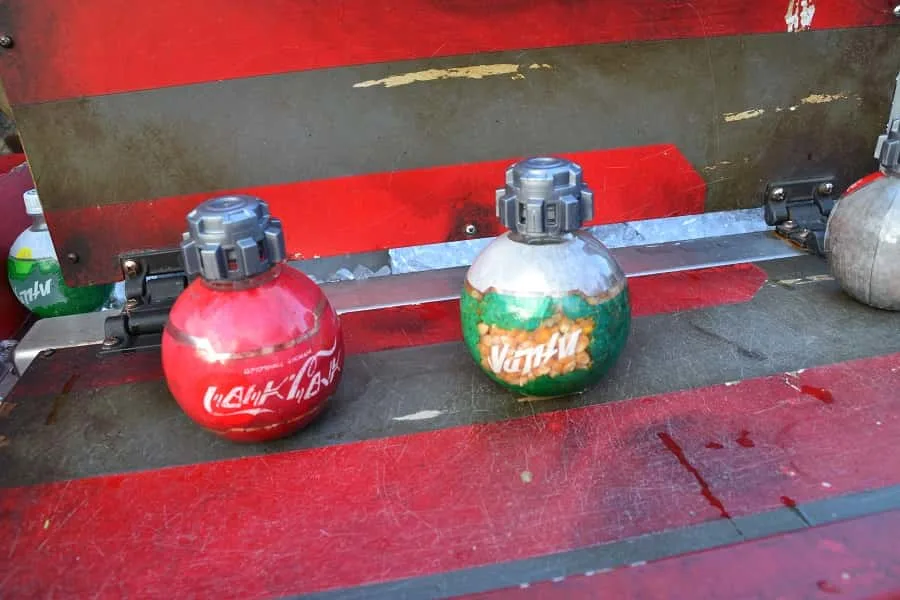 8. Indulge in Star Wars Treats
Want a Star Wars-themed treat? Head over to Backlot Express where you can get a Darth Vader Chocolate Cupcake or hit Galaxy's Edge where you can grab a Coke in a souvenir container.
9. Batuu Bounty Hunters Game
If you have a Disney MagicBand, you can play the Batuu Bounty Hunters game in Star Wars: Galaxy's Edge.
This game is a scavenger hunt through Galaxy's Edge that gives you clues to solve missions.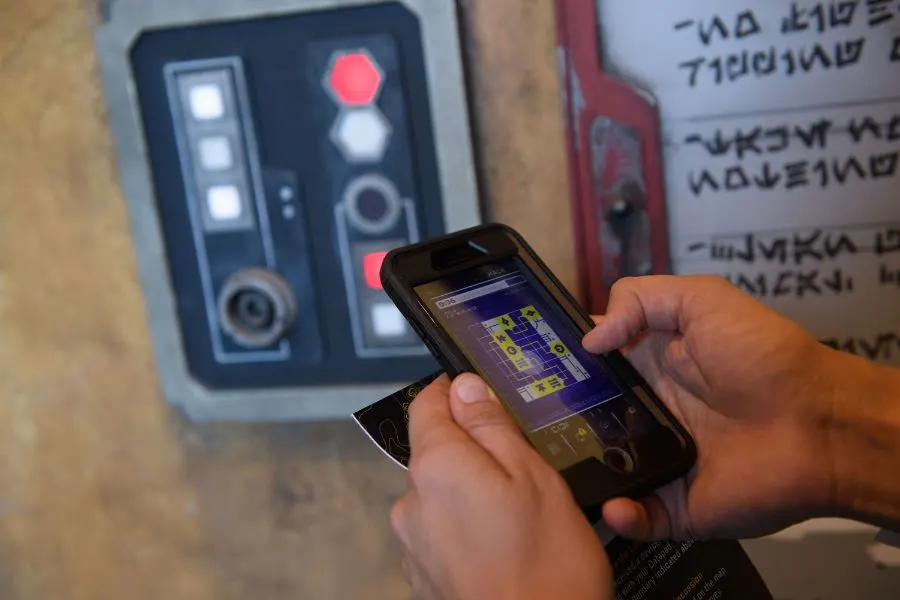 As long as you have a MagicBand and the Disney App, you can play at your leisure while you are in this section of Hollywood Studios.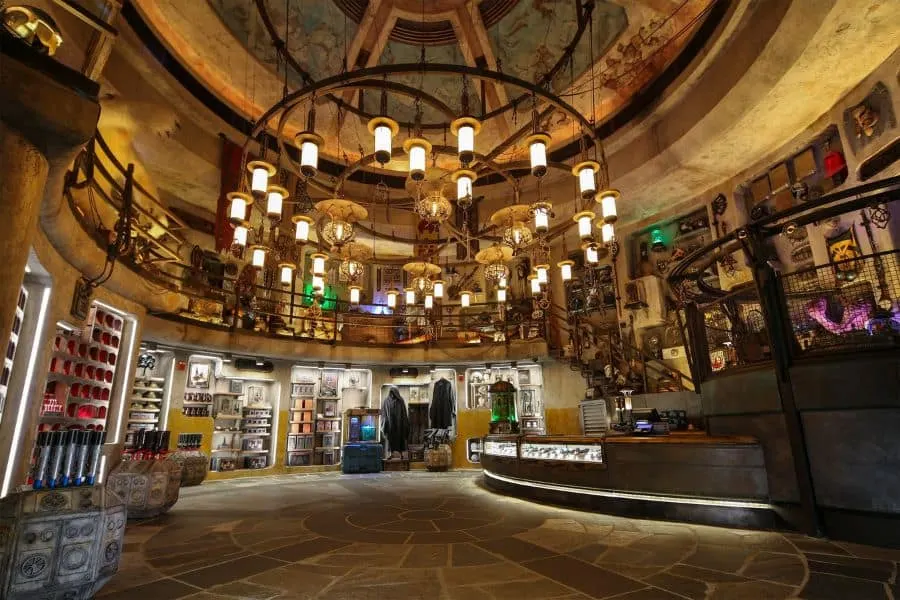 10. Dok-Ondar's Den of Antiquities
Part store, part museum, you definitely want to explore this shop in Galaxy's Edge.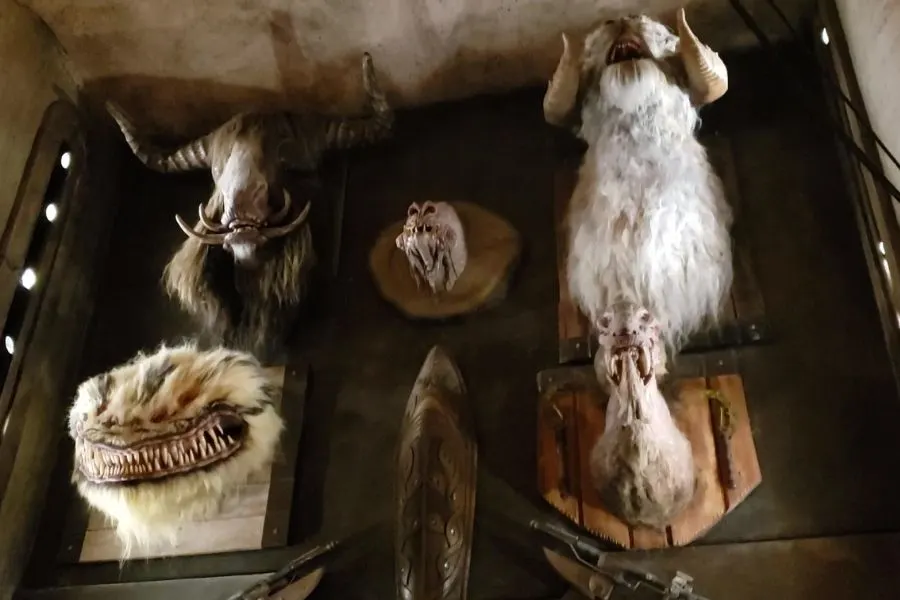 Before shopping take time to notice the amazing details that are straight out of the Star Wars Film franchise.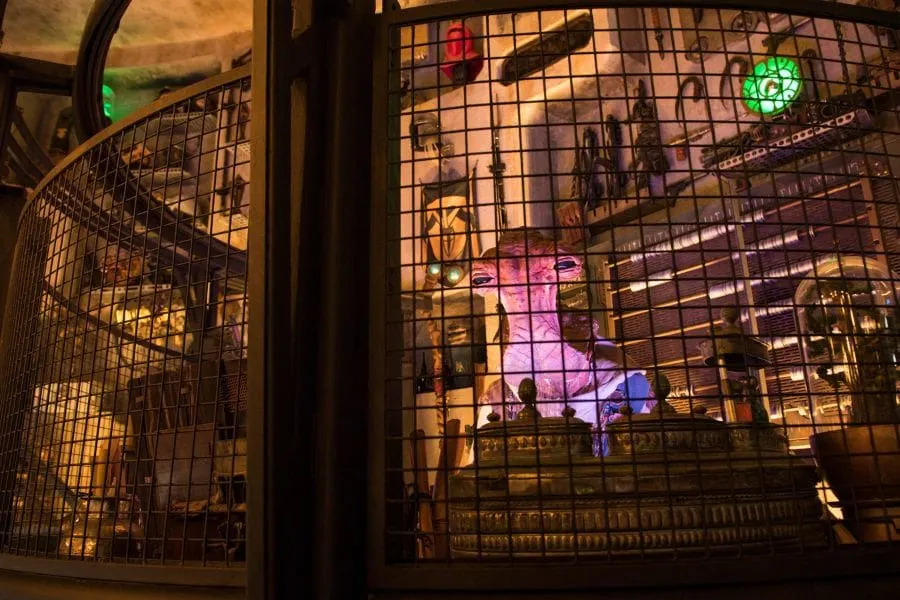 You will find Dok-Ondar doing what he does best, making deals.
Some items found inside include a taxidermic wampa from the ice planet Hoth in "Star Wars: The Empire Strikes Back and a mural depicting an ancient battle between the light and dark sides of the Force based on the one in Chancellor Palpatine's office in "Star Wars: Revenge of the Sith."
The items found in Dok-Ondar's Den of Antiquities rotate in & out so you never know what you might find.
If you are a Star Wars fan, you definitely want to make sure you visit Hollywood Studios and make sure that you get there early so that you can fit everything in!
What Star Wars attractions at Disney World are you most excited about?