If you are a fan of Star Wars, the Disney World park you must go to is Hollywood Studios. This is where you will find Galaxy's Edge and a ton of other Star Wars activites. In fact, there are so many Disney Hollywood Studios Star Wars experiences that you could spend a better part of your day just doing things related to the film series.
BEST Disney Hollywood Studios Star Wars Experiences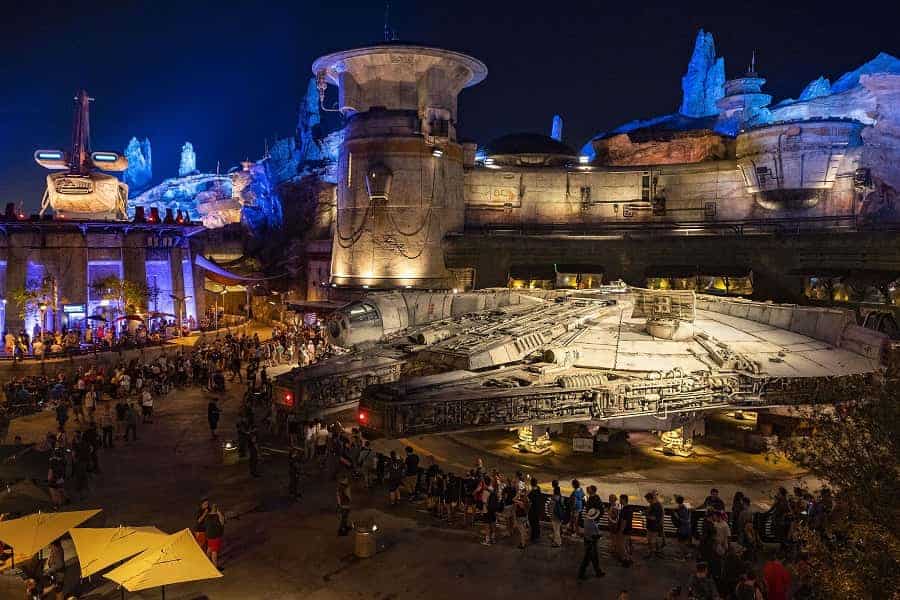 Galaxy's Edge
This should be your first stop at Hollywood Studios. Take a look at some of the things you can experience at Galaxy's Edge.
When it comes to rides, there are two in this area of Hollywood Studios: Millennium Falcon: Smugglers Run (open now) and Star Wars: Rise of the Resistance (opening later).
You will find many different shopping experiences, each giving you a chance to walk home with everything from your own personal droid to a Kowakian Monkey Lizard.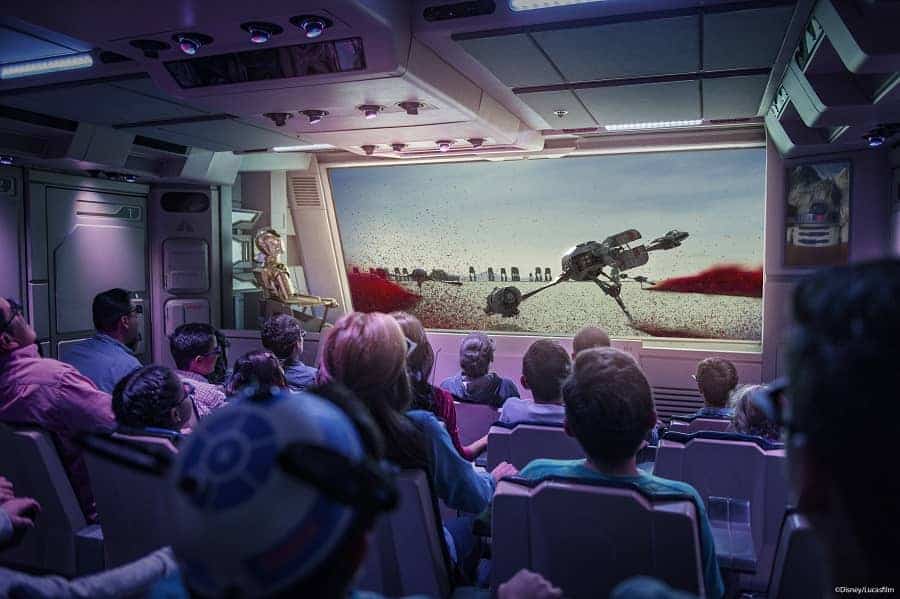 Star Tours
On this simulator ride, guests take flight aboard a Starspeeder 1000 and race to far away places like Jakku, Coruscant, Naboo or even Crait! Each time you ride Star Tours, you could end up in a new location!
During your voyage, you will interact with many of the otherworldly characters and you never know who you might run into!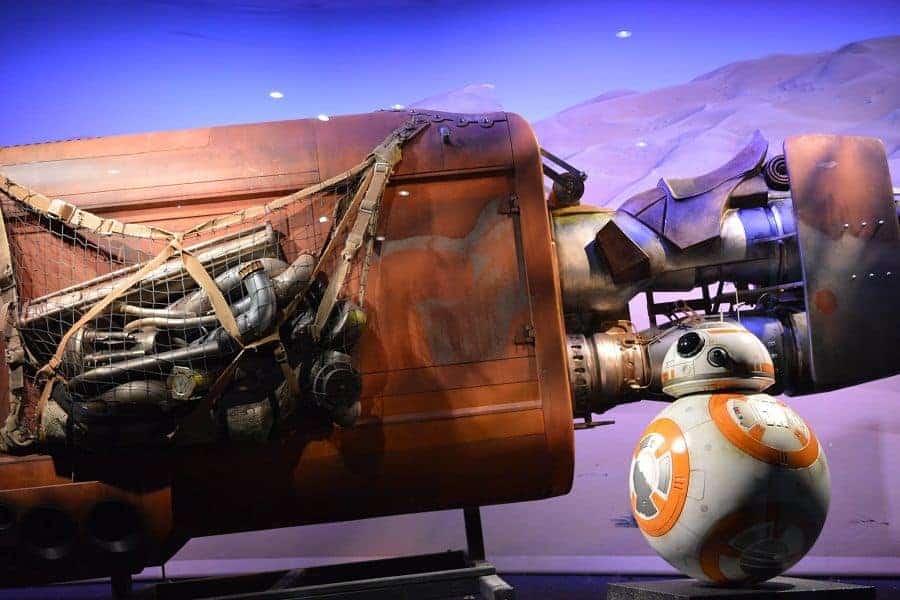 Star Wars Launch Bay
Star Wars Launch Bay is one place you don't want to miss if you are a Star Wars fan going to Hollywood Studios.
At Star Wars Launch Bay, you will find meet & greets with Kylo Ren, Chewbacca and BB8 and if you are lucky, you might even spot a Jawa!
At Launch Bay Cargo (a Star Wars fan's dream store) you will find authentic movie props, costumes and some pretty neat Star Wars souvenirs.
Star Wars Path of the Jedi
Head inside this air conditioned theater to experience this history of the Star Wars saga. You will watch a 10-minute film retelling the blockbuster Star Wars saga and get a first glance at new episodes.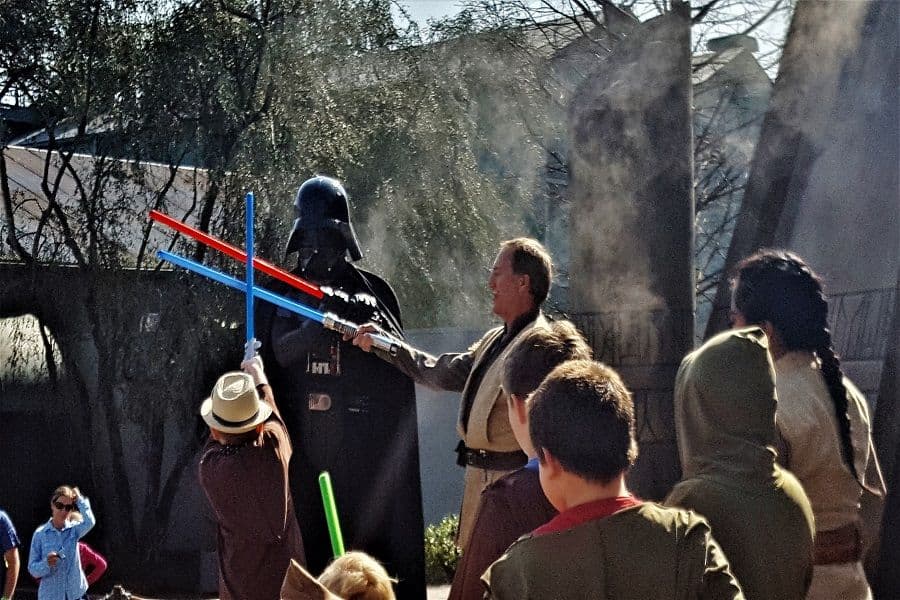 Jedi Training: Trials of the Temple
Right next to Star Tours is a place for young Star Wars fans to do some Jedi Training. Youngsters will get training on how to use the force and light sabers and some one might even get to take on Darth Vader himself!
This training is limited to ages 4-12 and is first come, first serve. You can register your child at the Indiana Jones Adventure Outpost as soon as the park opens.

March of the First Order
Watch Captain Phasma lead her squadron of Storm troopers up Hollywood Boulevard to Center Stage. Once there, you can surround the Storm troopers as they put on a show. This happens on the hour several times a day.
Star Wars Stage Show: A Galaxy Far, Far Away
You will see some of your favorite Star Wars characters take the stage recreating some of the scenes from Rogue One.
Tatooine Traders Gift Shop
Be careful after going here, because your wallet will feel it. This store has EVERYTHING Star Wars related. They can find clothing, toys, trading pins, LEGOS and more.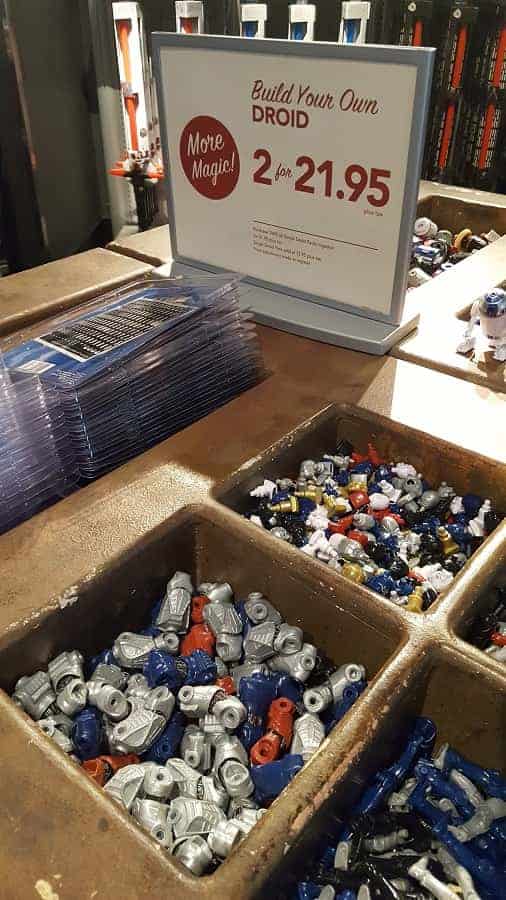 You can build not only a your own Light Saber, but your own droid! Want to see your face on a Star Wars poster? You can do that too!
Star Wars: A Galactic Spectacular Night Show
Hollywood Studios has a few different night shows, but if you are a Star Wars fan, you don't want to miss this one! You will see movie footage, hear popular musical scores from the movies, plus a wonderful light show!
Star Wars Picture Opportunities
Hop on a replica speeder bike and pretend like you are darting between the giant trees on Endor.
Star Wars Treats
Want a Star Wars themed treat? Head over to Backlot Express where you can get a Darth Vader Chocolate Cupcake with Peanut Butter Buttercream OR a BB-8 Lemon Cupcake with Vanilla Buttercream!
You can also find Padawan Limeade served with your choice of Millennium Falcon or Death Star Glow Cube & a BB-8 Souvenir Stein that you can fill with the beverage of your choice!
Have you done any of these Star Wars experiences at Hollywood Studios? Which ones are your favorite?