One of my favorite places to stay when traveling to Walt Disney World is at Disney Caribbean Beach Resort. Talk about a tropical paradise, Disney does a great job at making you feel like you have stepped right onto a Caribbean island oasis.
Disney Caribbean Beach Resort Review
The Caribbean Beach resort is the largest on Disney property and is divided into sections with very tropical names: Trinidad (North & South), Martinique, Barbados, Aruba, and Jamaica.
Each village has its own small pool, laundry facility and bus stop.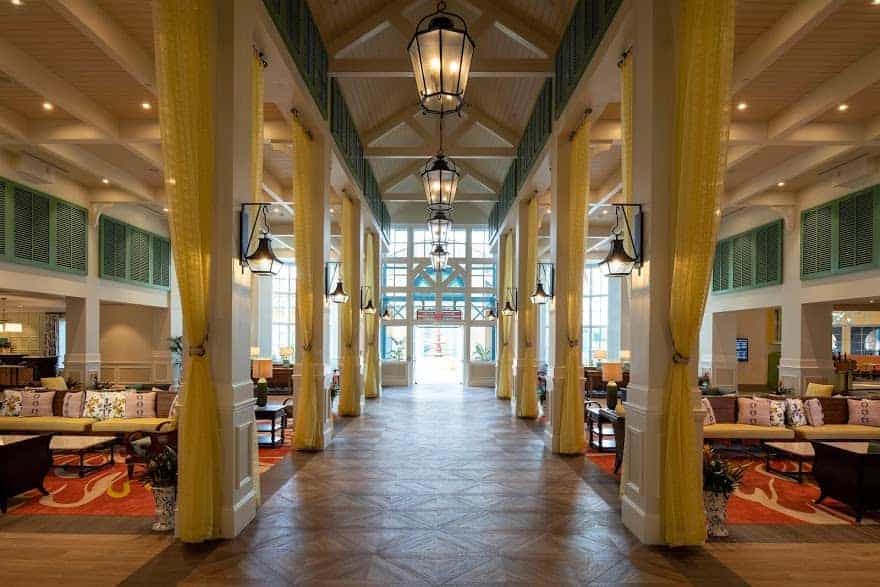 When you arrive at Old Port Royale. you will see a colorful lobby under an open-trussed roof and a colonnade with floor-to-ceiling drapes.
You will feel like you have been transported straight to a tropical paradise!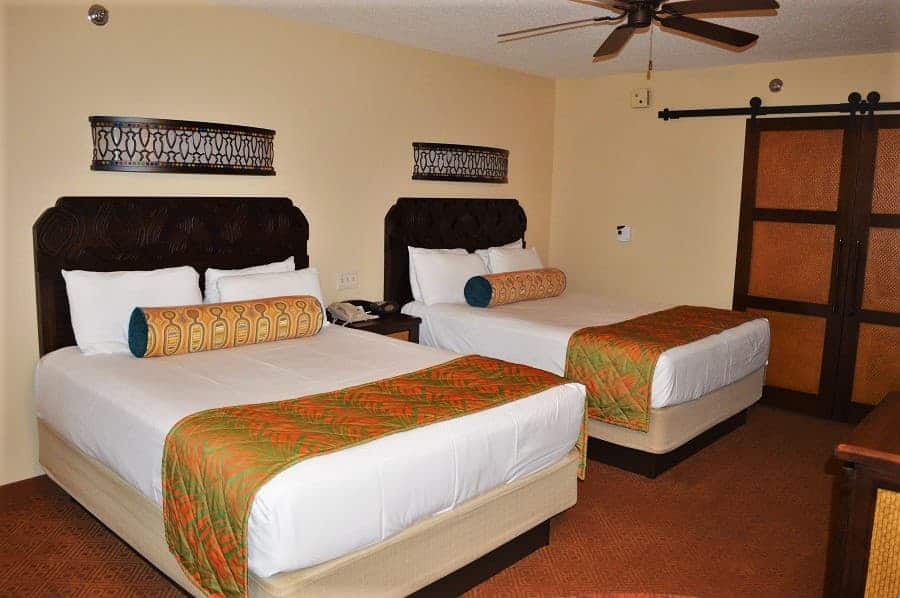 Disney Caribbean Beach Resort Rooms
The rooms are lovely and have a tropical feel. You will find two queen size beds, with a small table, cabinet with mini fridge and TV.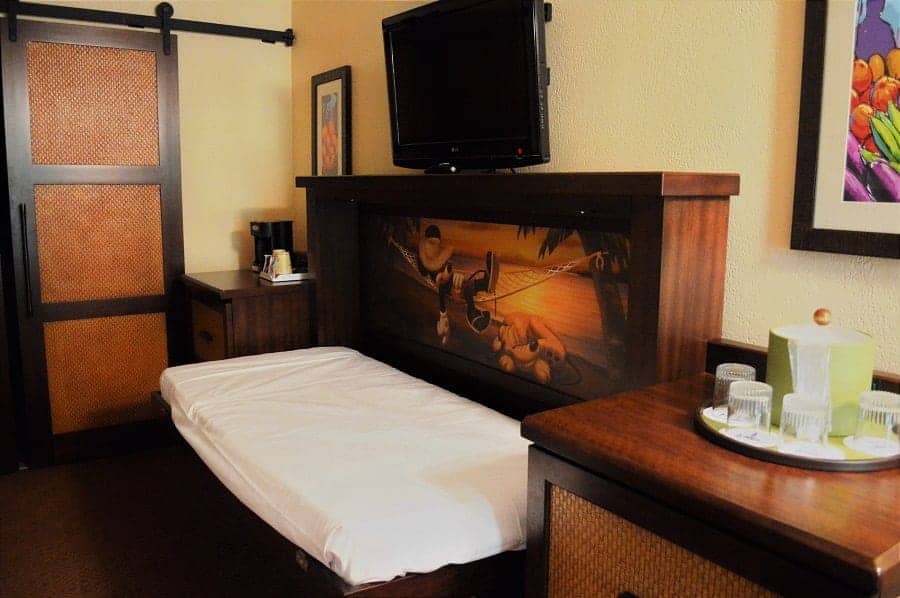 Some rooms at Caribbean Beach Resort feature a hidden bed.
This is a great feature for families of 5 or for families whose children do not like to sleep together.
Caribbean Beach Resort is the only resort on Disney Property to feature special Pirate themed rooms. These rooms are special because they are designed to look like you are on a pirate ship.
While these rooms do cost more, if your kids loves pirates, you might find it is worth the extra cost.
Disney Caribbean Beach Resort Dining
If you are a fan of Caribbean food, you will find some great dining options at Caribbean Beach Resort both for both quick and table service.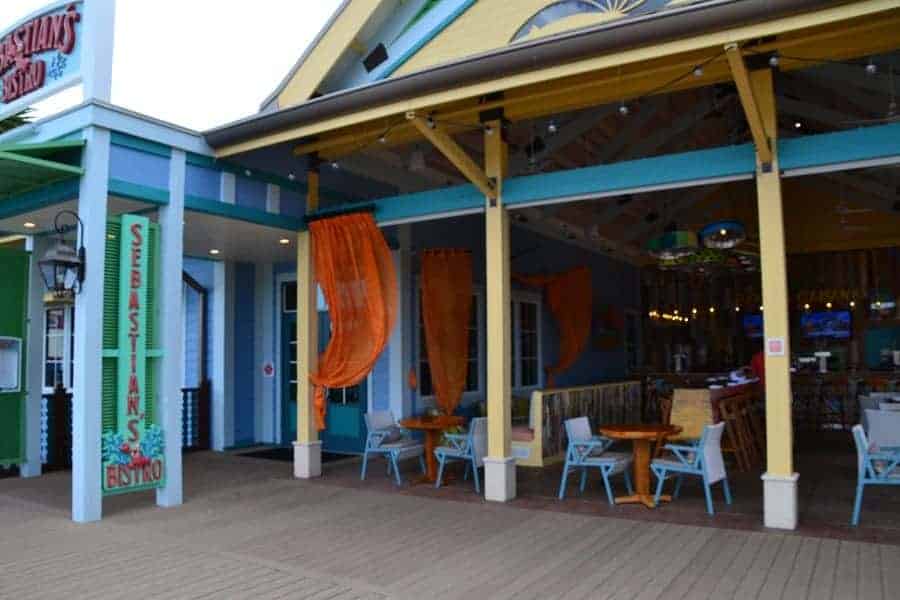 Sebastian's Bistro
This table service restaurant is one you will want to try if you love the flavors of the Caribbean.
Located along the Old Port Royale promenade, this family-friendly spot offers a selection of surf & turf with some island flare!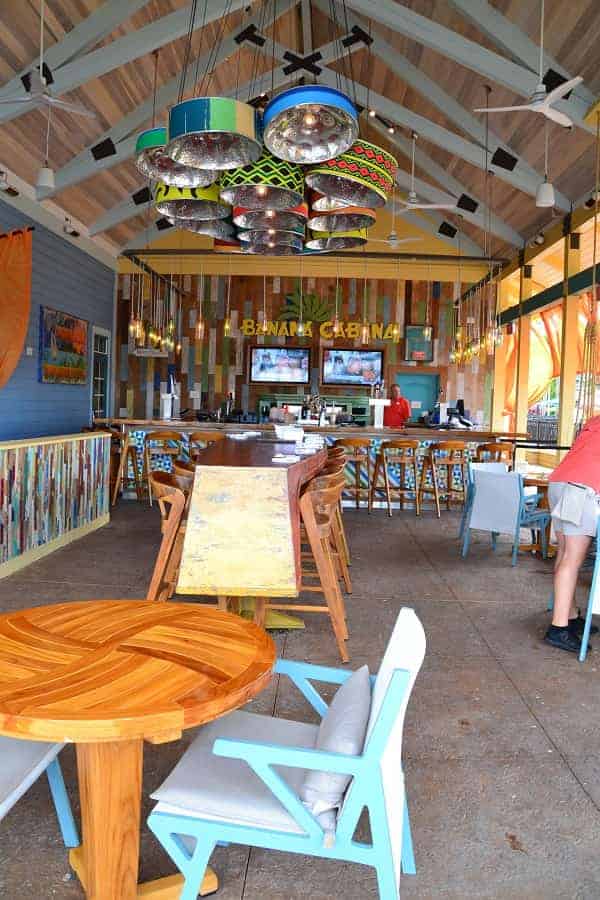 Banana Cabana
If you need a drink or a quick bite, this is the place to go. Situated next to the pool, you will find everything from jerk chicken wings to juicy burgers.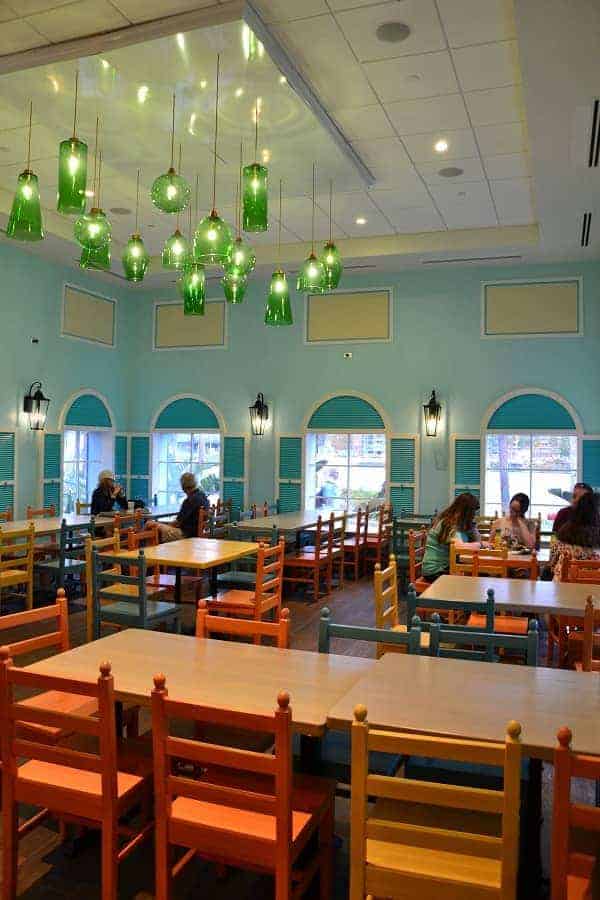 Centertown Market
For those that need a little variety for their family and don't want to take the time to invest in a table service meal, the Centertown Market is a great option.
You will find a great meals for breakfast, lunch and dinner plus an array of tropical desserts!
Spyglass Grill
Often overlooked is the walk-up counter service at the Trinidad pool area. This spot serves breakfast,lunch and dinner.
Early in the day, you will find guava stuffed french toast and for lunch & dinner you can dine on such tasty dishes as Caribbean tacos with your choice of spiced fish, shredded beef or jerk chicken!
What is there to do at Disney Caribbean Beach Resort?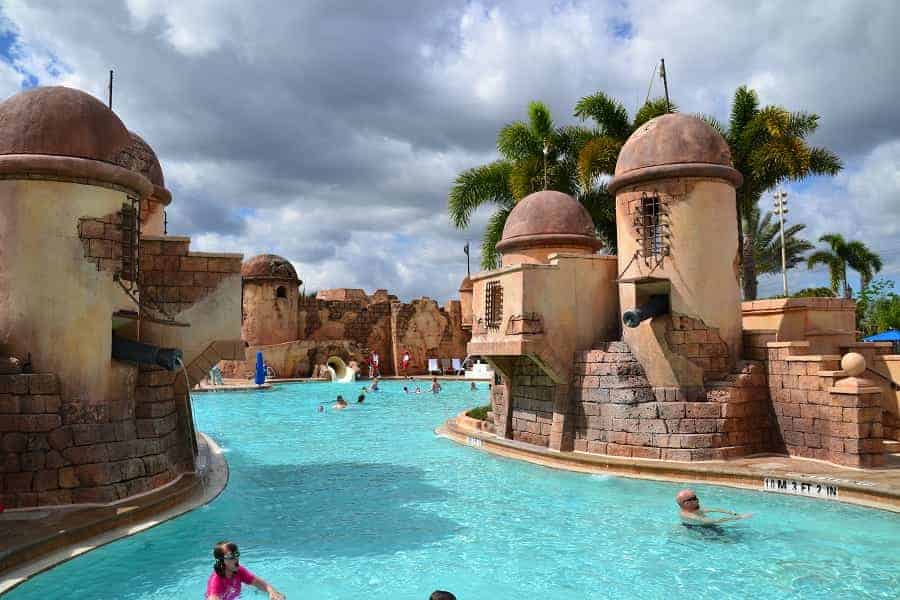 Disney Caribbean Beach Resort Pool
One of the best features of Disney Caribbean Beach Resort is the pool! The expansive zero entry pool looks like a Spanish fort and has two water slides.
This pool is large and has tons of features to explore and will keep your kids busy for hours.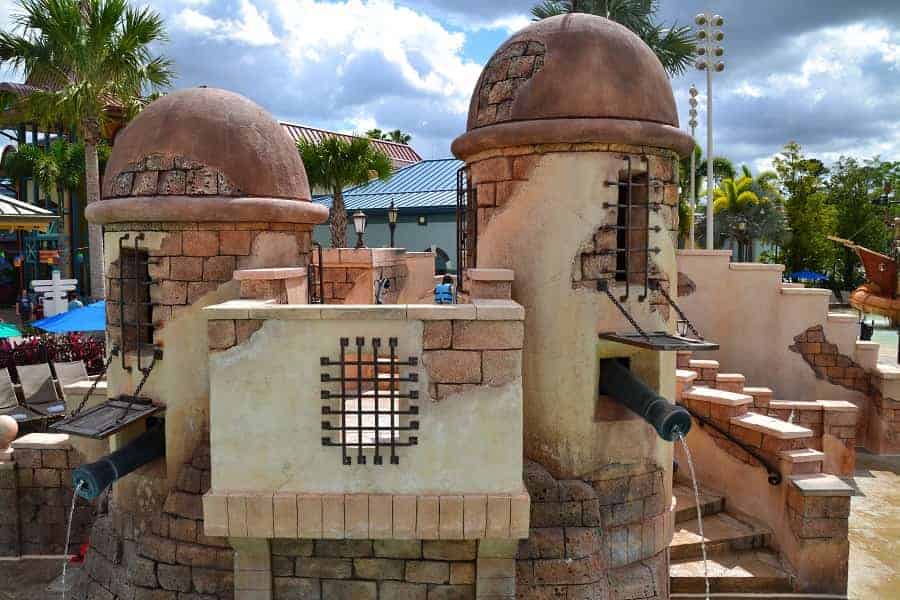 They can play in the water, maneuver water cannons, slide down slides or play hide & seek with plenty of places to get lost!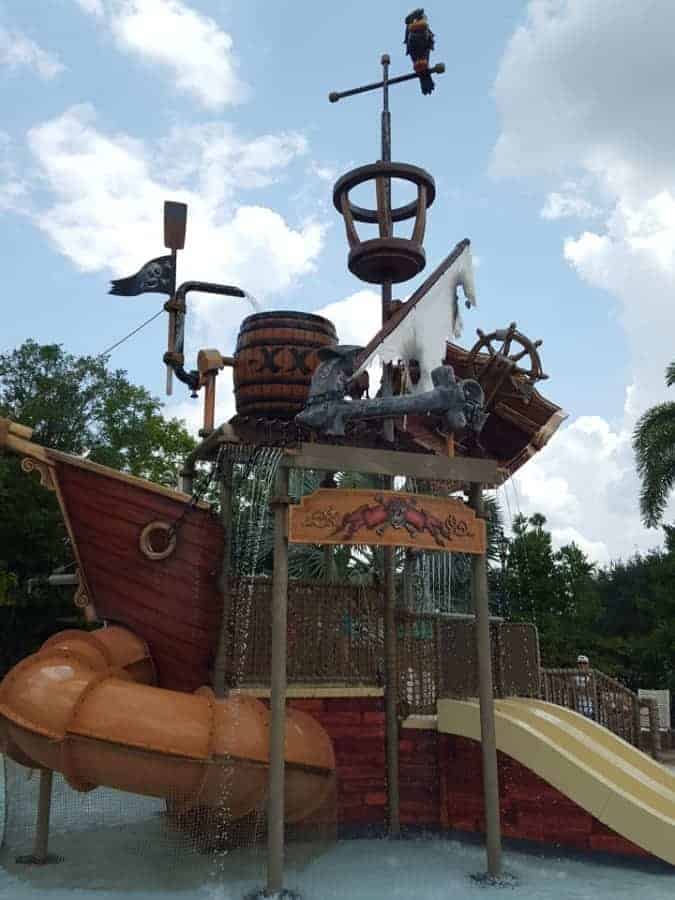 If you have little ones, you will LOVE the enclosed kiddie splash area that sits adjacent to the main pool. Lots of water fun with slides that are the perfect size for preschoolers!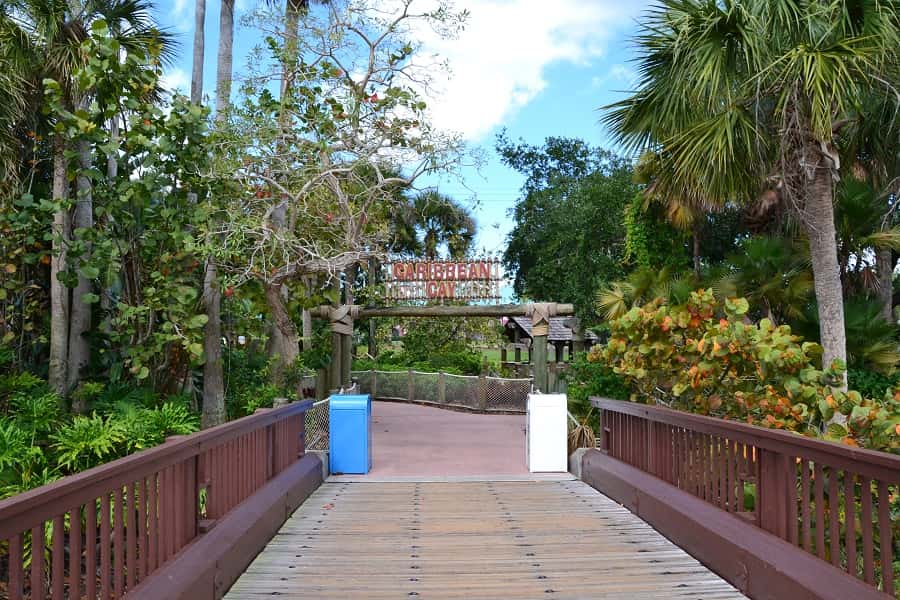 Bike Rentals & Jogging Trails
One of the great things about Caribbean Beach Resort is that you will be able to spend so much time outdoors.
You will find a 1.4-mile tropical promenade around the lake with great jogging trails. You can also rent bikes to cruise around the resort area.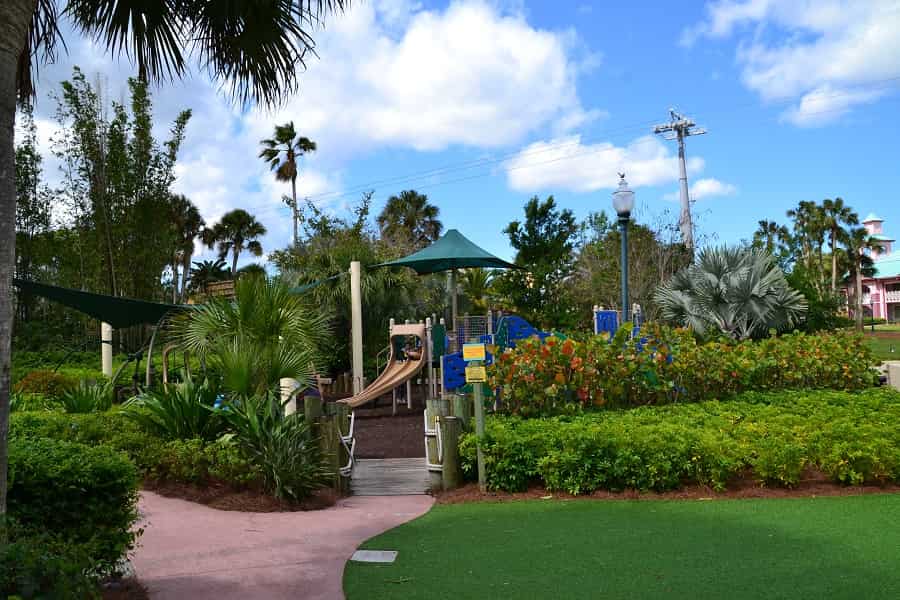 Parrot Cay Island Play Area
Footbridges over the lake connect the "mainland" with the one-acre Parrot Cay island play area for children and walkways which afford scenic lake views during leisurely strolls or a bike ride.
Roasting Marshmallows & Movie Nights
Every night, you can enjoy spending some time in the outdoors while roasting marshmallows and later in the evening you can enjoy an outdoor movie. Both of these activities are totally free and supervised by Disney cast members.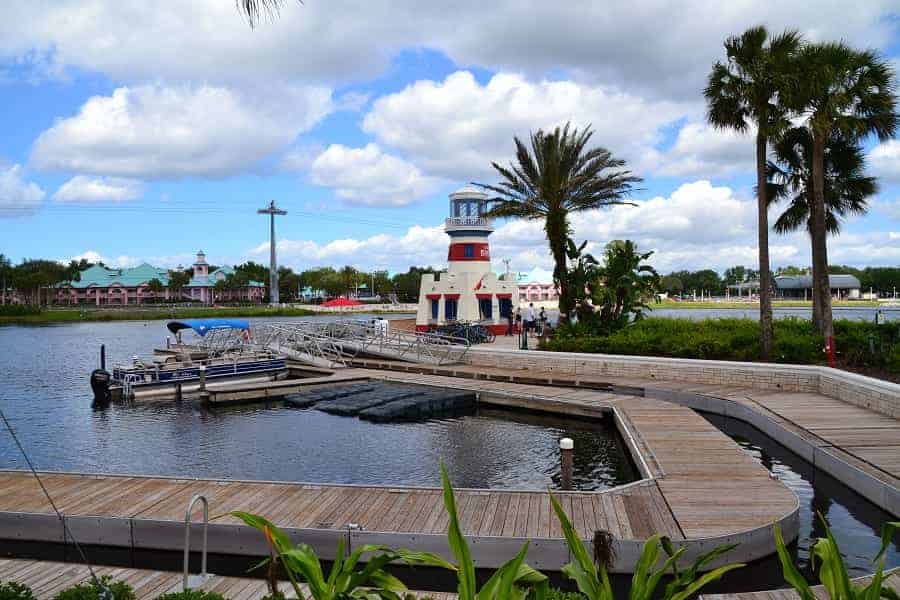 Guided Fishing Excursions
Resorts on the water have an added benefit of having access to boating. At Caribbean Beach Resort, you can go on a guided fishing trip.
Both 2-hour and 4-hour excursions are offered.
No need to have your own fishing gear.
The possibilities are really endless when it comes to activities at Caribbean Beach resort.
Disney Caribbean Beach Resort Transportation
The Skyliner at Caribbean Beach Resort
Hop on board the Skyliner that connects Epcot and Disney's Hollywood Studios to Disney's Art of Animation Resort, Disney's Pop Century Resort, Disney's Caribbean Beach Resort and the new Disney's Riviera Resort.
The station at Disney's Caribbean Beach Resort connects all three routes and is one of those great benefits of staying at a Disney resort.
Disney Bus Service
If you would prefer to take the Disney Bus line, you will find the stop at Old Port Royale Centertown.

When trying to choose the right Disney Resort for your family, you have a lot to think about. Disney Caribbean Beach resort is one of our personal favorites because of how much there is to do at the resort. If you plant to stay here, please make sure that you build some down time in your vacation so that you can enjoy all the resort has to offer!
Ready to book a room at Caribbean Beach? Expedia will help you find the BEST rate.
Have you had a chance to stay at Disney's Caribbean Beach Resort? What do you love most about it?