(Note: The links in this post are affiliate links, and we will be compensated when you make a purchase by clicking through our links. Read our disclosure policy here.)
2020 is going to be a HUGE year for Hollywood Studios! Not only are both Toy Story Land and Galaxy's Edge open, but the new Mickey and Minnie's Runaway Railway ride is due to open in March. This means that you will have even more Hollywood Studios rides & attractions to experience!
If you aren't familiar with Hollywood Studios in Orlando, it is Disney's third theme park in Walt Disney World.
Originally named MGM Studios when it opened in 1989, it changed names to Hollywood Studios in 2008.
Hollywood Studios
Within Hollywood Studios theme park, you will find all of the rides, attractions and shows taking on a old Hollywood theme.
This is most apparent in the construction of the park with the names of the streets and the replica of Grauman's Chinese Theater that takes center stage.
Hollywood Studios is not divided into lands like Magic Kingdom & Animal Kingdom; instead the park is divided into sections. Each section has it's own attractions, shows, shops and restaurants.
Hollywood Boulevard
Echo Lake
Grand Avenue
Commissiary Lane
Toy Story Land
Animation Courtyard
Sunset Boulevard
Hollywood Studios is a great park to visit with your entire family because there is something for everyone.
Small children will love seeing their favorite Disney Junior characters in person, while teens will appreciate the areas dedicated to Star Wars and thrill rides like Hollywood Tower of Terror & Aerosmith's Rockin Roller coaster.
Those who don't like rides, can enjoy Broadway style theater performances and dining experiences where you can venture back into a bygone era.
Hollywood Studios Rides & Attractions
Thrill Rides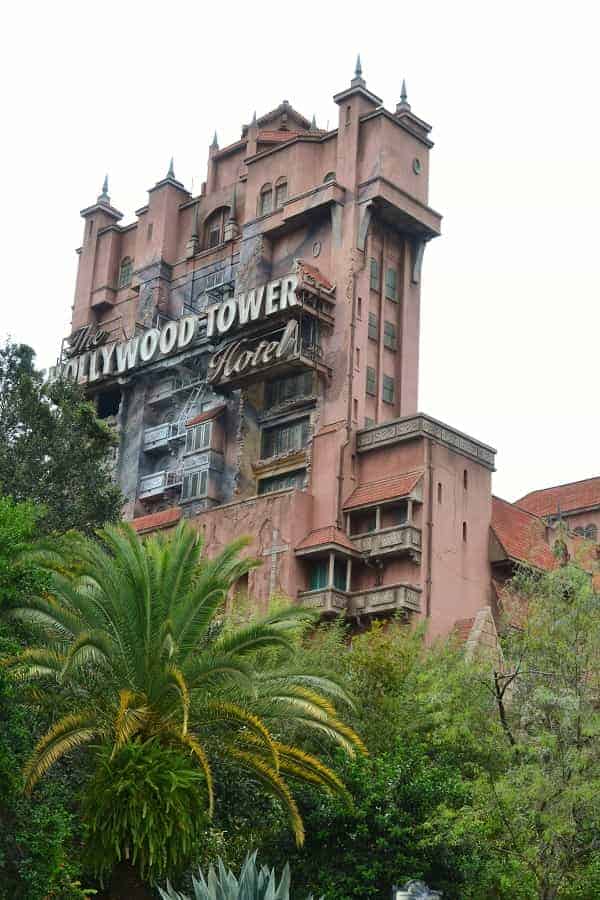 The Twilight Zone Tower of Terror
Of all the Hollywood Studio rides, this is one is probably the most likely to leave you filled with terror!
The ride begins when visitors board a decrepit hotel freight elevator that takes guests on quite a journey.
It passes through mysterious passageways where guests might see ghostly images of lost guests.
Soon, guests will find that the elevator travels into the "fifth dimension" where it seems to fall endlessly.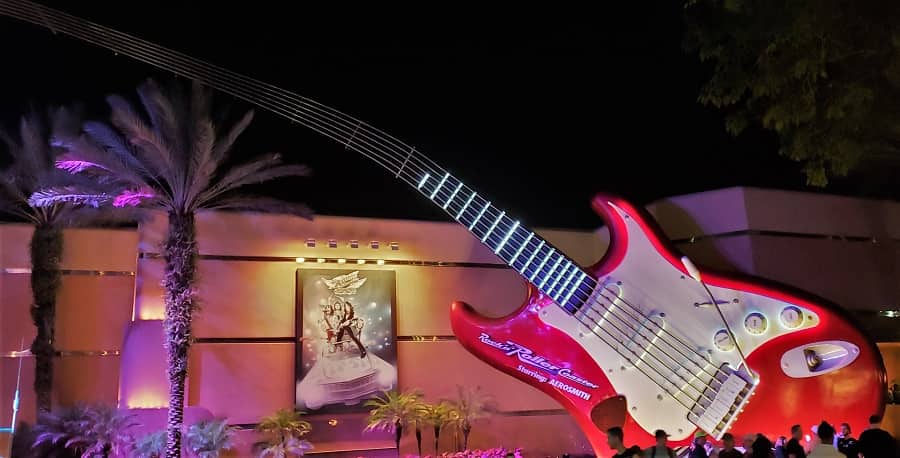 Rock n Roller Coaster starring Aerosmith
The ride begins with tour of a record company, where you see Aerosmith finishing up a studio recording session.
After being invited by the band to see their concert, guests climb aboard a 24-passenger "super-stretch limo" and take a high-speed ride through Southern California.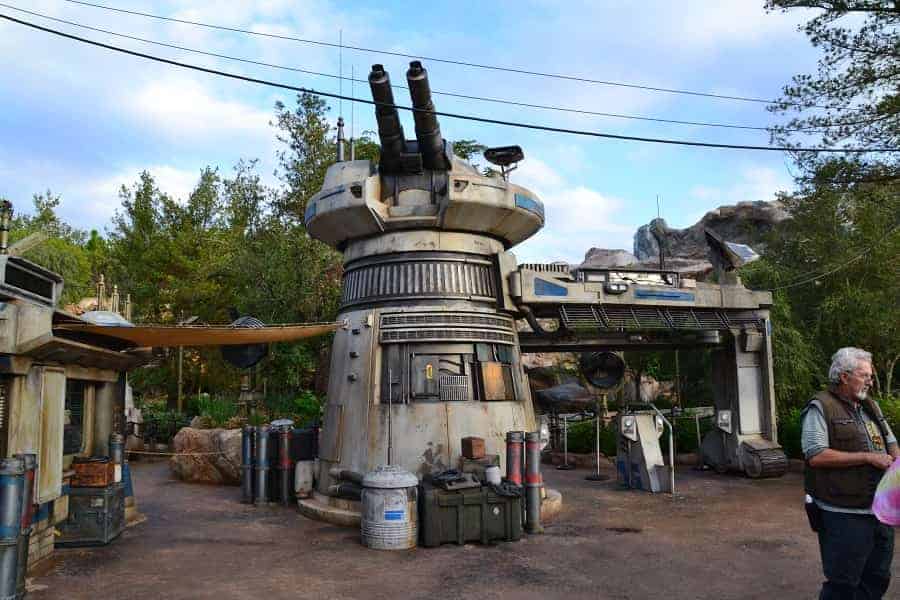 Star Wars: Rise Of The Resistance
Guests launch into space aboard a transport shuttle, only to be captured by a Star Destroyer.
They know they are in trouble when they are pursued by Supreme Leader Kylo Ren and have to escape the clutches of the First Order.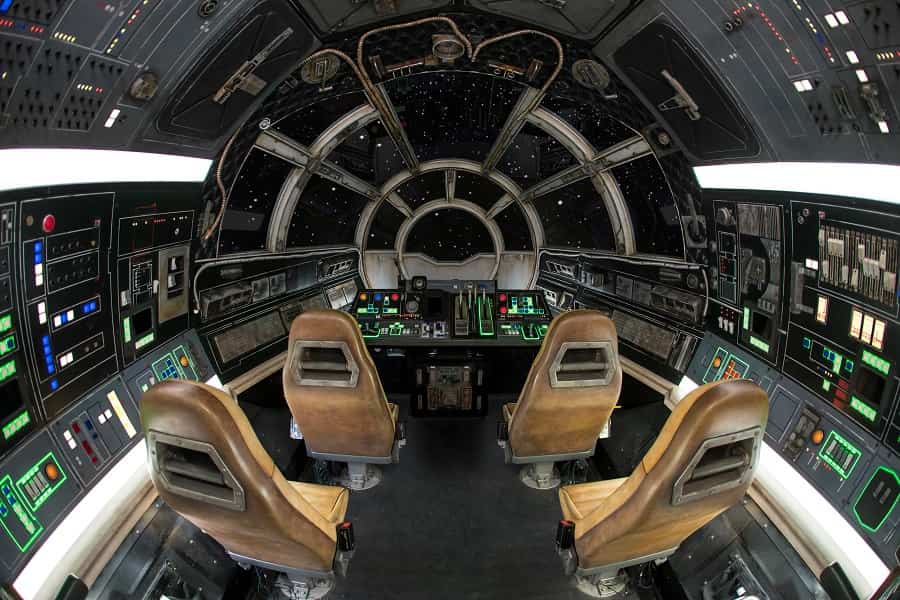 Millennium Falcon: Smugglers Run
After being given their orders, guests get to climb aboard the Millennium Falcon to operate "the fastest hunk of junk in the galaxy."
The group must work as a team in order to complete their mission!
Family Rides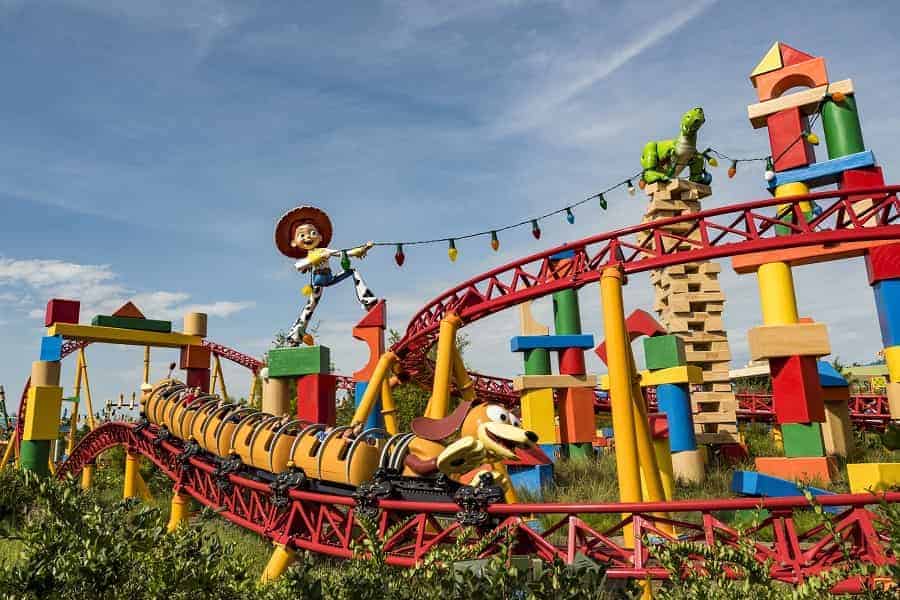 Slinky Dog Dash Roller Coaster
This family-friendly roller coaster takes turns and goes over bumps, but nothing too scary!
The most fun is when Slinky seems to stop, only to reverse a few yards before shooting through multiple rings pulsing with sounds, spinners and flashing lights.
Alien Swirling Saucers
These little Aliens from Toy Story have hitched their flying saucers to the 22 rocket ships on this ride. Together, they spin through the Pizza Planet galaxy.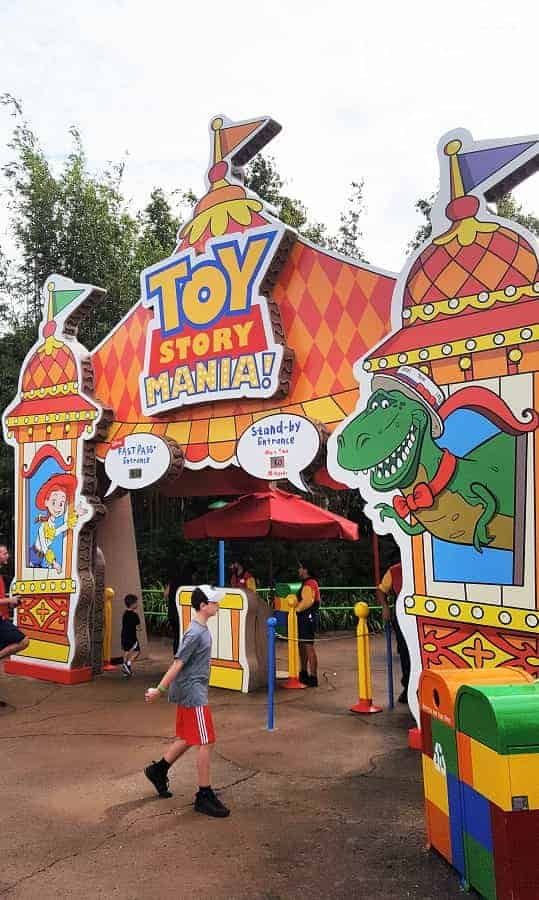 Toy Story Mania
One of the most popular Hollywood Studios rides for the family is Toy Story Mania.
Built to look like a playset in Andy's room, guests get to play all different types of Carnival Midway games while battling for highest score!
Star Tours
Based on films in the Star Wars franchise, Star Tour takes guests to several different Star Wars destinations with the help of C3PO and R2D2.
During the adventure, you never know who you will see or where you will go next.
Mickey & Minnie's Runaway Railway (opening March 2020)
Disney ride-through attraction featuring Mickey Mouse and Minnie Mouse, inviting guests inside a Mickey cartoon for a fun-filled adventure where "Mouse rules apply" and anything can happen!
Family Shows
Indiana Jones Stunt Spectacular
Inspired by the blockbuster film "Raiders of the Lost Ark," the show recreates scenes with stunt performers! You will learn how the scenes are staged & how much work goes into making the scariest parts of the film.
Fantasmic!
The nightly show takes guests inside the dreams of Mickey Mouse . When Disney villains take over his dream, he has to harness the power of goodness to triumph evil.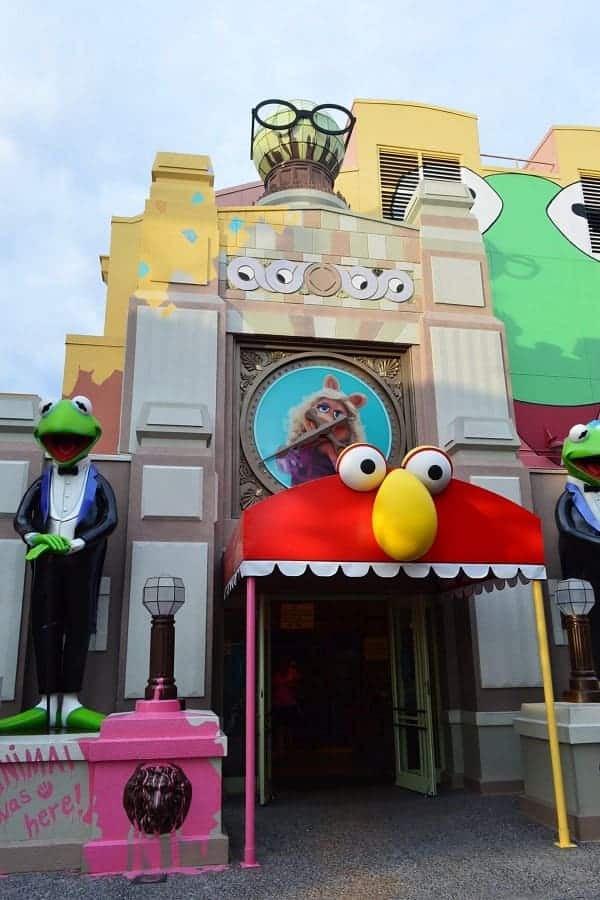 Muppet Vision 3D
The innovative "Muppet Vision 3-D" film puts Disney guests smack in the middle of the Muppets' knee-slapping adventure, thanks to an astonishing array of special effects.
Theatrical Performances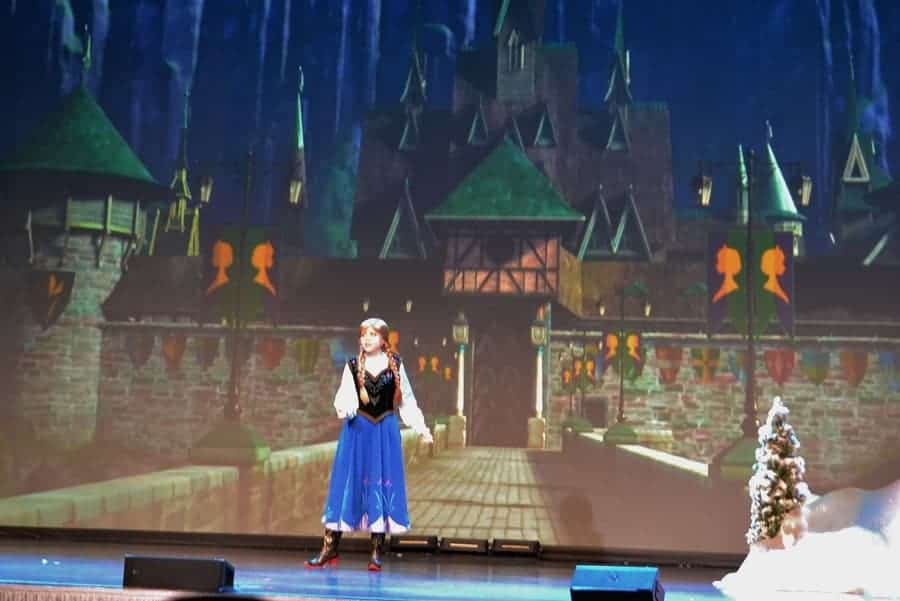 Frozen Sing-along Celebration
Watch as thrilling moments from the movie play on-screen & sing along with your favorite characters from Frozen.
Don't worry if you don't know the words, they will be projected on the screen so you have no reason not to sing-along!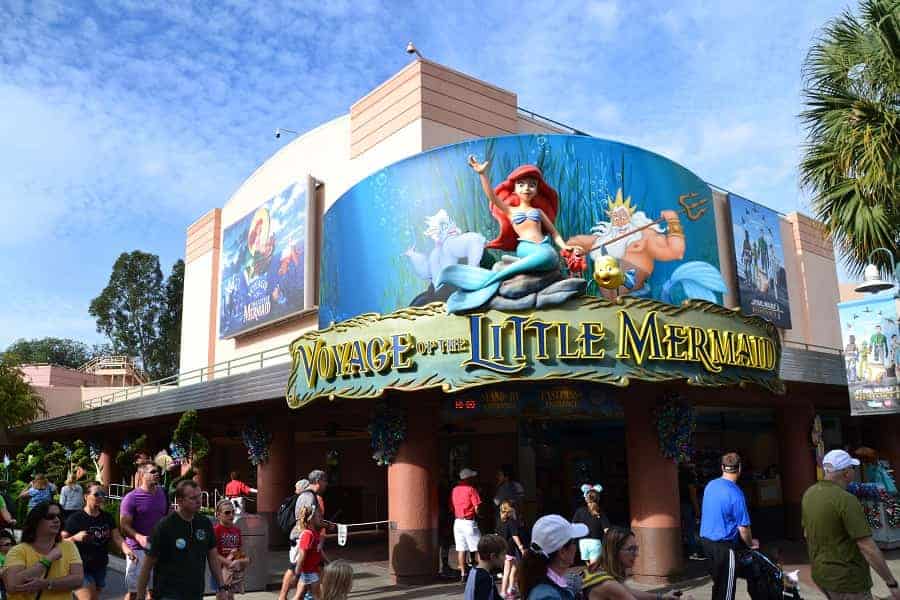 Voyage of the Little Mermaid
Watch scenes from The Little Mermaid come to life with Ariel and the rest of the cast under the sea in "Voyage of the Little Mermaid," a unique live performance show.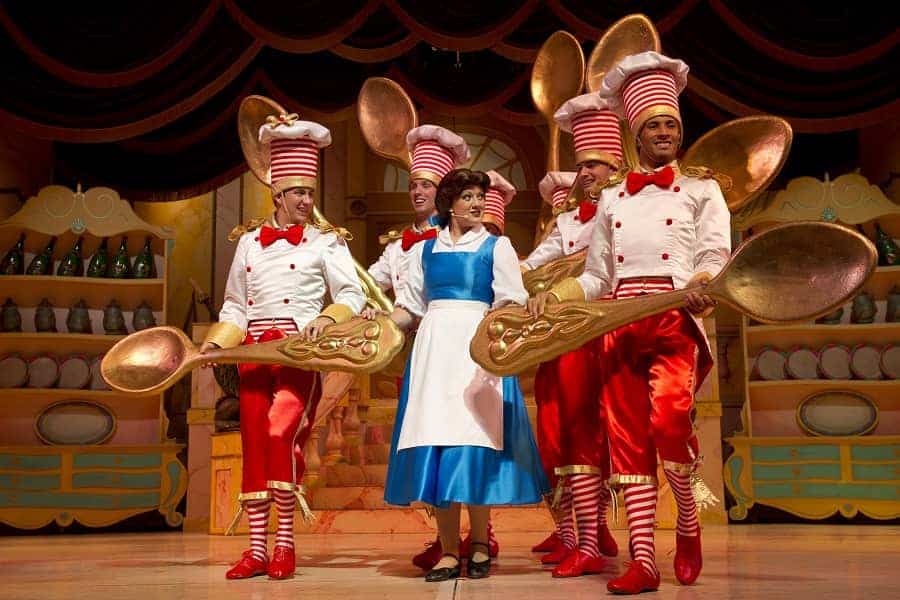 Beauty & the Beast Live on Stage
One of the best live shows at Hollywood Studios is Beauty & the Beast LIVE. This show will make you feel as if you are watching a Broadway Performance will amazing costumes, dance numbers and of course, your favorite songs from the movie!
Olaf from Frozen
Mickey & Minnie Mouse
Buzz Lightyear, Woody & Jessie
Chewbacca, Darth Vader, BB8
Vamparina, Doc McStuffins, Sophia the First
Lightning McQueen, Tow Mater & Cruz Ramirez
FastPasses at Hollywood Studios
Chances are, you are going to try to get FastPasses for some of the more popular rides in Hollywood Studios.
What you will find is that it is nearly impossible to get Fastpasses for Slinky Dog Dash.
If you are unable to score a FastPass for Slinky Dog Dash, I suggest you plan to arrive as soon as the park opens so you can head straight to Toy Story Land.
If you do score a FastPass for Slinky Dog Dash, know in advance that you can only get one FastPass for the rides in Toy Story Land.
That is because they are considered a Tier 1 ride.
You will be able to choose two FastPasses for Tier 2 rides, but none of them are in Toy Story Land.
Hollywood Studios Fastpass Tier 1 Rides & Attractions (Choose 1)
Slinky Dog Dash
Alien Swirling Saucers
Toy Story Mania!
Hollywood Studios Fastpass Tier 2 Rides & Attractions (Choose 2)
Rock 'n' Roller Coaster
Star Tours: The Adventure Continues
The Twilight Zone Tower of Terror
Voyage of the Little Mermaid
Disney Junior Live on Stage
Frozen Sing-Along Celebration
Indiana Jones Epic Stunt Spectacular
Muppet Vision 3D
Fantasmic!
Beauty and the Beast
You might be wondering about the two new Hollywood Studios rides in Galaxy's Edge. Neither Millennium Falcon: Smuggler's Run nor Star Wars: Rise of the Resistance currently have Fastpasses.
This might change in the future (and we will update if & when it does).
Wondering which rides & attractions you should prioritize while in Hollywood Studios?
Fastpasses to get for Hollywood Studios Rides
Tier 1: Choose Slinky Dog Dash or Toy Story Mania
Tier 2: Choose Tower of Terror, Rock 'n' Roller Coaster, or Star Tours
If you are
planning a trip to Disney World
in 2020, you will want to make sure that you give yourself plenty of time to enjoy all of the Hollywood Studios rides and attractions.
Going to Hollywood Studios at Christmas? Find out what you can expect to find at Hollywood Studios in December.